For me, my favourite viewpoint of the entire city was the one that could be found on the top of the St Olaf Church Tallinn.
This church used to be the tallest building in the world once upon a time (well, from 1549 to 1625 to be exact). Today, the tower is 124 metres in height and what's more, you can stand on the very top of it!
It's a bit of a struggle, but the puffing and sore legs (especially after a lot of Beer or Glogg) will all be worth it for the view you'll receive.
Here's a complete guide to the St Olaf Church Tallinn & tower viewpoint!
Where does St Olaf Church get its name?
If you're thinking that the nameSt Olaf's Church or St Olav's Church sounds a bit out of place in the capital of Estonia, you'd be correct!
This church dates all the way back to the 12th century and was the home to a Scandinavian community in Tallinn. The church is named after King Olaf II of Norway or Olaf II Haraldsson who ruled from 1015 to 1028.
Before Denmark conquered Tallinn in 1219, Vikings visited Estonian shores and there was a huge Scandinavian presence in the city.
St Olaf Church Tallinn history
The first records of the church are from 1267, but it was extensively rebuilt in the 14th century and what we see today with the huge Gothic steeple, was completed in the 16th century.
At this point, St Olaf Church Tallinn was the tallest building in the world at 159 metres! It used to act as a light tower to guide merchant ships to shore. But, it didn't come without complications.
The tower was so high, it was hit by lightning and was completely set ablaze with fire! This happened around 10 times over during the course of history and so the steeple and tower were reduced.
It's still massive at 124 metres in height today and can be seen all over the city and when you pull into the port from the sea.
Where is St Olaf Church Tallinn?
St Olaf's church can be found in the Old Town Tallinn area. If you are arriving by ferry, you'll see this tower first on your way in from the cruise port in the harbour. It's also near to the Estonian maritime museum.
Tallinn is extremely well signposted for tourists and everything is easily accessible on foot, so you should have no problem locating the church if you follow these signs.
If you're staying out of the city, it may be worth buying a Tallinn Card that gets you into the top attractions in the city but also on public transport like trams and buses for FREE too.
St Olaf Church Tallinn opening hours
If you arrive in winter, you may be disappointed to know that the church is completely closed during this time.
The church is only open from 1st April – 31st October and the viewing platform is also closed on certain months of the year. Probably a good job, knowing its history of lightning strikes ;)
Olaf's church and the viewing platform is open daily but opening times vary depending on the season:
1st April – 31st June: 10am – 6pm
1st July – 31st August: 10am – 8pm
1st September – 31st October: 10am – 6pm
St Olaf Church Tallinn tower ticket prices
The church is free of charge to enter when it is open in the season. But, the viewpoint does come with a small fee of 3 Euros for adults and 1 Euro for children. But, It's well worth the price for the view you'll get of the whole city!
It's FREE with a Tallinn Card, so if you were planning on visiting a few attractions in the city – this card may come in handy more than once.
What to expect when climbing up St Olaf's Tower in Tallinn
Before you decide to climb, be aware that there are 232 steps to climb up St Olaf Church Tallinn to the viewpoint!
This is a steep, spiralling staircase with an almost vertical wooden ladder at the end when you reach the bell tower.
I had my fill of quite a few glasses of Glogg and Beer throughout the day so I was regretting a few of my life choices on the way up haha. But, if I can climb it, you can, trust me.
There is no accessibility option available, no lift, or anything like that so make sure you're up to it before you start climbing.
It's also quite claustrophobic with people climbing up and down the same staircase. I'm claustrophobic myself and found it fine, but if you have a severe phobia of small spaces I wouldn't recommend it.
Also, seems obvious, but you're going to be standing on a church steeple, 124 metres in the air. So, if you're afraid of heights, this is not the observation platform for you.
The view from St Olaf's Church Tallinn Tower Viewpoint
Once your legs have stopped aching and you gather your breath, the view from this platform is SO worth the climb. However, this view may take your breath again, but in a good way.
You're literally standing on the top of the church that you've been looking at all day and you're going to climb around a church tower!
There isn't a wall as such, just a barbed wire fence stopping you from falling below. So, you pretty much have unobstructed 360-degree views of the whole of Tallinn.
It honestly felt like I was standing on top of the world here. It's almost surreal and I couldn't stop admiring the view. All the colourful rooftops, stunning architecture, and the people like ants below. You've got to see it to believe it.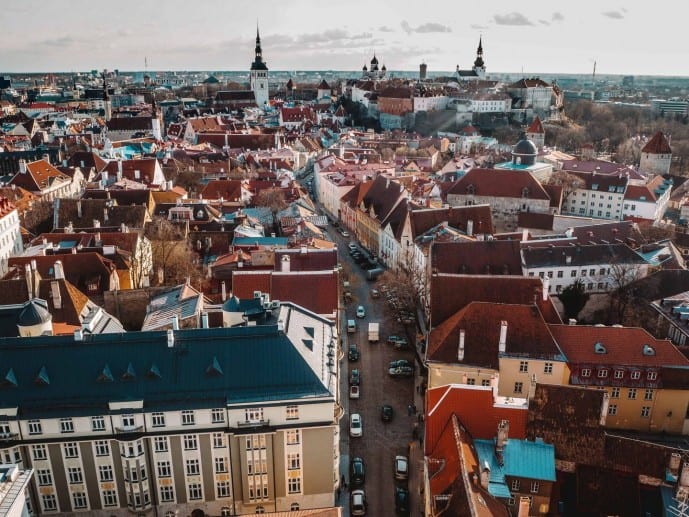 Looking for more amazing viewpoints in Tallinn?
Incredible viewpoints of Tallinn seem to be everywhere. So, it's worth making your way around the city on foot to see if you can find them all!
The most popular and accessible viewpoints are the Kohtuotsa Viewing Platform, The Times We Had Wall, and Patkuli Viewing Platform. Or, you can visit the city walls for an epic view of Tallinn.
Climb up Kiek in de Kok which used to be the tallest tower of the Baltic region or visit The Danish King's Garden below to visit the Instafamous 'Breathe Baby' sign.
Read more: The best views of Tallinn guide
Things to do in Tallinn Old Town
I arrived in Tallinn on a day trip from Helsinki but this was more than enough time to explore all the charms of the Old Town.
You can admire the Old Town square and visit the Tallinn Town Hall, Drink in Medieval Bars like Olde Hansa, visit one of the oldest apothecaries in Europe or go on a free walking tour of the whole city.
Click here to read my Old Town Tallinn guide about all the amazing things you can get up to with only 24 hours in Tallinn. Or, my complete photography guide for Tallinn here.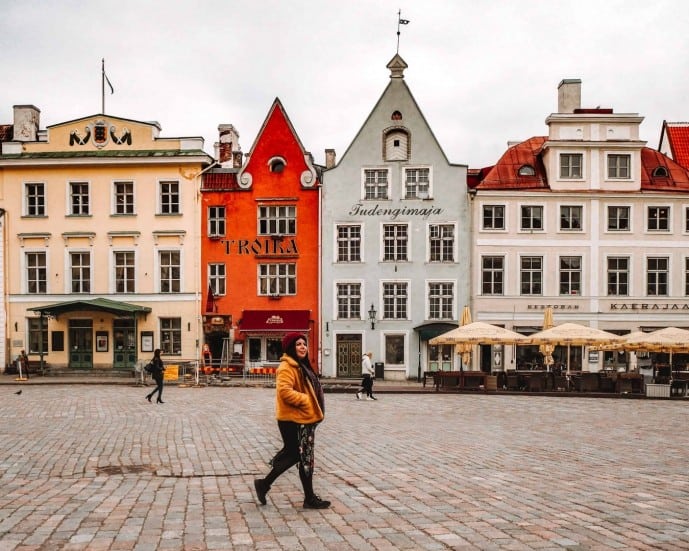 With thanks to My Helsinki and Visit Tallinn for sponsoring my trip with a 24 hours pass. Although I was a guest, all photos and opinions are my own.
Save this St Olaf's Church Tallinn guide for later!