A lot of people make a beeline to Barafundle Bay from Stackpole Quay in Pembrokeshire but I would highly recommend exploring Stackpole Quay as well!
Not only is this little harbour extremely quaint but it packs a punch with history and there is lots to see around here.
It's a National Trust property which is mainly used for wild swimming and water sports nowadays as opposed to fishing, but the views from here are fantastic!
Here's a complete guide on why you must visit Stackpole Quay in Pembrokeshire.
The history of Stackpole Quay
Stackpole Quay forms a part of the wider Stackpole Estate which was privately owned for centuries and has been a settlement since the Norman times.
During the Civil War, the estate was owned by the Lort Family who lived in Stackpole Court Mansion. Unfortunately for the family, they sided with the King and so Parliamentarian's seized their land in 1689.
After that, the Scottish Campbell family of Cawdor inherited the area through an advantageous marriage. They redeveloped Stackpole Estate and made planned gardens, grottos and even Stackpole Quay for fisher boats.
During World War II, much of the Stackpole Estate was requisitioned for training troops and today part of the estate is still managed by the Castlemartin Range.
After the war, Stackpole Court had been badly damaged and was beyond repair. The Cawdor's remained in Scotland and so the high taxes and repairs here in Wales were unaffordable.
Unfortunately, Stackpole Court had to be demolished in 1963. But, the Stackpole Estate was still as beautiful as ever and 200 acres were donated to the National Trust.
They still own and manage this area which is open to the public to enjoy today.
How to get to Stackpole Quay in Pembrokeshire
Stackpole Quay is in the southern part of Pembrokeshire which is a county in the South of Wales in the UK. The Stackpole Quay postcode is SA71 5LS.
It's quite remote but very near popular places like Tenby, Bosherton and Freshwater East beach. So, it makes the perfect pitstop on a road trip!
It's located around 2-3 hours drive from Cardiff, 30 minutes drive from Tenby and 10 minutes drive from the Bosherton area.
The roads to get here are winding, narrow country roads which are single track with passing places, so be careful as you drive here.
If you wanted to walk to Stackpole Quay, you can easily do that along the Pembrokeshire Coastal Path. It's a great walk from places like Freshwater East.
Stackpole Quay Car Park
Although this place is tiny, there is a surprisingly huge car park provided by the National Trust to park in. Even on a sunny day, there will be plenty of spaces.
The Stackpole Quay car park will cost you £3 to park for 3 hours which is more than enough time to explore the area.
National Trust members get to park here for free, you simply need to scan your membership card when prompted on the ticket machine.
Note: Stackpole Quay car park does not take card payments – So, make sure to bring change!
Things to do at Stackpole Quay
So, what is there at Stackpole Quay that makes it worth visiting?
Although it's a small harbour there are quite a few things to do in Stackpole Quay at all times of the year.
Take a walk around the historic harbour
So, once you've parked up I would definitely recommend taking a stroll to the quayside on the sea.
It is actually quite difficult to walk on the quay walls here as it's secluded. But, at low tide, you can walk over the rocks and over to the harbour walls if you really wanted to.
At High Tide, there are a few nice walking paths that you can take around Stackpole Quay which provide breathtaking views of the coastline and cove below.
There is lots of wildlife to be seen here like seabirds and you may get lucky and see a colorful fishing boat bobbing about.
Make sure to keep to the designated walking pathways as the headland cliffs around the quay are very steep!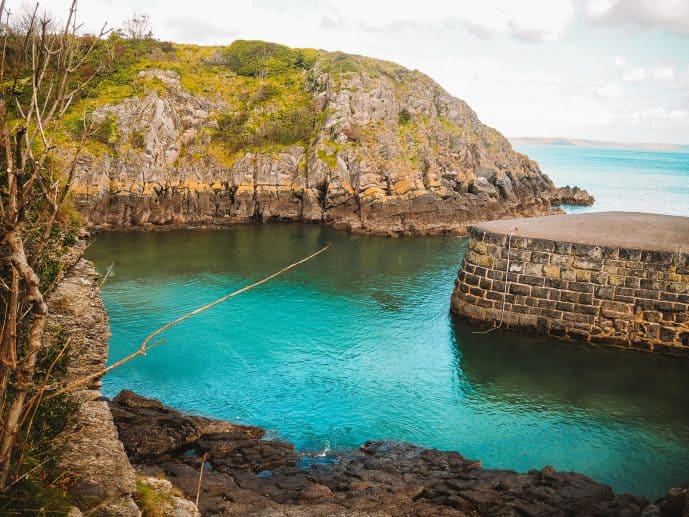 Have a drink in the Stackpole Quay café
If you fancied a pick me up then you must head to the delightful Boat House Tea Rooms at Stackpole Quay.
It's run by the National Trust and so it has plenty of coffees, teas, cold drinks, homemade sandwiches and cakes to choose from.
There is limited seating indoors but their courtyard has plenty of outdoor seating. There are also some benches perched right by the sea, so you can enjoy your lunch with a view.
As there are no facilities at Barafundle Bay, I would recommend stocking up on some drinks and snacks here before you go if you haven't brought food with you.
It's also good to note that The Boat House Tearoom is only open in the summer season and opening times vary. See here for current opening times.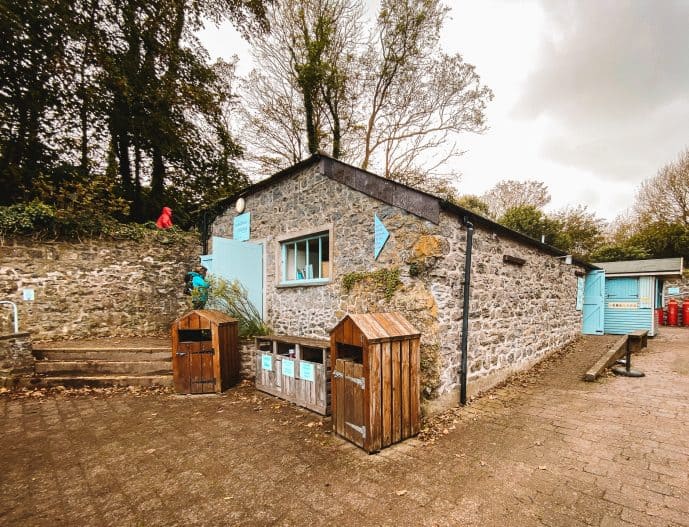 Go wild swimming or kayaking on Stackpole Quay beach
Although the beach here is far from sandy, it is still a beach that falls off a small cove on the quay. It's full of pebbles and rocks but that doesn't stop people sunbathing or swimming here if it's sunny and warm weather!
It's a great place to go open water swimming as the cove is protected from the stronger waves out to sea.
Many people prefer this spot for kayaking compared to Barafundle Bay, simply due to the fact that it's easier to carry the boats from the car park.
If you are planning a visit to Stackpole Quay Beach always check the tide times as this beach only appears at low tide.
The Stackpole Quay tide times can be checked here
Take a walk to Barafundle Bay!
Now, if you're looking for a great sandy beach to visit in Pembrokeshire then you must take the walk from Stackpole Quay over to Barafundle Bay!
This sandy cove has been voted as one of the top beaches in Wales and even the world. It's famous for its golden stretch of sand and clear blue waters.
It's also tucked away in a cove that makes it looks like a hidden place that's cut off from the rest of the planet!
You cannot drive over to Barafundle but you can access the bay on a short walk over the headland from Stackpole Quay.
It will only take you around 10 – 20 minutes and you'll be immersed into paradise. It's well worth making the effort.
Click here for my complete guide on the Barafundle Bay walk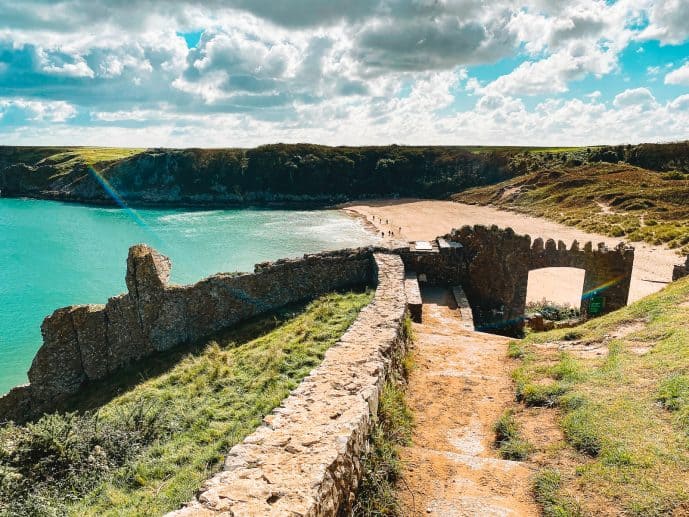 Visit Stackpole Village
Stackpole Village is a short drive away inland from Stackpole Quay and is an amazing stop if you have the time. I say village but it's more like a tiny remote hamlet that has one pub and a few idyllic cottages in the countryside.
The Stackpole Inn is the perfect place to stop if you're in need of some food or a drink. They have a hearty menu of warm meals and cold pints!
This countryside inn has actually won multiple foodie awards and they have been mentioned in the AA Food Guide, Michelin Guide and the Which? Pub guide too!
Their interior has a rustic cottage feel which is really cosy or you can eat al fresco in their pretty pub garden.
Explore the wider Stackpole Estate
Did you know that the historic Stackpole Estate is a huge area of the coastline in this part of Pembrokeshire?
The National Trust own over 200 acres of it and it includes public access to pristine beaches, walks, planned gardens and grottos!
You'll find so many amazing attractions around here like Bosherton Lily Ponds, Broad Haven South Beach, Eight Arch Bridge, Stackpole Elidor Church and Devil's Quoit.
It's a delightful place to explore whether you choose to drive or walk via the Pembrokeshire Coast Path.
My top tips for visiting Stackpole Quay
Opt for a weekday – Although you will often find enough space to park here, I would personally opt for a weekday over a weekend as the car park does pack out!
Bring change – The Stackpole Quay car park only takes change, so remember to bring some pound coins with you. You'll need £3 to park but it's free for National Trust members.
Wear good footwear – the walks around the harbour and coast can be quite rugged. It's not a sandy cove at Stackpole Quay, it's more like pebbles and big rocks. So, make sure to have good ankle supporting footwear.
Prepare for changeable weather – Wales is known for its unpredictable weather, so come prepared for all seasons. It's always handy to have a rain jacket with you in case of a downpour! Plus, it can get quite chilly with the breeze on the coast.
Facilities – there are a few facilities in Stackpole Quay like the café and clean public toilets in the main car park. Best to make use of them as Barafundle Bay doesn't have any toilet facilities at all!
Opening times and prices
Stackpole Quay is open from Dawn to Dusk and is completely free to visit, you just need to pay for parking in the National Trust car park. As always, National Trust members get to park for free!
This also goes for the Barafundle Bay, it's a free walk that you can take any time within reasonable daylight.
Read more of my Pembrokeshire travel guides
How to visit the Green Bridge of Wales in Pembrokeshire
How to get to St Govan's Chapel
How to find Dobby's Grave on Freshwater West Beach
A complete guide for the Blue Lagoon
Save how to visit Stackpole Quay guide for later!