Okay, Muggles, witches, and wizards of all houses. Did you know that you can visit the Steall Falls Harry Potter waterfall that features in the background of Hogwarts?
You will recognise this magical cascade in the backdrop of various Quidditch matches and the Triwizard Tournament in the Goblet of Fire.
Steall Waterfall is Scotland's second-highest waterfall and it's also one of the most popular things to do in Fort William as well!
So, if you wanted to see where Harry caught the Golden Snitch and was chased by the Hungarian Horntail Dragon. Then, you only need to fly your broomstick over to Glen Nevis for a short hike into the mountains.
Here is a complete guide with directions for the Steall Waterfall walk and how to get to Steall Falls Harry Potter filming location in Scotland!
Aside from Ben Nevis, this walk is one of the most popular in Fort William. In peak season and on weekends, I would recommend arriving before 9 am to guarantee a parking space as the car park is small.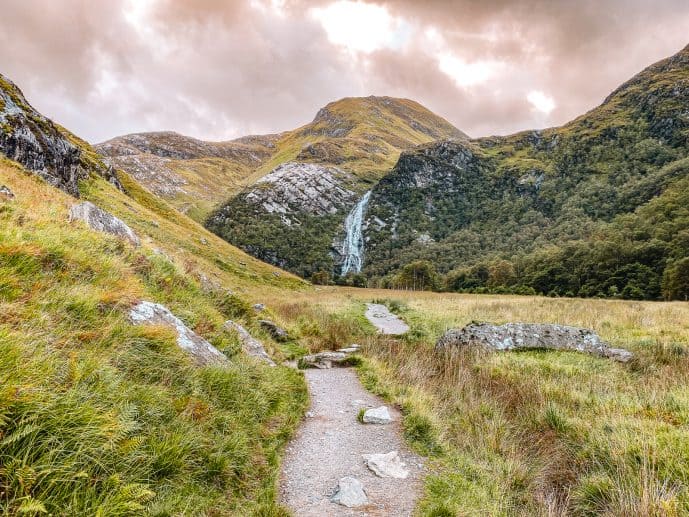 What is Steall Falls?
Steall Falls, also known as 'An Steall Bàn' meaning 'White Spout' in Gaelic, is a spectacular waterfall located in the Highlands of Scotland.
It's Scotland's second-highest waterfall and it has a single drop cascade that is 120-metres high or 390 feet!
What makes this waterfall so special is the fact that the water flows through the dramatic peaks of the Nevis Range mountains and the pathway leads you through the Nevis Gorge. It emerges on the slopes of An Gearanach through a valley called 'Coire a' Mhail'.
Steall Falls was formed by two different glaciers melting and eroding the rockface during Scotland's Ice Age over 10,000 years ago.
It's also extremely popular today with Potterheads and is known as the 'Harry Potter Waterfall'. This is because Steall Falls and the area around it featured as the background of Hogwarts Quidditch arena in the movies!
Is Steall Falls in Harry Potter? What is the Steall Falls Harry Potter connection?
YES! Hawk-eyed Harry Potter fans will know that Steall Falls is in Harry Potter as a filming location!
So, millions of people around the world have probably already seen this waterfall in Scotland without knowing that it's a real-life location you can actually visit.
Although it is known for being in Harry Potter and the Goblet of Fire (2005), you may be surprised to find out that this waterfall actually featured in five of the Harry Potter movies!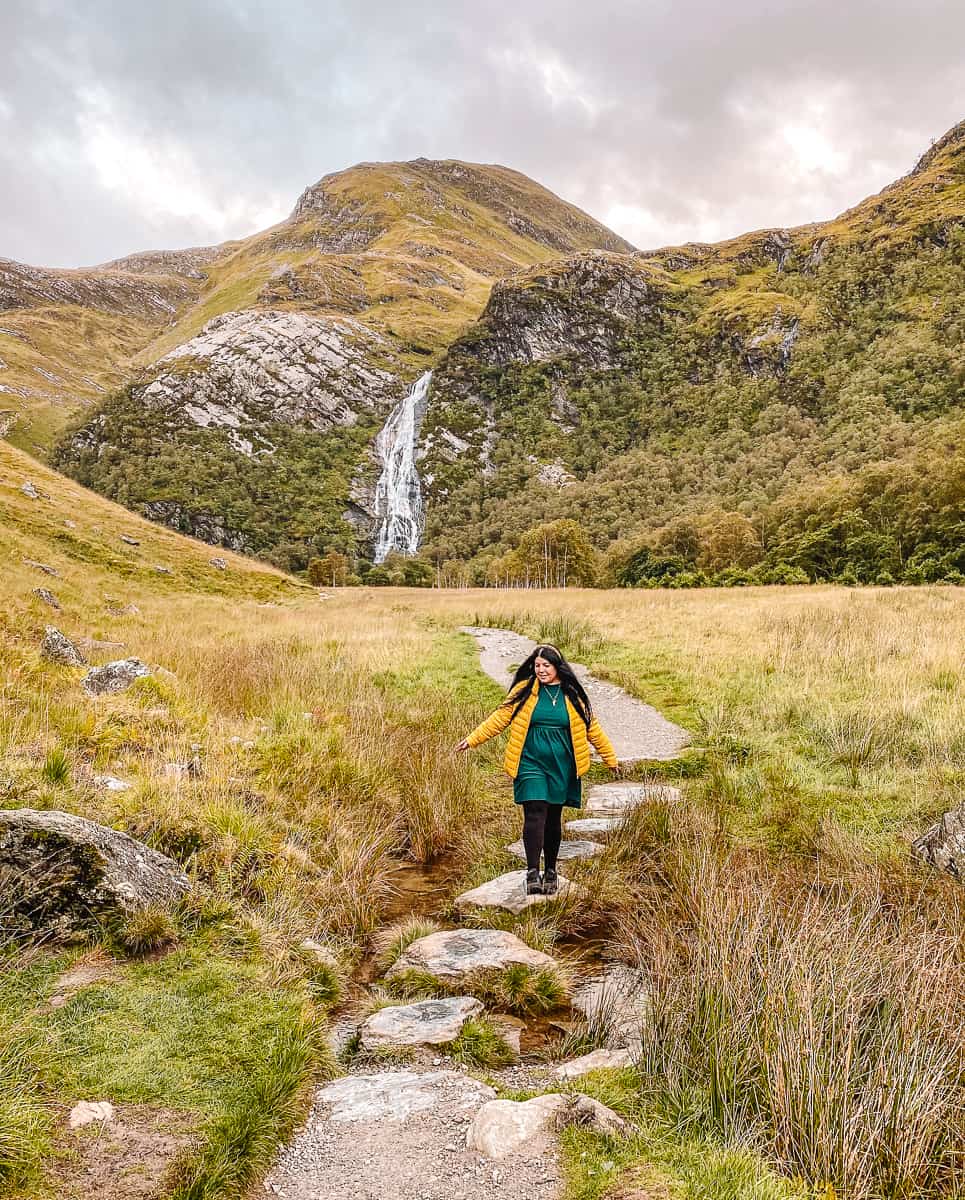 What Harry Potter was filmed at Steall Falls?
So, you will probably recognise this spectacular waterfall from almost all of the Harry Potter movies in the series.
The Steall Falls Harry Potter Waterfall can be seen in;
Harry Potter and the Philosopher's Stone (2001)
Harry Potter and the Chamber of Secrets (2002)
Harry Potter and the Prisoner of Azkaban (2004)
Harry Potter and the Goblet of Fire (2005)
Harry Potter and the Half-Blood Prince (2009)
However, many Potterheads remember this waterfall most from Harry Potter and the Goblet of Fire during the dragon task of the Triwizard Tournament.
Steall Falls Harry Potter scenes
If you watch any of the above Harry Potters movies back, you'll catch a glimpse of Steall Falls in the backdrop of the various Quidditch matches and tournaments.
This is where Harry catches the Golden Snitch in the Philosopher's Stone, battles it out with Draco in the Chamber of Secrets and where Ron gets a little help from Hermione in the Quidditch Tryouts of Half-Blood Prince.
The Quidditch arena at Hogwarts was digitally imposed onto a backdrop of Steall Waterfall and the dramatic peaks of the Nevis Range for the movies.
But, you'll notice this waterfall more prominently during the Triwizard Tournament in Harry Potter and the Goblet of Fire.
If you remember during the first task, the participants have to capture a golden egg from a dragon that they select at random.
Harry Potter selects the Hungarian Horntail Dragon that is the most ferocious one. It results in a dramatic chase around the Hogwarts Castle grounds when the dragon breaks its chains loose.
You'll see Steall Falls in the background during these turbulent scenes and at the very end of the task.
This is when the dragon falls into a gorge and Harry Potter miraculously flies back into the arena on his Firebolt to seize the egg. The students of Hogwarts all go wild!
Watch the Steall Falls Harry Potter scene – Harry Potter avoids the Hungarian Horntail at the Triwizard Tournament!
Where is Steall Waterfall in Scotland?
Steall Falls or the Harry Potter waterfall is just a 20-minute drive from Fort William and it's one of the most popular things to do here.
Fort William is a popular place in the Scottish Highlands due to the infrastructure and outdoor activities that you can find in abundance.
It's also where The Jacobite steam train, aka The Hogwart's Express, leaves from to cross the Glenfinnan Viaduct. So, it's the perfect base for Potterheads wanting to see some magical Harry Potter filming locations
You'll find access to the Steall Falls walk on a short drive through the Glen Nevis area.
How to get to Steall Falls from Fort William
The only way that you can access Steall Falls is on a short hike from Glen Nevis Upper Falls Car Park. You can't see the waterfall from the road and you can't drive to it either.
You'll be driving through the Nevis Range that is filled with lots of walks in the area including the hike up to Ben Nevis that is the UK's highest peak!
There are a couple of car parks here to start this hike. But, if you want the closest one, you need to navigate your way to the Steall Falls Upper Car Park. From this car park, you can start your ascent up to the Harry Potter waterfall!
The Steall Falls Upper Car Park address is Old Military Rd, Fort William PH33 6SY.
By public transport: I would personally recommend driving here for this walk as it's a remote area and there are no buses to take you up to this car park.
If you're not driving, the best option would be to organise a taxi from Fort William there and back.
How long is Steall Falls walk?
So, for me, the walk to Steall Waterfall from the Upper Falls Car Park was around 30-40 minutes one way. I did stop for a lot of photos though as the views were amazing!
Although it is quite a short walk, I would personally recommend leaving around 2 – 3 hours to complete the circuit for this hike. It's around 3.5 kilometres distance in total.
As I was getting The Jacobite steam train that morning, I left it a little tight and I didn't have time to explore the waterfall close up or cross the rope bridge further down.
If this is what you were hoping to do, I'd leave plenty of time as there are lots of things to see as you get closer to the Harry Potter waterfall.
Also, it's worth noting that many parts of this trail are narrow and allow only one person to cross at a time. This easily causes a bottleneck.
So, you may be waiting behind people or for people coming the other way if you arrive later in the day. I'd factor in extra time for this too.
Personally, I would recommend getting to Steall Falls car parks for this walk before 9 am. This is so you can get a parking space and avoid some of the crowds. This hike is extremely popular!
Is Steall Falls walk difficult?
This is always subjective and it completely depends on your fitness levels and accessibility but what I will say is that this is a moderate trail.
Although it's a short hike, it's uphill pretty much the whole way. There are a lot of rocky parts to climb over and some streams to traverse. There are also many gaps in the path and stepping stones you'll need to hop over.
There are some wooden steps and boardwalks provided on the steepest parts but not all of them and most of the trail is quite uneven and steep.
However, when you reach the part with the waterfall view in the valley, it's relatively flat from there and you can just enjoy the views of the mountains in amongst the Nevis Gorge.
There's a rope bridge you can use to cross the river at the very end to access the base of the waterfall. When I say rope bridge, I mean a metal cable rope that you can pigeon over the water with wires on either side to hold onto. It sounds pretty terrifying but if I had more time I would have definitely given it a go.
I'm not an experienced hiker by any means but I found that this hike was totally doable if a little tiring on the legs. Just make sure to take your time and wear a good pair of ankle supporting shoes.
You won't see any of this waterfall until the very end part but it is so worth the climb when you finally get here!
Where to park for Steall Waterfall in Glen Nevis
There are actually two places you can park to access Steall Falls. There is a Lower Falls Car Park and an Upper Falls Car Park.
The Lower Falls Car Park is for those hikers who want more of a challenge. The walk will be a lot longer from this point and the trail will be difficult.
Most people visit Steall Falls and park in the Upper Falls Car Park that is much closer to the Harry Potter waterfall.
This is the one I would recommend as it cuts down your hiking time significantly and will allow you more time to explore the area.
The car park is completely FREE to park in but make sure to get here early to secure a parking place.
Campervans should know that the road up to the car park is very narrow and single track, so take care! I did see a few campervans up here.
The Glen Nevis Upper Car Park postcode is Old Military Rd, Fort William PH33 6SY. Here is a Google Pin to help you find it.
Steall Falls walk directions – How to visit the Steall Falls Harry Potter waterfall!
So, if you wanted to visit this Steall Falls Harry Potter filming location for yourself, you can do so on a short hike from the Upper Falls Car Park in Glen Nevis.
It is just one straight path the whole way to the Harry Potter waterfall in Scotland but I will give you some general walking directions so you know what to expect on the hike.
Here is how to get to Steall Falls in Glen Nevis that featured in the Harry Potter and the Goblet of Fire Triwizard Tournament!
FYI – The Glen Nevis Upper Falls Car Park is NOT an access route for Ben Nevis. You cannot hike from Steall Falls to Ben Nevis. You'll need to head back around and park up at Glen Nevis Visitor Centre Car Park for that hike.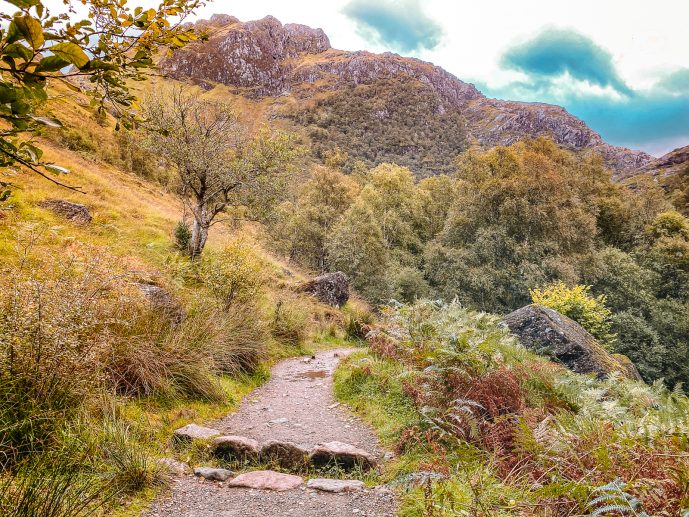 1. Leave the Upper Falls Car Park and follow the pathway
So, once you've parked your car at Glen Nevis Upper Falls Car Park, you'll need to head to the path at the back of the car park to start the walk.
There's a small information board here and a fair few warning signs about being careful and looking out for steep drops etc. Also, that BBQs and open flames are banned!
But, this path will be the one that you follow the whole way up. It's flat at first and then it gradually starts to get steeper. You'll be walking upwards pretty much the whole way.
Already, you'll start to see some gaps in the pathway that allow the small streams to travel through.
2. Keep heading upwards, crossing over small mountain streams
Keep heading upwards through the woodland. It's pretty flat until you get to some small cascades you'll need to cross over.
I think the hardest part for me was this jagged rocky part that had a fast-flowing waterfall travelling through it. It's very smooth due to the footfall and was really slippy as it was wet. So, take your time with this part.
As I said before, some of the most difficult gaps have boardwalks to use but not all of them. So, it can be quite a challenge in places to traverse over the rocks.
However, there are some pretty amazing views to be had on this walk as you make your way upwards.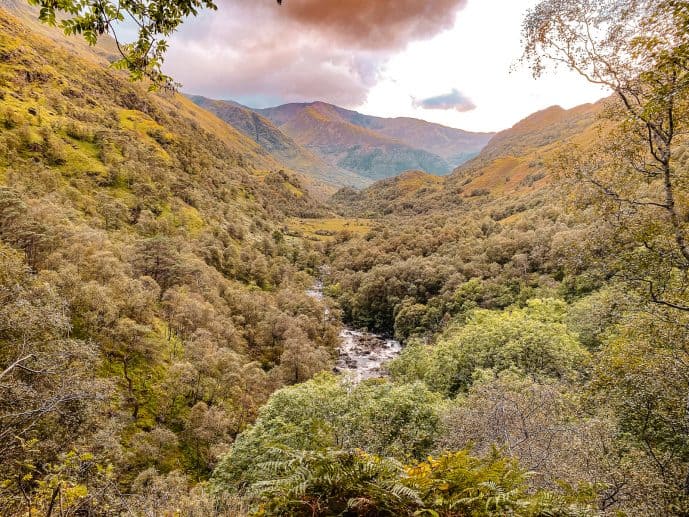 3. Keep heading up the steps and the wooden boardwalks until you see Steall Falls!
When you see the wooden steps and the long wooden boardwalk that leads you around the hillside, you're almost there.
It's just a few more rocks and jagged paths to traverse over and then you'll reach the flat path that takes you towards Steall Falls.
As I was running late and I hadn't seen any inkling of these falls yet and I started to panic. But, luckily I found some fellow Potterheads who reassured me that I only had a few moments to go.
You'll first see the river that flows beside a field in the valley. Then, you turn a corner and see the magical Harry Potter waterfall in the distance!
I cannot tell you how happy I was to finally get here. It looked so magical flowing between the dramatic mountain peaks of the Nevis Range. It felt like I had finally reached Hogwarts, haha.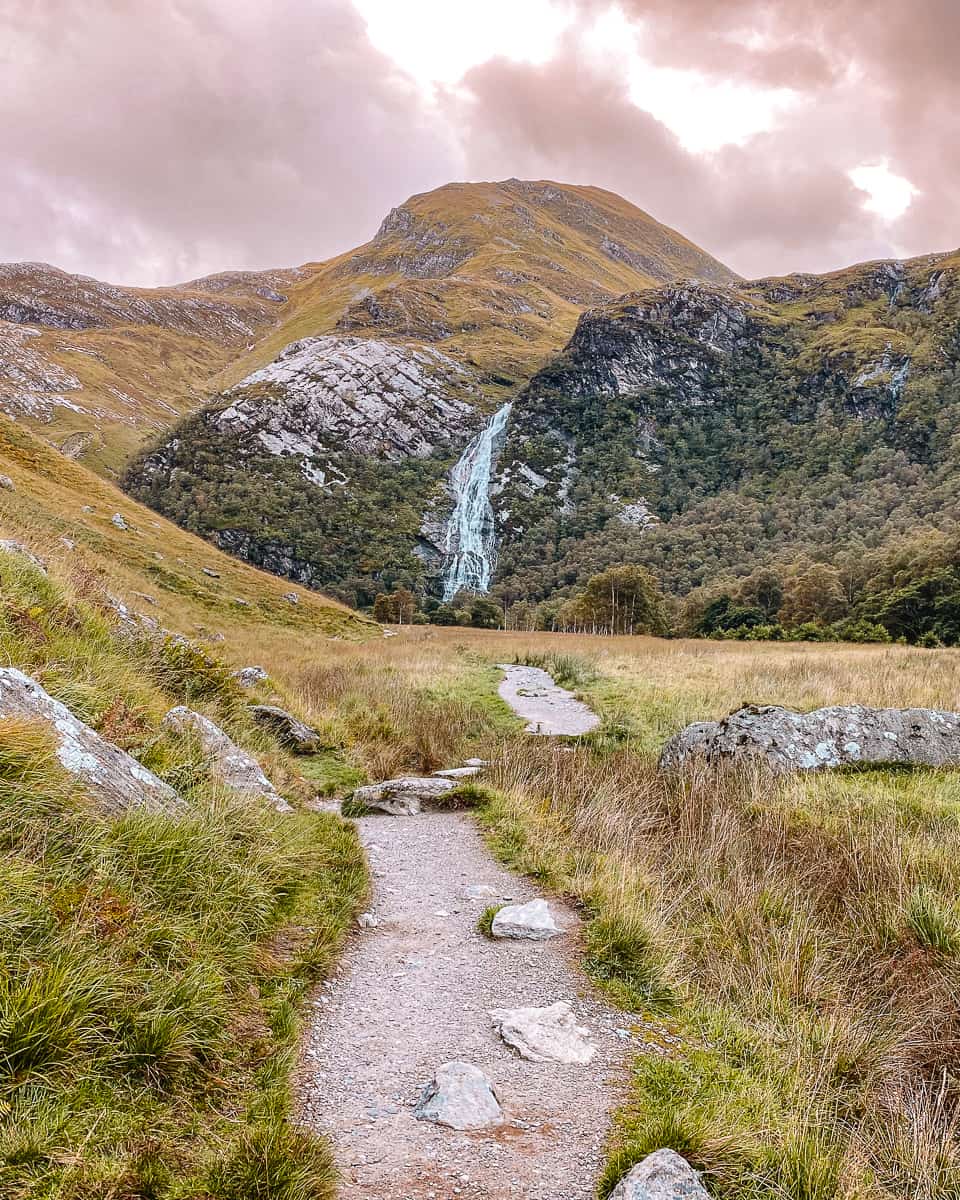 Exploring the Steall Falls Harry Potter filming location
For me, it was pretty surreal to finally make it to the Steall Falls Harry Potter waterfall in Glen Nevis.
Like most, I have watched Harry Potter many times and not realised that the background of the Quidditch matches wasn't actually a CGI location at Hogwarts but the Highlands of Scotland!
Of course, you won't find an arena here or any dragons. But, you will definitely recognise this as the grounds of the Quidditch arena of Hogwarts almost instantly.
In the movies, you usually see this waterfall far in the distance but, it's definitely better to experience it in person! I would say this is a must-visit for Potterheads visiting Scotland!
Steall Falls Photography tip – Personally, I felt that the waterfall in the distance with the mountains was the best location. Also, being close to the riverbank is nice. Remember, the closer you get to this waterfall the more challenging it will be to capture!
How to find the Steall Falls Rope Bridge
So, after you've taken some photos at this point, you can carry on down the pathway towards the river and cross over it to see the waterfall up close. It won't take you long to get to the river and you can see the waterfall crashing down beyond the stream.
At this point, you'll see the wire rope bridge that you can use to get even closer to the cascade. But, I would say to only do this if you feel confident – it looks pretty scary to balance on!
This is a cable wire bridge with one wire for your feet. You also get two wires on either side to hold onto. So, you'll need to pull out your best tight rope skills. The handles are really widely spaced apart so children or petite adults (like me) could find it a challenge.
As I was catching the Hogwarts Express in Fort William that morning, I really didn't want to be late so I gave the Steall Falls rope bridge a miss and just went back to my car.
I mean, I didn't want to be flying in my Ford Anglia to try and catch the train over the bridge now, did I? ;)
My top tips for the Steall Falls Harry Potter hike!
Wear a good ankle-supporting pair of boots – I did this in old trainers and I regretted it. The path is quite rocky, steep and you have to traverse streams at points. Have a good pair of shoes on.
Come prepared for the weather – Scotland sees a lot of rain especially in the Nevis Gorge. Make sure you have a spare layer or a coat with you in case it pours down.
This walk is dog friendly but make sure to keep them on a lead. There are many steep drops and cascades to traverse. There also could be cows and sheep grazing in the fields by Steall Falls.
Arrive early – the Steall Falls hike is one of the most popular walks in Fort William. But, the Glen Nevis Upper Falls car park is very small. So, arrive early to get a space.
On that note, leave for this hike with enough daylight. There is no artificial lighting in the Nevis Gorge. You don't want to be hiking in the dark as there are steep and unexpected drops.
There are no toilets at the Upper Falls Car Parks or on this hike at all. Make sure to use the facilities before you go!
In summer, you may find there are lots of midges here that bite. Bring a repellent like 'Smidge' or a midge net to ward them off.
Where to eat on the Steall Falls walk
It's good to note that once you're up in the Steall Falls Upper Car Park, there are no cafés or facilities in this area at all.
There are also no toilets in the car park, so I would make sure to pop to the loo and grab some snacks and a bottle of water before you arrive for this hike.
Some travellers in a camper van made up coffees in their Thermos Flasks for this hike. I have to admit that I was very jealous of them on that chilly morning haha!
The closest café you'll find is located at the Nevis Centre. They have a Light Garden Café serving up sandwiches, drinks, and light bites throughout the day.
If you were looking for a pub lunch or dinner, there is the Ben Nevis Inn and Glen Nevis Restaurant & Bar.
Can you go Steall Falls wild camping?
Many people choose to wild camp in Glen Nevis and the valley in front of Steall Falls is a really popular location for it!
In summer, you'll usually find lots of tents set up around this valley. It's a great place to sleep for an early morning walk and exploring the falls to beat the crowds.
But, remember that open fires are banned and you'll need a midge net or smidge repellent if it's warm weather!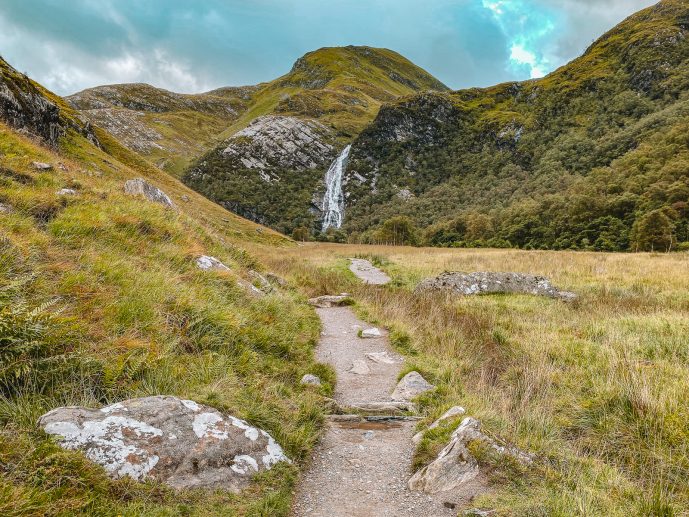 Where to next in Glen Nevis?
After your Steall Falls hike, I would highly recommend exploring more of the Glen Nevis area. Of course, many people choose to hike Ben Nevis here that is the highest peak in the UK!
If you weren't up for a hike, I would recommend taking a cable car up on the Nevis Range. You get a fabulous panoramic view of the mountains from up here without the fuss.
Cyclists will love this area as there is a mountain bike track you can take all the way down from the summit. There are also lots of easy hikes around the range to enjoy more of the views.
If you just wanted a relaxing visit without any walks, there is a sky café up there to enjoy lunch or a coffee in the clouds.
When winter arrives and the mountain tops are covered in snow, this place transforms into a popular ski resort. It's meant to be one of the best in the UK!
Click here to book your trip on the Nevis Range Cable Car
Are you looking for more Harry Potter locations in Scotland?
Did you know that there are plenty of other Harry Potter filming locations in Scotland that you can visit? You're in the perfect place to find them as most are located around Fort William!
If nothing else, you have to make a trip to Glenfinnan if you're a Potterhead. Here, you can catch a view of The Jacobite steam train heading over the Glenfinnan Viaduct which stood in for the Hogwarts Express.
Click here to read my complete guide on how to visit the Glenfinnan Viaduct to see the Harry Potter train bridge!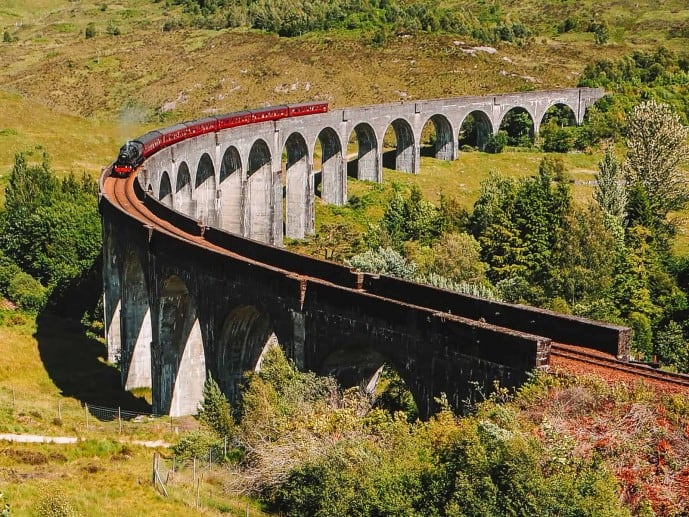 Afterward, make sure you head down to the Glenfinnan Monument and to Loch Shiel which stood in for Hogwarts Lake scenery.
You could then drive onto Eliean Na Moine to see where Dumbledore is buried. Loch Morar is another location and the famous Silver Sands beach nearby is also a Highlander filming location.
Loch Arkaig is also another great location to see but this would probably just be for dedicated fans as the drive is horrid.
Up near Inverness on the NC500, you can visit Black Rock Gorge which is another location in this scene of the Triwizard Tournament. After Harry gets chased by the dragon, they fly through the gorge under Hogwarts!
In Glencoe, you can visit Rannoch Moor Viewpoint, Loch Etive, and Clachaig Gully which is where they filmed Hagrid's Hut!
Finally, who could forget Edinburgh? Although there were no filming locations here it's the city that started it all. You can visit a real-life Diagon Alley on Victoria Street with Museum Context. Try Butter Beer, find Tom Riddle's Grave, and find Wizard Chess pieces.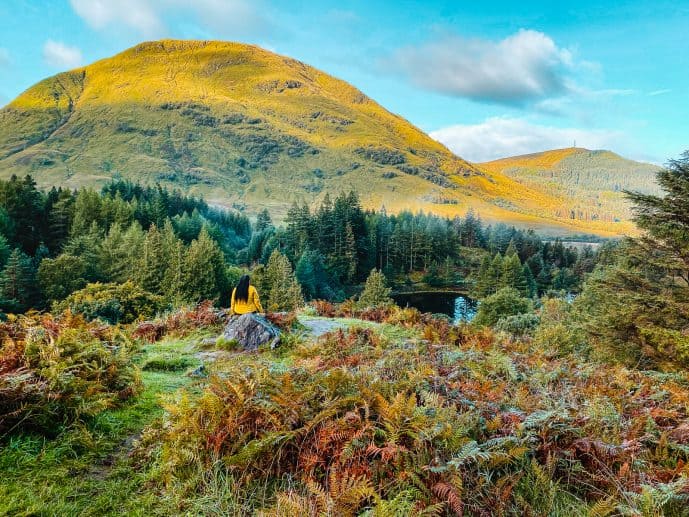 Read more of my Harry Potter travel guides
Harry Potter locations in Lacock
Harry Potter filming locations in Alnwick Castle
Where to find Harry Potter in York
How to find the Harry Potter Tree at Blenheim Palace
The Shop That Must Not Be Named Review
How to find Dobby's Grave in Wales
Harry Potter filming locations in Gloucester Cathedral
A complete Forbidden Forest Experience Review
How to see the Hogwarts Express in Scotland
Visiting Malfoy Manor in Real life!
Where to find Tom Riddle's grave in Edinburgh
Visiting the Quidditch Town of Tutshill Tornados
Harry Potter locations in Exeter along with Gandy Street and the Room of Requirement
Virginia Water – the Other Hogwarts Lake
Instagram locations at the Wizarding World of Harry Potter
Is this court a real-life Knockturn Alley and Diagon Alley in London?
Leadenhall Market – home of the Leaky Cauldron
London's only Butterbeer Bar review
How to find the Malham Cove Harry Potter Deathly Hallows filming location
Save this Steall Falls Harry Potter waterfall hike for later!