If you're looking to see some of the spectacular waterfalls that the Lake District has to offer, then you must schedule some time to see Stock Ghyll Force Waterfall in Ambleside.
Although a lot of waterfalls in the National Park take some serious hiking to get to, this is a short and easy walk in the woodlands.
This 70 foot falls crashes through an emerald cavern is a hidden gem that was popular in Victorian times. However, not many people visit today making it the perfect stop if you want to avoid the crowds and get into nature.
In this complete guide to Stock Ghyll Force Waterfall, I'll go through how to get there, find the falls, and what you can do here too!
Heads up: my trip to the Lake District was sponsored by Go Lakes. Although I was a guest, all photos and opinions are my own.
What is Stock Ghyll Force waterfall in the Lake District?
If you ever see the word 'Force' in the Lake District, it usually means a waterfall is nearby!
Stock Ghyll is a tributary of the River Rothay and runs all the way down to the Waterwheel and the famous Bridge House in Ambleside town today.
It's a spectacular 70-foo waterfall that flows over a series of cascades and is tucked away in scenic woodlands. So, this makes it one of the most dramatic and pretty waterfalls in Cumbria.
It often has the nickname of Rattle Ghyll as it used to power many of the industrial mills and buildings in the area!
Stock Ghyll Force history
As a natural waterfall, this has probably been here since time began! But, Stock Ghyll Force has had a significant impact on the town through the ages.
Since the 14th century, there have been 12 watermills that were built in Ambleside and powered by the falls and other becks like Stock Beck.
These mills used to produce bobbins for cotton and silk thread, fabrics, paper, ground corn and it even processed wool as well!
Although these mills have long since closed many of these original buildings have been restored and used as shops.
The Bridge House is a National Trust property, the Waterwheel is now a guesthouse and many others are coffee shops and independents.
In the Victorian era, the land was owned by Colonel Rhodes. He saw that tourism was becoming very popular in the area with the completion of the North-Western railway and took advantage of letting people see the falls.
The Stock Ghyll Park was opened up for tourism and soon became very popular.
Colonel Rhodes put in a viewing platform, offered a refreshment shelter, donkey rides, and even bathing facilities at the waterfalls.
It used to cost a penny to visit in 1885 which was a lot of money for people back then.
But, the poster comments that all proceeds went towards the preservation of railings, seats, and 'rustic bridges'.
So, I guess we should appreciate that it is FREE now. You can still see the old turnstile entrance and exit!
Where is Stock Ghyll Force in Ambleside?
Stock Ghyll Force is easily accessed from the aptly named Stock Ghyll Lane which falls via Cheapside in Ambleside.
From here, it's an easy 30 minute round trip to the falls through a short woodland walk.
Although it is a relatively painless walk, it's not all flat. There are some large steps to navigate so I would look at my photos in order to see whether it is accessible for you.
Although many people stay it's a 'secret' to access it, the town has signposts for the walk. So you can easily navigate to it from anywhere in Ambleside.
Plus, if you have a phone signal there is even a Google pin! I'll be giving easy step-by-step instructions below but, here's the location tag if you would prefer it.
Where to park for Stock Ghyll Force?
There isn't an official Stock Ghyll Force car park to visit these falls. But, you can use some of the car parks in the local area and some of the free parking lay-bys too;
Stock Ghyll Lane: Opposite the entrance to the walk there is a time-restricted parking lay-by with room for 3/4 cars.
It is free before 10 am and after 6 pm. During the hours of 10 am – 6 pm you get an hour here FREE which is just enough time to see the falls.
You will need a parking disc to display in your car window. Your hotel, a shop, or restaurant in Ambleside should be able to source you one.
Rydal Road Car Park: If you'd rather not visit so early, you can visit the main Rydal Road car park for visitors. This is chargeable 7 days a week from 8 am-8 pm and by the hour.
There are 170 spaces with accessible parking spots. You can pay by cash, card, or phone.
Lake Road Car Park: The distance to Stock Ghyll Force from either of the main car parks in Ambleside is the same.
This is chargeable 7 days a week from 8 am-8 pm and by the hour. There are 48 spaces with accessible spaces. You can pay by cash, card, or phone.
Opening times and prices for the Stock Ghyll Waterfall
The Stock Ghyll Force walk is open 24 hours a day, 7 days a week and there are no restrictions on when you can walk around here.
I visited very early in the morning and saw some dog walkers about!
Unlike the Victorian era, the falls are completely FREE to visit as well. Making it a great budget activity in the Lake District.
How long is the walk to Stock Ghyll Force waterfall?
If you didn't want to stop for photos every minute like I did, you could easily walk this loop through the woods in 30 minutes.
So, it's around 15 minutes to access the main falls from the entrance to Stock Ghyll Woods depending on your speed. I am pretty slow and it didn't take me long.
Plus, it was a little wet so I was held up a little by the muddy, slippy floor.
But, I think you should allow at least an hour to complete the walk as the falls are so pretty and you'll definitely want to snap some photos. Plus, there is are benches to stop and admire or eat some lunch!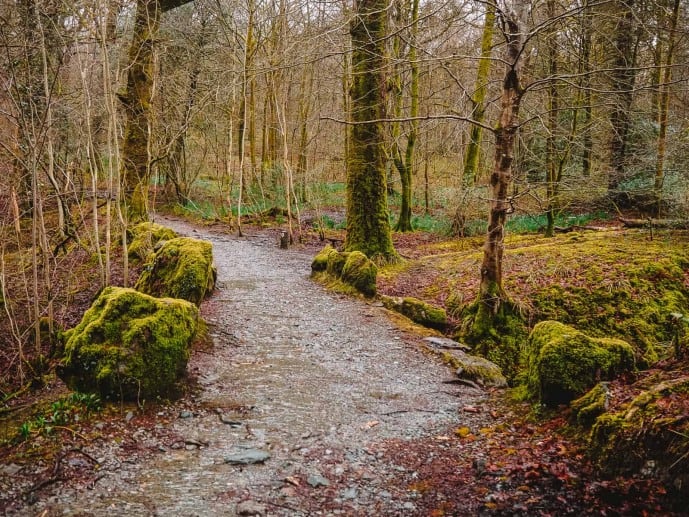 What to wear and pack for Stock Ghyll Force
I am not an avid hiker myself, so I didn't come prepared with walking boots and waterproofs or anything like that.
You don't need them really. I just went in my normal trainers, with leggings, a dress, and a coat.
However, I would definitely suggest preparing for the weather. If it is raining or has been raining for a few days, the floor gets incredibly muddy and a little flooded. So, I would wear waterproof shoes.
In the spring and summer, I would say you could easily do this walk in whatever clothes or shoes you're wearing.
Obviously, don't go in stilettos (haha) but don't feel like you have to level up into serious hiking gear.
Here's a quick little check list of things to bring with you:
Appropriate clothes for the weather
A good book if you want to read
Bug spray – even in winter there were a lot of wigglies and nats around here
Camera – pics or it didn't happen!
You don't need a map or even your phone really, it's really easy to navigate.
A complete guide on how to get to Stock Ghyll Force Waterfall on foot
Although it is pretty simple to access, I'm going to put a complete guide on how to reach Stock Ghyll Force that you can save for later.
The main takeaways are to follow the signs and the red arrows towards the falls and that keeps you on the right path.
I probably don't need to say this but please don't try to access the falls by climbing over any of the barriers or rails. It's not worth it.
It's a huge 70-foot gorge and it's easy to get stuck or hurt yourself.
1. From the Stock Ghyll Lane follow the signs along the river to the first cascade
You can start the walk from The Ambleside Inn on Market Place which is the A591 road in Ambleside.
Navigate to Stock Ghyll Lane which lies in between The Salutation Hotel and the Doi Intanon, Thai Restaurant.
Once you're through this lane, you'll see Cheapside on your right. Keep walking down Stock Ghyll Lane to your left.
If you're driving this will be where you'll find the time-restricted spaces to your right of the entrance to Stock Ghyll Woodland Park.
Once you've reached the entrance point you'll see a sign that says 'this way to the falls' with a hand pointing you in the right direction.
Down this woodland walk, the first cascade will be here and it's pretty gorgeous! This is a great start to the falls not even five minutes into the walk!
I stopped here for a few photos and there is a small bench nearby to watch too. Or, you can keep on going to the main falls.
2. Then, follow the red arrows through the woods to the falls
Just off of the first cascade, there are other signs which say, 'follow the red arrows to the falls'. So, I guess we should comply!
This is where the woodland walk starts and ends as it is mostly steps but it is nothing too steep. I did find some of the steps were made of logs and these were a little slippy in the rain. Just be careful as you go.
You really can't go wrong following these red arrows as they lead you straight to it and are not too far apart to lose the trail.
3. Follow the trail all the way up the steps towards Stock Ghyll Force
The final leg of the walk to the viewing platform is another series of log steps that are a little steeper than before.
You just keep following the route around until you see the railings on your left-hand side.
If you still can't see the waterfall at this point just head towards the loud crashing noise!
4. You can view the waterfall from the viewing platform here…
Once you see the railings and iron fence on your left, these are some of the best viewing platforms of the waterfall.
You can go and see two platforms, once is lower down which I found a lot better than the second one above. I didn't find any of the views up the top or to the left of the waterfall that was great for photos.
So, I would definitely make the most of capturing the falls here. After that, you can just head back the same way to leave towards Ambleside if you wish to.
5. ….Or loop around the top of the falls and follow the trail back around the other side
From here, you can carry on going around the waterfall on an easy loop through the Stock Ghyll woods.
Just before you reach the top of Stock Ghyll Force, you can exit via the old Victorian turnstile on your right. Or, walk to your left into the loop.
Once you reach the very top there is an old mossy bench and a small picnic table to make use of for lunch.
Or, you can continue over the panoramic bridge and head down for another view of the falls on the left-hand side of the gorge.
In winter, this viewing platform was completely muddy and I didn't want to risk slipping.
But, I did carry on down the looped walk back towards my car parked up on Stock Ghyll Lane.
6. Cross the bridge over the river to join the original path back to Ambleside
Once you reach the bottom of Stock Ghyll river on the hike. You'll see a bridge that will allow you to cross over the river and access the original path that you came in on.
From here, you can easily head back to Ambleside and continue your walk through the town, or on one of the many walking routes in the area too!
Facilities at Stock Ghyll Force Waterfalls
There aren't that many facilities here in Stock Ghyll woods. So, I'd prepare for this before you go. There are no toilets or cafés in the area.
But, there is a small picnic bench for lunch and some bins to clear up your rubbish after you.
There are some benches dotted around too if you wanted to rest. But, the main facilities you need will be in Ambleside! Luckily it's close by.
Looking for more waterfalls in the Lake District?
The Lake District is full of amazing waterfalls that you can access here. Some are a little harder than others.
In the Northern Lakes, you have the picturesque Aira Force, which is the most famous and can be accessed in an hour's drive from Ambleside.
But, if you're looking for something nearby, I would recommend the easy-to-access Skelwith Falls. Although it is only 16 feet, it is small but mighty and very scenic.
It's around an 8-minute drive to access from Ambleside. From the car park, you can reach it in minutes and it's quite lovely.
Unlike Stock Ghyll Force, you can actually get up close to it! Skelwith Force is the meeting of two rivers the River Brathay and Langdale Beck.
Things to do after Stock Ghyll Force Waterfall
Once you've finished this panoramic walk around Stock Ghyll Force, what can you do near here?
Well, Ambleside may be a small town but it is full of incredible historic attractions to visit.
Plus, it's on the gateway to Windermere Lake so you can take a boat ride from the Waterhead Pier!
Click here for my complete Ambleside travel guide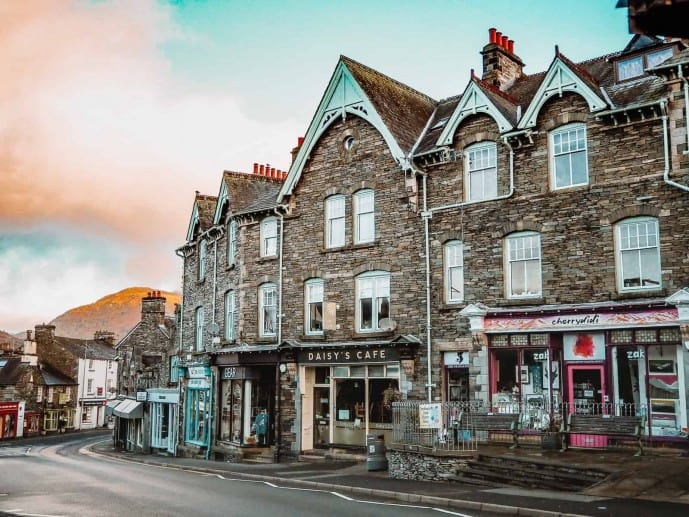 Explore Ambleside on foot
Ambleside is a really picturesque town in the Lake District with many amazing attractions to visit in the area.
You can pop into the shops at Market Cross, head down to St Mary's Church, or have a coffee in one of the many cafés.
There is a huge collection of books and portraits at the historic Armitt Museum or you can visit their manicured Stagshaw Garden on the way to Waterhead Pier.
There are so many quaint streets to get lost in and you can see where the bottom of Stock Ghyll Force leads at Stock Beck.
Photograph The Bridge House
The Old Bridge House is now a National Trust property and an icon of the National Park. But, it had its humble beginnings as an Apple store!
It was built over the river to avoid land tax by the Braithwaite family in the 17th century and has had many purposes over the years. At one point, it housed a family of 8!
Artists and poets for centuries have captured its likeness and today, tourists come in their bucket loads to take photos and relax in the garden.
Related posts – fun facts about The Bridge House in Ambleside!
Take a Lake Cruise from Ambleside Waterhead
A cruise goes hand in hand with the Lake District and it is one of the best ways to see the breathtaking views of the National Park.
You may struggle to choose a cruise provider, but Windermere Lake Cruises is the oldest and largest company in the area.
Not only do they have the biggest fleet but also the most cruise routes. You can buy a 'Freedom of the Lake' ticket which will give you access for 24 or 48 hours!
It's so relaxing to cruise down the lake, taking in the views and stopping at towns and villages for the day. I would highly recommend it.
You can easily head out on a boat from Ambleside Waterhead Pier.
Click here for me complete Windermere Lake Cruise Guide
Visit Wray Castle
Built as a folly castle mansion home in the 19th century, this amazing property in the countryside is a Victorian neo-gothic building at Claife.
It was made on orders from Dr. James Dawson, a retired surgeon from Liverpool in 1840.
The Dawsons came into a hefty inheritance from a Gin distillery fortune on his wife's side. Although it was built using her money, she took one look at the house and refused to live in it!
It has been a property of the National Trust since 1929 and today, you can explore this incredible mansion home and grounds.
As it is perched on a hill, the views are spectacular and you can see Windermere from there!
Click here for more information and opening times!
Walk to Rydal Water & Cave
You may pass Rydal without really noticing on your way over to places like Grasmere and Keswick. But, I would recommend that you stop by and check it out.
Not only is it the place where William Wordsworth spent the majority of his family lived until his death at Rydal Mount, but it's also home to Rydal Hall and some incredible historic houses too!
You can visit the spectacular Rydal Hall Waterfall on the grounds from "The Grot".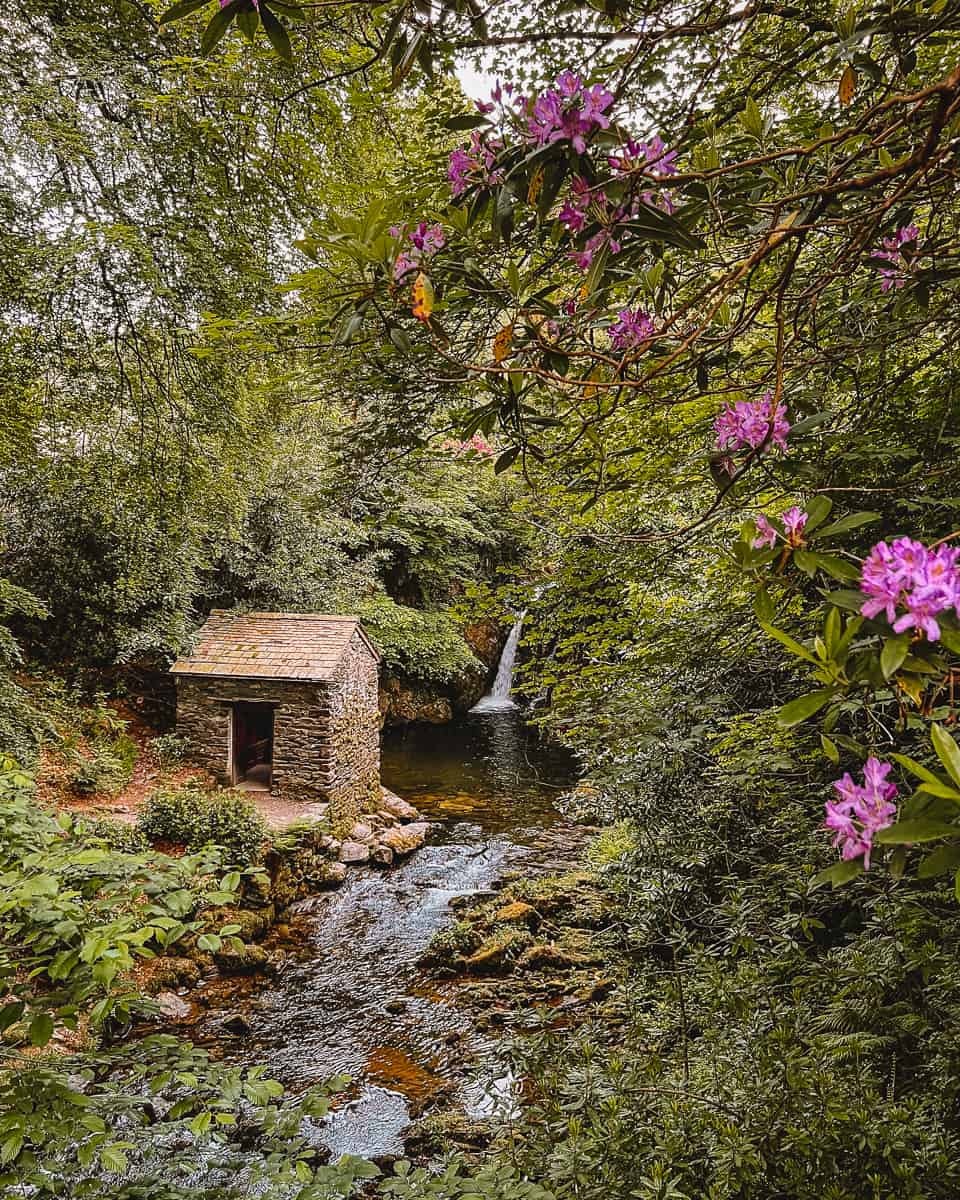 After you've finished exploring hidden gems like the Rydal St Mary's Church, you can head through Dora's Field to the walks around Rydal Water.
My favourite place here was the small walk to the spectacular man-made Rydal Cave!
It's a really easy round trip and takes less than 30 minutes from the village.
Click here for my complete hiking guide to Rydal cave or a list of awesome places to visit in Rydal
Fall in love with Grasmere
William Wordsworth famously called this area "the loveliest spot that man hath ever found" and now that I have been, I can see why.
It's a quintessential English village with ancient cottages, historic homes, cobbled streets, church towers, rolling hills with sheep grazing. It's like a postcard.
You can pop into shops, stop for coffee, or just enjoy exploring this stunning area.
Click here to read my complete Grasmere travel guide
You can follow in his footsteps to two of the properties he lived in, both Dove Cottage and the Allan Bank. Or, visit St Oswald's church to see his final resting place.
You can take a wander around the Wordsworth Memorial Garden or visit the world-famous Grasmere Gingerbread shop that has been making gingerbread since 1854!
Where to stay near Stock Ghyll Force
A hotel that is close by to Stock Ghyll Lane is The Ambleside Inn.
Although it's a relatively new property in the area (it used to be The Queen's), it's located in a gorgeous 18th-century building!
There are 30 newly refurbished rooms to book for your stay and there is a cosy restaurant and bar on-site too. So, you don't have to go far for food or for a nightcap either.
I have stayed at three Inn Collection Group properties now and always love their clean and spacious rooms, friendly service, and amazing food.
The decor always incorporates the local area and you're guaranteed to wake up to a delicious breakfast with continental and Full English options!
Click here to read my full review of this hotel and how to book your stay
Read more of my Lake District guides
Places to visit on a Windermere Lake Cruise
A complete guide for the Blea Tarn walk
How to visit Hodge Close Quarry
All The Witcher filming locations in the Lake District
A complete Cathedral Cave walking guide
How to visit Claife Viewing Station
Save this Stock Ghyll Force Waterfall Walk guide for later!