On my visit to Byron Bay, I sealed my fate with a visit to Railway Friendly bar. This is where I first tried Stone and Wood Beer.
I'm not a beer connoisseur or anything like that but I was instantly in love.
I looked up the company and found out that the brewery itself was located in Byron Bay and I instantly booked up a Stone and Wood Brewery Tour! Here's a full review of the experience.
A quick overview of Byron Bay
Byron Bay is known for its hippy vibe and laid-back atmosphere.
You'll most likely hear about the Arts Factory hostel and the trips to Nimbin which used to host the original Aquarius Festival in the 70s.
It attracts a lot of alternative types and for a good reason.
As you wander around, its zen atmosphere is really catching.
Most days are spent on the beach lazing and catching surf, watching the sunrise or sunset with a few beers in hand.
Not a bad way to live. It's so infectious you may not want to leave. Ever.
Stone and Wood Beer in Byron Bay
When I first got to Byron Bay, I turned up at the Railway Friendly Bar on band night and asked the bartender what they would recommend to try on draught.
She recommended a schooner of Stone & Woods Pacific Ale and I took her up on the recommendation. I never looked back.
It was kind of cloudy, looked strong but went down smooth and, to me, tasted of passionfruit. I had to get another.
For the next few days, that's all I drank and it was on tap at most of the bars in Byron and I found out why… Their brewery was down the road.
When I learned this, I researched their website and saw they were providing guided tours.
I had to visit and so booked in to check what it was all about.
Practical information about Stone and Wood Brewery Tours
How to reach the Stone and Wood Brewery in Byron Bay
The Stone and Wood Brewery where the tours happen is on 100 Centennial Circuit Byron Bay.
From the centre of Byron Bay, this is around a 30-minute walk or 15-minute bike ride over to the site.
How much are the Stone and Wood Brewery tours
At the time of visiting, the Stone and Wood Brewery tours were $25AUS which is a steal!
Included is a knowledgeable guide that will explain the whole process of brewing.
A tour of the Stone and Wood brewery and plenty of samples! In fact, so many samples you may leave a little tipsy!
How long are the Stone and Wood Brewery Tours?
The Stone and Wood Brewery tour will last around an hour.
Afterward, you're free to stay at the brewery for as long as you like. Buy a beer, chill out and relax in the gift shop!
Do I need to book for a Stone and Wood Brewery Tour?
I'd highly recommend doing so. They only allow a limited number at a time and you don't want to get turned away!
You can book online via their website here.
The Stone and Wood Brewery Tour in Byron Bay
When I arrived they were blaring out blues music and started off by giving us a taster of their Pacific Ale.. a really good start!
They then told us a bit about the brewing process and how different types of hops can affect the taste of the beer and give it that Passion fruit taste.
What I noticed was how friendly and knowledgeable the guides were about beer. I supposed you'd have to be to run these sorts of tours but they were so passionate about it, you couldn't help but be interested too!
They seemed like a family and let you in on the laughs and the history of the friends who set it up.
Taking a tour of the Stone and Wood brewery
Beers in hand, the group then moved round to the different equipment they use.
Currently, the main part of Stone & Woods brewing happens at a bigger factory in Murwillumbah so there wasn't any active brewing going on when we were there.
But, seeing the process it goes through, from just water to the beer I was holding was incredible.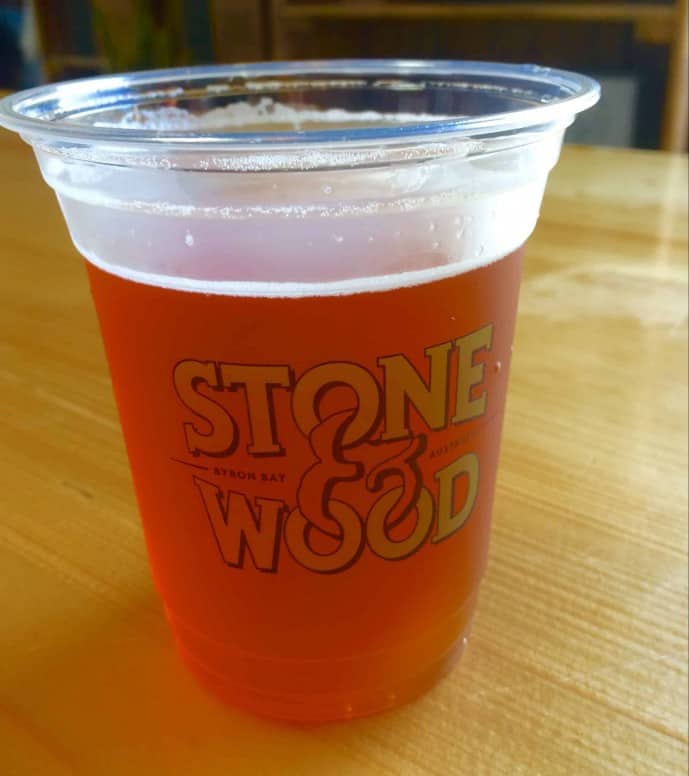 You can sample Stone and Wood beers on the brewery tour
After the tour was over, our host then gave us samples of four more of their craft beers!
We got to try the whole range; Garden Ale, Jasper Ale, Green Coast Lager, and a seasonal beer.
All had different tastes from the different hops they use.
They provided quite a large glass and so, depending on how you take your beer, I'd take it easy!
The Stone and Wood gift shop after the brewery tour
After the tour, I loved it some much – I wanted to see their gift shop.
They sell some tees, beer mats and you can purchase some bottles while you're there too.
Or go online via their website – kudos to the guys that mailed this to me all the way from Aus to the UK, legends!
The verdict of the Stone and Wood Brewery Tour
I was a little more than tipsy on leaving. So, this tour is well worth the money for only $25AUS!
It takes around an hour and you can book online via their website.
Booking is highly recommended as tours are popular and they only take 15 people at a time.
But, if you just want to try, you can head there for a sample pallet too.
The brewery is located in the industrial estate up the road from the main part of town. Walking will take you around 20 minutes.
Stone and Wood is my favourite beer in Australia
Out of all the beers that I tasted in Australia, Pacific Ale was the very best.
The smoothness and flavour kept me going back.
What's great about it is they don't believe in artificial preservatives or additives.
They brew their beer in the traditional way of Water, Hops, Malt, and Yeast. It's all-natural, tastes incredible, and doesn't even feel like you're drinking beer half the time.
It's the perfect addition to those hazy Byron Bay sunsets on the beach and I will always remember it for that.
It was one of my best memories of the East Coast.
As I live in the UK, I am extremely envious of those that can go down their local for a pint of it.
I can only hope it will eventually be stocked here in Britain.
Don't miss trying a Stone and Wood beer or a visit to their brewery in Australia
If you're not going to visit Byron Bay, they do stock Stone & Wood up most of the East Coast.
You can check venues that stock it via their beer finder.
Stone and Wood are just an awesome brand and I hope you get to try it too.
Next time you're in Byron, pick up a cold one. You won't regret it!
Read more on Australia – my top tips for finding wild kangaroos