Tucked away in the Transylvanian city of Brasov is a medieval cobbled street called Strada Sforii or Rope Street.
At just 111 centimetres at its smallest, it's officially the narrowest street in Eastern Europe and the third narrowest on the continent.
Originally, this was a shortcut made for firefighters but now this tapered alleyway is a famous tourist attraction you must visit while you're here.
Here is a complete guide for Rope Street Brasov and how to visit Strada Sforii, the narrowest street in Eastern Europe!
Strada Sforii history
This quaint historic city in the Transylvanian mountains has a long history being founded by Teutonic Knights and German settlers to protect the trade routes making their way through to Hungary.
The Strada Sforii, loosely translated as 'String' or 'Rope Street' was built in the 15th-century to allow firefighters a shortcut between the two main streets at either end.
Historically, not much is known about this street before the 17th-century when it was first mentioned in recorded documents of the city.
Nowadays, this tiny cobbled medieval street in Brasov still functions as a shortcut for pedestrians. But, it's also famous for being one of the narrowest streets in all of Europe.
So, it has become a quirky tourist attraction and meeting point that people love to visit while they're here.
Rope Street is the Narrowest Street in Eastern Europe
At a mere 111 centimetres (44 inches) at its narrowest and 135 centimetres (53 inches) at its widest, Strada Sforri is officially the narrowest street in Eastern Europe.
It's 80 metres long and you can really feel how narrow it is as you walk through when you see the walls taper and feel like they are closing in around you.
Although many say that this is the narrowest street in all of Europe, it's actually the third narrowest on the continent.
Parliament Street in Exeter, England is the second narrowest and Spreuerhofstrasse in Reutlingen, Germany holds the title for the narrowest street.
At just 31 centimetres (12 inches) at its smallest, Spreuerhofstrasse is actually the narrowest street in the entire world verified by the Guinness World Book of Records!
Regardless, it's still worth visiting the narrowest street in Brasov to say you did it and have a giggle as you try to squeeze your way through.
Read more – Is Parliament Street in England the narrowest street in the world?
How to visit Strada Sforii in Brasov
Although it's a city in Romania, Brasov is quite a compact place and so you don't have to venture far to see Strada Sforii.
It's only a 5-minute walk from Council Square! Simply head towards Schei Gate which is one of the main fortification gates in the city then head down Strada Poarta Schei in order to find it.
Alternatively, you can also find an entrance on the cobbled Strada Cerbului (Stag Street). You'll see a curious statue of a lady made out of rope pointing towards the archway entrance.
Rope Street can be found in-between Strada Cerbului (Stag Street) and Strada Poarta Schei (Schei Gate Street) in Brasov. Click here for a Google Pin!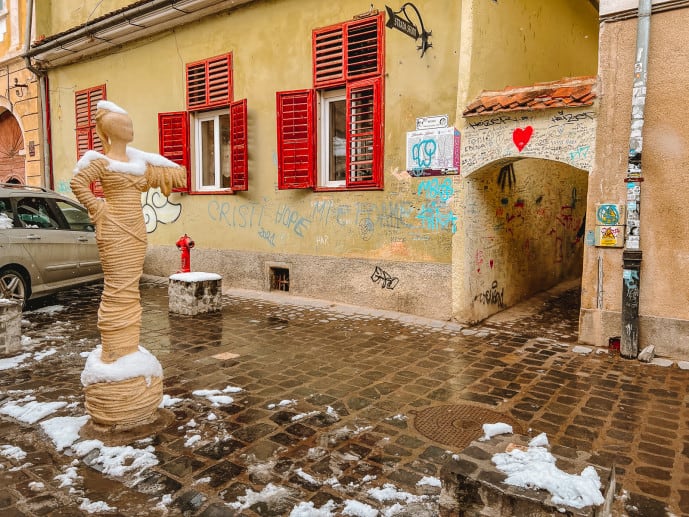 What to expect as you walk through Rope Street
As the narrowest street in Eastern Europe and the third narrowest street on the continent, you can expect any visit to Rope Street to be entertaining.
Although this used to be a shortcut for firefighters there is no way that you could fit a fire truck or even a scooter through this street! It's barely big enough for pedestrians.
As you descend through, you'll notice a rainbow of colour on either side of you and lots of lovely messages, notes, and art on the walls. Watch out for pigeons overhead (and their poop) who make a home here.
The funniest (and most awkward) part will be if you happen to encounter someone coming the opposite way! You have to do a bit of an uncomfortable cross over but it's all part of the fun.
In fact, as you walk through you can touch both sides of the walls with your hands which makes a good photo opportunity.
At 44 inches at its narrowest, you'll definitely feel a bit claustrophobic as you squeeze through the tapered gap. But, it's only 80 meters long so you'll be out the other side in no time.
The Rope Street Museum
There used to be a really cool Rope Street museum that was located on the Strada Cerbului (Stag Street) side of Strada Sforii.
This was a colourful FREE exhibition that had opened to showcase the work of local artisans but it appears to have closed down recently. Hopefully, this will reopen again one day.
But, in the meantime, you can find some of the awesome artwork that was located in the museum dotted around the entrance of the narrowest street in Brasov.
Like the Rope Lady statue pointing towards the entrance of the alleyway and some of the vibrant graffiti that can be spotted.
Also, it appears that the whole of Rope Street has become a living piece of artwork with many people drawing pictures and leaving notes on the walls of the street!
Rope Street Brasov opening times
The good news is that this medieval street is completely FREE to visit and is open at all times of the day and all year round.
So, you can squeeze (quite literally) a visit into the shortest of Brasov itineraries. It's well worth seeing and should only take you a minute.
This leaves you with plenty of time to explore this amazing historic city in Transylvania, the famous home of Count Dracula!
Looking for more things to do in Brasov?
Brasov is a historic city built by Teutonic Knights that is tucked in-between the majestic Carpathian Mountains, making it a fabulous tourist destination to visit in Romania.
There is plenty to do around here to keep you occupied for a few days within the city itself and around on a few day trips.
A highlight for me was heading up to Tâmpa Mountain on the cable car to see the famous Brasov Hollywood Sign!
It was a bit of a chilly adventure in the heavy snow but it made the visit all the more magical to see everything sprinkled in white.
You can explore the Piața Sfatului or Council Square with the City Hall Museum. Or, you can visit the imposing Biserica Neagră or Black Church.
As a medieval city, you'll find that it is surrounded by fortification walls, gates and towers you can explore like the Catherine Gate.
The views from both the White Tower and the Black Tower are outstanding but expect a bit of a climb!
Or, why not visit the Schei district to visit the First Romanian School Museum and 16th-century St. Nicholas Church?
Click here to read my complete guide of what to do in Brasov!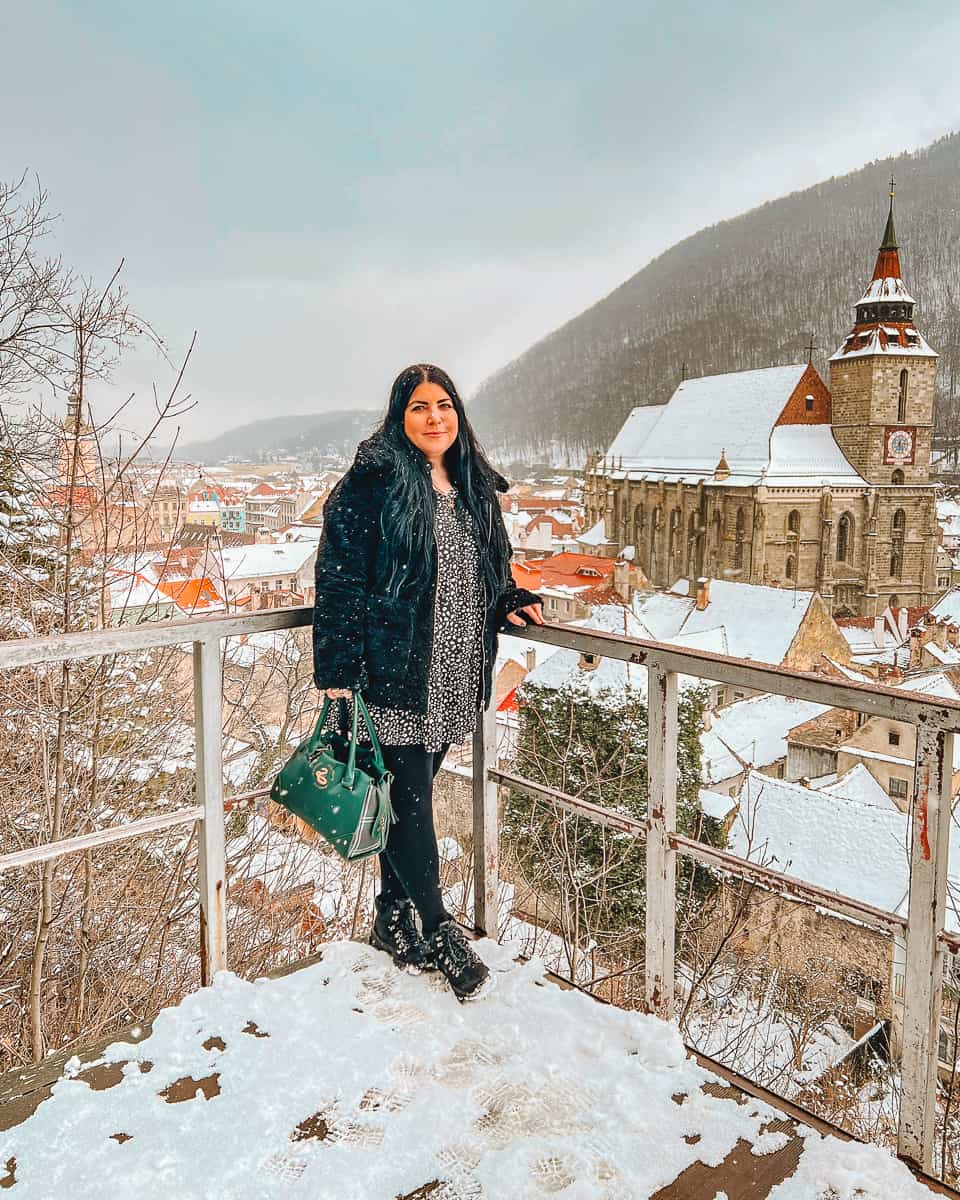 Transylvania, the home of Dracula!
Of course, no visit to Romania would be complete without a trip to the famous Bran Castle that inspired Bram Stoker's Dracula. You are in Transylvania after all!
It's only a short drive from Brasov itself, so you must try to make a day trip there if you're in the area by bus or taxi.
If you wanted to visit on a guided tour, you can book this Bran Castle, Peles Castle and Rasnov Fortress Tour from Brasov here.
Bran Castle was the famous home of the 15th-century ruler Vlad the Impaler who is referred to as the 'real Dracula' due to his bloodthirsty torture habits!
Although Bram Stoker never visited, he used Prince Vlad's infamous stories, dramatic fortress, and the dark legends surrounding Transylvania to create the world for his 1897 novel 'Dracula'.
So, as well as learning about the history of this castle, you'll also learn about werewolves, Strigoi's, ghosts, witches, and dragon myths too!
Related post – How to visit Dracula's Castle in Romania & my top tips!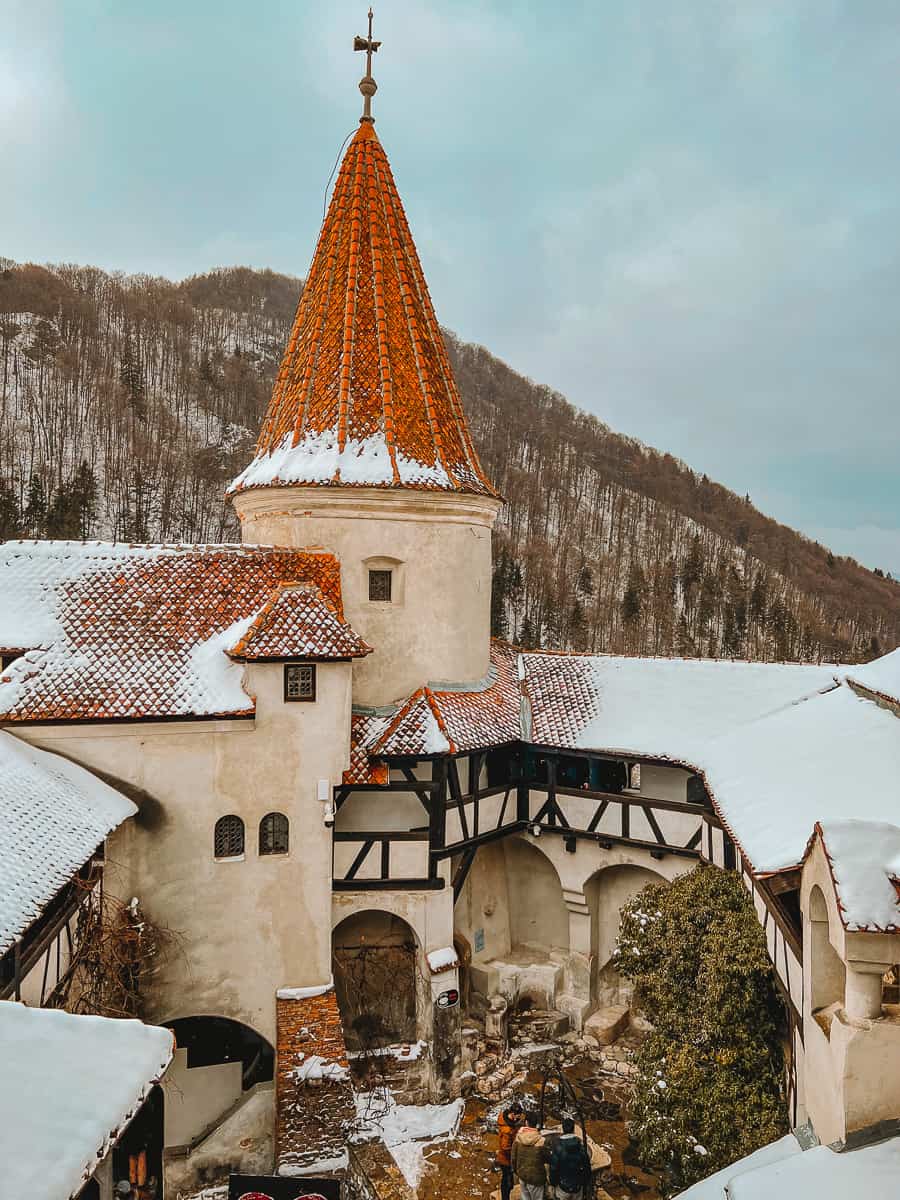 Read more of my Romania Travel guides
Carturesti Carusel – the prettiest bookshop in Romania!
How to visit Peles Castle from A Christmas Prince
Save this Strada Sforii Rope Street Brasov guide for later!