Looking back, I don't think there was a time that I didn't say "oooh, look at that", "oh my, isn't that pretty" and "is this real?" when I was walking around Strasbourg.
I was a little taken aback by its beauty for sure and every street came with its own surprise.
With the mixture of traditional French houses in Petite France, the enormous gothic Cathedral and the picturesque canal, it was a welcome step back in time.
The city is a stunning area of the Alsace region, on the border of Germany and France and if you are going to be heading that way I would highly recommend a visit.
It is like a chocolate box village and you could get lost for hours within its streets. I couldn't stop taking photographs, it was just so pretty!
I only stayed here for a stopover driving over to Switzerland but I made the most of my visit. Here are some tips to make the most of yours.
Getting to Strasbourg in France
On a road trip from the UK Channel Tunnel in Folkestone through to Calais you can head all the way down using the A26 and A4 to Strasbourg.
It is very close to Germany on the border and Switzerland can be accessed within a few hours from here.
Getting Around Strasbourg
Get Walking
As it's a small city the best way to get around is to walk – you never know what is waiting around every corner for you.
Plus, you get to stroll along the river and take in the French atmosphere.
Take the Tram
Strasbourg has its famous trams which connect the city if you fancy a ride.
They are extremely modern and efficient, a great way to get around if you're located outside of the city or your legs are ready to drop!
Things to do in Strasbourg
Luckily, there is plenty to keep you occupied. What's more, it is mostly free and the city is a jewel in itself.
1. Petite France
Petite France is one of the attractions that Strasbourg is famous for.
With its traditional 'Tudor' style buildings, hugging its flower bed-lined river, it's no wonder it's as pretty as a postcard!
Make sure you go early to beat the crowds to get some amazing pictures.
The reflections of the houses along the river, the traditional trader flags and its turntable bridge are all highlights not to be missed.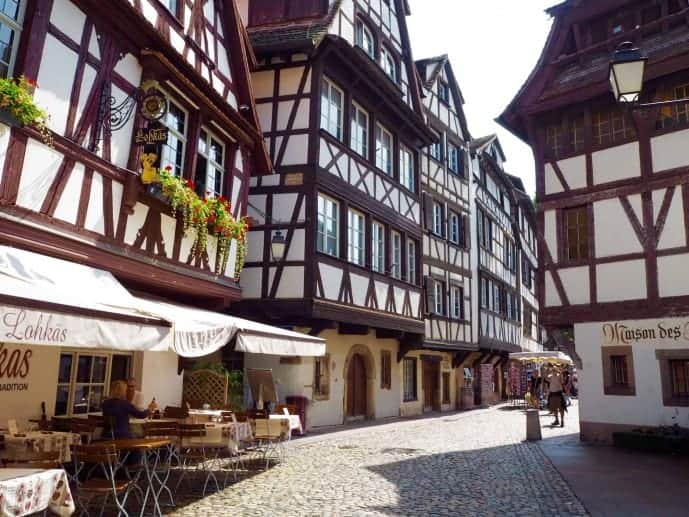 2. Visit Cathedral Square
I loved the cathedral here in Strasbourg. It was so gothic and intricate in design.
As I had showers and sunshine on my short visit, I loved to see the rain pour through the gargoyles' mouths!
You can visit the cathedral every day. Make sure you pop by at night though, it lights up a deep purple and is lined with candles.
On my visit, I was lucky enough to see a spectacular show where a moving light show reflected on the building.
It was a seasonal summer event, but if you do find yourself here this summer, make sure you catch a show. It's completely free!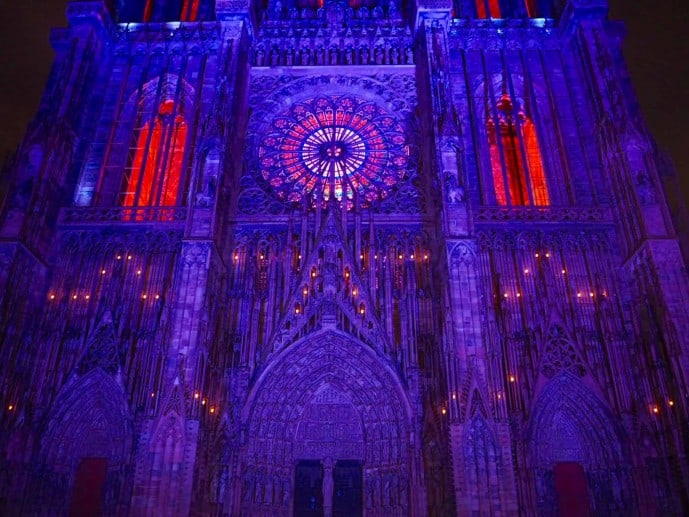 3. Ride the Carousel
What I loved about Strasbourg was that it had such a passion for its history.
From the light show to its buildings and cafe's, it's a city steeped in tradition.
They had a victorian carousel in the square when I came to visit. Make sure you take a ride and enjoy the views!
4. Take a boat ride
Strasbourg has glass boat tours which run every day from the city.
You will cruise along with their canal ways through Petite France and other areas on the river.
It is glass-covered, so perfect for rain or shine.
5. Wander around the city at night
I always love visiting a place both in the day and in the dark. Strasbourg is equally gorgeous in both.
Make sure you walk along the canal which is lit up with traditional-style lamp posts and weeping willow trees.
Click here to see more things to do in Strasbourg at night
What to eat in Strasbourg
Crépes!
I have to admit, that whenever I visit France there is always one food which instantly springs to mind – Crépes!
It's the only country where I find it is acceptable to eat a chocolate pancake before 10 am and so I took full advantage of that fact.
I found a pretty créperie in the main square opposite the cathedral and had their finest Chocolat Crépe – Jus D'orange Pressé which tasted incredible.
There were other cafés and Salon de The's so take your pick and Bon Appetit!
Ice Cream
I love French Ice Cream and when I saw that one of the Ice Cream Parlours sculpted their's into a rose for you, I had to have one!
Amarino, have a wide variety of flavours and if you choose their 'Classique Cornette' you can have as many as you like as your petals.
They take each flavour and make it into a beautiful flower on top of your waffle cone – it's so perfect you don't want to ruin it by eating it!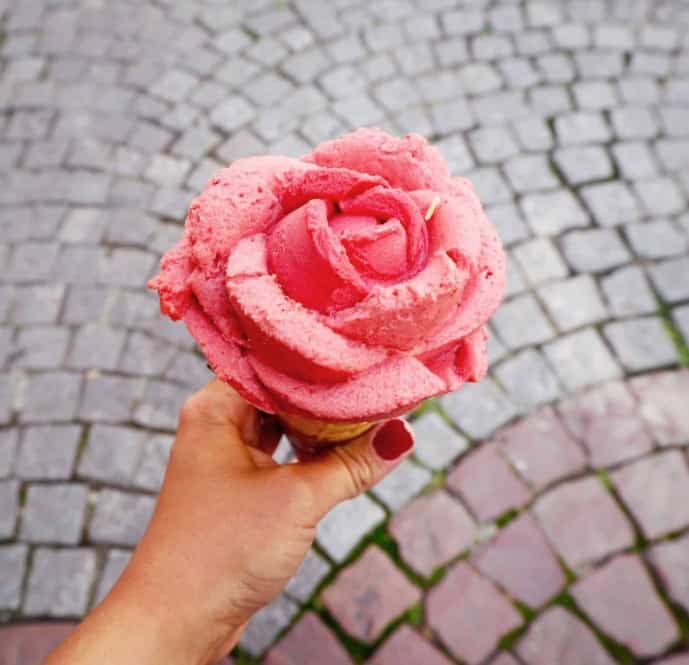 Pretzels
As it is on the border of Germany you can see a blend of the two regions blending into one.
Macaroons, Nougat and yummy Pretzels are on offer in the Patisseries here. Grab one, or two if you have room!
What to drink
Lager
There are a fair few locally brewed lagers in Strasbourg. My favourite was the 'Ancre Pils' which was an Amber beer of Alsace.
Very welcome on a hot day of sightseeing and best enjoyed chilled Al Fresco in Petite France!
Final Words…
Although it was just a whistle-stop tour, it was a memorable one!
Strasbourg is so beautiful and I was so glad to stop there and spend the night.
Make sure you add this historical city to your bucket list! If you would like to see more, you can check out my minute video below for some Strasbourg inspiration!