Scotland has a wealth of famous Outlander locations to visit but Summerhall Edinburgh is a best-kept secret.
The Summerhall anatomy lecture theatre featured in Outlander season three as a classroom in Boston.
It's here that Claire studied as an intern in medical school. It was also here that she met her close friend Joe Abernathy, who eventually becomes her partner in their medical practice in Boston.
Summerhall is a centre for the arts so, beyond an Outlander location, it's a great stop in the city while you're here.
Here's the ultimate Summerhall Edinburgh Outlander location guide!
What is Summerhall?
Before you ask, no, I'm not talking about Summerhall in Game of Thrones, lol!
Summerhall is a hub of culture and a multi-art complex in Edinburgh founded by Robert McDowell, a recognised artist, and economist.
It's one of Europe's largest private art centres which is self-funded and the rooms within its walls are used for concerts, exhibits, art displays, workshops, research labs, and offices.
As well as an arts centre, Summerhall has a community café, shop, and the popular Royal Dick pub that sits just outside.
In here, you can grab a drink and sit in its quirky rooms that show off creative displays, including some of the old veterinary exhibits from its past life.
Summerhall's ethos is to retain as much of the character of the building as possible. So, they adapt around the space.
If you do decide to visit, you'll be joining around 1 million visitors each year that walk through its walls!
There is a strict open-door policy at Summerhall! So, don't feel shy to pop along and pay a visit while you're in the city. There is so much to do.
Click here to see what's on at Summerhall this year!
Summerhall Edinburgh fringe events & festivals
Edinburgh is home to the largest arts festival in the world, the Edinburgh Festival Fringe.
It spans almost the whole month of August and has thousands of shows and performances across hundreds of venues in the city.
Edinburgh and the city streets really do have a buzz around this time and it's great to catch a few paid shows. But, there's also lots of fun free stuff to do as well.
Summerhall is a major venue for the Fringe Festival and wins more awards for their performances than any other venue. They usually average around 15% of the shows for the Fringe with hundreds of productions chosen internationally.
Click here to read my complete guide about the Edinburgh Fringe!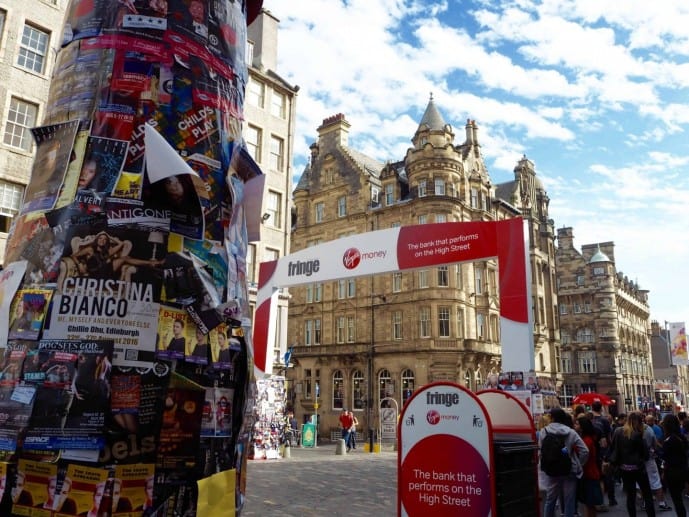 Summerhall Edinburgh history
In its beginnings, Summerhall dates back to a family-run brewery based on a farm in 1710. The first brewer was Robert McClellan. There is nothing left of this place now though apart from a well and a sandstone boundary wall.
Over the years, this was replaced with the Royal (Dick) Veterinary College which was part of the University of Edinburgh. Work began in 1913 and in 1914 was named after the founder of the UK's second oldest veterinary school Professor William Dick.
Work ceased in 1914 due to the First World War with young men serving, but it opened its doors in 1916. It remained The Royal (Dick) School of Veterinary Studies, or the Dick Vet, all the way until 2011 when it moved the campus to Easter Bush.
In 2011, the building was at risk of closure. So, it was bought by the McDowell family and is now a village of arts and culture in the centre of Edinburgh.
Now, it provides employment for over 500 people, gives space for hundreds of artists to produce, holds thousands of shows, and displays the best exhibitions for the world to enjoy.
It's more than just a building, it's a space with an open door policy for open minds.
How to reach Summerhall in Edinburgh
Summerhall is easy to reach in central Edinburgh and is located in Summerhall Square.
It's easy to access on foot as it's an easy 20 minutes walk from the Royal Mile. It's also in close distance to Waverley Train Station and the Edinburgh Bus Station. If you're heading here by bike, there are lots of bike rails to secure them outside.
If you were going to catch the bus here, it has its own dedicated bus stop and the services 29, 42, and 67 stop right outside the door. But other Lothian Bus Routes are the 3, 5, 7, 8, 31, 47, and 49.
If you were heading here by car there is a pay and display car park near to Summerhall and also The Meadows.
Summerhall Edinburgh opening times
Summerhall is an extremely accessible venue. As well as a workplace, it's also an art studio with theatres that regularly hold performances. Opening times are;
Sunday – Thursday: 9am – 11pm.
Friday – Saturday : 9am – 1am.
Summerhall Edinburgh Outlander location
The Summerhall Outlander location is the beautifully preserved Anatomy Lecture Theatre hall. It's actually the only one of its kind left in Veterinary colleges in the United Kingdom.
The room has wooden curved tiered seating with a vaulted skylight and the history speaks to you through the walls.
In series 3, episode 2 Claire is studying to become a Doctor in Boston and this is where we see her as an intern.
She enters the lecture hall as the only woman that's studying and is snubbed by the other men who are there.
Joe Abernathy is also the only Black American in the study hall and is also snubbed by his fellow students. So, Claire and Joe are kindred spirits and become good friends.
This lecture hall was only used for one scene in the series but is memorable and it wasn't changed much at all for the production. Some employees of Summerhall were hired to play the extras of other students inside.
Visiting the Summerhall Anatomy Lecture Theatre Hall
As a room that's regularly hired out for presentations and meetings, you will need to ask permission beforehand to visit this lecture hall. You don't want to get all the way there to be disappointed and not be let inside.
In the Anatomy hall, you can sit in the exact seat as Claire and Joe Abernathy did in the series.
It's a gorgeous wooden lecture hall and the seats need to be pulled up and down by hand. Be careful as I knocked my knees so many times walking around it haha!
I would make sure you email info@summerhall.co.uk for availability and permission for a tour first
Outlander walking tours in Edinburgh
If you're on the Outlander trail in Edinburgh, there are so many film locations that you can visit nearby on foot.
The Royal Mile has lots of Outlander locations including Bakehouse Close that played Carfax Close. I have a whole Outlander walking tour of the Royal Mile itinerary here.
It was here where the iconic scenes outside Alexander Malcolm's print shop were filmed. Claire has finally reunited with Jamie after all those years apart.
Of course, the print shop isn't there or the sign, but the stairs are! Make sure you visit and take a picture like Claire on the steps.
Click here to read my Outlander guide for Bakehouse Close here!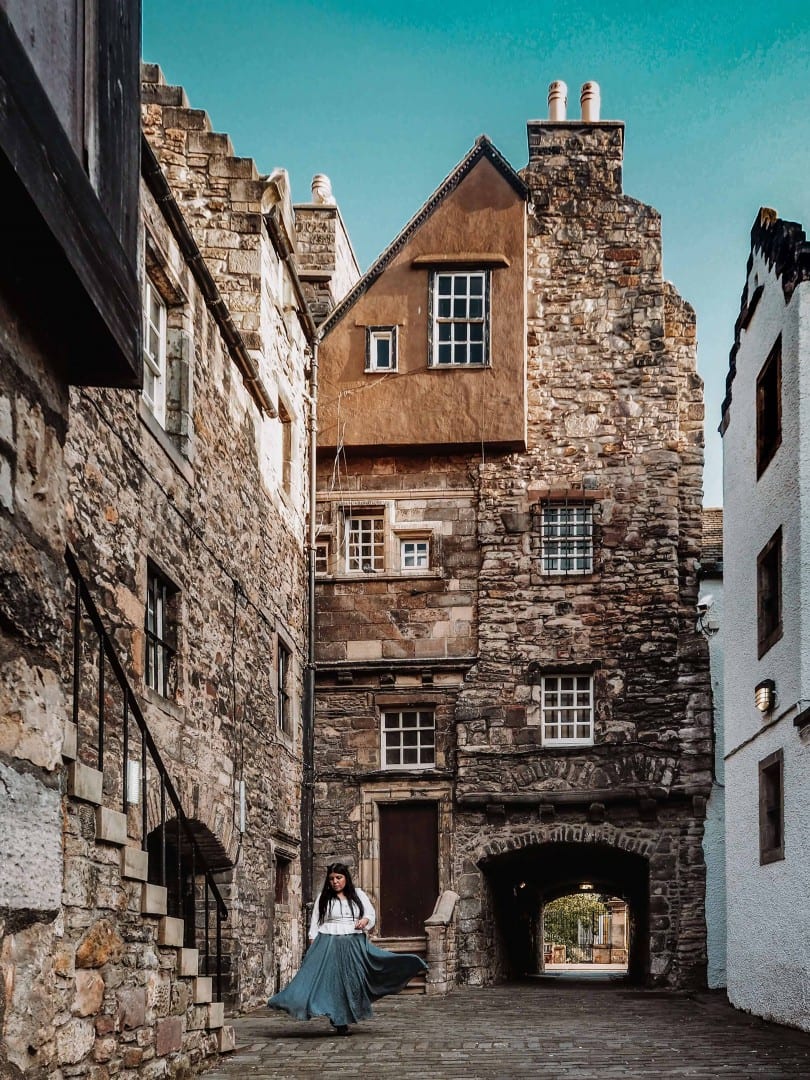 A few minutes walk from there is Tweeddale Court, another Outlander location where Claire is reunited with Fergus.
In the series, Tweeddale Court was transformed into a busy 18th-century marketplace. Walking through the alleyway really does make you feel like you've been transported back in time, read my complete Outlander guide for Tweeddale Court here.
If you're looking for a place for afternoon tea then why not try the Colonnades at the Signet Library?
This prestigious home for the Writers of the Signet serves up one of the finest afternoon teas in the city.
It's also an Outlander location and where they filmed the interior scenes of the Governor's mansion in Jamaica.
Read my complete review of the Colonnades afternoon tea here.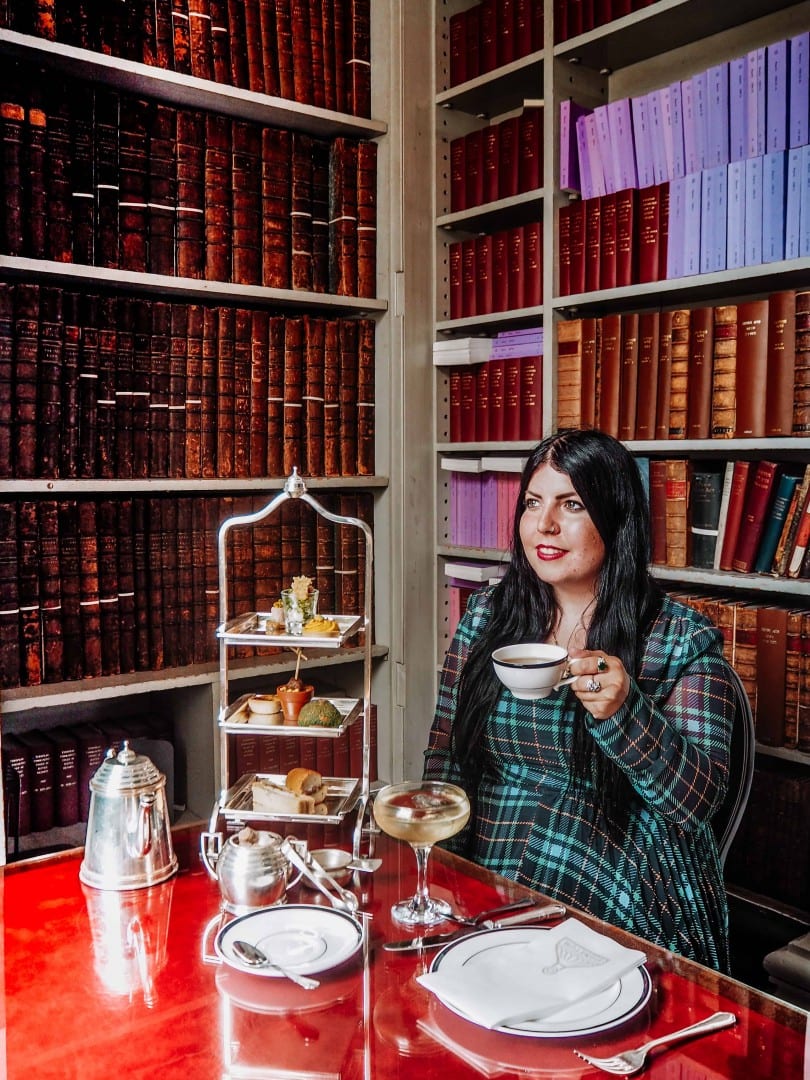 Outlander novel Edinburgh locations
Or, you can head to the famous World's End Pub where Dougal Mckenzie liked to hang out in the novel.
Holyrood Palace is also where Jamie and Claire try to stop the rebellion in 'A Dragonfly in Amber'. Canongate Kirk and Tolbooth Jail are also mentioned which can be found on the Royal Mile.
Here's an Outlander self-guided walking tour of the Royal Mile if you'd prefer.
Looking for more Outlander locations in Edinburgh?
If you're looking for more locations in the city, there are so many Outlander locations dotted around Edinburgh, there will be no end of choice! Or, click here to find over 90 Outlander film sites you can visit in real life!
You can visit Craigmillar Castle which was featured as Ardsmuir Prison in Season 3, or visit Roslin Glen Country Park and its Gunpowder Mills from Season 1.
Preston Mill in East Lothian was Lallybroch Mill in Season 1 and Gosford House in East Lothian doubled up as Helwater Estate in Season 3.
You can visit Lallybroch or Broch Tuarach itself at Midhope Castle, Abercorn Church on the Hopetoun Estate and Hopetoun House has many Outlander locations including the Duke of Sandringham's red drawing-room. Head over to Blackness Castle as Fort William or Linlithgow Palace at Wentworth Prison.
The Royal Borough of Culross played Cranesmuir with the Black Kirk and the gorgeous village of Falkland doubled up as 1945 Inverness!
Or, go further afield for the day to visit the seat of the Clan MacKenzie, Castle Leoch at Doune Castle. Drummond Castle Gardens played the royal gardens of Versailles,
Bo'ness played the station where Claire and Frank said their goodbyes or visit Deanston Distillery for a whisky tour and a peek inside Jared's wine store in La Havre. Or visit Dysart Harbour to visit the port where Jamie and Claire land in Paris.
Heading to Glasgow? Check out my list of Outlander film sites there too!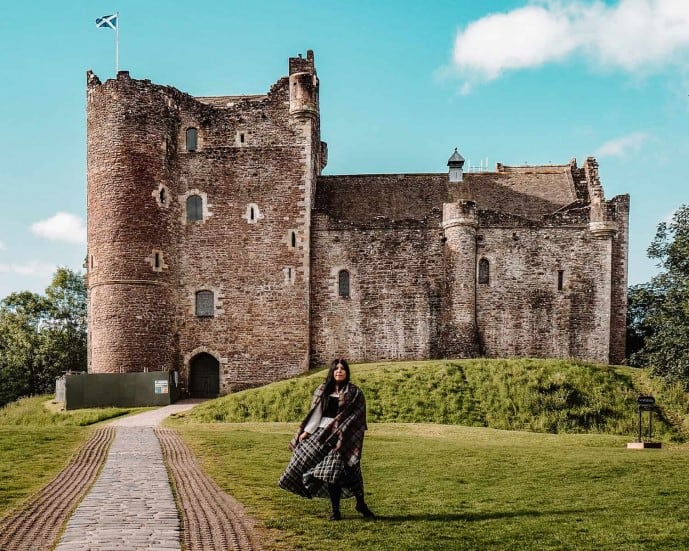 With thanks to Summerhall for hosting my visit. Although I was a guest, all opinions and photos are my own.
Read my Edinburgh travel guides
All the Outlander locations in Edinburgh
Harry Potter locations in Edinburgh
How to visit the Harry Potter graveyard
A complete guide for Armchair Books
Why you must visit Dean Village
A complete guide for the Vennel
How to find Bakehouse Close from Outlander
The hidden gem of Whitehorse Close
Signet Library Afternoon Tea review
Why you must visit the World's End
A complete guide for Circus Lane
The mystery of the Burke and Hare Coffin Dolls
Queen Mary's Bath House in Edinburgh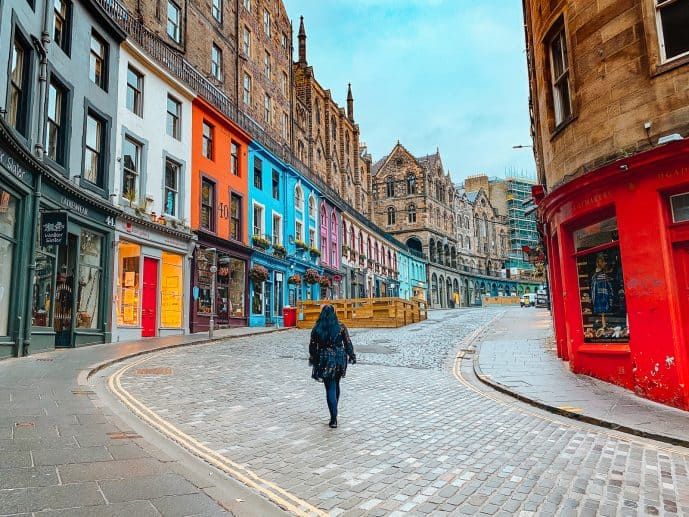 Save this Summerhall Outlander guide for later!