If there's one spot you need to add to your list of places to visit in Helsinki, it's Suomenlinna fortress!
This little slice of heaven is an island that transports you back in time a few hundred years. It's effortlessly serene, full of important history and picture-perfect to boot.
In just 15 minutes, you can escape the urban life of the city and immerse yourself into nature's paradise over the water.
But, there are a few things to know before you visit Suomenlinna fortress. You need to plan how to get to Suomenlinna island, how much time you need to visit Suomenlinna and what there is to see and do in Suomenlinna fortress while you're here.
This ultimate guide to Suomenlinna fortress and island should answer all those questions and give you some important tips on everything you need to know about Suomenlinna before your visit. So, let's go!
1. Suomenlinna Fortress is part of the archipelago of Helsinki and Suomenlinna comprises of six islands
So first up, what is Suomenlinna fortress exactly?
I have to admit, I had never heard of it until I made a visit to Finland either! But, it's such a beautiful place I knew I just had to make my way over there.
Suomenlinna sea fortress Island is a UNESCO world heritage site and is based just off the shores of the mainland of Helsinki.
Did you know that the city of Helsinki is actually an archipelago made up of 330 islands?! So, the Suomenlinna fortress is part of those islands on the Baltic Sea.
But, the only difference is that this particular island is one of Helsinki's most historic attractions.
Suomenlinna fortress was built by the Swedes during the time that they ruled over Finland. Since then, the Suomenlinna fortress has served under three states being used as a sea fortress of defense against various enemies of the day.
Today, It's a UNESCO world heritage site and one of the more popular attractions in Finland! So, it's a must-visit while you're here.
2. The history of Suomenlinna fortress is important to Finn's
So, where does the nickname the "Castle of Finland" come from? Well, Suomenlinna Island has a long and important history for the Finns.
The Swedish Era
Finland was first colonised by Sweden from medieval times until around the 19th century.
During this time, Sweden was at war with Russia which was situated to the East. Suomenlinna fortress was built as a defense against the Russians who may decide to attack Sweden.
Construction of the Suomenlinna fortress began in 1748 and was called Sveaborg on the Susiluodot islands.
Russian rule
Fast forward a century later and Finland was then occupied by Russia and formed part of the Grand Duchy of Finland.
It was renamed Peter the Great's Naval Fortress. Suomenlinna Island was then used as a defence against the Swedish and was used to protect the city of St Petersburg in Russia.
Independence and today
In 1917 Finland finally gained its independence and a year later they released the fortress from Russian rule.
It was renamed Suomenlinna or the "Castle of Finland" as it was handed back to where she rightfully belonged. Ironically there is no castle here, but I guess it's a symbol of Finnish independence and strength.
It then became a Finnish Artillery with military units based there and continued as an army base until around 1970 when it became under civilian administration.
In 1991, it was declared a UNESCO world heritage site and one of the most popular attractions in Finland!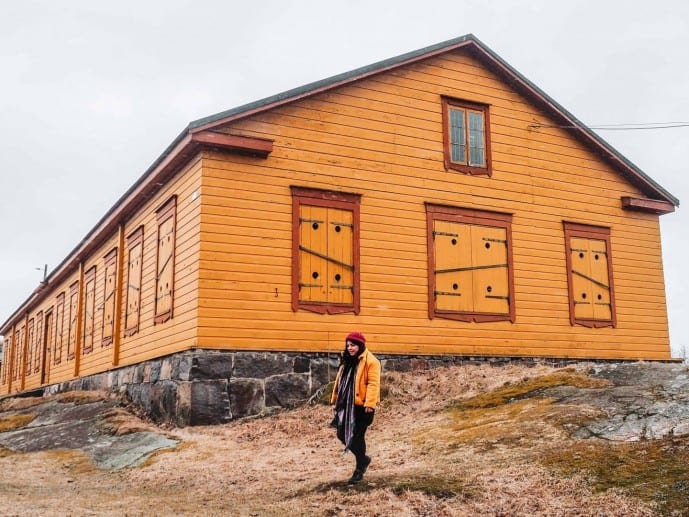 3. You can only reach Suomenlinna fortress overseas
As Suomenlinna fortress is an island, the only way you can access it is overseas. But don't worry it's only around 15 minutes away by boat!
It's a residential area with 800 people and has 400 locals working on it so it's really accessible and boats run from early morning until around 2 am in the summer months.
These are the ways you can access Suomenlinna fortress;
The public Suomenlinna Ferry from HSL (Katajanokka)
This is the most popular way to get to Suomenlinna fortress and you can board at Katajanokka ferry port which is located near the Old Market.
It takes 15 minutes and drops you off at the main dock in Suomenlinna. It doesn't stop at any other part of the island.
This ferry is run by HSL (Helsinki Regional Traffic) and so if you have a Helsinki transport card or have purchased a Helsinki Card that allows you to use public transport and enter attractions too, you can board the ferry for free.
If you haven't got a card there are no tickets that can be purchased on board. You must use the HSL ticket machines located at the ferry dock. These can be read in Finnish and English are straightforward to use!
The ferries run all times of day around four times an hour and you can check their timetables here.
I loved getting this ferry. As it was a chilly April day, it was nice and heated inside if you fancied staying warm. But, there is the option to sit on top and take in the wonderful views.
I did this on the way back and although it was (quite literally) Baltic, seeing the city skyline as we pulled in was lovely and an awesome photo opportunity.
How much is the Suomenlinna Ferry?
Tickets each way are 2.80 Euros with the HSL ferry but you can purchase a Suomenlinna ticket for 5 Euros return which allows you 12 hours on Suomenlinna fortress.
These are only valid for the Suomenlinna ferry and cannot be used for any other ferries or transport that day.
JT-Line Water bus (summer months only)
The water bus by JT-Line is only available from May – September and picks you up at the Esplanadi park dock near the market square, dropping you off at the main Suomenlinna dock.
The great thing about this option is you have the choice to be dropped off at the King's gate too on the route!
These water buses allow you to island-hop quite easily and some even drop you off at Lonna island on the way. They also run separate services to Villisaari and Vasikkasaari too.
For island-hopping tickets, it's 10 Euro and for a Suomenlinna round trip, it's around 7 Euro's an adult. There are discounts for children.
You can check the JT-Line Waterbus ferry schedules here and buy JT-Line water bus tickets online here.
Your own boat!
If you're lucky enough to own a boat and are thinking of heading over there then you're in luck as Suomenlinna has its own guest pier for visitors.
This is open from May – September and you can moor overnight there too. This will incur a mooring fee, you can check details here.
Can I take a car over to Suomenlinna island?
Vehicles on Suomenlinna island are a car-free zone and are really strictly for service vehicles. Although the ferry does have room for two cars at a time.
You can see more about vehicle transport here!
4. Suomenlinna fortress is open all year round and is FREE to visit
Although many of the attractions and restaurants are open from May until September, it's actually open all year round for visitors. What's even better is it's completely FREE to visit.
I love the fact that Finland has a rule called "every man's right" which means every man (or woman) has the right to walk on the land, swim in the sea, pick certain berries, and fish too.
Obviously, it's within limits, you wouldn't see someone swimming in your back garden or anything! But, it does mean you have free passage to roam in public places in Finland.
I went in April and it was so lovely and peaceful as it was before the summer season. I arrived around 9 am and it was like a ghost town, completely empty but it had a mysterious beauty to it.
It did start to snow however and as it's an open island the wind that came with it was FREEZING. But, I loved seeing it without all the tourists, summer can see thousands of people a day on one tiny island. It must be hectic.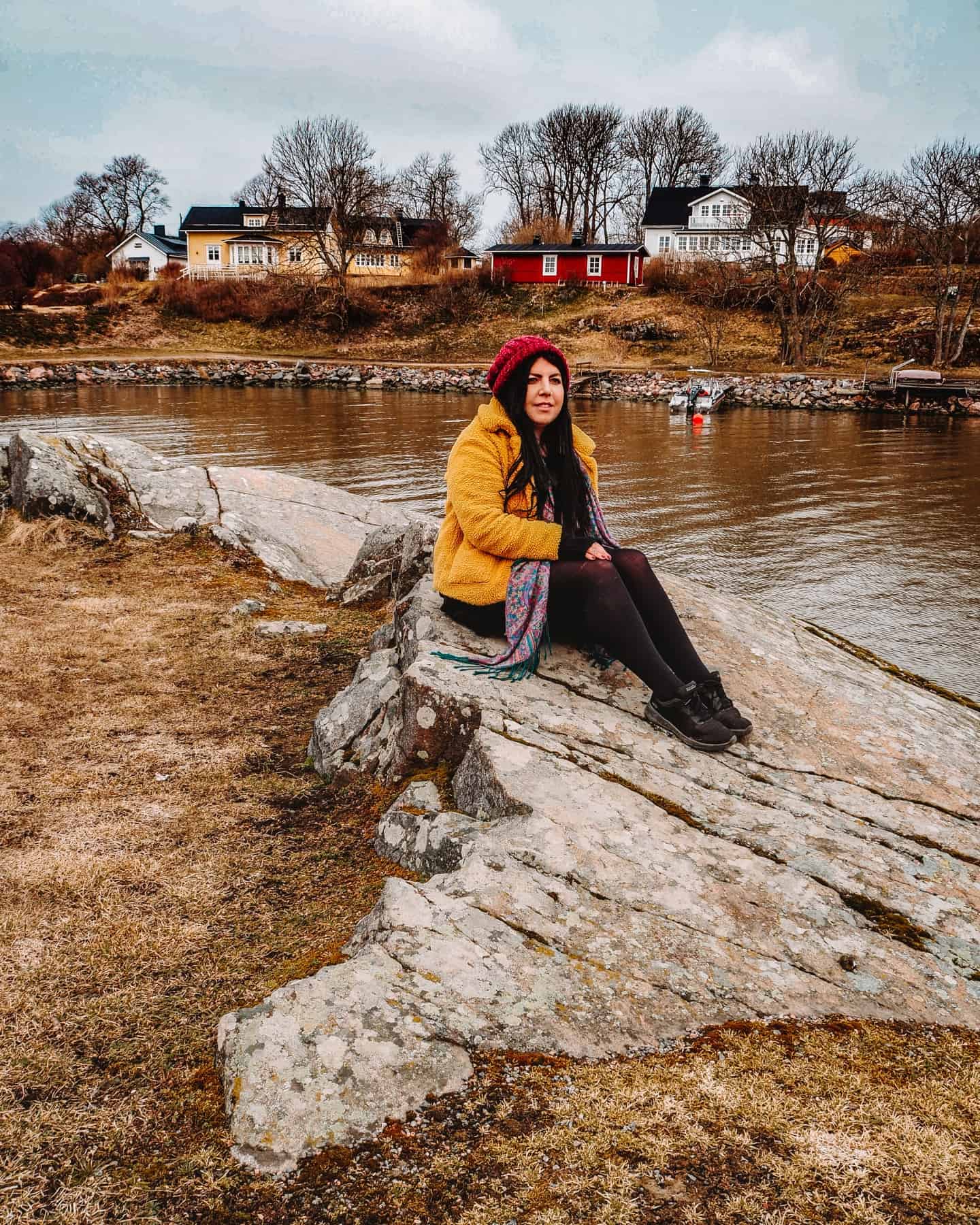 5. It's one of the most popular attractions in the whole of Finland
As one of the most popular attractions in the whole of Finland, you can expect this to be busy.
One million tourists visit each year and there was even a record of over 700,000 tourists visiting in just two months!
People from all over Finland and the world make a day trip here, so I would recommend getting here early in the summer.
The public ferries do pack out in summer, so to avoid big queues I would aim to get here early morning to start your day. Also, I would maybe pack a picnic or try to reserve a table where possible in their restaurants.
In April, when I visited, it was relatively quiet the whole time I was there. I arrived at 9 am and it was deserted! I came on the ferry with over 50 people and by the time I left the main pier to explore, it was like they vanished into thin air.
They were most likely going to work, haha! So, don't sweat too much in the off or shoulder seasons about the crowds. Even by 12pm, I saw barely any other tourists walking around.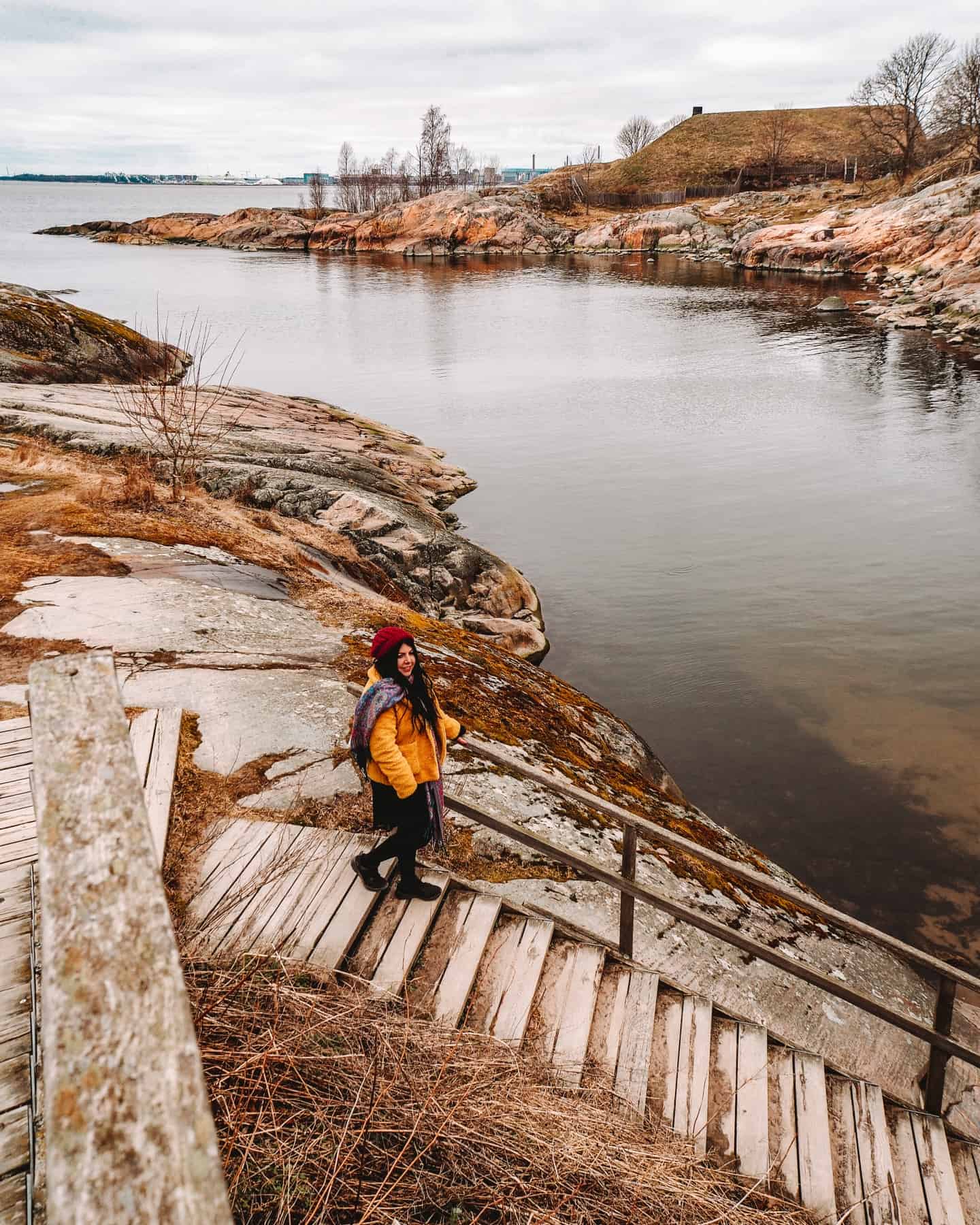 6. There are 800 residents living on Suomenlinna
Wow, how cool would it be to live on this island?! Waking up every day surrounded by the sea. It's not built up, doesn't have any traffic, not to mention it's idyllic. it must be so…peaceful!
800 lucky residents really do get to call Suomenlinna home. So, you'll see parks, libraries, a church, and shops. These aren't tourist attractions but their way of life.
Although this won't affect your visit in any way, it's important to be mindful of residents living on the island. Only keep the designated routes and don't hang around residential estates or enter their private property.
Also, when visiting at night it's respectful to keep the noise down, people are trying to sleep!
7. Suomenlinna fortress is like a living museum as you walk around
What I loved about Suomenlinna fortress is how much history there was when you walked around from so many occupants throughout the centuries!
You'll find traditional Scandinavian wooden houses on the lake, big canons on the artillery banks, and a church that used to be Russian Orthodox and is now a lighthouse.
There is also a dry dock with historic boats, the King's gate, ancient tunnels to walk through, and a grand courtyard with an 18th-century manor house.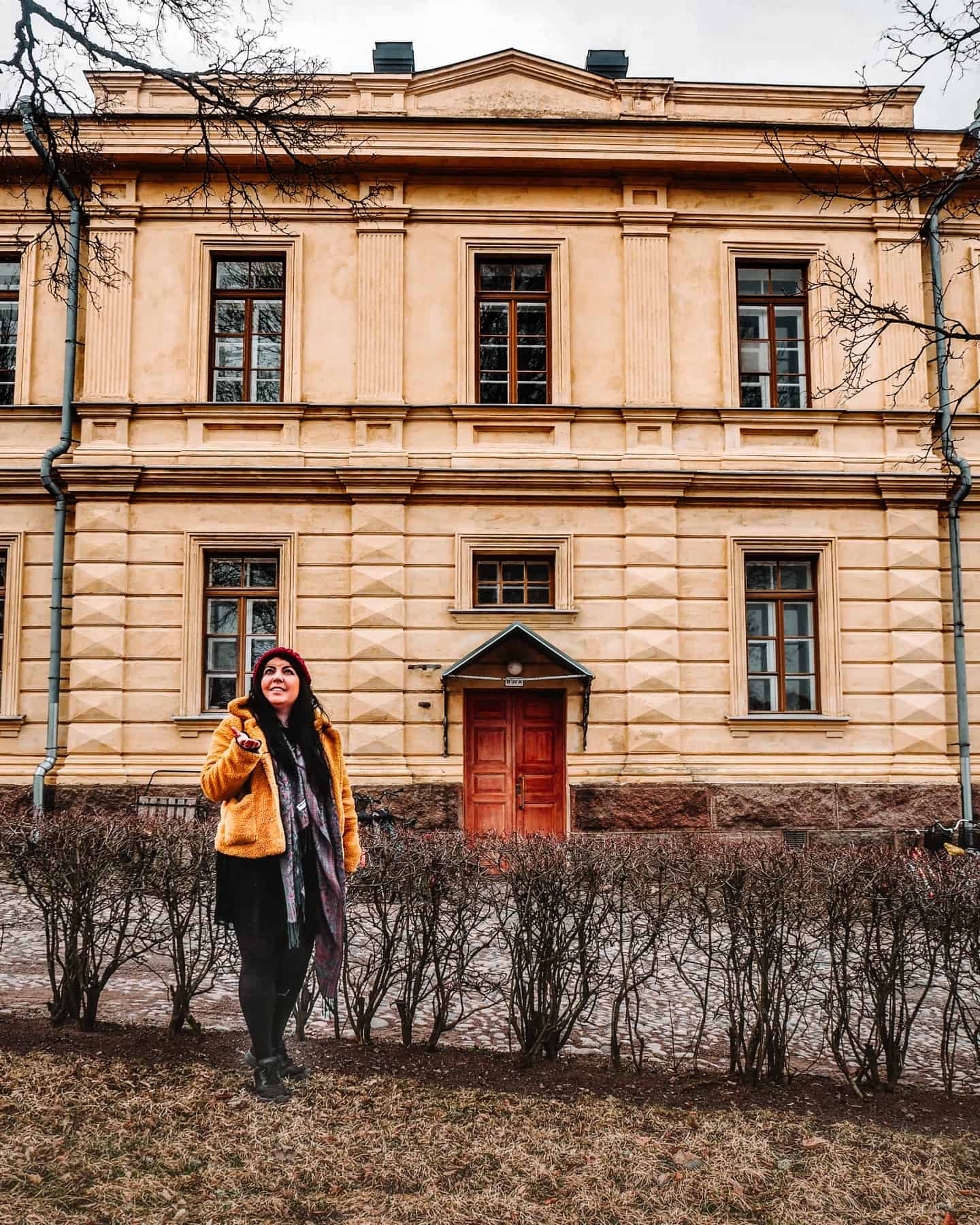 There has also been a big art presence here since the 1980s through the Nordic Arts Centre. Here you can visit their studios and galleries dotted around.
I loved exploring Suomenlinna as it seems that in a mere one kilometre from the main ferry dock to King's gate I strolled by so much history! Every few hundred yards, I'd pass a fort, canons, a cute heritage home, or gorgeous lake views.
It's incredible how you can feel so much history but then the modern era can then slap you right in the face!
Watch out for the commercial cruise liners passing by, they are HUGE. In fact, it made me jump as it was approaching when I was near King's Gate. It sails by only inches next to you through the strait.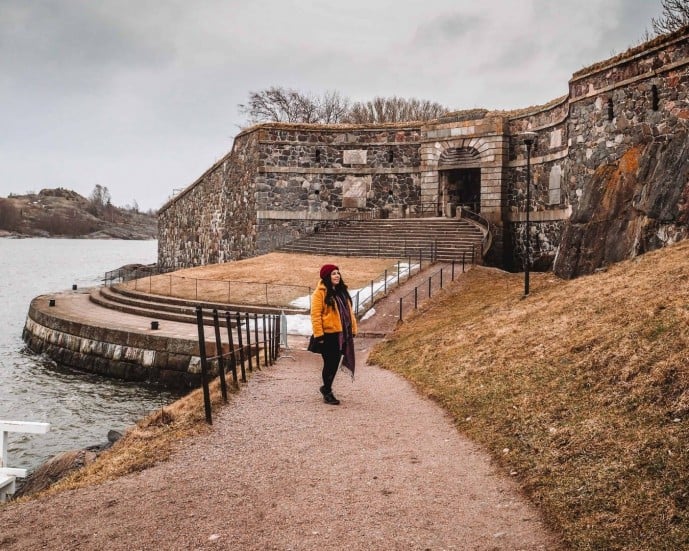 8. You can follow their 'blue route' on Suomenlinna fortress to see the main sights
To help you explore Suomenlinna island easily, there's a blue tourist route you can follow that lets you pass along the main sights of the island. It's also really well signposted, so you have no fear of getting lost along the way!
As a minimum, I would recommend that you walk from the Suomenlinna main dock through to King's Gate.
This will show you the Suomenlinna Church, Visitor Centre, Great Courtyard, Piper's Park, Dry Dock, the beach (Yes, there is a beach on Suomenlinna) with some amazing views from there of the whole island, and eventually King's Gate.
If you have extra time, there are lots of museums to explore as well along with a route that takes you around the whole island along the fortress walls and cobbled streets.
Suomenlinna actually comprises of six islands and each of them has something different to discover!
9. You must leave enough time to explore Suomenlinna fortress
For one small island, Suomenlinna fortress has so many things you can do! So, it's really important you leave enough time to explore. I spent half a day on Suomenlinna but, if it wasn't minus temperatures, I would have spent a whole day here.
There are many walking trails, museums, parks, churches, libraries, cafés, and restaurants to wander into. So, take your time to have a look around.
As a minimum, I'd say the shortest time you could spend here would be two hours. That's hopping off the ferry and walking to the King's Gate with a few photo stops.
It's too little time really to see everything but it can be done if you're really stuck for time. Just remember the ferry schedule as they run four times an hour.
10. Make sure you visit the Suomenlinna Museum in the visitor centre
Suomenlinna fortress has an incredible visitor centre that you can visit. Although I usually skip visitor centres, I'd highly recommend a stop here on your way around the island.
Inside the Suomenlinna visitor centre, you can pay to enter their museum which gives you tonnes of info all about the magnificent history of the fortress and how it came to be one of the most popular attractions in all of Finland!
Tickets are 8 Euros and have a small introductory film with interactive displays. If you have a Museum Card, it's valid here.
If you're feeling peckish or need to warm up they have a lovely café that sells fresh filter coffee and yummy locally made cakes.
I spent some time defrosting in here from the snow as my hands were like ice and had a warm blueberry doughnut with coffee. It melted in the mouth! It was really reasonably priced too with the coffee being 2.50 Euros and the doughnut being 3 Euros.
They have some really quaint souvenirs in their gift shop here with vintage Suomenlinna postcards, collectible magnets, pens, and some Finnish souvenirs too.
11. Be careful walking around Suomenlinna
Although the Suomenlinna fortress is a UNESCO world heritage site, as it's a protected area there haven't been many changes made to the fortress walls or the cobbled streets. So, it's always important to make sure you're safe when walking around Suomenlinna island.
Some of the artillery banks and walkways are quite steep, rocky, and can be slippy, especially with ice! So, go careful, and when in doubt only stick to the recommended routes. You don't want to fall off into the sea now. It would be a pretty cold swim.
I would also make sure you bring some really comfortable and practical footwear to walk around in – you'll need it.
12. There is a Suomenlinna Hostel on the island
If you fancy extending your stay on Suomenlinna island then I would recommend booking the hostel they have there that is open in the summer from May – September called Hostel Suomenlinna.
I think it would be so cool to stay on the island for a few days. Click here to book!
Camping is strictly prohibited on Suomenlinna, so don't try it!
13. There are plenty of cafés and restaurants to eat and drink there
I was so pleasantly surprised to see that there are actually 11 cafés and restaurants in Suomenlinna. But, it's good to note that some of these are closed off in winter. Including the gorgeous
Piper's café looks like something out of a fairytale! It's a wooden building that was made in 1928 and is as cute as a button. Sadly, as I was here in April I couldn't go inside.
There's also the photo-worthy Café Silo which is by the main dock and a few ravintola restaurants like Susisaari.
Also, there is a Linna bar if you fancied a cocktail and even a brewery where you can enjoy some local beers and learn about the process!
Click here to see a whole list of cafés and restaurants.
If you didn't fancy buying food on Suomenlinna, you can bring a packed lunch for a picnic to save cash. There are picnic areas for this, just remember to clean up after to protect the site.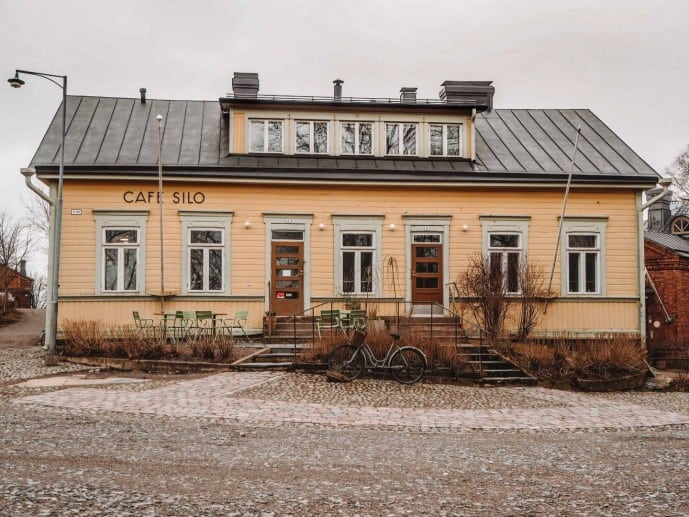 14. It's important to have a sustainable visit to Suomenlinna fortress
Although Suomenlinna fortress is a UNESCO world heritage site, it's also free for all to use and we must make sure that we do our part to protect it.
That means sticking to the safe routes, using the public transport to get here, not dropping rubbish on the island, respecting residents, not throwing parties without permission, and visiting local businesses to support them!
It's also really important to respect the rules and regulations on Suomenlinna. It's a beautiful historic fortress and we want to keep it that way for years to come.
Final tips for a visit to Suomenlinna fortress
Bring comfortable shoes – as the island is filled with cobbled streets and embankments you'll need them
Prepare for all weathers – as Suomenlinna is an island, although it may feel warm on the mainland the breezes here can make you chilly
I had barely any phone signal on Suomenlinna but the visitor centre has WiFi in their café if you need to stay connected. This was on my international UK SIM but If you have a Finnish SIM card on a local carrier this may be different.
There are souvenir shops on the island and you can buy postcards, magnets and even Moomin mugs in the visitor centre!
Heading elsewhere in Helsinki?
I have created lots of travel resources and guides to help you out with your travels in Helsinki!
Click below to read some of my articles for more travel advice;
The ultimate guide to Helsinki
The most photoworthy spots in Helsinki
Why do you need to visit a Moomin Café in Helsinki
Tourist tips for beginners using a Finnish sauna
A complete guide to the Allas Sea Pool
The best food and drink spots in Helsinki
Cafe Regatta – the most Instagrammable café in Helsinki!
Like it? Pin it!
With thanks to My Helsinki for sponsoring my trip to Finland. Although I was a guest, all opinions and photos are my own.