If you're looking for things to do in and around the charming Victorian tourist village of Betws-y-Coed, then look no further than a visit to Swallow Falls Waterfall!
Locally known as Rhaeadr Ewynnol, or the foaming waterfall, this attractive cascade is one of the top-visited places in the whole of Wales.
It's been a traveller favourite for centuries now and has even made an appearance in poems, film productions, paintings, and countless postcards through the ages.
Although most waterfalls in Wales require quite an extensive hike to reach them. You may be happy to know that Swallow Falls is an easy and accessible attraction within Snowdonia National Park!
Here's the ultimate guide for the Swallow Falls Waterfall with some interesting facts, history, and top tips for visiting today.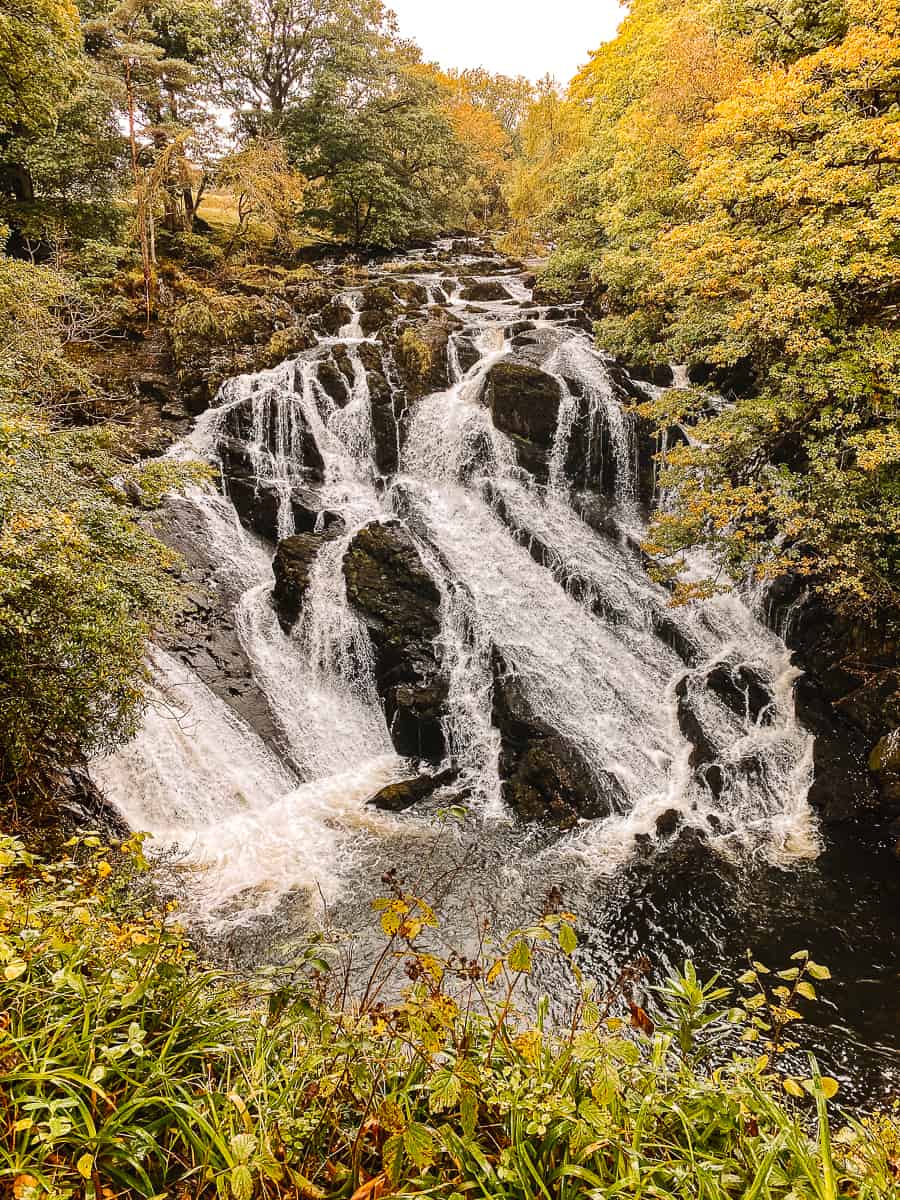 Firstly, what is Swallow Falls Waterfall?
Swallow Falls is a 42 metre cascade that sits within the Conwy County Borough just a few miles from Betws-y-Coed village.
It's located on the Afon Llugwy, or the River Llugwy, and its water flows through a craggy limestone gorge. This is what gives the top of the cascade its attractive swallow wing-esque appearance!
You may be surprised to know that this waterfall is a multiple waterfall system. Meaning that it has several drops over boulders to make before it reaches the bottom of the gorge.
So, although it's not the tallest cascade in the country, it's incredibly dramatic in its wild setting and there are lots to see while you're here!
Obviously, this Welsh waterfall is not to be confused with the likes of Swallow Falls State Park in Maryland, USA, or the fictional Swallow Falls Island in the Cloudy with a Chance of Meatballs movie…although they're cool too.
Some interesting Swallow Falls facts
Swallow Falls is the highest continuous waterfall in all of Wales and is 42 metres high
It's a multiple waterfall system that sees the river flow through a through a narrow chasm in a limestone gorge
It's one of Snowdonia's most visited attractions receiving hundreds of thousands of visitors every year!
The cascade flows from the Afon Llugwy and is located in the magically dense Gwydir Forest
It was gifted to the public in 1913 by the 2nd Lord Ancaster!
Why is it called Swallow Falls and Rhaeadr Ewynnol?
It's fairly common to find that most places in Wales have both a Welsh (Cymraeg) name and an English one.
Although Welsh is not widely spoken in the country anymore, it's far from a dead language! In fact, you'll find Welsh words pretty much everywhere in the country. On-street signs, shops, ATMs, TV etc.
But, what is usually the case is that many of these traditional Welsh names have adopted English counterparts. This is because the language is hard to read and pronounce, especially for the English tongue!
The Welsh name for these falls is Rhaeadr Ewynnol which translates in English to the 'foaming waterfall'. So, nothing to do with Swallows at all!
It's thought that early tourists from England who were visiting these falls misheard the word 'ewynnol' (foaming) and mistook it for the similar-sounding 'y wennol' or swallow.
So, eventually, after this waterfall became a famous tourist attraction it became coined as Swallow Falls!
The history of Swallow Falls as a tourist attraction
Rhaeadr Ewynnol had been a natural attraction in this area of Snowdonia for centuries.
It inspired many travellers, chroniclers, and even the growing bohemian artist colony of Betws-y-Coed. It's easy to see why really, it's a fantastic muse to paint a portrait or make an etching!
However, although this waterfall was well known in the area. It wasn't made into a tourist attraction you had to pay for until the early 20th century.
You see, with the rising number of tourists who were visiting Betws-y-Coed, the village was in desperate need of electricity.
When it was installed, it came at a substantial cost. The village soon went into debt and owed over £15,000!
As a way to pay off the sum, the 2nd Lord Ancaster decided to kindly gift the falls to the parish council in 1913.
They then installed some protective barriers in order to make it safe for tourists to visit and started to charge a small fee.
Within a short time, the debt was successfully paid off and the locals felt the true benefit of tourism even then. They ended up paying some of the lowest taxes in the country!
By the 1930s, Swallow Falls became an incredibly popular attraction in Snowdonia and has been ever since.
Even to this day, the waterfall never fails to draw in thousands of visitors each year.
Is Swallow Falls haunted?
In recent years, there has been a bit of a spooky phenomenon happening at the waterfall. Many people believe that it's haunted!
According to paranormal investigators, there have been sightings of a 16th-century aristocrat that has been walking around the falls called Sir John Wynn of Gwydir.
Sir John was part of the notorious Wynn family who was responsible for building the nearby Gwydir Castle in Conwy Valley.
Why this spectre from all those years ago has decided to visit the falls now remains a mystery! But, many say that his soul is trapped here for his mistreatment of men and women. A bit of a nasty character apparently.
I didn't personally see any sign of him here during the day but I would certainly avoid visiting here at night, that's for sure!
What is the best time to visit?
Swallow Falls waterfall is a great place to visit in Snowdonia National Park all year round. As the Afon Llugwy river is a natural body of water, it cascades at this location all year.
But, like with any river around the world, the force of the waterfall has its ebbs and flows with the seasons and rainfall.
Although many tourists choose to visit Wales in the summer months to get the best chance of sunny weather, that isn't always the best time to visit a waterfall!
Not only are the water levels incredibly low at this time, the hot temperatures mean that the foliage that grows around the areas can block the views of the waterfall as well. Equally, in winter, the water levels can be low due to frost and ice.
The best time to visit Swallow Falls, in my opinion, would be around the shoulder seasons in Spring and Autumn.
Not only will these seasons have more rainfall to make the waterfall 'foam', the foliage surrounding it won't be as dense so you can see it better.
Personally, I visited this waterfall at the end of September. As there had been a few days of heavy rains, the water was really gushing through the gorge and it was fantastic to watch!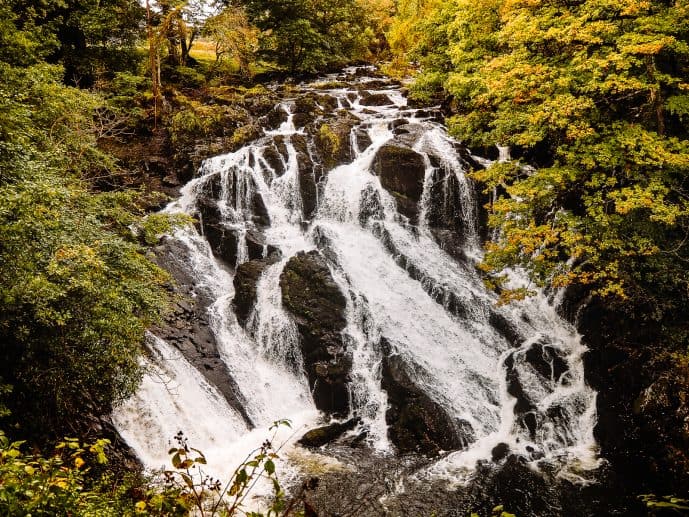 Where is Swallow Falls in Wales & how to get there
Swallow Falls is located on the A5 Betws road to Capel Curig in Snowdonia National Park in the North of Wales.
It's located just 2 miles from the popular tourist hub of Betws-y-Coed so it makes a fantastic addition to any visit.
There are many ways in which you can access the waterfall from the village. You can walk, drive and even take public transport.
Driving to Swallow Falls – if you are on a Snowdonia road trip, it's really easy to access Swallow Falls on the roadside. You can easily drive from Betws-y-Coed to access the waterfall in a few minutes. Or, you can drive from Capel Curig, Llanberis or even Conwy. The A5 is a really accessible route. There are ample tourist signs to let you know when you've arrived.
Swallow Falls Parking – There is limited and free off road parking nearby the turnstile entrance of the falls. This is just opposite the cosy Swallow Falls Hotel. You'll see the cars parked up in the lay-by on the side of the road.
Travelling by bus – If you didn't fancy driving and walking is not an option. There are regular buses that run through Betws-y-Coed and make a stop at Swallow Falls. You can catch a bus from the Pont-y-Pair miner's bridge and be here within 5 minutes. You'll be dropped off just outside the Swallow Falls Hotel and can access to the falls is over the road.
Walk the Swallow Falls trail
As Rhaeadr Ewynnol is so close to Betws-y-Coed, many travellers decide to walk over to the waterfall from the village.
The trail will usually lead you to the turnstile entrance on the southern bank to the falls, but you can take an alternate route through the forest to reach another view of the waterfall.
Many people say that this trail will also give you some of the best views of Swallow Falls over the Northern Bank of the river! Plus, you skip the entrance fee this way.
Although it's advertised as an 'easy walk', we all know these can be subjective. I have read this trail is not for the faint-hearted!
The walk is around 2.5 miles and the trail leads you along the Afon Llugwy through the Gwydir Forest.
Make sure to wear some good ankle supporting shoes, expect muddy trails and uneven pathways.
You can find out more via the Natural Resources Wales website. They have a PDF map of the trail and more information on what to expect.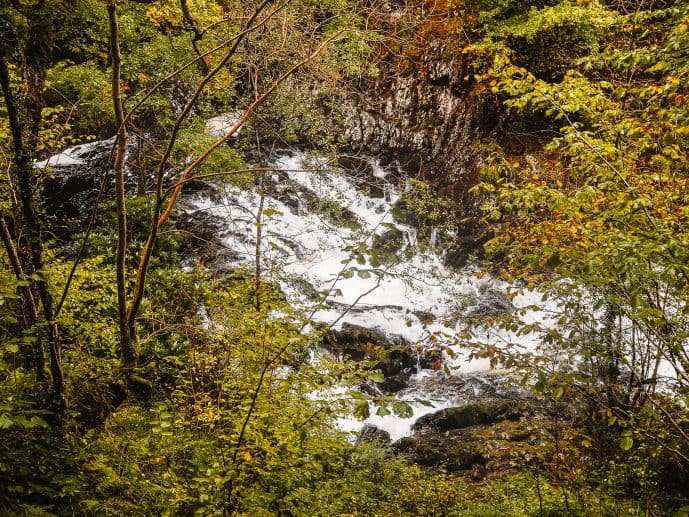 How much is it to get into Swallow Falls & opening times
Unlike many of the natural waterfalls around Wales, Swallow Falls does have a small entrance fee to visit. It costs adults £2 to enter, £1 for children and dogs are free of charge.
You have to pay your fee before you enter quite a tight full-body turnstile. These are usually unmanned and it almost looked like the ones you enter at football matches!
This does make it difficult for prams and wheelchairs. But, there is an alternative entrance to the turnstiles if you require it.
Although you used to have to pay in only coins, they have recently installed a contactless card option as well if you're not carrying change!
I read a lot of complaints on Tripadvisor about the cost to enter these falls. But, I really don't know what there is to complain about.
It's only £2 at the end of the day which is very reasonable compared to some attractions in Europe. Also, the cost of entry contributes to the upkeep of the viewpoint facilities!
If you really don't want to pay the money, you could go on a 3 kilometre muddy hike through the forest to see it. But, to me, it seems far easier to just pay the small fee.
In terms of opening times, the falls are open 24 hours a day to visit, all year round. This is what I heard from a local in the village anyway. I guess as they have a self-serve turnstile, they don't rely on staff to keep it open!
What expect when you get here
I wasn't really sure what to expect as I got here being honest. Many of the waterfalls in Wales require a bit of a walk to get to, even ones you pay a little money for. Conwy Falls nearby is the perfect example.
So, I was pleasantly surprised with how easy it was to see Swallow Falls after you walk through the turnstile.
Although it was a little uneven, the path was well laid with concrete which was perfect as it had been raining.
You don't need to wear hiking boots or anything remotely like that to visit but I'd definitely opt for trainers over flip-flops and heels.
It was only a small flat walk to the upper viewpoint. This was an accessible viewing area where you got a great look at the pretty upper cascade of falls. From here, you can see the cascade perfectly over the barrier fences.
There is also a slightly lower terrace to see the waterfall unobstructed but this does have a few steps to climb down to. This terrace here is a perfect photo opportunity so make sure you have your cameras at the ready!
If you wanted to see the lower levels of the cascade and see it fall into the Afon Llugwy, it will require walking down some steep steps to the bottom. There is no lift or accessible path here, unfortunately.
So, whether you walk down those would be a personal choice depending on your level of fitness and mobility.
It's not an overly long journey down but it does have a few flights of steps and they are steep. So, if it's raining, be careful as you go!
Walking down the steps to the lower viewpoints
If you did want to see more of the waterfall, you'll have to make your way down the steep flight of steps to the bottom of the river.
As it had been raining in Snowdonia, I made sure to take my time as these steps did look a little slippy on the way down. But, they weren't slippy at all.
It didn't take too long to get down to the bottom and there were various terraces you could stop at along the way to take in more of the pretty views.
The best view of the cascade can be seen from the very bottom terrace that hangs over the River Llugwy.
From here, you can see how the falls crash down over three levels to hit the bottom. It's, again, an incredible photo opportunity so make sure you have your camera at the ready to capture the view!
Then, after you have done enough snapping, you'll need to head back up the way you came and exit through the turnstiles.
Can you swim in Swallow Falls?
No, not at all. In fact, it's incredibly dangerous to even attempt to do so!
The gorge is steep, craggy with boulders and the current of the water is stronger than it looks. So, if you were to enter the river, you'd be carried off in an instant and would be beyond saving.
It's a force of nature and you should never attempt fate. Tragically, people have died here in the past attempting to enter the river.
On that note, the safety standards at Swallow Falls are great and the fencing and warning signage is adequate.
But, I would definitely keep an eye on little ones and keep your furry friends on a lead at all times to ensure their safety.
Also, I shouldn't have to say this, but keep to the pathways that have been laid out for you and don't climb over any of the barriers! No one likes a reckless tourist.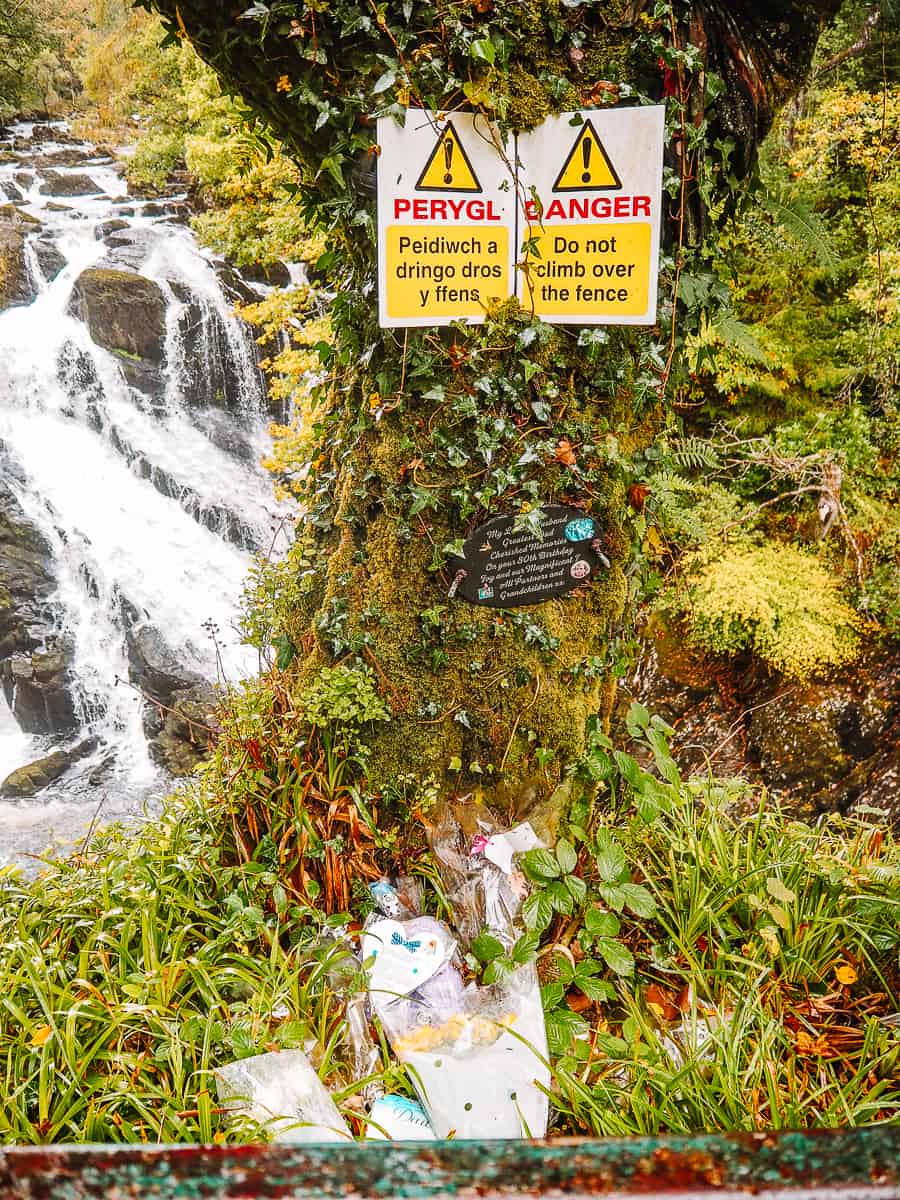 Is Swallow Falls dog friendly?
Yes, I saw many lovely doggies that were very excited for a wander around the waterfall! There is no charge for dogs to enter with you.
However, you may have to carry small dogs through the entry turnstile or give bigger dogs a bit of encouragement to nip under them.
I saw one dog get a little scared to go through but, eventually, he made it with a little incentive of a doggy treat.
It is recommended to keep dogs here on a lead at all times though to ensure that they are kept safe from the river.
Are there any other facilities there?
Apart from a few benches to enjoy a little sit down by the falls, there is not much here by way of facilities, no.
There are no public toilets so make sure you go before you visit and there is nothing that resembles a tearoom on site either.
However, you're only a 5-minute drive to Betws-y-Coed which has all the facilities you could wish for. There is even the famous Ugly House tearoom that's just half a mile from here.
Also, the Swallow Falls Hotel is just opposite that has a cosy bar and restaurant. Perfect for a pick me up!
Why not have lunch or book a stay at the Swallow Falls Hotel nearby?
I had only heard of the Swallow Falls Hotel really because my dear old Nanny & Grampy stayed here on their visit to North Wales.
They stayed the night all the way back in the 70s and had a view of the waterfall from their room, how lovely?!
Sure enough, it was just as my Nan explained. The hotel is set in a gorgeous Victorian building just opposite the entrance to the falls.
Although I didn't pop in long on my visit, what I saw looked incredibly cosy. It was a traditional pub with a great menu serving food and drinks throughout the day. Booking a table is highly recommended as its ideal location is popular.
But, if you wanted to have some peace and quiet near Betws-y-Coed, why not book a stay for the night? It's a whole resort complex with double rooms and glamping sheds!
You're in the perfect place to explore more of Snowdonia from here and are in touching distance of Swallow Falls.
Click here to check dates and rates available.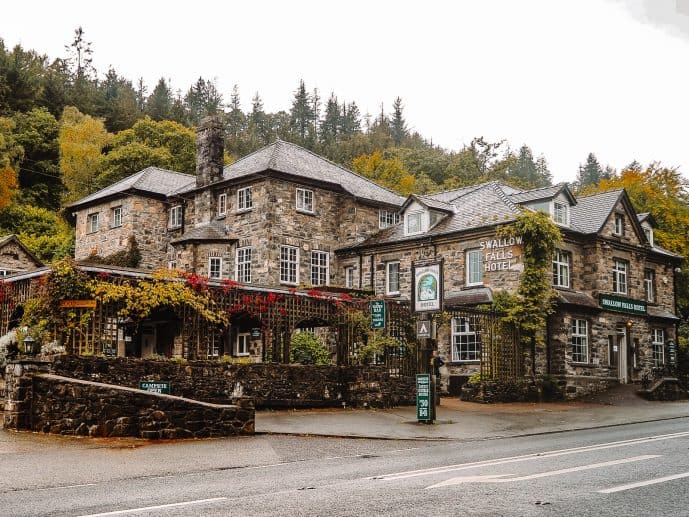 Looking for more Betws-y-Coed attractions?
I fell head over heels in love with the charming Victorian village of Betws-y-Coed. You can help but swoon at all the gorgeous stone buildings in amongst the lush trees!
And I'm not the only one who thought that either, in fact, it became famous after an art colony settled there. Ever since the 19th-century, it's consistently been mentioned in travel guides as one of the most charming villages in Snowdonia.
It has since become a popular tourist hub here in North Wales with an endless choice of accommodation and facilities to boot.
You can go shopping around the area, visit the historic Railway Museum, cross the Sappers Suspension Bridge or pop inside one of the delightful cafés and art galleries.
Personally, my favourite part of the village were the views from the iconic Pont-y-Pair Bridge which is like something out of a postcard
Around the area, there are plenty of amazing things to do as well including the magical Fairy Glen.
Read more of my related posts on North Wales:
A complete Conwy Falls & cafe guide
Why is the Ugly House called ugly?
When does the incredible vine covered Tu Hwnt I'r Bont turn red?
How to find the Roman Penmachno Bridge
Where is the Lone Tree of Llyn Padarn?
The legend of Gelert & how to visit his grave
The top places to visit in Beddgelert
Look inside the Smallest House in Great Britain!
A complete guide for the Conwy Town Walls
How to do the Llyn Idwal Circular Walk
A complete guide for the Dinas Emrys Walk & Dragon legend
How to see the Bodnant Garden Laburnum Arch
How to visit Pistyll Rhaeadr Waterfall
Gladstone's Library – Stay in the UK's only residential library
How to visit Dinorwic Quarry Wales
Visit Anglesey Barracks – Snowdonia's Forgotten Street
Save this Swallow Falls Waterfall guide for later!