If you're heading out on a Wye Valley Tour, you really cannot miss a visit to Symonds Yat Rock.
It's perched 120 metres above the River Wye and is now a popular viewpoint that provides spectacular views over the English-Welsh border!
From here, you'll get a birds-eye view of Symonds Yat village located on either side of the river which snakes through the valley by the cliffside.
Beyond that, you can take in sweeping views of Herefordshire, Gloucestershire and Monmouthshire around the historic Offa's Dyke border in the Royal Forest of Dean.
It's breathtaking and is by far the most impressive viewpoint found in the Wye Valley area. No visit would be complete without it!
Here's a complete guide for visiting Symonds Yat Rock and all the things to do here.
What is Symonds Yat Rock?
Symonds Yat Rock is a popular tourist attraction and viewpoint that can be found in the Wye Valley.
The limestone outcrop towers 500 feet above the River Wye and is located near Symonds Yat village. The village is split into two parts due to the fact that it straddles both sides of the river bank.
These two parts are called Symonds Yat East and Symonds Yat West. A small car bridge allows a crossing to either side.
From the top of the cliff, you can see the River Wye snaking its way through the gorge and into a deep forest glade within the Royal Forest of Dean.
It's one of the most popular viewpoints and tourist destinations in the Wye Valley area and has been for hundreds of years!
The history of Symonds Yat Rock
There have been settlers here at Symonds Yat Rock since the Iron Age over 2500 years ago!
Evidence from recent excavations suggests that a Hill Fort was built here due to the fact it provided a huge vantage point over the area.
Up until the 18th century, this part of the country was widely undiscovered being hidden away in the Wye Valley.
It wasn't until Reverend William Gilpin made a visit and wrote his famous 'Observations on the River Wye' that the area became of interest in 1792.
Gilpin's book eventually led to the famous 'Wye Tour'. This was a two-day boat trip along the river which made stops in Ross-on-Wye, Symonds Yat, Goodrich Castle, Monmouth, Tintern Abbey and Chepstow.
Soon enough, word spread of the beauty to be found in this area and soon enough, tourists were flocking to Symonds Yat.
Even the famous writer William Wordsworth was amongst them and his observations on Wye Valley encouraged even more visitors.
This viewpoint soon became extremely popular and tourists from all over the country were visiting the Wye Valley!
Of course, back in those days, there were no cars to access Symonds Yat Rock and pathways were not as accessible as they are now.
Many Victorian tourists would park their boats up at Symonds Yat on the river and then they would climb up the cliffside in order to visit. This was a bit of a risky venture back then with all that Victorian garb and resulted in a few accidents.
Luckily, it's far easier to visit Symonds Yat Rock nowadays and there have been a few famous faces visiting here such as Queen Elizabeth II, Anthony Hopkins and Sir Cliff Richard!
Also, you may recognise this area as a filming location. It was featured in BBC's Merlin, Shadowlands and Harry Potter and the Deathly Hallows part 1!
It's now one of the most popular tourist destinations in the Wye Valley area protected by the Forestry Commission and one of the top places in the country to spot Peregrine Falcons!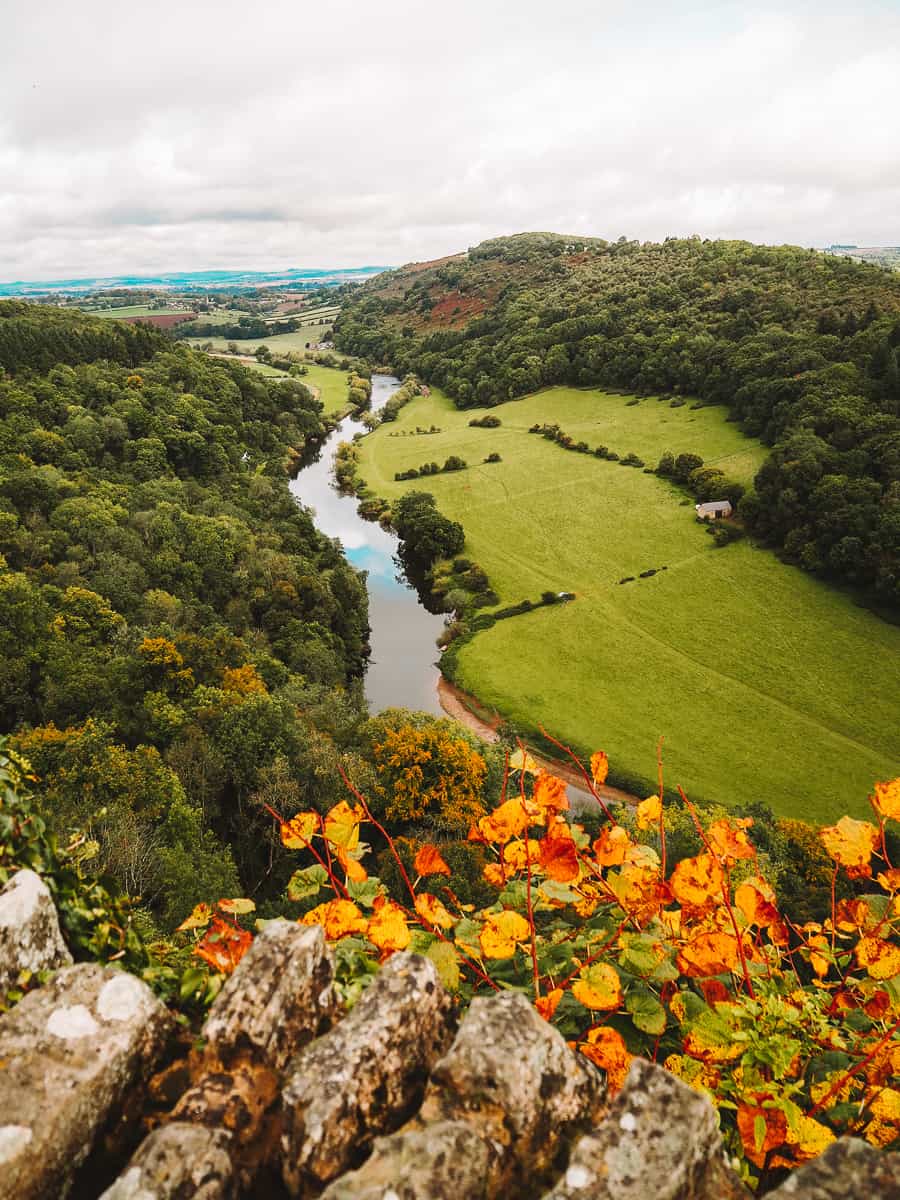 Where is Symonds Yat Rock? & How to visit
Symonds Yat lies on the border of Herefordshire and Gloucestershire in the South of England.
Many people mistake Symonds Yat for being located in Wales. It's an easy mistake to make as you're just a few miles from the country border with Monmouthshire nearby!
As Symonds Yat is a small place nestled in the countryside, it's easiest to visit as part of a wider road trip where you cover a number of destinations around the Wye Valley area.
You'll find it tucked away between Ross-on-Wye and Monmouth and you'll see a junction to access Symonds Yat on the A40 road.
Or, you could add Symonds Yat as a stop on any number of country walks which run by the River Wye.
Symonds Yat Rock is 120 metres above the village on a limestone outcrop. So, there are a few ways that you can visit:
Park up at Symonds Yat Rock car park
The easiest way to access Symonds Yat Rock is to drive up to the viewpoint and park up in the large car park provided by the Forestry Commission.
The drive is extremely steep and so you'll be chugging your car up a single track road with passing places. So, drive with caution!
A minimum charge of £3 is required for 2 hours parking and this is a little steep considering the viewpoint takes less than 30 minutes to visit. Remember to bring some change.
However, it is well worth it to see the stunning views over Wye Valley and I thought it was worth every penny.
From the main car park, you'll take a short, accessible walk to the viewpoint.
It's accessible for pushchairs and wheelchairs as there are flat paths and ramps all the way up to the viewing platform. It's also dog friendly!
You'll also find some public toilets provided free of charge near the parking machines.
Remember to bring change for the car park as pay by phone doesn't work well with signal!
Symonds Yat Rock postcode is GL16 7PW
Take a hike from Symonds Yat village
If you're up for more of an adventure, you may like to park up in Symonds Yat village below and then take a steep hike to the viewpoint.
There is a minimum charge of £4 for 4 hours parking in the main tourist car park provided at the back end of the village.
This car park can be tricky to access and is a bit of a bottleneck. It's only accessed via a single track lane!
You'll be driving through this tiny village on a narrow road with many tourists and pubs on either side of you! So, again, make sure to drive with caution.
From the car park, you can hike up to Symonds Yat Rock quite easily and it is well signposted. But, you may be a little breathless when you reach the top as it's a steep track!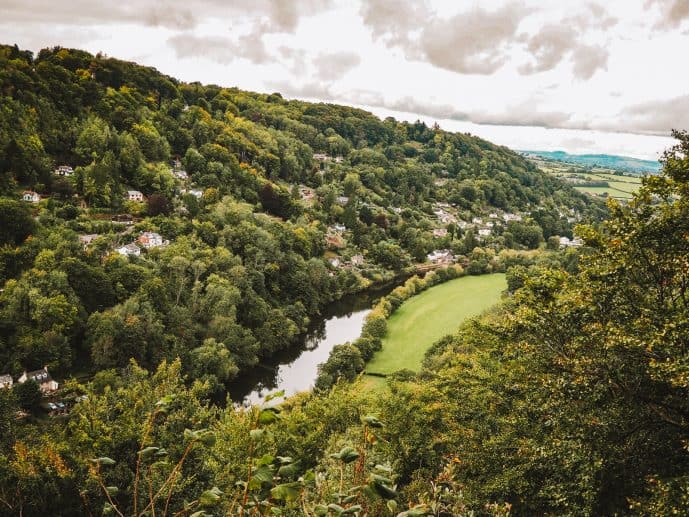 Ticket prices and opening times
Symonds Yat Rock is completely FREE to visit, you just need to pay for parking at the main car park.
If you're heading here as part of a hike or you're walking from Symonds Yat, you aren't required to pay to visit the viewpoint.
It's also open 24 hours a day, 7 days a week. So, you can visit any time you fancy! Although you won't be able to see much after sunset in the dark!
Things to do in Symonds Yat Rock
So, what is there to do while you're here at the viewpoint?
Well, you may be surprised to know that there is actually quite a lot to see and do beyond the main viewing platform.
It's the perfect spot to explore the Forest of Dean. You can eat a picnic here, visit the café, head out on a hike, spot wildlife and go bird watching!
Here are all the things to do at Symonds Yat Rock.
Admire the sweeping views of Wye Valley
The first thing that everyone does when they arrive at Yat Rock is head to the main viewing platform to take in the spectacular views of the valley!
The good news is that you don't have a long walk to reach this amazing viewpoint – it's just a 5-minute stroll from the car park.
Once you reach the platform, you'll be greeted with panoramic views of the countryside and it will truly take your breath away.
From here, you'll see the River Wye snaking through the limestone gorge and disappear into the Forest of Dean.
On a clear day, you can see for miles all around and take in some of the countryside views over the English-Welsh Border. There are signposts telling you what you can see in all directions.
You're so high up here and I could have spent hours just admiring the views.
It's glorious so make sure that you bring a camera. Even if you're not an avid photographer, you cannot help but capture the postcard-worthy views.
The best time to visit this viewing platform for photography would be in the autumn, when all the trees turn golden reds and browns!
Have a coffee in the Symonds Yat Rock Café
Just before the ramp way to the viewpoint, you'll find a quaint log cabin called the Symonds Yat Rock Café.
It's been here since 1956, when the Forestry Commission built it in preparation for Queen Elizabeth II's visit in 1957. She stopped by the Log Cabin on the 24th April that same year.
Ever since, it's been a popular stop for visitors where you can buy teas, coffees, sandwiches and ice creams – even postcards of the area!
Although there is no seating inside, there are a few benches outside the cafe where you can relax. It's extremely popular so prepare to queue on warm days.
The cafe is open 7 days a week and the opening time for the café is 10 am throughout the year. Closing times change with the seasons. See here for more details.
Don't forget to check out the 'alternative' viewpoint
Did you know that beyond the main viewing platform at Symonds Yat Rock, there is an alternative viewpoint less than 1000 metres away?
A lot of people miss it when visiting and it's actually extremely pretty! Plus, you'll find fewer crowds than at the main platform.
It isn't as accessible but it's only a short walk through the forest to get there.
Another great thing about this platform is that you'll find benches here to perch on that look out over the views of Wye Valley!
It's the perfect place to sit awhile and eat your sandwiches with some peace and quiet.
Look out for Peregrine Falcons and Raptors on the Rock!
Symonds Yat Rock is famous for its birdlife. So much so that the area is now monitored and protected by the RSPB.
It's known as the best viewing platform in the country to spot Peregrine Falcons. They were long thought to be extinct until a couple settled here in 1982 and nowadays they dominate the area!
There are lots of Raptors on the Rock that fly around the limestone gorge looking for prey. You'll often find them on the hunt for voles, wood mice and even adders that make a home here on the ground.
You'll also witness many other birds from this vantage point. You'll often see Tawny Owls, Kingfishers, Goshawks and Buzzards flying around the area too.
So, if you're an avid birdwatcher, grab your binoculars because there will be a lot to see in the air!
Head out on one of the many Symonds Yat Rock walks
If you're hoping to head out on a hike around Symonds Yat, you'll be spoiled for choice.
There are five country walks that are accessible from here and a cycling route if you're so inclined.
You can head over towards Biblins in The Doward and visit some of the pre-historic caves which are commonly known as King Arthur's Cave!
It's thought that King Vortigern built a castle nearby and the cave is his final resting place. You can read more on how to find the cave and the legend surrounding it here.
There is also the Symonds Yat Trail, Mailscot Wood Trail, Christchurch to Symonds Yat walk and High Meadows Trail.
All of these walks have different lengths, grades and routes. See here for more details and plan your hike!
Go rock climbing
If you were looking for an adrenalin rush, you may like to book in a rock climbing adventure!
The limestones cliffs surrounding the River Wye and Valley are the perfect spot to try out some easy routes if its your first time.
Plus, you'll be surrounded by some spectacular views when you start abseiling back down.
Climbing seasons change throughout the year to protect wild birds and falcons during breeding season. So, make sure to plan your climbing trip in advance.
Check out Inspire2Adventure for more details
Walk down to Symonds Yat village on the River Wye
If you parked in Symonds Yat Rock, it's really easy to walk down towards the river and visit Symonds Yat village. It's a gorgeous little place nestled on the water and as pretty as a picture.
While you're here, you can visit one of the many cafés or pubs and sit outside by the river. Or, head along the tow path by the River Wye.
Another nice idea, if you wanted to explore more of the area, is to take a boat trip along the River Wye.
During the summer months, they have regular trips throughout the day for tourists. Just make sure to bring some cash as no cards are taken on the boat.
Cruising down the river will be like stepping back in time and you'll travel just like the Victorians used to on their 'Wye Tour'.
Heading on a Wye Valley road trip?
After you've finished exploring Symonds Yat, you simply must explore Wye Valley. In my opinion, it's one of the most beautiful areas of the UK that is often overlooked.
From Symonds Yat, you can explore Biblins and check out King Arthur's Cave in The Doward. Or, head out to the Seven Sisters Rocks.
You can visit historic sites like the magnificent Tintern Abbey or the Monnow Bridge in the quaint market town of Monmouth. The Kymin is a great hillside with spectacular views nearby!
Chepstow is a quaint town where you can walk over its river bridge that straddles the English Welsh border. So, you can be in two countries at once! Or, you can explore Chepstow Castle with its dramatic location on the cliffside.
Ross-on-Wye is also a lovely spot for a tour with their quaint historic market hall or head to the famous Goodrich Castle. This is also where they filmed the hit BBC series of Merlin!
Puzzlewood and Speech House Lake is also not too far from Wye Valley which looks like a fairytale. There are so many walks, towns and places to explore. It's well worth planning a day trip!
Read more of my South Wales blog posts
How to find the stained glass window on the Forest of Dean Sculpture Trail
How to visit Llanthony Priory in the Brecon Beacons
The Crooked Church of St Martin's in Cwmyoy
The best bookshops in Hay-on-Wye
The 24-hour Hay Castle Bookshop
The legacy of Richard Booth, the self-proclaimed King of Hay
Visit the riverside beach of The Warren
How to visit Dobby's Grave in Wales
Save this Symonds Yat Rock guide for later!