Before I even set foot in India, I knew that the Taj Mahal was high on my list of places to visit. A tale of true love and some of the most gorgeous architectural symmetry had an allure to it. I used to think that this monument defined India and all that it was.
Well, although this may be true in some respects for the tourist boards, it is very far from the truth. There is so much more to India than a visit to Taj Mahal!
Now, I know you're not going to listen to me. I didn't before I visited last year when I read multiple blogs about visiting the Taj.
I just brushed it off as I was so excited to book a Taj Mahal visit. But, hear me out.
I'm certainly not trying to put you off, it is one of the most beautiful buildings I have set eyes on, but please don't centre your whole India trip around just seeing this place.
Trust me, you'll be in and out of here in one night and then you'll need some other places to go!
I think that before I visited I had such high expectations and, like others before me, googled 'How to get a photo of the Taj Mahal without anyone in it'.
But, on reflection, I shouldn't have set my expectations so high. It is just a building and one-stop amongst many other amazing, beautiful, and vibrant Indian destinations!
So, I thought that I would write a post about the Dos and Don'ts of visiting Taj Mahal tips with essential things to know for a Taj Mahal visit.
My Essential Taj Mahal Tips – 8 things to know before a Taj Mahal visit
1. Don't set your expectations too high
As mentioned earlier, it's important to not set your expectations too high when visiting the Taj Mahal.
We all see these glossy, amazing tourist photos with no one in the background and expect we will all have the same experience.
When I set my alarm clock for 5 am the night before, I was sure that I was going to beat the crowds!
But, in reality, it won't matter what time of day you visit – you will still be joined by hundreds of tourists who are eagerly awaiting a glimpse of this beautiful place!
We arrived at the security queue just before sunrise with our tour guide. It was hot, sticky and crowded and I had women literally holding on to my back. Again, definitely not how I imagined it.
I was wearing a traditional Indian lengha which I bought from the Janpath market in Delhi and had it re-tailored on the street. I figured I may as well go big or go home for my first visit.
Although it was a pretty dress, it was made out of synthetic material and jewels and weighed around 3kgs.
There was no way I was running around in the 36-degree heat trying to get photos before the crowds came in full force later in the morning! When I made my visit, they were busy cleaning the Taj Mahal.
This meant one of the pillars was covered in scaffolding. I had been following hashtags on Instagram to double-check that it was still only the one pillar covered up, praying it wouldn't be two or worse, the top was covered (which was rumoured).
More so, I was hopeful that it had miraculously been taken down overnight. But, on reflection, all these things (although I would have done them anyway) were useless.
I couldn't know how many people were going to be there and I couldn't help what construction was going on. You just have to make the most of it and accept the experience for what it is.
Luckily, the mist of the morning made way for beautiful sunshine which made a gorgeous gold glow all around the Taj and the gardens.
It was a spectacular sight! The Taj was gleaming white, there was a buzz in the air from everyone and I just enjoyed taking it all in.
Truth is, you are going to have people in your photos. Especially, if you're taking them in the super tourist positions.
The best advice I can give you if you really don't want it is to get creative!
Have a wander around the gardens and get an alternative view. Personally, in the end, I didn't care.
The photos are still some of the most treasured of my visit to Agra.
With, or without, the crowds. You see, I still blocked out that pesky pillar with my head! Problem solved.. ;)
2. Do visit the Taj Mahal at sunrise
Without a doubt, the best time for a Taj Mahal visit is at sunrise.
Not only to beat some of the crowds but to most importantly beat the heat!
Even when I visited in the winter tourist season it was 36 degrees at 6 am so it's best to ensure you keep hydrated.
With every ticket, which will set you back 1000 rupees as a foreigner, you will receive a bottle of water and some shoe covers (I'll explain later).
I have now been to the Taj Mahal twice. The second time was in the summer season in April and it was unbearably hot.
My friend and I stupidly decided to go to the hottest point of the day around 4 pm. Don't ask why. It was horrendous.
I have never felt so sticky and sick and constantly needed to sit down in the shade. I wouldn't recommend it.
If you can't go in at sunrise and your bed is calling you back, I would still try and make the effort to visit the Taj Mahal as early as you can.
That way, you can try to avoid the afternoon heatwave.
3. Don't forget your Taj Mahal shoe covers
When you're on a Taj Mahal visit, it can be easy to forget that this is not just a wonder of the world but a mausoleum.
The final burial place of Shah Jahan and his favourite wife Mumtaz Mahal.
Therefore, it's important to show respect while on the grounds of the building itself.
While most temples in India require you to take off your shoes for temples, the Taj asks that you cover your shoes with shoe covers.
With your ticket, you'll be given some which you must put on before entering the monument itself.
It will feel like a bit of a whirlwind as you enter the tomb and the security guards are ushering you around.
You can't stop for long to take in the lovely temperature. Photography is prohibited inside and I even saw one of the guards confiscate someone's phone for ignoring the rules.
But once you're outside, the platform provides great views of the gardens, grounds, mosques, and the Yamuna river.
You can take a rest here and enjoy the shade the building brings. The height of fashion…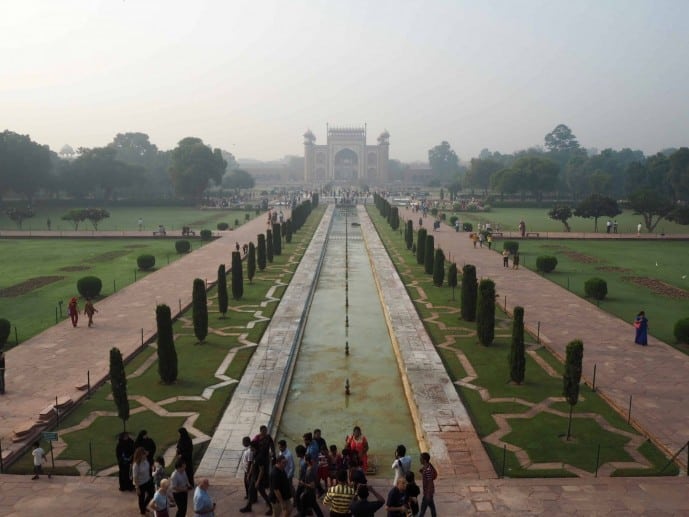 4. Do hire a Taj Mahal photographer
So this one will be a completely personal choice but I did find benefit in hiring a photographer to document my Taj Mahal visit.
You won't need to hire one beforehand. Trust me, they'll be waiting for you.
What's great about these photographers is they know the best spots to take your photo.
They will usher people out of the way to ensure you get some good snaps and they will get you into that all-important Diana bench and make it look fabulous! But, I will warn you about the price.
At first, they will lure you in with the 100 rupees of a photo speech. You'll think to yourself; 'great, 100 rupees a photo – not bad at all'.
But, what you don't realise is that the price adds up! When you get to the end, he will have taken around 60 photos of you. Now you don't have to be a genius to work out what's coming next. Yep, a whopping 6,000 rupee price tag!
The good part is, you are not obligated to buy all of the photos. In fact, you could negotiate him down to as little as 10 of the photos he's taken of you to make it worth his time.
I wouldn't just buy the one as he is still running a business!
Your package should come with a photo album and a CD of your images to re-print off at home.
Don't pay the photographer until he delivers your photos. Our guide advised us of this. You don't owe them anything until the product is in your hands.
What usually happens is they will take your phone number, print them off and meet you later to hand them to you. Personally, I was really happy with the work and thought it was worth every penny.
Read more – The most Instagrammable places in Delhi!
5. There are many ways to see the Taj Mahal
Agra itself is not the most picturesque. In fact, it kind of feels like they don't have to try due to making enough money off of the Taj Mahal.
So, you won't want to stick around long. You may just come in for a day or stay for one night.
Although the city doesn't provide many tourist spots, it does have some beautiful locations to catch a glimpse of the Taj from a different perspective rather than the crowded attraction itself.
A Taj Mahal Boat Ride
One of the best places to get an alternative view of the Taj Mahal is from a boat ride on the Yamuna river.
It's a little bit of a hidden secret, but it's easy to find. You'll need to head right from the East Gate of the Taj Mahal and head all the way down to the bank.
There is literally one guy who owns a boat and transports the security guards from one side of the river to another.
He'll give you a round trip for 200 rupees but you can probably negotiate him down.
The Taj Mahal boat ride is a bit of a balancing act! So, if you'd like to take photos at the helm, you'll need to swap places with him to balance the boat out. It's pretty hilarious, but worth it as the views are spectacular!
We decided to go at sunset and the sky had a pretty pink glow to it. It was definitely a sunset I'll remember for a long time.
Metabh Bagh Gardens
Another great place on steady ground where you can head for sunset is the Moonlight Garden or Mehtab Bagh.
Again, this provides a romantic view of the complex and admission is next to nothing.
Click here to read my complete guide for the moonlight gardens!
6. Don't be afraid to haggle for souvenirs in Agra
The stalls outside of the Taj Mahal sell a plethora of items in beautiful marble and precious stones. But, if you enquire about any prices initially, they start super high!
I had my eye on a beautiful picture frame. It was gorgeous, but they started out with a price of 7000 rupees! Ridiculous.
As I had been in India for a few months and knew it's worth I wasn't having any of it. So, I started the haggling process and finally got him down to around 2000 rupees.
I could have gone for less, but the heat had started to get to me. You have to think, they most likely believe you got off the plane yesterday.
For most tourists that visit Agra, that's probably true!
You'll most likely look at your conversion, compare the prices to back home and think you've bagged yourself a good deal. But don't be fooled, you'll most likely be getting ripped off. Don't be afraid to haggle.
It's actually expected as part of the business in India. But, there is a right and a wrong way to do this.
Set a price in your head. How much are you willing to pay for the item?
Start off with a low offer. Maybe, a little bit lower than you're planning to pay. They will stick to the higher price but keep going.
Don't get angry or frustrated if they don't back down. In fact, the best option is to have a conversation with them. Drink a chai, relax, then talk numbers.
If it fails, walk away. Once they see that you don't need the item and think they're losing a sale, they will chase after you and give you the price you were willing to pay. And if they don't, there are hundreds of stalls to start over again!
7. Do explore Agra Fort
If you're travelling around Rajasthan, you may get a little bored of all the forts.
However, the Agra Fort provides a great vista.
Our tour guide took us here as part of the package, but you can explore the fort on your own if you didn't fancy a guide.
You don't really need it unless you're really interested in the history of the place. It's definitely worth a look around.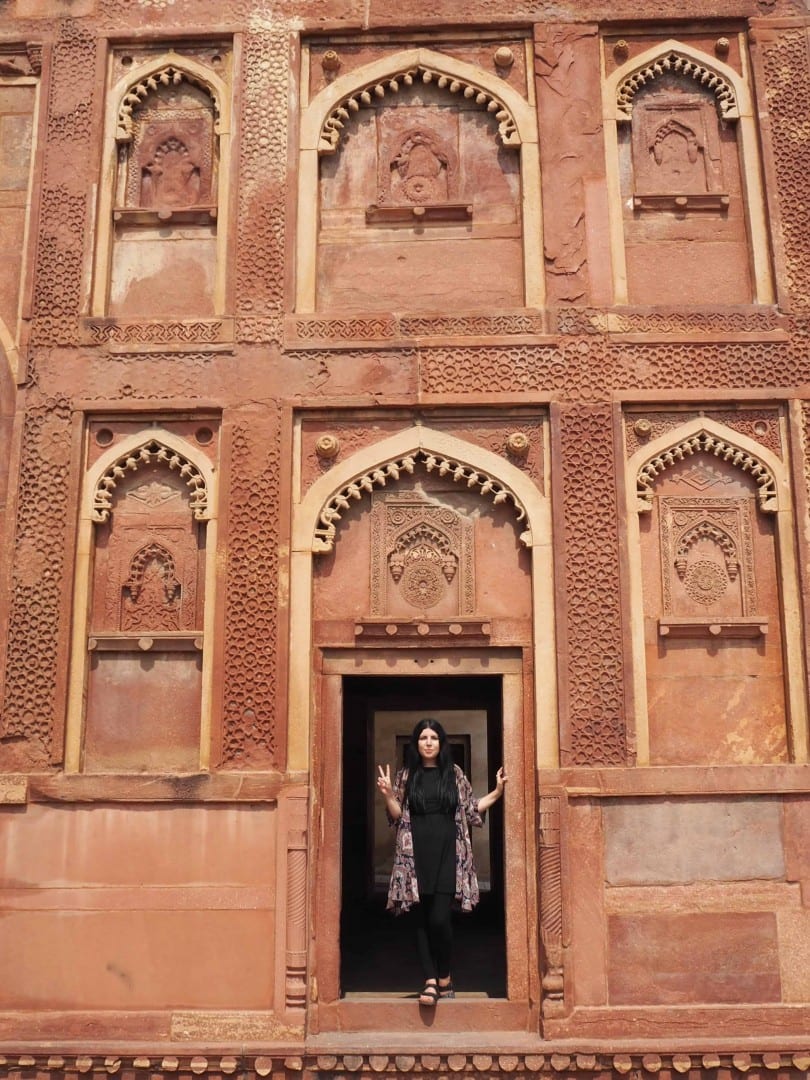 8. Don't leave without experiencing the luxury of the Oberoi Amarvilas
It's no secret that the Oberoi group are the kingpins of 5* luxury hotels across India.
They own some of the priciest rooms. It doesn't come cheap for a one-night stay here, but the good news is you don't need to check in to experience the luxury.
Based only 500m from the Taj East Gate, you can enjoy a drink in their bar overlooking the Taj Mahal. Or enjoy a meal at their restaurants but again, this isn't a bargain.
I took a chance on my visit and sat by their incredible swimming pool.
It was great to just imagine myself staying here for one night. Ah, it was just a dream. A beautiful, beautiful dream.
That's my top Taj Mahal tips!
On my first visit, it was tough to take it all in.
The heat, crowds, hawkers, listening to my tour guide, and trying to get a half-decent photo.
But the second time, when I didn't put pressure on myself – it was much easier to relax and just enjoy the place for what is was.
These are my personal dos and don'ts for visiting Taj Mahal, but everyone and every journey is different!
The best thing to do while you're here is to go with the flow. Don't set your expectations too high and enjoy the beauty of your Taj Mahal visit.
Read more of my India articles
The ultimate Rajasthan itinerary
A first timers guide to Jaipur
My complete guide for Rishikesh