Tawang blew my mind. I couldn't believe I was still standing in India, let alone this century!
Tawang is the definition of tradition and cultural values still well and truly alive today. In the 21st century, it's so easy to forget the world outside of our phones and social networks.
But, here, you'll forget all that in this Himalayan haven, there's far too much to see.
Tawang is sandwiched between South Tibet (China) and Bhutan, so it's an amazing mix of cultures, religion, temples, food and people.
Although I only spent a few days here, what I did experience was on another level of culture trip.
Tibetan Buddhist temples, monks and nun's, Monpa tribes, fluffy puppies, cuddly yaks, prayer wheels, chai and Himalayan mountains are all here waiting for you.
Here is the ULTIMATE Tawang travel guide for Arunachal Pradesh and why it will blow your freaking mind!
How to get to Tawang in Arunachal Pradesh?
Tawang is in North East India in a state called Arunachal Pradesh, in between Bhutan and South Tibet (China).
There are no flights here and the best way to arrive is by car via the Sela Pass. But, it's not all plain sailing.
It took me two attempts to reach here due to the heavy snow! The best way to experience this part of the world is through a tour with Holiday Scout.
You'll have a more personalised experience which is so much better than travelling here on your own.
I did both and I wish I explored North East India with Holiday Scout the whole time! For my full review of the tour see here.
The best place to stay in Tawang? Tawang hotels
If you need to find a clean and comfortable Tawang hotel, then I would suggest the friendly Tenzin Guesthouse.
It's got 5-star reviews on Tripadvisor and having stayed there myself, it comes highly recommended!
There are comfy beds, thick quilts, and heaters to take off the winter chill. To book a room or check rates, get in touch with Holiday Scout.
My ultimate Tawang travel guide and all the reasons why you need to visit Tawang
1. The scenery will make your jaw drop
Here, it's all about the journey and not the destination.
Beyond heading to the town of Tawang in the Himalayas, the start of the journey in the district of Tawang provides the most awe-inspiring views.
You'll wind through epic mountain peaks, cheer as you cross over the Sela pass, see cascading waterfalls, explore dense lush forests, fall in love with quaint Arunachal villages, and a whole lot more to boot. Cross over ancient Tibetan iron bridges.
From the bright yellow roofs of the monastery to the beautiful Buddhist temples, to the Brokpa huts with their beautiful herd of fluffy yaks.
You'll have to pinch and ask yourself; is this real?
2. You'll feel the history of the monastery speak to you
Tawang Monastery was built in the 17th century and it's stood the test of time.
After Lhasa in Tibet, this is the second largest monastery in the entire world.
Although there is so much more to Tawang than just the monastery, you can't deny it's like a siren that pulls you in.
You'll need at least a few hours as there is so much to explore.
It's often referred to as a citadel in the city in its own right and as soon as you arrive you'll know why; It's absolutely huge!
It was built to house, feed, teach and cater for over 700 monks. That's A LOT of space and food needed.
I met so many friendly monks while here. The little ones were the cutest!
They were so sweet trying to keep their eyes open and messing around in early morning prayer. We met them when they had finished their classes.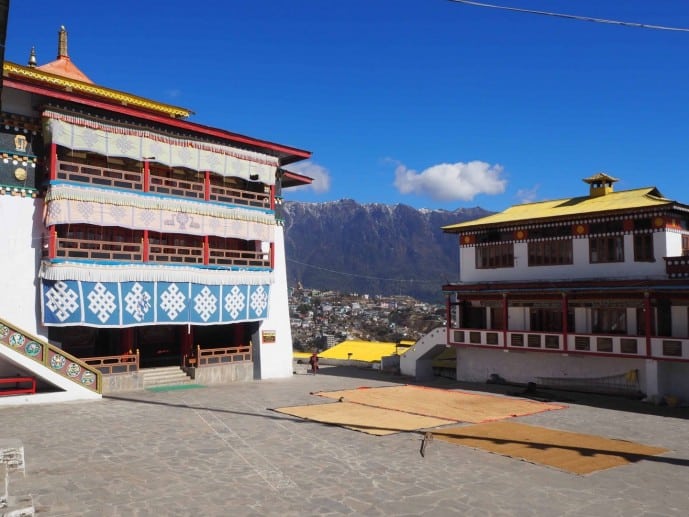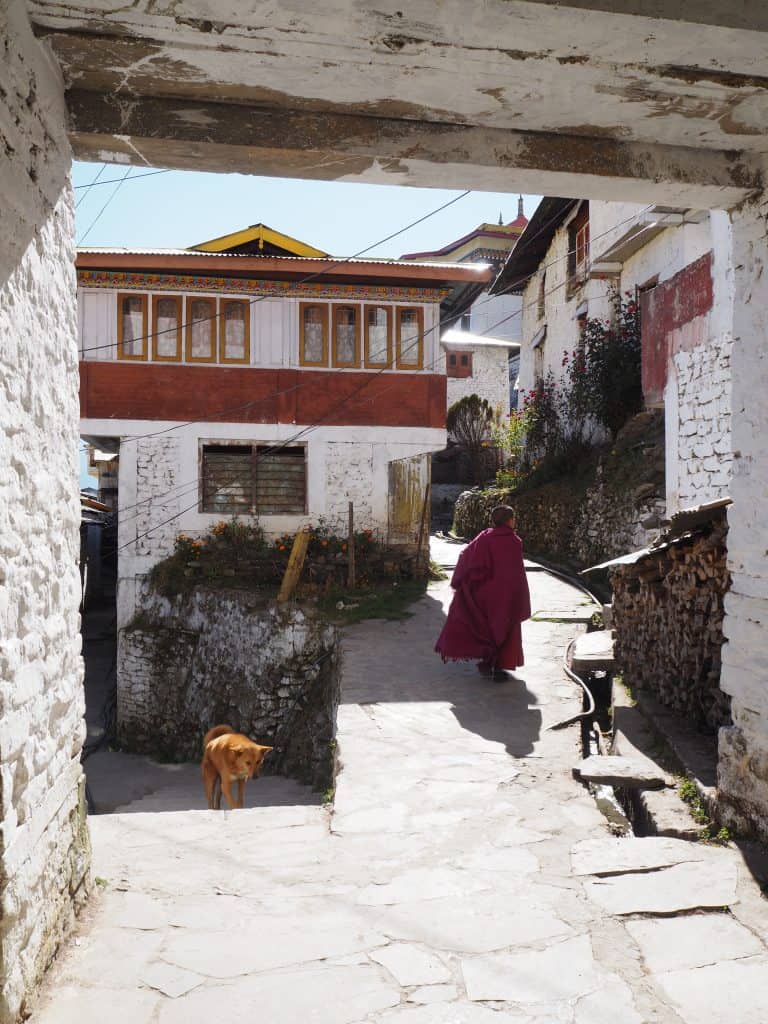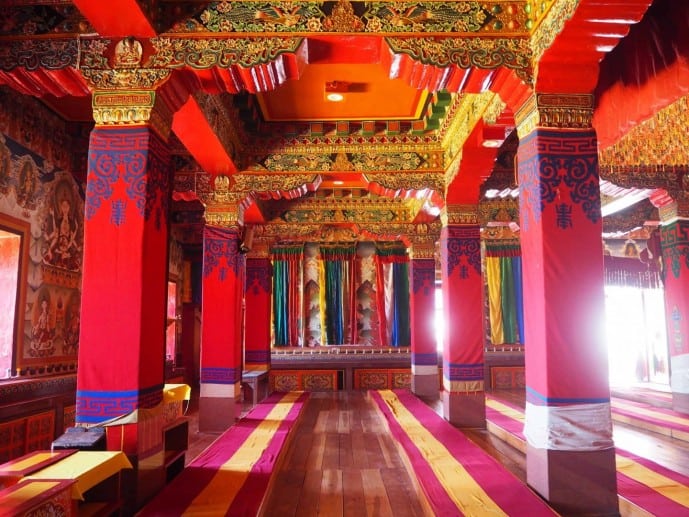 Things to do in Tawang Monastery
You can explore the museum which is here, the temples, the library and witness the life that goes on.
One of the highlights of my trip was watching the early morning prayers at first light.
3. The people will welcome you with open arms
As soon as I arrived I couldn't get over the amazing hospitality. Our hotel, Tenzin Guesthouse, was gorgeous and warm (heaters were a lifesaver!).
The owners were just so friendly!
They welcomed us into the kitchen by the fire, put a hot cup of tea in your hands, cooked up some amazing homemade local food, and were genuinely curious to know you.
You didn't feel like a stranger or you didn't belong wherever you go.
4. You'll discover that magic happens at sunrise
If you're not a morning person, I would highly recommend changing that for a few days in Tawang.
I swear to you that something magic happens here at first light.
Firstly, it will be the purple hue of the mountains which will give you a buzz. Then, you can watch the monks chanting early doors around 6 am.
You'll hear the sound of prayer fill the room. The rays of sunlight shine through the windows and smoke from the incense makes patterns in the air. It will send a chill up your spine.
Well, it will be that or how cold it is in the halls, haha!
Top tip: bring a pair of socks as you have to take your shoes off, don't underestimate how freezing it is on the floor.
5. Hospitality can be found in the most unlikely places
In Tawang, I was invited in for Yak tea by a nun at the Thukje Choeling monastery and again in a hut with a Brokpa (nomad) shepherdess.
You'll never know where you will find yourself and with whom you'll be sharing stories over chai!
I couldn't get over the kindness and welcoming nature of the people in Arunachal Pradesh. It was on a different level.
Everywhere felt like your home and you were greeted with open arms.
6. You'll be mesmerised by the colours of the temples
The temples may look old and will wow you as they have stood the test of time but just wait until you get beyond closed doors.
The bursts of colour in the architecture, statues, and murals on the walls are the sort of thing that makes you stand back in awe.
It's psychedelic and mesmerising. The detail and size of the religious statues are incredible.
You'll wonder just how long they took to build and how many people have prayed to them over the centuries.
You'll see religious tales and fables, symbols and symmetry, colourful patterns, prayer wheels in all different sizes. You won't believe your eyes.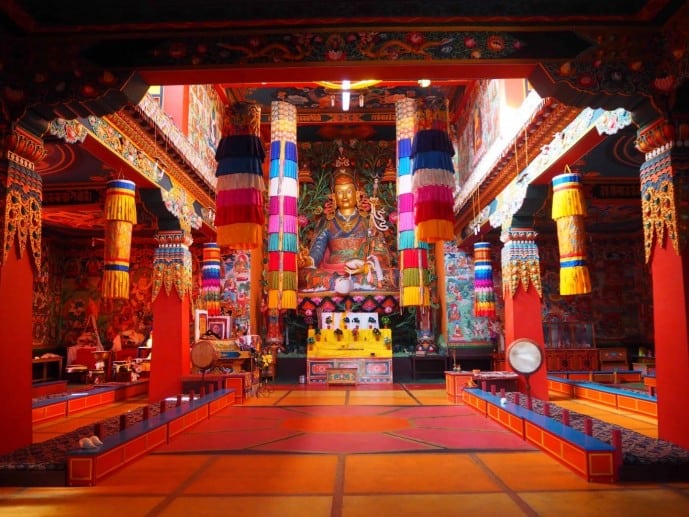 More Tawang temples
Beyond Tawang monastery, there are countless Buddhist temples and monasteries to explore.
But the best ones to check out while you're here are the Ugyenling Monastery. This was the birthplace of the 6th Dalai Lama and the Thegtse Sang-ngag Choekhorling Monastery, in a place nearby called Kin-mey.
It was an incredible, colourful spectacle that I'll never forget!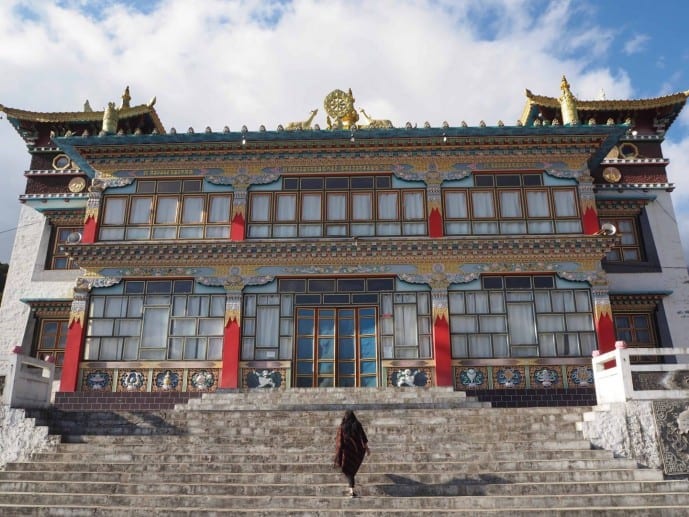 7. The fact you can meet, talk, drink and eat yak…yak everything
Yaks were everywhere in Tawang, in your teacup, on your plate, and grazing in the hills.
Personally, I LOVE yaks and gave a little squeal when I saw first saw them here.
If you're not a fan of Yak butter tea (yep, it does what it says on the tin) then you'll have to build your tolerance up!
They drink it everywhere here and most likely you'll be offered a cup in place of chai.
Yak cheese is also a favourite staple amongst the locals in Arunachal Pradesh.
You'll find it in chewing gum form (I tried it, wasn't a fan), in curries, and in the pantries of nearly every household!
Yak's provide wool for warmth, food for comfort, and tea for bringing people together in Tawang.
8. You'll discover so much culture
When we first pulled up to the monastery, we watched monks practicing for a festival. They were dancing with painted masks, singing, and twirling.
I'd see women as old as 80 circling the temples 108 times, praying to Buddha and spinning prayer wheels and their beads.
On the full moon, nearly every local in Tawang was visiting the monastery with offerings of flowers, yak butter tea, and money.
They would offer themselves to God and pray for a prosperous month ahead.
Bunches of incense sticks were lit, sacred clothes were thrown to Buddha, and prayers in solitude were made.
The shepherdess was churning yak butter by hand 1000 times per kg while her husband was milking the yak by hand.
Tawang was like a cultural trip. It was old school. It was traditional. Why change something that's worked for so long? It's like experiencing another world.
9. The mountains will intimidate you…in a good way
The first thing I noticed when I entered Arunachal Pradesh was the size of the mountains here.
The height intimidated me, not just because I'm a shorty but the fact we were driving around them amazed me.
Driving over the Sela pass was beyond crazy. We were racing around roads 13,500ft. high!
When you reach Tawang, you'll see 360-degree panoramic views of paradise.
Snow-capped peaks, statues of Buddha, the amazing sunrises and sunsets, and of course, the brightest of stars due to low light pollution.
10. You'll be part of the action
I loved visiting places in Tawang. I wasn't just an observer or a typical tourist there, I was taking part.
I was helping monks make candle wicks out of cotton, turning prayer wheels with locals, churning yak butter, making Momo's, and lighting candles for happy blessings.
I think Tawang sticks with you long after you've gone because of what you experience there.
11. It will leave footprints in your heart forever
I had never heard of Tawang before I visited North East India and had no idea a place like this even existed.
So, it surprised me that when I left, I missed it so much!
It's honestly like another world and I'm definitely planning on how I can make my way back again.
Tawang blew my mind and I know it will yours when you get here. You really can't miss it when you make a visit to North East India!
Click here to check out my favourite Tawang photos
With thanks to Holiday Scout for hosting my tour of Arunachal Pradesh. All views, pictures, and opinions are my own. For a full review of my tour, see here.
Heading to Arunachal Pradesh?
If you liked this Tawang travel guide, make sure to read more of my articles on Arunachal Pradesh!
Top places to visit in Arunachal Pradesh
A complete guide for 108 Mane / Mandala Top
Sangti Valley – a hidden gem in Arunachal Pradesh
Why you need to stay in Dirang Boutique Cottages
Visiting the ancient Chaksam Bridge
Why you MUST visit the magical Jang Falls
A complete guide for the Sela Pass
Read more of my North East India articles!
Top things to do in North East India
A complete guide for Hornbill Festival
How to find the double decker root bridges in Meghalaya
A complete travel guide for Guwahati
A complete Kaziranga Safari guide
My top North East India travel tips
Save this Tawang travel guide for later!