I don't know about you, but visiting a tea plantation in Munnar was bang slap at the top of my list.
I had seen all the beautiful images on Instagram and Pinterest and I knew I had to make it a priority on my trip. Plus, the fact I'm British pretty much means tea runs in our veins.
I don't know why, but I imagined that there was only one place to see the tea fields in Munnar…how utterly wrong I was!
When I arrived, there was not one field but what seemed like hundreds of plantations and the expanse of them went on for MILES.
Some tea estates are crowded and touristy, some are private, some you need a permit to see, and some you can only access by a 4WD Jeep.
So, I thought I'd give you a fair warning before your trip with some essential tips for visiting a tea plantation in Munnar!
Heads up, my trip to Kerala and the Tea plantations in Munnar was sponsored by India Someday (click here to see more)! But, I was not paid to write this article. All opinions and photos are my own.
How to get to Munnar in Kerala
Kerala is India's most southern state and is a HUGE one at that.
Unlike other states in India, I found that the infrastructure of public transport wasn't the best.
Read my full road trip guide to Munnar including the best sightseeing, viewpoints, waterfalls, and lunch stops!
Bus to Munnar
Of course, there are public buses but there aren't really many government/private buses (like on redbus.in) designed for tourists to get to the main destinations. So, you'll need to do a bit of working out in order to reach where you're trying to go.
Unfortunately, Munnar is one of those places. As it's a hill station, there aren't many public buses that will make the winding journey up.
You will probably end up getting around three buses in total and the journey will take around 5/6 hours. Speaking from personal experience with local buses, I wouldn't recommend it unless you're on a tight budget!
Despite the name, the 'hill station' was destroyed long ago and is no longer working. This means that there aren't any trains that head up here either.
Taxi to Munnar
Most tourists tend to hire a private taxi or sharing a car to make their way up to Munnar. Or, you can do a day trip to Munnar from the likes of Fort Kochi.
To me, hiring a car makes the most sense as once you're here, getting around can be quite a challenge without one too. There are public buses up to Top Station but they run on tight schedules and most stop early in the afternoon.
But, if you are backpacking without a means of transport, have a look at some of these day trips to Munnar here;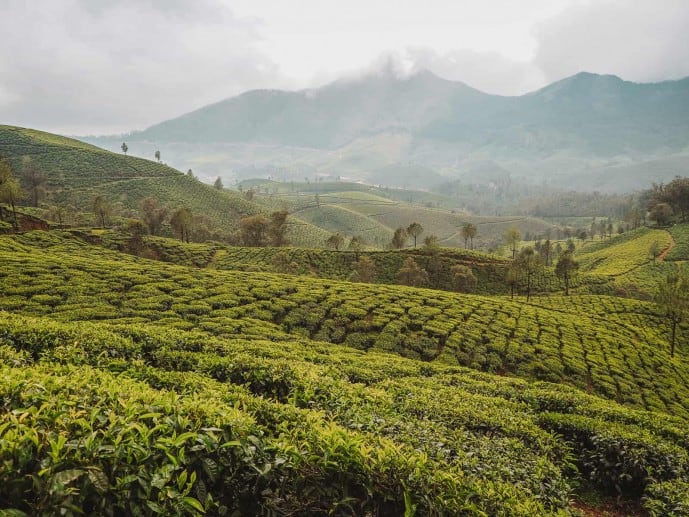 1. The first tea plantation in Munnar
In the same year, it is said that a German Planter, Baron Von Rosenberg, established the Lockhart Tea Estate with his Son. Making it the oldest tea plantation in Munnar.
After the word spread that there were fertile lands in the Indian hills a man called A H. Sharp, a European planter, came to Munnar in 1880. He started to plant tea in fifty acres of land in Parvathy, which is now part of the Seven Mallay estate.
In 1895 the Finlay and Muir Company was established and bought 33 tea estates which also brought in the Kannan Devan Hills Produce Company soon after in 1897 to manage them.
Although the tea trade flourished for a while, heavy monsoon rains struck Munnar in 1924. It took the locals years to try and rebuild and the tea plantations never really recovered. That was until The Tata Group entered the scene in 1964.
They formed a partnership with Finlay and became Tata-Finlay Group and, eventually, Tata Tea Ltd. in 1983. Today, they produce around 20 million kilograms of tea which is shipped around the globe!
2. Today, there are endless Tea Plantations in Munnar
There are over 50 tea estates in Munnar, mostly owned by the Tata Group, which doesn't seem like many.
But, when you realise that tea covers over 1,500 acres of land here, then it's quite overwhelming to picture!
There is tea quite literally around every corner of the area. So, there will be loads of photos opportunities just from the roadside if that's enough for you.
But, if you want to visit one as a tourist, let's say for photographs, to go hiking, learn about how tea is made, or sample some for yourself. You'll need to go to the right place or plan a tour in advance.
3. Think about the type of 'tea' experience that you want
This is also something to think about before you plan your trip to Munnar. What type of experience do you want in the tea fields?
If you're happy to take some pictures of the tea fields from the roadside, then you can do this for free and you'll have a million opportunities. Or, visit the Letchmi Tea Estate for perfect photo opportunities.
If you would like to take photos inside the fields without the crowds, it may be better to go on a private tour of an estate, get a 4WD Jeep to off-road into the hills, or leave your hotel at sunrise to beat tour groups.
Top tip: avoid Top Station if you don't want crowds!! Click here for my top Top Station tips!
If you're more active and would rather go on a hike or bike ride, these options are also there. You just have to enquire at your guest house and they will book for you.
If you want to meet the tea plantation workers and learn about how they produce tea in Munnar, you can visit the Lockhart Tea Factory Museum whenever you want.
If you would like to sample some of the different types of tea made in the area, it may be easier to go on an organised tour that does this for you (The one at Lockhart Tea Factory is lame).
It all depends on what you would like to get out of your trip!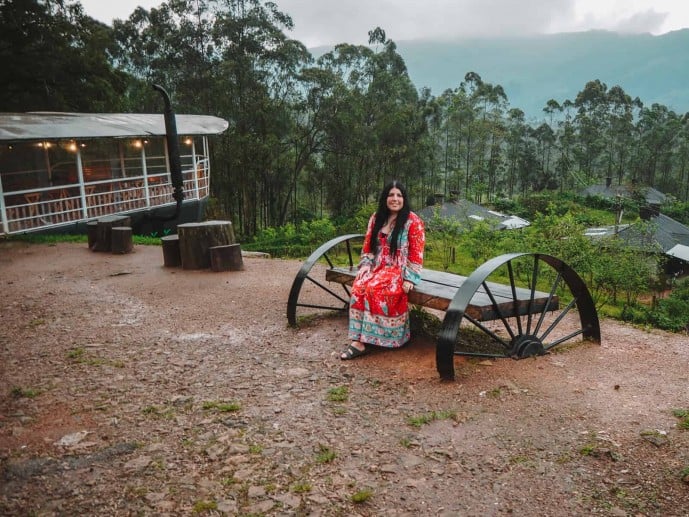 4. Not all Munnar Tea Plantations are open to the public and many won't let you inside
Unlike my trip to the tea plantations in Nuwara Eliya in Sri Lanka, I was surprised to see that so many tea plantations in Munnar didn't have a visitor centre with a gift shop, factory to visit, or café to sample some tea.
A lot of the plantations here were private, with barbed wire around them and locked up. So, you couldn't go inside to get photographs or explore them at all.
Some tea plantations, like KDHP (Kannan Devan Hill Plantation) will have a visitor centre with a 'view point' for photos, but will not actually let you inside them.
We did find some random ones on the roadside where you could walk in a few metres. But, I wasn't sure if that was permitted. So, here are some tea plantations where you can go inside;
Kolukkumalai Tea Estate – is one of the highest tea estates in Munnar and provides some incredible views and walking opportunities in the area. There is also a factory and museum there to explore.
Chinnakanal Tea Fields – also located a little way out of Munnar but another non-touristy area where you can explore the tea fields with a ticket. You'll need a 4WD to access it.
Lockhart Tea Estate – this plantation will need a permit with a tour operator to access but it is SO worth it to escape the crowds. I'll go into more about my experience below.
5. It's better to get a 4WD Jeep to off road into the tea fields
It's also good to note that if you have hired a car, or you plan on driving, not all of the tea plantations in Munnar can be accessed by road.
I found it better, and WAY more fun, to take a Jeep through the tea fields and go off-roading to explore.
It will be extremely bumpy but riding in the jeep was one of my favourite parts of my trip. This way we got to go wherever we wanted to through the fields and even got to stumble upon some of the local tea workers' villages.
This is also another sure way to beat the crowds heading to Top Station. We were stuck in traffic more often than not on that route and I was glad to take a scenic route to avoid the cars and minibusses.
6. You can opt to go hiking in the tea plantations if you prefer
There are so many hiking options in and around Munnar that you can take through the tea fields. These hikes can range anything from 3 hours, 5 hours, or a whole day starting at sunrise!
Usually, you'll be picked up in a car or Jeep to your start location walk through the hills and tea plantations.
There are many treks to choose from including Chokramudi (the lonely giant), The Kannan Devan Hills, Chithirapuram, Laxshmi Hills, and more.
This is a great option if it's a sunny day and you get to see some breathtaking scenery.
For me, as it was monsoon when I arrived, a lot of the walking trails were muddy and I didn't quite fancy the leeches, thanks!
But, I did get to do a little walk on my tour of Lockhart Tea Plantation with Route 49 Adventures! These guys not only organise hiking trips but jeep adventures too.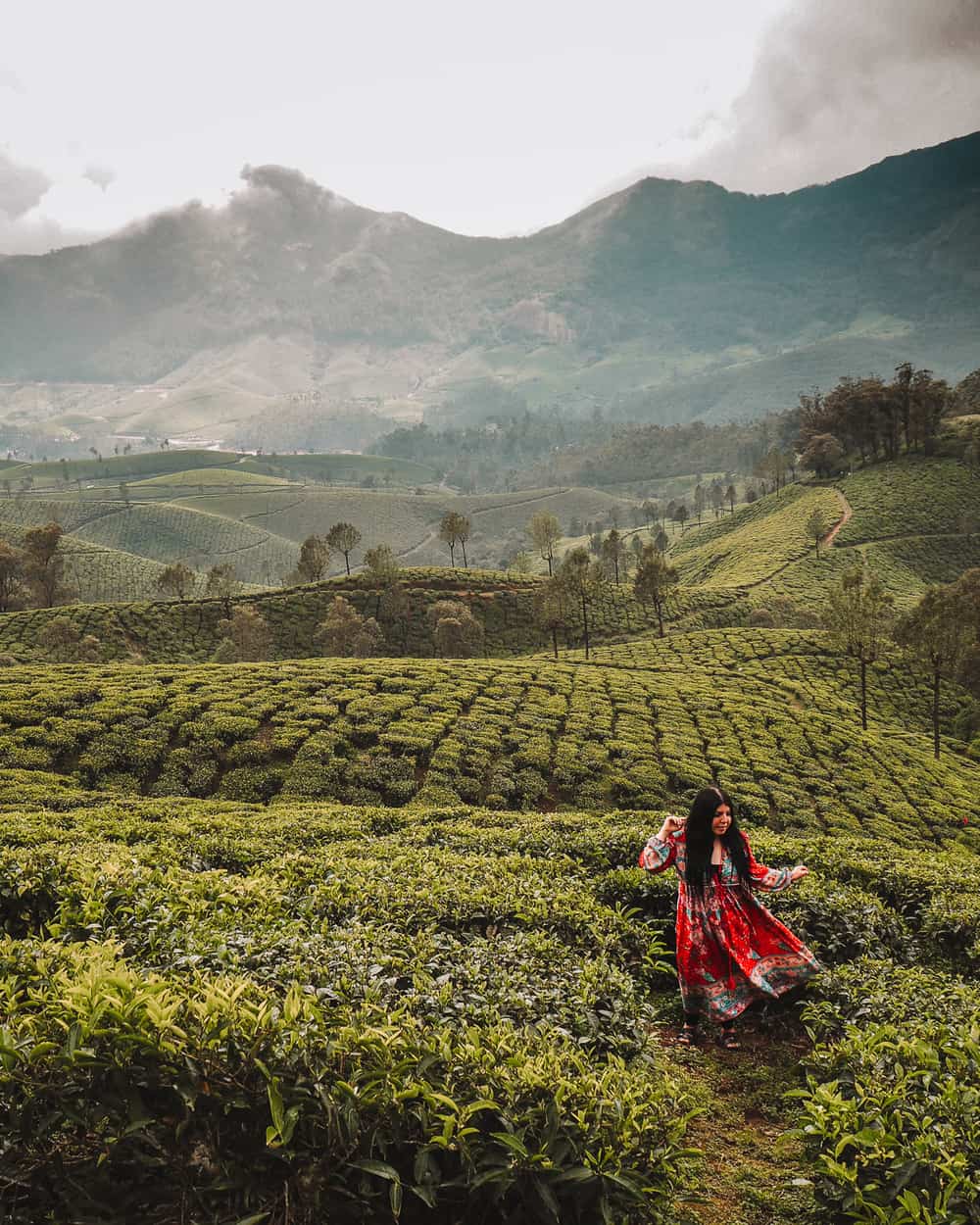 7. Visit a private tea plantation with a tour company to escape the crowds
After a pretty crowded day of battling with cars and crowds on the Top Station route; seriously at one point we were stuck in an hour of traffic to move.
I was SO happy to find out that we would be off-roading to a private tea plantation! As I mentioned before, there are a limited number of tea plantations in Munnar that actually allow you to enter inside.
For me, I really wanted to get some photos inside the tea fields and explore the area with the backdrop of the mountains. Lockhart Tea Plantation was perfect for this!
Route 49 Adventures have a permit that allows them to go inside the tea plantations. So, not only are you able to frolic around here to your heart's content and take as many photos as you want, you can explore the whole area without the masses of crowds.
In fact, apart from the workers and my guides, I didn't see any other people around!
Lockhart Tea Plantation with Route 49 Adventures
Although it was a bit of a cloudy day in Munnar, the views from Lockhart Tea Plantation were immense. As we took our 4WD Jeep off-road and headed deeper into the estate, I couldn't stop admiring every corner.
Of course, I ended up taking a hundred photos of all the mountains, the tea fields, and the views. But, what I really loved was exploring the tea estate and seeing all the tea leaves and plants.
As part of my private tour, we also got to see some of the workers and their villages on the estate. There are over 6,000 tea plantation workers here, mostly women, and each day they must pick tea by hand in the fields.
As a minimum, the ladies must pick at least 13 kilos of tea per day and they get paid based on the amount of tea they are able to pick. Sometimes, if the ladies want to work over their time to earn more they are allowed to do so.
Tea plantation strikes have been common over the years as in 2005, their wages were a mere 280 rupees (£3) a day. After negotiations, it has now risen to 500 rupees a day.
But, as well as the wage, their children are given free education, they are given a percentage of rice, they are also given discount lodging and there are more benefits too including medical care.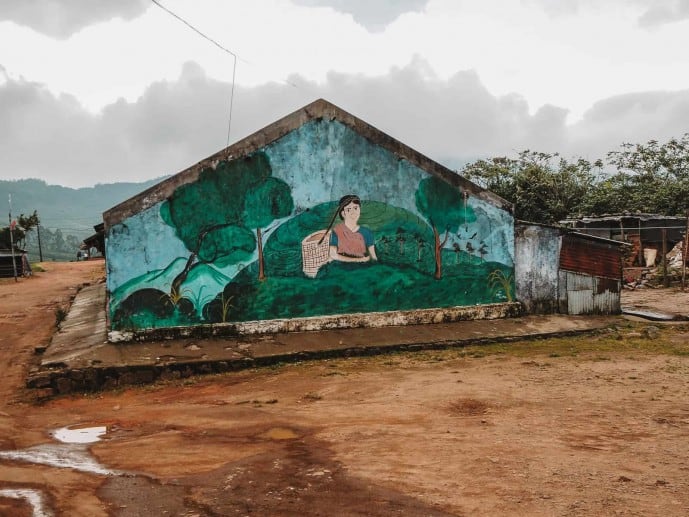 8. Don't forget to learn how tea is produced at the Lockhart Tea Factory Museum
Finally, after a long drive through the estate, the rain started pouring so we decided to head to the Lockhart Tea Factory Museum. As the oldest tea factory in Munnar, built-in 1939, we were able to learn a lot about how tea is produced.
First off, we put on some shoe covers and started our tour heading through the tea factory itself which still produces thousands of kilos of tea every day. I'm not going to lie to you the smell was intense!
Here, we got to learn all about the journey the tea plant goes through to produce the cups of tea that we have at home.
From the withering/wilting, to the oxidation process (the most important bit) and sorting and packaging. It was fascinating to get an inside look.
I was most amazed by how the different types of tea were made. For example, the difference between black tea and green tea is the oxidation process and what part of the leaf!
No matter what tea plantation you visit in Munnar, I would highly recommend visiting a tea factory too to learn about tea production. As well as Lockhart Tea Factory there is the KDHP Museum or Tata Tea Museum which is popular.
9. Or, go for a tea tasting in Munnar to try some for yourself !
If you want to sample tea from the tea field to cup, then a tea tasting in Munnar would be just the ticket. I was really eager to try the Orthodox tea that is made here.
Of course, you can sample tea anywhere in Munnar if you went into a a café. But, if you wanted to try a range of the teas that are made, it's recommended to try a tea tasting.
The one at Lockhart Tea Factory looked a little sad really, with a kettle and some paper cups. So, my tour guide had some specially prepared for us to try at Tea Tales Munnar.
Tea Tales is a café is located in the main city of Munnar which has a room specifically designed for tea tastings.
Despite a power cut meaning we had to try the teas in the dark (this happens a lot in Monsoon) I absolutely loved trying all the different teas.
Some were a lot stronger than others, like the Black Rose Tea I tried where I almost gagged. But, the Orthodox tea was extremely tasty.
As well as booking a tea tasting here, you can enjoy their extensive menu of affordable tea options too. Perfect for a budget traveller. Check out their website for more details.
Read more: the top places to visit in Munnar
Bonus tips for visiting the Tea Plantations in Munnar
Bring good shoes – For the most part during the summer, the tea plantations in Munnar are dry and easy to walk on. But, they can also be quite bumpy and muddy, so I would recommend bringing good shoes to walk around in. Not to mention leeches, so maybe don't wear sandals in the monsoon.
Watch out for bugs – Although the tea plantations look so pretty, when you get inside there are endless spider webs and spiders, thorns, and all sorts of bugs and critters who may not be pleased to see you. I'd wear good bug spray and cover up your legs.
Leave early to beat crowds – Unless you're headed to a private tea field, Munnar is crazy busy. It's popular all year round due to the cooler temperatures, so I would leave early to avoid crowds if you're eager to experience them in peace.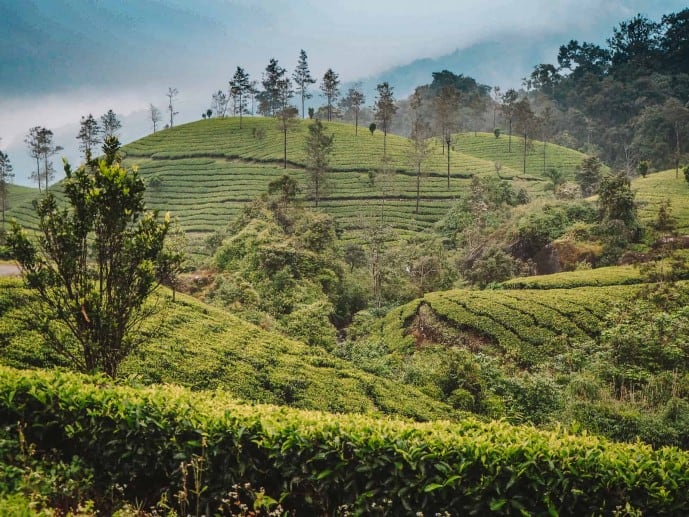 Where to stay in Munnar
Accommodation in the city centre of Munnar is quite cheap, but as soon as you arrive you may regret the decision to stay centrally. There is traffic at all times of the day here and it's incredibly crowded.
By far the best way to enjoy Munnar is to stay somewhere in the beautiful countryside. That way you can really experience the tranquility of the hills.
I stayed at Mistletoe Munnar which is a gorgeous family-run homestay. My spacious double room provided epic views of the mountains and beyond straight from my balcony!
One of my favourite moments was enjoying breakfast while overlooking the view. Read my review of Mistletoe Munnar here.
They arranged all my tours for me while I was here and their restaurant provided homemade Malayali cuisine each evening.
I would highly recommend booking here as it really made my trip! Click here for more details and to book the Mistletoe homestay.
Looking for more places to go in Kerala?
Kerala is nicknamed God's Own Country and there are countless places to visit.
I went on a week long trip here and wrote some informative articles about where to go and how to get round;
A One Week Kerala Itinerary that you need to steal
Places you must not miss in Fort Kochi
Chinese fishing nets – tips to avoid being scammed
Kathakali – the ultimate guide and how to see a show
The Top Tourist places to visit in Munnar
Lakkam Falls – the ultimate guide
Eravikulam National Park – essential tips before you visit
Top Station: is it worth the drive?
Like it? Pin it!