If you're looking for a great base for your trip to Northumberland, then The Amble Inn Northumberland is it!
Based in the beautifully quaint harbourside town of Amble, this inn has only recently opened its doors for guests this year. So, you know it's squeaky clean and all the facilities are fresh.
Although it's a modern property, it hasn't lost any of its countryside charms or welcoming Northumberland hospitality. The chic nautical decor paints a picture of Amble's historic roots of a working harbour town.
The Amble Inn Northumberland is the newest member of The Inn Collection Group, a brand that has a wealth of gorgeous inns across the county. So, you know you're in good hands with quality and service.
Here are six reasons to check into The Amble Inn on your trip to Northumberland!
How to reach Amble in Northumberland
Amble is just on the gateway of the Northumberland Coastal Route, so you're only a few miles drive away from some of the highlights of Alnwick, Bamburgh, Lindisfarne and Seahouses.
The best way to reach and to get around Northumberland is by car and the A1068 road will take you all the way through past Amble and the Northumberland coastline.
There is a recognised Northumberland Coast route but I found it easier to use my SatNav or Google Maps to find places.
The nearest train station to Amble is Almmouth and then you will need to make your way here by bus or taxi. It will take around 20 minutes by the X18 and X20 with Arriva buses.
The Amble Inn Northumberland location
As it was a relatively new hotel, I was worried I wasn't going to be able to find it and there would be no Google Pin yet or signs!
So, I was pleased to see a well-signposted route on the A1068 with a dedicated sign pointing to The Amble Inn Northumberland. It made the process really easy.
Parking at The Amble Inn Northumberland
The Amble Inn Northumberland has a huge car park outside the premises that is FREE of charge for the duration of your stay. This is a great addition as parking charges soon add up. There is accessibility parking should you need it.
There's also a petrol station nearby that came in handy.
Petrol stations are few and far between in Northumberland and you don't want to get caught out without petrol on these country roads.
Reasons to stay at the Amble Inn
1. It's a brand new inn in Northumberland
There's a brand new inn in the town of Amble and it's already becoming a favourite with the locals as a popular restaurant too!
The Amble Inn Northumberland only opened its doors a few years ago. So, the building, rooms, bedding, bathrooms, facilities, restaurant and pub are all state of the art and I loved knowing that my room wouldn't have anything too dated.
Everything looked gleaming, squeaky clean and had that fresh feel to it.
Sometimes I do worry when it's a new property as things may go wrong if they haven't been lived in yet, but my stay at The Amble Inn Northumberland went off without a hitch.
Despite it being so new, it didn't have a clinical feel either. It was all stunning decor, elegant and homely with a tasteful feel for the local area outside. So, I felt right at home.
2. The rooms are beautiful, clean and spacious
The Amble Inn has 30 new en-suite bedrooms to call home for the night. I couldn't believe the amount of space in my room, there was honestly enough to put a whole families suitcases inside and then some!
It let in lot's of light too from the window and that was a bonus.
The room had gorgeous tweed carpet, a huge double bed you could sink in fit for a queen with crisp white bedding.
I loved the USB plug points at either side of the bedside tables as well as the normal sockets, a good sign of a brand new hotel!
There was a lounge area with a desk holding complimentary teas, coffees and biscuits (always a winner!) and a flat-screen HD TV above it if you fancied your latest shows.
The wardrobe was huge with so much space, although I never usually unpack my case when I travel and the bathroom was also massive with brand new facilities!
I loved the fact it was a shower over the bath situation. Always good to have a choice especially after a long day hiking in Northumberland; a good muscle soak is always needed.
3. The Amble Inn restaurant is gorgeous and the food is delicious
In Northumberland, a great restaurant can be a long drive away over the winding country roads at night if you don't have one nearby. But, with The Amble Inn Northumberland that wasn't necessary.
There was a tasty, popular and affordable local restaurant onsite!
The Amble Inn serves some tasty pub grub with traditional favourites like Fish and Chips and a Steak & Ale pie or some more luxurious dishes like succulent ribeye steaks, locally caught sea bream and chef specials.
They also sell pizzas, burgers and some tasty veggie and vegan options too.
I decided to go for my absolutely favourite pub treat; Scampi and Chips with baked beans instead of peas of course. Because who doesn't like dipping their chips in beans?!
The position was HUGE for just over £10 and was super delicious but it defeated me. I couldn't finish all the skin on chips.
4. There's a well-stocked pub onsite
As I was driving around Northumberland, I couldn't make many pub stops. So, it was always nice to look forward to a drink in the evening after a great day of sightseeing!
The Amble Inn has a well-stocked bar and I was happy to see locally brewed ales, IPA's and lagers on tap.
I always like to try new drinks when I'm in a new place. In fact, some I drank was brewed just a few miles down the road. Also, The Amble Inn stock some local spirits like Alnwick Gin and Lindisfarne Gin.
Of course, they have your local classics too if you're not fussed about trying something new.
The best part was that they had brand new tankards to drink from. I'm a big fan and we don't get them very much anymore in the UK, so was happy to oblige.
5. You can help yourself to a huge breakfast in the mornings
Most of my days started out pretty early in Northumberland and were full-on with sightseeing as I like to make the most of my time. So, I need a good filling breakfast to set me up for the day.
The Amble Inn did not disappoint!
It was set up in a buffet-style so you could have all you can eat.
There were cereals, fruits, yoghurts and pastries. Fruit juice on tap and unlimited filter coffee which I can't function without in the mornings.
The best part was their massive fried breakfast which you help yourself to. Bacon, eggs, mushroom, beans, tomatoes, sausages and hash browns. It was a real treat.
6. It's the perfect base for sightseeing in Northumberland
What I loved about Amble is that it was on the gateway to the Northumberland Coast.
So, I could drive to Bamburgh Castle, Lindisfarne, Alnwick, Walkworth, Alnmouth, Craster, Ford and Etal and all number of places easily from this location.
Here are some ideas of where to visit using The Amble Inn as a base to explore;
Amble
The local area of Amble is lovely with some great award-winning fish restaurants if you'd like to eat out.
I would personally recommend the Fish Shack Café which is part of the Boat House Group.
You can walk around the bustling harbour and see the comings and goings of the boats pulling into port.
Don't miss a walk along the pier to see the beautiful sea views and islands in the distance. They regularly run boat trips from here to visit the Coquet island, owned by the Duke of Northumberland!
I loved Amble's independent spirit, with some local market stalls set up in the Amble Harbour Village.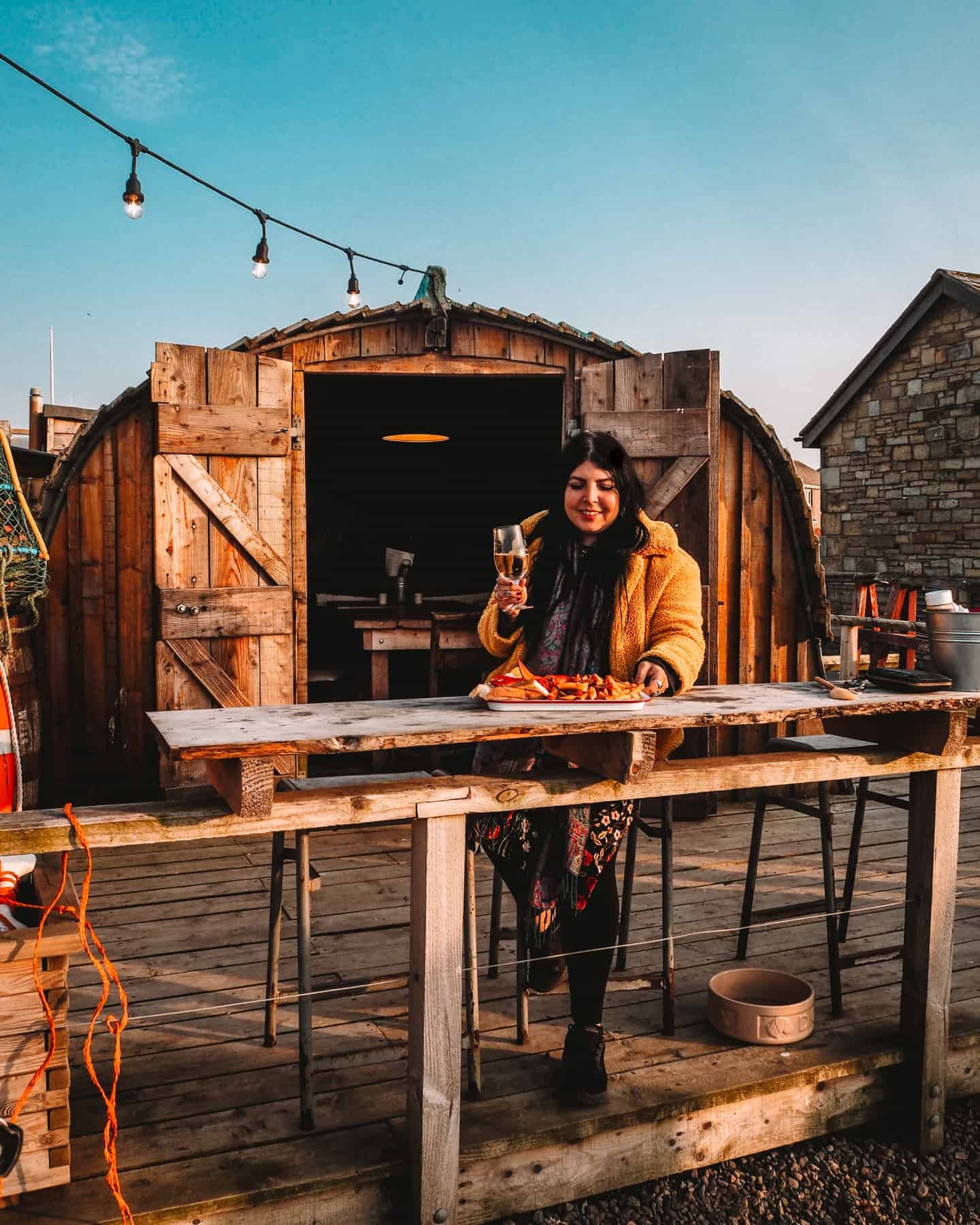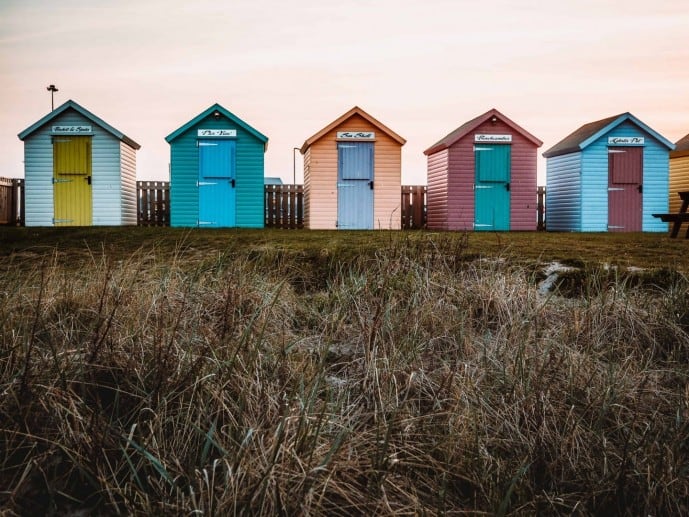 Bamburgh Castle
Bamburgh is a popular seaside town for its historic castle, known as the King of Castles, with its dramatic position along the coast.
There have even been settlements in the area since 10,000 BC during the Iron Age and following that, the Roman period!
During the Middle Ages is where we saw the castle grow in structure as a fortification in the Norman Era and then it was famously seized in the War of the Roses in the 15th century!
Finally, it was purchased by Lord Armstrong in 1894 and developed as a family home with it being opened up to the public in the mid 1900s. As well as it having bucket loads of history with its staterooms, castle towers and dungeons, it's also haunted.
There have been sightings of a Pink Lady, Green Jane and Dr John Sharp. So, don't visit here alone!
I recently visited Bamburgh Castle at Christmas time and it looks beautiful decorated for the festive season
This is also the location of Uhtred's Bebbanburg in The Last Kingdom on Netflix! Click here to read my fan guide.
Seahouses / Farne Islands
If you're into bird watching or heading out on a trip to somewhere exciting overseas then I would recommend a boat ride to the Farne Islands.
A nature reserve off the coast of Northumberland, here you have a great chance of catching sight of some colourful PUFFINS!
I decided to take a trip with Billy Shiel's Boat Trips from Seahouses that was a two-hour ride with one-hour landing on the main Farne islands.
We toured around many of these islands and saw SO many birds including seagulls, shags (who is in charge of naming birds in UK lol) and of course, my favourite, Puffins! Also, we got a good look at some seals that were basking in the sun.
On the main Farne Island, you can get a puffin talk, borrow some binoculars to take a closer look at the wildlife, visit the church or take a look at their lighthouse too.
Click here for my complete guide for the Farne Islands!
Ford & Etal
The three areas of Ford, Etal and Heatherslaw Mill were notoriously feudal in these parts.
Each area had its own laird, castle, mill, farms, churches and community. If you were from Ford and were caught conspiring with someone from Etal or Heatherslaw, it would be bad news for you. If you married someone from another town you'd be excommunicated, it was THAT strict.
You wouldn't think it nowadays when you're driving through these quaint little villages in the countryside. It's now just one peaceful retreat in Northumberland, but with a big history to tell.
It's like stepping back in time to a bygone era.
Click here to read my complete travel guide on this hidden gem in Norhumberland
Ford village
Ford has some incredible historic buildings including the Lady Waterford Hall where Louisa Anne, the Marchioness of Waterford, painted spectacular water colour frescos for the local church.
Etal
Etal is a pretty village with its castle stronghold that was used to fight against Scottish rebellions all the way back to the 14th century.
You can also visit the only thatched pub in Northumberland; the Black Bull.
Heatherslaw Mill
Go back to the Victorian era with Heatherslaw Mill, where you can see the workings of a water mill to grind corn into flour or ride the Heatherslaw steam railway to Ford, Etal and back.
Lindisfarne / Holy Island
Lindisfarne is an island that is famous for being the first place that the Vikings invaded in England. It's a spectacular island off the coast that can only be accessed at low tide.
Warning: PLEASE read the tide timings before you visit Holy Island. It's important or your car could get stuck in the water and someone will have to save you.
You can walk over to the island but it's 3 miles and so driving is the best way. The crossing is free and you can pay to park up in their visitor centre.
Here you can walk over the island, visit the Lindisfarne Castle or the Lindisfarne Priory where the Vikings raided the Abbey and attacked the monks residing there at the time.
Or, head to St Aidan's winery and sample some locally distilled mead, always a favourite.
Click here to read my complete guide for Holy Island & on the top things to do here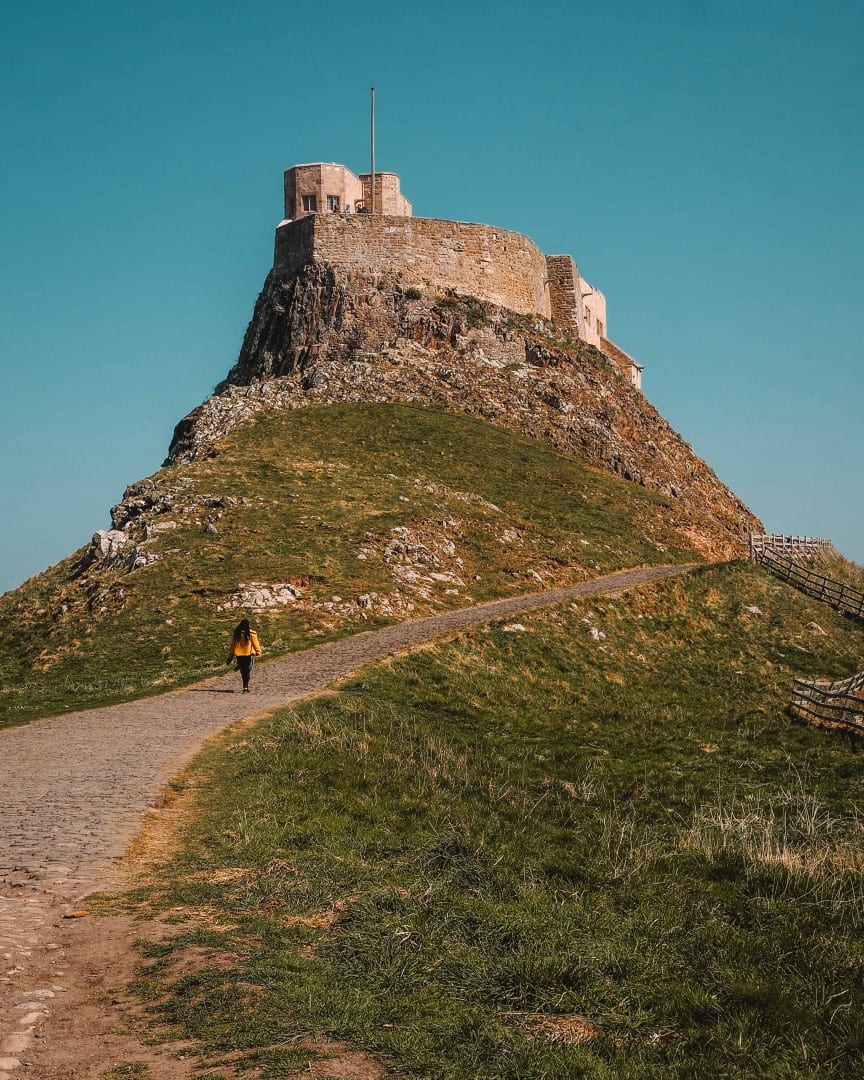 Alnwick Castle & The Alnwick Garden
If you're a fan of Harry Potter, old castled and beautiful lush gardens then Alnwick is just the ticket
Alnwick Castle was a filming location for the Harry Potter movies and they filmed many of the scenes here including the famous broomstick flying lessons. You can even have a go and learn to fly on one yourself!
Click here to read my complete Harry Potter guide for Alnwick Castle!
The Alnwick Garden is also a must-visit and has some incredible displays. When I visited, I got to explore one of the largest white cherry blossom festivals in the world! It was completely magical.
You can also learn about plants that kill in their poison garden or dine in their award-winning TreeHouse restaurant that looks like something out of a Fairytale. Tip: book well in advance!
Alnwick Town is also worth checking out whilst you're here. You can pop inside the magical Barter Books.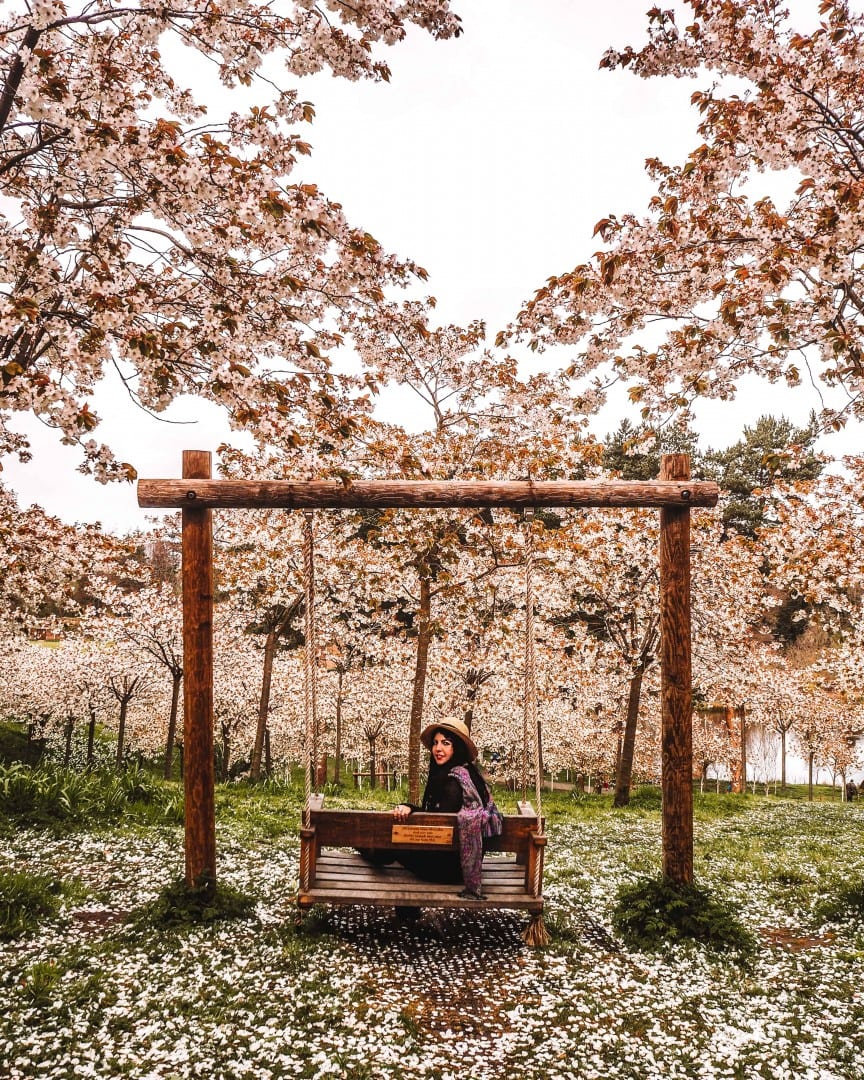 Craster / Dunstanburgh
The seemingly small and quiet fishing town of Craster has a LOT to offer in terms of beautiful views.
You can head around their picture-perfect harbour area and pop into the Jolly Fisherman for some seriously tasty food and drinks.
If you're up for a walk, you can head along the coast, take in the sea air and visit Dunstanburgh Castle.
I cannot put into words how breathtaking this walk was. I visited at sunset, so there was a gorgeous orange sky as a backdrop to this romantic ruin.
With thanks to Visit Northumberland and The Amble Inn for hosting my stay. Although I was a guest all opinions and photos are my own.
Like it? Pin it!