On my recent trip to the Lake District with Go Lakes, I had the pleasure of checking out a brand new property that had recently opened up in the area – The Ambleside Inn!
Owned by the Inn Collection Group, this hotel has 30 newly refurbished rooms to check in to plus a popular restaurant and bar on site.
This is the third property I have checked out, in their collection now and I'm absolutely obsessed with them.
As I know that I'm always guaranteed;
A super comfy bed in a clean spacious room

An amazing bar and restaurant onsite
Incredible service from their friendly staff
and an awesome breakfast to wake up to!
The Ambleside Inn was no exception to this and it far surpassed my expectations too!
Here is my full review of all the exciting reasons why you should stay here in the Lake District.
Disclaimer: my stay at The Ambleside Inn was sponsored as part of a press trip with Go Lakes. Although I was a guest, all photos and opinions are my own.
Why stay in Ambleside?
Although Ambleside is one of the busier towns in the Lake District, it hasn't lost any of its idyllic charm. Every corner you turn is as pretty as a postcard!
As well as being packed full of quaint historic buildings and museums, it also has a lot of modern infrastructure and comforts.
Independent cafés, high street shops, supermarkets, and plenty of cosy bars and restaurants make this a great base to explore from.
For me, although I love exploring remote villages and areas, it's nice to come back to a place I know has conveniences like petrol stations (very few and far between here) and food shops.
Plus, you're on the gateway to Windermere Lake and have lots of walking routes to choose from around you for an active day out.
1. It's a brand new hotel that has opened up in Ambleside!
The Ambleside Inn opened up its doors officially to the public a few years ago, so it's a brand new hotel to hit the area.
Although it is 'new', it's actually set in a 17th-century building! It was previously called 'The Queen's hotel'.
The building dates back to 1635 and was occupied by the British Army at the beginning of World War II. It became a Royal College of Arts after the London location had been shut down.
After World War II, it was purchased by YHA as the YHA Queens Youth Hostel. It has 134 beds and was very popular as a backpackers base for travellers.
In 1971, YHA purchased the Ambleside (Waterhead) Youth Hostel on the lake and moved premises. Which in turn opened up the building for sale and it became The Queen's Hotel.
From 2019, it is The Ambleside Inn which has brought a fresh lick of paint and a multi-million-pound refurbishment breathing new life into its old walls.
2. The Ambleside Inn have 30 newly refurbished rooms to check in to
Although the building may be old, The Ambleside Inn has made 30 fresh rooms to enjoy on your stay. I absolutely love how spacious the rooms are and are always light and clean.
Also, I was a big fan of some local artwork and paintings on the walls. I had some of the old railway posters for the Lake District which is awesome as I collect old postcards with similar designs.
My bed was huge and comfy with a mattress I could sink into and on the bed, there was The Inn Collection Group's signature welcome gift of a bag with eye masks and earplugs.
I had a small dresser with all-important tea and coffee facilities with biscuits, that I'm happy to report were replenished on a daily basis.
Although I rarely watch TV while I was travelling, it's definitely a bonus to have one! I was obsessed with the tiles in the bathrooms and loved the fact they didn't have any single-use plastics.
For me, that's becoming more and more important to be environmentally conscious so I'm happy the Inn Collection is on board with it too.
Although I checked in at night time, I loved waking up to the breathtaking view from my room! It honestly looked like a postcard with the rooftops, weather vanes, and rolling hills.
3. There is a popular restaurant onsite with amazing food
Cumbria is famously known for its local cuisine that is now common on menus across the country.
Cumberland Sausages, Sticky Toffee Pudding, Cumberland Tatie Pie, Cumberland Cheeses, there are many mouthwatering foods that originated from here!
So, you must try some of the local delicacies while you're in the Lake District. It's almost criminal not to!
The Ambleside Inn restaurant has a fab menu of wholesome dishes that incorporate ingredients from the local area giving you the perfect opportunity.
I have to admit that having already tried some of the local food. I went for what I fancied and started off with their half jacket, with avocado and baked halloumi to start. It was SO tasty.
Secondly, as their Tatie Pie was sold out, I decided to go for the juicy flat-grilled steak. It came with onion rings, portobello mushrooms, and twice-cooked chips!
Although I was going to order a dessert of sticky toffee pudding, I was absolutely defeated so gave it a miss. But, I'll be back next time to sample some.
4. Plus a full stocked bar so you can have a drink
Usually on my travels while I'm exploring the area on a road trip, I am completely alone and so am the sole driver too!
So, sometimes It can be difficult to resist some of the amazing country pubs calling me in to sip on a local ale.
But, what I loved about The Inn Collection Group is they always have a bar open downstairs. So, I can come back and enjoy a drink and not worry about driving.
The Ambleside Inn not only has locally brewed ales, wines, and distilled spirits on the menu. But also your standard big names if you wanted to stay safe.
When I pulled in on a Saturday night it was absolutely packed to the rafters and is a popular place with locals and tourists too.
5. You can help yourself to a buffet breakfast in the mornings
When I travel I always love waking up and having a great breakfast to head down to and The Ambleside Inn has a magnificent spread.
Usually, you'll find in most hotels that continental options are in a buffet style and you have to order a hot breakfast off the menu.
But not here, all of the full English options are buffet style too!
It's all you can eat, so you can help yourself to what you want. There's bread for toast, cereals, fruit juices, fruit, pastries, and yoghurts if you fancied something cold.
Plus, there are hot breakfast options like Cumberland sausages, mushrooms, hash browns, eggs, black pudding, and more here.
Also, there is bottomless tea and coffee for your much-needed caffeine fix. It's always a great way to fill up for a day of exploring!
6. It's the perfect base to explore more of Ambleside and the Lake District!
What I loved about Ambleside is that it is right in the heart of the Lake District National Park. So, you can head to all the highlights from here, by car, on foot, boat, or by bus.
As well as Ambleside having a lot of infrastructures, there are a lot of popular attractions in the local area to enjoy too.
So, here are a few of my favourite places that you can explore from Ambleside;
Stroll around Ambleside Town
Ambleside is really busy with tourists but there are a lot of interesting places that you can go and visit with your time here.
The views of houses that are gathered around Stock Beck river are like a postcard, so make sure you get your camera to snap up some of the pretty scenes.
In terms of attractions, you can visit the Armitt Library & Museum Centre that was founded by Mary Louisa Armitt in 1909. Now a registered charity, it houses a historic collection of books with some exhibits of authors like Beatrix Potter – making it perfect for bookworms!
You can also visit the Stagshaw Garden on the way to Ambleside Waterhead Pier which is owned by the National Trust.
St Mary's Church spire can be seen from all over the town and you can visit this amazing Grade II listed church from the 1850s on Vicarage Road.
Click here for my complete travel guide to Ambleside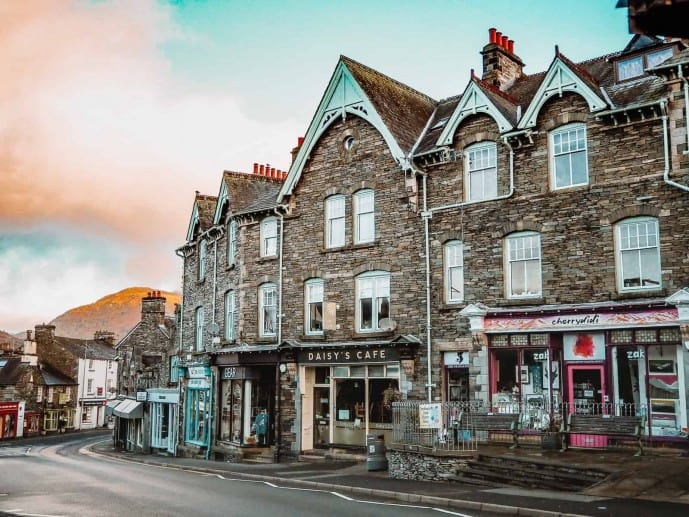 Photograph the Bridge House
One of my favourite spots in Ambleside was the fantastic Bridge House that was originally built in the 17th century by the Braithwaite family.
They were notable and wealthy landowners in the area and this was their apple store. They actually built the property on the bridge to avoid land tax!
Over the years it has been a shop, chair makers, tea room, and even housed a family of 8. It has inspired artists for centuries and has been a muse for many paintings and sketches.
Today, it's a National Trust property that is open in summer to explore. But, it's still a spectacular spot to capture all year round.
So, bring your camera as you're not going to want to miss a photo here. It's an icon of the Lake District!
Related post – Click here to read more amazing facts about The Bridge House
Walk to Stock Ghyll Waterfalls
Hidden away in the woods nearby The Ambleside Inn is a hidden gem of Stock Ghyll Falls.
A cascade that falls from 70 feet through a mossy gorge. Although it is so close to Ambleside, it rarely sees many walkers so it's the perfect spot if you wanted some peace and quiet.
If you head through Stock Ghyll Land opposite The Ambleside Inn, you'll find the entranceway here.
The whole walk should take no longer than twenty minutes. I absolutely loved this trail as it was so scenic. Plus it has plenty of viewing platforms of the waterfall too.
Related post – a complete hiking guide for Stock Ghyll Falls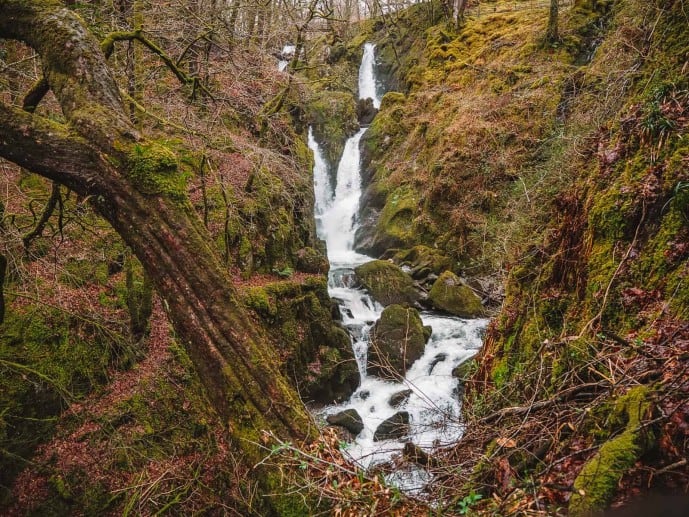 Take a boat from Ambleside Waterhead Pier
A lake cruise in the national park is an essential bucket list activity here and a popular way to get around the area and take in the sights.
The Waterhead Pier is just a short five-minute drive from The Ambleside Inn and you can easily walk it in 15 minutes. From here, you can take a boat ride on Lake Windermere, the largest natural water lake in England!
Windermere Lake Cruises has one of the biggest fleets and cruise route options. So, you can get a return boat ride with them or purchase their 'freedom of the lake ticket'.
This pass allows you to travel on any of their cruise ships and routes for 24 hours. There is also a 48-hour option available.
It's a really relaxing way to explore the beautiful towns and villages in the area, without the stress of driving.
Click here to read my complete guide with places to stop on a Windermere Cruise!
Visit Wray Castle
Although it is called a castle, Wray Castle is a folly mansion home rather than a real historic castle but it is still magnificent to visit.
It is was built for Dr. James Dawson in the 1840s as a Gothic Revival style property. He was a retired Liverpool surgeon, in the 1840s.
Although it was built with his wife's inheritance from a Gin distillery, once the house was built she took one look and refused to live in it!
William Wordsworth seemed to have something negative to say about every building that was built in the area, but he actually liked Wray Castle. He said that it 'added a dignified feature to the interesting scenery in the midst of which it stands'.
The castle passed to his nephew Preston Rawnsley after Dr. Dawson died in 1875. Then it was sold to the National Trust in 1929.
As well as exploring inside the house, the views from the hilltop it's perched on are amazing and you can see Windermere from there.
Click here for more information on how to visit!
Go walking around Rydal
You're also on the gateway of many amazing walks to White Moss Woodlands and Rydal Water.
An easy walk that I loved was a visit to Rydal Cave which used to be part of the Loughrigg Slate Quarry.
It's twenty minutes from White Moss car park or you can walk the whole way from Ambleside in around 45 minutes.
Click here for my complete Rydal Cave hiking guide with all possible walking routes
Along the way, you can visit the St Mary's Church, be in amongst a blanket of daffodils in Dora's field, or pop over to Rydal Hall and the Rydal Hall Waterfall from "The Grot".
After that, you can stop by Rydal village which is home to Rydal Mount, another property of William Wordsworth. He lived here until his death in 1850.
Click here to read more amazing things to do in Rydal
Fall in love with Grasmere
In all of the Lake District, Grasmere was my favourite place of all! Famous for being the home of William Wordsworth, you can't visit the southern lakes without stopping by this pretty and idyllic village.
If you want to follow in the footsteps of Wordsworth you can visit Dove Cottage on the outskirts in Town End or see some marvellous views from the Allan Bank. Click here for more information.
You must visit the world-famous Grasmere Gingerbread shop. This special gingerbread recipe was created by Sarah Nelson in 1854 and is still a favourite for locals and tourists today.
Click here to read my complete travel guide for Grasmere!
You can also pop inside St Oswald's Church or wander around the Wordsworth Memorial Garden to see the daffodils.
Barney'sNewsbox has a massive collection of jigsaws, Sam Read's is a newsagent established in 1877, and Heaton Cooper Studios is perfect for art supplies.
There are so many cosy cafés to grab a coffee too including The Windermere Tea Gardens!
Is the Ambleside Inn Dog Friendly?
YES! The Ambleside Inn is dog friendly in both their restaurant and the hotel rooms too. So, you don't have to be separated from your furry pal here.
In fact, making friends with the dogs and stalking them from across the rooms became my new favourite activity.
I met a pug called Kermit, a Chiwawa named Betty, and many others too. They were all just SO cute.
How to find The Ambleside Inn
The Ambleside Inn is located centrally in the town on Market Place. If you're heading here by car, Ambleside is almost completely a one-way road system.
So, if you don't look out for the hotel you could miss it when you're coming around the bend.
There are two entrances to the hotel. One is located at the back of the hotel near Market Square and the other is on the main road at the front.
Travelling to the Ambleside Inn
By Car: Ambleside is really easy to find as soon as you come off the M6. From the motorway head onto the A590.
Then head towards Bowness-on-Windermere on the A591, from Windermere you'll need to head towards Keswick. Follow the A591 all the way to Ambleside.
Then head around the one-way system towards the Town Centre and The Ambleside Inn will be on Market Place.
By Train: There is no train station in Ambleside. The nearest train station is Windermere and from here you can take a taxi or bus to Ambleside. There are numerous bus rail interchange services that run frequently to the town.
By Bus: Stagecoach is the main bus service in the area and they run frequent Lakeland services to many of the towns and villages that don't have train stations like Ambleside and Grasmere.
You can buy day passes or even weekly tickets. The service you want is the 599 heading to Grasmere and stopping off at Ambleside. Click here for more info.
The Ambleside Inn Parking
The Ambleside Inn does not have any dedicated parking at their hotel. But, there are several time-restricted layby's out the front on the main road.
The council is quite generous with time restrictions and they only charge from 10 am – 6 pm. So, any time before 10 am and after 6 pm will be free.
However, there is a small catch; they run a disc parking system around Ambleside. This means if you want to park in one of the lay-by's, you'll need to pop into the hotel or one of the local shops and ask for a parking disc.
You'll need to display this in front of your car at all times while parked.
These are really popular parking spaces, not just for guests at the hotel but for everyone trying to park for free in Ambleside!
Whenever I came to my car, people would stop and wait to see if I was leaving.
I luckily managed to get a free space in front of the hotel each evening, but I'd say it's luck of the draw and in peak season it may be difficult.
There are also some more layby's on Vicarage Lane, Stock Ghyll Lane, and other spots in the town.
If you don't get one of these parking spots, there is pay and display visitor parking available that's free after 8 pm and becomes chargeable from 8 am. The closest is Rydal Road, Car Park.
Read more of my Lake District guides
Places to visit on a Windermere Lake Cruise
A complete guide for the Blea Tarn walk
How to visit Hodge Close Quarry
All The Witcher filming locations in the Lake District
A complete Cathedral Cave walking guide
How to visit Claife Viewing Station
Save this Ambleside Inn Review for later!