I can guarantee you this is the best Rajasthan itinerary out there for planning your trip to India. As someone who's been to Rajasthan over twenty times in a year, I'd like to say I know my way around.
India has my heart but Rajasthan truly has my soul. Without a shadow of a doubt, it's my favourite state and I would even go as far as to say; if you don't stop here, you really haven't experienced the country at its finest!
This diverse part of India is full of music, colour, turbans, sarees, camels, chai, tuk-tuks, forts, palaces, lakes, shopping, curry and a whole lot more.
You'll meander from the pink, white, blue and yellow cities and each time you visit a new one you'll say "that one's now my new favourite". Personally, I love them all in equal measure.
Like you, I was not really sure where to start in planning my trip. Where did I begin? How do I get from city to city? Where are the best places to go and when? So, I've decided to help other travellers out.
I'm going to take you the parts of Rajasthan worth seeing, how to get there and what I recommend you see and do, where to eat and sleep and some top tips! Here we go!
This Rajasthan itinerary is ideal for the traveller that has 2-3 weeks in Rajasthan.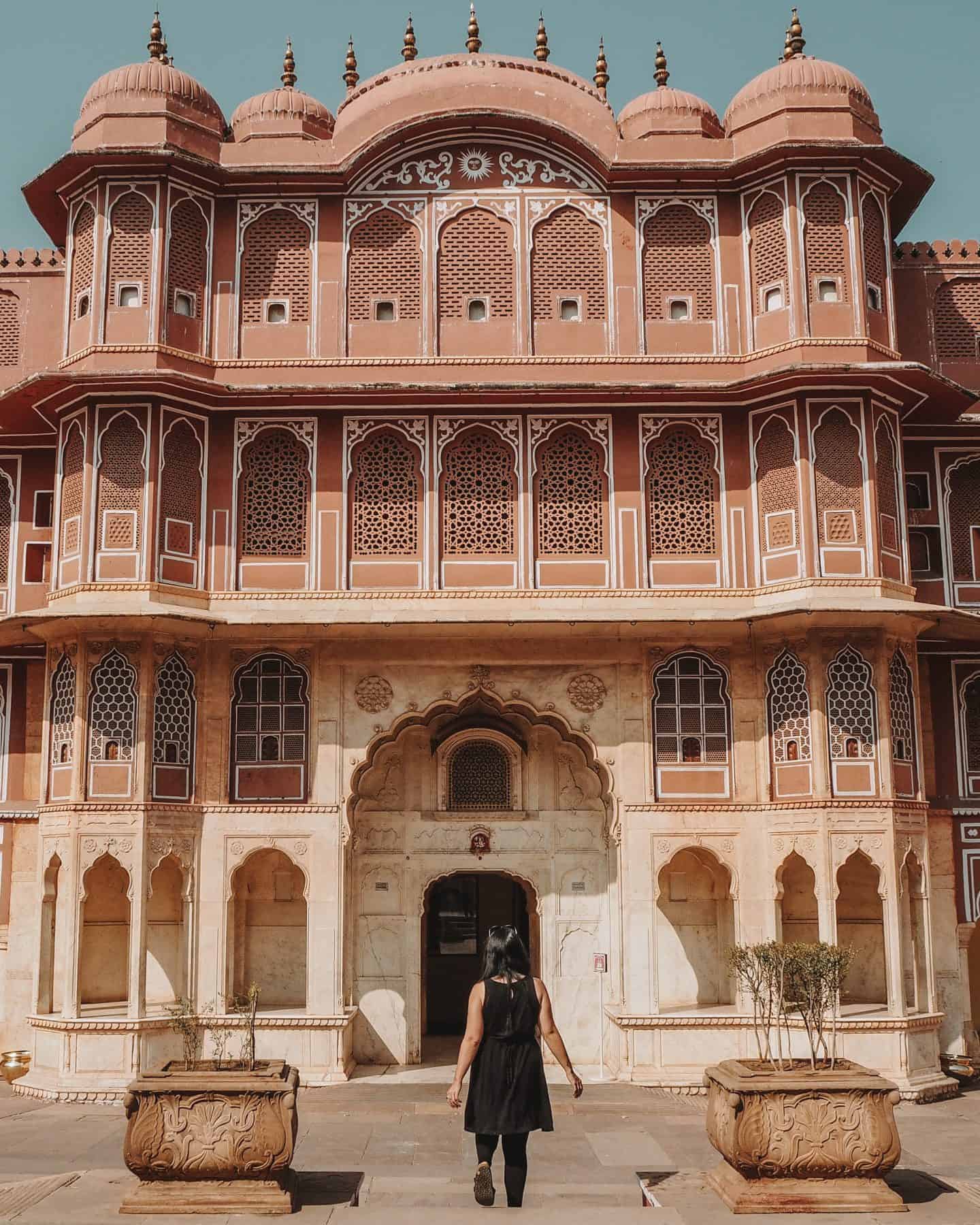 Things to know before you travel to Rajasthan
To enter India, even if you're spending 2 weeks in Rajasthan, you must have a visa in advance. There's no buying one at the border, so be prepared for that if you're travelling around other countries before landing here.
For the UK, you can get an e-visa application a minimum of 4 days in advance which is valid for 30 days and will set you back $25 USD. But, if you're here for longer you can get a year visa for $40USD!
Personally, if you're intending on travelling extensively in India, I would go for the regular tourist visa.
Not only will this allow multiple entries (by selecting that option when applying), so you can come back and forth freely, it gives you a bit extra time. As, you know, this is India and things take time (you'll get to know that when you get here).
Be warned: you cannot travel overland to India with this and you must land in the airport that you stipulated on your e-visa. I know this as I've been to the overland border from Nepal and have seen people drive all the way from Kathmandu airport only to be turned away.
Getting here and getting around Rajasthan
Flights in Rajasthan
Luckily, as most tourists will be landing in Delhi (India's capital city) this is right on the gateway to Rajasthan. What this means is, you'll only have to get a short train, bus or plane ride to get into the state of Rajasthan.
If you wanted to skip Delhi and just head straight on in, you can easily catch an onward flight from the Indira Gandhi International Airport.
Flights to the likes of Jaipur are only one hour away and save time. Reputable airlines with competitive prices are JetAirways, Vistara and Air India. You can search for flight times and prices via Skyscanner.
Rajasthan trains
If you're up for more of an adventure and want to travel the local way that definitely opts for trains and buses. These are no doubt cheaper and give you more of the Indian travelling experience. Jaipur is only a 3-hour train ride away on an express train from Delhi.
I would highly recommend using Cleartrip for booking all your train travel in India.
Although you pay a premium, it's worth it to not have to deal with the horrendous government train system. But, you will have to book your journey's in advance. It's not a 'show up on the day' kind of train system unfortunately and due to the population, they book up fast!
For more top tips on Indian train travel, see my article on India Train travel here.
Rajasthan Buses
If you're not a planner, then I would also recommend buses. You can pick local government buses or air-conditioned buses through travel booking agencies that will get you around easily.
The roads in Rajasthan are very well laid so it won't be a crazy ride. This was pretty much the only way I got around as they were more convenient with bookings. Let's say, I'm not a planner! You can use Redbus.in to book bus travel.
Have the perfect trip with the best Rajasthan itinerary
Neemrana
Situated a short 2-hour drive from Delhi, Neemrana Fort Palace is the perfect stop to start you on your Rajasthan adventure.
Built in the 15th century in the Aravalli hills and serving the royal families of Neemrana, it's now in recent years been transformed into a modern hotel by the Neemrana Hotels Group for the likes of you and me!
It has 74 rooms and suites, 2 pools, an amphitheatre for daily performances and is a whopping 14 tiers high! I would highly recommend staying the night or just popping by for lunch and having an explore around. The fort lit up at night is spectacular.
There are also a wealth of things to do in the fort. You can take a vintage car ride, attend the iconic night gala dinner or, for all you adrenalin junkies out there, you can try your hand at ziplining! Neemrana was the first place in India to bag itself a zipline! It's really an exhilarating experience.
If you want to read a bit more about Neemrana Fort Palace, see my complete review here. For dates and rates, click here.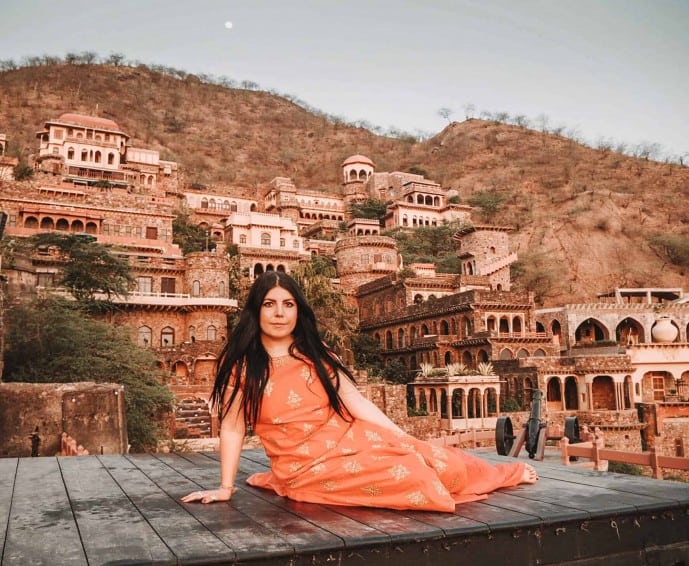 Sariska Tiger Reserve
Next up is Sariska tiger reserve which is a short drive from Neemrana Fort Palace and on the way to Jaipur on the highway! This is where you can set off on a Jeep Safari and be on the hunt for a tiger in the wild.
It's best to start off early for the morning safari's which take place around 6.30 am. Although it's at the crack of dawn, it's actually the best time to try and catch a Tiger as it's cooler in the mornings. Alternatively, you could go on the afternoon safari which starts at 2 pm, but your chances are a little lower.
Sariska is located near a small Rajasthan city called Alwar in the Alwar district. You can rent a car or taxi to take you there.
When you arrive at the reserve, you buy tickets for a shared jeep which will take you on a 3-hour safari.
Out of all the places to get a safari in India, Sariska is the cheapest at around 1200 per person excluding guide fees which is a bargain compared to the likes of Ranthambore!
But, you do battle with the fact your chances are much lower here as Ranthambore has the highest concentration of Bengal Tigers.
Luckily, we did get to see one just near the end of our Safari which made it all worth it! It was an incredible experience coming face to face with a Bengal Tigress. It was around 4 pm in the afternoon so we got really lucky.
For more information on Sariska Tiger Reserve, you can see my article here.
Alwar
After your safari, if you did want to explore Alwar a bit further, you can take a look around the ancient city.
But, I will stress there isn't much to do here beyond an afternoon or so. The water well is probably the most impressive part of the city and the fort.
If you wanted to have a look around Alwar, you can see my guide here with all the places to visit in Alwar!
Jaipur
Every traveller that hits Rajasthan has to visit the capital city of Jaipur.
It's nicknamed the Pink City because of its statement peach paint that licks the architecture. It's one of the liveliest, chaotic and downright rambunctious cities you'll ever have the pleasure of visiting in your life and you won't forget it (or the monkey's) in a hurry!
I love Jaipur for its history, its forts, palaces, temples and the culture that oozes out of every corner. Make sure you schedule in at least 2-3 days here to make the most of it!
Here you can get a birds-eye view of Jaipur from the Amber Fort Palace, sit with the iconic gateways at the City Palace, see the mesmerising Hawa Mahal (Palace of winds).
Jal Mahal is a water palace by the lake, get a birds-eye view from Jagah and Nahargarh fort, see the astrological Jantar Mantar.
Please do not ride the elephants up to the Amber Fort, they are made to work long hours and their treatment is extremely poor.
Where to stay in Jaipur
For hotels, you have a wide range from cute little boutique Haveli's (my personal favourite) like Umaid Bhawan that I stayed in all the way up to the super luxurious 5* Rambagh Palace.
If you're backpacking there are also modern hostels too like Zostel and The Hosteller in Jaipur that is cheap, clean and cheerful.
There is a wide range of hotels and so you won't have any trouble finding a place to rest your head.
Where to eat in Jaipur
If you're looking for places to eat, drink and party then I would suggest the Instagrammable Café Palladio and Bar Palladio.
Or, if you're looking for more of a Rajasthan cultural evening, I would check out Chowki Dhani and try some traditional Indian Thali.
How to get around the pink city
If you're looking for a way to get around the city in style, I would highly recommend the Pink City Rickshaw Company.
Not only do you get to travel around the city in your own hot pink tuk-tuk, but you will also be doing a good deed by helping underprivileged ladies make a career for themselves.
For more details and how to book, see my Pink City Rickshaw Review here!
Read more about Jaipur
Check out my articles for some more detail about Jaipur;
A first timer's guide to Jaipur
Pink City Rickshaw company review; travel around Jaipur in style
Café Palladio, Jaipur's prettiest café
6 reasons you have to visit Bar Palladio in Jaipur
A photography guide for Jaipur
Why you must visit Panna Meena Ka Kund stepwell
Bundi
A city that should be on more traveller's lists in Rajasthan is Bundi.
It's a small peaceful city that really gives you a taste of the 'real India'. I absolutely fell in love with it when I paid a visit.
I loved walking through the colourful streets and seeing all the sarees and turbans – it felt like I was walking through a movie set!
Here you can visit the beautiful Bundi lake which has a mirror reflection of the city, The fort viewpoint which has some captivating views.
You can visit the step-wells that create an optical illusion or pay a visit to the Bundi fort and palace which has the most spellbinding colours!
Or, visit the neighbouring city of Kota and visit all seven wonders of the world.
You can get to Bundi by train or by bus. The bus is the best option from Jaipur and is a smooth 3-hour ride. For places to stay, I would recommend Shivam's tourist guest house.
It's decorated in a traditional Haveli style with lots of murals and colour. Shivam and his family are really sweet and run a tasty restaurant upstairs on their rooftop serving traditional Rajasthani cuisine. It also didn't give me Delhi belly ;) which was a massive bonus!
If you would like to read more about this Shanti, Shanti city, you can read my article all about Bundi here.
Pushkar
Another peaceful city that is almost criminal not to leave Rajasthan without visiting is Pushkar. Situated in and around the beautiful Brahma Lake, you will love the good vibes and friendly hospitality here.
To get to Pushkar, you will need to get the train to Ajmer Junction and then a tuk-tuk or bus over the Aravalli hills.
Alternatively, you can get the bus into the Ajmer bus station then switch to a tuk-tuk or bus to Pushkar. You can easily do this from Jaipur or Bundi and the journey time is around 3-5 hours depending on traffic.
Here you can visit the Brahma temple which is the only one of its kind in the world, you can do a sunrise trek up the Savitri temple and the view from the top is absolutely stunning. You can go for a ride on a camel to the desert or even stay overnight if you wish to.
If you're here around October/November time don't forget to pay a visit to the world-famous Camel festival which turns this place upside down. It's ultimately a festival around livestock but it's so much more than that.
You can ride the Ferris Wheels at the funfair, see beard competitions, shop for handicrafts and all sorts of bits and pieces.
For a place to stay, I would recommend Moti Mahal which is a beautiful mid-range Haveli overlooking Brahma lake.
For places to eat, you can eat from the amazing falafel wrap vendors on the street. It's the best food in Pushkar and it's incredibly cheap.
I would also recommend checking out the U-turn café above Coffee Temple and La Pizzeria which serves up some of the best Indian pizza I've had.
If you would like to read more about Pushkar;
10 reasons why you will fall in love with Pushkar
The ultimate guide to the Pushkar Camel Fair
Jodhpur
Next up is one of the most underrated cities in Rajasthan that a lot of people skip (hint: DON'T SKIP IT); Jodhpur.
It's also nicknamed the blue or sunshine city and it's not to be missed when you visit Rajasthan.
As you wander through all the blue-washed walls you will wonder whether you're in India or you've landed some beautiful fairytale. Some say that blue is the colour of royalty and others say it's blue to ward off mosquitoes, either way, it's extremely pretty.
The city is centred around the epic Maharangarh fort which provides aerial views of the Blue city and beyond.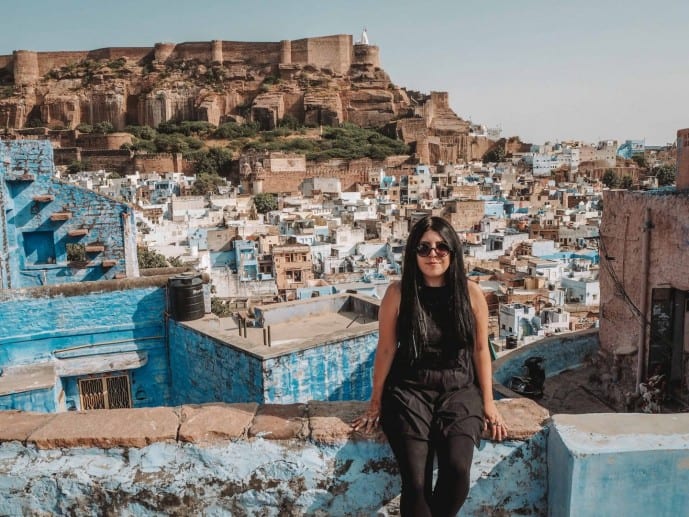 You can also visit Umaid Bhawan Palace which is still a royal residence today and a 5* luxury hotel.
Visit the scenic Jaswant Thada for a beautiful view of the fort and you can shop in the trendy new area Stepwell square. Don't forget to pick up a few textile souvenirs at the Clocktower Bazaar.
For food, I would always say that you should pick one of the many traditional Indian restaurants with a spectacular fort view like Indique or RAAS for cocktails. Or, if you're looking for food on the cheaper end you can visit the famous omelette shop.
Hotels I would recommend would be RAAS within the walled city but it's quite expensive, or Om Heritage is a cheap and cheerful option.
If you're looking to go traditional I would also recommend Rani Mahal. Or, if you're looking to splurge you can stay in the Umaid Bhawan palace – but it will cost you a pretty penny.
To read more about Jodhpur, see my articles below;
A quick guide to Jodhpur, India's blue city
A luxury seekers guide to Jodhpur
Jaisalmer
This probably tops the list for me as one of my all-time favourite cities in Rajasthan! Jaisalmer is the golden city where everything looks like it's been dipped in honey!
You'll feel like you've gone back in time to an ancient kingdom and wander around a real-life giant sandcastle. All the sights, colours, culture and the mystery of the desert will make you fall head over heels in love with it.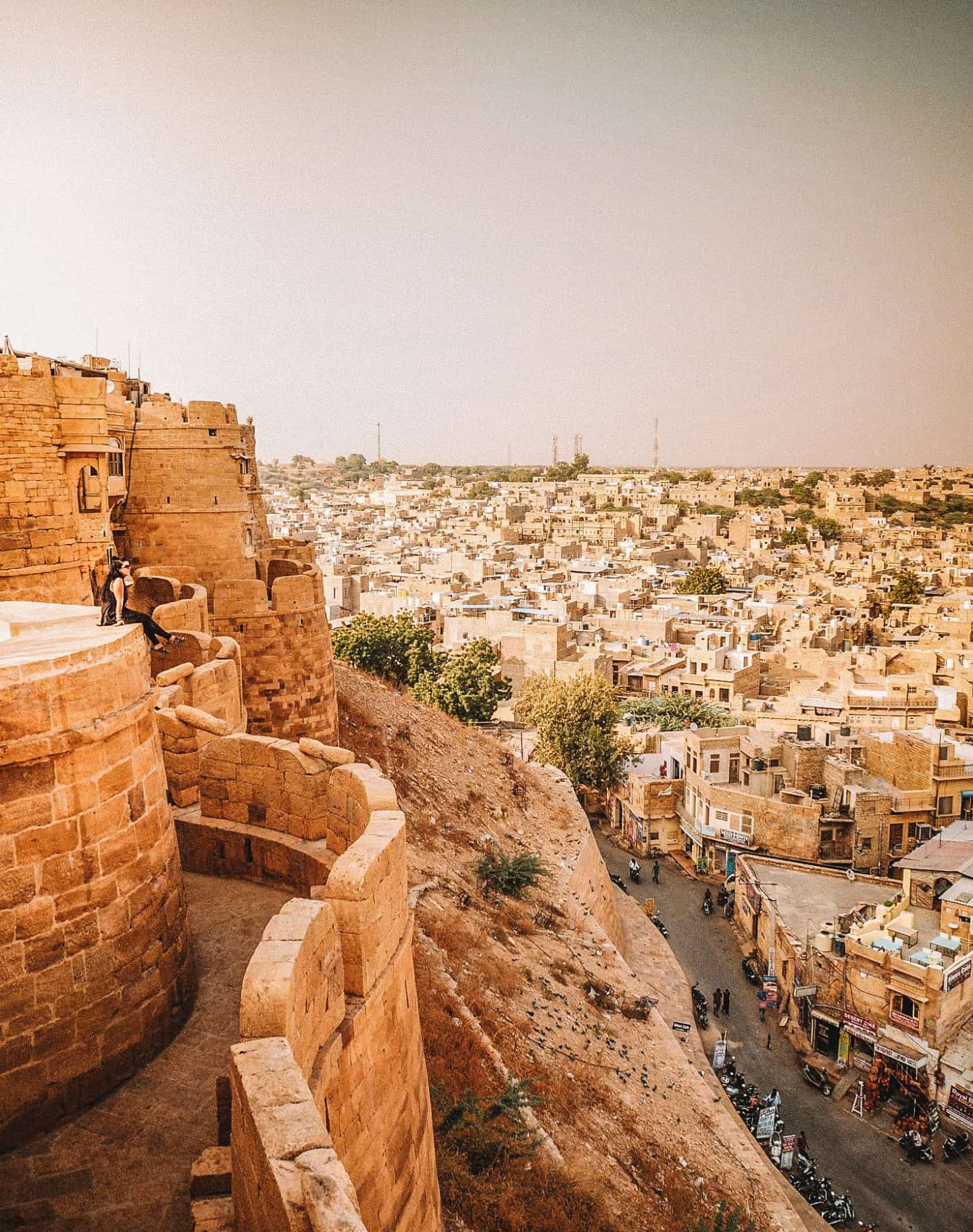 First up head on over to the Jaisalmer Fort and have a look around the markets and beautiful viewpoints and cafés that look over the whole city.
Visit the Fort Palace Museum to see some of the apartments of kings and queens.
Then head on down to the Patwa Haveli's to see some beautiful Jaisal carving work and end the evening at Gadisar Sagar Lake and take a ride in one of the swan boats.
It's almost mandatory to do a Camel Safari in the Thar Desert here and camp overnight – it's an experience that cannot be missed!
My favourite part of my visit was Bada Bagh. This is a viewpoint with golden cenotaphs to remember Rajasthan royalty!
If you're looking for places to stay than please don't book inside the fort. Lonely Planet has now stopped recommending it as it's destroying the fort year by year as the structure cannot handle the number of tourists that are staying there.
I would recommend Helsinki House, the Zostel there or Suryagarh.
For tasty cuisine hit up the Restaurant Romany or First Gate Fusion restaurant for yummy pizza and dramatic views of the fort. Enjoy a good coffee at Cafe Kuku's within the fort at sunset.
For more on Jaisalmer;
Top tips for Jaisalmer; discover the best-kept secrets
Important tips for a kick-ass Camel Safari in Jaisalmer
A complete guide for Bada Bagh sunset viewpoint
Why you must visit Patwon Ki Haveli Museum
Udaipur
Saving the best until last we have Udaipur and you will be whisked away with its magic as you walk around Lake Pichola.
Its beautiful breeze is a respite from the Indian heat and the white washed walls add to the glamour of this romantic city. Nicknamed the Venice of the East, this is the city that traveller's love the most as it's downright stunning.
Head up to the City Palace to visit some of the most colourful royal rooms you've ever seen, take a boat ride on Lake Pichola and visit the beautiful Jal Mandir in the lake as you ride by Taj Lake Palace.
Monsoon Palace is the place to go for a sunset view and it was one of the best I viewed while in India.
Check out the Jagdish Mandir for some Hindu culture and sing along with the traditional dance show at Patwon Ki Haveli. Or, visit the Ahar Cenotaphs below!
From here you can also take a day trip to Khumbalargh fort and the Ranakpur Jain Temple.
Or head to Chittogarh fort to check out one of the largest living forts in India.
For food you have to check out Neelams Thali or splash out by dining in the beautiful rooftop restaurant of Upre.
You must get a hotel with a view Lake Pichola like Panorama Guesthouse or stay on the lake itself and sleep like a Queen (or King) in the magical Taj Lake Palace.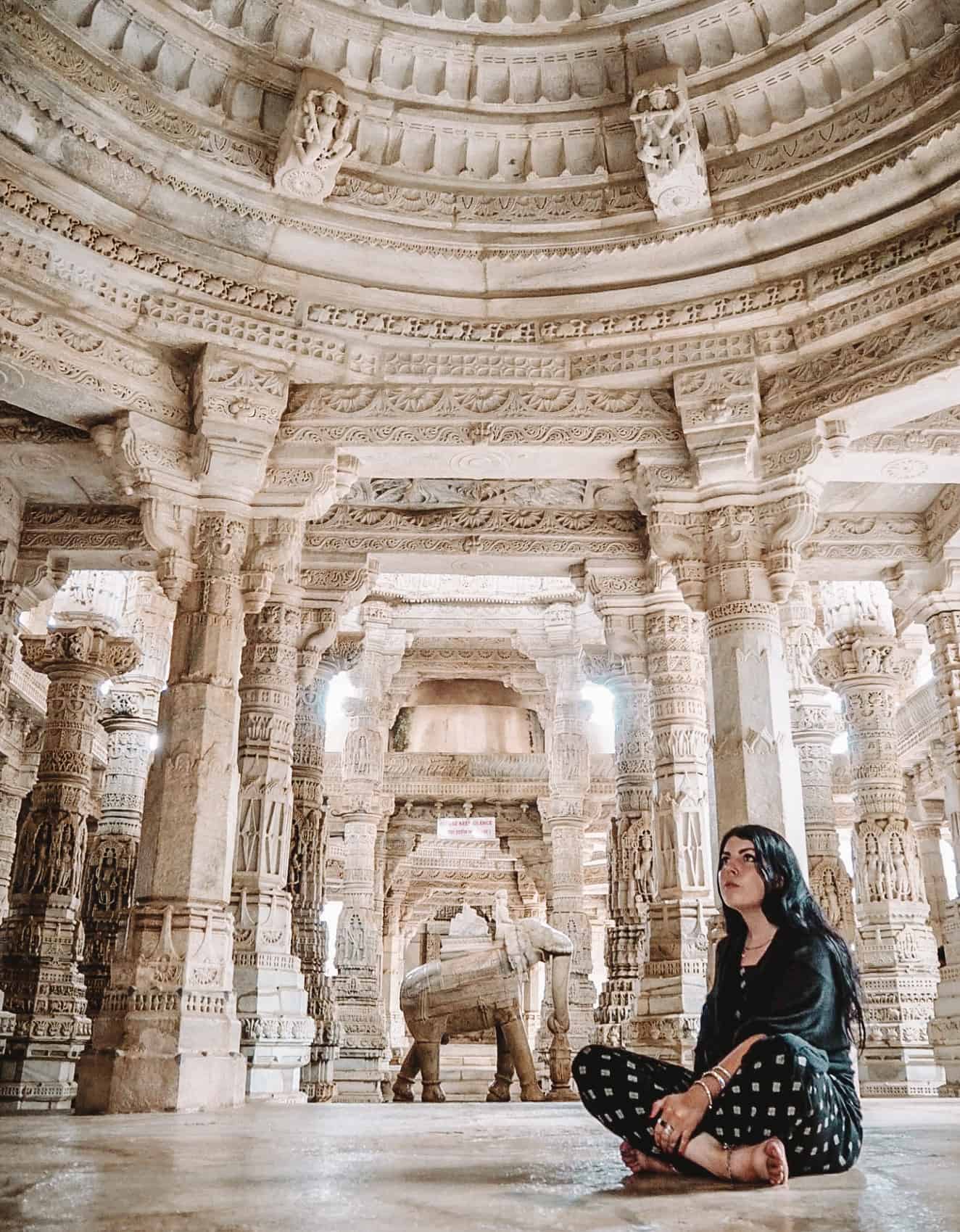 For more on Udaipur;
12 things you cannot miss in Udaipur
What Instagram doesn't tell you about the Ahar Cenotaphs
Checking in at Taj Lake Palace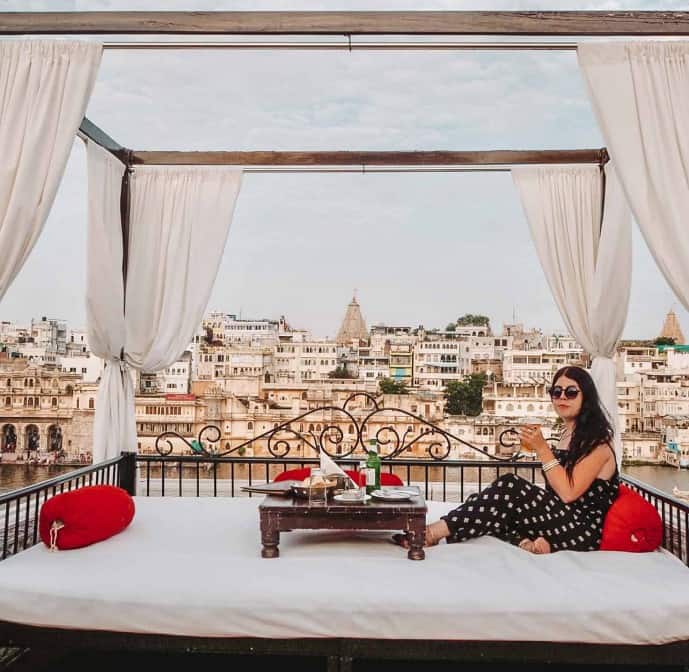 After you've finished this best Rajasthan itinerary…
If this is the end of your Indian adventures, I'm sure that this jam-packed itinerary will have given you enough memories to last a lifetime and a piece of Rajasthan will always be in your heart.
But, I will say one thing, don't try and pack too much in. India has its way of taking a looooong time. So, you don't want to be cut short and have to rush through.
If you plan on spending more time in Rajasthan, you could try travelling to Bikaner near Jaipur! It's famous for the Rat Temple nearby.
If you still have more of India to explore then you can head to Mumbai by flight or train from Udaipur to explore the south of India.
Or, you can head back to Delhi and experience the magic of the Taj Mahal in Agra. Either way, India has countless amazing places to explore.
You'll never forget the magic of Rajasthan
Rajasthan is truly the soul of India and, for me, it took a little piece of my heart with it too. India really gets under your skin and you won't forget this spectacular country in a hurry.
It's beautiful chaos, a wild wonderous ride and it will whip you up into a frenzy at times but, that's Rajasthan!
The memories you make will be priceless, the people you meet will leave their footprint and it will be like nowhere you have ever visited before in your entire life!
You have to promise me that you won't leave India without visiting the crazy, hypnotic, vibrant and awe-inspiring state that is Rajasthan! But, saying that, don't blame me if you want to stay there forever…
Read more of my India articles
A complete guide for Dharamshala
Why you should visit Rishikesh
Save this Rajasthan Itinerary for later!