The best Tallinn viewpoints are some of the highlights of a visit to the Estonian capital and the great news is that the city is full of them!
The Old Town part of Tallinn is seriously like a fairy tale. Castle walls and towers, historic and colourful buildings, vibrant architecture and all with the backdrop of the mysterious Baltic sea.
Although with some cities in Europe you will find that 'once you've seen one viewpoint, you've seen them all', in Tallinn that is not the case.
All of the different viewpoints in the city provide a unique panorama perspective and so it's a good idea to leave enough time to see a few of them while you're here.
I visited many vantage points while on my visit and so I've narrowed it down to the 6 of the very best. Here's a guide to the very best Tallinn Viewpoints.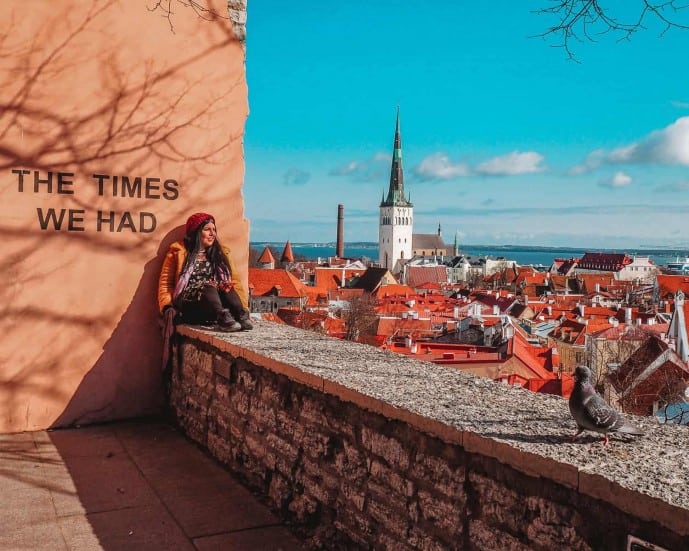 How to get around Tallinn
I arrived into Tallinn by ferry on a day trip from Helsinki and I found from the cruise port, Old Town Tallinn was really easily accessible on foot.
There are plenty of tourist signs and so you shouldn't have trouble getting around to the different Tallinn Viewpoints.
I used Google Maps while I was here too. But, it's definitely worth dropping into the Tallinn Visitor Information to pick up a tourist map if you don't have any data.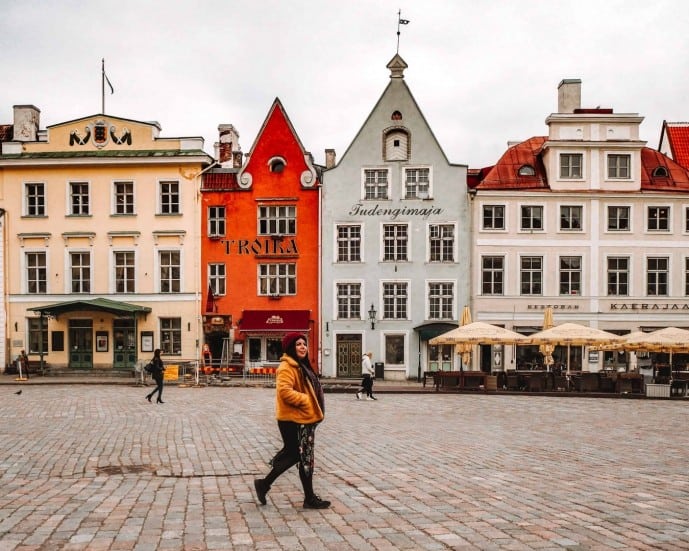 Tallinn Card
If you're staying outside of Tallinn Old Town, then its definitely worth making use of some of the public city transport.
A Tallinn Card not only gets you FREE access to many of the cities main attractions (including some mentioned on this list) but also access to public transport for the duration of your stay.
The best Tallinn viewpoints in the city
1. Khotuotsa Viewing Platform
Everyone's favorite Tallinn viewpoint and Instagram-friendly photo opportunity is the Kohtuotsa Viewing Platform or The Times We Had Wall.
No one really knows what the statement means or who put it there, so it remains a mystery.
But, regardless, it's a beautiful bittersweet sentiment with a gorgeous backdrop of the city. It's one of the best viewpoints in Tallinn
Finding this viewpoint can be a little bit of a puzzle but, if you head up to Toompea Hill towards the North Side you can find it easily from there. The Alexander Nevsky Cathedral is a good marker point in the right direction.
Even if you're not keen to strike a pose with the sign, the view is incredible and worth a peek.
Read more about the Khotuotsa Viewpoint here and how to find it!
2. Patkuli viewing platform
A few minutes walk away from Kohtuotsa Viewing Platform is Patkuli Viewing Platform. This really gives you the most fairy tale view of Tallinn Old Town.
Located high on a limestone cliff face, you'll be faced with an unobstructed view of tower walls, St Olaf's church steeple, and the harbour below on the Baltic Sea. You can even see the Gulf of Finland if you look hard enough.
This viewpoint is extremely popular with tour groups, so in peak season you may be fighting for a spot to get a good photo. My advice would be to visit before or after the cruise ship tour groups arrive (before 10am, after 5pm).
You can reach this viewpoint by climbing the 157 historic steps or gradually making your way up through Toompea Hill. The choice is yours. Either way, the views will be worth it! This is one of the best viewpoints in Tallinn.
Read my complete guide on the Patkuli viewpoint here
3. St Olaf's Tower
St Olaf's Tower and its Gothic steeple used to be the tallest building in the world in the 17th century.
It was so tall that the merchant sailors used to use it as a beacon to guide them home. Unfortunately, this building was so tall it was struck by lightning and burned down many times.
Now, although it's reduced in size, it's still massive and the holds the title of the tallest medieval structure in Tallinn at 124 metres high.
Did you know you can actually climb on top of this churches steeple?! That's right. The St Olaf's viewing platform will lead you right on top of the church itself! It's open from April – October each year but closed in the winter season.
You'll be climbing 232 steps to the top of the tower but the view you will receive is epic. It also only costs 3 Euro's and it's worth every penny for the photos. This is in my opinion one of the best viewpoints in Tallinn.
This climb is not for the faint-hearted. Read my guide about what to expect at St Olaf's Tower and when it's open here.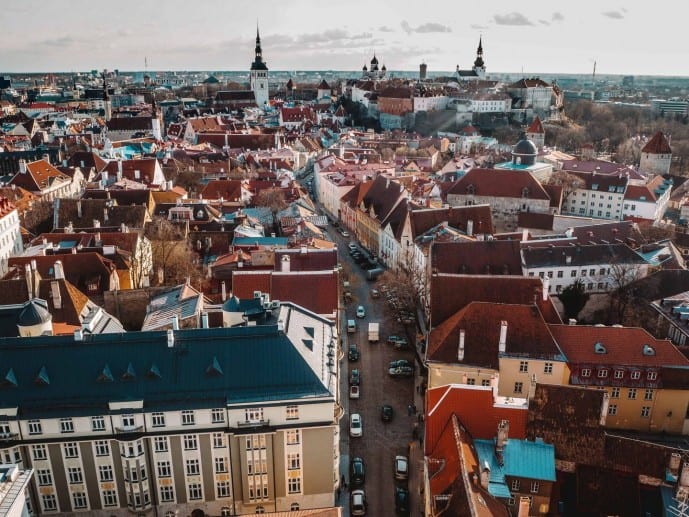 4. Breathe baby sign, Danish Kings Garden
The Danish King's Garden has an incredible view of the city opposite St Nicholas' Church and Toompea.
Along with a stunning view, it also has an interesting history connected to it. During the Danish invasion in the 13th Century, this is supposedly the spot where a flag fell from the sky that helped King Valdemar II win the battle.
That flag then became the National flag of Denmark. Every year on the 15th of June Dannebrog, or the Day of the Danish Flag, is celebrated here. You can learn more about this by looking at the gloomy monk statues that stand overlooking the garden.
There are always buskers and Glogg stalls around. It's a really cheery area. Don't forget to pose in front of another Instagram spot, the Breathe Baby sign!
This is also the spot where you can ascend up to the city walls behind you and enter the Kiek in de Kök fortification museum
5. Tallinn city walls
There are many Tallinn city walls that you can climb up to get a fantastic view.
In fact, from the 13th century, Tallinn that used to be called Reval, built over 30 towers to defend the city from invaders. Now, there is only a handful you can explore.
My personal favourite on my visit was the Neitsitorn which is not only a city wall view but a café as well!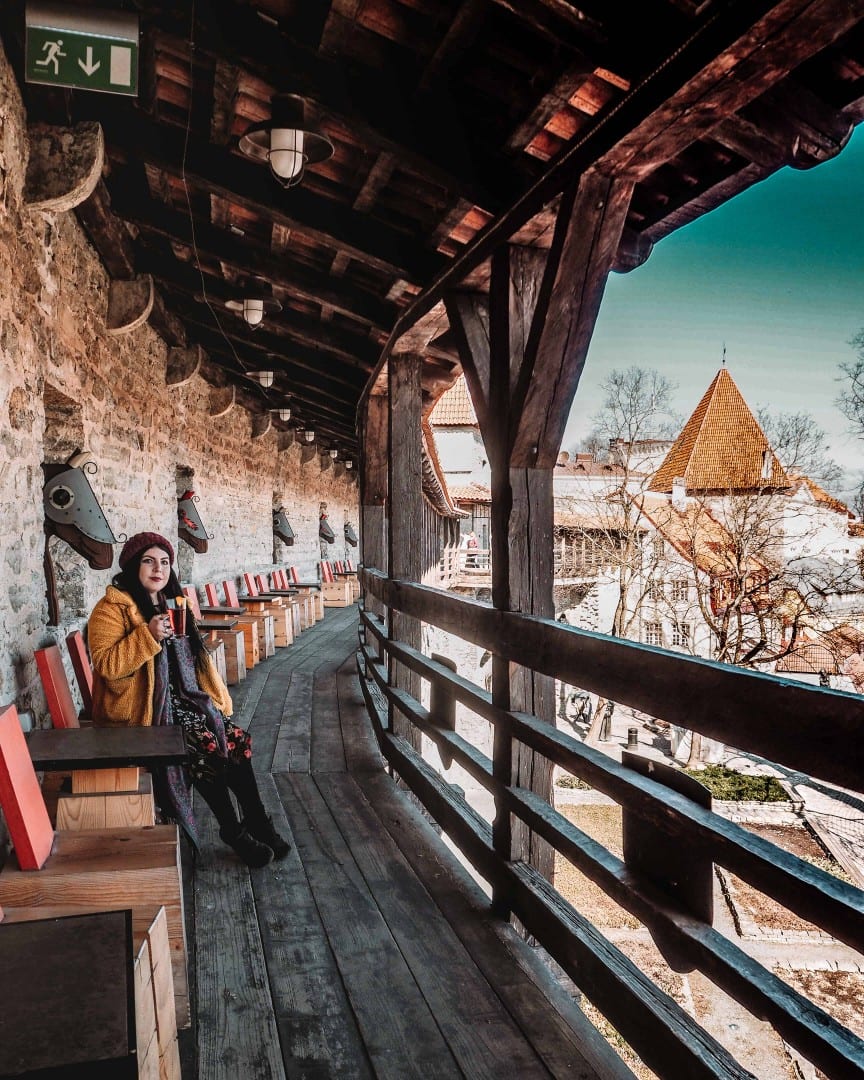 Here you can sip a hot wine, or have lunch while overlooking the most fantastic view of St Nicholas' Church. From here you can see the city rooftops, spires and city towers too with the Danish Kings Garden below.
From this wall, you can walk over to the Maiden's Tower and Kiek in de Kök fortification museum with its Bastion tunnels. Once upon a time, this tower was the most powerful of the Baltics.
As well as these city walls, you can visit the Helleman Tower and Town Hall Walkway. Or, visit the Nunna, Sauna and Kuldjala towers for a unique Tallinn Viewpoint.
6. Kiek in de kök museum
Out of all the towers in Tallinn, Kiek in de Kök is the most powerful. Its name is German for a 'peek in the kitchen' as apparently, soldiers used to take a look inside the kitchens from the tower above!
Inside the fortification museum, you can learn about Tallinn's history including its bloody and turbulent past. Did you know that in the 14th century, Tallinn suffered a widespread plague that wiped out around 45% of the populous!?
Aside from an informative museum, the top of this tower has some gorgeous views of Toompea hill, The Alexander Nevsky Cathedral, Maiden Tower, and the city below.
Looking for more things to do in Tallinn?
After you have seen the best Tallinn viewpoints, this city is full of incredible things to do. Although I was only here on a day trip, that was more than enough time to explore the Old Town and the historical gems it had to offer.
You can drink in medieval bars like Olde Hansa, marvel in the vibrant Old Town Square, visit the oldest apothecary in Europe or explore the many cathedrals, churches and historical buildings in the area.
Click here to read my complete guide of things to do in Tallinn Old Town or my full Tallinn photography guide here!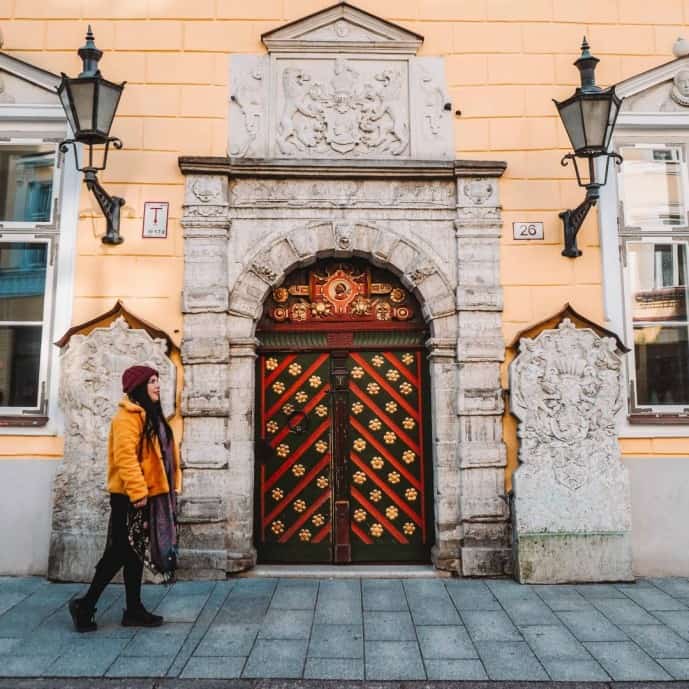 Like it? Pin it!
With thanks to My Helsinki for sponsoring my visit and Visit Tallinn for gifting me a 24-hour pass. Although I was a guest, all thoughts and photos are my own.