As you travel through the Lake District, there is an endless list of historic buildings and adorable cottages anywhere you go. But nothing is as iconic as the Bridge House Ambleside.
A muse for artists and poets for centuries, this curious residence has caught the eye of anyone who travels through this quaint town.
Standing proud over Stock Beck since the 17th century, this quirky house has had to play many different roles.
Although thousands of tourists and locals love to snap photos here every year, very few know about the incredible story it has to tell and the impact it has had on the people of Ambleside over the years.
So, here is a quick travel guide for visiting with some incredible facts about the Bridge House Ambleside!
Disclaimer: my stay in the Lake District was sponsored by Go Lakes and The Ambleside Inn. Although I was a guest, all photos and opinions are my own.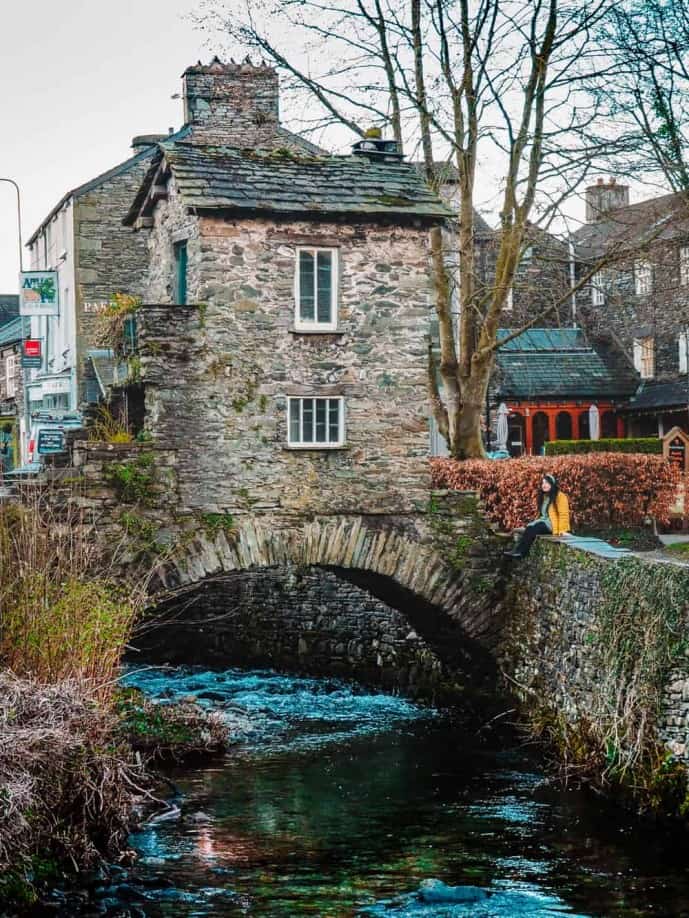 What is the Bridge House Ambleside?
Well, it kind of is what it says on the tin. The Bridge House Ambleside is a house that sits on a bridge! But, it is so much more than what you first see on the surface.
It has two floors, one on top of the other. Both are accessible by an outside curved staircase. The roof is also made with Lake District slate which is traditional to this area.
The Bridge House is now seen as an icon of the Lake District and has inspired painters, writers, poets, and travel guide authors ever since it was built!
It was even called a 'curious relic' and 'one which every artist sketches as he passes by' in the Victorian age.
I mean how can you not be inspired by this incredible quirky residence?!
Although we've now switched paintbrushes and sketching pencils for cameras and smartphones to capture a likeness, It still speaks to people today in many ways. You can't help but stop and admire it.
Where can I find the Bridge House in Ambleside?
The Bridge House can be found on the Northern edge of the small town of Ambleside in the Lake District.
This part of the town is often referred to as the Old Ambleside as it was the original community here before significant developments were made.
It's extremely accessible and just a few steps away from the visitor car park on Rydal Road. The full address is Rydal Road, Ambleside, Cumbria, England, LA22 9AY for your SatNav.
Nearest car park to the Bridge House
The nearest car park to the Bridge House is the main Ambleside visitor car park located on Rydal Road on the A591.
This is a pay & display car park with 170 spaces that is open 7 days a week including bank holidays and is chargeable from 8 am to 8 pm. You can pay by cash, phone, and card payments.
If you're visiting early doors for photography before 10 am there are many lay-by's that are free around Ambleside from the hours of 6 pm and 10 am in the morning.
To park up in a lay-by during the free hours, Ambleside runs on a 'disc parking' system.
So, you'll need to take a parking disc from one of the hotels, restaurants, or shops and display it in your vehicle to avoid a ticket.
It's really easy to acquire one, just ask one of the local businesses if they have any spare.
What is the best time to visit the Bridge House Ambleside?
The best time to visit the Bridge House Ambleside would be in the spring, summer, and autumn.
During this time it is open from 11.30 am – 4 pm. But, this is completely dependent on volunteers being available to open the property so I would take it with a pinch of salt.
Usually, there is a small sign placed on the door at the next available open time. As I was visiting in March, the house was unfortunately closed during this time.
However, it is good to note that even when the house is not open, you can still visit the outside and it's open 24 hours a day.
You walk up the stairs of the house, visit the small garden to sit on the benches by the river, or snoop through the windows. But, you just can't go inside.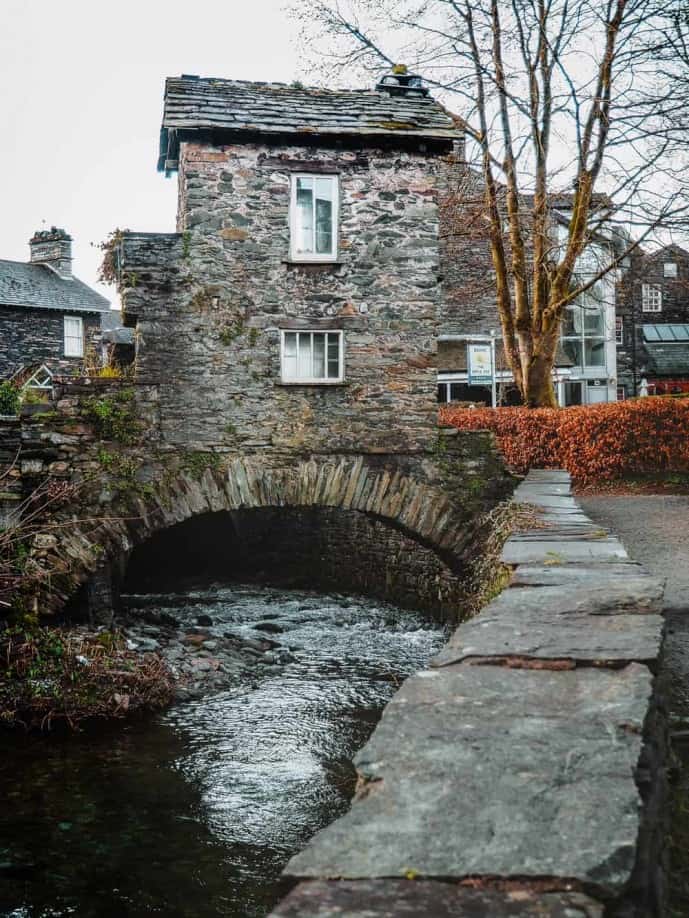 How long do I need to visit the Bridge House in Ambleside?
Although it is a small attraction, it does get incredibly busy in the summer months with tourists visiting the area.
There are only two small rooms spread across two floors that are both accessible by an outside stone staircase.
So, it could take less than ten minutes to visit. But, just be aware you may have to wait your turn in a queue if it reaches maximum capacity.
8 amazing facts about the Bridge House Ambleside
So, now we've covered how you can visit and snap some amazing photos of the house.
We'll move on to the story behind this amazing building and cover the Bridge House Ambleside history too!
For such a small building, it has a huge history and has been home and loved by many different people. Even some celebrated painters!
1. The Bridge House in Ambleside was built in the 17th century by the Braithwaite family
Although there isn't an exact date of when the Bridge House was built, we do know of the family who built it and when they lived in the area.
The Braithwaite's were a notable family who lived in Old Ambleside Hall and owned many acres of land here in the 16th and 17th centuries.
It is presumed that they needed an easy way to access their land over the Stock Beck river. So, it is said they first built the bridge and then later the house on top.
But, others say that the bridge was an old pack-horse bridge that dates back even further than this!
You'll find many buildings in the town have been influenced by Braithwaite family funding like the Braithwaite Hall. There is even a Braithwaite village. So, it's a very popular name in Cumbria.
2. It was built over Stock Beck river as an apple store to avoid land tax!
If it is one thing today that the rich and powerful are good at doing, it's avoiding paying taxes or finding some sneaky loopholes around them.
It seems that this was the case 400 years ago as well!
It is rumoured that the reason why this house was built on top of a bridge in Ambleside was to avoid paying land tax. As it is built over a watercourse of the river Stock Beck, it is not 'technically' on land.
Pretty sneaky if you ask me but also a wee stroke of genius. I can't imagine the job and hassle the architect had on his hands to build it!
The house was used by the Braithwaite family to store apples grown from their orchards.
In the 17th century, there were two doors at either side of the house to access it. But, one side has since been blocked up.
3. The Bridge House has had many interesting uses over time
After that, from the 18th century, there is evidence of the Bridge House being used as a counting house for the mills of Rattle Ghyll in the local area.
It has also been used as a weavers and chair makers shop, cobblers for mending shoes with pigeons upstairs, then it was an antique dealership and even a tea room that people would visit.
During the time that the house became a tea room in the Victorian era, the cast iron stove was placed inside the building and the rear door was blocked up.
4. At one point, a family of 8 lived here!
The most shocking thing for me to find out was at one point this tiny dwelling housed 8 people!
In the 19th century John Rigg, his wife, and his 6 children lived here according to the census records from the local area.
John 'Chairy' Rigg was a basket weaver and he made rush seats to sell for the locals. Looking at how small the house is, I cannot believe that 8 people would fit inside.
Let alone sleep and eat in here too. I'm not sure how he made it work, but John had room to make chairs and baskets in here too!
On the plus side, you'd be able to keep it extremely warm in winter…
5.
In the 1920s it was repaired by the local community including Beatrix Potters husband!

Unfortunately, by the 1920s the Bridge House in Ambleside was in desperate need of repair.

Famous residents like Beatrix Potter, who lived Far Sawrey nearby, visited Bridge House when it was in a poor state and the council threatened to demolish it. So, the community did something amazing!

Notable members of the group were the wife of National Trust founder Canon Rawnsley, William Wordsworth's grandson, and William Heelis, Beatrix Potter's husband.

They all pitched in together and raised funds to the sum of £1,244, 11s, 10d in 1926. With the money, they bought the Bridge House Ambleside and donated it to the National Trust.

Ever since then, it has remained their property and in 1956 it was the first National Trust information office and shop.

It was an amazing effort by the community to preserve this 'curious relic' and means we can all enjoy it today.
6. The Bridge House has been a source of inspiration for artists for centuries
As well as the practical uses for the Bridge House in the local community, this quirky property has inspired artists and writers for centuries.
It was quoted that it was 'one which every artist sketches as he passes by' and the most famous artist to sketch it was JMW Turner.
One of Ambleside's most famous residents Harriet Martineau moved into "The Knoll" house nearby.
She wrote a travel guide to the Lake District and mentioned the house as "the odd little grey dwelling … is the ancient house which is considered the most curious relic in Ambleside of the olden time."
Lewis Pinhorn Wood painted the Bridge House in the 19th century and named it "The Cobblers Shop on the Bridge".
Even today, you will find countless artists and photographers eager to create something using this little abode as inspiration.
7. It's now owned by National Trust and open in summer
In the past, the National Trust used this place as a recruitment office and shop in the Lake District. But today, the National Trust open up the Bridge House in Ambleside as a tourist attraction.
On the outside, you'll find inviting colourful potted plants and some bright blue doors.
Inside, they present the house just like John Rigg would have known it when he lived here with his 6 children.
What is inside the Bridge House Ambleside?
There are only two small rooms as part of this property, one up and one down and you can only access both floors by an exterior staircase!
Both rooms are quite spartan in design. In the downstairs, you have the original cast iron stove with some seats at the far wall. Some small decorations in etchings and some weavers tools are placed on the walls.
The upstairs is very similar with a couple of chairs against the walls. Although it isn't a large place by any means, it's definitely worth a peek inside if you find it open while you're here!
Of course, the friendly staff will always be happy to answer any questions.
Opening times for the Bridge House Ambleside
It's open seasonally on select dates throughout the Spring, Summer, and Autumn months. But, I have read that even during those months opening days are sporadic.
The National Trust relies on volunteers and sometimes there are no volunteers available to be inside the house that day.
So, I would double-check visiting times beforehand with the National Trust. Or, check the front door for the next opening time.
Although it is restricted to go inside, the outside house, steps, and the small garden beside it are open 24 hours a day.
Ticket prices for the Bridge House Ambleside
Visiting the Bridge House in Ambleside is completely FREE!
So, it won't break the bank if you did decide to visit while in the Lake District.
8. It's now an icon and one of the most photographed places in the Lake District National Park!
For hundreds of years, the Bridge House in Ambleside has been a famous resident of the area and continues to influence people today. To many, it's an icon of the Lake District.
It's also one of the most photographed buildings in the National Park and you won't travel through Ambleside without tourists taking photos or popping inside.
Locals walk past it every day and many drive past it on their way to work or another village. It really is something out of a fairytale.
If you didn't have this curious attraction on your list while in Cumbria, I would change that right now and add it to your itinerary.
You and your camera roll won't regret it!
Other things to do in and around Ambleside
Ambleside has a rich and colourful history with a legacy of historic buildings left behind with it.
So, as well as the Bridge House, there are plenty of places to visit in the pretty, underrated town of Ambleside.
Here are a few things I would recommend while you're here.
Click here to read my complete Ambleside travel guide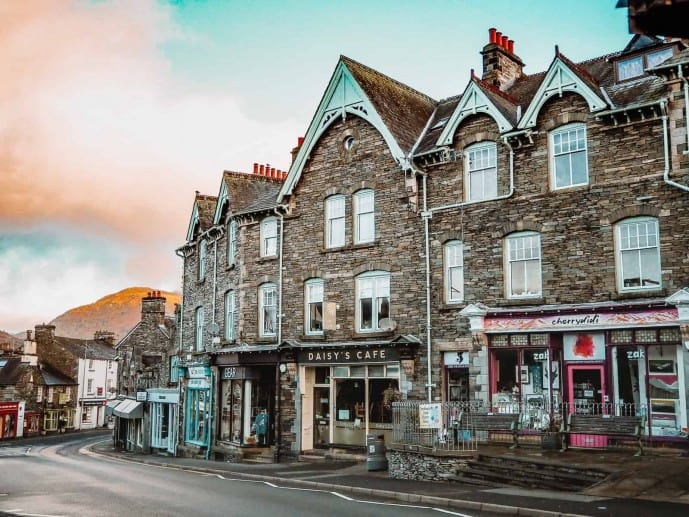 Explore Ambleside on foot
One of the best things I would recommend doing is to explore this small town on foot! As you never know what you may find.
Opposite the Bridge House is a great place to start and you can find an iconic view of the town with a Waterwheel.
You can visit the visitor information and shop at Market Cross, or meander down to St Mary's Church built in the 1850s.
The Armitt Museum is a home for books and paintings which is a great stop for bookworms with a section based on Beatrix Potter.
Or, you can also wander around the incredible Stagshaw Garden.
If you're into your history you can visit the Ambleside Roman Fort (Galava) in Borrans Park near Waterhead.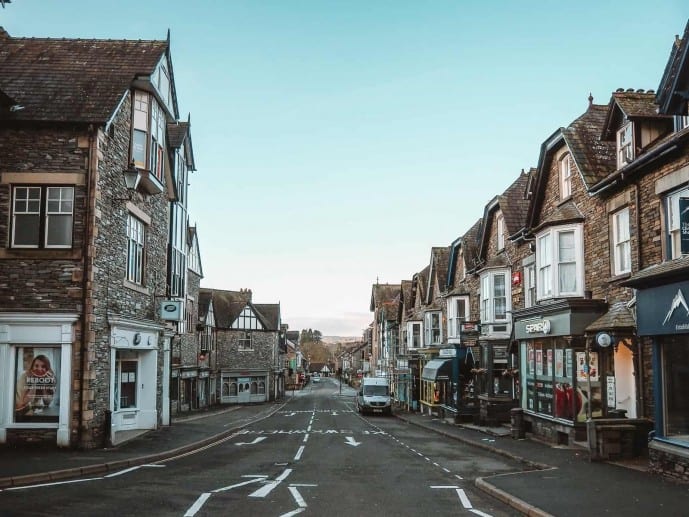 Visit Stock Ghyll Force
One of my favourite walks in Ambleside was the short and easy hike to Stock Ghyll Force or Stock Ghyll Waterfall.
Although it is an easy hike, don't make the mistake of thinking that it doesn't lead to anything good.
This walk took me less than 15 minutes and during that time I saw not one, but two amazing cascades!
The main waterfall is Stock Ghyll Force is over 70 feet high in a wooded area and the water flows through the side of an emerald cliff face. So, it is incredibly scenic!
The round trip should take you less than 30 minutes and it's completely FREE.
Click here for a full walking guide to Stock Ghyll Force!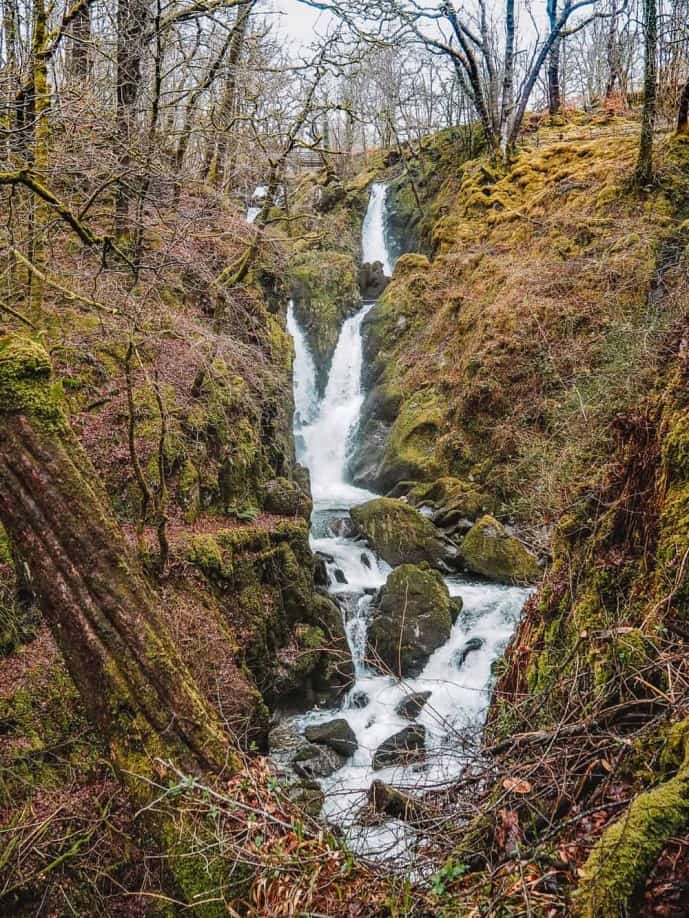 Take a boat ride from Ambleside Waterhead Pier
If you want access to Windermere, England's largest natural lake, then you only need to head to Ambleside Waterhead.
Steamboats have been running on Windermere since 1845 and a leisure cruise on the lake is the most popular and relaxing way to take in the views and peaks of the National Park.
Many companies provide leisure cruises but Windermere Lake Cruises is the most popular and has the biggest fleet and cruise route options.
I got a 'Freedom of the Lake' ticket which gave me access to all of their cruise routes for 24 hours and it's an awesome way to explore.
Click here to read my guide for a Windermere cruise
Roam around Wray Castle
Did you know that the Lake District had castles? Because I didn't before I got here!
Technically, although it is called a castle, Wray Castle is a folly mansion home rather than a real historic castle but it is still magnificent to visit.
It is a Gothic Revival Style home that was built for Dr. James Dawson, a retired Liverpool surgeon, in 1840.
It was actually built on his wife's inheritance from a Gin distillery fortune. But once the house was built she took one look and refused to live in it.
Although William Wordsworth seemed to have something negative to say about every building that was built in the area, he actually liked Wray Castle. He said that it 'added a dignified feature to the interesting scenery in the midst of which it stands'.
After Dr. Dawson died in 1875, the castle passed to his nephew Preston Rawnsley. Then it was sold to the National Trust in 1929.
It is now a popular attraction that you can visit. As well as exploring inside the house, the views from the hilltop it's perched on are amazing and you can see Windermere from there.
Click here for more information on visiting Wray Castle
Visit Rydal Mount & explore the cave
Away from the busy town of Ambleside is the hidden gem of Rydal village. Although many people skip this historic wonder, it is worth stopping.
This tiny place tucked away in the countryside has SO much to do. There are over twenty historic places to visit and houses that have had important residents too.
You may pass the idyllic Rydal Bridge as you drive in which is made of traditional Lake District stone!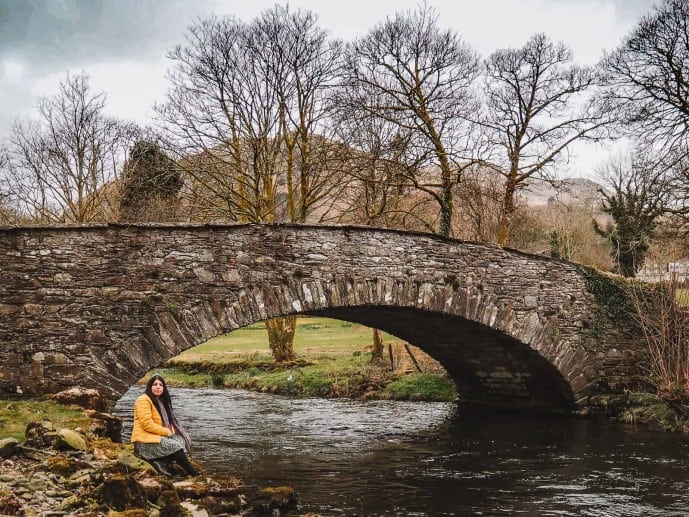 The first stop in the village is a visit to Rydal Mount which is an old cottage and was home to William Wordsworth once upon a time.
Nearby, you can also visit St Mary's Church built by Lady le Fleming in 1824.
Relax awhile in Dora's Field full of quirky forgotten staircases and daffodils or explore Rydal Hall built originally by Sir Thomas le Fleming in 1409. From here, you can visit Rydal Fall Waterfall.
Click here to find out more amazing places to visit in Rydal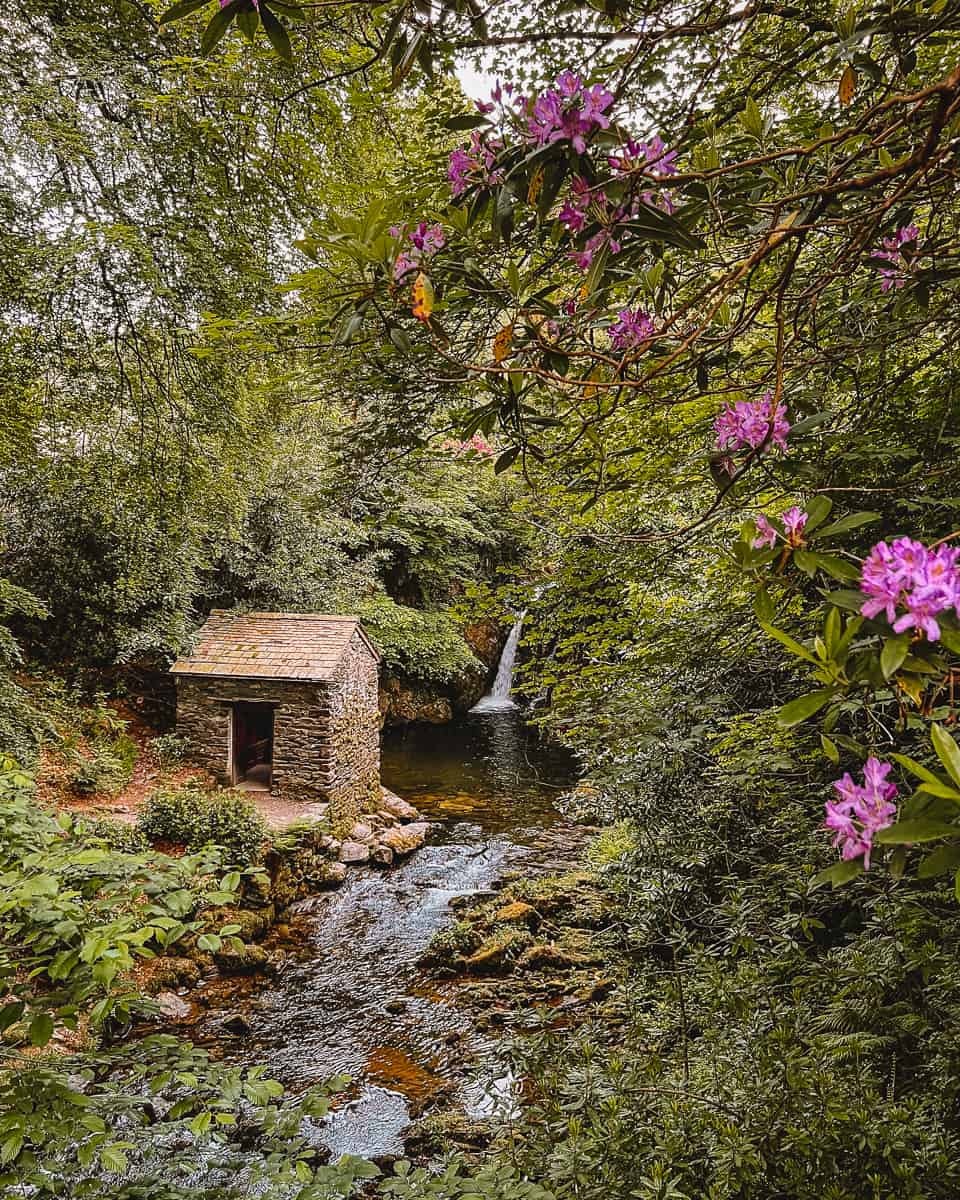 A walk around Rydal Water is a must in the Lake District or head up to the dramatic Rydal Caves!
Although it looks natural, these were actually man-made and formed part of Loughrigg Quarry.
Click here for my complete Rydal Cave hiking guide
Fall in love with the historic village of Grasmere
In all of the Lake District, Grasmere was my favourite place of all! Famous for being the home of William Wordsworth, you can't visit the southern lakes without stopping by this pretty and idyllic village.
You may smell a sweet ginger smell in the air here and that's down to the world-famous Grasmere Gingerbread shop.
This Gingerbread was created by Sarah Nelson in 1854 and has been made the original top-secret recipe ever since. Click here to read more amazing secrets about Grasmere Gingerbread.
Click here to read more amazing things to do in Grasmere
If you want to follow in the footsteps of Wordsworth you can visit Dove Cottage on the outskirts with the Wordsworth Grasmere museum. Or, see some red squirrels and a marvellous view at the Allan Bank.
Click here to see more reasons to visit the Allan Bank!
You can also visit Wordsworth's Grave and those of his family in St Oswald's Churchyard (don't forget to pop in).
It is also worth a wander around the Wordsworth Memorial Garden.
Pop into Barney's to see a humongous collection of jigsaws, Heaton Cooper Studios for art supplies, or Sam Read's which is a newsagent that's been running since 1877.
There are so many cosy cafés to grab a coffee too including Hardy's and The Windermere Tea Gardens!
Where to stay in Ambleside
A brand new cosy property that has hit the town with a popular bar and restaurant is The Ambleside Inn.
Although I say 'new,' the building actually dates back to the 18th century!
However, the team at the Inn Collection Group has created 30 newly refurbished rooms to stay inside.
This is the third Inn Collection property I have stayed in and I absolutely love them! You can always guarantee a lovely spacious room, comfy beds, and clean bathrooms.
You can wake up to an amazing buffet-style full English breakfast in the morning.
Plus, as you have a restaurant and fully stocked bar on site, you don't have to worry about where you're going to eat and having a drink either.
I had a gorgeous view of the rooftops, church spires, and rolling hill of Ambleside from my room, the staff was friendly and I loved every part of my stay.
Click here to see my full Ambleside Inn review and how to book your room!
Read more of my Lake District guides
Places to visit on a Windermere Lake Cruise
A complete guide for the Blea Tarn walk
How to visit Hodge Close Quarry
All The Witcher filming locations in the Lake District
A complete Cathedral Cave walking guide
How to visit Claife Viewing Station
Save The Bridge House Ambleside for later!