Listen up witches and wizards of all houses. Did you know that you can visit a magical Harry Potter cocktail bar in London?! Yep, that's right and it's called The Cauldron!
Here, you can enjoy a spell-binding cocktails experience by attending your very own Potion's Class.
It's just like the one with Professor Snape at Hogwarts where you can prepare a witches brew in your very own cauldron and wield a magic wand!
As a huge Harry Potter fan and lover of anything magical, I just had to check out this sorcery cocktails experience for myself.
Here is a review of The Cauldron London and what it's like to visit this spectacular Harry Potter cocktail bar!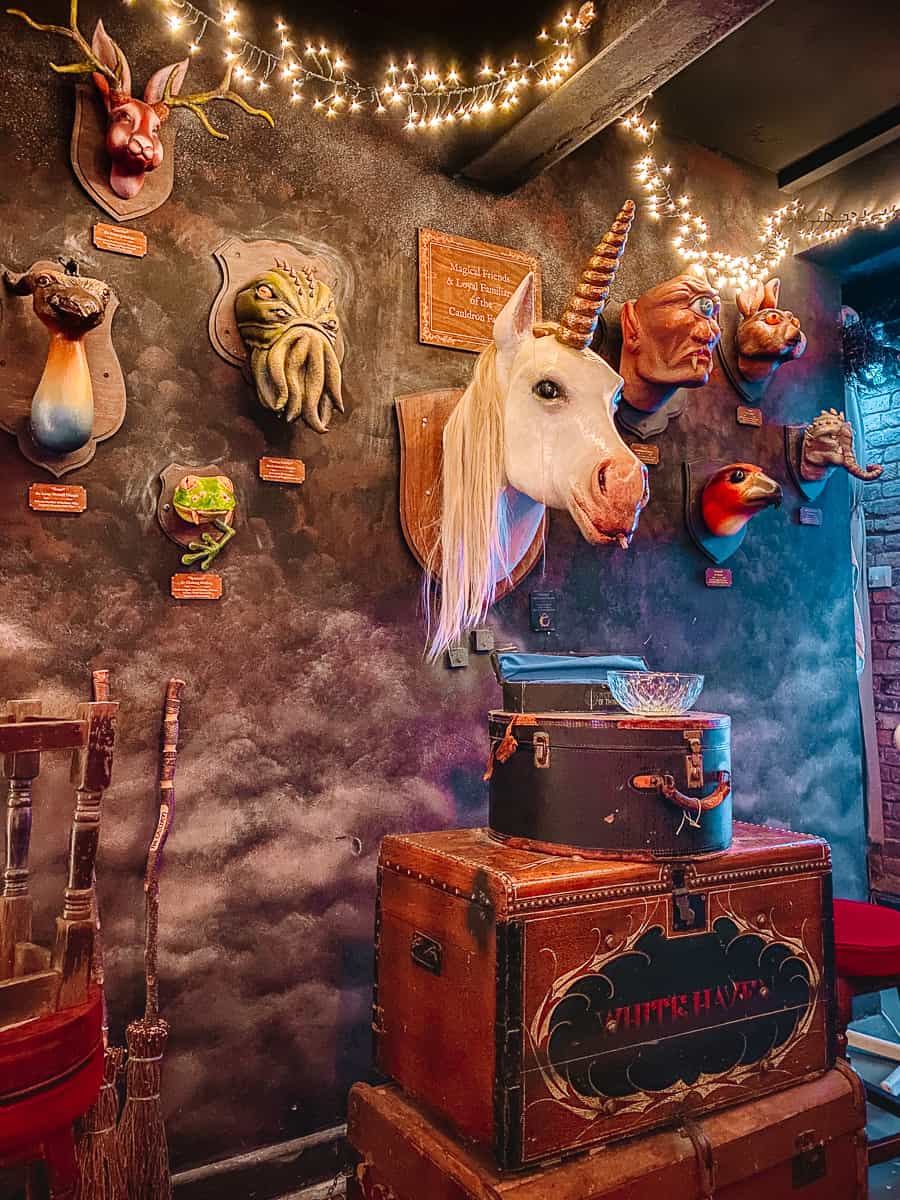 What is The Cauldron London or the Harry Potter Cocktail bar?
The Cauldron is a magical themed bar in London where you can brew molecular cocktails in your very own Potion's Class and wield a magical wand!
Although there are many Harry Potter attractions in London, this one is completely immersive and will transport you to the world of Hogwarts.
The experience will be akin to a Potion's Class with Professor Snape or Horace Slughorn. You'll have instructions and even a Potion's Master on hand to help you. You'll feel like your cauldron can brew its very own Amortentia Potion or a Draught of Living Death.
It's good to note that although The Cauldron is known as a Harry Potter-themed bar in London, it is not officially affiliated with the Wizarding World franchise in any way shape, or form.
Saying that a lot of this cocktail potion's experience has been inspired by that world and it really is the closest thing you'll get to a Harry Potter pub in London.
Never fear Potterheads, you're still going to absolutely love everything about this enchanted night out and it will transport you to another world where you can practice magic.
Or, as the Muggles would say, molecular mixology using technology and science – but don't let them get you down!
What are the Harry Potter cocktails at The Cauldron?
So, the beauty of this Harry Potter cocktail bar is that the power is in your hands and you get to choose which magical cocktail or drinkable potion you'd like to brew in your cauldron!
I don't want to give too much away but you will be given all the ingredients to create two magical cocktails on your visit. These can be a Botany Brew or a Blood Boiling Curse, or something of that supernatural nature.
Of course, you'll be given alcohol but also some special ingredients to create a drinkable broth. The final results will all be revealed in your class.
During your Potion's experience, you'll also be given a magic wand that will do some of the mixing work for you and the spell casting will come alive before your very eyes.
Don't drink? All potions can be made without alcohol for you. Also, you can arrange to have vegan and gluten-free drinks. Simply make your preferences/allergies known to your Potion's master at checkout when you book online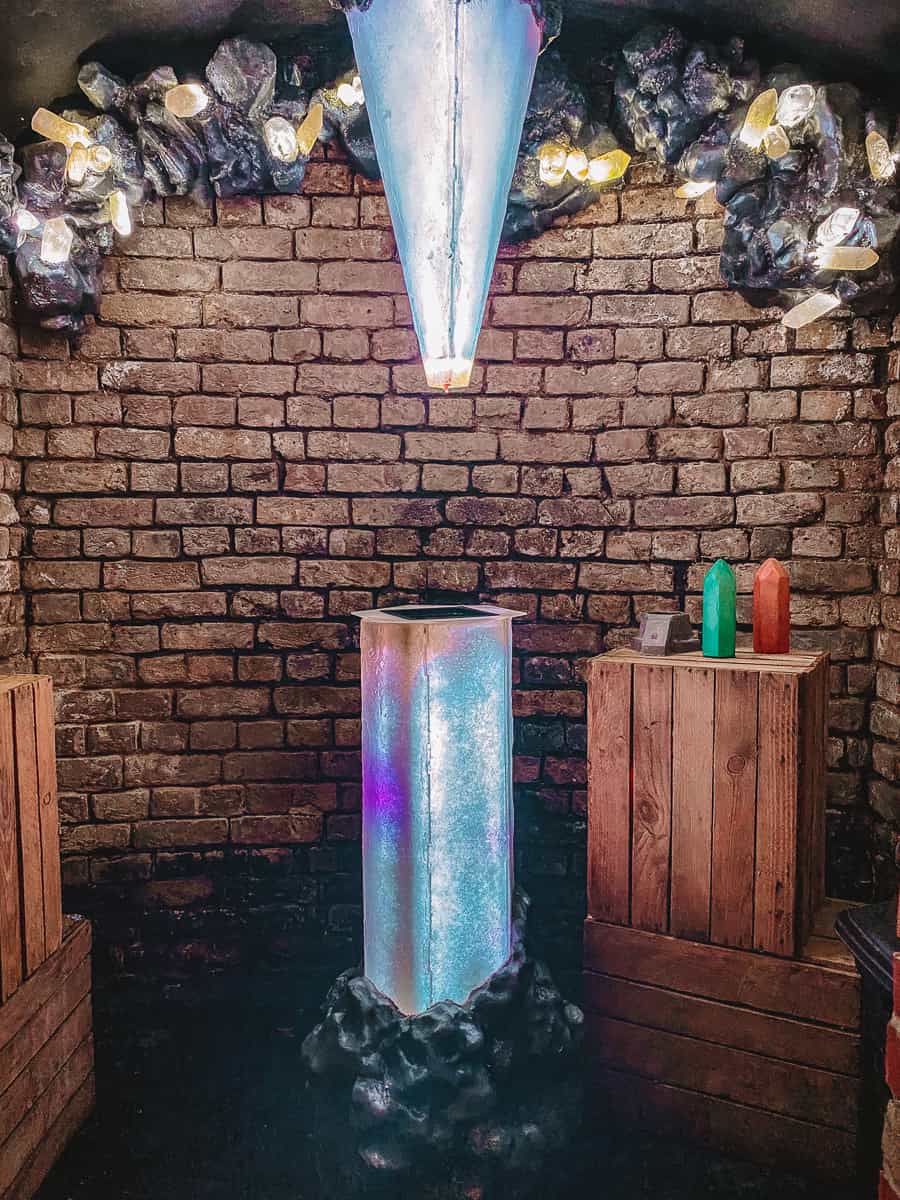 What to expect at The Cauldron London Potion Experience
So, as soon as you descend down the steps to The Cauldron, you'll feel like you've escaped the Muggle world and are travelling through a portal to a land of magic.
It's here, your host will greet you and show you to your table! You'll then be given a magical wand for your Potion's Class.
Usually, you'll be given a robe just like the ones at Hogwarts too but these are on hold given the times we live in. However, feel free to bring your own if you already own some wizard's garb!
Once you're ready, you'll be taken to their crystal cave cocktail station where you can pour your complimentary welcome drink with your wand! You may spot some familiars on your way who will be there to greet you.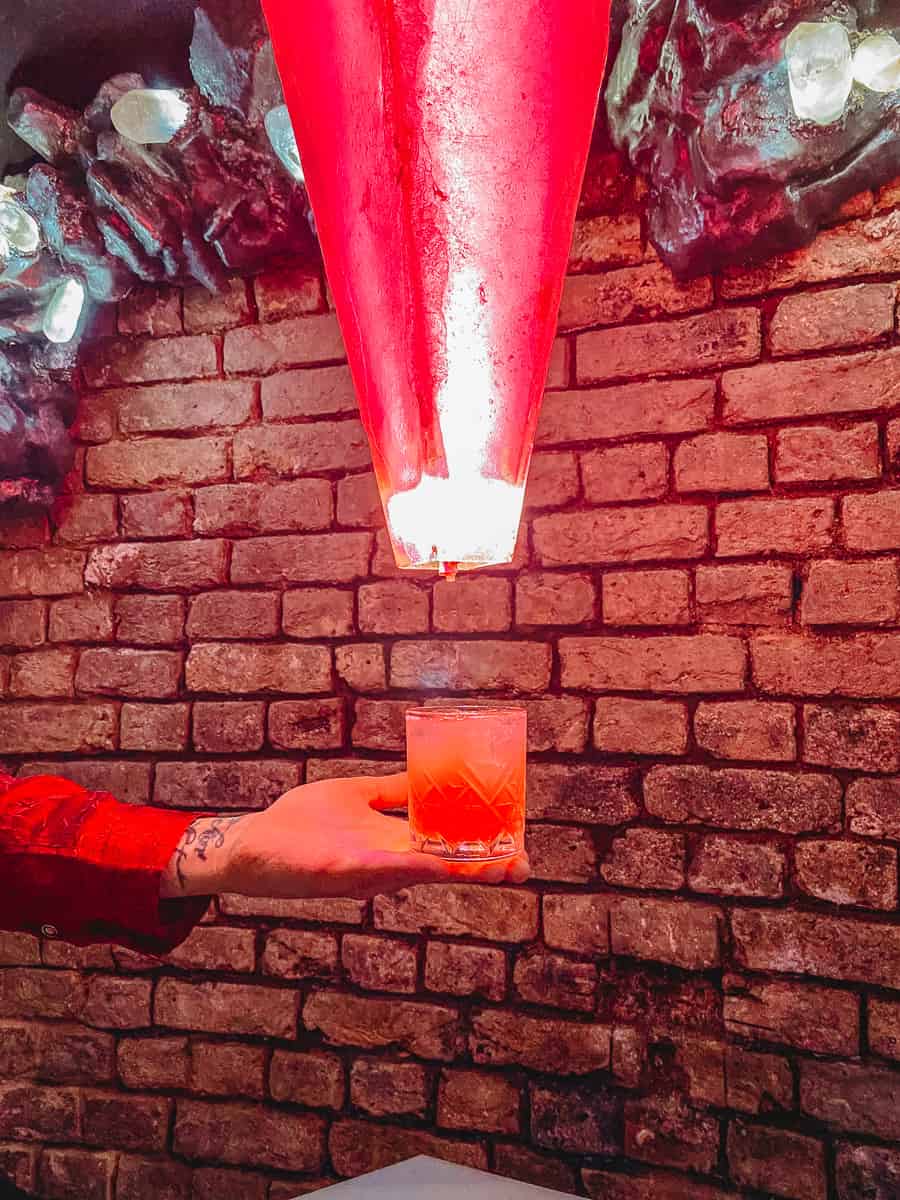 After, you'll then get to choose what cocktails you'd like to brew. Such are the times, a lot of this is now done online by scanning a QR code on your phone to see their magical menu.
This is also where you'll find the instructions for your brew but don't worry your Potion's Master will always be on hand to check your progress in class and answer any questions you have!
You'll be given a huge cast-iron cauldron along with all the potion ingredients you need to make your elixir. Although the experience is two hours, your class will quickly fly by and you will have so much fun drinking the tasty results.
Also, I loved how the vibe was totally magical too with a fantasy soundtrack, crystal balls, fairy lights, unicorns, broomsticks, and heaps of magical themed decor to boot!
It really is the perfect night out for Potterheads, fans of fantasy worlds, or are lovers of anything dark and magical.
How much is the Potion's Cocktail Experience at The Cauldron?
The potion class at The Cauldron in London is not the cheapest night out but it is totally worth the money in my opinion!
Drinking in London is always going to be expensive anyway but here, you're getting an entirely immersive experience. It's not every day you get to attend a Potion's Class!
Tickets for the adult's Potion's Experience at The Cauldron cost £39.99 per adult at peak times which is usually on the weekends (Friday – Sunday).
If you wanted to save your Sickles and Galleons, they also have 'Off-Peak' prices during the week which are less at £29.99. So, if you can be flexible with travel dates, I would definitely look out for those kinds of deals.
Click here to book your Magical Potion's Experience at The Cauldron in East London
Can you buy food at The Cauldron in London or extra cocktails?
Food is definitely not on the menu at The Cauldron as it's a timed cocktails experience. So, make sure you've grabbed a bite to eat if you feel you'll need it before your class.
However, there are lots of extra cocktails and magical shots you can buy while you're here if you have the time to drink them. Plus, soft drinks if you wanted something non-alcoholic.
As a recommendation, I would 100% order the Dragon's Breath cocktail as it comes in very….heated shall we say!
Or, the bubbling shot of Death is also a great one, you seriously won't regret visiting this magical bar as everything is so well presented and thought out.
Is The Cauldron in London worth it?
100% YES! The Harry Potter cocktail bar or Potion's experience at The Cauldron London is totally worth the money.
As part of your ticket, you get a completely immersive and magical experience that lasts around two hours.
Included is a complimentary welcome drink poured by your magic wand as well as two molecular cocktails or potions to brew in your very own cauldron!
I don't want to give too much away but there are lots of spell-binding surprises you can expect while you're here too that add to the whole package.
It's something Harry Potter fans or those that love magic will not want to miss while in London.
Where is The Cauldron in London?
The Cauldron is in North East London so it's important that you book ahead and make sure you travel to the right place on your trip.
The Harry Potter cocktail bar is located in North East London in Dalston.
The Cauldron address is The Cauldron, 5d Stoke Newington Road, London, N16 8BH
Important Muggle announcement: The Cauldron London is in East London and very different from the Wizard Exploratorium in central Soho although they are owned by the same company! Make sure you book the right bar on the website if The Cauldron is the one you wanted to visit for cocktails.
How to get to The Cauldron in London
So, I have to admit, I found it a little hard to find The Cauldron in Dalston on Stoke Newington Road as the bar is not on street level.
Once you've got out of Dalston Kingsland station, you'll need to turn left and walk up Stoke Newington Road for around five to ten minutes.
Although I was using Google Maps, I completely missed where the bar was as I was looking out for the bar on the street.
This bar is sandwiched between Blue Tit Dalston and Koray Barber and can be found on a lower floor underground.
You'll see a shop called 'Ideal Moves' with two doors beside it. There will be a small sign just outside of this which is pointing down to The Cauldron London bar and it's located at the bottom of those stairs.
The Cauldron London nearest tube is Dalston Kingsland train station in East London, so I would plan enough time to get here from Central.
Why not have a Wizard Exploratorium afternoon tea?
If you didn't fancy some Harry Potter cocktails in London, why not plan to have an afternoon tea at the Wizard Exploratorium in Soho?
It's in the perfect place for a magical experience in-between both parts of The Cursed Child play at the Palace Theatre.
Again, although not officially associated with the Wizarding World, this spell-binding afternoon tea experience will make you feel like you have been gifted magic!
You'll enjoy plenty of sweet treats and brew your own tea while solving riddles and casting spells with your wand. If you wanted to enhance your visit, you can even book their brand new custom wand-making workshop too.
Click here to read my Wizard Afternoon Tea Experience review at the Wizard Exploratorium in Soho
Are you looking for more Harry Potter experiences in London?
London is full of incredible Harry Potter filming locations, inspirations, and experiences to enjoy if you're a Potterhead.
If you're looking for more immersive experiences, I would recommend visiting the Harry Potter Photographic exhibition with London's only Butter Beer bar in Covent Garden.
Or, you can have a magical afternoon tea at Cutter & Squidge in their Potion's Room. There's also the Cursed Child in Palace Theatre.
You can hop inside the House of Mina Lima which is a FREE Harry Potter Museum and shop.
There are plenty of filming locations you can visit like Leadenhall Market, Millennium Bridge, and Borough Market all featured in the movies. You can even find the Order of the Pheonix HQ!
You can head into St Paul's Cathedral to see their Geometric Staircase that was the Divination Stairwell at Hogwarts.
Just nearby you can walk over to Goodwin's Court and Cecil Court which are thought to be the inspirations for Diagon Alley and Knockturn Alley!
You can visit King's Cross Station. Although there is no Platform 9 3/4 in real life, there is a Harry Potter Shop with a trolley nearby for a photo opportunity. Or, the St Pancras Renaissance Hotel where Ron flies his Ford Anglia!
No Harry Potter fan can leave London without visiting The Making of Harry Potter on a Warner Brothers Studio Tour.
It's filled with lots of sets, props, and costumes that are featured in the movies. It's based in Watford but you can take an official Warner Studios Bus transfer from central London.
If you can I would recommend a visit around one of their special events like the Dark Arts at Halloween or Hogwarts in the Snow.
Click here to read my complete guide on London Harry Potter locations
Read more of my London travel guides
Why you must visit Gods Own Junkyard
Tips for visiting the Beatles' Abbey Road in London
The hidden gem of St Dunstan in the East Church Garden
Free things to do in London Bridge
How to visit The Hardy Tree in London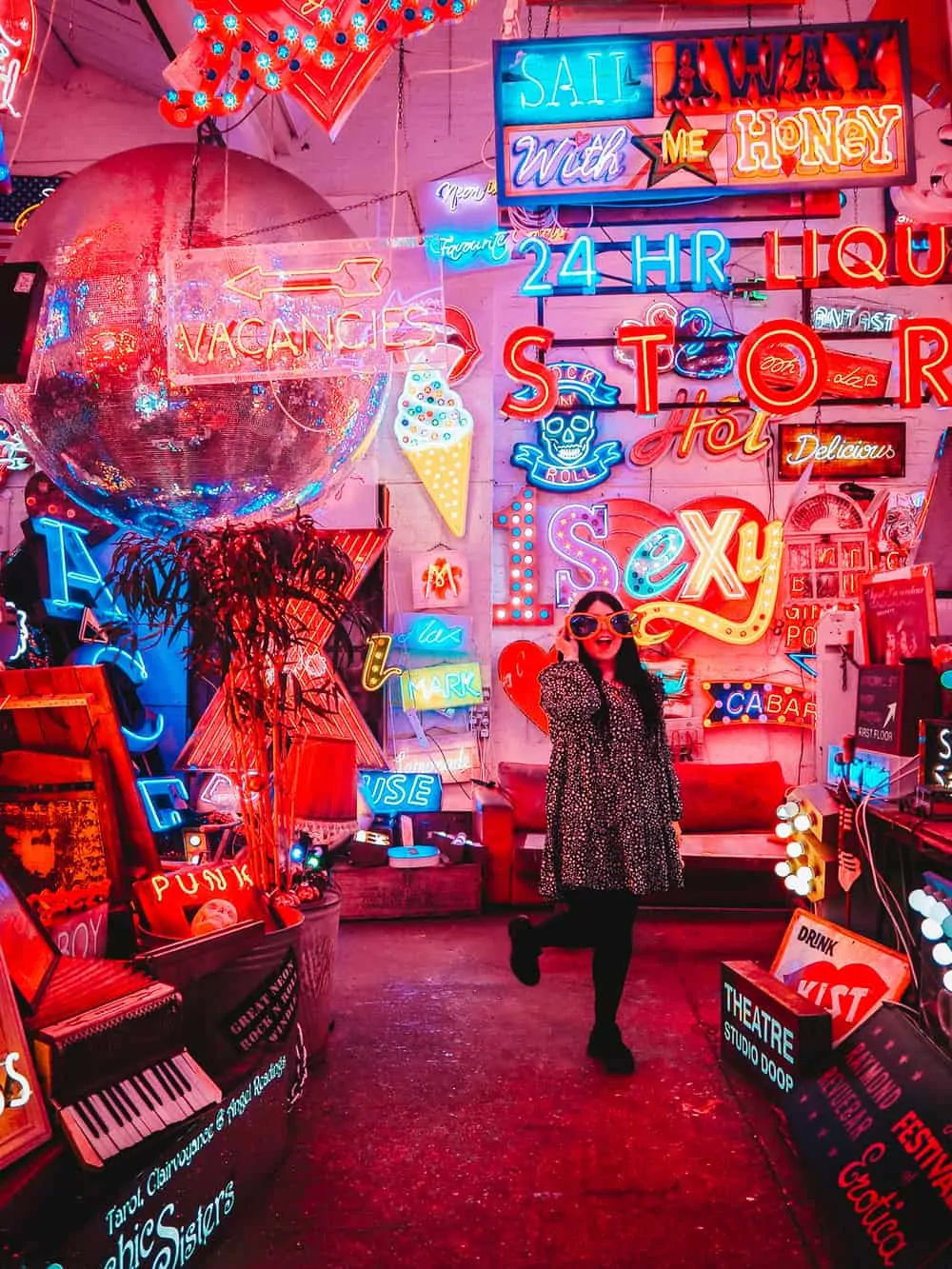 Read more of my Harry Potter travel guides
How to find Dumbledore's Grave in the Scottish Highlands
How to see the Hogwarts Express in Scotland
Harry Potter locations in Lacock
Harry Potter filming locations in Alnwick Castle
Where to find Harry Potter in York
A complete Forbidden Forest Experience Review
How to spend the night in Hagrid's Hut
How to find the Harry Potter Tree at Blenheim Palace
The Shop That Must Not Be Named Review
How to find Dobby's Grave in Wales
Harry Potter filming locations in Gloucester Cathedral
Visiting Malfoy Manor in Real life!
Harry Potter locations in Exeter along with Gandy Street and the Room of Requirement
Virginia Water – the Other Hogwarts Lake
Instagram locations at the Wizarding World of Harry Potter
How to find the Malham Cove Harry Potter Deathly Hallows filming location
Harry Potter filming locations at Durham Cathedral
Save the Cauldron London Harry Potter Cocktail Bar for later!