There are plenty of amazing trails on the vast, wild and ancient landscape of Bodmin Moor in Cornwall. But, none so peculiar as the Cheesewring walk.
A scenic path that leads to a windswept rocky tor with a wealth of myth and legends surrounding it.
No one really knows much about this distinctive set of stones that are stacked on Stowes Hill. But, it's surrounded by Bronze and Iron age burial mounds that date back thousands of years.
If you're looking for a relatively easy hike on the moor that provides some spectacular views, the Cheesewring is the one for you.
Here's a complete guide to the Cheesewring walk on Bodmin Moor with detailed walking directions and what you can see on the way!
What is the Cheesewring?
The Cheesewring is an amazing natural rock formation in Cornwall. It's a set of granite stones that are stacked on top of each other at Stowes Hill on Bodmin Moor.
The Cheesewring rock pile is a whopping 20 feet tall and its granite slabs are as large as 30 feet wide.
Its distinctive shape has been debated over time by experts, but it is thought to be the result of weather erosion over hundreds if not thousands of years.
The Cheesewring meaning and nickname originate from the old presses or 'wrings' that were used to squeeze all the liquid out of cheese.
Although these huge slabs look like they would easily topple over in the shape they're in, somehow it's managed to stay put! This curious formation has intrigued geologists for centuries.
The legend of the Cheesewring
Although not much has been proved in scientific terms about how old it is, there are some local Cheesewring legends and stories surrounding the stones.
There is one tale that says that the rock formations were made as part of a contest between the giants who lived here and a Christian saint, Tue.
So the story goes that when Christianity came to Britain the giants weren't too happy about it. So, they sent their largest giant Uther to scare away the saints.
Uther challenged Saint Tue to a rock-throwing contest. If Uther won, the saints would leave Cornwall. But, if Saint Tue won the giants would convert to Christianity.
So, the competition started and the two started throwing the huge granite stones in piles on top of Stowe Hill. The two were neck and neck at a dozen stones but unfortunately, Uther's thirteenth stone missed.
Saint Tue threw his thirteenth stone and an angel miraculously appeared, placing the last stone on top of his pile. Uther then accepted his fate and the giants converted to Christianity.
Cheesewring history
The Cheesewring is thought to be completely natural and was formed through weathering.
Over time many geologists and archaeologists have studied the formation and area surrounding it.
The Cheesewring Quarry was established in 1845 and much of the granite sourced from here went towards the cladding for Tower Bridge in London!
The Great Exhibition held in Crystal Palace in 1851 had an exhibit on display featuring a granite column that was extracted from the Cheesewring Quarry.
However, the numerous blasts that shook the quarry and landscape caused a fear that the Cheesewring would fall.
Indeed, the quarry was thought to have destroyed many ancient archaeological sites. So, local activists protested and the quarry fell into disuse in the early 20th century.
Daniel Gumb
Another famous resident and almost legendary figure associated with the Cheesewring was Daniel Gumb.
He was a local stonemason who had a massive issue with paying taxes! In protest, he took his family (his wife and 6 children!) to live in a cave on Bodmin Moor.
While he was alive, no one paid any mind to the 'moorland man' but once he died the cave became a bit of a Victorian tourist attraction.
It is still famous today. You can still visit Daniel Gumb's cave and see his stone carvings at the base of Stowes Hill underneath the Cheesewring.
Where is the Cheesewring in Cornwall?
The Cheesewring is located on Bodmin Moor around a mile away from the quaint hamlet of Minions. It's the highest village in Cornwall.
Yes, Minions is a REAL place and they get the name from Minions Mound which is a barrow to the west of the village.
They do make the most of celebrating the fact they have the same name as the awesome characters in Despicable Me!
This actually draws a lot of tourists here each year. In fact, there are even some awesome stickers on the Minions welcome sign.
A small warning though before you get your hopes up, these may be removed as spoilsports get annoyed by them. But they do eventually end up coming back!
How to travel to Minions in Bodmin Moor
It is definitely easier to have your own means of transport to drive around Bodmin Moor.
It's a huge area and although there are bus services these can be infrequent.
Driving to Minions
Minions is located around 5 miles away from the town of Liskeard and from here it will take you around 12 minutes to drive to Minions from there.
Bodmin Moor is not to be confused with the town of Bodmin, in fact, a Cornish person gets very angry if you say the two are one and the same.
From Bodmin town, it's a 30-minute drive through the moor to Minions. It's around a 20-minute drive (10 miles) from the famous smuggler's pub, the Jamaica Inn. It's also a 30-minute drive from the Eden Project near Par.
The Cheesewring postcode PL14 5LE for SatNavs and the exact Cheesewring coordinates are 50.5254° N, 4.4593° W. Mobile signal is very limited in Bodmin Moor, so I would recommend having a SatNav or something with GPS.
Bus to Minions
The easiest spot to take a direct bus to Minions would be from Liskeard. The service numbers 174 and 74 depart from St Cleer Road Junction. They will drop you off at Darite by Hendra Farm.
The bus service departs on the hour from Monday to Saturday and the journey will take you around approximately 16 min. From here it's a 30-minute walk to Minions.
Alternatively, you can walk from Liskeard to Minions in around 90 minutes and make the Cheesewring part of your hike.
Cheesewring parking
Whereas most car parks at the beaches in Cornwall have really steep parking charges, The Cheesewring car park in Minions is FREE! Let me hear you say, yeah!
After I spent a few solid days on the coast shelling out a lot of pennies, I was frankly relieved.
The car park you want to start the hike is The Hurlers car park nearby the famous Hurler Stone Circles. From here the walk to the Cheesewring is around 20 minutes.
Warnings and walking tips for the Cheesewring walk
Heed warning signs – Bodmin Moor is a famous mining area and there are a LOT of hidden shafts and holes on the moor that lead straight underground. Many of these are now gated off but some still remain undiscovered on the moor. Just watch your step, use common sense and avoid dangerous areas.
Keep dogs on a lead – there are many horses, cows and sheep in the fields grazing, plus those mining shafts. You don't want to lose your dog!
Poop – with lots of cows and sheep comes A LOT of poop! I'm talking everywhere. So, wear good shoes.
Leave with enough daylight – Bodmin Moor is known for its wild endless landscape filled with horror and mystery and there is hardly any lighting. At night time it is completely pitch black. Many people have gotten lost of the moor, it's famous for it! Plus the Beast of Bodmin Moor is said to come out at night…I'm just kidding (although the locals don't joke about it)! Just make sure you go in daylight, it's better to be safe than sorry. Bring a torch just in case.
Prepare for the weather – Bodmin Moor has really random weather and is almost like its own microclimate. One minute it's sunny, the next it's raining, it can be hot and then cold. Make sure you dress appropriately or have something with you for the elements.
Phone signal – pretty much non-existent on Bodmin Moor. So, have a SatNav or offline map from Maps.Me prepared in case.
What to wear for the Cheesewring walk & a packing list
Good shoes – Although this walk is relatively easy, there are a lot of rabbit holes, rocks, uneven landscape, and boggy territory (it is a moor). So, just come prepared with a good pair of walking shoes or boots. To be fair I did it in sketchers, but it's not the type of hike for flip flops.
Clothes for the weather – Like before, Cornwall sees a lot of rain and the moor is particularly windy and wet. So, make sure you come prepared for the weather.
A bottle of water – Although this hike isn't particularly strenuous, the walk up Stowe Hill can take your breath away. So, bring something to drink!
Snacks – There is a pub/café in Minions village. But, nothing on the moor at all. So, if you feel you may get hungry, bring some snacks.
A torch/phone light – I know I keep harping on but it's amazing how quickly it can get dark at dusk here and there is no lighting on the moor at all. Luckily, you won't be too far away from Minions but better to take a torch. Plus, you'll want to see inside Daniel Gumb's cave!
Camera – Let's face it, pictures or it didn't happen!
Is the Cheesewring walk difficult?
I always find these things quite subjective and 'easy' means different things for everyone. It completely depends on your capability, fitness, and energy levels.
I would say that the short walk I did below could be completed by anyone young or old if you take your time.
It's not very long, around a mile one way, and the gravel path is relatively flat to reach Stowes Hill. You also don't need a map and there's little chance of getting lost.
There is the option of hiking out on the moor too, which may prove a little more difficult as it's on the wild landscape that is uneven and sometimes boggy.
The only part of the Cheesewring walk which could come with some complications is climbing up to the Stowes Hill summit. It's really rocky, steep in places with some big boulders to climb up.
However, it's definitely an adventure! I'm not an experienced rambler by any means and found this walk really easy.
How long is The Cheesewring walk?
It can be as long or as short as you want it to be!
There are plenty of long circular walks to access the Cheesewring that include Sharp Tor and can take you miles.
But, the absolute minimum time it would take you to reach the Cheesewring from Minions is around 20 minutes.
I would factor in around 45 minutes to an hour to complete the loop.
An easy walking route from Minions to Cheesewring on Bodmin Moor
As I was short of time, I did the quickest walk from The Hurlers car park to The Cheesewring.
This walking route below is for the time-conscious traveller that wants to see some amazing views of the moor with very little time and effort involved (there's no shame in that!).
It's a 2-mile round trip and will take around an hour give or take.
This walk is great as you can stop and look at anything that interests you on the way like ancient stone circles, heritage mines, and iron age caves!
1. Start off at The Hurlers car park
So, first up you'll need to locate the Hurlers Car Park in Minions to start your Cheesewring walk.
The Hurlers Car Park sits right next to the famous Hurlers stone circles. These are 3 neolithic stone circles that date all the way back to 1500BC!
There is a legend that says that these stones are the remains of petrified men. They were turned to stone for playing hurling on a Sunday instead of going to church.
This also gave me some time to 'test' the bogginess of the moor. It had been heavy rains for days so it was really squelchy. Eurgh. So I decided to head out on the gravel path instead.
It's definitely worth checking these out while you're here as they are fantastic to see. Click here to read my complete Hurlers guide.
2. Head out right towards the Minions Heritage Centre and take the gravel path
As the moor was pretty wet, I decided to head out on the gravel path which leads around to the Cheesewring Quarry.
This marked path can easily be found near the Minions heritage centre which sits inside an old Houseman's Engine House.
It is well laid and signposted and will point you in the direction of the Cheesewring hike. The path is pretty flat but gradually inclines on your way.
Alternative route: walk through the Hurlers stone circles on the moor and head straight on
If the weather is dry and you'd rather walk out along the wild moor, you can carry on straight past the 3 stone circles and continue onto Stowes Hill.
The Cheesewring and Stowes Hill can be seen in the distance. There isn't a marked route but you'll eventually meet the old Cheesewring Quarry rail path on the way.
3. Continue on that gravel path to the base of Stowes Hill
Once you're on the laid path, it's pretty much straight on from here until you reach Stowes Hill.
To your right, you'll see some of the beautiful Bodmin Moor landscape and some of the old Pheonix mines which are now ruined.
There are a couple of gates you will need to pass through on the way, but you'll eventually reach the base of Stowes Hill and the abandoned Cheesewring Quarry in the distance.
This is where you can investigate Daniel Gumb's cave home. The quarry is blocked off and you cannot enter for safety reasons.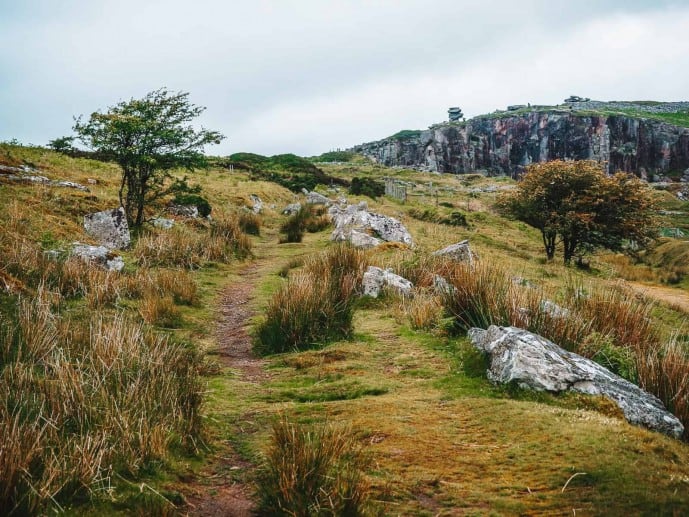 4. Walk up Stowes Hill on Bodmin Moor
Once you've had a peek at Daniel Gumb's cave, you can carry on and walk up Stowes Hill. You'll be walking up to heights of 1,250 feet above sea level here.
This area has rocks and boulders everywhere, so you'll need to navigate around these and climb on top of some boulders to reach the Cheesewring!
Reaching the Stowes Hill summit is the hardest part of the walk but you'll definitely be rewarded at the top with some spectacular views of the whole area.
What to see when you reach the Stowes Hill summit
Once you've made it to the top of Stowes Hill, there are plenty of things you can see and do around here.
Of course, everyone wants a snap with the famous bizarre-looking Cheesewring. But, don't rush off before checking out some more of the area.
Granite Tor / Cheesewring
The Cheesewring is around halfway up the summit and it is amazing to see it up close!
When you're walking towards it on the moor, it keeps gradually getting bigger and when you're standing next to it you can really see just how tall it is.
The Cheesewring pile is around 20 feet tall, that's four times bigger than me! So, it's safe to say I felt small.
This bizarre attraction is a definite photo spot and it has been compared to a shape of a tornado or a pile of pancakes! What do you think it looks like?
Bronze and Iron Age Fortifications
As well as the Cheesewring, there are a number of ancient fortifications, stones, and cairns around the area.
This area is known as Stowe's Pound and has two stone 'forts' which are marked out although most are now ruined.
There hasn't been much excavation on the area but what has been determined is that these are early Bronze Age sites.
The stone circles, rows, standing stones, and barrows around here are thought to have been ancient tribal settlements. You can still see some of the stone houses that remain.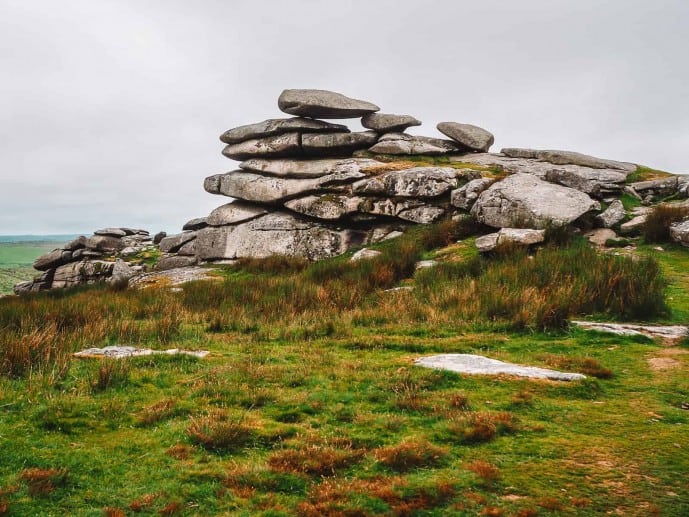 Amazing views of Bodmin Moor!
One of the best parts about this walk is the incredible views that look out over the moor.
There are a number of rocks that hangover over the granite ridge that looks out over Bodmin Moor, Rillaton Moor, and Witheybrook Marsh.
Rillaton Barrow is where the famous 'Rillaton gold cup' was discovered. It's a ridged cup that was dated from the early Bronze Age and now sits inside the British Museum.
It was once owned by King George V and used as his shaving mug!
There is also a legend that this cup is haunted by the spirit of a druid priest. He would offer travellers a drink but it was an undrainable cup as a trick.
One day a traveller threw the contents back at the druid and he was found dead in the ravine days later. It's definitely worth stopping here for a while to take it all in!
Rock Climbing at the Cheesewring Quarry
Although the Cheesewring Quarry is closed for hikers, the crags at the Cheesewring quarry have over 166 climbs that you can do in and around here.
Unfortunately, due to a mine shaft collapsing, it's been put temporarily on hold by the duchy of Cornwall.
This used to be a really popular spot for climbing groups and the rocks include some interesting names like Psycho Killer, Khyber Pass, Khyber Wall, Wrings of Change, and Agent Provocateur.
Click here to find out more and when this site will reopen again.
More places to visit around the area
The most famous places to visit that you can access close by here are Daniel Gumb's Cave and Rillaton Barrow which is an ancient burial mound.
There are also the three historic Hurlers Stone Circles that you can access on the way back and the two ancient Pipers stones stand nearby.
A little further on is Long Tom standing stone or Longstone Cross which is one of the most preserved examples of a wayside cross.
This area of Bodmin Moor also has a strong Tin and Copper mining history and it's easy to spot many of the old Pheonix Mines. Although many of these are ruins, they make a massive impact on the landscape.
Where to eat in Minions – Cheesewring Hotel
If you were getting hungry in Minions and would like a bite to eat then you can pop into the Cheesewring Hotel which sits in the middle of the hamlet.
This cosy inn has sat on this site since 1863 and still provides rest for weary travellers.
They serve up a wholesome meal in their pub, and some locally brewed pints from their Free House too.
Click here for their menu. Despite the name, it doesn't function as an actual hotel.
The best things to see and do on Bodmin Moor
Although most tourists tend to flock to the busy beaches on the coast, Bodmin Moor is a seriously underrated and beautiful part of Cornwall.
Although the moor used to be a hive of escaped criminals and smugglers, it's now a peaceful area with lots to explore on a day out.
There are plenty of things to see around this Area of Outstanding Natural Beauty including waterfalls, natural lakes, and ancient monuments!
You can stop by Golitha Falls which is a beautiful series of cascades hidden in the woodlands.
Trevethy Quoit and King Doniert's Stone are also great ancient places to visit if you're a fan of history. Plus there are the Trippet and Stripple stones.
If you're looking for more Bodmin Moor walks, popular routes are Showery Tor, Alex Tor, Rough Tor, Hawks Tor, and Brown Willy.
Just outside of Bodmin Moor is the Carnglaze Caverns, which were three manmade caves that were part of the slate quarry in Loveny Valley.
Click here to read my complete guide for Bodmin moor with more amazing places to visit
Where to stay on Bodmin Moor
Without a doubt, the coolest place to stay on Bodmin Moor is The Jamaica Inn. An old smuggler's pub where bootleggers used to hide their contraband.
It opened up in 1750 and for a long time, it was dangerous. A hive of criminals, gangs, and wreckers and was a place the authorities wouldn't dare venture.
The smugglers had over 100 secret routes from the coast and over the moor to hide their loot and this coaching inn acted as a stopping point.
A reputation has always preceded this inn, but it was truly made famous when Daphne du Maurier wrote her famous novel in 1936. She made this place a pirate's den where the smugglers would rendezvous.
Although the inn is very old and does inspire images of creaking floors, the hotel inside is extremely modern, warm, and luxurious.
My room was so cosy and had fantastic views. It also has the added benefit of a cosy pub and an amazing restaurant on site.
I would recommend their Poldark Ale, it's delicious!
If you were curious about its grisly past there is now a small smuggler's museum there. Click here to book!
Read my complete guide for the Jamaica Inn with all the amazing things to do here
Read more of my Cornwall guides
St Aubyn Estates Cottages review
How to visit Tregothnan Estate in Cornwall
Things to do in Mousehole Cornwall
How to visit St Michael's Mount in Cornwall
Things to do in Charlestown Cornwall
The Museum of Witchcraft in Boscastle
How to visit the Lost Gardens of Heligan
A complete guide to Porthgwarra Cove
Why you must visit Minack Theatre
Secrets of the Admiral Benbow Inn
Where is Driftmark filmed in House of the Dragon
How to visit Holywell Bay from House of the Dragon
Magical things to do in Kynance Cove
Save this Cheesewring Walk guide for later!