The Cotswolds is full of idyllic streets that look as if they have been trapped in time, but there is none so iconic as The Chipping Steps Tetbury.
A medieval set of cobbled steps that used to be an old entrance to the town are joined by an adorable row of old weavers cottages.
For me, as a photographer, this was the highlight of my visit and I'm sure you will love visiting this gorgeous spot too. I spent way longer here than I first anticipated, it was just so pretty.
Whether you're visiting the town for the first time or the hundredth time, you cannot resist the charm of this little corner.
Here's a complete guide for visiting The Chipping Steps of Tetbury!
What are The Chipping Steps?
Although you could call this area just a set of old steps, I think you'd be doing this little pathway a disservice.
These attractive stairs, which are set on a steep hillside, date back a few hundred years to the medieval age. It's now the oldest part of Tetbury!
At the bottom of the steps, there is a gated old churchyard. Then, as you make your way up to the top, you'll pass the row of traditional stone cottages that cuddle them.
When you finally make it to the very top, you'll find 'The Chipping' which is an old marketplace.
As an old gateway to Tetbury, who knows just how many people have climbed these steps over the centuries?
One thing that we all have in common though, is that everyone must have felt a bit breathless tackling them every now and then!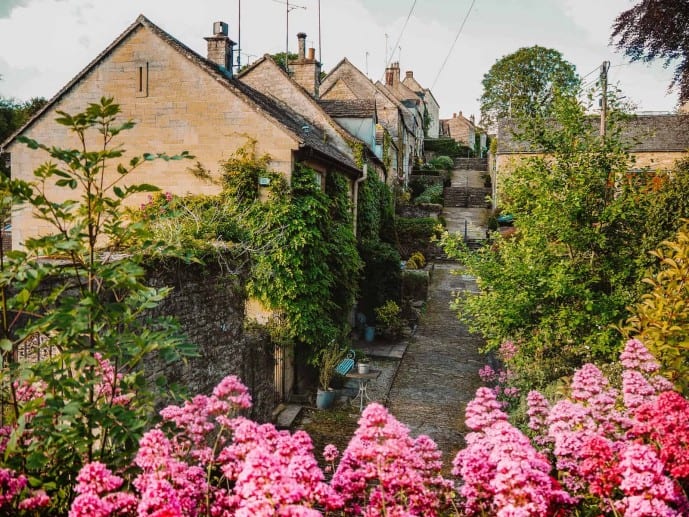 The history of The Chipping Steps
As the Cotswolds is a rural area of England, much of the town used to make its trade through weaving wool and farming work.
'The Chipping' is an old English term for market and this whole area used to hold regular 'Hiring and Mop Fairs'.
Mop Fairs would see many farmers and labourers arrive in The Chipping where they would offer their services for hire on a fixed-term basis.
Originally, these Chipping Steps were placed on Chipping Hill which is similar to Gumstool Hill just a few streets away.
Both of these hillsides were a means to enter Tetbury in medieval times when the boundary of the town was much smaller than it is today.
In 1781, the Feoffees of Tetbury ordered for Chipping Street to be cut. This meant that the steps became covered. The Feoffees were first appointed in 1633 and used to manage the development of the town.
You may be surprised to know that the Feoffees of Tetbury are still in place today and run as a charity – you can find their signs around the town!
At the bottom of the steps there used to be an early 18th-century chapel. But, with time, this has vanished. The only evidence of it ever being there is the abandoned churchyard.
Nowadays, The Chipping Steps is a charming residential area with a few lucky residents. It's also one of the most popular photography spots in the whole of the Cotswolds!
How to visit The Chipping Steps Tetbury
No visit to Tetbury would be complete without visiting this iconic pathway. As the oldest and most charming part of the settlement, it just has to be done!
Fortunately, like most towns in the Cotswolds, Tetbury is quite compact so you should have no troubles finding them on foot once you're here. Plus, the town has even put the steps on signs to point you in the right direction.
However, if you did need a good place to get your bearings, I would start off at the historic Market Hall which sits in the heart of the town. From there, it's just a short walk to the Chipping car park and you'll find the steps in the North-East corner.
From here, you can climb up and down them all you like and photograph them to your heart's content.
Top tips before you go
There is a car park just by The Chipping Steps which is ideal for access. This is pay and display but the prices are very cheap! One hour is 50p.
Although these are great photo opportunities for 'the gram', remember that this is a residential area so don't disturb the neighbours!
As these steps are on a steep hillside and are made of cobbles, walking up and down them could be a challenge. I even struggled and I had flat trainers on. This is not a place for heels but I commend you if you can manage it.
For photography, visiting early morning is best for softer lighting. If you're visiting in high season, you may wish to visit earlier rather than later to avoid crowds!
What else is there to do in Tetbury?
Tetbury is one of the prettiest towns in all of the Cotswolds and every street corner is appealing. But, beyond its looks, there are plenty of attractions which make it worth visiting!
The Anglo-Saxon St Mary the Virgin Church has one of the tallest church spires in all of England and is well worth a peek inside.
You could head over to Tetbury's old train station which has now been beautifully transformed into the Old Goods Shed, an arts and music centre.
The 17th century Market Hall is a focal point for the town which is still used for weekly farmers' markets. Why don't you check out what they have on offer?
From here, you can access the wealth of Tetbury shops and boutiques. The town is known for its antique shopping, so you'll find many curiosities around here.
One of the most popular shops in town is the Highgrove Shop which is owned by Prince Charles! His highness lives nearby in Highgrove House with Camilla. The Royal Gardens are open seasonally every year if you wanted to pop by.
You can also visit the FREE Tetbury Police Station & Courtroom museum, where you can learn all about crime and detection in Gloucestershire.
Just outside of Tetbury, you could swing by Westonbirt Arboretum which has over 18,000 trees, and Chavenage House, also known as Trenwith House in BBC's Poldark!
Click here for my complete guide of places to visit in Tetbury!
Are you heading around the Cotswolds? Check out my related posts!
Why you must visit Bibury and Arlington Row
A complete guide to Lower Slaughter and The hidden gem of Upper Slaughter
Castle Combe – The prettiest village in the Cotswolds
When to visit Cotswold Lavender near to Snowshill Village
The best places to visit in Lacock and the Harry Potter locations
Why you must visit Broadway Tower
Did this yew tree door inspire Tolkien?
The best things to do in Stow on the Wold
The best things to do in Painswick and the legend of its yew trees
Save The Chipping Steps Tetbury for later!