One of the incredible hidden gems that you can visit in Yorkshire is The Druid's Temple.
Many people say that this is 'Yorkshire's Stonehenge'. Although it looks like a prehistoric stone circle, it's actually a grand folly built 200 years ago.
Despite that, there's still an air of mystery about this place as no one really knows why it's here!
The temple is located in an ancient woodland and surrounded by the rolling hills of the countryside. So, you're truly 'off the grid' in this area.
However, it's surprisingly easy to access on a short and easy walk through the wider Swinton Estate.
Here is how to visit the magical and mysterious Temple of the Druids in Masham, Yorkshire in 2023!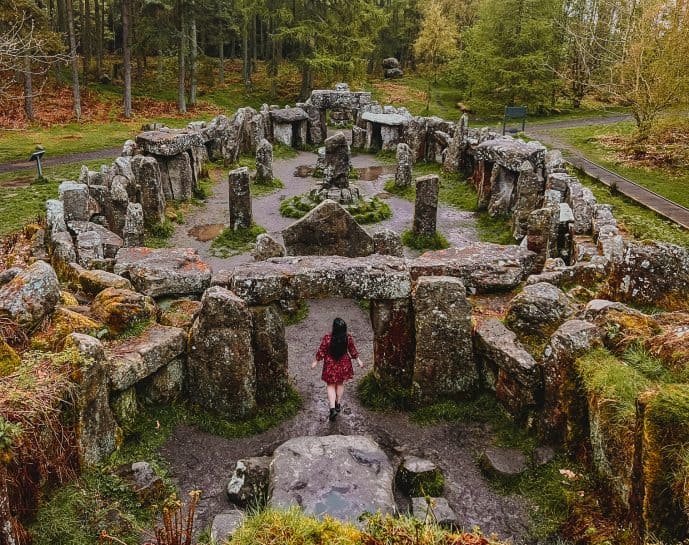 What is The Druid's Temple?
The Druid's Temple is a mysterious oval stone circle that has been built in an ancient woodland of Yorkshire.
It looks like it was created thousands of years ago and it will feel like you've entered a magical historical religious site.
The stone circle is very large and is made up of stacked stones, cairns, chambers, and obelisks. There are also altars, menhirs, dolmens and sarsens.
It looks very similar to the prehistoric Stonehenge or Avebury stone circles in Wiltshire that were built thousands of years ago.
But, it's actually a grand folly that was built for an eccentric landowner in the 19th century.
Druid's Temple history…and mystery!
There are many local legends that surround this Temple of the Druids in Masham.
Many people say that the Devil was worshipped here and there are ghosts that will spook you if you choose to spend the night.
But, it is generally agreed that this folly was built for William Danby who owned Swinton Park in the 1800s.
Many famous poets like William Wordsworth were intrigued by Druidism at the time and Danby was inspired by Stonehenge on his many travels throughout Europe.
These days, we know that Stonehenge was built by early human settlers in the Neolithic period over 5,000 years ago.
But, back then, antiquarians believed that these stone circles were actually built by Celtic Druids.
So, Danby decided that he wanted his very own Druid's Temple on his estate in celebration of British ancestry.
Who built The Druid's Temple?
As a solution to the mass unemployment in the area, William Danby paid unemployed workmen one shilling a day to create his temple.
In exchange, they had to transport large stones and create this elaborate stone circle folly in the woodlands. Many of these standing stones were over 10 feet high.
Within the stone circle, there were altars made and a dolmen chamber at the far end that acted as a tomb. It must have taken a lot of hard graft and work to put it all together.
Beyond the main stone circle, there are also lots of other stone formations that were built in the surrounding woodland.
What was the Druid's Temple used for?
The weird thing about this place is that nobody really knows what the temple was used for other than to please an eccentric country squire and solve a solution to unemployment.
But, William Danby didn't end his obsession by just building the temple. He hired a local man to live in the temple as a hermit too!
The man was paid by Danby to live in the tomb for seven years at the back of the stone circle. He was to remain mute and let his hair and beard grow wild.
But, it was no easy task and the 'hermit' only managed to reside there for a couple of years. It was rumoured that he slowly went insane due to the harsh living conditions.
Today, it remains an elaborate folly and is a tourist attraction in the Yorkshire Dales.
Where is the Temple of the Druids?
If you wanted to visit this spectacular folly in Yorkshire then you'll need to visit the Swinton Estate in the Yorkshire Dales.
It's a historic, privately owned estate but today is (mostly) open to the public. There are places to stay, dine, walk, attend cookery classes, and even have spa treatments.
The stone circle is located in the woodland near the Swinton Bivouac campground and café. So, it's easiest to head here to see the Temple of the Druids.
The Druid's Temple is FREE to visit and is open from dawn til dusk every day of the year.
How to get to the Temple of the Druids
By far the easiest way to reach the Druid's Temple is to drive as it's in a remote area of the Yorkshire Dales. It's just 20 miles from the A1.
Swinton Bivouac is located around a mile from the market town of Masham and 11 miles from Ripon.
If you do decide to drive, make sure to proceed with caution as there are many winding turns and single lanes with passing places on the road to the Swinton Estate.
Public transport can be very limited in this area. The nearest train stations are Northallerton and Thirsk. You could alight at either station and take a taxi to the temple.
Or, you can take a bus to Masham Marketplace from Ripon or Richmond using the 'Dales Bus' and then walk from there.
Druid's Temple address is Knowle Lane, Ripon HG4 4JZ. Click here for a Google Pin!
Where do you park for Druid's Temple?
Once you arrive at Swinton Bivouac, you'll eventually reach the end of the public road and there will be a sign asking you to turn left.
Drive down this gravel road (it's a single lane so proceed with caution) and you'll be directed to a parking area near the Swinton Bivouac campsite.
There is a large gravel car park to use and the parking price is based on an honesty system. So, bring some cash to donate.
How long is the Druid's Temple walk?
If you just wanted to visit the Druid's Temple from the parking area at Swinton Bivouac, it's only around half a mile or ten minutes walk.
But, you can extend your walk around the Swinton Estate and Druids Plantation to make it a bit longer with their designated pathways through the woodlands.
There are over 2000 acres of ancient woodland with walks for all abilities and the opportunity for birdwatching in some of the hides.
The Swinton Estate also has cycling tracks and mountain bike trails to enjoy and you can see some great views of the area in the process.
Is the Druid's Temple an easy walk?
From the parking area to Druid's Temple, the walk is very easy and is accessed on flat pathways.
You'll walk up a slight incline to begin with on the main road and then it flattens out when you enter the woodland.
You'll then be on the 'Jubilee Walk' which is named after sixty native trees that were planted in 2012 to mark the 60th anniversary of Queen Elizabeth II on the throne.
The paths are flat on the trail to the Druids Temple but they can be very muddy if it's been raining. So, make sure to wear sensible shoes.
If you wanted to extend your walk through the Swinton Estate there are different walking trails for all abilities. So, make sure to check their walking route map before you head out.
Things to do at The Druid's Temple
Once you've finally made it to The Temple of Druids, what is there to do around here?
Well, there's actually a surprising number of things to see and do in this area of the Swinton Estate.
Here are some ideas to make the most of a day out;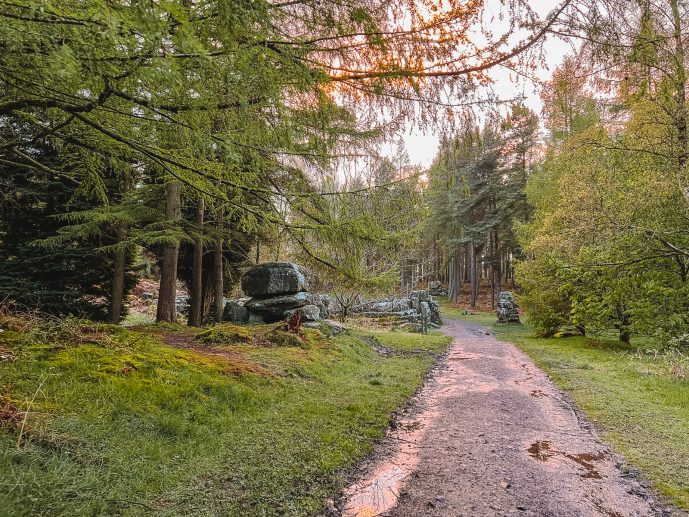 1. Explore the 'ancient ruins'
When you enter the temple you will see lots of small chambers that have been built around the outside.
It sounds strange, or a bit 'woo woo', but you can feel that this isn't a prehistoric site before you even walk up to it.
I'm from Wiltshire, around 20 minutes drive away from Avebury, and the county is filled with prehistoric sites.
You always feel a certain energy or vibration in an authentic stone circle due to them being built to align with planets, stars, and the rising of the sun.
They are also often built on energetic ley lines and so you can feel a strong presence of earthly energy that I didn't feel here.
However, it's still an amazing and dramatic place to explore. It was like seeing Stonehenge 5,000 years ago before it was taken apart. There is so much to see in these folly 'ruins'!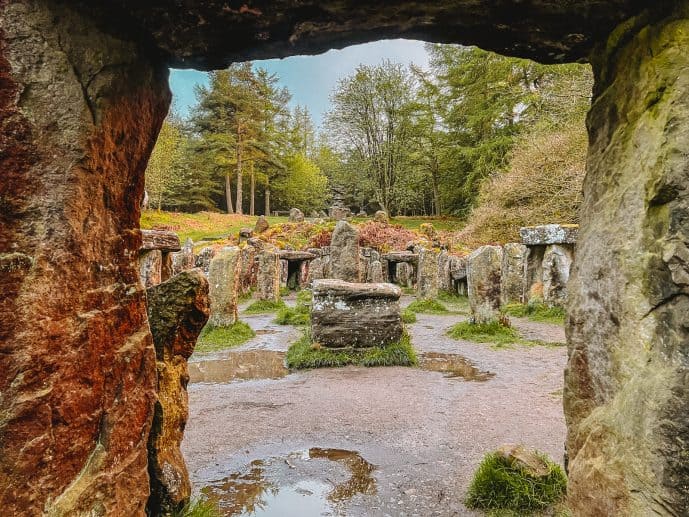 The first chamber contains symbols for the four elements of air, earth, fire, and water. Then, there is a solar chamber and the tomb of transformation.
You'll find obelisks and altars here and on the hill above you'll find a stack of stones with the symbol of Deity and the twelve symbols of the zodiac!
Due to footfall, you will find that the circle can get very muddy due to rain. But, it's very fun to explore.
There are some makeshift stone tables and stools at the far end of the circle where you can take a seat and have your picnic…if you don't mind flies joining you for dinner.
2. Take a photo from the viewpoint
If you exit the stone circle and head up the hillside, you will get one of the best views of The Druids Temple.
It's a great way to get a drone photo without a drone, as you can see the oval stone circle perfectly!
I set up my tripod on the hill and managed to get some great self-portraits looking at the circle down below.
Getting up to the viewpoint can be pretty muddy if it's been raining so make sure to use the boardwalks and steps to protect the ground.
3. Visit the stone formations
Beyond the main temple, there are a lot of stone formations dotted around this area of the park.
Some of them look like giant fairy stacks but others look like huge stone thrones that giants could take a seat on.
You can explore the area and walk a short way through the forest to discover them all.
There are some picnic benches set up to relax on and some information boards about the temple nearby.
4. Take a walk on Swinton Estate
Once you've finished admiring the Druid's Temple, you can then extend your walk on the wider Swinton Estate.
There are 63 miles of public footpaths here and many walking trails through this part of the woodland that suit all abilities.
The walking routes are a selection of permissive pathways and public footpaths. So, make sure to keep to the designated trails as you're on a private estate.
You can either stick to the woodland paths or there are tracks that take you on a 5-kilometre circular walk around the estate to Sole Beck. You can see the route here on All Trails.
There's also Geocaching found here and the option to go birdwatching in their many hides.
5. Druids Temple cycling paths
Along with walking trails, there are many cycling trails you take in this park and some are leisurely and follow a clockwise direction.
But, there are 4 mountain bike tracks too that have colour codes based on the level of challenge.
The green track is the easiest, then it's blue, and orange. The black track is the most challenging. It's very steep with log jumps and is only for the very experienced.
There is a map at the start of the trail so make sure to check out the safety instructions and track regulations before you set off.
6. Swinton Bivouac Café
After your visit to The Druid's Temple, why not treat yourself to a drink or some delicious food in the Swinton Bivouac Café?
It's located near the parking area and serves breakfast, cream teas, coffees, homemade cakes, and light lunches.
There is outdoor seating on warm days or you can cosy up indoors with their crackling fireplace if it's chilly. Kids will also love the play park right next door.
Opening times vary by the season so always check before you arrive. But, the café is generally open from 9 am to 5 pm on Monday – Thursday and 9 am – 8 pm on Fridays and Saturdays.
My top tips for visiting The Temple of Druids
It's in a very remote area – so make sure you have onward transportation prepared.
Wear sensible shoes – the tracks are flat and easy but can be mucky if it's raining!
There are lots of bugs – after a shower of heavy rainfall, I didn't experience many flies at all here in the forest by the temple. But, I've heard the forest can be swarming with flies usually so bring bug spray.
Bing cash for donations – the car parking is based on an honesty system so bring some cash to donate for parking.
Stick to the paths – the Swinton estate is privately owned so make sure you stick to the designated pathways and permissive footpaths.
Is the Druid's Temple dog friendly? Yes, you can take dogs here just make sure to keep them on a lead.
Where to stay at The Druid's Temple
If you fancy a countryside retreat that is 'off the grid' in the Yorkshire Dales, Swinton Bivouac is the perfect choice.
It's situated in touching distance to The Druid's Temple, so you can pretty much have the place to yourself once the crowds have gone home.
They have a selection of Yurts to choose from in the meadow and they all look like unique places to go glamping.
If camping isn't your style, they also have some magical Tree Lodges that look like something from Harry Potter with rustic furnishings.
Click here to book your stay at Swinton Bivouac
Read more of my Yorkshire Dales posts
How to visit Malham Cove – Harry Potter filming location
A complete guide for the Gordale Scar walk
How to find Janet's Foss waterfall
How to visit Ribblehead Viaduct in Yorkshire Dales
Definitive Chapel of Our Lady of the Crag guide
Fountains Abbey Witcher filming locations
Things to do in Mother Shipton's Cave
Things to do in Haworth Bronte Village
How to visit Low Force Waterfall
Save The Druids Temple Yorkshire for later!