One of my favourite residences that I have visited in Scotland has to be the Dunmore Pineapple House.
A beautifully bizarre folly that is not only captivating but inspiring and leaves you with more questions than answers.
The unique pineapple-shaped cupola reflects a time of 'pineapple frenzy' in the British Empire where this tropical fruit was a rare delicacy and exclusively enjoyed by the bourgeoisie.
You may be surprised to know that Scotland started to grow pineapples as early as 1731 and this pineapple-shaped house is a lasting legacy to that chapter in history.
Here is a complete guide for visiting the Dunmore Pineapple House including how this quirky fruity folly ended up here in Scotland!
What is the Dunmore Pineapple House?
The Dunmore Pineapple house is just as weird as it sounds, it's a folly that is quite literally shaped like a pineapple!
This quirky residence was built within a walled garden and acted as a summer home for the Earls of Dunmore on the wider Dunmore Estate.
The building was created using a mix of architectural styles and used to contain a hothouse underground where the family would grow many tropical fruits like pineapples!
The main feature of this folly is of course the dramatic pineapple cupola that is 37 feet high (14 metres) and has been intricately carved by a local stonemason. Unfortunately, it was not recorded by the family who this was.
It is perched above a Palladian-style Pavilion and Portico that allows an entrance to the property on the south side.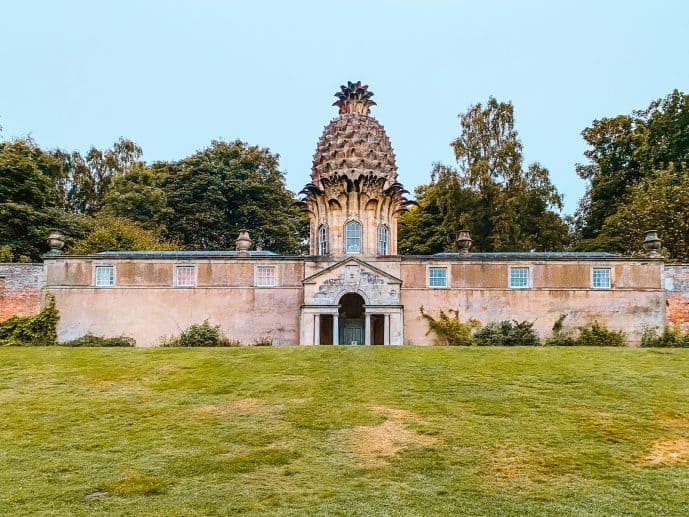 Dunmore Pineapple history
Although many refer to this house as looking like Spongebob Squarepants home in Bikini Bottom, this folly was actually built over 300 years before that.
It was the brainchild of John Murray, the 4th Earl of Dunmore, and was built in 1761. It is believed that the architect was most likely Robert Mylne who had a connection to the family.
John Murray wanted to build this Pineapple Folly as a summerhouse where he could appreciate the views from his estate.
Back then, the Dunmore Estate was vast and there was an ancestral manor house located in Elphinstone Pans. This was before the building we know today as Dunmore House was built nearby in 1820 by the 5th Earl of Dunmore.
The original Dunmore House, pineapple folly, walled garden, and the Elphinstone Tower (Dunmore Tower) all formed part of the 4th Earl of Dunmore's extensive lands.
The pineapple fits in well with John Murray's life as after he built Dunmore Pineapple, he sailed for America to become the governor of Virginia in 1770. Sailors used to stick pineapple's on their gateposts to let their community know they were back in town!
A country obsessed with pineapples
It wasn't just the Earl of Dunmore who was obsessed with this new tropical fruit from overseas. Ever since Christopher Columbus brought them back to Europe after his voyage in the 15th-century they became a rare delicacy and highly sought after.
By the 18th-century, the British Empire was ever-expanding and pineapples took the country by storm! In Britain, people were gifting them, buying them as table decorations and they became talking pieces for gentility.
I visited Kolkata recently which was the start of the British Raj in India. There were even Pineapple gravestones made for the colonial residents as they loved them so much.
Back then, you couldn't just buy pineapples in a supermarket as we can now. It would cost thousands of pounds in today's money to secure one from overseas.
They would also take weeks to ship from the continent and sometimes they would come back rotten. So, people started to cultivate their own pineapples on their estates to meet the demand.
Scotland's climate obviously doesn't have the tropical temperatures needed to grow pineapples and it required artificial hothouses and 'pineapple pits' to grow the fruit.
A pineapple pit would usually involve heaps of compost with copper pipes feeding steam into the ground to grow the pineapples at the right temperature and humidity.
The Lost Gardens of Heligan in Cornwall actually still do this today and have the only functioning pineapple pit in Europe. They cultivate them on-site and now sell the world's most expensive fruit!
Each pineapple takes around two years to grow and each one costs around £10,000 to buy. They have even been presented as gifts to the Queen and Royal Family members in the past.
Click here to read my guide on the Lost Gardens of Heligan and how they cultivate the most expensive Pineapple in the world!
Who owns the Pineapple House in Scotland today?
The Murray family left Dunmore estate in 1911 and Dunmore House became a private home to a different family until 1964.
Once it was vacated, Dunmore House and other buildings owned by the Earls of Dunmore were also abandoned and subsequently fell into ruin.
Thankfully, the Dunmore Pineapple was saved and preserved. It was bought by the Countess of Perthshire and then gifted to the National Trust for Scotland in 1974.
When it was handed over it needed some love and attention! So, the National Trust regularly undertakes conservation work on the folly.
Today, the Dunmore Pineapple House is owned and protected by them and the trust opens this house as a tourist attraction. The Landmark Trust also runs it as a holiday home that you can rent.
So, John Murray's fruity extravaganza is now open for everyone to enjoy and you can visit to learn about its tropical history!
Can you visit the Dunmore Pineapple?
If you wanted to visit the Dunmore Pineapple in Scotland and see it for yourself then you can do so by heading to Falkirk.
It's located within the walled garden on the Dunmore estate near Airth village and there is a lovely short Dunmore Pineapple walk you can enjoy.
The pineapple folly is surrounded by gorgeous planned grounds. You'll find a crab-apple orchard and seasonal flowers that grow here throughout the year.
This quirky folly is not only a bizarre but beautiful place to visit in Falkirk and you can tell why the family loved to hide away here so much on their estate.
It's the perfect location for a picnic or to relax for a while if the weather is fine. There is a flat concrete pathway near the grounds that's suitable for pushchairs.
If you wanted to extend your walk, you also have immediate access to the woodlands and a curling pond behind this folly on the wider Dunmore Estate.
You could walk over to what remains of the Elphinstone Tower (Dunmore Tower) or the ruins of Dunmore House. It's a very evocative area though and I personally found it a little creepy as it's so abandoned.
Can you go inside the Dunmore Pineapple House?
Unfortunately, you cannot go inside the Dunmore Pineapple House as it's been made into a holiday home. You can only go inside the Pineapple if you're booked in as a resident.
However, you can approach the house and stand inside the porch at the entrance. Under the archway, they have some information about The Pineapple folly.
It tells you about the history and you can see some portraits made during the pineapple frenzy. There are even some of the original design sketches by William Chambers of the cupola on display.
However, that's your lot! The secrets of what's inside the Pineapple House will remain behind closed doors unless you book a stay. More on that below!
Is there a Dunmore Pineapple café?
It's good to note that there is no café, restaurants, or facilities at the Dunmore Pineapple. It's just the grounds you can access.
So, if you wanted to eat while you're here I would recommend packing a picnic as there are plenty of al-fresco spots to enjoy here. Just remember to take all your rubbish home with you.
Falkirk has many restaurants and cafés to eat at. Or, you could head to Callendar House which has a lovely tearoom.
On that note, I should probably point out that there are no toilet facilities here either! So, make sure to pop to the loos before you visit.
How to get to the Dunmore Pineapple House in Falkirk
The Dunmore Pineapple is located in the village of Airth in Falkirk, Scotland. You can find the turning along the A905 towards Airth.
The Dunmore Pineapple House postcode is The Pineapple, Near Airth, Falkirk, FK2 8LU. Click here for a Google Pin.
Due to the remoteness of this location, I would recommend driving as there is no bus service that can drop you here! The closest village is Airth and it's a mile from there.
You can find the Dunmore Pineapple 7 miles East of Stirling. Leave the M9 at junction 7 then follow the M876. Take junction 3 onto the A905 towards Airth.
You'll see a brown tourist sign to turn off at the Dunmore Pineapple. When you turn in, you'll then see another turning for East Lodge Road and you'll drive by a small house.
Follow this single track and bumpy road around and through the woodlands. You'll eventually find the Dunmore Pineapple parking at the end of this track.
It's good to note that this road is very narrow with potholes and only has room for one car at a time so take care. There are passing places to use on the way.
Dunmore Pineapple parking
There is a small car park just outside the Dunmore Pineapple that you can park in that is completely free.
As it's so small, this car park does fill up very quickly so you may have to wait for a space if it's a busy day.
It's also quite hard to manoeuvre around as there are trees, muddy parts, and potholes with puddles. Plus, the entry and exit to the Dunmore Pineapple is a single-track road.
But, once you've managed to park up the walk over to the Dunmore Pineapple is less than five minutes away!
Dunmore Pineapple opening times and ticket prices
Dunmore Pineapple is open from dawn until dusk every day of the year but I would always recommend visiting during the day as there is no artificial lighting here whatsoever!
You can only visit the park around the Pineapple house and read some information inside the little portico out front. You cannot go inside unless you're a resident.
I visited at sunset on a pretty rainy evening and it started to get dark really quickly. So, I jumped back in my car but the drive through the dense forest out of the area was quite eerie at night.
Although the Dunmore Pineapple house is owned by National Trust for Scotland, it's completely free to visit which makes it a great budget day out in Falkirk!
Book your stay at the Dunmore Pineapple!
If you wanted to experience the Dunmore Pineapple House to its fullest, I would recommend booking a stay here. You can walk in the footsteps of Earls of Dunmore and retreat to this peaceful folly in the middle of the woods!
As a resident of the Pineapple, you can enjoy this place all to yourself. Although the front of the Pineapple is open to the public, it has private grounds out the back for guests.
The Pineapple hotel rooms are like self-catering apartments. They come with a bedroom, lounge, and kitchen where you can prepare meals.
You do have to book a minimum number of 3 days but the cost works out quite reasonable if there are a few of you sharing as it sleeps 4. It's a unique experience you won't forget in Falkirk!
One day, I am determined to stay at this property myself – it's been firmly added to my hotel bucket list.
Click here to book a unique stay at the Dunmore Pineapple
Why not take a walk to Dunmore Park House ruin?
As you cannot go inside the Dunmore Pineapple House, a visit here can be quite short-lived as the grounds are small.
But, there are plenty of trails you can find around the estate to extend your visit. If you head to the left of the Pineapple, you'll see a secret door that leads you into the woods.
From here, you can make a visit to the Dunmore House ruin – the once-great house of the Earls of Dunmore. It's quite a creepy place to visit especially if you have an overactive imagination as I do!
It's also famous due to being an Outlander filming location but I would recommend taking precautions as it's not a tourist attraction. It's been left to ruin without any regard for safety and you'll find there is a lot of debris.
Click here to read my complete guide with directions to Dunmore House
Looking for more things to do in Falkirk?
After your visit to the Dunmore Pineapple House, there are plenty of amazing things to do in Falkirk.
You could head to the gorgeous Callendar House which is inspired by a French Chateau. It has a free museum and historic kitchens that are featured in Outlander. The Callendar park grounds are also lovely and you can see part of the Antonine Wall there.
The Falkirk Wheel is also a really famous and popular place to visit. It's a rotating boat lift where you can take an organised boat ride on the Union Canal.
Culross is another one of my favourite places to visit in Scotland! It's another historic village owned by the National Trust. It's also an Outlander Location and you can read my complete Outlander Guide for Culross here.
Nearby is the historic Culross Abbey and the Culross West Kirk featured as the Black Kirk in the Outlander series.
One of the best attractions you can visit in Falkirk is the amazing Kelpies! They are huge 30-metre-high horse heads that light up at night. You can visit their visitor centre at Helix Park.
Click here to read my complete guide on visiting The Kelpies here!
Read more of my Scotland travel guides
How to visit the Glenfinnan Viaduct Viewpoint
Harry Potter Guide for Edinburgh
All Harry Potter filming locations in Scotland
The most Instagrammable places in Edinburgh
Outlander locations in Edinburgh
How to visit the pink castle in Scotland
Visit St Abbs – The New Asgard filming location
Manuela's Wee Bakery in Scotland!
Magical Fairy Glen on the Isle of Skye
Fairy Pools walk on the Isle of Skye
Save The Dunmore Pineapple House for later!