A place that I have wanted to visit for such a long time after seeing it on my social media was Fairy Glen Wales. It reminded me of the equally stunning Devil's Pulpit in Scotland.
To me, it looked like something that only existed in the pages of a storybook. Plus, the folklore and poems about this place all make it seem like the stuff of fairytales!
A mystic place where sprites and faeries live amongst toadstools and only appear under the moonlight.
But, as they say, seeing is believing and this magical Fairy Glen Gorge is real. It's tucked away, waiting for you to discover it near Betws-y-Coed.
However, I will warn you now. The walk to get to this place is anything but a daydream. It's fairly steep and slippy. But, it is SO worth the effort to see it for yourself!
Here's my definitive and honest guide for visiting the Fairy Glen Gorge, entry fees and what to expect on the walk down there.
What is the Fairy Glen Wales?
The Fairy Glen, or Ffos Anoddun in Welsh, is a secluded gorge and beauty spot that lies on the Conwy River.
It's located just two miles from the tourist village of Betws-y-Coed and near Beaver Bridge. You can only access it by walking on private land off the A470 road.
The reason why this place is so beautiful and has attracted tourists for years is that it's a dramatic scene that looks like a painting.
Imagine babbling cascades and river rapids flowing through a narrow emerald cavern that's framed by trees of the forest.
Doesn't that sound like something from a fantasy world? It's honestly breathtaking.
But, what makes this place even more mystical is the folklore and stories that surround the gorge. They all speak of faeries, sprites, toadstools, moonlight, and magic!
Legends of the Fairy Glen Gorge
Like many places with Celtic history in the UK, there are beautiful myths of the fae and magical creatures that are rumoured to live here!
It's what makes this place so famous and its mystical vibe draws visitors to it every year.
The famous writer, Wilhelmina Stitch, wrote a poem about the Fairy Glen all the way back in 1925. She spoke of how she "waits and waits, to see the fairy men."
Even today, this scenic cavern never fails to inspire writers, artists, photographers, and dreamers alike!
Leila Sen wrote this really lovely piece and I think it describes this glen perfectly;
"On mossy mound where toadstools grow,

They dance in moonlight, row on row,

To music from the purling brook

Where Conwy dreams in secret nook.

Strange moonlight whisperings thru the wood

Where ancient golden beech have stood

And drowsed, thru drifting times of yore,

Steeped deep in mystic myth and lore."
The full poem is such a great read before you head down to the gorge on your trip!
Where is the Fairy Glen Wales?
The Fairy Glen can be found just two miles away from the tourist hub of Betws-y-Coed and its one of the top attractions in the area! It will take you around 10 minutes to drive from the village.
It's easily accessed via the main A5 Betws Road with a small diversion turning off on the A470. So, it's not a big drive out and makes a great addition to any Snowdonia itinerary.
This gorge is located on private land, so you won't see any official tourist signs pointing you in the direction of the Fairy Glen.
But, just look out for the Fairy Glen Hotel B&B sign on a tight corner of the road!
There is a Google Map Pin and it will take you to the car park to start your walk down to the gorge.
The SatNav you need to use for the Fairy Glen Hotel is LL24 0SH. Also, try plugging in the Afon Gwyn Country House as the turning is right next to there!
If you're not planning on driving, you can also walk to the hotel from Betws-y-Coed. You'll access the start of the hike the same way.
Where to park for the Fairy Glen
The owners have a dedicated car park that they have kindly organised. So, you can safely park up while you go on your walk.
As soon as you drive onto the hotel grounds, there will be signs showing you where to park.
This is a rather small car park and spaces do get filled up quickly if it's the peak season. So, you may have to come back another time if the car park is full.
Luckily, when I visited quite late in the afternoon in September, there were only two cars there! Mine and one other.
They do charge a small parking fee of £1 a car to park. As well as a small entry fee for the hike.
Fairy Glen opening times
As far as I can tell, the Fairy Glen is open all year and 24 hours a day. The entry fee runs on an honesty box system that you can easily pay at the gate if you visit after normal hours.
But, if you're planning an out-of-hours trip, it may be a good idea to contact the owners first to double-check. You will be walking on their private land.
During the day, the owners usually collect the money from you personally and are open to having a friendly chat! It's a nice touch.
They have a home here and there are hotel guests too. So, remember to respect the area and if you do visit early doors, make sure to keep the noise levels low.
Does the Fairy Glen in Wales cost money to visit?
Yes. This is an attraction and beauty spot located on private land. The friendly owners are kind enough to allow you to visit but charge a small fee.
The owners have worked hard to make sure there is a car park, safety signs, and facilities like picnic tables to allow for visitors.
The charge is £1 to park your car if you arrive in one and then an additional £1 per adult to walk down to the gorge. It's 50p per child.
The entry fee is taken in cash only, so come prepared with change.
I read so many negative and nasty reviews about the owners for charging a fee, it actually made me quite angry. I've also read the news articles that have added fuel to the fire.
The owners do come out and have a little chat with you. It's not always to hound you or 'check you've paid'. I had a lovely chat with the lady who owns it and really couldn't see where these 'toll troll' comments came from!
But, then again, I did my research before I visited and was happily prepared to pay the fee with cash in hand.
It's not much money to charge and your contribution helps towards the upkeep of the facilities. But, more than that, it keeps their business and livelihood afloat.
I shouldn't have to say this. However, I feel I must…
If you're not prepared to pay the fee, don't be nasty about it or make a horrible complaint about the owners on Tripadvisor. Just don't visit, it's that simple.
You wouldn't demand to be let into a National Trust property for free and insult the volunteer staff if you weren't.
Most people would be quite happy to spend three, four, or even five pounds on a coffee. So, why not pay a couple of quid to support a local business and enjoy the Fairy Glen's magic? It's an experience you will never forget!
If the owners, for any reason, are not there. Just be honest and simply put your entry fee in the box they have at the entry gate.
How long is the Fairy Glen walk from the car park?
There are a couple of walking routes you can take to get to the Fairy Glen Gorge from the car park.
There is a 'scenic' route which will take you firstly next to the River Conwy and then take you through the forest and down to the gorge.
Or, you can cut out of the riverwalk and just head straight down to the gorge itself!
You'll see a fork in the road with a sign that allows you to make your choice.
I personally took the scenic route and it took me around 25-30 minutes one way to get down to the gorge. But, I am a painfully slow walker and stopped to take lots of photos.
If you take the shorter route, or you're a fast walker, I'd say the walk will take you around 15-20 minutes tops.
Both of these walking routes include a trek down a rather steep, uneven, and rocky staircase to reach the gorge. So, this is the thing that will take the most time to walk up and down.
Personally, I would plan at least an hour for your visit. This allows enough time to walk to the Fairy Glen Gorge and back!
What to expect on the walk down
Okay, so I want to be completely honest. Although this walk is short, it is a little tricky in places. Especially as you're heading down the steps to the glen!
At first, the path is quite flat and well laid out. It's a well-beaten gravel path that will take you through to the banks of the Conwy River and then through the lush forest. This part is extremely scenic and pretty easy.
The hard part comes when you need to walk down to the cavern via the rocky gorge steps!
These aren't like flat and even cement steps. They are uneven, steep, and rocky stepping stones that allow you a route to get down to the gorge.
If it has been raining, like it did before my visit, these can be extremely slippy. So, my biggest tip would be not to rush and take your time.
As you walk down, most of these steps are next to the cavern walls. So, you can use them for support if you need it.
I'm not going to lie to you, I did struggle quite a bit and it took me ages to get up and down! Mostly as I was worried about slipping and breaking my camera (haha, priorities).
But, I'm so happy and proud I made the effort as the views down here are incredible.
What to expect when you are down here
Although the photos of this place are stunning, nothing is as good as seeing this place with your own eyes.
It was like entering a fantasy land or something that belonged in Tolkien's Legendarium!
You'll see the river rapids cascading through the emerald gorge and the storybook scene makes you realise just how enchanting this place is.
If the sunlight is breaking through the trees, it just adds even more magic. I could have spent hours enjoying this place and capturing photos!
There are, again, more boulders at the bottom of the gorge. So, it can be quite hard to find your footing. Well, it was for me anyway.
But, there are plenty of places to enjoy the views and get a good look at the waterfalls.
Unfortunately, I didn't see any of the faeries, sprites, or mythical creatures on my visit. But, you know, it was during the day. You may get lucky though.
Top tips before you visit & things to bring with you!
Bring cash with you to pay the parking and entry fees! I'd recommend pound coins over notes incase there is no option of change.
Make sure to wear a good pair of ankle supporting shoes. The walk down definitely requires it! If you usually require or like to use walking sticks I'd use them for the steps.
That also goes for hiking gear. Wales does see a lot of rain so make sure to bring a waterproof coat.
You will need to bring a water bottle with you as there are no shops at the site.
Make sure to stick to the pathways that have been laid out for you. I wouldn't veer off path as it's a gorge which could have unexpected steep drops. There are lots of safety signs warning you but better to be safe than sorry!
Photographers may struggle to set up a tripod down here as there are lots of boulders at the bottom of the steps. But, I'm sure you'll find a way if you wanted those fancy long exposure captures – even if it means holding it in place.
There are picnic benches near the top banks of the river if you wanted to spend more time here. So, you could pack a picnic and have a lovely lunch in nature.
There are no public toilets available to use so make sure you use the loo before you go!
The Fairy Glen Wales is dog friendly but your fluffy friends must be kept on a lead at all times.
Looking for more things to do in and around Betws-y-Coed?
Betws-y-Coed is one of the most charming villages in the North of Wales.
Imagine quaint Victorian houses with cafés and shops amongst rolling hills and the magical Gwydir forest!
You really can't miss a stroll down the High Street and crossing over the postcard-worthy Pont-y-Pair bridge. Here you'll find the waterfalls that bubble like a cauldron!
There's also the photogenic Sappers Suspension Bridge next to the Old St Michael's Church as well as the Miner's Bridge which is only a short hike away.
You could also visit the Conwy Valley Railway Museum with its delightful Miniature Railway rides.
Or, head over to the majestic Swallow Falls which is just down the road. I have a complete guide for visiting here.
Where to stay in Betws-y-Coed
The Fairy Glen B&B – It would be pretty silly of me not to mention the Fairy Glen Hotel onsite! The owners run a delightful B&B here and it's just touching distance from the Fairy Glen and other countryside walks. As well as the B&B, there are self-catering apartments and it makes a peaceful getaway in Snowdonia. Click here for more details and rates.
Swallow Falls Hotel Complex – A cornerstone hotel of Betws tourism has to be the Victorian hotel near Swallow Falls. It's actually a resort with tourist suites and glamping sheds! Plus, there's a cosy pub onsite. Click here for rates.
The Royal Oak – This historic coaching inn is more of an institution in Betws-y-Coed and has a history dating back to the Victorian era in 1861. It's one of the oldest hotels in the village and really put tourism here on the map! Click here to book.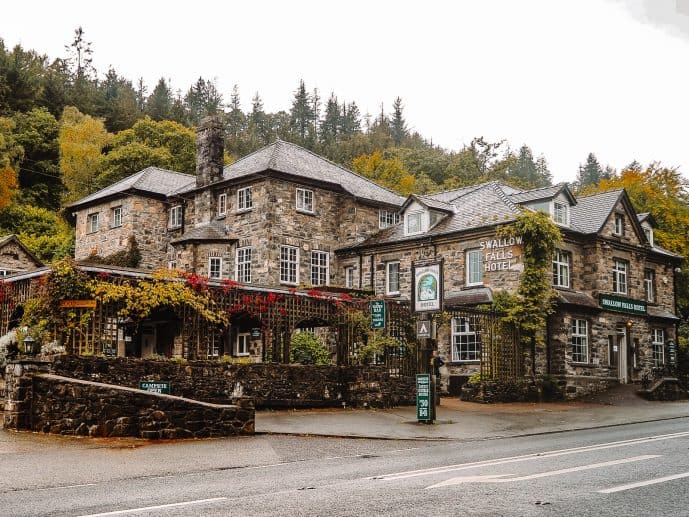 Read more North Wales posts
A complete Conwy Falls & cafe guide
Why is the Ugly House called ugly?
Visit Anglesey Barracks – Snowdonia's Forgotten Street
How to find the Lone Tree of Llyn Padarn
When does Tu Hwnt I'r Bont Tearoom turn red?
How to photograph the Penmachno Roman Bridge
The legend of Gelert & how to visit his grave
The top places to visit in Beddgelert
Look inside the Smallest House in Great Britain!
A complete guide for the Conwy Town Walls
How to do the Llyn Idwal Circular Walk
A complete guide for the Dinas Emrys Walk & Dragon legend
How to see the Bodnant Garden Laburnum Arch
How to visit Pistyll Rhaeadr Waterfall
Gladstone's Library – Stay in the UK's only residential library
How to visit Dinorwic Quarry Wales
Save this Fairy Glen Wales guide for later!