Did you know that Kolkata in West Bengal is home to the biggest Banyan tree in the entire world!?
People have been writing about this magical tree for centuries! It's called The Great Banyan Tree and you can see it for yourself in the Kolkata Botanical Gardens.
It's also known as Acharya Jagadish Chandra Bose Indian Botanic Garden, but that's a bit of a mouthful!
As well as being home to The Great Banyan Tree, these botanical gardens are the oldest in India and have thousands of species of trees, orchards, plants and wildlife to admire too.
So, it is well worth visiting. But, there are a few things to know before you go.
So, make sure you read my top tips on what to expect when visiting Kolkata Botanical Gardens.
What is The Great Banyan Tree?
The Great Banyan Tree is the widest Banyan Tree on the globe!
When they said tree, I was looking out for one massive tree, like The Major Oak in Nottingham!
But, little did I know, The Great Banyan Tree is so much more than that.
It's actually like a dense forest and appears to be a grove of trees that connect together. It comprises of 3,772 aerial roots and an area of 3.5 acres!
So, instead of just one lone tree trunk, it's made of hundreds of branches and has a canopy of leaves that sit on top!
The Great Banyan Tree suffered during two cyclones in the 19th century and its main trunk was damaged and rotting.
So, a decision was made in 1925 to remove the main trunk so that the other parts of the tree could remain healthy. You can see a marker of where this once stood.
Amazingly, the tree continues to thrive without its main trunk and continues to grow wider and bigger each year! This fact even baffles scientists.
Why is the Banyan Tree sacred?
Banyan Trees are native to India and are seen as sacred in Hindu culture.
In sacred Hindu texts, the Banyan Tree is what Gods provided as shelter and many Hindu Gods and Goddesses used Banyan trees in the stories of those texts. For example, Lord Krisha was laid to rest under a Banyan tree.
In Hindu Mythology, Lord Vishnu represents the bark of the tree, Lord Brahma is in the roots and Lord Shiva is in the branches.
The tree then symbolises Trimurti. In Buddhism, it is also written that Gautam Buddha sat under a Banyan tree for seven days. After, he attained enlightenment.
So, many people pray and perform religious ceremonies around and with the bark or leaves of the tree.
Banyan Trees also have many medicinal benefits. It can prevent tooth decay, boost immunity, prevent inflammation and even treat diarrhoea!
The Great Banyan Tree Facts
How old is The Great Banyan Tree? 250 years old, at least! It has been written about in poems and travel accounts since the 18th century.
How wide is The Great Banyan Tree? The main trunk of the Banyan tree was over 15.5 meters (or 50 feet wide). But today, the circumference of the tree is 486 metres and spreads over 3.5 acres!
How tall is The Great Banyan Tree? 24.5 m, almost as tall as the Gateway of India in Mumbai!
It survives without a main trunk – Did you know that the main part of the tree was destroyed by a cyclones in the 19th century.. So,

in 1925, they had to remove the main trunk to protect the rest of the tree. Now, it's more of a dense forest with thousands of aerial roots!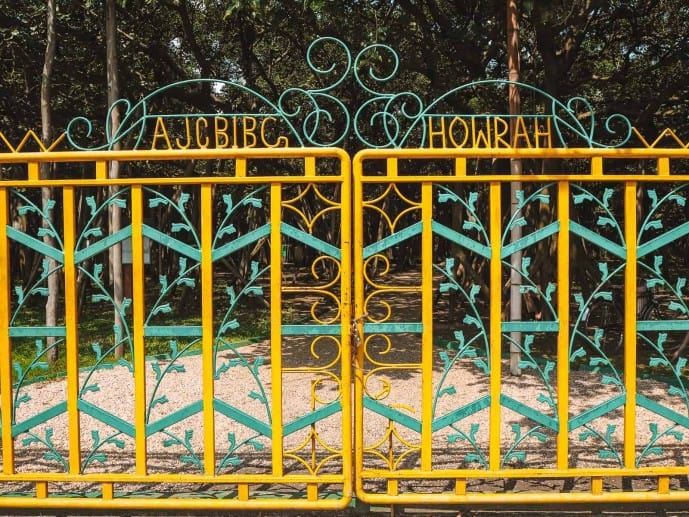 How to see The Great Banyan Tree in Kolkata
If you're interested and would like to see this phenomenon for yourself in Kolkata, you only need to visit the Kolkata Botanical Gardens. But, these are a little out of the city.
The Botanical Gardens are located in Shibpur, Howrah. So, you'll have to travel around 20-30 minutes from the central areas depending on traffic;
How to reach the Kolkata Botanical Gardens
By Bus
Unfortunately, the metro is a one-lane track kind of deal. So, it's convenient for the centre of the city. But, for anywhere outside of that, you'll need to get a bus or a tram.
The nearest metro is Park Street but it's a two-hour walk after that!
If you look at Google Maps, it will take you two or three connections to reach Shibpur in Howrah by the local buses.
Journey times range from 1 hour, 2 minutes, and 2 hours. So, if you're on a budget, up for an adventure, and have the time, go for it!
But, if you're on a limited timeframe, I would save the hassle and get a taxi straight there.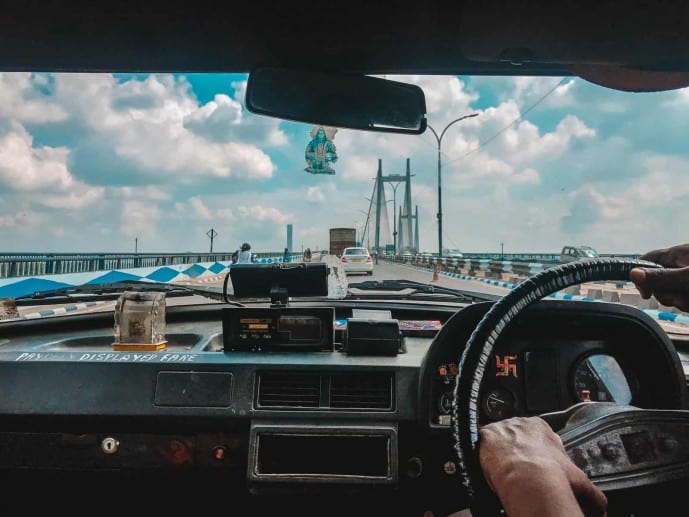 By Taxi
The easiest way, in my opinion, is just to take a taxi over to the gardens. If you get the local buses, it will take at least 90 minutes to two hours to get there and takes a few connections. With the language barrier, I gave it a miss.
You can get one of the yellow Ambassador Taxis from Kolkata to the Botanical Gardens for around 200 rupees one way.
My taxi tried to also charge me for the road toll but I refused. As I already suspected I was paying was too much.
I much prefer using Uber in Kolkata as you can guarantee the price and the toll is already included.
Click here to read how to use Indian Uber with a special discount code for your first ride
Kolkata Botanical Garden ticket prices and opening times
The opening times for the Kolkata Botanical Gardens are 8 am – 5 pm Tuesday to Sunday. It is closed all day on Mondays from March – September. That's what it said on my tickets.
On some of the signs in the park, however, it says it opens as early as 5 am during March – September. But just to be sure, I'd stick to the visitor times on the ticket.
Ticket prices are 10 rupees for Indian nationals and 100 rupees for foreign nationals. If you want to take photos you will have to pay for a photo pass for 20 rupees.
Your ticket allows you to wander freely through the park, and it is HUGE. So, you could spend all day here if you wanted to.
But, if you're limited on time, or if it's too hot, I would take a buggy tour (more info below).
The history of the Kolkata Botanical Gardens
The botanical gardens in Kolkata are the oldest botanical gardens in all of India that opened in 1786 by Colonel Robert Kyd. He was an officer in the British East India Company.
It wasn't for any romantic reasons or to provide pleasure garden to residents back then. It was created to cultivate new 'tropical' plants and cash in on their commercial value! Like Teak wood and spices for trade!
One of the most notable achievements was the cultivation of tea from China which was then spread to the likes of Assam. So, the biggest export in all of India has its humble beginnings in these very gardens.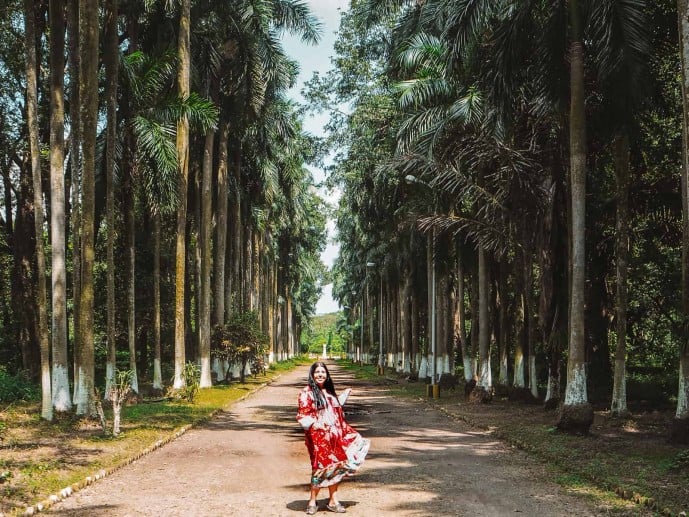 Another key player in the development of the garden was William Roxburgh, a botanist, who became a superintendent of the gardens in 1793. He introduced even more plants sourced from all over India.
He also created a Herbarium, with over 2 million dried herb specimens. You can see his old house as a ruin on the estate.
It used to be known as the Royal Botanical Garden, Calcutta during the British Raj but after the independence, it became the 'India Botanical Garden'.
It has since been rechristened as Acharya Jagadish Chandra Bose Indian Botanic Garden as it was renamed after Sir Jagadish Chandra Bose, a natural scientist.
Top tips for visiting the Kolkata Botanical Gardens
So, the Botanical Gardens here are AMAZING, and seeing The Great Banyan Tree was a really cool experience.
But, there are a couple of things I wish I knew before my visit. One is the fact that the park does get flooded in monsoon season, there are lots of bugs and it's HUGE.
Like, 270 acres huge and it's hotter than hell and you're could melt into a puddle huge.
So, after visiting myself and making some mistakes, here are my top travel tips!
1. The park is over 270 acres so leave lots of time to look around
The one thing I underestimated was the size of the park and how spread out all of the highlights were.
There are a couple of entrances to the Botanical Gardens. there is a New Gate and an Old Gate.
The New Gate, called B. Garden New Gate on Google Maps, brings you in around a few metres from The Great Banyan Tree.
But, I was dropped off by the Main Gate which meant a sticky 2-kilometre walk through the park to get there. It may have only taken 30 minutes but, oh my…
As it was just after monsoon, it was so humid it was almost uncomfortable and you could cut the air with a knife. So, if you're just after seeing the Banyan Tree, make sure you get dropped off at the right gate!
If the weather is nicer or cooler the park makes a lovely place to wander around but you'll need at least a few hours to see everything and all the highlights.
If you would prefer, they have an electronic buggy service you can take. A LOT of the locals were exploring this way too as it's just so big.
2. If stuck for time, take an electronic buggy ride for a tour
As parts of the park were flooded post-monsoon and it was hot, the security guards suggested I took a buggy tour.
Usually, when people approach me saying I 'need' to take a tour, this instantly puts me on my guard. But, when he explained everything and I was baking in the sun, I decided to give it a go.
It was a great way to see the park and my driver spoke English and explained some of the plants and where they came from.
The buggy ride is around an hour and covers two routes of the park, so if you want to see something specific make sure you enquire.
The ticket price was 250 rupees but you could easily share this with a couple of you to bring the price down.
I thought it was priceless. It saved me a lot of time, effort, and blistered feet. Plus, the driver became my photographer haha.
He said in his spare time he liked taking photos so I guess it worked out perfectly. I actually met another lady who was with her tour guide at The Great Banyan Tree.
She was also feeling the heat so hitched a ride with me and then carried on after I got dropped off at the entrance!
3. Make sure you bring bug spray and sun protection with you!
As it was monsoon there was a lot of mirky and stagnant water around the park which attracts a lot of mosquitoes that can spread diseases and viruses like dengue.
Also, I found that a lot of the dense areas had swarms of flies, nats, and there were ants and black and red caterpillars around. All sorts of wiggly things everywhere.
So, to make sure you don't get any bites, I'd bring some bug spray at any time of the day. Especially in the early morning or at sunset.
Although a lot of the park is shaded, most of it is open ground. So bring a hat, sunglasses and sun protection with you. Something I didn't think I'd need.
4. There are thousands of plants and trees from all over the world
Aside from The Great Banyan Tree, there are many other plants that you can check out while you're here.
There are over 12,000 types of plants and 1,400 exotic species to admire. Plus, some local wildlife you may be lucky enough to spot like a Jackal, Indian Mongoose, and Indian Fox.
The front of the park has many of the highlights noted down with photos, so I would suggest noting a couple down.
Also, Google Maps has many pins for some of the main attractions like the Big Banyan Tree, Orchard House and Cactus Gardens.
Highlights of the Kolkata Botanical Gardens
Rare trees from Nepal, Brazil, Penang, Java and Sumatra – You can find so many wild and exotic trees here. Not just from India, but all over the globe too. Including a Cannon Ball tree, Bread fruit tree, Mad tree (due to different sized leaves) and a sausage tree!
Over 100 species of palm trees – did you know there are over 2,600 species of palm tree? Yep and 100 of them are here. You can even find a rare Double Coconut Palm Tree
The Orchid House – unfortunately, this was shut off while I was here due to floods. But, there is supposedly an Orchid House on the grounds.
Cactus House and Clamps of Bamboo – I think this was on another route so I couldn't visit. But you can find a lovely Cactus Green House while you're here. Plus, there's bamboo orchards.
Giant Lily Pads from the Amazon (Great Water Lily) – One of my favourite parts was looking at the Great Water Lily from the Amazon. These Lily Pads were huge and I had only seen these before on TV. So, I was pretty chuffed to see them so close.
5. It's strictly a no plastic zone, but water bottles are okay
The park is strictly a no plastic, no litter, and no smoking area. Your bags will be checked by security before you go inside so make sure you don't have any disposable plastic on you!
Plastic water bottles are fine as many people reuse their bottles to drink water and on a hot day, they can hardly stop you from being hydrated!
But, they will confiscate any plastic bags you have, so bring your picnic in something else like a tiffin.
There are many bins around the park. If you're caught littering or smoking there will be a fine.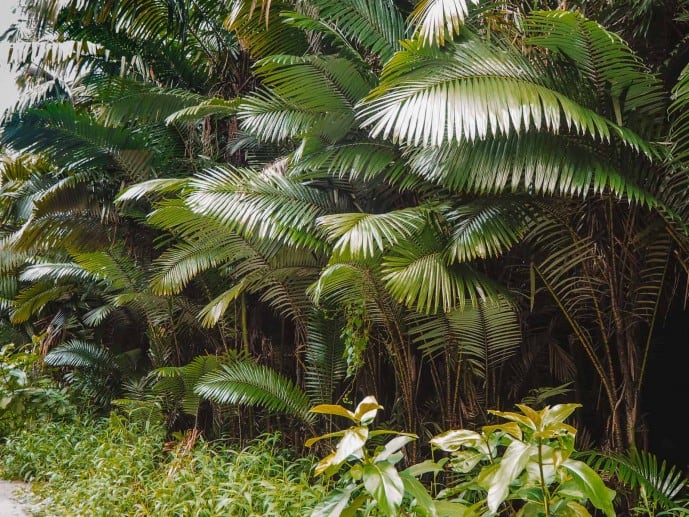 6. During Monsoon the gardens are prone to flooding
The Monsoon in Kolkata is pretty brutal each year. As it's so close to the Hooghly River, you'll find the river overflows and the rains are constant.
Even in early October, which is after the monsoon, we saw heavy rains, and the city was flooded.
The drainage system can't handle the amount of water and so it just clogs up. We were walking through black muddy water many times when exploring the city.
This also means that the Botanical Gardens are prone to floods as well and many sections were inaccessible unless you had a vehicle like the buggy.
So, just make sure you ask how much of the park you can access before you enter. If it is monsoon, I'd recommend entering on the Banyan Tree side and sticking to that area.
7. There are orchard and greenhouses, but not the ones you see online
Something that really confused and then annoyed me when I got here, was the number of websites that were showing the wrong pictures for the gardens!
I kept seeing an epic colonial-looking greenhouse with colourful flowers inside. But, with just a little research I found out that those pictures were actually from Lalbagh Gardens in Bangalore!
So, if you were hoping to see something like this, I'm afraid you may be disappointed.
There are some greenhouses and orchard houses yes, but not on that grand scale.
That's also the same for the topiary of the lady by a waterfall too, there is no such thing here.
I confirmed that with a local tour guide who has been doing tours here for over a decade.
I kept looking out for it and kept thinking I missed it out. Just thought I'd clear it up if you were expecting something like that.
8. Getting a taxi back to Kolkata can be a challenge!
Although I got here via a taxi quite easily from the centre of Kolkata, getting back to the city was a little bit of a challenge from Shibpur in Howrah.
There were no Uber cabs in the area and so I waited a while outside to see if any were going to appear on the app. No such luck.
There also weren't many yellow ambassador taxis that were running here either. There were some electronic tuk-tuks but they didn't run that far back to the city. Most of the locals were getting on buses.
But, when I asked about where they were going I struggled to get a proper answer and I may have ended up even further out of Kolkata!
So, a security guard at the entrance of the Botanical Gardens offered to help me and after 30 minutes of waiting, he finally flagged down an ambassador cab to take me back.
It was a little more money than I had hoped but, I was just happy to get back to my hotel lol.
What else is there to do in Kolkata?
After your visit to the Great Banyan Tree, you're probably wondering what to do next!
Well, there is plenty to keep you occupied in this amazing city. You really couldn't be bored.
I found there was a great mix of colonial and cultural attractions here, so I've put together a mix of my favourite things I would recommend below;
Click here to read my ULTIMATE Kolkata Travel Guide and here to read about a Ganges river cruise.
Admire the Victoria Memorial
No visit to Kolkata would be complete without a visit to the Victoria Memorial on Queens' Way.
This incredible attraction was built to honour Queen Victoria but wasn't finished until 20 years after her death.
If you're into landscaped gardens, the Memorial Gardens are very pleasing to the eye. Especially with the epic backdrop of this marble building!
I would recommend a visit to the reflection lagoon for a good photo opportunity.
As well as the gardens, inside the memorial, there is a Gallery Museum where you can walk through 26 galleries of art and exhibitions.
Click here to find out more amazing facts about this place
Visit The Kolkata Flower Market at Mullick Ghat
Another awesome place where you can see flowers is each morning at Mullick Ghat.
But, instead of them being there to admire, they're cut and sold to the locals each morning. You'll see over 2,000 flower sellers with their kilos of fresh flowers bartering for a good sale.
It's loud, noisy and a bit chaotic, but it's one of the top things to do in the city! It's definitely worth the early wake-up call.
Click here to read some top tips for visiting this famous Kolkata flower market!
Meet the Potters of Kumartuli
Kumartuli is the potter's quarter in Kolkata and is where the Karigars (artists) make idols of Hindu Gods and Goddesses.
Although they do have commissions for work all year, the best time to visit is around Durga Puja. The tradition goes way back to the 18th century!
Many worship Durga, the Hindu Goddess of War, by blessing her statue with vermillion and immersing them into the river.
Sending the Goddess back to nature. In Kumartuli, you can see how these idols are made and meet the artists in the labyrinth of workshops!
Click here to read a complete guide for Kolkata's Pottery village!
Get spooked at South Park Street Cemetery
This abandoned graveyard in Kolkata has the title of the most haunted place in Kolkata! It's a graveyard that was established in the 18th century but fell into disuse. Today, it's run by the Archeological Survey of India.
On your visit, you can see many Gothic tombs of famous British officers and their families who moved here.
Unfortunately, many were very young who died of cholera and 'tropical disease' which couldn't be treated.
There are rumours of a 'bleeding tomb' and many feel faint or sick when visiting. But, is the graveyard really haunted?
Related post – is South Park Cemetery really haunted?
Where to stay in Kolkata
I stayed at the Oberoi Grand which is a 5* hotel on Esplanade. As the second oldest hotel in Kolkata, it's an icon in itself!
The rooms are spacious and my room even had a four-poster bed! I also had a huge bathroom and a bathtub to relax in which was magical in the heat.
The staff couldn't do enough for you while you're staying with them and if I ever had an issue or questions they would help me out straight away.
I really felt like royalty here and it made my trip to Kolkata so memorable. Click here to book your room for the night!
Save the Great Banyan Tree Kolkata for later!