One of London's quirkier and more macabre attractions has to be The Hardy Tree on the grounds of St Pancras Old Church near King's Cross Station.
It's an old ash tree that is surrounded by a ring of tightly packed gravestones entwined with gnarled roots making it an everlasting and ever-changing memorial.
It was made by none other than Thomas Hardy himself as a solution to Victorian London's overcrowded graveyard problem with the announcement of a new and improved railway line.
Here is the gruesome story of The Hardy Tree London and how you can visit yourself at St Pancras Old Church!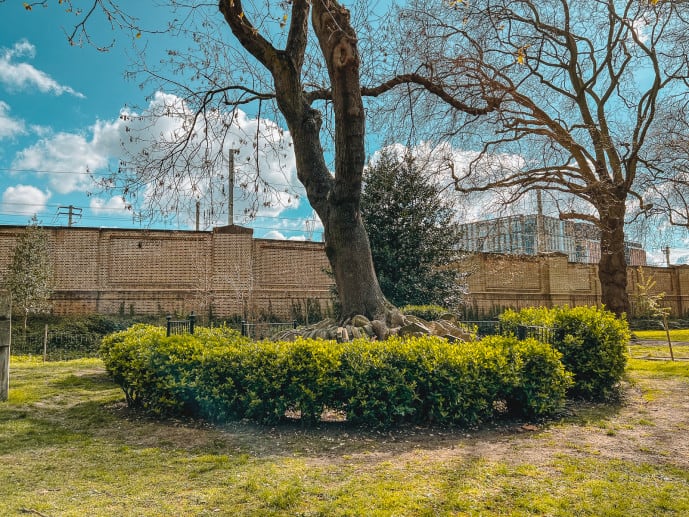 What is The Hardy Tree?
The Hardy Tree is a tall ash tree on the grounds of St Pancras Old Church that has a cluster ring of gravestones circled around it.
They are crammed together side by side which is quite unusual for a graveyard memorial and its gnarling roots grow through the stones making it ever-changing with time. It's named after the Dorset-born novelist and poet, Thomas Hardy.
Now, you're probably wondering what on earth does a gravestone tree in London has to do with the renowned English author of Tess of the d'Urbervilles and Far from the Maddening Crowd?!
Well, you may be surprised to know that this tree was Hardy's own design and invention!
Before his success as an author, he was an assistant architect of Sir Arthur Blomfield and was tasked to deal with an overcrowding problem in one of London's many graveyards.
The Hardy Tree history
The Midlands Railway launched an ambitious project in 1864 which planned to connect the North of England with London by rail.
Manchester, Liverpool, Leeds, and Bradford were all stations to be connected with the capital. To do so, they acquired part of the St Pancras Old Church grounds.
The Midlands Railways didn't want the first thing that people saw when got off the train in London to be a graveyard! So, they wanted the gravestones to be moved elsewhere.
As you can imagine, The Bishop of London was less than pleased that his graveyards and those resting beneath them were the ones going to be disturbed. So, he hired architect Sir Arthur Blomfield to come up with a solution.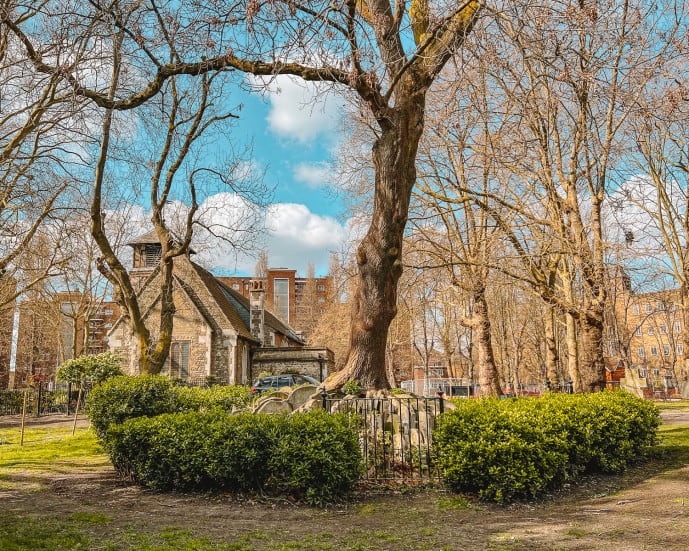 Bloomfield then assigned Thomas Hardy, a young assistant architect at the time, to see if there was a way to move the gravestones.
Hardy then had the gruesome task of dismantling gravestones and memorials, exhuming bodies, and then reburying them in a mass grave.
He gathered all of the gravestones and placed them together around the old ash tree on the church grounds. It is what is now known today as The Hardy Tree!
Although he never mentioned this graveyard in any of his novels, Hardy does revisit the themes of industrialisation and expansion often.
He did however write a poem called 'The Levelled Churchyard' where he explores the theme of moving bodies into mass graves;
We late-lamented, resting here,
Are mixed to human jam,
And each to each exclaims in fear,
'I know not which I am!'…

'Where we are huddled none can trace,

And if our names remain

They pave some path or p—ing place

Where we have never lain.'



Thomas Hardy – The Levelled churchyard (1882)
How to visit The Hardy Tree London
The Hardy Tree is easy to visit in London by heading to the King's Cross district. This is near Camden Town, The Angel & Islington.
The best way to get around London is to use the London Underground and then walk over to St Pancras Old Church Grounds.
The nearest tube stations for The Hardy Tree are King's Cross St Pancras and Mornington Crescent on the Northern Line.
As you approach, you'll instantly see the black and gold ornate gates for the church grounds. You'll find the gravestone tree just behind St Pancras Old Church.
The Hardy Tree is completely FREE to visit all year round!
St Pancras Old Church address is Pancras Rd, London NW1 1UL. Click here for a Google Pin.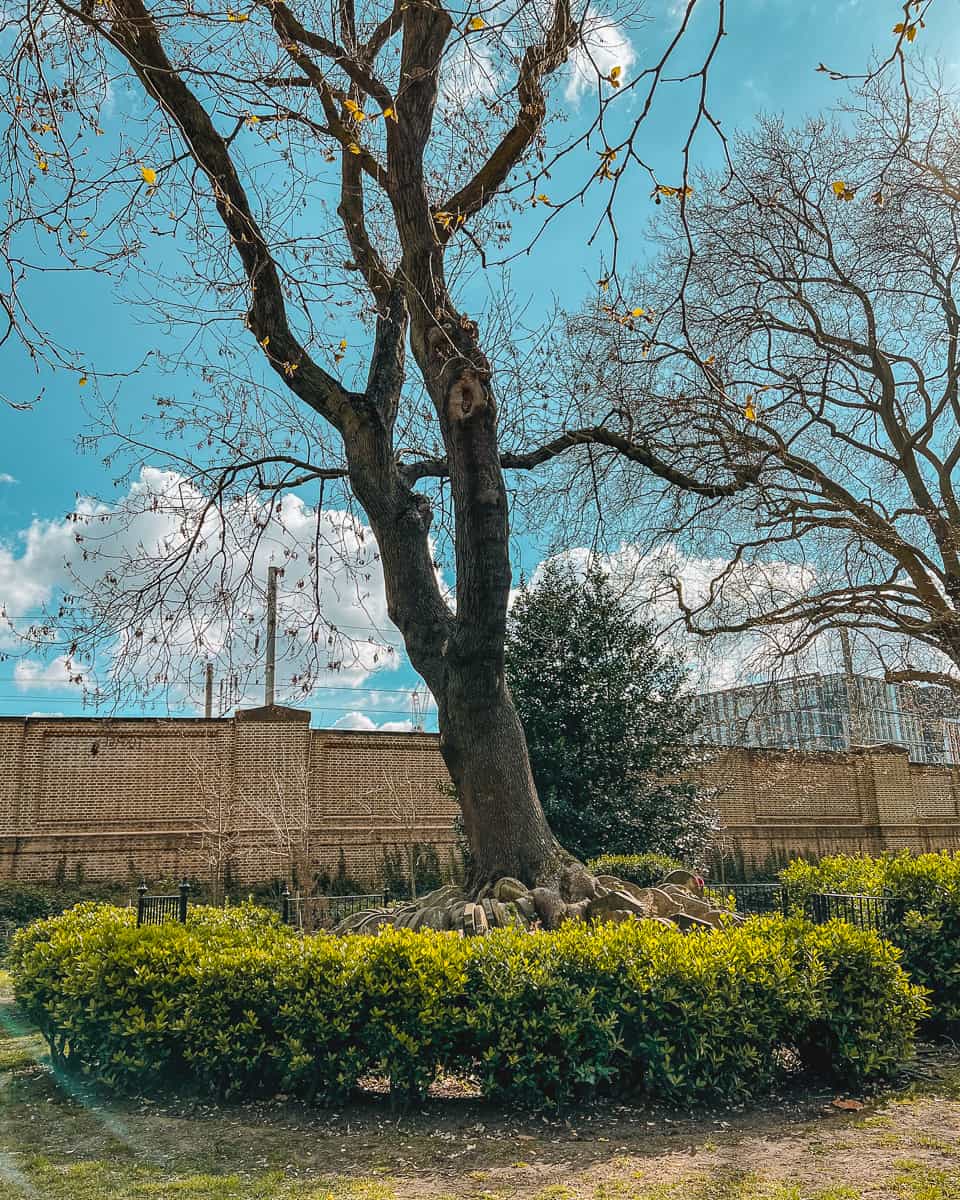 What to expect on your visit to The Hardy Tree
I have to admit that I was a little disappointed with my visit to The Hardy Tree as they cover a lot of it up now!
The gravestone tree has a locked barrier around it with tall bushes and so it's quite hard to see the gravestones. There is only a small opening and you can just about see the tops of them.
Add the fact that they have now put up a larger outer fence to protect the green and I could barely see anything.
However, I have (weirdly) wanted to see this gravestone tree in London for years now and I'm so happy that I finally got to see it for myself.
If you wanted more information, there is a small sign on the outer fence that explains the history of The Hardy Tree and another one outside St Pancras Old Church that you can read.
You won't need a lot of time here to see this macabre attraction but it is worth seeing it all the same if you're a fan of Hardy!
St Pancras Old Church
St Pancras Old Church is believed to be one of Europe's earliest sites of Christian worship dating back to 313AD.
Although it may seem unbelievable, there are in fact Roman bricks that can be found on the church's North Wall.
St Pancras was a boy martyr who refused to denounce his faith and was then decapitated by the Romans! His legacy was being the patron saint of Children.
The earliest records of this building date back to the 12th century, with two deeds of land dating back to 1160-1180.
The River Fleet used to travel by this church and was prone to flooding each year. To counter this, a new church was built in Kentish Town in the 15th century. By the 16th-century, St Pancras Old Church had fallen into disrepair.
Although the church was isolated, the burial grounds continued to be used due to London's superfluous population and an issue with overcrowding in churchyards.
It was twice extended in the 19th century and this is where Thomas Hardy came onto the scene.
The church was eventually remodelled in 1848 but retained much of the older features including the Roman bricks in the foundations.
Today, it's still an active church and sees thousands of visitors walk through its walls and church grounds every year!
Many people visit due to 'A Tale of Two Cities' (1859) where Charles Dickens makes this graveyard a location for graverobbing. This was a common practice at the time so that medical schools could study cadavers as dissecting dead bodies was blasphemy and a punishable offense.
On the church grounds, you'll find the Burdett-Coutts Memorial Sundial and a memorial that Sir John Soane built for his wife. This is one of only two graves in London that have listed status.
Did you know? Mary Shelley and Percy Bysshe Shelley planned their elopement here whilst visiting Mary's mother's grave?! Read more in my House of Frankenstein review!
The Beatles & St Pancras Old Church
Another reason why this small graveyard is so famous in London is due to the fact that The Beatles used this location as a photoshoot for their 'White Album' in 1968.
The band travelled to India to study Transcendental Meditation. After writing their White Album at Chaurasi Kutia Ashram in Rishikesh, they returned to London to promote their latest work.
Today, this is known as the Beatle's Ashram and you can visit it for yourself. I went a few years ago and it was incredible.
Don McCullin used the doors of St Pancras Old Church for photos and had the band sitting on a bench in front of the Burdett-Coutts Memorial Sundial as the backdrop.
Related post – How to cross Abbey Road like The Beatles in London!
St Pancras Old Church & Hardy Tree opening times
St Pancras Old Church is open for visitors from 9.30 – 5 pm daily throughout the year. It may be closed off during services.
It's completely FREE to visit The Hardy Tree on St Pancras Old Church grounds and it is open from Dawn till Dusk.
Visit Camden Town or King's Cross Station next!
After your visit to The Hardy Tree you're within stepping distance from either Camden Town or King's Cross Station.
Camden Town is one of my favourite places in London it's a labyrinth of counterculture!
You'll find many market stalls, food stands, independent shops, vinyl records, and music halls all over the place. This vibrant area of London is just a 15-minute walk from The Hardy Tree.
You're also only a 5-minute walk away from King's Cross Station which is home to the famous Platform 9 3/4.
Potterheads will love visiting this station as it's home to The Harry Potter Shop which has the famous trolley photo opportunity.
Click here to read my guide on how to find Platform 9 3/4!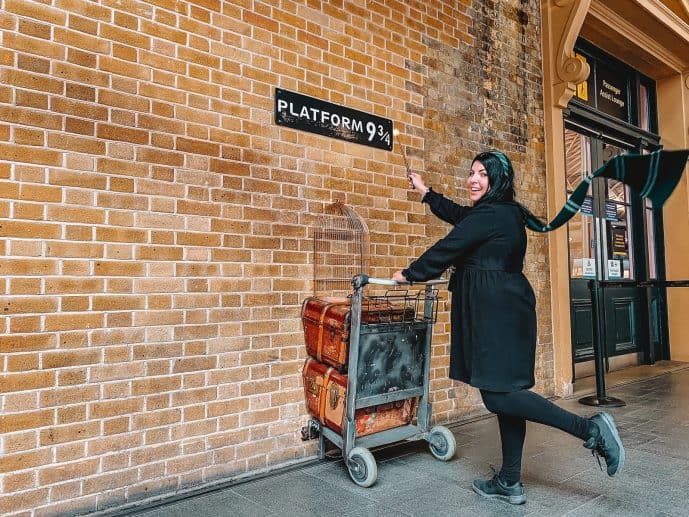 Read more of my London blog posts
Why you must visit God's Own Junkyard
How to visit Word on the Water – London's Bookbarge
A complete guide for the Greenwich Foot Tunnel
Jurassic World Exhibition in London review
The hidden gem of St Dunstan in the East Church Garden
FREE things to do in the London Bridge District
How to visit 221b Baker Street – Home of Sherlock Holmes
How to find Diagon Alley at Cecil Court
A Harry Potter guide for Leadenhall Market
Magical cocktails at The Cauldron
Why you must visit the Harry Potter Photographic Exhibition
How to visit Harry Potter's 12 Grimmauld Place
Why you must visit the House of MinaLima
The secret Anne Boleyn symbols at Hampton Court Palace
Visiting Hogwarts in the Snow at Harry Potter Studios
How to visit Highgate Cemetery in London
Dark Arts at Harry Potter Studios London
How to visit the Hogwarts Divination Stairwell at St Paul's Cathedral
Why you must visit Daunt Books Marylebone
The best London Christmas lights and displays to visit
A complete Mr. Fogg's Tavern review
Love Hardy? See more of my Hardy destination guides!
How to visit King Alfred's Tower in Somerset
Why you must visit Gold Hill in Shaftesbury
A complete travel guide for Mousehole
How to visit Stonehenge for FREE
Save The Hardy Tree London for later!