Alright Muggles and fellow Witches and Wizards of all houses, did you know that there is a Blenheim Palace Harry Potter Tree?
Yep, it's the one that featured in the Order of the Phoenix in a flashback scene of Severus Snape at Hogwarts which gave us a look into Snape's Worst memory.
Of course, a visit to Blenheim Palace can cost you a pretty penny but what many people don't know is that you can actually visit for FREE!
That's right, The Blenheim Harry Potter Tree is actually on the Blenheim Palace Park grounds which has lots of free permissive pathways to walk on.
So, if you wanted to visit The Blenheim Harry Potter Tree for FREE – this detailed post will give you all the information on how to do just that.
What is the Blenheim Palace Harry Potter Tree?
The Blenheim Harry Potter Tree is a Cedar of Lebanon tree that has been living on The World Heritage Site of Blenheim Palace estate for hundreds of years!
It's one of the most iconic and recognisable trees here due to its hollow nature and the gaping hole that is seen on the front. It's a whopping 55 feet tall and 20 feet in diameter too!
But, in this century, it has now grown to fame and has been officially named The Harry Potter Tree as it featured in the Harry Potter movies.
Potterheads from all over the globe now visit to see the spot that featured in Snape's Worst Memory.
The Harry Potter Blenheim Palace Connection
So, many people wonder; what Harry Potter was filmed at Blenheim Palace? Well, it featured in the 2007 movie Harry Potter and the Order of the Pheonix.
The Harry Potter Tree Blenheim scene is where we see a flashback of Severus Snape at Hogwarts sitting by this tree beside the Black Lake.
He's reading and minding his own business and then Harry's father, James Potter, comes along to bully and taunt him. James casts a spell on Snape to make him float in the air and threatens to pull his trousers down.
It's called Snape's Worst Memory as this event happens in front of Lily (Harry's mother) who was the love of Snape's life.
This scene is equal parts moving and revelatory because this is really the first time we feel sympathy for Snape and understand his motives.
He's always been such a cold, mysterious and distant character in the movies and books thus far. So, as a reader or watcher getting to see his pain and anguish from his past makes you realise that he's a largely misunderstood character.
He's not simply mean and has a layer depth that's far bigger than at first we thought. You actually feel quite sorry for him as opposed to resentful.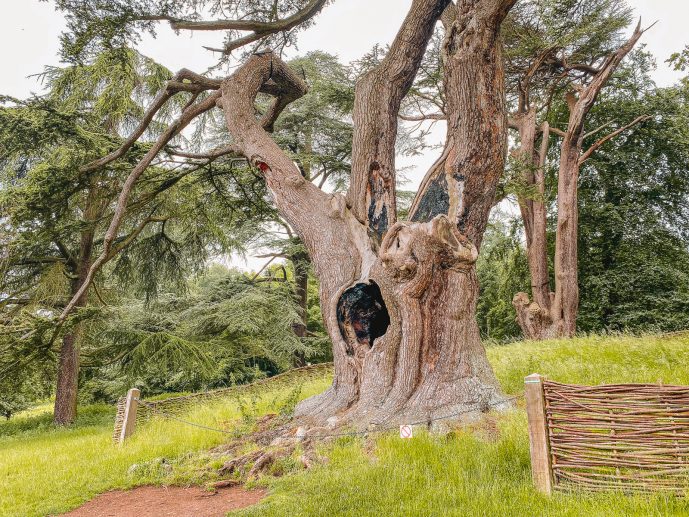 But, isn't this tree the Whomping Willow?
A lot of Harry Potter fans get confused and wonder if the Blenheim Harry Potter Tree is the Whomping Willow.
That ancient tree looks very similar to this one and is featured heavily throughout the movies. It also appeared in Harry Potter and the Deathly Hallows Part 2 with another one of Snape's flashback scenes.
But, that was an ancient yew tree that lived on the Ashridge estate in Hertfordshire. The National Trust looked after this gorgeous tree but it has since split in half mainly due to footfall and climbing damage.
You can still visit the estate but there is not much left of that once great yew tree. So, the Blenheim Harry Potter Tree is the only Harry Potter tree that fans can visit now!
It's for this reason that Blenheim Palace carried out an expensive renovation project to ensure they could stabilise the tree.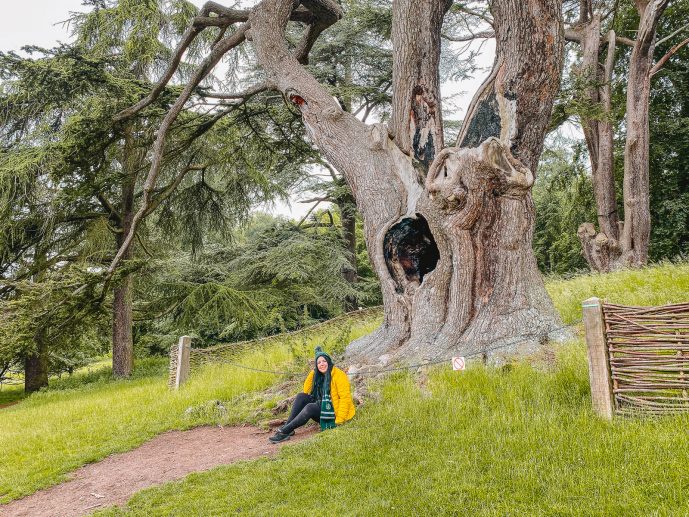 The history of the Blenheim Harry Potter Tree
It's estimated that this Cedar of Lebanon tree at Blenheim Palace is over 250 years old!
Although there is not an exact date, it is thought that it was planted around the same time that Capability Brown remodelled the landscape gardens at Blenheim from 1763 – 1774.
Capability Brown was known as England's greatest gardener and his skills span the country from the beautiful Chatsworth House, Broadway Tower and even Alnwick Castle Estate in Northumberland (another Harry Potter filming location)!
After the Order of the Phoenix filming in 2007, this tree quickly rose to fame and saw Potter fans descend en masse to the Blenheim estate.
Back then, this tree used to be something people could climb on but as it's so old it was at risk of collapsing.
Blenheim Palace feared that it would end up like the Whomping Willow so they then decided to protect the tree and carried out a project to support it.
Their forestry team worked with veteran tree experts to stabilise it. It now has sufficient support and the larger branches have cables to stop them from falling. There is also a protective fence around the tree so that people cannot climb on it and damage it.
This extensive project took two days and cost over £5,000 but now the tree can be enjoyed by Harry Potter fans for years to come.
Why does the Blenheim Harry Potter Tree have a hole in it?
When you approach the tree, it looks like it's been burned out from the inside or struck by lightning and many people wonder where the huge gaping hole comes from!
According to the Blenheim estate, this Cedar of Lebanon tree is over 250 years old and naturally loses branches over its lifetime.
When the branch falls, this causes a wound on the trunk that's left behind and needs to heal. If it doesn't heal successfully, both disease and rot get into the tree through the wound.
This means that the centre of the tree trunk dies and this is why the Harry Potter Tree's trunk is hollow and there is a large hole in the tree!
However, despite being hollow on the inside, the tree and branches still live on the outside. Cool, huh?
Where is the Harry Potter Tree Blenheim Palace?
So, if you wanted to see the Harry Potter Tree from the Order of the Pheonix you can do so by visiting Blenheim Palace in Oxfordshire.
This is close by the quaint town of Woodstock in The Cotswolds located in the South West of England.

You can easily visit from the city of Oxford which is only an hour by train from London! You can then take a bus ride from Oxford to Woodstock in 15 minutes.

Alternatively, you can drive to Woodstock quite easily from London or The Cotswolds.
You'll find the Harry Potter Tree by the lake in front of Blenheim Palace which featured as the Black Lake at Hogwarts in the movie.
It lives right next to the Blenheim Bridge or the 'Grand Bridge'. Many people also call this the 'Cinderella Bridge' as filming for the live-action Disney movie took place here in 2015!
How to visit the Harry Potter Tree for FREE!
A ticket to Blenheim Palace currently costs around £30 per adult to enter the palace and gardens.
Although I would highly recommend visiting, you don't have to pay to visit Blenheim Park if you don't want to.
This is great news for Potterheads because it means you don't have to pay for a ticket to see the Blenheim Harry Potter Tree.
There are plenty of permissive pathways on the wider Blenheim park estate that are completely FREE to walk on.
How to enter Blenheim Palace for free via Blenheim Park
There are two ways that you can visit Blenheim Palace for free.
One way is from the quaint town of Woodstock and the other is via a gate near a village called Combe in Oxfordshire.
Both give you access to the permissive pathways on the Blenheim estate and easily lead you to the Blenheim Harry Potter Tree for free.
From Woodstock west entry gate
You can enter via Woodstock town, This is a great alternative if you don't have a car.
You can easily catch a train from London to Oxford Parkway. Then, catch a bus to Woodstock in 15 minutes.
If you get off at the Blenheim Palace bus stop you can head into the Blenheim Palace free entry gate nearby!
You'll need to make your way down towards the Black Prince Pub on Manor Road (A44). This was named after Edward of Woodstock, the eldest son of King Edward III.
Once you walk down Manor Road via the hill, you'll find a green wooden entry gate along the wall here.
It looks like a residential garage but it's actually a pathway leading to a free entry gate to the Blenheim Estate public rights of way.
Manor Rd, Woodstock OX20 1TL – Click here for a Google Pin.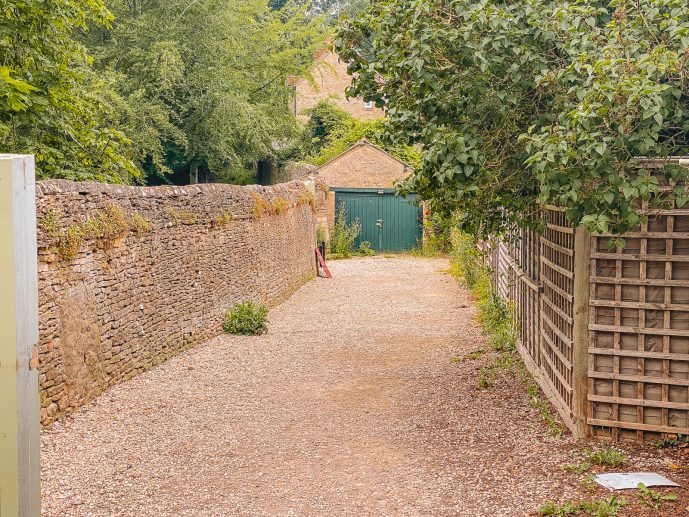 As you enter the Blenheim Estate, you can turn left to the house. But, this entrance is usually blocked off with a booth for ticket entry.
So, turn right and then follow the estate pathways towards the palace. You'll eventually see the Blenheim Bridge and this is where you can find the Harry Potter Tree nearby.
The walk from Woodstock to the Harry Potter Tree is only 20-30 minutes from the town.
From Combe Lodge entry gate
Alternatively, you can enter Blenheim Palace for free near a village called Combe in Oxfordshire. You'll preferably need a car to access this location. It's very remote.
The parking is in a place called Combe Lodge, OX29 8ND – Click for a Google Pin of the location here.
Once you arrive, you'll see lots of cars parked along the country road. Make sure to park in designated off-road areas and with consideration.
There is a cut off point and you'll see signs provided by the estate to not park any closer to the entry gate.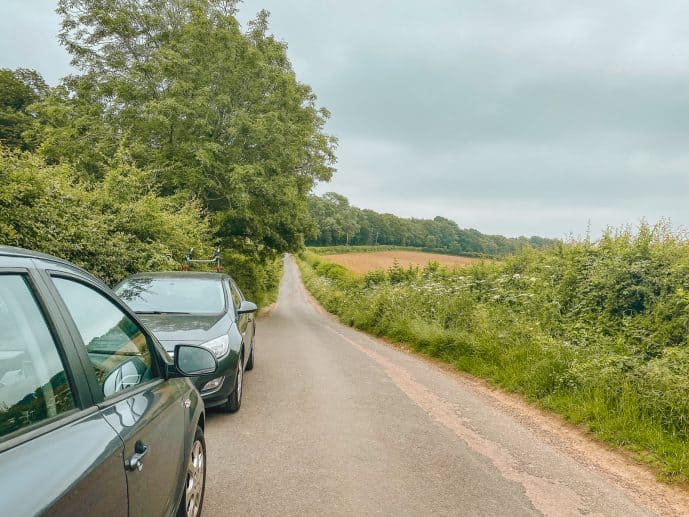 Once you've parked up, walk down the road to the house that sits by the roadside. There, you'll see a green Combe Lodge Entry Gate.
From here, you can head into the estate and turn left on the road. These well-paved pathways will lead you towards the Blenheim Palace lake.
The walk from the Combe Lodge gate to the Harry Potter Tree is only 20-30 minutes. If you wanted to take the scenic route through the countryside via the lake, it can be a little longer.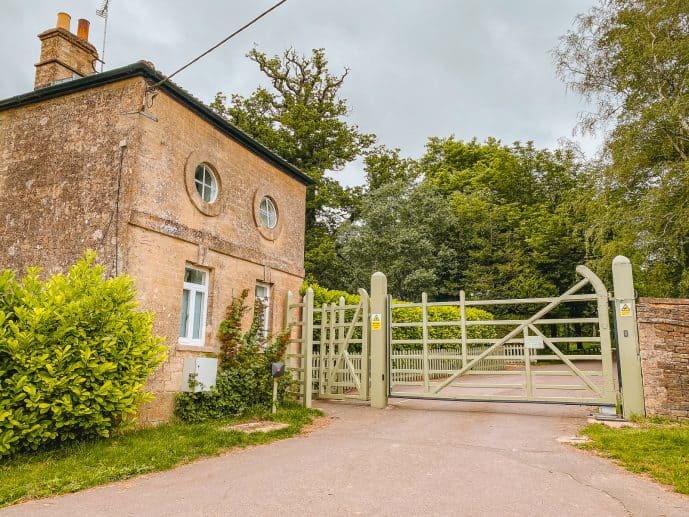 Find the Blenheim Bridge by the lake opposite the palace
Whichever gate you decide to enter through, once you're on the estate you'll need to make your way over to Blenheim Palace.
As Blenheim walks are extremely popular, the estate have lots of walking markers placed around the park so you can see how far away you are from the palace.
For example, you'll see a marker sign at Combe Lodge gate that the walk to Blenheim Palace is only mile from there.
It's really easy to follow the paved paths through the estate and over to the Blenheim Bridge and the Harry Potter Tree.
Once you reach the Grand Bridge, you can see a gorgeous view of Blenheim Palace. You're not technically meant to walk further than the bridge to the palace and grounds if you don't have a ticket.
If you're on the bridge itself admiring the palace, turn around and walk opposite towards the park estate.
You can actually see the Blenheim Harry Potter Tree easily in the distance if you're standing on the left hand side of the bridge!
At the fork in the roads, take the left path. To get to the tree, follow the path until you see an entry gate which allows you to walk down to the lakeside.

Head through this fate and walk down this path to the bottom of the bridge via a small hill.
It's here that you'll find the magical Harry Potter Tree and you'll feel like you've been transported into the Wizarding World!
You made it to the Harry Potter Tree Blenheim Palace!
So, once you've made it to the Harry Potter tree, you can imagine that you're beside the Black Lake in Hogwarts and sit by the tree as Snape did.
You'll quickly see that the tree has a protective fence around it, but you can still get some lovely photos as the front is left open with a small chain.
I did see one person break the rules and go beyond the chains to get photos of him sitting on it (?!).
Please don't do this as the tree is old and fragile and it could seriously damage it! We don't want a repeat of the poor Whomping Willow.
There is a small sign outside of the tree giving you some more details about the history, why it has a hole in it, and the Order of the Phoenix filming photos which was really informative.
Although Blenheim Palace is normally packed on most days, you'll find that the Harry Potter Tree has fewer crowds as it's far away from the house.
If you're lucky, you'll have it to yourself for a long time like I did! You could easily pull up a book or relax here by the tree soaking it all in.
Things to do in Blenheim Park
So, once you've had fun snapping some photos of the Blenheim Harry Potter Tree – what next?
Well, there are lots of things that you can do on the Blenheim Palace estate and park after your visit that can be accessed via the permissive pathways.
See Blenheim Palace
The Blenheim estate walking circuit takes you all over this World Heritage Site that surrounds Blenheim Palace.
If you didn't know Blenheim Palace is a country home in Oxfordshire that has 300 years of history and was built in 1705. It became a UNESCO World Heritage Site in 1987!
The palace is named after the 1704 Battle of Blenheim and it is the only home outside of the Royal Households of England to have the name of the palace.
It's known for being the birthplace of Winston Churchill and is still the official seat and home of the 12th Duke of Marlborough today.
From the park, you can see the grandeur of this stately home for FREE but if you did have the cash would highly recommending going inside.
Your ticket gains you entry into the majestic staterooms, exhibitions, and planned gardens. It's a HUGE place and you could honestly spend all day there.
If you buy an entry ticket, you actually get to enter Blenheim Palace for 12 months absolutely free so it's a good value investment. Just ask to convert your entry ticket into an Annual Pass on purchasing.
They also have lots of fun events throughout the year. For example, they have a Blenheim Christmas Market and Lights Trail that you can attend for an extra fee.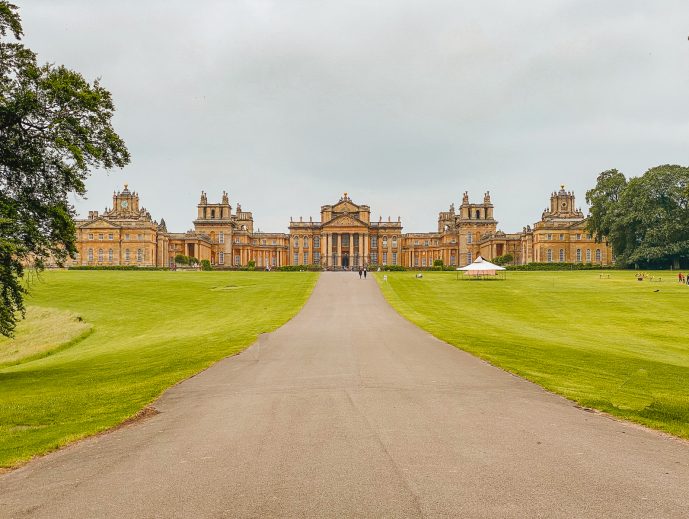 Head out on more Blenheim walks
After you've visited the famous tree, there are plenty of circular walks to enjoy on this spectacular estate! In fact, it has over 2,000 acres of grounds to explore.
You could follow the Black Lake (Blenheim Lake) path to see some amazing views and spot plenty of wildlife. On my visit, I saw many sheep, ducks, geese, birds, and more.
There is a whole circuit that you can follow which is around 6 miles in total and you'll end up back in the town of Woodstock.
Along the way, you can see views of Blenheim Palace, The Column of Victory, The Queen's Pool, the Parkland, and more.
It's one of the best walking areas in Oxfordshire and a great place to set up a picnic if the weather is sunny.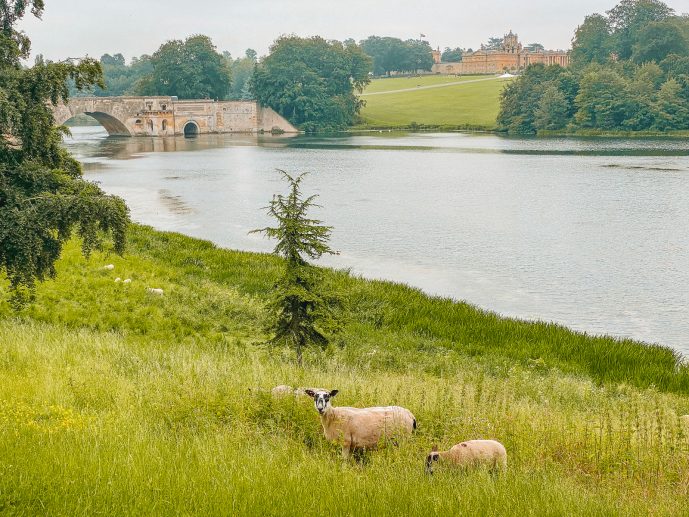 Visit the gorgeous town of Woodstock
If you've entered through Combe Lodge, I would highly recommend taking a walk over to Woodstock.
It's a quintessential Cotswolds town in the heart of Oxfordshire that is home to a hotchpotch of ancient buildings!
You can visit St Mary Magdalene Church to hear the bells ringing, or the Woodstock Oxfordshire Museum which tells you the history of the area.
There are plenty of Woodstock shops to browse and I particularly loved the ice cream at the Alfonso Galeteria!
Click here to see my complete guide on what to do in Woodstock
A few miles away you can drive to Bladon and see the grave of Winston Churchill or visit the amazing village of Minster Lovell with the ancient hall ruins.
Or, Downton Abbey fans will love the fact that the village used for filming is nearby! You can visit the tiny village of Bampton to step into the world of the Crawley's. Here's a complete Downton Abbey guide for Bampton!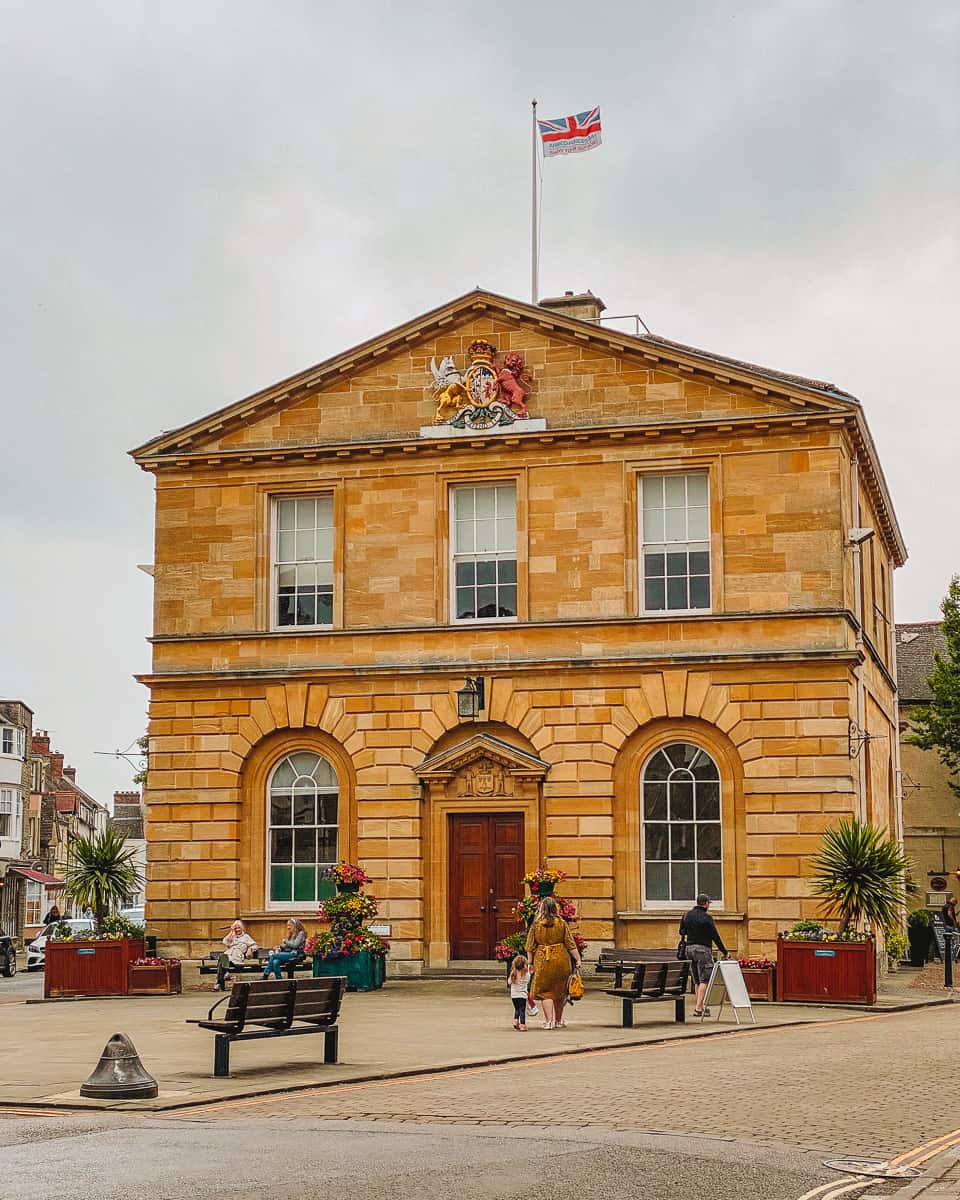 Where to eat in Woodstock
Taking of eateries, there are lots of amazing places to eat in Woodstock. But, expect sky high prices due to them being near Blenheim palace.
The Feathers is a popular eatery set in a 17th-century townhouse, also La Galleria and Brothertons Brasserie is a local favourite. Of course, you'll pass The Black Prince by the entry gate.
If you're looking for a local cafe, why not try Woodstock Coffee Shop or Hampers Food and Wine Deli.
Where to stay in Woodstock
There are plenty of places that provide comfy accommodation in Woodstock which provides easy access to the Palace and park.
Killingworth Castle is a popular choice that has plenty of boutique rooms to enjoy in their 17th-century coaching inn. It's just 2 miles away from Woodstock so it's a countryside retreat.
The Blenheim Buttery is also a unique accommodation choice in the centre of Woodstock. They have plenty of ensuite rooms in their 17th-century cottage.
The Macdonald Bear Hotel is a striking building in the centre of town that has a slice of luxury with their four poster beds.
The Feathers and the Punchbowl Inn are also cosy hotel choices situated above popular pub restaurants in the town.
What else has been filmed at Blenheim Palace?
As one of the most beautiful country houses in all of England, you can bet that there has been many more movies and TV series filmed here besides Harry Potter and the Order of the Phoenix.
Here are some of the biggest productions filmed at Blenheim Palace recently:
The Young Victoria (2008)
Gulliver's Travels (2010)
A Little Chaos – Starring Alan Rickman who played Snape (2015)
Mission Impossible: Rogue Nation (2015)
Transformers: The Last Knight (2017)
Read even more of my Harry Potter travel guides!
If you're a Harry Potter fan and you're looking for even more Harry Potter filming locations make sure to read even more of my detailed travel guides;
Harry Potter filming locations in Lacock
Harry Potter filming locations in Gloucester Cathedral
Visiting the Quidditch Town of Tutshill Tornadoes in the Forest of Dean
How to visit Dobby's Grave in Wales
A complete guide to Harry Potter in York
The Shop That Must Not Be Named review
All the Harry Potter filming locations Alnwick Castle
How to see the Harry Potter Express in Scotland
How to see Tom Riddle's Grave in Edinburgh 
How to visit Malfoy Manor in real life!
Looking for more things to do in Oxfordshire and the Cotswolds?
Top things to do in Bibury and why you must visit Arlington Row
The best places to visit in Castle Combe
The best places to visit in Upper Slaughter and Lower Slaughter
Why you must visit Tetbury and the Chipping Steps
The top things to do in Snowshill and Cotswolds Lavender
Did this Yew Tree door inspire Tolkien in Stow on the Wold?
A complete guide to Lacock village
Why you must visit Burford the Gateway to the Cotswolds
What to do at Gloucester Docks
Save how to visit the Harry Potter Tree Blenheim Palace for free!