Calling all Muggles and Magical Beings! Have you ever wondered who designed the Hogwart's Acceptance Letters, Marauder's Map, and the Daily Prophet newspapers in the Harry Potter movies?
Well, It's The House of MinaLima and they have a FREE Harry Potter Museum in London where you can learn all about their design process and what went on behind the scenes.
As well as having many Harry Potter props and prints on display in their gallery, they also have an amazing Harry Potter shop where you can buy replicas of your favourite props.
This includes taking home your very own personalised Hogwarts Acceptance Letter, the Noble House of Black Family Tapestry, and the Advanced Potion Making textbook from the Half-Blood Prince!
It's a must-visit for Potterheads. Here is a complete guide with all the magical reasons to visit The House of MinaLima Harry Potter Shop in London.
What is The House of MinaLima?
The House of MinaLima is a partnership of two graphic designers Miraphora Mina and Eduardo Lima.
They started working together in 2001 to create the entire graphic universe of the Harry Potter movies and the Wizarding World.
They were responsible for designing all of the iconic props for the movies that were used in some of the most memorable scenes.
The Hogwart's Acceptance Letters, Howler's, Honeyduke's Sweet wrappers, Daily Prophet newspapers, Tom Riddle's Diary, the Marauder's Map and so many more were all designed by them!
After working together for so long, the two decided to create The House of MinaLima studio and gallery in London. They also now have outlets in Osaka, Japan, and New York.
Ever since the tag team has worked on many projects for the Wizarding World franchise including Diagon Alley in Universal Studios in Orlando and the designs for the Fantastic Beasts movies.
They have also designed props for other productions like Sweeney Todd and The Golden Compass.
MinaLima wanted to share their work with their adoring fans and so opened a Harry Potter shop, gallery, and museum in London that you can now visit.
Magical reasons to visit the House of MinaLima Harry Potter Museum in London
So, why should you visit the House of MinaLima in London? Well, I'm guessing that you're reading this post because you're a Harry Potter fan, right?!
Well, that's already reason enough to visit this spectacular Harry Potter Museum, Gallery, and Shop as it's filled with Wizarding World merchandise.
But, if you did need more convincing, here are all the magical reasons to visit the House of MinaLima museum & Harry Potter shop!
1. See props & designs from the Harry Potter and Fantastic Beasts movies
So, the best part (for me) was being able to see all the magical props that The House of MinaLima had designed for the Harry Potter movies on display.
They had piles of Daily Prophet Newspapers, Hogwart's Acceptance Letters bursting out of a fireplace, and Undesirable posters everywhere!
As MinaLima is the brainchild for the entire graphic design of the Wizarding World, you'll find framed book covers from Rita Skeeter, Butterbeer Bottle designs, items from Weasley's Wizarding Wheezes, and Gilderoy Lockhart's published works.
There is so much to take in here, so make sure to take your time and browse their gallery with what they have on offer! You can pick up a gallery guide at the front desk if you wanted more information.
You'll be amazed at just how much they designed for the Harry Potter and Fantastic Beasts films and the effort that went into making them all.
They would often have to design many copies of the same prop for filming purposes and as a fail-safe if they got ruined on set!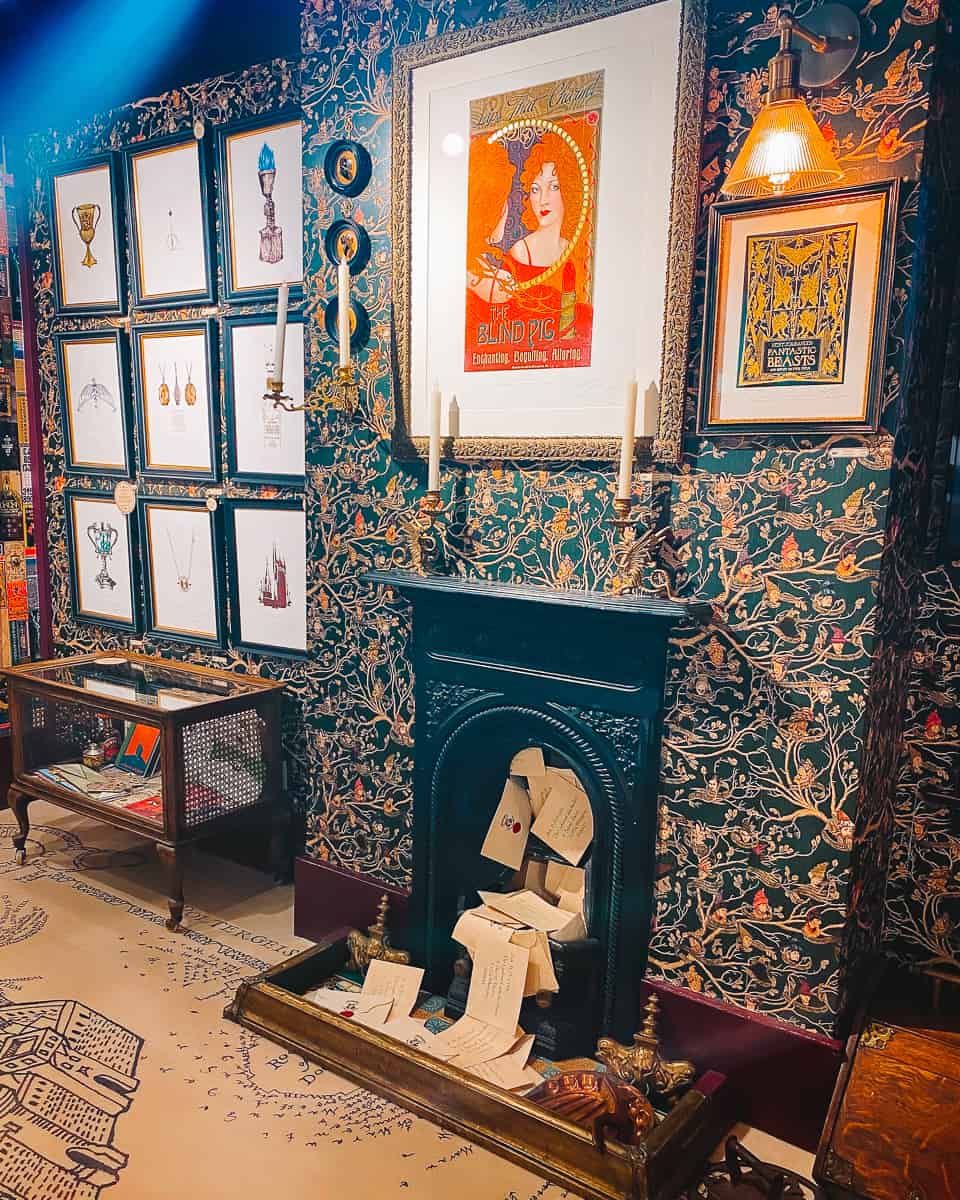 2. Learn about the making of Harry Potter
As well as seeing the props from the movies, they have a short documentary on display about the making of Harry Potter.
The House of MinaLima played a huge role in making Wizarding World come to life on screen for all eight movies.
The most memorable has to be the Hogwart's Acceptance Letters and these were actually the very first props that made for Harry Potter and the Philosopher's Stone.
Remember when all those letters were carried by owls and came flying through the fireplace around The Dursley's living room?!
Every single one of those letters was designed and made by hand by the House of MinaLima! Or Miraphora Mina at the time before Eduardo Lima came onboard.
She made hundreds of letters in total for those iconic scenes. They even had to make some lighter versions to help the owls carry them along with a bit of CGI magic.
You can now buy your very own personalised Hogwarts Acceptance Letter as a prop replica in the House of MinaLima!
Learn a little about The House of MinaLima Hogwarts Acceptance Letters in this short video here!
3. You can admire fine art prints in their gallery
If you were a big fan of The House of MinaLima's artwork, they have many fine art prints that you can browse and purchase from their gallery.
They are not the cheapest items but they are all handmade and signed by the House of MinaLima graphic designers.
Prints include Undesirable No1 and the 'Have you seen this wizard?' wanted posters from Azkaban. Plus, Mudblood's and How to Spot Them, Weasleys' Wizard Wheezes and the Dark Art's and more…
There's also plenty of Fantastic Beasts prints too like the Blind Pig Speakeasy and Newt Scamander wanted posters from the Ministry of Magic.
They are seriously amazing collector's items for Potterheads and a unique gift for your Harry Potter-obsessed friends and family members.
4. Shop for Harry Potter merchandise & notebooks
As well as signed and framed copies of their artwork, the main draw for many is shopping for Harry Potter merchandise. Get ready to say "Goodbye Money"!
They have special MinaLima editions of the Harry Potter Books in pop-up form, plus you can get a personalised copy of a Hogwarts Acceptance Letter.
My favourite pieces were the House of Black tapestry items they had here. You could get cushion covers and even wallpaper for your home!
There are lots of other pieces like the Marauder's Map, tea towels, pins, pens, cardholders and all sorts of Wizarding World paraphernalia.
The House of MinaLima Advanced Potion Making book!
So, for me, I was here for one thing and one thing only and that was a copy of the Advanced Potion Making Book!
Harry Potter and the Half-Blood Prince is now my favourite of the series and the scenes from the Potion's Class are my favourite parts as well as Aragog's farewell.
So, I really wanted to pick up an authentic copy from the House of MinaLima as they are the designers. I wasn't disappointed! It was a smaller version and came as a notebook to write in so at least it's practical!
As well as the House of MinaLima Advanced Potion Making book, they had replicas of the Hogwarts notebooks used in the classrooms like Ron, Hermione, and Harry's Notebooks.
There are also more Wizarding World notebooks to buy like the Tales of Beadle the Bard, Hogwarts a History, and Defence Against the Dark Arts for beginners.
I ended up buying a few of these for my collection as they are so pretty! Perfect as notebooks or display items for your home.
5. It's a FREE Harry Potter Museum in London
As well as being a shop, a big draw is that this is also a completely FREE Harry Potter Museum & art gallery in London that is almost unheard of in this city.
You get to see documentaries about how they made the letters, Daily Prophet newspapers, Harry Potter book covers, signed artwork, prisoner of Azkaban wanted posters, and lots more magic.
The amount of work and attention to detail that the House of MinaLima put into the props for the Harry Potter movies is astounding.
It's very much an experimental space so, you may find their newest works on display from other franchises too not just Harry Potter. But, they are equally fun to browse.
The staff inside are all graphic designers and part of the House of MinaLima team, so they will be more than happy to answer any questions you have.
If you're a Harry Potter fan, you really cannot miss a visit to this hidden gem in London.
Click here to visit the House of MinaLima website to check the latest opening times
Where is The House of MinaLima in London?
If you wanted to visit the House of MinaLima then you need to fly your broomstick over to central London.
The Harry Potter Museum is based in the heart of Soho and close to the Palace Theatre that is home to the Cursed Child play.
It's the perfect place to visit if you were planning a Harry Potter trip to London.
The House of MinaLima address is 157 Wardour Street, Soho, London, W1F 8WQ, UK. Here is a Google Pin to help you navigate your broomstick
How to get to the House of MinaLima in London
The easiest way to arrive at the House of MinaLima in London is by taking The Tube and then walking over to their gallery to Soho.
The closest tube stations to MinaLima are Oxford Circus, Tottenham Court Road, Leicester Square, and Piccadilly Circus. It's just a short walk from all of them. There is also the option of taking the bus.
You can plan your journey with Transport For London here
House of MinaLima opening times
If you wanted to visit the Free Harry Potter Museum in London then it's open every day from 11 am – 6 pm with the last entry at 5.30 pm.
I got really lucky on my visit mid-afternoon on a Thursday and there was hardly anyone inside. Usually, it's extremely popular with Harry Potter fans!
You may find that there is a queue on your visit if there are already a lot of people inside. But, it usually doesn't take long to get in.
A visit will take you around 30 – 45 minutes but you're welcome to spend as long as you like here. I would plan extra time as you'll definitely want to shop and it can take a while to decide on your purchases!
They do have a gallery guidebook that you can take around with you if you wanted to find out more about the exhibits.
Photography is also allowed and they encourage it. Don't forget to use the hashtag #houseofminalima.
Are you looking for more Harry Potter locations in London?
There are plenty more locations that you can seek out if you're a Potterhead in London!
After your visit to The House of MinaLima, I would head over to Covent Garden to check out The Harry Potter Photographic Exhibition that is home to London's only Butterbeer Bar. The House of MinaLima's designs are on display there too!
There is also The Cursed Child play at the Palace Theatre or you could get lost down two real-life Diagon Alley's of Cecil Court and Goodwin's Court.
One of my favourite locations I visited has to be Leadenhall Market. A gorgeous Victorian wonder that featured as the entrance to the Leaky Cauldron.
You could also catch the tube over to the River Thames to see sights like the Millennium Bridge, Tower Bridge, London City Hall, and Borough Market that all featured as filming locations.
You can head into St Paul's Cathedral to see their Geometric Staircase that was the Divination Stairwell at Hogwarts.
Or, why not enjoy some immersive experiences like cocktails at The Cauldron or an afternoon tea at Cutter & Squidge.
You can't leave London without a photo outside Platform 9 3/4 at King's Cross Station. It's just outside the Harry Potter Shop.
Then, you can visit the St Pancras Renaissance Hotel where Ron flies his Ford Anglia and the Order of the Phoenix HQ.
Of course, the ultimate Harry Potter experience can be found on the Warner Brothers Studio Tour.
This has plenty of sets, props, and costumes from the movies. You can even walk down a real Diagon Alley, see how they filmed Hogwarts Castle and sip on Butterbeer.
If you can I would recommend a visit around one of their special events like the Dark Arts at Halloween or Hogwarts in the Snow.
Click here to read my complete guide on London Harry Potter locations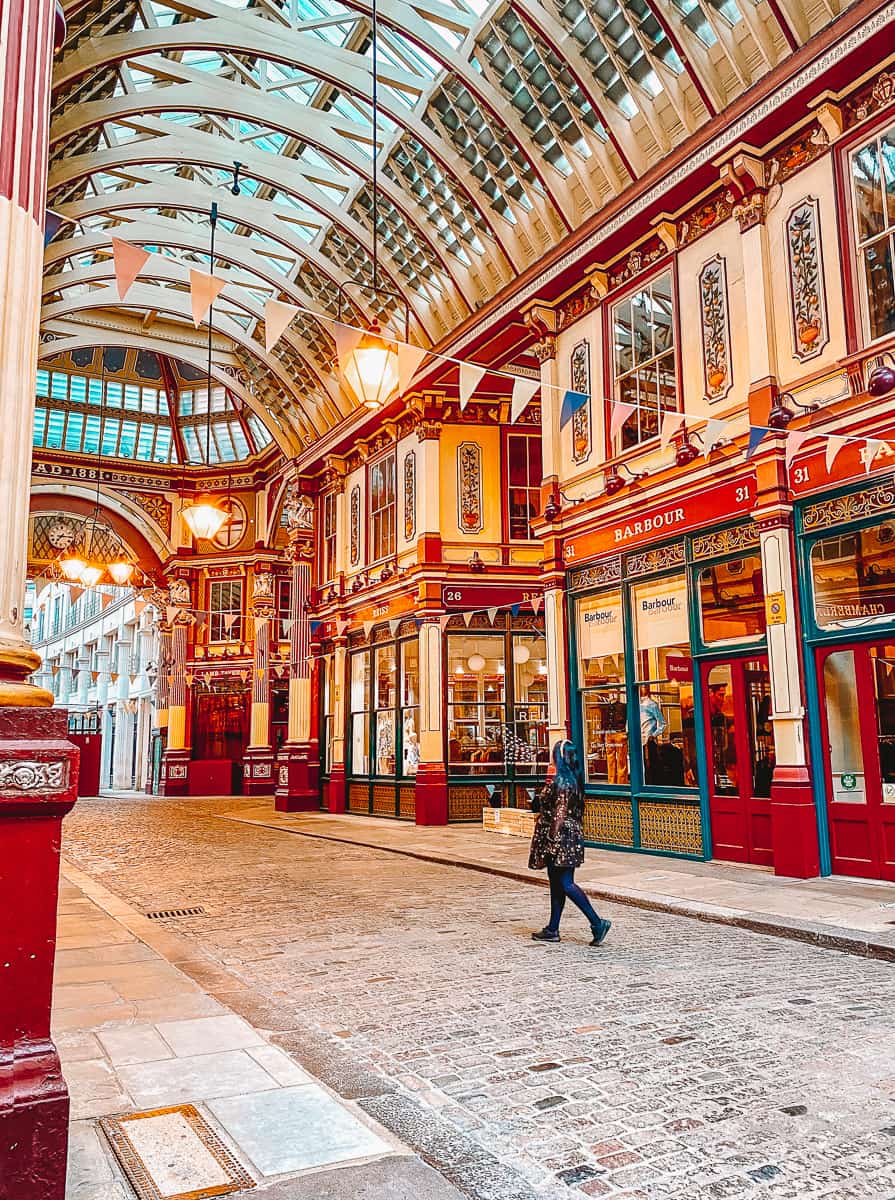 Read more of my London travel guides
How to visit God's Own Junkyard in London
The hidden gem of St Dunstan in the East
Amazing FREE things to do in London Bridge
How to cross the Beatle's Abbey Road in London
How to visit The Hardy Tree in London
How to visit 221b Baker Street – Home of Sherlock Holmes
A complete guide for the Greenwich Foot Tunnel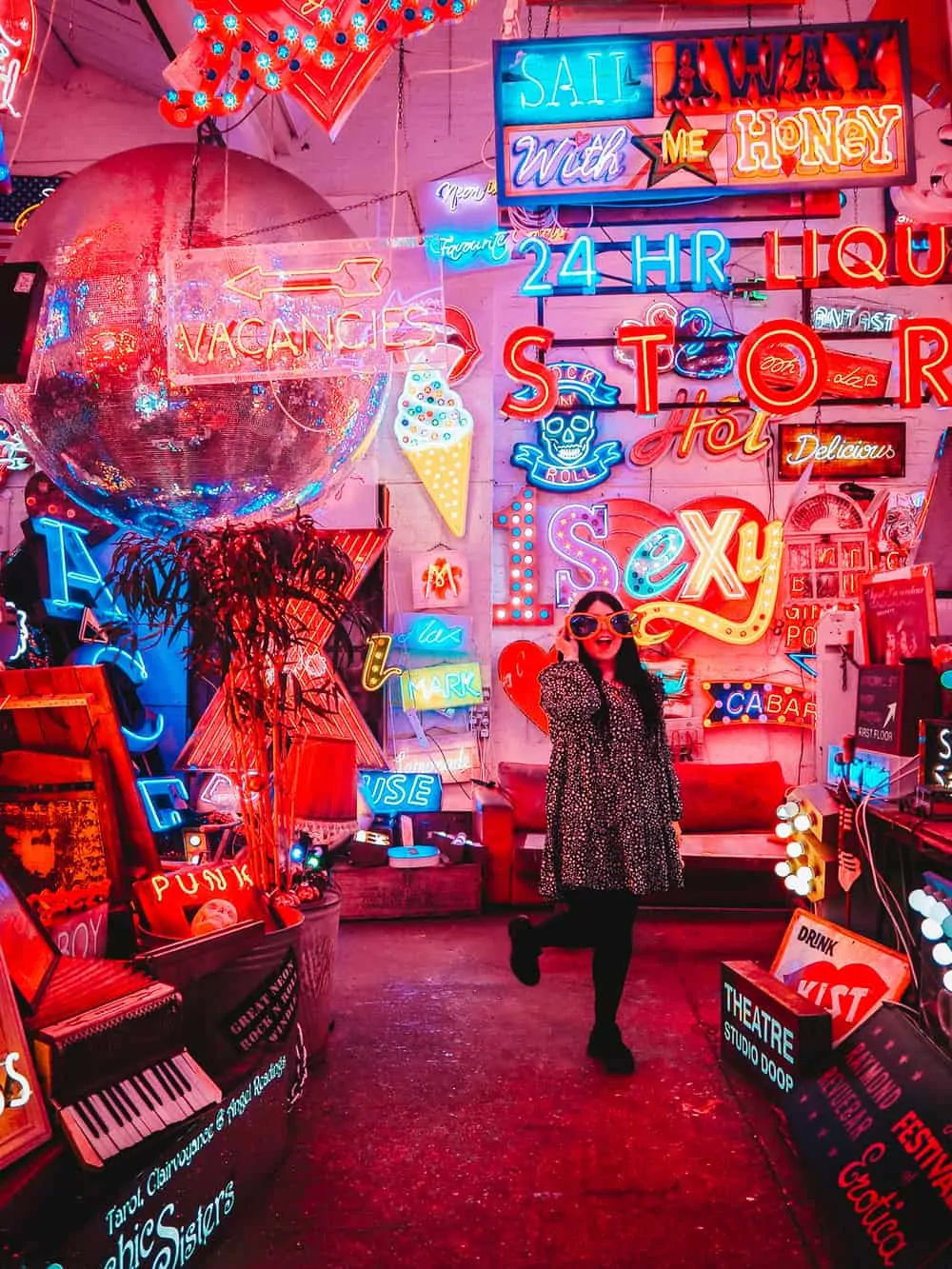 Read more of my Harry Potter guides
Harry Potter locations in Lacock
Harry Potter filming locations in Alnwick Castle
How to spend a night in Hagrid's Hut
Where to find Harry Potter in York
How to find the Harry Potter Tree at Blenheim Palace
The Shop That Must Not Be Named Review
How to find Dobby's Grave in Wales
Harry Potter filming locations in Gloucester Cathedral
How to see the Hogwarts Express in Scotland
How to visit Dumbledore's Grave in Scotland
Visiting Malfoy Manor in Real life!
A complete Forbidden Forest Experience Review
Where to find Tom Riddle's grave in Edinburgh
Visiting the Quidditch Town of Tutshill Tornados
Harry Potter locations in Exeter along with Gandy Street and the Room of Requirement
Virginia Water – the Other Hogwarts Lake
Instagram locations at the Wizarding World of Harry Potter
How to visit Hagrid's Hut in Scotland
How to visit the Harry Potter Waterfall in Scotland
Malham Cove Harry Potter filming location
Harry Potter filming locations at Durham Cathedral
Save the House of MinaLima FREE Harry Potter Museum for later!