Exeter is filled with quirky and historic attractions but the one that captures the most attention is The House That Moved.
An ancient timber-framed house on West Street that moved to an entirely different location in the city!
It's not often we see a house completely move location in the UK, especially a medieval timber-framed residence like this one. It has an amazing story to tell.
Here is a complete guide for The House That Moved Exeter with the full story and how to visit in Devon.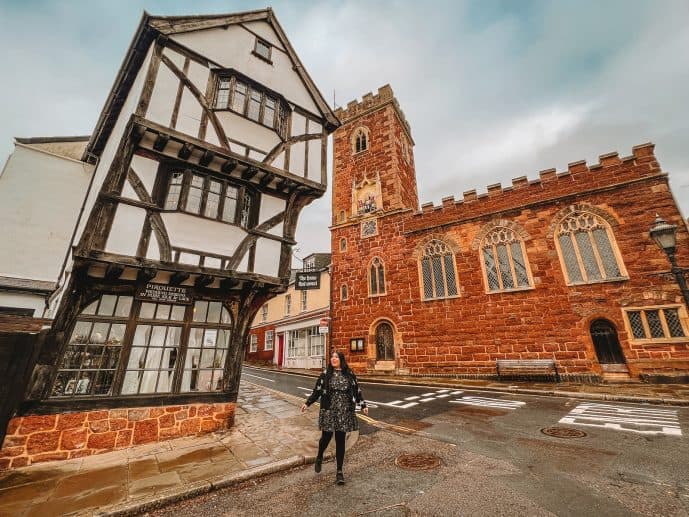 What is The House That Moved in Exeter?
The House That Moved is a gorgeous 14th-century merchant's house in Exeter that sits beside St Mary Steps Church.
It's thought to be one of the oldest timber-framed houses in Devon.
It used to have a kitchen, a solar, a first-floor hall, and a family bedchamber on the second floor. Today, it's home to a bridal boutique.
You'll notice that each floor of this quirky house sticks out further than the other which gives it a wonky higgledy-piggledy effect from the street level.
The curious moniker for this merchant's house comes from the fact the house quite literally was moved from the corner of Edmund Street and Frog Street to West Street in the 1960s and it was a massive project.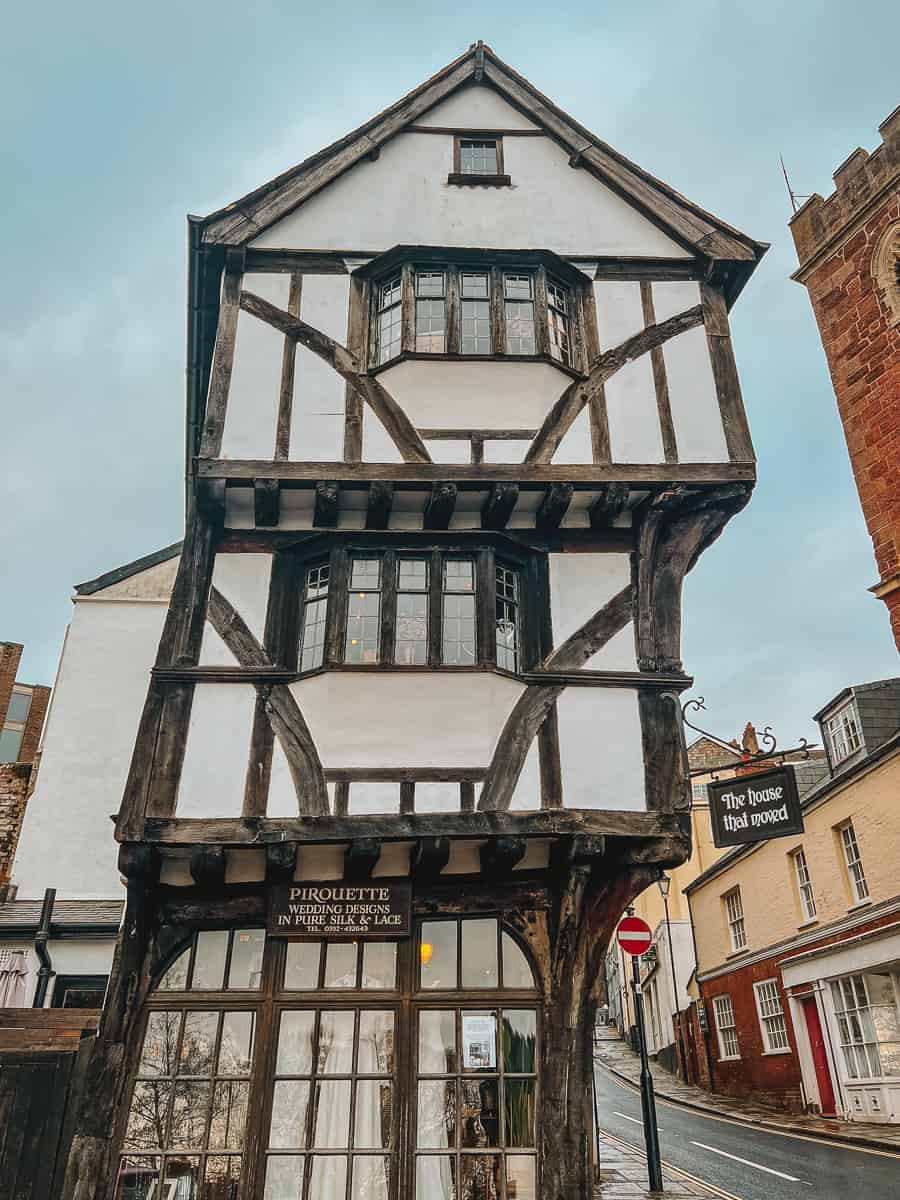 The House That Moved history
Not much is known about this ancient house from the 14th to the 16th centuries.
But, most likely, we can gather from the name that it was owned by a wealthy merchant and a popular theory was that it was built between 1430 – 1450.
For centuries, it was simply known as 'Merchant's House' and sat on the corner of 16 Edmund Street.
But, during World War II, Exeter suffered massively from bombings and much of the city had to be rebuilt.
That's when the story of The House That Moved really begins!
Why did they move The House That Moved Exeter?
After World War II, the city was damaged massively and many of its notable buildings and streets had to be rebuilt.
There was a proposal made by the council for a city bypass road in order to reduce traffic. Unfortunately, Frog Street was going to be demolished as part of their project.
As the 'Merchant's House' was one of the oldest surviving buildings in Exeter, local historians campaigned to save it.
Their campaign was successful and the building became Grade II listed which meant that it was protected from being demolished.
But, instead of leaving the house it where it was on Edmund Street, they decided to move the entire building to West Street!
Curiously, The House That Moved was transported to a location where another 15th-century timber-framed building had been but was demolished in the 1940s. The council obviously wasn't interested in saving that one!
How did they move The House That Moved?
The project started on the 9th of December 1961 and was a huge feat that required stripping the house down to just its timber framing.
The windows were also removed and it was then lifted a few centimetres off the ground using a jack. The entire structure was moved onto railings with moveable wheels.
Not an easy manoeuvre when the house weighed 21 tons and the timber frame weighed 10 tons!
They then made the slow journey to move the house to its new location on West Street and the spirit levels had to be constantly monitored.
Once it arrived at its new home, it was cemented down and the windows and casing were put back on. It was then renovated as a lot of the timber frames suffered from woodworm.
The entire move cost £10,000 to move the house some 220 feet. The project took around 3 to 4 days to complete.
If you watch old videos of the move, there isn't much health and safety at all. People had cigarettes in their mouths and there were no hard hats to speak of.
Although it was a difficult project, it was highly successful as The House That Moved has remained here ever since!
Click here to watch a video of The House That Moved project with BBC Archive footage from 1961
How to visit The House That Moved in Exeter
You won't find The House That Moved pinned on any map but you can visit on West Street in Exeter. This is just opposite St Mary's Steps, Stepcote Hill, and Book-Cycle bookshop.
It's currently home to a wedding dress boutique called Pirouette which was established in the 1980s. They have a gorgeous collection of high-end designer bridal wear and jewellery inside.
Even if you didn't want to shop, it's well worth admiring it from the outside. You will find a small swinging sign for 'The House That Moved' hanging off it.
You can easily travel to West Street on foot and it's just a five-minute walk from Exeter High Street.
Pirouette address is The House that Moved, 24 West St, Exeter EX1 1BA. Click here for a Google Pin!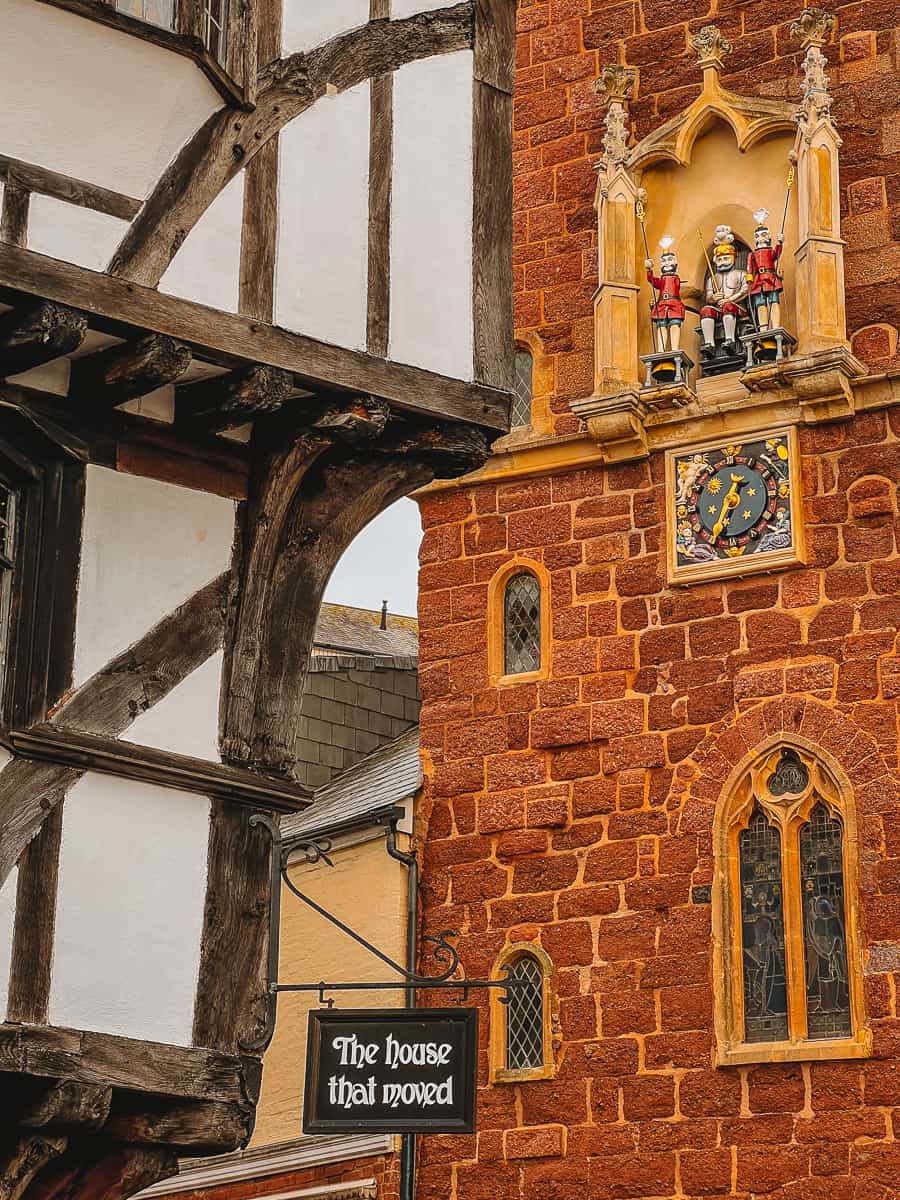 The House That moved parking
There is a small car park located just in front of The House That Moved in Exeter which makes it really convenient to visit this quirky attraction.
There is very limited space, so I would recommend visiting in the morning or later in the afternoon and it is chargeable by the hour from 8 am – 6 pm.
It's located on West Street and can be accessed on a one-way system from New Bridge Street. It sits right beside the bypass that caused the house that moved to move.
Things to see & do nearby
Once you've finished admiring the Merchant's house, there are other notable attractions to see in the historic area of Exeter.
Make sure to spend some time exploring the church, steps, and bookshops right next door.
Stepcote Hill & St Mary's Steps
Right next to The House That Moved you will find the church of St Mary's Steps. It was founded in 1150 but was rebuilt in the 15th century.
It was formerly by the west gate of the city and it was again rebuilt in the 19th century by Edward Ashworth.
Right next door is the famous Stepcote hill, which is one of the oldest surviving parts of Exeter.
Here, you can meander down a steep crooked stairway lined with timer-framed cottages!
Book-Cycle bookshop
Book-Cycle bookshop is one of my favourite bookshops in Devon and is located almost opposite The House That Moved.
It's a cosy secondhand bookshop set over two floors with lots of comfy chairs to relax on inside. They also have a small café.
I picked out some amazing vintage hardback Bram Stoker and Edgar Allan Poe books here!
Usually, you can pick up to three books at Book-Cycle and pay for them by donation. I would obviously dig deep to help the bookstore out as they are a registered charity.
Many of the books are donated and they run educational workshops, overseas education programmes and they help to reforest England. They do amazing work and your donations help.
Harry Potter locations
Did you know that Exeter has strong links to J K Rowling and Harry Potter?
J K Rowling was a student at Exeter University and it's thought that many places in this city inspired her locations in the Wizarding World!
You'll find that Gandy Street looks very similar to Diagon Alley and a historic door on 10 Cathedral Close looks like the door to the Room of Requirement.
Although J K has dispelled some of the Harry Potter links, it's still a fun adventure for Potterheads to visit some magical locations in the city.
My self-guided tour includes many of the highlights such as Exeter Cathedral and a student pub that is meant to have inspired the Leaky Cauldron.
Click here to read my detailed Exeter Harry Potter guide
Parliament Street
Parliament Street is one of the smallest streets in the UK that is barely 25 inches wide and you could easily miss it on Exeter High Street.
It has its very own plaque and it's thought to be one of the narrowest streets in the world!
Spoiler alert, it isn't but it is still fun to squeeze down this tiny lane that hasn't changed much since the 14th century.
Make sure to visit by looking out for the small gap between Gregg's Bakery and Patisserie Valerie.
Click here to read my complete guide on Parliament Street in Exeter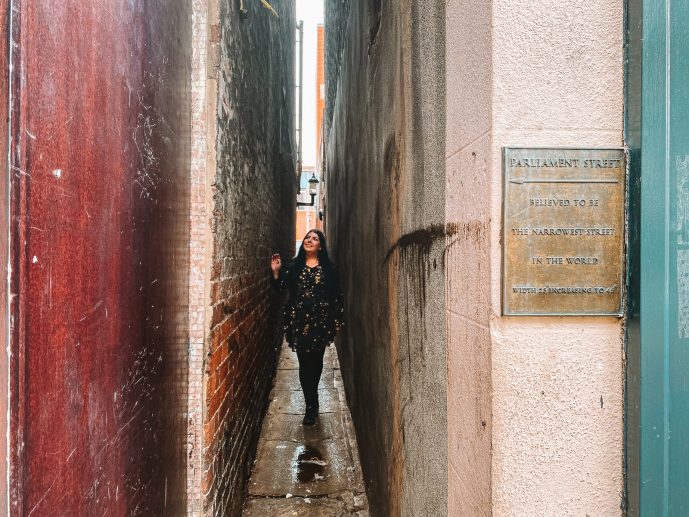 Other historic locations in Exeter
Exeter is filled with historic attractions and it could take you days to see them all.
You can wander along the green where Roman Bathhouses were built underneath and enter this majestic building from 1050AD.
Afterward, you can explore the historic Cathedral Close which has many incredible buildings dotted around here including 1 Cathedral Close which was once home to the famous Mols Coffee House.
The Royal Albert Memorial Museum (RAMM) is a great museum to visit and it can be found near Gandy Street which is a vibrant shopping street similar to Diagon Alley dating back to Saxon times.
You could walk the medieval Exeter City Walls from Northernhay Gardens and see the remains of Rougemont Castle. This was the last place that women were tried and executed for witchcraft in the country.
You can visit St Nicholas' Priory on Fore Street which is a bit of a hidden gem with a peaceful garden and courtyard.
Also, there is the old Medieval Exe Bridge that lies beside the Historic Quays which have lots of cafés and restaurants.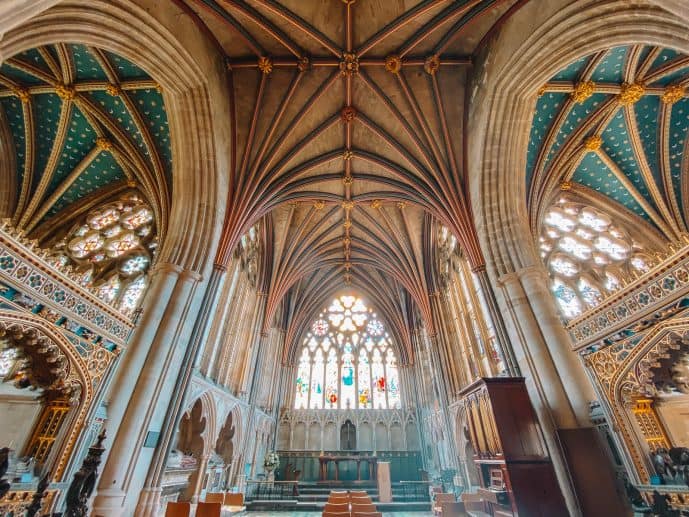 Read more of my Devon blog posts
How to visit Burgh Island and things to do there
An afternoon tea at Burgh Island Hotel
Why you must visit Agatha Christie's Greenway House
Why you must visit the Babbacombe Cliff Railway
Wander the Agatha Christie Mile in Torquay
Top things to do in Cockington Village
Riding the Lynton and Lynmouth Cliff Railway in Exmoor
How to visit Wistman's Wood on Dartmoor
How to visit Lydford Gorge & White Lady Waterfall in Dartmoor
How to visit Brentor Church in Dartmoor
Woolacombe Bay Holiday Parks Review
Magical Valley of the Rocks Devon guide
Save The House That Moved Exeter for later!