Did you know that there are over 150 stone circles that have been excavated and discovered in Britain? 16 of those stand on Bodmin Moor in Cornwall.
The Hurlers Stone Circles on Bodmin Moor are the most famous of these. Not only due to being the most preserved but also because of the mysterious legend surrounding them.
Sure, this stone circle doesn't compare to the likes of Stonehenge or the Callanish stones, but it is still well worth a visit.
These stone circles are thought to date all the way back to 1500 BC! It blows my mind that they are still standing there today.
Here's a complete guide to the Hurlers Stone Circles including the famous legend, history, and how to visit them on Bodmin Moor.
What are the Hurlers Stone Circles?
The Hurlers Stone Circles are a set of three standing stone circles that lie on Bodmin Moor.
The reason why these are quite unique in England is that not only are the three circles arranged so close together but they also have been arranged in a perfect circle.
Whereas many stone circles in England were vandalised and their stones were stolen over time. These stone circles are almost complete.
Studies have revealed that the Hurlers stone circles were an early ceremonial site that was used for funerals.
The circles also line up with other ancient sites in the area like Rillaton Barrow (a burial site) and other ancient cairns.
This is thought to have been important to the early people that used them for rituals.
The legend of the Hurlers Stone Circles
Cornwall, especially Bodmin Moor, has a lot of legends surrounding their ancient sites.
This area has a lot of mystery surrounding it, with much of the moor being inaccessible for so long.
The Hurlers stone circles legend goes that these were men (some say giants) who were playing hurling, a Celtic game, on the Sabbath day (Sunday).
So, for their mistake, St Cleer punished them and they were petrified and turned into stone.
Another legend says that it is impossible to accurately count the number of standing stones here.
The history of the Hurlers Stone Circles
Although many historic accounts of the Hurlers Stone Circles have been recorded as far back as the 16th century.
The excavations of Ralegh Radford in the 1930s found that these are late Neolithic or early Bronze Age stone circles built around 1500 BC!
That means that the site is 3,500 years old. Mindblowing!
The excavations also found that the stone circles aligned north-east and south-west.
So, if you drew a straight line from one of the stone circles in the direction it was pointing, it would lead directly to other burial sites like Rillaton Barrow, The Piper stones, and another pre-historic cairn found in the area.
For that reason, it is thought that all the ancient sites in this area are connected in some way!
As most of the ancient sites have been labelled as burial mounds, it is thought that the stone circles were used for funeral ceremonies using solar alignments.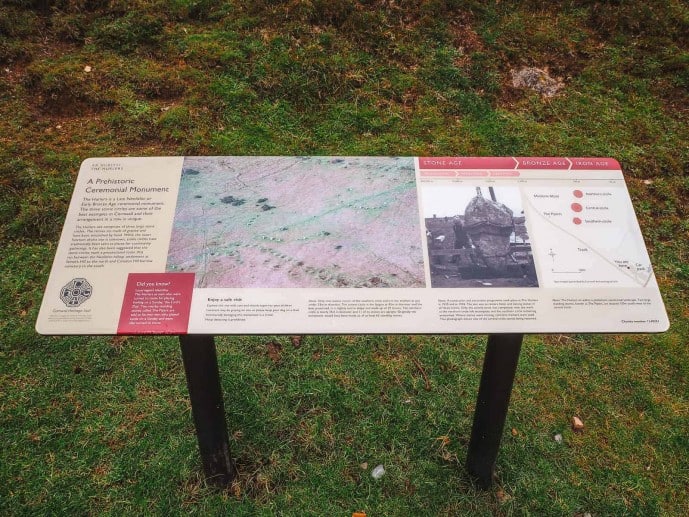 Some amazing Hurlers Stone Circles facts
There were originally over 70 stones in the circles, but now there are just 38 to see
Many of the stones in the Hurlers stone circles have been robbed over the centuries. Stone robbing was common by stonemasons and builders
The cows on Bodmin Moor have knocked some of them over as they use them as scratching posts!
The stones are made of granite which this area is famous for
There are markings that these stones were carved out and made smooth by ancient tools
Many of the missing stones are now represented by marker stones
The site is currently managed by English Heritage but this causes some controversy with Cornish heritage – signs have been stolen and destroyed in the past! So, it is also represented by the Cornish Heritage Trust.
How to visit the Hurlers Stone Circles in Cornwall
The Hurlers Stone Circles are hidden in amongst the vast wild landscape of Bodmin Moor and you can easily access them from a town called Minions in Cornwall.
Yes, Minions is a real place and it's named after Minions Barrow another ancient site to the west of the village.
The hamlet does try to promote the fact they have the same name as the awesome characters from Despicable Me and you can see some stickers on the welcome sign.
It is easiest to have your own car when exploring Bodmin Moor as it's a remote area.
Bus to Minions: There is no bus that runs through Minions, the nearest town is Liskeard around 5 miles away. There is a 74 bus service from St Cleer junction in Liskeard that can drop you off around a mile down the road, however. From Minions, it's an easy quarter of a mile walk to the Hurlers standing stones.
The Hurlers Car Park
Luckily, there is a Hurlers Car Park that is set up near the standing stones by the hamlet of Minions.
It's also completely FREE to park here (woohoo!). You can see the Hurlers stone circles from the car park and there is a small sign with some history around them too.
From here, it's an easy walk of around 5 minutes on mostly flat ground. Make sure you have good shoes though as the moor does get boggy.
What to expect on your visit to the stone circles
As soon as you reach the stone circles you can see just how spread out they are how big they would have been thousands of years ago.
If you follow them around and along it's quite crazy to see patterns these go in. They do really look like people playing a game!
They're not necessarily big, in fact, they're quite small stones ranging from around 2 feet to 4 feet tall.
You have complete access to them and you can really get up close to the stones and even touch them.
A lot of people visit here for "dowzing". Dowzers believe that the stones emit certain energies and these can be channeled by rods or dowzing equipment. So don't be surprised if you see that here.
There are a lot of cows and sheep that call this place home and you'll see them grazing or relaxing around the stone circles.
Although most of the time these cows will run away and be more afraid of you than you are of them, be careful not to annoy them as they can charge!
The Pipers & Long Tom
If you carry on beyond the Hurlers Stone Circles you'll eventually come across two standing stones called The Pipers.
There are some theories that these two stones were an ancient entrance gate to the Hurlers stone circles. These perfectly align with them.
There is also a legend that the Pipers were two men who were playing music on the Sabbath day, so they were petrified into stone.
A little further along is Long Tom standing stone or the Longstone which is one of the finest examples of a Celtic Christian wayside cross from the medieval era.
Both sites are worth checking out if you're hiking around the area.
The Cheesewring
One of the highlights of this area on Bodmin Moor is the Cheesewring on Stowes Pound.
This unusual stack of stones, high on Stowes Hill, is thought to have occurred from natural weathering over thousands of years.
Like most ancient sites on the moor, this comes with its own legend. The story goes that this was the result of a rock-throwing contest between giants and Christian saints.
The walk to reach it is relatively easy as a two-mile round trip and as well as the Cheesewring, you get to see some more ancient sites and some breathtaking views of the moor!
Click here for my complete Cheesewring hiking guide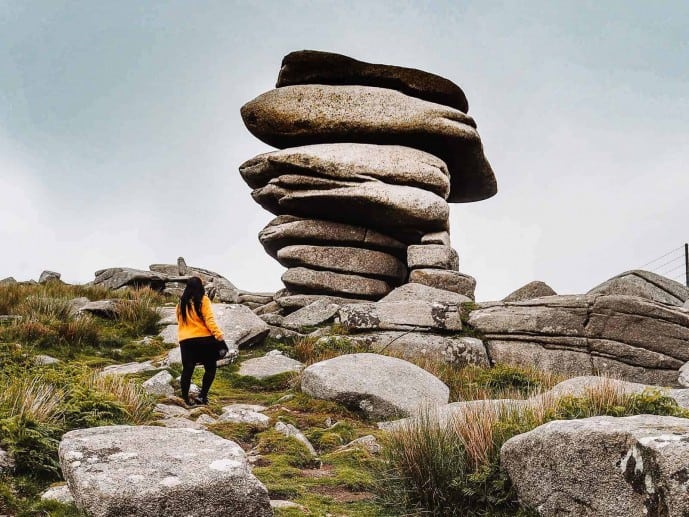 Some helpful travel tips for your visit
It's completely FREE to visit the Hurlers Stone Circles and go on the Cheesewring walk
The Hurlers are open 24 hours a day, but it's best to visit in reasonable daylight – it's pitch black on the moor
Keep dogs on a lead as there are lots of cows and sheep that graze on the moor
No drones are allowed to fly in the area without permission from English Heritage
It's best to have a SatNav, map or some form of GPS as phone signal is almost non-existent here
Wear good shoes, there is a lot of poop on the moor plus it gets boggy and squelchy when wet!
Bodmin Moor is famous for being exposed and having its own micro-climate so come prepared for all weathers
Where to eat in Minions
If you were looking for a bite to eat or a refreshing drink in Minions, you can pop into the Cheesewring Hotel that sits in the middle of the hamlet.
This cosy hotel has been here since it was a coaching inn in 1863. Although they are no longer functioning as a hotel for travellers, they still serve up a tasty menu.
Light snacks, afternoon tea, pub favourites, and locally brewed ales are all waiting here for you. Click here to see their full menu.
Are you looking for more ancient monuments & standing stones in Cornwall?
Bodmin Moor has a massive collection of ancient sites and standing stones that you can visit after this if you're keen!
Just a few miles down the road is the ancient Trevethy Quoit. This is a Megalithic portal tomb that dates back to 3700 BC (!) and is locally known as the "the giant's house".
Another fantastic ancient site is King Doniert's Stone which are two beautifully decorated Celtic crosses dating back to the 9th century.
Other famous standing stones on Bodmin Moor are the Tripple Stone, Stannon Stone Circle, and the Stripple Stones.
More amazing places to visit around Bodmin Moor
Bodmin Moor is a really beautiful part of Cornwall and is an Area of Outstanding Natural Beauty (AONB).
It's a wild area that was once home to escaped criminals and smugglers but is now peaceful and has lots of stunning places to explore.
The Golitha Falls are a highlight which is a gorgeous series of cascades in the woodlands and this area provides lots of easy scenic hikes.
If you wanted more extensive walks you can travel to Sharp Tor, Rough Tor, Brown Willy, Hawks Tor, and Showery Tor too.
There are also a few scenic lakes dotted around the area like Colliford Lake and Siblyback Lake.
Or, just outside the moor, you can visit the man-made caves of Carnglaze Caverns which were part of an old mining quarry.
Click here to read my complete guide for Bodmin moor with amazing places to visit
The best place to stay on Bodmin Moor
There are a few pubs located on Bodmin Moor but none so famous as the Jamaica Inn, an old smuggler's pub from 1750.
Cornwall has a long history of smugglers, bootleggers, and wreckers, and this inn was where they would hide their contraband.
As the inn was located far away from anything on Bodmin moor, the authorities wouldn't venture here so it became a hive of criminals!
Daphne du Maurier ensured the inn's fame when she wrote her classic novel in 1936. It's now a cosy pub, restaurant, and hotel.
Despite the building being old, the hotel is really modern and luxurious – the perfect base for a few days of exploring. Click here to book your stay!
Read my complete Jamaica Inn guide with all the amazing things to do here
Read more of my Cornwall guides
St Aubyn Estates Cottages review
How to visit Tregothnan Estate in Cornwall
Things to do in Mousehole Cornwall
How to visit St Michael's Mount in Cornwall
Things to do in Charlestown Cornwall
The Museum of Witchcraft in Boscastle
How to visit the Lost Gardens of Heligan
A complete guide to Porthgwarra Cove
Why you must visit Minack Theatre
Secrets of the Admiral Benbow Inn
Where is Driftmark filmed in House of the Dragon
How to visit Holywell Bay from House of the Dragon
Magical things to do in Kynance Cove
Save this Hurlers Stone Circle guide for later!