One of the most photographed murals in Barcelona is The Kiss of Freedom also known as The World Begins with Every Kiss.
Originally, this sensual Kiss Mural was meant to be temporary and created for the 300th anniversary of the Siege of Barcelona during The War of Spanish Succession.
But, due to its immense popularity and meaningful message, it's now a permanent artwork in the city.
There is so much more to this romantic smooch than meets the eye. You simply have to visit to see it for yourself.
Here is a complete guide for The Kiss of Freedom and how to visit the Kiss Wall Barcelona.
"The sound of a kiss is not as loud as that of a cannon, but its echo lasts a great deal longer." – Oliver Wendall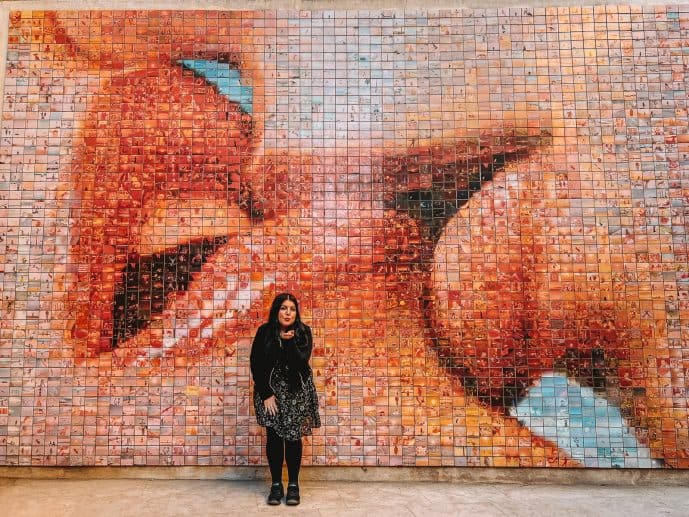 What is The Kiss of Freedom Barcelona?
The Kiss Mural is a mosaic that appears to be a romantic passionate kiss on the surface but is actually made up of 4000 images of local residents that represent freedom.
It was installed in 2014 as a temporary installation near the Catedral de Barcelona in a small square called Plaça d'Isidre Nonell.
But, as it was so popular and the meaning so poignant, the government decided to keep it as a permanent installation.
It's now the most photographed mural in Barcelona and a top attraction in the Gothic Quarter of the city.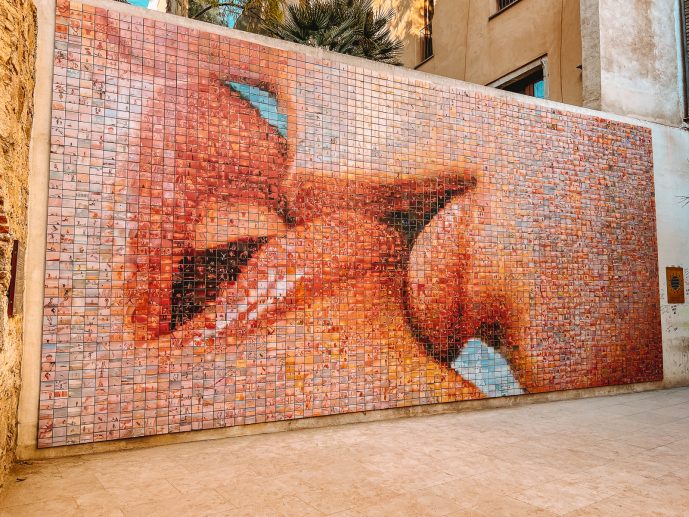 Who created The World Begins with Every Kiss?
The Kiss of Freedom was created by the Catalan artist and photographer Joan Fontcuberta for the Barcelona Tricentennial commemoration events.
Fontcuberta put out an ad in a local newspaper, El Periodico, and asked residents to send in photos representing a moment of freedom.
Then a local ceramicist Toni Cumella printed the images onto 4,000 tiles to make up the pieces of the puzzle.
The final result was an 80 x 50 tiled ceramic mosaic that was formed into the photo of a kiss!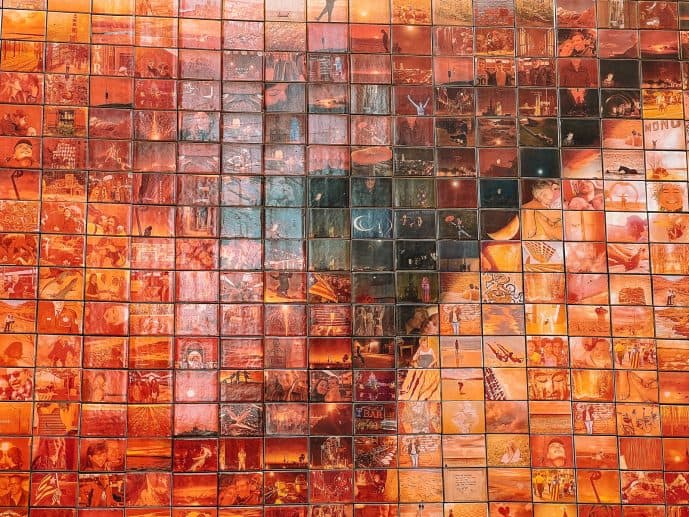 Why was the Kiss Mural created?
The installation was unveiled in 2014 to commemorate the 300th anniversary of September 11, 1714 otherwise known as Catalonia Day.
During this time, the Siege of Barcelona took place during the War of Spanish Succession which resulted in a Catalan surrender.
The siege took place over 14 months and resulted in many lives lost. But, beyond that, this was the day the Catalan identity was taken with its institutions and laws and the freedom of the people was lost.
It may seem strange to have a public holiday on a day when the city was defeated. But, it's a commemoration and a celebration of Catalan culture. A reminder that this region has its own heartbeat.
These photos that make up the Kiss of Freedom are a tribute to Catalan culture and a hope for liberation and independence.
See, you see, this mural represents far more than just a passionate kiss!
Where is the Kiss Wall in Barcelona?
The Kiss of Freedom is a bit of a hidden gem tucked away in a corner of Plaça d'Isidre Nonell which is located in Barri Gòtic or the Barcelona Gothic Quarter.
Although it is hidden, you'll find it very close to the Barcelona Cathedral off the main square. So, it should be quite easy to find when you reach here.
As one of the most photographed murals in the city, it always draws a big crowd!
You'll see lots of people kissing, taking a selfie, posing for photos with friends, or checking out the miniature photos that make up the artwork.
The Kiss Mural address is Plaça d'Isidre Nonell Barcelona. Click here for a Google Pin!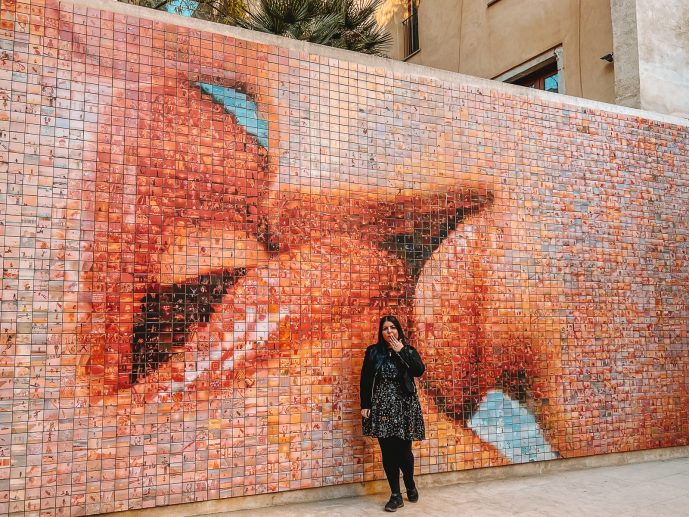 How to visit the Kiss of Freedom Barcelona
The easiest way to access The Kiss Wall would be to walk here. Most of Barcelona's Gothic Quarter is car-free!
You'll find The Kiss of Freedom tucked away on a wall near the Barcelona Cathedral.
In fact, if you're heading under the Place de Bisbe bridge towards the cathedral square you'll catch a glimpse of the kiss mural straight in front of you.
Most people use a mix of walking and the Barcelona Metro to travel around. The closes metro station to Barcelona Cathedral is Jaume I (L4) and then it's just a five minute walk to the Kiss Wall.
You can buy a Hola Barcelona travel card to help you get around that gives you unlimited access to public transport!
Things to see at the Kiss Wall Barcelona
So, once you reach The Kiss of Freedom, what is there to see here? Well, there's actually quite a lot if you look really closely.
There is far more to this passionate kiss than meets the eye! Here is what to look out for at the kiss mural.
1. The Kiss of Freedom
At first glance, this artwork will certainly catch you off guard as it is in complete contrast to the ancient buildings that surround it.
It's also very intimate like you're interrupting a private moment. But, it's certainly something that keeps your attention!
Nearly everyone that passes by wants to stop here for a photograph or to take a selfie with their friends, family, or partners.
Depending on when you visit, you may need to be patient for a photo as this place gets very busy!
2. 4000 tiny photos make up the artwork
Once you've had a look at The Kiss of Freedom, don't forget to take a step closer.
You'll soon notice that the Kiss Mural is made up of 4000 tiny photos that were taken by local residents.
All of the photos are meant to represent moments of freedom. Many of these photos are kisses. But, there are also local attractions, friends, smiles, family get-togethers, and even the Sagrada Familia!
It is so clever how all these photos in their different colours make up the main mural and fascinating to see all these pieces in the puzzle.
3. Mi Amor Mirror
Since the Kiss Mural, there have been other artists who have contributed romantic pieces to this bohemian corner.
My favourite was the 'Mi Amor' mirror. It's so tiny you'll hardly notice it but it's definitely worth checking out and taking a selfie.
As they say, 'you'll find the love you seek by first finding love in yourself'. So, pucker up, feel self-love, and give yourself a big kiss!
You're are enough and beautiful just the way you are.
What is the best time to visit The Kiss of Freedom?
The Kiss of Freedom is located in the popular Barri Gòtic or the Gothic Quarter of Barcelona and is located next to Barcelona Cathedral.
This is one of the most popular areas of the city and it's situated near to La Rambla, so the Kiss Wall can get very busy.
It's also a popular stop for walking tours and many people like to look at the photos in the mural up close.
For the most peaceful time and for the best photos, I would recommend visiting early morning to beat the crowds.
The Kiss of Freedom in Barcelona is open 24 hours a day and is completely FREE to visit!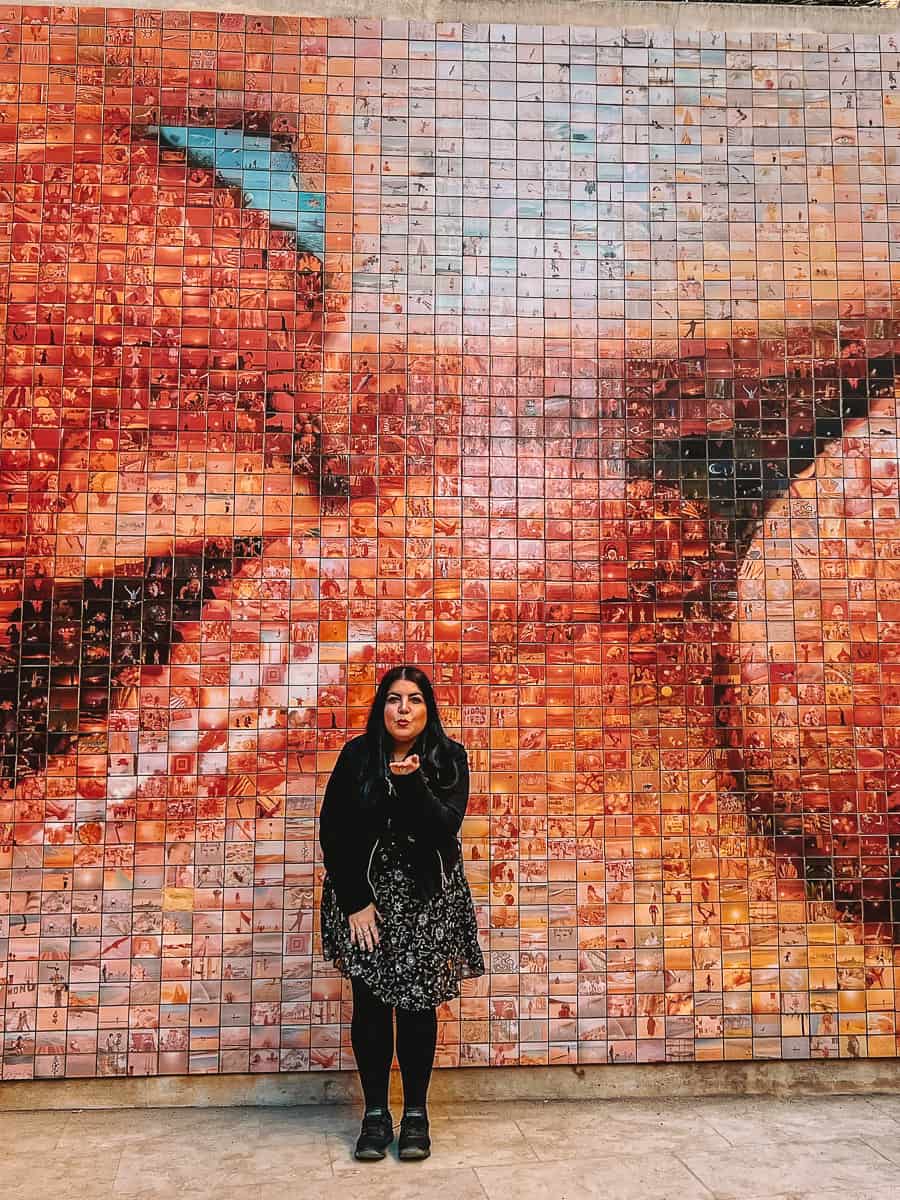 Where to eat near the Kiss Wall
The Kiss of Freedom is located in a small courtyard that makes up Carrer de Milans, Carrer dels Sagristans, and Plaça d'Isidre Nonell and there are lots of shops and cafés dotted around here.
The closest would be Bun Bo Barcelona (Gotico) which is a Vietnamese restaurant. They sell pho noodles, soups, rolls, and Vietnamese curries.
They have some outdoor seating that overlooks the Kiss Wall and they also serve drinks throughout the day.
If you prefer traditional tapas, I would recommend BOSCO Food & Drinks which is close by on Carrer dels Capellans.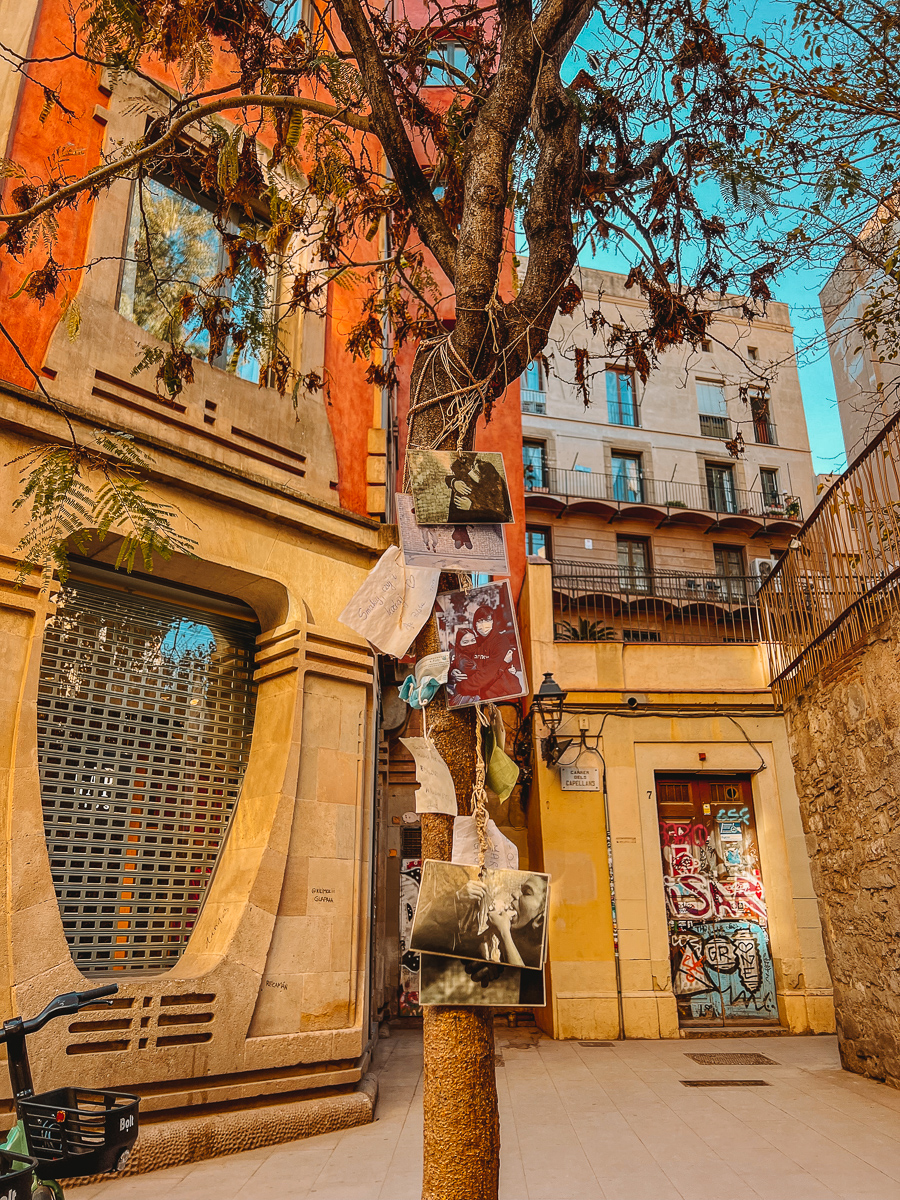 Kiss Wall Barcelona FAQs
What is the kiss of freedom in Spanish? El Món Neix en Cada Besada
What is the Kiss Wall Barcelona? It's a ceramic artwork of a liberating kiss that is made up of 4000 tiny photos snapped by local residents!
Is the Kiss Wall Free? Yes, it's completely free to visit the Kiss Wall Barcelona and it's open 24 hours a day in the Barcelona Gothic Quarter!
Things to do near the Kiss Wall Barcelona
So, once you've finished admiring the Kiss Wall and you've taken a million selfies there are plenty of things to do nearby.
Here are all the attractions near the Kiss of Freedom Barcelona;
Barcelona Cathedral
You'll be surprised just how close this 'hidden' mural is to one of the most iconic sites of Barcelona!
Barcelona Cathedral is the seat of the Archbishop of Barcelona and it has a history since the 5th century.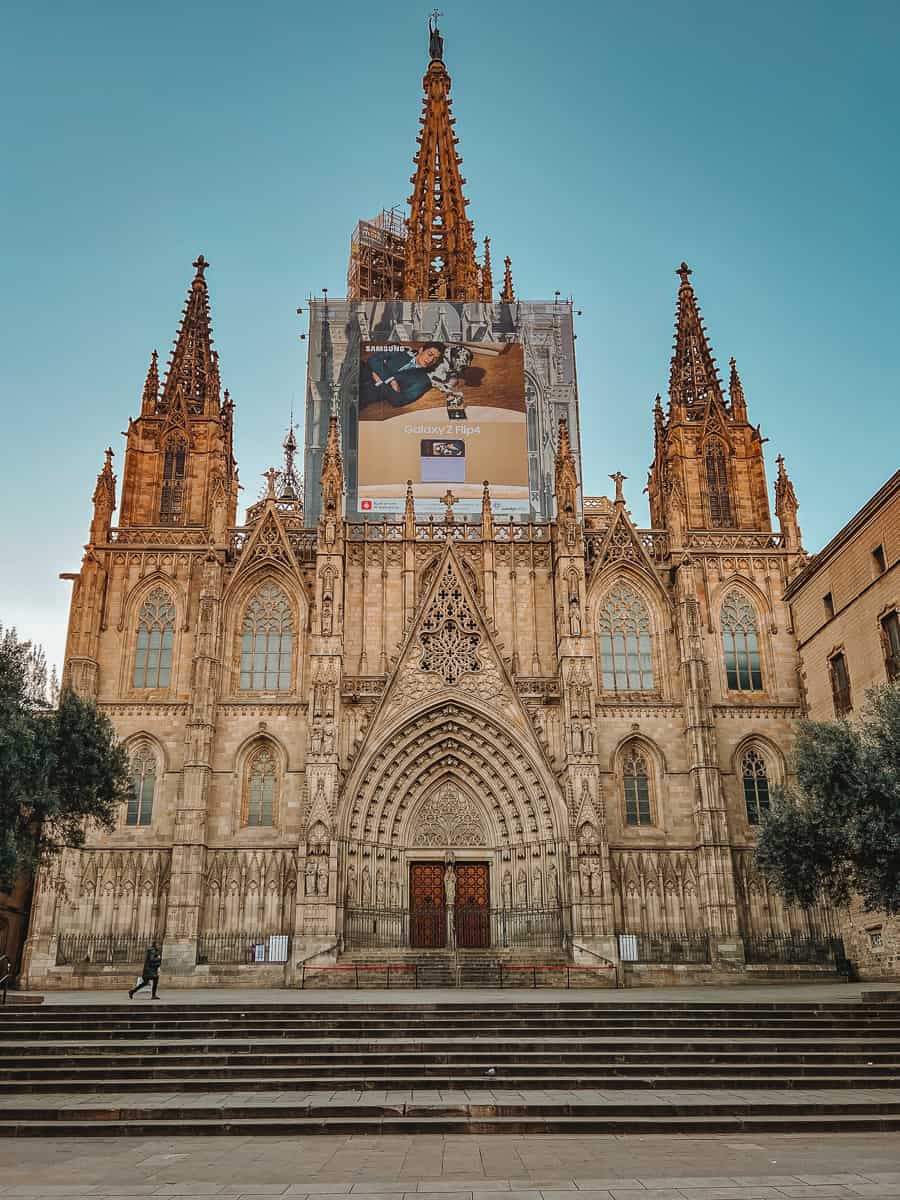 I would recommend buying a cathedral and museum ticket that gets you access to the rooftop! You can see the entire city skyline from here.
Other highlights of the Gothic Quarter are Plaça Reial, Basílica de Santa Maria del Pi, and the Picasso Museum.
Pont del Bisbe
One of the most photographed streets of Barcelona is Pont del Bisbe!
Although it looks ancient, it may surprise you to know that this bridge was actually made only a century ago unlike the other historic buildings of the Gothic Quarter.
It was designed by architect Joan Rubió I Bellver in 1929 for the Barcelona International Exposition.
It was his belief that many of the modern buildings surrounding Barcelona Cathedral should be demolished and replaced with Gothic Architecture.
When his ideas were rejected, he placed a curse underneath of a skull pierced with a dagger.
Click here to read my article on the secrets of Pont del Bisbe!
Palau de la Música Catalana
One of the most beautiful buildings I visited in Barcelona was Palau de la Música Catalana.
It's one of the only Catalan Art Nouveau concert halls to be listed as a UNESCO World Heritage Site and it's a must-visit.
It was built between 1905 and 1908 by Lluís Domènech i Montaner for the Orfeó Català chorus society.
Although you can watch a concert here, taking a self-guided tour is also an incredible experience.
You can explore their mosaic balcony and admire the incredible artwork that makes up the playhouse!
Click here to read my Palau de la Musica Catalana guide!
Where to stay in Barcelona
On my visit, I stayed in the magical Sercotel Rosellón which was located right beside the Sagrada Familia and had one of the best views of the city.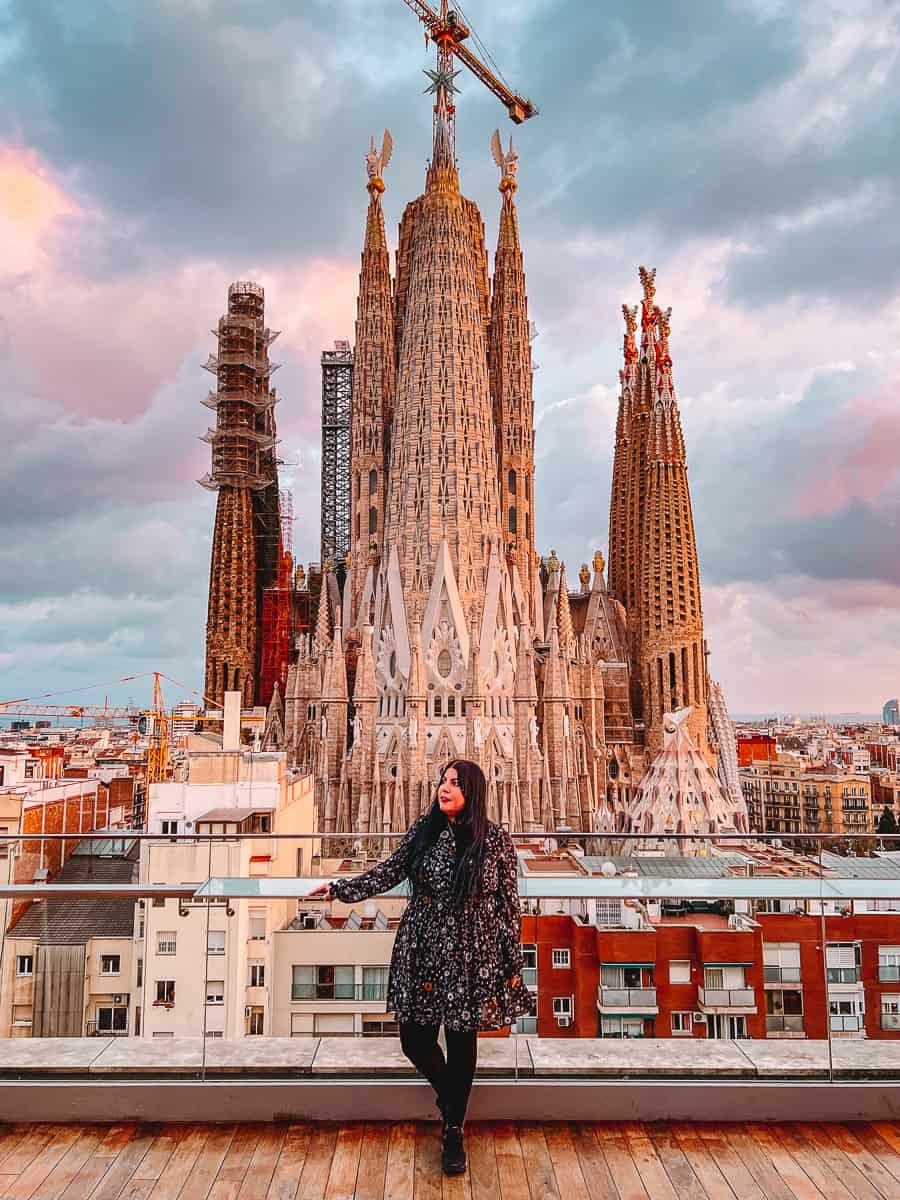 Not only do most of the rooms face the Sagrada but they have an incredible rooftop terrace where you can sip a drink and enjoy tapas with this breathtaking view as well.
The rooms were very clean and comfortable and it was close to most of the city centre attractions.
Also, the metro was just a minute's walk away which links you with the rest of Barcelona!
Click here to book your stay at Sercotel Rosellón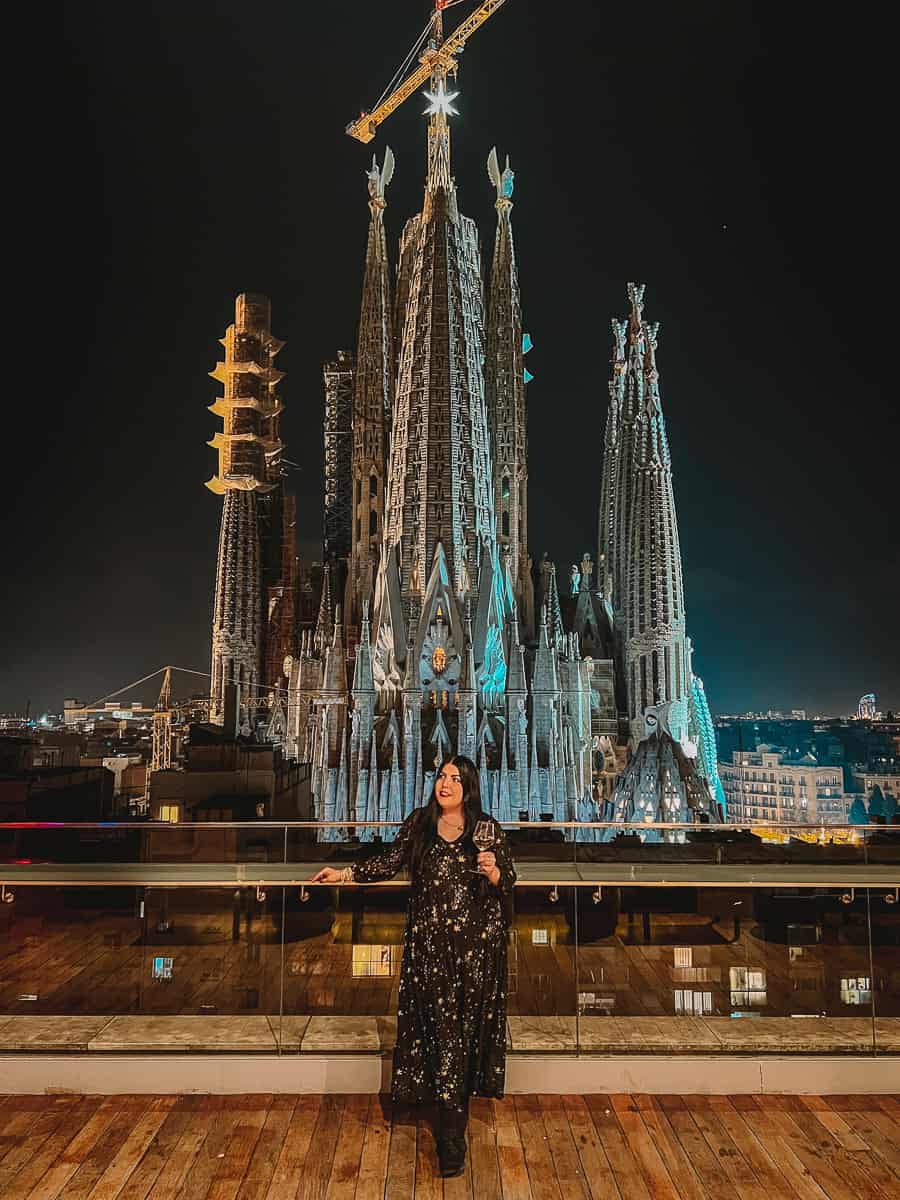 Save time and book a tour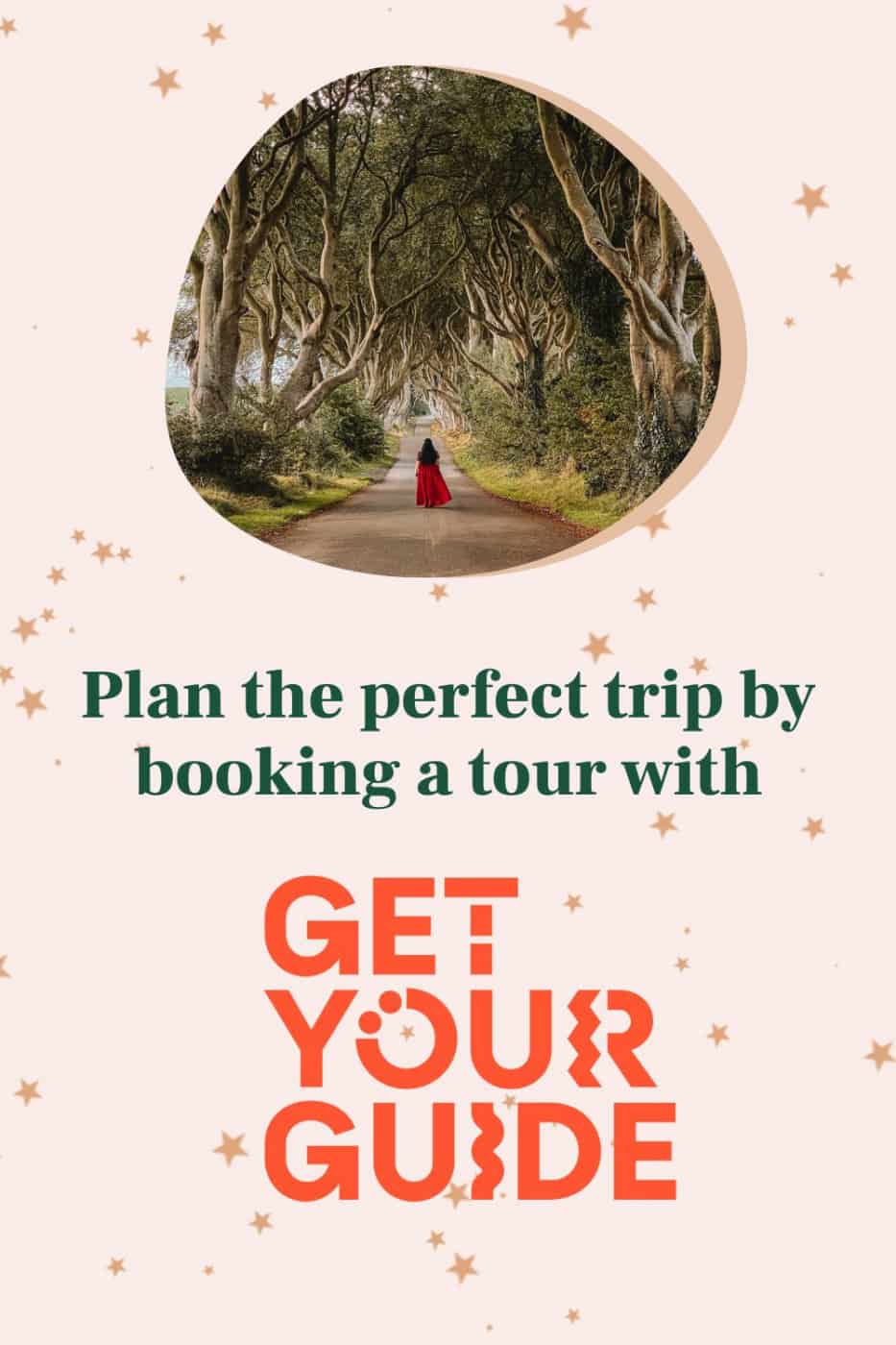 Book tours & tickets for Barcelona!
Read more of my Barcelona travel guides
30+ Instagrammable Places in Barcelona
Visit El Bosc De Les Fades – Magical Fairy Bar in Barcelona!
Visit Gaudi's Fountain or Cascada Monumental
Magical Sant Pau Recinte Modernista guide
How to visit the Barcelona Bunkers del Carmel
Save the Kiss Mural Barcelona for later!