If you're heading to the Colaba District then you cannot miss a visit to the famous Leopold Cafe in Mumbai.
This iconic landmark in the city has had a tragic history in the past and unfortunately became known due to the 2008 Mumbai attacks.
However, before this, it was a popular Irani café, traveller hangout, and featured in the novel Shantaram by Gregory David Roberts.
Fans of Shantaram will need no introduction and may be pleasantly surprised to know that the café does exist in real life! It's a must if you've read it.
Here's a complete guide for the Leopold Cafe Mumbai. Where you can eat amazing food and follow in the footsteps of the mysterious protagonist Lin Ford!
Why is Leopold Cafe famous?
The Colaba District or 'Old Mumbai' has a wealth of history and many restaurants that have been running here for years.
From the Sultanate, Portuguese settlers, and the British Raj. Bombay, as Mumbai was previously known, has had a turbulent past.
So, you're probably wondering why this particular café is so famously known by locals and travellers alike.
Well, firstly, Leopold Cafe is famous for being one of the original Irani cafés in the city. Iranis is the term used for Zoroastrians in Mumbai who settled here in the 19th century. These Irani Cafés are now becoming a rarity.
Secondly, it is known for being a target of the tragic 2008 terrorist attack. It has since become an icon of defiance against terror for Mumbaikars.
Thirdly, it's popular with foreign tourists and fans of the novel Shantaram who are familiar with it featuring heavily in Gregory David Roberts's tale!
Leopold Cafe History
Leopold Cafe was founded in 1871 by Iranis and had its humble beginnings as a wholesale oil store.
Over the years, the café took many forms including that of a pharmacy and popular restaurant in Colaba.
Due to its prime location, its multi-cultural menu, chilled beers, and the buzz of atmosphere from the restaurant. It quickly became a popular hangout for foreign tourists.
Unfortunately, its worst chapter was yet to take place. In 2008, it was the target of a callous attack that shook the city.
The 26 – 11 – 2008 Mumbai Attacks
Tragically, Leopold Café was one of the first places in Mumbai to be in the line of fire for the 2008 attacks.
This was when ten Pakistani men, who were associated with the extremist Islamic terror group Lashkar-e-Tayyiba (LeT), invaded several buildings in the city.
In their brief reign of terror that lasted four days, they ended up killing 164 people in the process and wounding hundreds more. Their main target is the Taj Mahal Palace.
They targeted Leopold Cafe for just 90 seconds at around 9.30 pm that evening. During which time they set the building ablaze and threw grenades inside.
They also fired gunshots which ended up killing six patrons of the café and two staff members.
Despite this tragic attack, the café defiantly opened its doors just four days later.
Also, the café never attempted to repair some of the damages that were made that night as a reminder. You will still see the bullet holes in the walls!
Nowadays, it is seen as an icon of defiance against terror in the city for many locals in Mumbai.
Leopold Cafe in Shantaram by Gregory David Roberts
This café was a superstar in the city years before it was ever mentioned in Shantaram by Gregory David Roberts in 2003.
However, ever since, it has been drawing in many tourists who want to follow in the footsteps of the mysterious Lin Ford.
I won't reveal too much of the story or any spoilers, but the plot follows an Australian bank robber and heroin addict that escapes prison. He then ends up fleeing to Bombay with a fake passport! So, we never really know if his name is Lin.
The name of the novel derives from the fact that Lin hires a guide called Prabaker to show him around. They travel to Prabaker's village, Sunder, and his mother gives Lin the nickname Shantaram. This is a Marathi word (Maharashtra language) that means 'Man of God's Peace'.
Of course, it's quite ironic given the nature of Lin's past. But, I guess that's why it's so popular. It makes you question and sees things from different perspectives.
The story actually mirrors parts of Gregory David Roberts's life. In the 80s, Roberts himself was an armed robber and heroin addict. He really did escape an Australian prison and fled to a Bombay slum!
To add to his amazing biography, he set up a health clinic while he was there. He picked up jobs in the mafia as a money launderer, forger, and street soldier.
He learned Marathi, fell in love, acted in Bollywood, and even fought the Mujahedeen in Afghanistan.
It is said he had to write Shantaram three times over as prison guards destroyed his first two copies. It's an amazing testament to his willpower!
This novel is a great one to read before you visit Mumbai or to 'virtually' travel there. The pages are so well described and really make you feel like you're wandering the streets of Bombay with Lin.
Of all the locations in Bombay, this cafe features the most. In both Roberts novels of Shantaram and the sequel Mountain Shadow, the Leopold Cafe is described as a "mystic, dark place…constantly crowded"
He's not wrong! It is constantly crowded and you'll see that for yourself when you visit in Mumbai.
If you were interested in reading, you can pick up a copy of the Shantaram here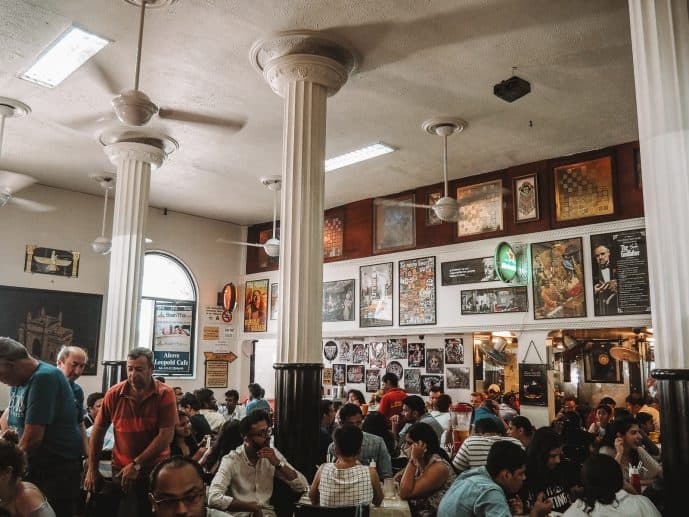 Will there be a Shantaram movie?
There were talks of Shantaram being made into a movie when Johnny Depp bought the rights in 2004. But, it has yet to come to light. So, I guess we'll have to watch this space!
However, fans will love the fact that a WebTV Series of The Shantaram started filming in Australia starring Charlie Hunnam! You may know him from his famous role of Jax Teller in Sons of Anarchy.
It's now finally finished and is going to be released on Apple TV, find out more here.
It is thought that filming will also take place in and around Mumbai. Whether they will use the actual Leopold Café as a filming location or recreate it as a film set is still unknown.
Why you need to visit the Leopold Cafe in Mumbai!
All of these things combined along with its unique heritage and tasty food make this restaurant one of the top places to eat in Colaba.
It is just as popular, if not more popular than it ever was and is still a regular hangout for locals and foreign tourists who visit the city.
The atmosphere is lively with conversation, it packs out almost every day plus it has an amazingly diverse menu with something for everyone who visits!
From tasty breakfast to beer towers, curries to kulfi's – there is always a reason to visit Leopold's.
What to expect on your visit
Just like in Shantaram, you can expect this place to be constantly crowded from morning till night.
It's incredibly tight-knit with tables close together. These are always filled with people eating, drinking, laughing and talking!
Unfortunately, it isn't possible to make reservations in advance. Usually, reservation signs are just to stop people from taking a table! But, they will take your name on a waiting list if it's full.
Although it is tempting to leave when this happens, don't write it off just yet! There are always people who leave and it won't take long to get a seat.
You'll be squeezed in on a table amongst the others and you can't help but notice the amazing hotch-potch of posters and artwork on the walls. You'll find famous Bollywood Movies, vintage advertisements, and even legendary Hollywood actors surrounding you.
The service is excellent from the waiters in their Leopold t-shirts. You'll see them whizzing around, busy carrying food from the kitchens and taking orders through the labyrinth of tables.
It doesn't take long for your order to be taken. This can be a bit of a whirlwind as there is simply so much to choose from on their menu!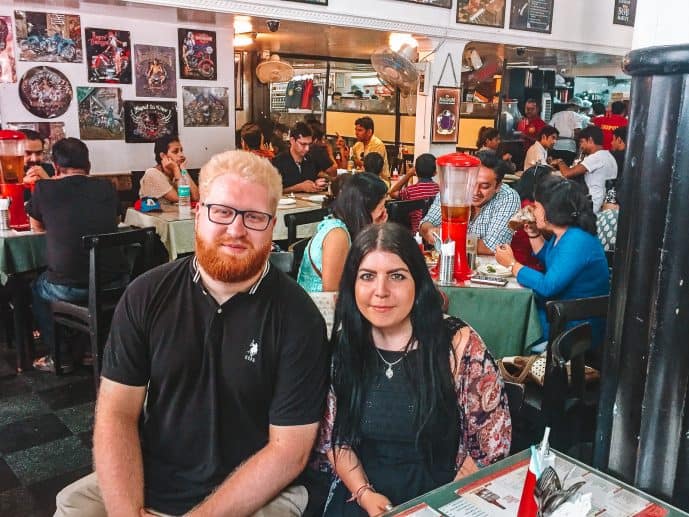 Leopold Cafe Menu & Beer Towers
The menu here is huge and has a wide range of multi-cultural cuisine. You'll find Indian curries and chaat all the way down to fries, burgers, and pizza!
The café is open all day so you can pop inside for breakfast, lunch, dinner, or for drinks and snacks.
We ended up coming here for an early supper and opted for their Butter Chicken or Murgh Murkani with rice! It's one of the best I've had in India and that's saying something as I used to live in Delhi!
As well as food, the café offers the ever-popular Kingfisher beer towers that you can have with your dinner.
We went for one of these and it was huge! A lot to get through for two but, after a hot day of exploring Mumbai, we managed pretty easily.
Buying some Leopold souvenirs
Although it may gain you the title of a super-tourist, one of the staple things to do at Leopold's is to buy one of their famous t-shirts or souvenirs!
My friend and I both got a t-shirt on our visit and it stayed with me on my travels in India. I even wear it now.
It's usually got its name and Lion logo which is the Achaemenid Persian Lion Rhyton. This is a statement of their Irani Zoroastrian heritage!
It's just got to be done. You'll find their small souvenir stall at the back of the restaurant.
For my purchase, they threw in an awesome vintage Leopold postcard. This now has an honorary place in my India travel scrapbook.
Where is Leopold Cafe in Mumbai & How to get there?
Leopold Cafe is located in the Colaba area of Mumbai. It stands opposite the Olympia Coffee House on Shahid Bhagat Singh Road.
The best way to access the café would be to walk from Colaba Causeway. You'll instantly see the huge red sign that hangs above the door and a queue of patrons patiently waiting for a seat.
It's around a five-minute walk from the Taj Mahal Palace and the Gateway of India.
Alternatively, you could hail one of the black and yellow cabs (make sure the meter is switched on) or book an Uber.
I have a whole post on how to use Indian Uber here with a discount code for your first ride.
Leopold Cafe opening hours
The Cafe is open every day from 7.30 am – 12 am. So, you can fit it into your Mumbai itinerary really easily.
It's extremely popular so if you wanted to visit at a quiet time, I would suggest visiting for breakfast or early in the morning.
By lunchtime, it's packed out for the rest of the day until the evening. As before, you can't make reservations but the tables clear pretty quickly.
Looking for more places to visit in Colaba & Mumbai?
Mumbai is hectic, hot, and overwhelming but it's also one of the most inspiring cities to visit in all of India.
It's the home of slums and poverty in contrast with spotting Bollywood actors and rent prices that compare with the likes of London!
Bombay is truly a melting pot of culture, cuisine, and a city that never sleeps.
As a megacity, it has many attractions that you can visit. However, I would try to centre your itinerary around certain places or districts.
Colaba, the heritage district is a great place to start. This is where you'll find the Gateway of India, a boat trip to Elephanta Caves, the famous Chhatrapati Shivaji Terminus station, The Chhatrapati Shivaji Museum, and plenty more!
My top tip would always be to not try and squeeze in too much.
Make sure to read my complete first-timers travel guide to Mumbai for the top things to do!
Where to stay in Mumbai
One of the finest hotels in the city has to be the iconic Taj Mahal Palace. It's been rated as one of the top hotels in the East, even from the era of the British Raj, and was opened in 1903.
The founder of the hotel was Jamsetji Tata of Tata Industries which is one of the biggest companies in India today.
Famous celebrities, presidents, and even royalty have stayed here. It has boutiques, galleries, restaurants, a spectacular pool, and even a Starbucks! It's honestly one of the best places you can stay.
I had the pleasure of sleeping in the heritage wing. My executive room even had a fabulous view of the Gateway of India from my window! I would highly recommend booking.
Click here to read my complete Taj Mahal Palace review or you can book your stay here!
Read more of my articles on India
The ultimate Rajasthan itinerary
A first timers guide to Jaipur
Save this Shantaram Leopold Cafe Mumbai post for later!