The Long Room Trinity College is a magical vaulted library that looks like something from a fairytale.
It's considered one of the most beautiful libraries in the world and is home to 200,000 rare and special volumes.
Today, it's a museum and one of the best things to do in Dublin. You can visit as part of the Book of Kells exhibition.
Visitors say it looks like something out of Hogwarts and many people call this Dublin's Harry Potter Library. But, did they film Harry Potter at Trinity College?
Here is how to visit Long Room Trinity College in Dublin and what to expect on your visit.
Note: The Long Room is currently undergoing a redevelopment project. So, the books have been removed until 2025. According to their updates, the gallery will remain open and it will still be pretty but there won't be any books on the shelves.
What is the Long Room at Trinity College?
The Long Room at Trinity College is a 65-metre-long gallery and is the longest single-chamber library in the world.
It forms part of Trinity College's Old Library and houses over 200,000 rare books in its collection.
As well as bookshelves of tomes, this incredible vaulted room has marble busts of famous figures and important relics of Ireland's identity on display.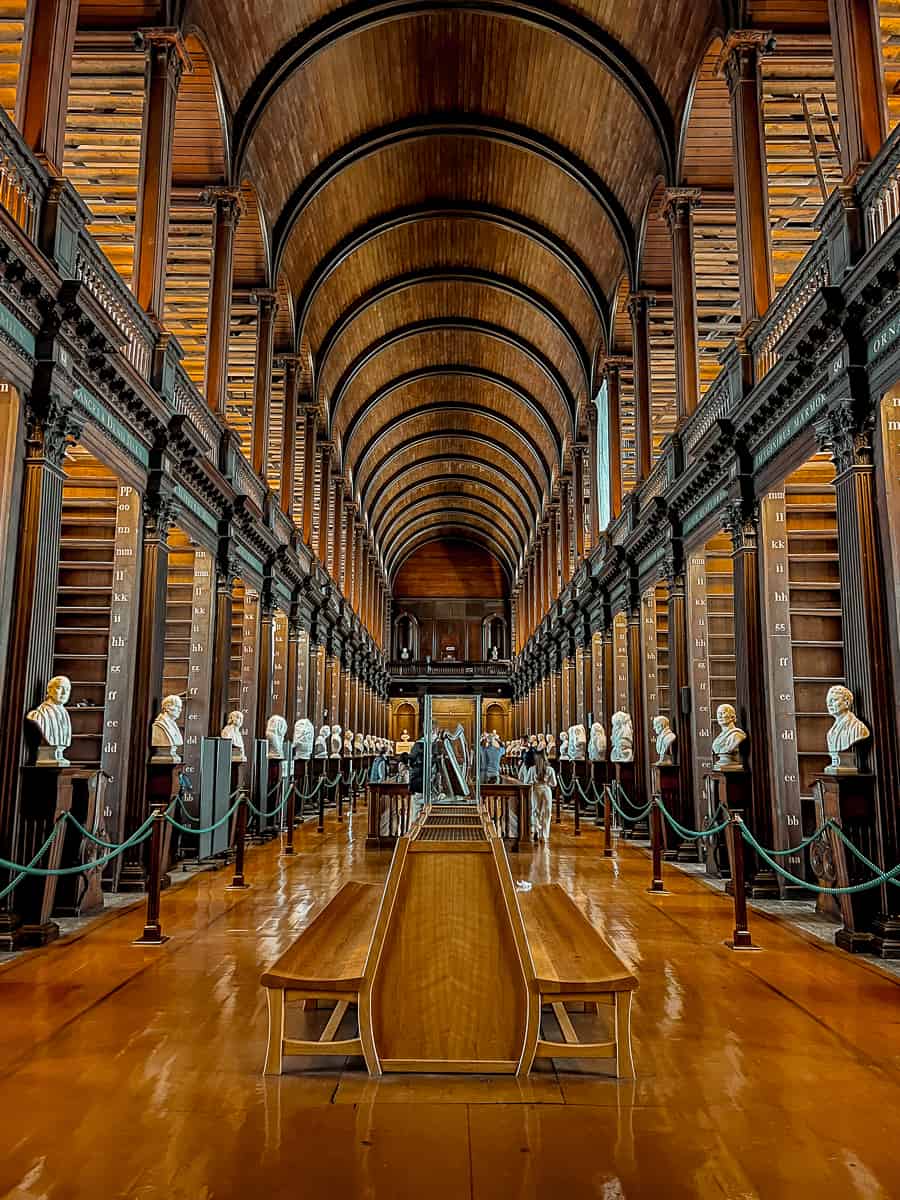 Trinity College Old Library History
The Long Room at Trinity College was built between 1712 and 1732. Originally, it had a flat ceiling and housed many of their original collection of books.
Later, the library was expanded in the 1860s. This is because Trinity College was given permission to obtain a free copy of every book published in Britain and Ireland.
An upper gallery was eventually built and the vaulted ceiling was installed to create a larger space.
Peter Scheemakers made a series of marble busts to sit in the library. The statues were of great philosophers, writers, and benefactors of the college.
Over time, this collection has grown to over 40 figures including Jonathan Swift, one of Dublin's most famous satirists.
Recently, they have added four additional busts to include female scholars such as Ada Lovelace and Mary Wollstonecraft.
It's now considered one of the world's most beautiful libraries and sees over 1 million visitors walk through it every year.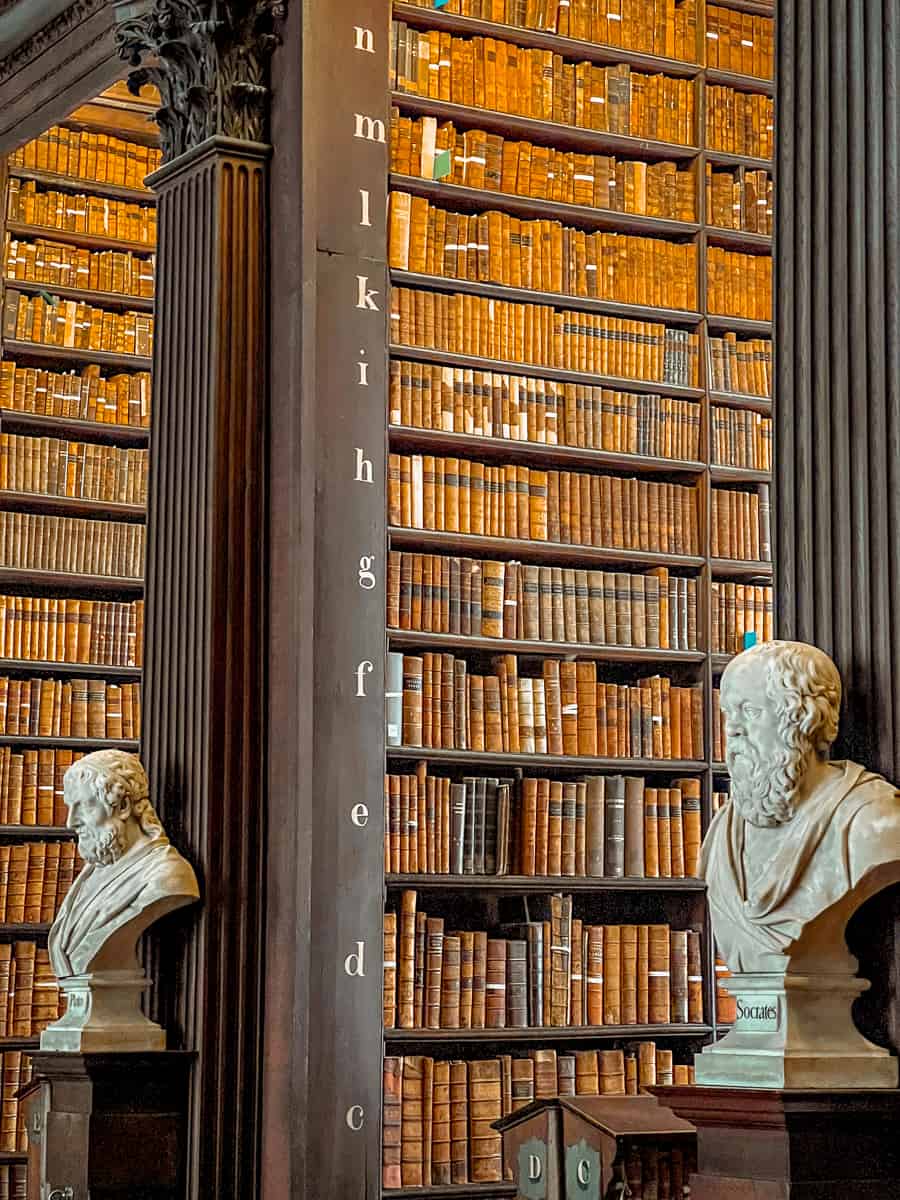 The Book of Kells
The most precious piece of Trinity College's library collection is The Book of Kells.
It's an ancient illustrated text of the New Testaments Four Gospels and was created in the 9th century.
Although we can't be sure exactly who the authors were, what we do know is they were Celtic monks who painstakingly made the entire manuscript by hand.
The book was written on vellum which was a treated calfskin and has 340 folios using a mixture of images, the Celtic alphabet, and Latin text.
They were painted using natural pigments from plants and minerals like Indigo (blue), Gypsum (white), Orpiment (yellow), and Lead (red).
Its origins have been debated by scholars over time and it causes a lot of controversy. Many people say it was written in Northumbria around the time when the Vikings invaded England.
Others say it was created in Iona Abbey in Scotland, an ancient sacred isle of Celtic Christianity where many Scottish and Irish kings were buried.
But, most agree it was made by monks seeking refuge in the monastery of Kells in County Meath. Hence the name.
Regardless of its origins, it's now safely stored at Trinity College and is one of Ireland's national treasures. It's been on display to the public since the 1900s.
Was Harry Potter filmed at Trinity College?
Many people call the Long Room 'Dublin's Harry Potter library' and often ask what the Trinity College Harry Potter connection is.
Did they film on campus or use the Book of Kells library in the movies? Unfortunately for Potterheads, the answer is no.
Although it does look magical and like something straight out of Hogwarts, they didn't use Trinity College to film any of the movies.
If you were interested, the library used to film Hogwarts Library in Harry Potter was actually the Bodleian Library in Oxford. I have an entire guide on Oxford Harry Potter locations you can visit here.
However, if you were looking for Harry Potter locations in Ireland you could visit the Cliffs of Moher which is home to the Horcrux Cave!
In Harry Potter and the Half-Blood Prince, Harry and Dumbledore go looking for one of Voldemort's Horcruxes and end up in this cave on the cliffside.
You can't go inside the Harry Potter Cave on your visit but you can see it from various viewpoints and even take a boat trip to get closer. The interiors were filmed using a set anyway.
Click here to read my complete guide for the Harry Potter Horcrux Cave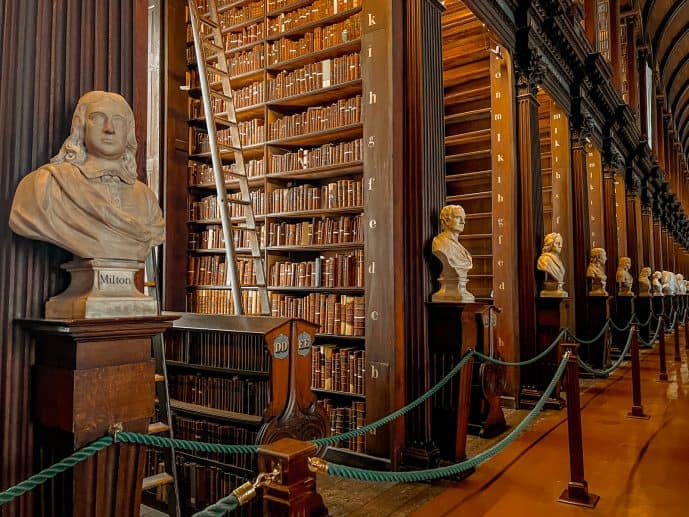 Book of Kells Star Wars Connection – The Jedi Archives
Another curious Hollywood connection that this library has is with the Star Wars movies.
This historic book trove was used as the inspiration for the Jedi Archives in Star Wars II: Attack of the Clones.
Apparently, this caused a little bit of a stir with Trinity College as permission had not been sought out as the two rooms look almost identical.
George Lucas flat-out denied he used the Book of Kells Library as inspiration for his Jedi Temple but it's pretty obvious. Trinity College didn't end up seeking legal action.
Either way, I'm sure Star Wars fans will love exploring these bookshelves like Obi-Wan Kenobi.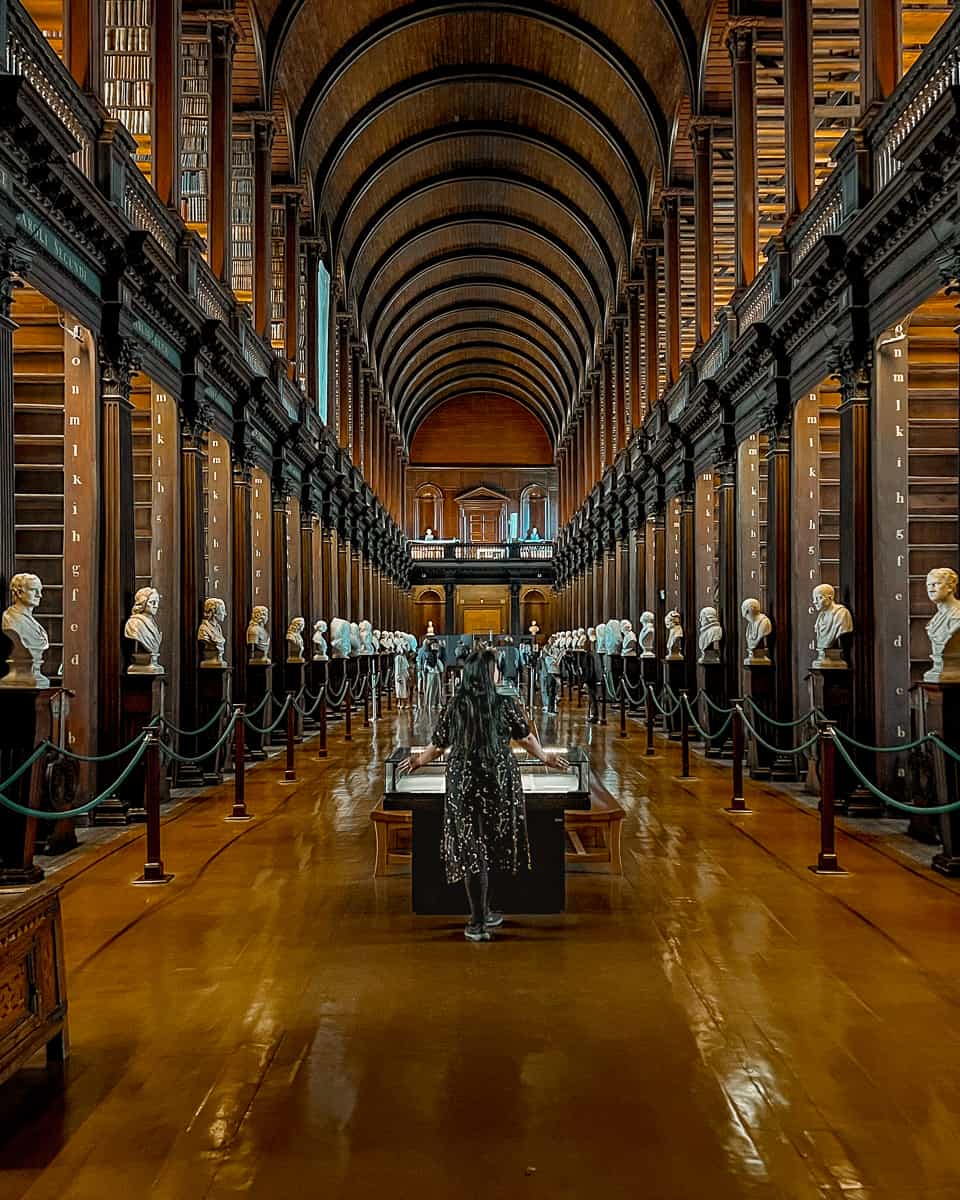 Can you visit the Long Room at Trinity College?
Yes, although Trinity College is a working educational campus in Dublin you can visit the Long Room library as part of the Book of Kells attraction.
The library is now a popular museum and your ticket gets you access to three rooms;
Room 1: Learn the story of the Book of Kells and why it's so famous. You can see who made it, the materials used, and the origins of the sacred texts.
Room 2: This is a dark room that has only one display case in the middle and contains The Book of Kells. You will only see one page during your visit as the book is in a carefully controlled environment to protect the pages from damage. They turn the page every 8 weeks.
Room 3: You head upstairs and enter the Long Room & Old Library. You'll fall in love with this treasure trove of over 200,000 leather-bound books.
How to visit the Book of Kells Library in Dublin
Visiting the Book of Kells is worth it for this library chamber alone in my opinion and you can book your tickets online. Tickets for an adult cost 18.50 euro.
As one of the most popular attractions in the city, I would book in advance as time slots sell out. It also means you won't have to queue up on the day.
In summer, the Book of Kells opens from 8.30 am to 6.30 pm on Monday – Saturday and 9.30 am – 5 pm on Sundays.
In winter, this is brought forward to 9.30 am to 5 pm on Monday – Saturday and 12 pm to 4.30 pm on Sundays.
It's very easy to approach Trinity College on foot as it's in the heart of the city. But, it's a large campus and it's easy to get lost.
The entrance for the Book of Kells can be found in Fellows Square. Make sure to follow the signs.
If you're using your phone to guide you in the city, Click here for a Google Pin!
Is the Long Room a guided tour?
No, you will visit the Book of Kells & Long Room at Trinity College self-guided with a basic ticket.
If you wanted a guided tour around Trinity College grounds you can purchase the bundle 'Book of Kells & Trinity Trails' online.
This is a joint ticket that includes a guided walking tour of the campus and entry to the Book of Kells & Long Room.
Tours last for around 75 minutes and cost 29 euro for an adult.
Things to see in the Long Room Trinity College
1. Magical architecture
As soon as you enter the long room gallery your jaw will hit the floor. This is easily one of the prettiest libraries I have ever visited.
The first thing that you will notice is the incredible vaulted ceiling which makes this room appear larger.
There is a lower floor and an upper gallery and every shelf is crammed with precious volumes. It really does look like plucked from a fairytale or Hogwarts School.
If you look in the alcoves, you'll see book ladders and spiral staircases that allow access to the upper floor.
How I wish this floor was open to the public but unfortunately it's library staff only. You can only admire the library from the lower levels.
2. Over 200,000 books on the shelves
The Long Room Library was created to protect Trinity College's most precious books in its collection.
There are over 200,000 leather-bound books stored in this room and some have been shelved here for nearly 400 years.
It also protects other ancient texts like the Book of Armagh and The Book of Durrow.
Note: as the Book of Kells renovation project continues the books have been taken off the shelves. They will be back in 2025.
3. Marble busts of famous writers
Beyond the incredible collection of leather-bound books, you can see over 40 marble busts of famous writers, philosophers, and supporters of the college.
As you make your way down the chamber of tomes, you'll find figures like Shakespeare, Aristotle, Plato, and Newton.
It was originally a collection of 14 busts by Peter Scheemakers in 1743 but has grown over time. There is now a bust on the end of every alcove in the library.
4. Trinity College harp & important texts
As you make your way through the room, you'll see lots of display cases with important works and relics of Ireland's identity.
I saw a rare copy of Shakespeare's The Tempest as well as one of the last remaining copies of the 1916 Proclamation of the Irish Republic.
You can also see the Trinity College Harp or the Brian Boru harp which is a national symbol of Ireland as well as being the trademark for Guinness.
The Trinity Harp dates all the way back to the 15th century and is now one of the oldest to survive in the country.
Can you take pictures in the Long Room?
Yes, you can take both pictures and videos in the Long Room but make sure to not use flash. It can damage precious artifacts that are held inside.
This is one of the prettiest libraries I have ever seen and It's a gorgeous setting for photography but it can get seriously crowded.
To avoid too many people being in your photos, I would either be the first in or one of the last ones out.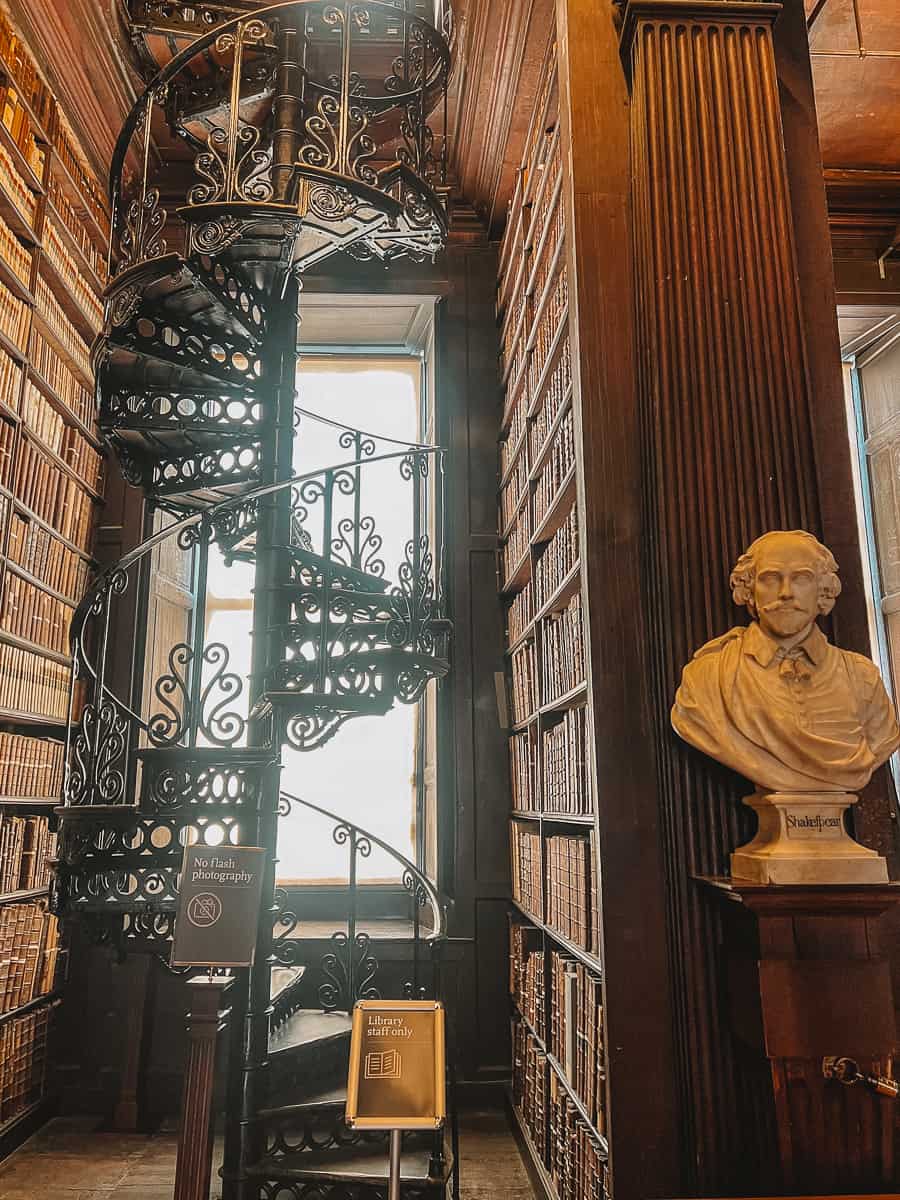 My top tips for visiting The Long Room at Trinity College
Book tickets in advance – this is one of the most popular attractions in all of Dublin, especially on a rainy day. Make sure to book tickets well in advance.
Prepare to queue – You may have to queue up to see the displays like the Book of Kells. It's worth it though.
Book later for fewer crowds – many people think that booking first thing will mean fewer crowds but it's not always the case. You'll be queueing up early doors and it could still be busy in the Long Room. You would literally have to run to the library and miss the other exhibits. Later in the afternoon is better for a quieter visit.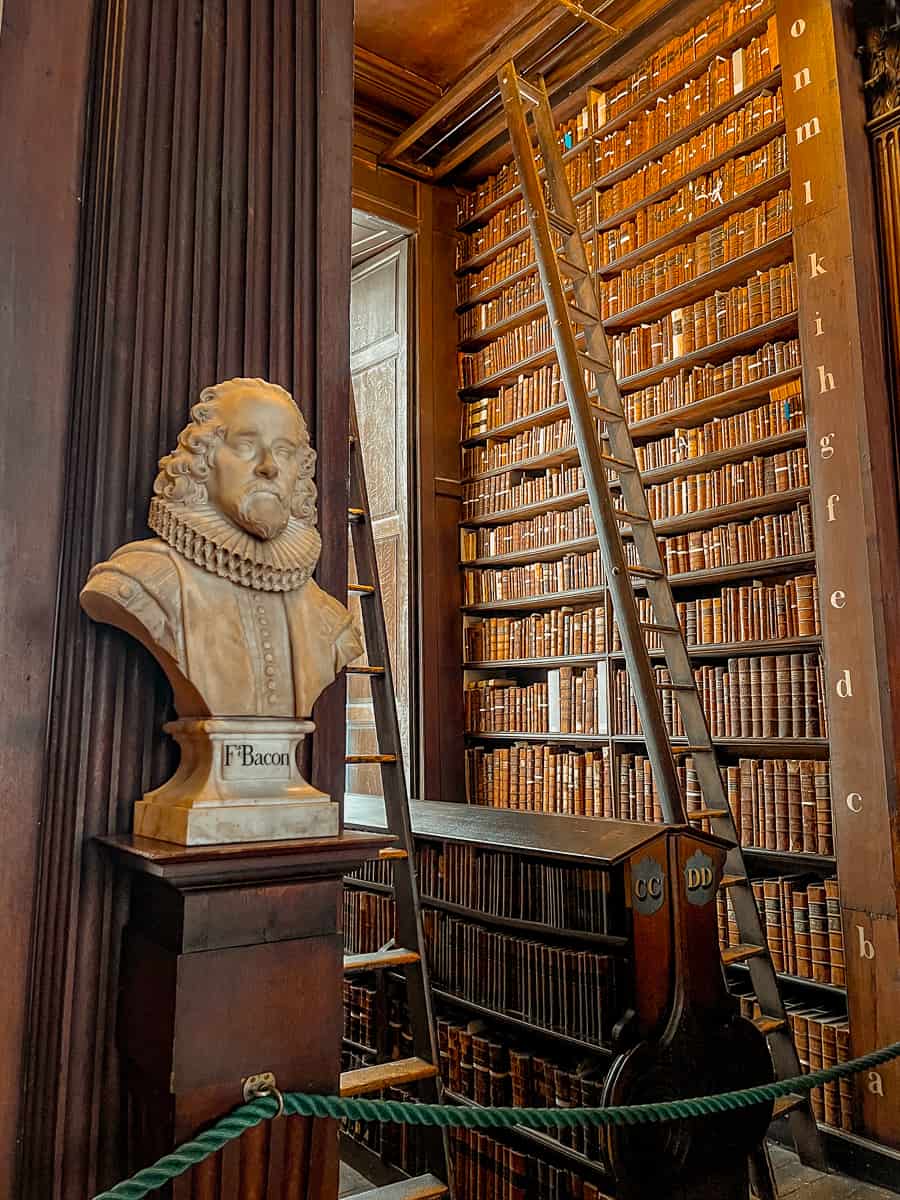 You can't take photos of the Book of Kells – You can take photos pretty much anywhere in the museum but you're not allowed to photograph the Book of Kells.
Tripods and selfie sticks aren't allowed – they are pretty strict on this so make sure to leave them in your bag.
Check out the Library Shop – the gift shop at the Book of Kells was incredible. They sold such lovely bookish gifts as well as campus hoodies. All proceeds go towards preserving the library and historical buildings.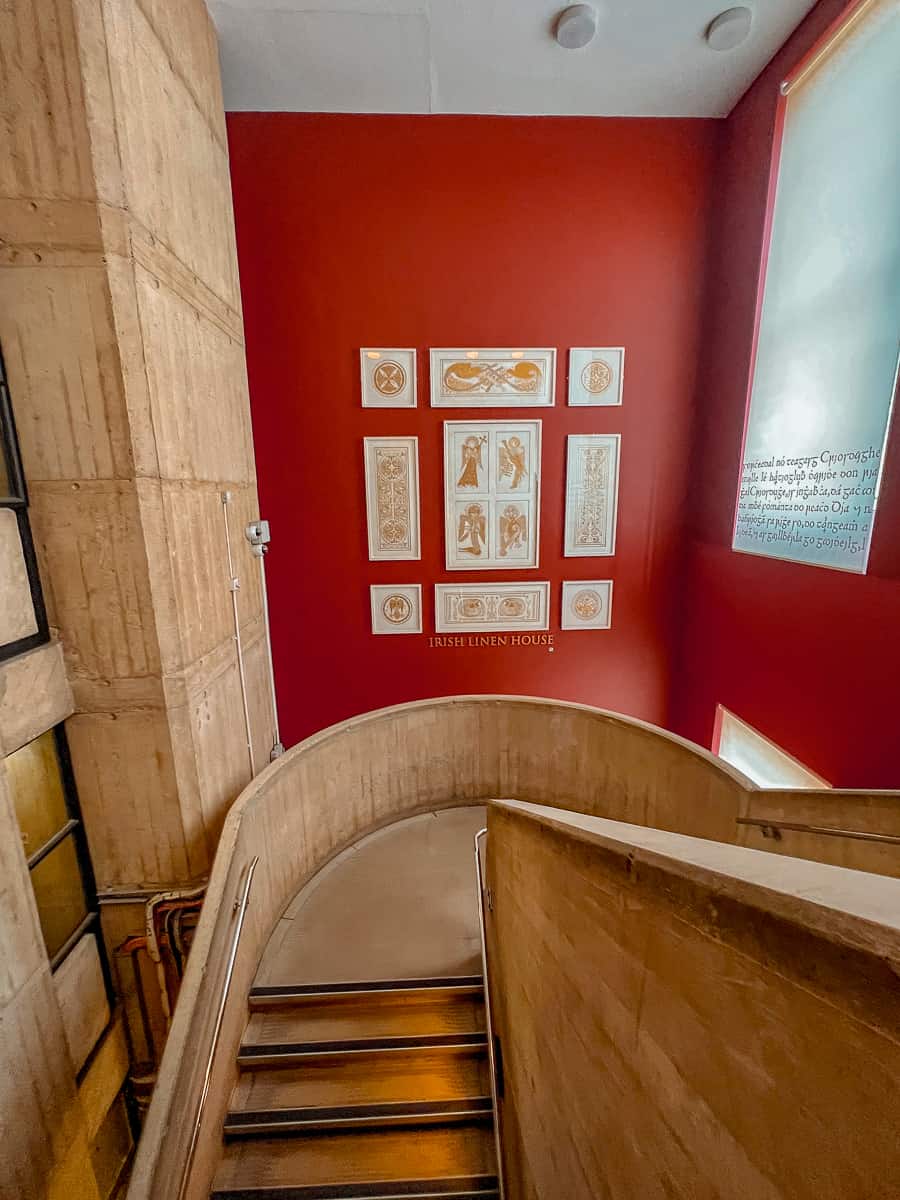 How long does it take to go through Book of Kells?
You will need at least 30 minutes to 1 hour to visit The Book of Kells & The Long Room Trinity College.
It's a small museum with only 3 rooms but these rooms can be overwhelming as they are so crowded.
To help with this they now have a free audio included with your ticket that you can access on your phone.
What is the best time to visit The Book of Kells?
If you wanted to visit for photography or when there are fewer crowds, I would book a ticket for later in the afternoon.
It's a very popular attraction, especially in the rain, and so every room is crowded with people. It can be a hot mess.
By closing time or the last entry, there will be fewer people entering the museum. It's the best time to capture photos of the Long Room & Book of Kells library.
Early morning would also be a good time but only if you're one of the first inside. You will probably need to queue up at least 30 minutes before the doors open for that though.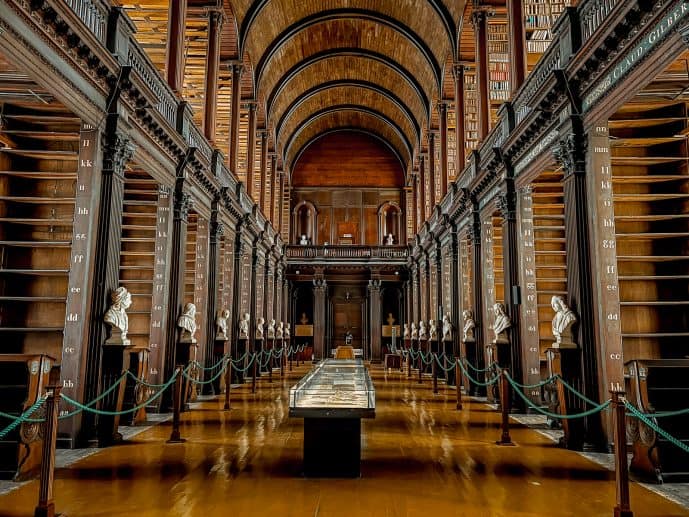 Is seeing the Long Room Library worth it?
Although the Book of Kells is a spectacular rare text and a national treasure it's just one display inside the museum.
The true highlight that I think makes this attraction worth visiting is walking through the Long Room to see the Old Library.
It's one of the prettiest libraries in the entire world and the architecture will take your breath away.
I'm a huge Potterhead and this really made me feel like I was walking through Hogwarts Library. My Slytherin heart was so happy.
Don't skip the Long Room Trinity College. It's a paradise for book lovers and architecture enthusiasts.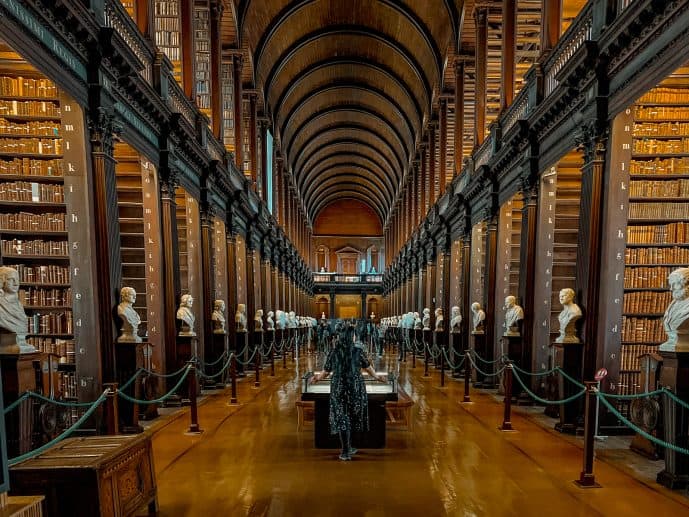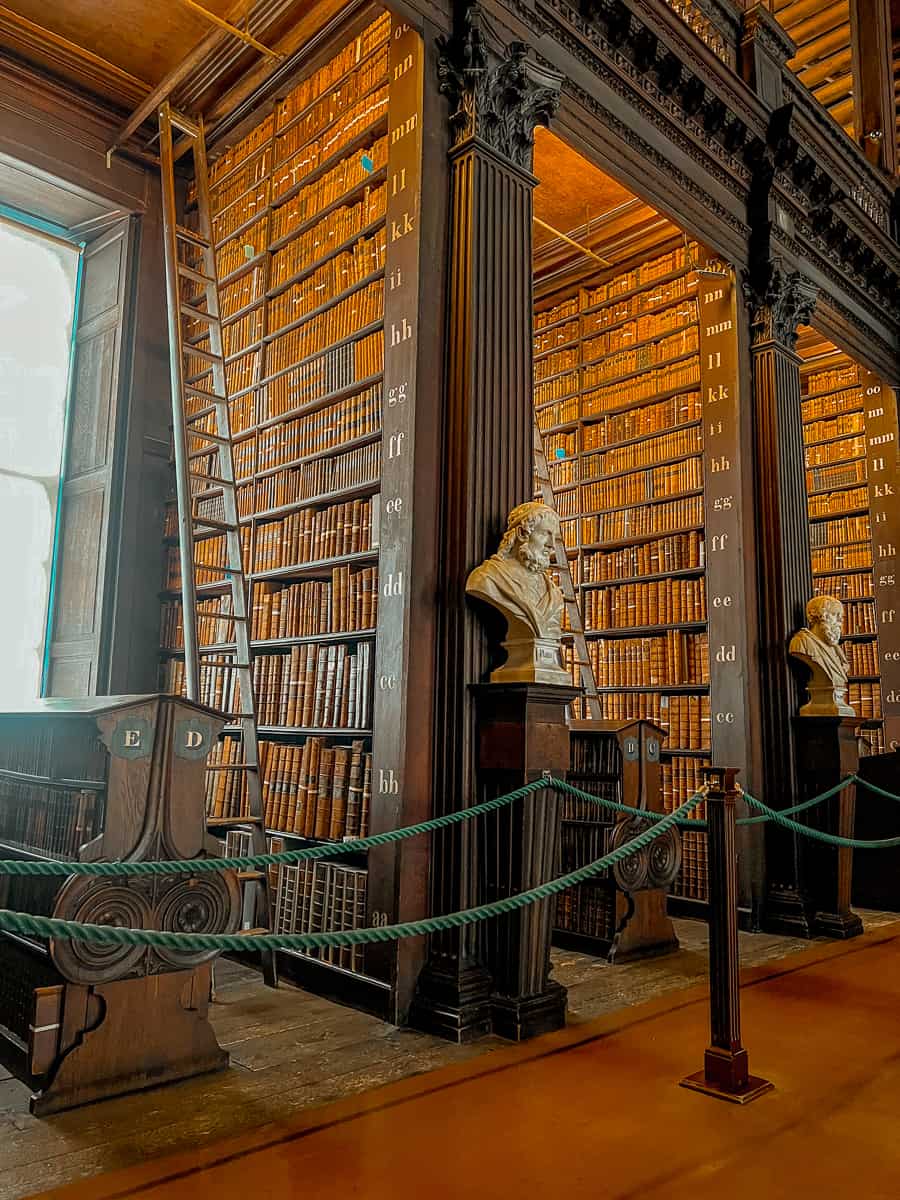 Looking for more literary locations in Dublin?
If you are a book lover you will love the number of literary destinations you can uncover in Dublin.
If you want to see more historic libraries then I would recommend heading over to the St Patrick's Cathedral area to visit Marsh's Library.
It's Ireland's oldest public library and many famous figures have used its archives like Bram Stoker.
It's far quieter than the Long Room library and you can enjoy browsing their collection in peace.
Dublin has lots of literary connections with characters like James Joyce and Oscar Wilde. You can visit the Museum of Literature to find out more.
The National Library of Ireland is in Dublin and they have lots of exhibitions and reading rooms that are free of charge.
Or why not visit some bookshops? You can find Chapters Bookshop, the Winding Stair, Hodges Figgis, and many more!
The Long Room Trinity College FAQs
Can you study in the long room at Trinity? No, it's a museum and visitor attraction so you can't study in The Long Room.
How long is the long room at Trinity College? It's 65 metres long or 213 feet.
How many busts are in the long room? There are over 40 busts in the Long Room with famous figures like Shakespeare and Aristotle.
Can you visit the Long Room for free? No, everyone must pay to visit the Long Room as part of the Book of Kells attraction. Students can get half-price tickets with a valid ID. However, Trinity College alumni get lifetime access to the old library free of charge and can bring a plus one.
Read more of my Ireland guides
How to visit Dublin's Umbrella Street
How to visit Powerscourt Waterfall Ireland
Visit the magical Muckross Abbey ruins & yew tree
How to photograph the Deck of Cards in Cobh
How to visit Ballysaggartmore Towers in Lismore
How to visit Torc Waterfall in Ireland
Visiting Ballintoy Harbour from Game of Thrones
Ultimate Dark Hedges Northern Ireland guide
How to find Umbrella Street Belfast
Game of Thrones Studio Tour review
10 Game of Thrones Doors in Northern Ireland
How to visit the Pollnagollum Cave Game of Thrones location
Tollymore Forest Park Game of Thrones filming locations
How to see the Game of Thrones Tapestry in Belfast
Glass of Thrones walking trail in Belfast
How to visit Lough Tay aka Guinness Lake
How to visit Cushenden Caves in County Antrim
How to find the Ballinastoe Boardwalk in Wicklow
Guinness Storehouse in Dublin review
Save The Long Room Trinity College for later!