The Purple Wall in Walt Disney World was the iconic wall that started it all. But, hold on, what do I mean, exactly? Who cares about a wall in World Disney World?
Well, In recent years there has been a growing fascination and popularity of Disney Walls on Instagram.
With the #wallsofdisney and #disneywalls hashtag being used over 80,000 times combined, it's certainly becoming a popular thing to do for millennials.
The Purple Wall kind of does what it says on the tin, but this complete guide will give you all the information you need. What The Purple Wall means, how to find it and how you can get your own photo there too.
Here's the ultimate guide to The Purple Wall at Walt Disney World!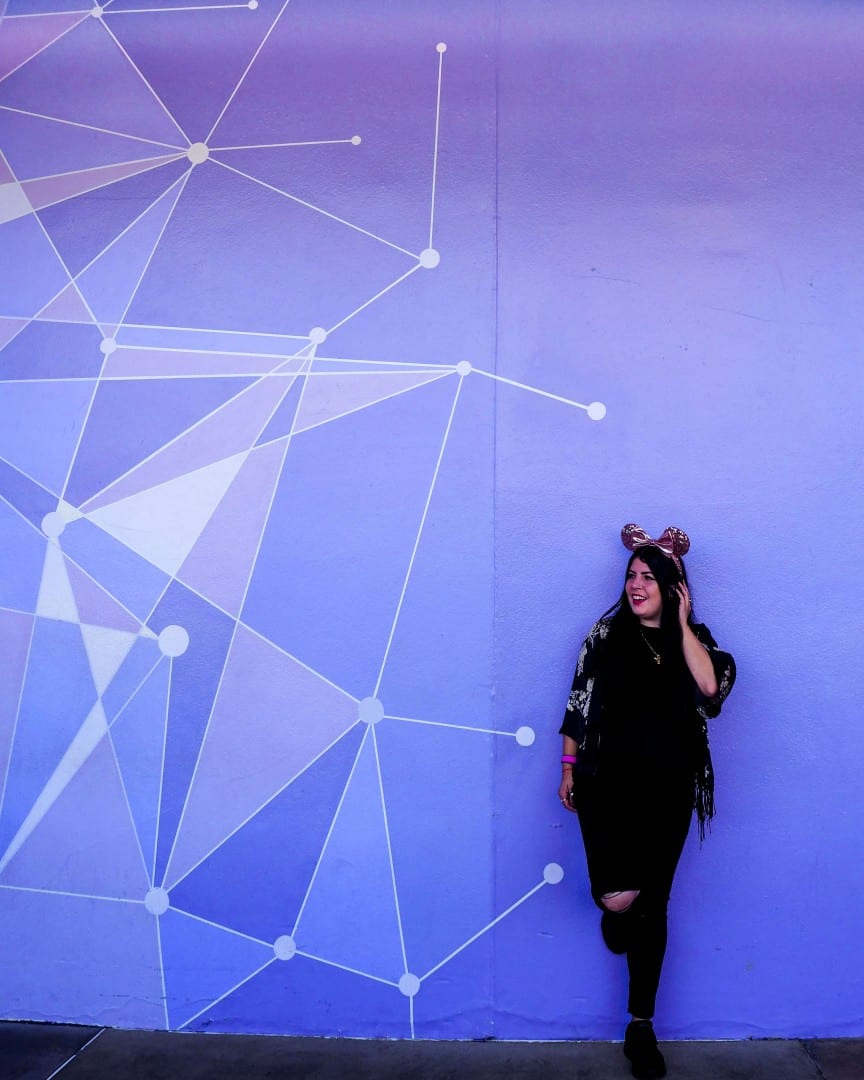 What are the Walls of Disney?
First of all, what are the Walls of Disney? If you're not really a user of Instagram or couldn't give a damn about getting photos, I will completely forgive you for not knowing what the Walls of Disney are.
The Walls of Disney are not a definitive list. They are spots on a wall, door, or space across Walt Disney World that Disney fans on Instagram have deemed photo worthy.
There are many Disney walls across the theme parks including The Bubble Gum Wall, Moss Wall, Toothpaste Wall, Fichwa Fellow Wall etc.
Not just in Walt Disney World in Florida either, the Disney Wall craze has a long reach to Anaheim, Paris, and Asia too.
To find them you can check out the @wallsofdisney Instagram account or search the hashtag #wallsofdisney on Instagram and have a look! New walls come up all the time.
Check out my post with more Disney Walls here!
What does The Purple Wall mean?
The Purple Wall means quite literally a wall that is painted purple in Disney's Magic Kingdom. It's in the perfect location as it's away from the crowds and has great lighting to bring out of the colour.
In recent years following its popularity, It has been revamped with lots of fun details being added. So, you can find different places on the wall to grab your perfect photo or selfie!
The saying "Meet me at The Purple Wall" has also been coined by Walt Disney World and they made a limited edition Magic Band with it on.
Ever since companies have been making Purple Wall-inspired merchandise with the slogan too.
Where is The Purple Wall in Walt Disney World?
The Purple Wall in Walt Disney World can be found at the entrance of Tomorrow Land from Main Street USA.
It's under The People Mover and easiest to find if you walk through Tomorrowland Terrace up the ramp.
The Purple Wall opens at the same time as the park, so you don't have to worry about it being closed off at any point in the day.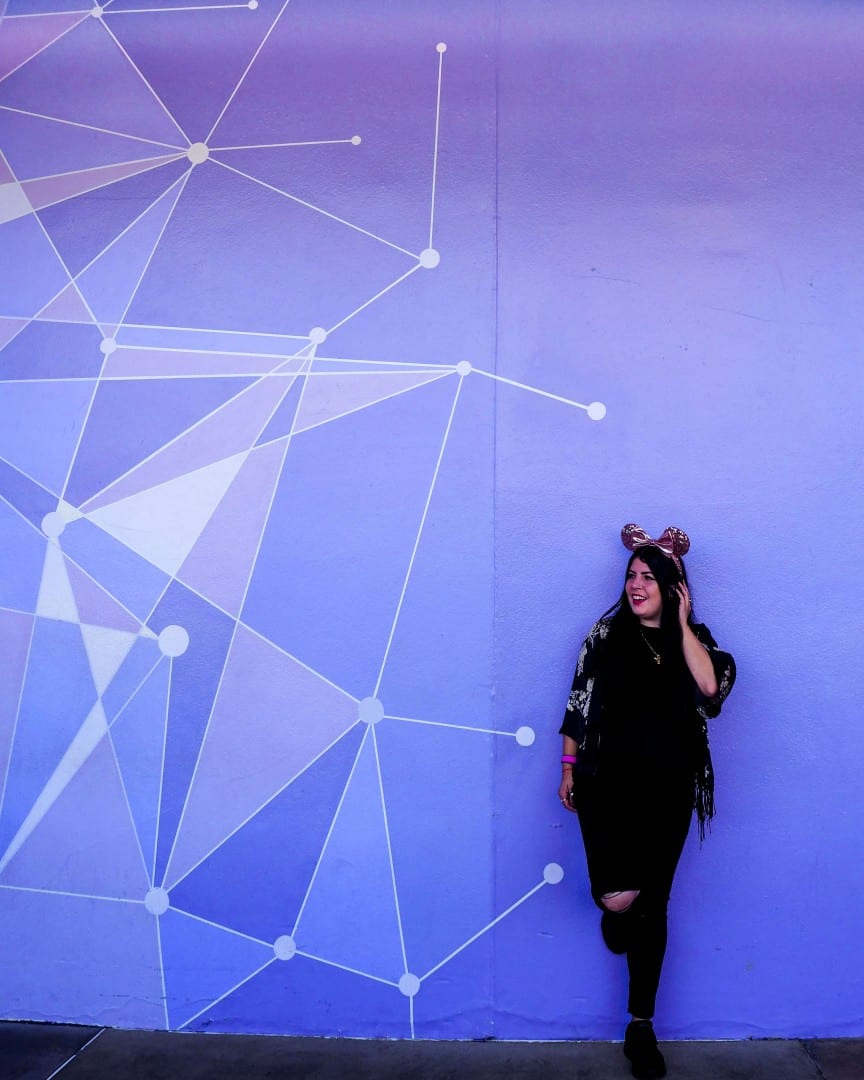 What can I do at The Purple Wall?
Take photos and have fun! There are so many ways to pose and get a good photo here. You'll be surprised at how much time you spend doing so too.
Grab your Disney ears to sparkle a bit of magic or take a selfie. Lots of people like to take a picture of their Starbucks here too…Oh yeah, that's a thing.
After you've got your photos, you could grab a bite to eat at the Tomorrowland Terrace (open seasonally), ride The People Mover, or head on over to Buzz Lightyear's Space Ranger Spin!
The Purple Wall Instagram Account and Hashtag
Did you know that The Purple Wall is so famous, it has its very own Instagram account?!
It's called @purplewallphotos with nearly 20k loyal fans checking out other Purple Wall photo creations! Why not give them a follow or submit a photo to be featured on the account?
As well as an Instagram account, The Purple Wall has its own #thepurplewall hashtag and has been used over 8,000 times! So, make sure you use it to reach more Purple Wall fans.
If you want your photo featured by Walls of Disney, make sure you used the #wallsofdisney tag for your chance.
But be warned, if you follow the account and hashtag, you will get serious FOMO.
The Purple Wall Slush
The Purple Wall even got its own signature slushy drink. It was released at the same as the revamped Purple Wall.
The Purple Wall Slush is taro tea with tapioca boba which makes the bright shade of purple colour. It comes topped with whipped cream and purple sprinkles.
Fans came in their droves to try out the new slushy drink at Walt Disney World. Of course, they had to pose with one against the newly revealed Purple Wall!
You can purchase this as a snack on your Disney Dining Plan for $5. When I visited during the Holiday Season, I was really disappointed to find out that this slush was not being sold anymore.
But, it may come back for the summer season, so keep a lookout on Disney websites. Apparently, there was also a limited edition "Meet Me At The Purple Wall" baseball cap released, and now Purple Wall Cotton Candy too!
Want to find the other Disney Walls and popular photo spots?
If you want to find all the Disney Walls, I've put together a whole post on how to find them here.
Walt Disney World is filled to the brim with magical photo spots beyond the walls. Not just in the theme parks but at the Disney Resorts, Disney Springs, Disney Boardwalk, and more.
If you're curious and want to find them all for your Instagram feed, I've put together a whole list that you can read here. So, go out and get capturing them!
Read more of my Disney articles
The best shows at Walt Disney World
A FREE day out at Disney Boardwalk
The BEST Mickey Shaped Food Finds
How to find You are the Most Beautiful Wall
Disney Walls at Animal Kingdom
A complete Be Our Guest restaurant review
Like it? Pin it!