Calling all Potterheads and Muggles. If you're looking for a magical Harry Potter shopping experience in the UK than you only need head to The Shop That Must Not Be Named gift shop in York!
It's the perfect place to buy all sorts of wizarding supplies and you'll find it tucked away in a real life Diagon Alley.
But, the great thing is, you won't need to find the Leaky Cauldron or tap on secret bricks to get here. You only need park your broom at shop number 30, The Shambles, in the city of York!
It's any Potterheads dream and sells just about anything you could wish for relating to the Wizarding World. Jewellery, sweets, wands, robes – you name it.
As a huge Harry Potter fan, I was in my element here and I didn't want to leave. There were so many magical things to browse.
Here is my complete muggles guide and review with what you can expect, how to find it and opening times!
What is The Shop That Must Not Be Named?
The Shop That Must Not Be Named it is a spectacular independent gift shop based in the city of York.
It's any Potterheads dream store. They are completely dedicated to showcasing the absolute best Harry Potter inspired gifts and merchandise.
But, beyond the wares that they sell, every inch of this place is designed with Potter fans in mind. Every detail has been carefully planned out.
From the brooms parked outside and post owls delivering letters on the ceiling with chandeliers (watch out for a Howlers!). All the way down to the wands, spell books and Hogwarts house insignias on display.
It's like a portal that allows you to enter the Wizarding World! Plus, it's located in a real-life Diagon Alley.
The history of The Shop That Must Not Be Named
Although this store only opened in York a few years ago in 2017, it's already taken the city by storm!
It was originally created due to Potter fans all over the world travelling to York to catch a glimpse of The Shambles.
This is a medieval street that is believed to be J.K. Rowling's inspiration for Diagon Alley.
When the shop first opened its doors, it really cast a spell over Harry Potter fans.
Crowds were waiting for hours just to enter and look around this magical gift shop.
It's wild success surprised many people, even the council! So, shortly after, even more Potter inspired gift shops have popped up on this real life Diagon Alley.
You'll find The Boy Wizard and World of Wizardry were opened by a different owner.
Also, The Potion's Cauldron is one of the newer wizard-inspired shops to open. This brings something new to the table with more of an interactive foodie experience.
But, out of all the Harry Potter shops in York, The Shop That Must Not Be Named is the original store that started it all.
It's magic for muggles and no Potter fan can leave the city without stepping inside!
What to expect on your visit
As one of the busiest streets in all of York, you can expect The Shambles to be crowded at all times of the day. Even at night you'll still find lots of people wandering down here.
The Shop That Must Not Be Named is extremely popular with visitors as it's the original and most famous Harry Potter shop of the bunch!
So, I would personally arrive here as early as possible around opening time to avoid long queues. This is especially important if it's a weekend or it's going to be a bad weather day.
You don't want to get soaked but many fans say that the wait is well worth it to take a look around!
I personally visited The Shambles really early morning for these photos to avoid crowds. Then, I returned later in the day to visit the inside of the shop.
It's a massive boutique that is spread over two buildings. Two whole stores of Potter gifts! So, I'd leave lots of time in your itinerary for browsing.
I spent way more time than I thought I would in here – over an hour. I was a bit of a hot mess after exploring but Mischief Managed!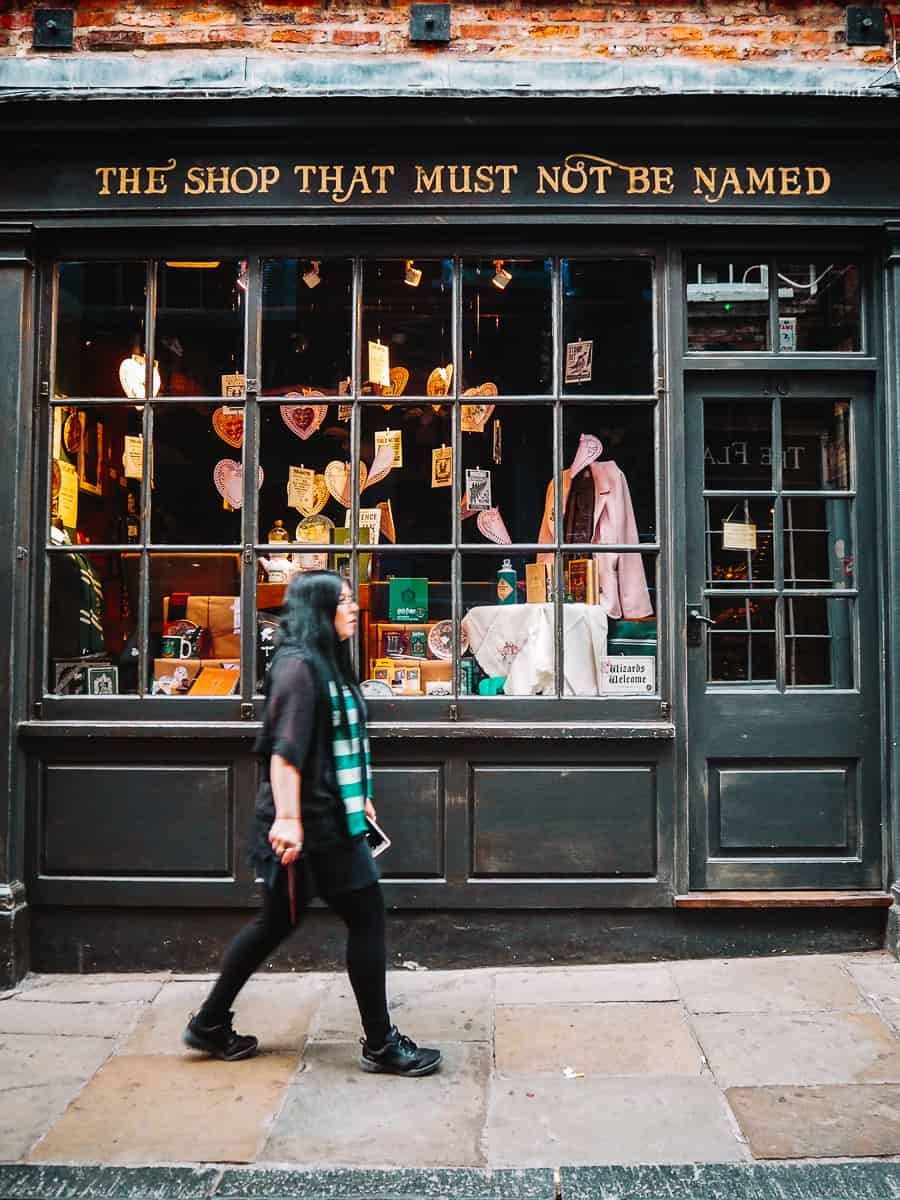 What can you buy in The Shop That Must Not Be Named?
If you've ever felt gutted as a kid that you didn't receive your acceptance letter to Hogwarts (I know I have), than this is the perfect place to go!
You won't need to be a student to buy some wizard supplies or get some house robes at Madam Malkin's to dress the part. It's all here waiting for you in one friendly store!
Honestly, this shop has anything you can think of from the Harry Potter books and movies. Even some new Fantastic Beasts additions.
If you've ever wanted a wand from Ollivanders, you'll find plenty stocked here.
From replicas of Hermione's to Bellatrix Lestrange's and even Dumbledore's wands. You'll be spoilt for choice.
There are mugs, pens and schoolbooks from every house and each common room will have a dedicated section!
You can buy robes, bags, sorting hats, jewellery, games and plush toys of characters like Dobby and Hedwig.
There are collectors items like the Marauder's Map, Sword of Gryffindor and Lucius Malfoy's walking stick!
My favourite part was eyeing over the incredible magical sweets on offer! Bertie Bott's Every Flavour Beans, Chocolate Frogs and even Butter Beer was there to buy.
I have to admit it's not the cheapest shop in the world but prices are fair as everything sold here is officially licensed merchandise.
So, I would personally leave lots of room in your bags because I can guarantee you won't leave here empty handed.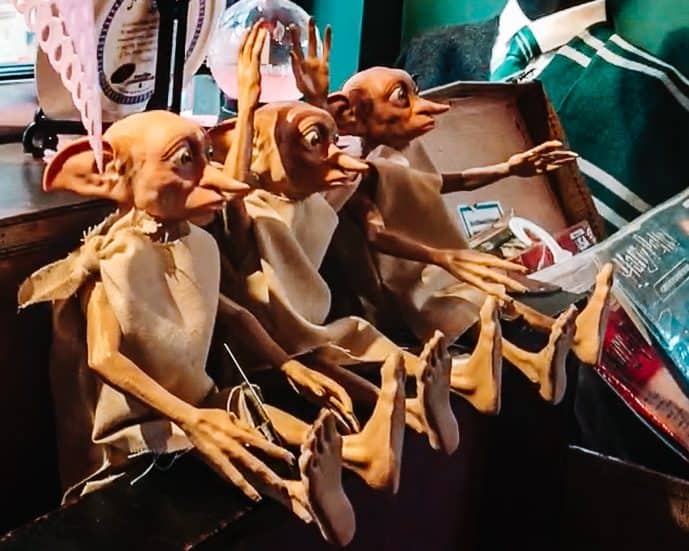 Magical displays and friendly prefects (staff)!
Although the gifts on offer here were mind-blowing, the thing that really made this shop for me were the little touches and the magical displays. It made the browsing experience all the more fun.
There were floating candles, broomsticks, cauldrons, wands – even 'Have You Seen This Wizard?' posters!
The staff are also super friendly and welcoming. This makes a huge difference and creates a more memorable experience.
Not only are they all dressed as witches and wizards, they are Potterheads themselves.
So, they will be more than happy to quiz you on your Potter knowledge and help you pick out a wand if you're struggling to choose.
Where is The Shop That Must Not Be Named in York?
You can find this wonderful store on what's known as the Harry Potter Street in York or the real-life Diagon Alley.
It's called The Shambles which is the oldest street in the city! The full address 30-31 Shambles, York YO1 7LX.
It's easiest to walk to The Shambles as it's a pedestrianised street that is closed to vehicles at all times.
It's a 3-minute walk from the famous Jorvik Viking Centre and around 7-minutes from the impressive York Minster cathedral. Don't forget to take a selfie with the famous Whip-Ma-Whop-Ma Gate nearby.
The nearest bus stop to The Shambles can be found at the Stonebow and Pavement.
If you're looking for a place to park the nearest is the Q-Park Shambles. It's a 3-minute walk from there.
The Shop That Must Not Be Named opening times are from Monday to Sunday, 10.30am – 5.30pm.
Can't park your broom just yet?
If you're not planning a trip to York but you did want to browse their shop. Why not have a look at their amazing range of Potter gifts online?
Pretty much anything that is sold in their Shambles store is available to purchase on their website.
Click here to browse the online store
Looking for more Harry Potter magic in York?
If you're loving the look of this spellbinding shop, the magic really doesn't end there in York!
The city have really taken on the Harry Potter theme so you can expect to find even more Harry Potter shops down The Shambles. So, keep a look out.
In the Potion's Cauldron nearby you can concoct your own spells, try the sorting hat and sip on some Butter Beer!
Also, there are some hidden film locations dotted around the city that Potterheads will love visiting. You can even take a day trip to Hogsmeade station!
If you're curious to find all these magical locations, I have a complete guide on where you can find them here. It's perfect for wizards and witches in all houses.
Stay in a Harry Potter hotel in York!
If you're looking for a Harry Potter hotel in York then look no further than The Enchantment Chamber!
It's an award-winning, one-bedroom apartment that is built to look like the Gryffindor common room at Hogwarts.
You'll walk through platform 9 3/4 to enter and, inside, you'll find a four-poster bed, a fireplace, and even suitcases that transform into your wardrobe!
Not only that but there are lots of quills, wands, and potion bottles to practice your magic.
Book a night in Hagrid's Hut!
Have you ever wanted to spend a magical night in Hagrid's Hut at Hogwarts? Well, now you can by heading up to North Yorkshire and it's only a 90-minute drive from York!
The Groundskeeper's Cottage by North Shire is the only one of its kind in the world and is a life-size hut that you can book to spend the night.
It has a living room, kitchen, Ministry of Magic bathroom, and bedroom which makes the entire place cosy. There's even a Ford Anglia outside.
It's been set up as the perfect Potterhead retreat in the countryside. So, you can relax on the sofa, pour yourself some Butterbeer, and have a Harry Potter movie night.
I recently stayed here and it was the most magical time! It is expensive but worth splurging on.
Click here to read my complete Groundskeeper's Cottage review!
Read more of my Harry Potter travel guides
How to find Dobby's Grave at Freshwater West
Harry Potter locations in Edinburgh
All the Harry Potter filming locations in Scotland
How to visit Malfoy Manor in real life!
How to find the Harry Potter Tree at Blenheim Palace
Taking broomstick lessons at Alnwick Castle
How to find Tom Riddle's grave in Edinburgh
Harry Potter filming locations in Lacock
Harry Potter filming locations at Gloucester Cathedral
Visiting the Quidditch Town of Tutshill Tornados
Harry Potter locations in Exeter
Harry Potter filming locations in Virginia Water
A complete Forbidden Forest Experience review
Top photography spots at the Wizarding World of Harry Potter
How to see the Hogwarts Express in Scotland
Is this Bristol's answer to Diagon Alley?
Is Cecil Court a real Diagon Alley in London?
How to visit Dumbledore's Grave in Scotland
Harry Potter filming locations at Durham Cathedral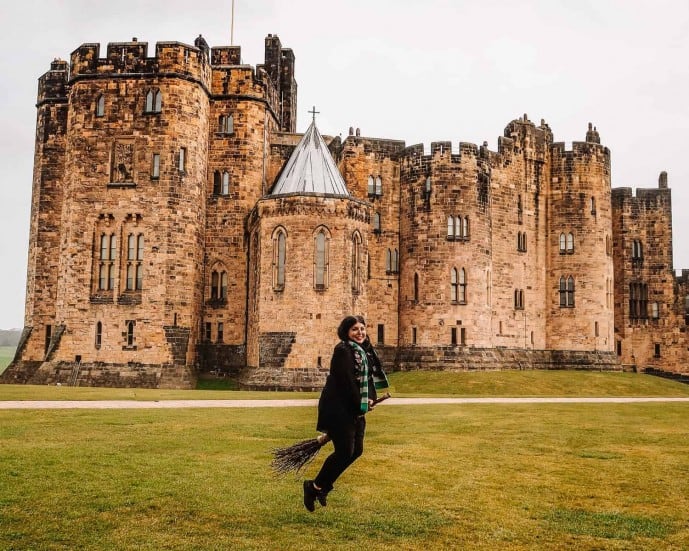 Save The Shop That Must Not Be Named review for later!