One of the most popular photo spots in the capital of Scotland is The Vennel Edinburgh. This historic and secret alleyway has an old beaten staircase leading up from Grass Market.
Although you may be a little out of breath to reach the top, the views are well worth climbing for.
The peak of the staircase provides a fabulous, photogenic view of Edinburgh Castle. It's the perfect location for Instagram-friendly snaps and a unique angle of the Castle without the crowds too.
I had been to Edinburgh on many occasions, but never visited this spot until I saw it on Instagram last year! So, I made a sunrise mission to capture some photos here this time.
In this complete guide to the Vennel Edinburgh, I'll take you through the backstory, how to find it, the best time to visit, and some photography tips!
What is the Vennel Edinburgh?
The Vennel is essentially an old steep staircase that has been squished between two buildings in Grass Market.
Years ago, it was a popular throughway from the high street and to Brown's Place alongside the historic Flodden Wall. But, now even the Google Maps pin location has this down as a Castle viewpoint!
At the top of the stairs, you'll get a platform where you can see a spectacular view of Europe's oldest fortification and the most besieged castle too!
The reason why this viewpoint is so great is that not only is it photogenic with the old lamppost and historic buildings, but you also don't get the masses of crowds that the Royal Mile pulls in.
Plus, you can really see just how high the castle is on top of Castle Hill!
The History of The Vennel Steps
If you're wondering what Vennel means, it's an old Scottish word that originated from the French word 'Venelle' in the 15th century. The word 'Venelle' means 'Alley' or 'Little Street' which I think is so sweet!
After the tragic battle of Flodden, the most bloody in British history, Edinburgh built a fortified wall around the Old Town to keep Invaders out called the Flodden Wall. The remains of this wall can still be found next to the Vennel Steps.
The Vennel was the boundary line of the City of Edinburgh and was marked by the Flodden Wall. Over time, once the Union with England happened, the wall was no longer required but it still remains.
James Brown, who owned an Inn in the Grass Market area, decided to make a square opening up to the Vennel in the 19th century.
He called this Brown's Place and developed houses that went up for sale up until the 1950s. After, it was derelict.
In 1969, these steps appeared in the movie The Prime of Miss Jean Brodie. In the movie, she takes her girls on walks to Grey Friars. So, in 2018, the steps were renamed the 'Miss Jean Brodie Steps' to celebrate the author Muriel Spark on her 100th birthday.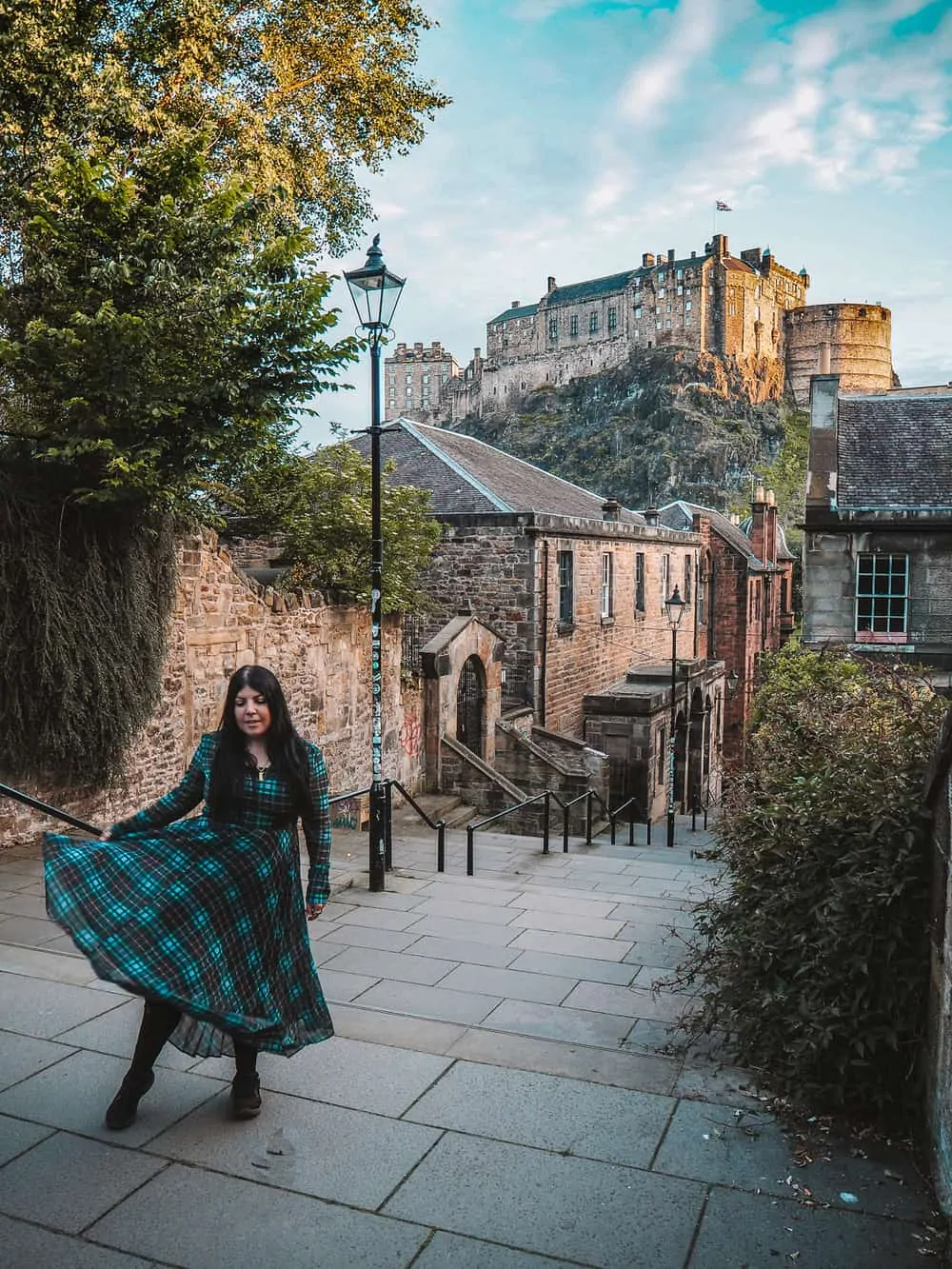 How to find the Vennel Steps in Edinburgh
The easiest way to access the Vennel Steps is from Grass Market. If you head along West Port Road in Grass Market, you'll spot the Kick-Ass Grass Market Hostel and Mary's Milk Bar.
In between these two buildings, you'll find the steps with a sign saying 'Vennel – leading to Brown's' Place. Take these stairs up towards the top. It will be around 50 steps from the bottom to the top of the Vennel to see the viewpoint.
Alternatively, you can find it at the top of the steps. The Main road is Lauriston Place and you can locate Chalmer's Hospital.
Opposite this, you can take a walk into Heriot Place or Keir Street. At the end of both of these roads is the Vennel view.
If you're coming for a sunrise shoot, there are some car parking spaces around Keir Street that are free before 8 am. After that, it's permitted only.
Alternatively, Uber works in Edinburgh or hire a local City Cab. Or, the buses 23, 27, 35, 45, 47, 300 SkyLink, X47 stop nearby the Lauriston Building.
What is the best time to visit the Vennel for photos?
Although The Vennel is a hidden gem, it's not completely secret. It's a popular photography location in the city at all times of the year.
Not only with tourists and photographers but locals on their commute looking to skip the crowds with a shortcut.
So, I would always suggest going early in the morning rather than later to try and beat the crowds and get the best lighting for photos too!
As I was travelling In June, Edinburgh was quite busy but not as busy as it will be in August during the Fringe Festival. Safe to say, if you visit in peak season, get up as early as you can.
Sunrise in Scotland can be ridiculously early in the busy months, but it's worth getting up for. You can always nap later.
Photography tips when you get to the Vennel
The best lighting for photos is at sunrise, so make the effort to get out while the sunlight isn't too harsh. But, this is Scotland, so you may just have clouds.
If it's raining, make sure you protect your camera gear. Use this as protection.
I went in June and there was a lot of greenery blocking the castle view. So, I didn't get the composition I had hoped for. But, I got creative with angles and positions and got a nice shot in the end. In winter you won't have that bother.
You'll probably need around 10-15 minutes here to walk up and get your shots. There's a nice big platform to set up a tripod at the top!
Like with most of Edinburgh, the backdrop is quite dark with greyish stone. So, wear nice and bright clothing to stand out if you plan on being in the shots.
If you're heading to Scotland soon, don't forget travel insurance to protect you and your gear! I always use World Nomads and recommend their policies.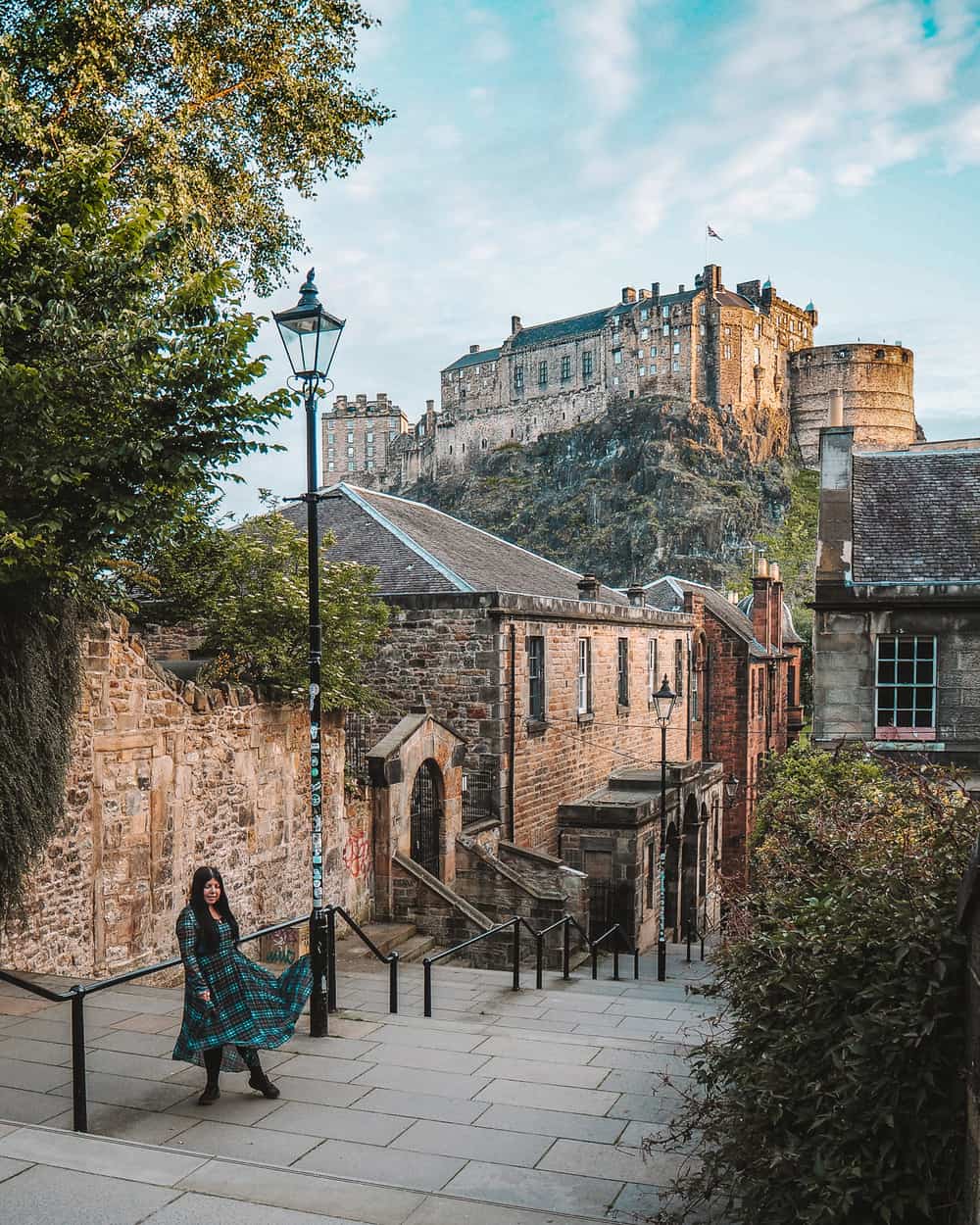 Things to do around the Vennel Edinburgh
Once you've recovered your breath and you're done snapping all your photos. What now?
Well, there are plenty of things to do around the Vennel while you're here to make it worth your while;
Grassmarket Square
Grass Market and the lively Square is a great place to visit to go Thrift shopping, have a drink in a bar or dine in one of the delicious restaurants.
There's lots of outdoor seating, so if the sun is shining this is a fab place to come for an Al Fresco coffee or lunch. Plus you get an awesome view of the castle from here too.
Visit Armchair Books
If you were looking for an incredible place to buy some books for your collection, look no further than Armchair Books!
It's a popular photography location in the city and for good reason. It's one of the most magical bookshops I've ever seen.
As you enter the door, you'll descend into endless aisles piled high with books and beautiful Persian rugs. Don't skip it!
Click here to read my complete Armchair Books guide!
National Museum of Scotland
Great for a rainy day and is completely FREE, the National Museum of Scotland is huge and houses many fun exhibits.
It's open from 10 am – 5 pm and inside you can find Natural History, World Culture and much more.
There are also free guided tours at 11 am each day. See more here.
Greyfriar's Bobby and Kirkyard
Edinburgh's most famous Terrier is Greyfriar's Bobby. When his owner John Gray died, he used to visit his owner's grave in Greyfriar's Kirkyard every day.
Eventually, he became the talk of the town and when he died in 1872, the people of Greyfriar's made a gravestone in memory of him.
There is also now a statue and fountain in his honour that you can find opposite the Greyfriar's Bobby Bar.
Make sure you give him a pat on the head for good luck. A visit to the Kirk and Kirkyard (also known as the Harry Potter graveyard) is also worth scheduling to see his resting place and the other historic tombs.
Click here to read my complete guide for Greyfriars Kirkyard and all the Harry Potter graves
Where to eat near the Vennel
In Grassmarket at the bottom of the Vennel Steps there are a wealth of places where you can choose to eat;
The Fiddler's Arms – A friendly, classic dark wood pub with traditional Scottish music, a big whisky menu, and Haggis if you're brave enough to try. See menu.
Mary's Milk Bar – A famous retro Ice cream shop that serves up homemade gelato, coffee and other treats. More info.
Cafe Bistro Piccolo – serves up a good coffee and breakfast or lunch if you fancy a pick me up after your sunrise mission! click here.
Where to stay near the Vennel
There are a few hotels in the area that are near the Vennel to make a sunrise mission a little less painful and are only a short walk away from the viewpoint;
Luxury – DoubleTree by Hilton, Hotel Novotel, Apex Grass Market, Residence Inn by Marriott, Apex City of Edinburgh
Mid-range – The Knight Residence by Mansley, Leonardo Edinburgh City, QuarterMile Apartments
Budget – Kiss Ass Grass Market Hostel – this is right at the bottom of the Vennel steps!
Looking for more Instagram spots in Edinburgh?
Edinburgh is one of the most photogenic cities in the UK and there are a wealth of photo spots that are hidden away in the courtyards, streets, and hilltops.
Make sure you read my complete guide to all the Instagrammable places in Edinburgh.
This includes how to get to the spectacular Calton Hill, Circus Lane, Dean Village, and some secret spots you haven't heard of!
Make sure you read my full list here with photo tips
Are you looking for the top things to do in Edinburgh?
Beyond the photo spots, Edinburgh is a great introduction to the beautifully rugged Scottish landscapes and traditional culture.
It may be a little touristy, but you can pretty much find anything here including, Haggis, Whisky, Tablet Fudge, Irn-Bru, Tartan, Highland Cows, a Cèilidh, and pretty much anything you want fried can be.
It really is one of the best cities in the UK that has something for everyone while they're here.
Whether that be history, cuisine, wellness, the outdoors, and even the beach. So make sure you stick around for a few days.
Edinburgh is a lot of fun self-guided but there are a wealth of tours to take to see the city in a different way too.
Walking tours, ghost hunting, and even secret cave systems underneath the city streets! Click here to see all the tours that Edinburgh has going on.
Read more: my complete bucket list if it's your first time visiting Edinburgh!
Read my Edinburgh travel guides
All the Outlander locations in Edinburgh
Harry Potter locations in Edinburgh
How to visit the Harry Potter graveyard
A complete guide for Armchair Books
Why you must visit Dean Village
How to find Bakehouse Close from Outlander
The hidden gem of Whitehorse Close
Signet Library Afternoon Tea review
Why you must visit the World's End
A complete guide for Circus Lane
The mystery of the Burke and Hare Coffin Dolls
Queen Mary's Bath House in Edinburgh
Scottish National Portrait Gallery review
Discover Liberton Kirk in Autumn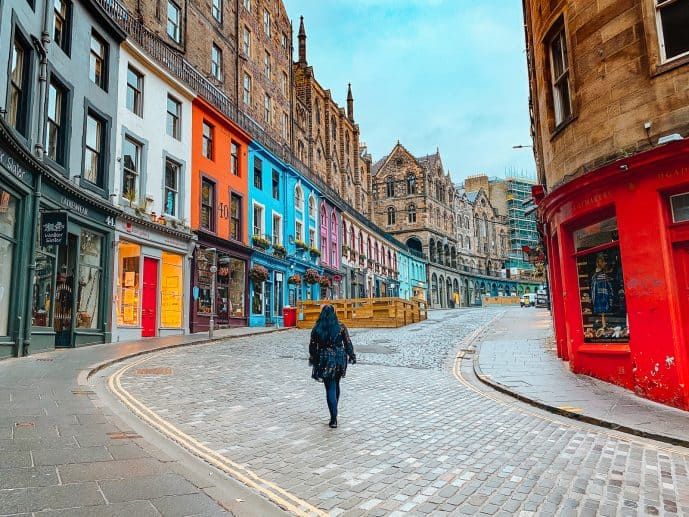 Read more of my posts on Scotland
Where is the pink castle in Scotland?
Why you must visit the Kelpies
A complete list of Outlander filming locations in Scotland
Cove Beach on the Scottish Borders
How to find the Devil's Pulpit
All the Harry Potter filming locations in Scotland
Save The Vennel Edinburgh for later!