The Blea Tarn walk is one of my absolute favourite easy walks in the Lake District.
It's a little-known tarn with spectacular scenery of the Langdale Pikes all around you and is easily accessible by road.
Not only that but this gorgeous location is featured in The Witcher series 2 on Netflix! So, I had to check it out for myself in Cumbria.
Here is a complete guide for the Blea Tarn Walk in the Lake District and how to visit The Witcher Blea Tarn filming location!
What is Blea Tarn?
So, firstly, many people ask 'what is a Tarn'? Well, a Tarn is a small mountain lake, pond, or pool that is formed in the cirque of a mountain glacier.
Blea Tarn is situated in the valley between Great Langdale and Little Langdale and was formed by glacial ice melting in this area thousands of years ago.
It has an elevation of 217 metres or 712 feet and although it's a huge lake it only has a depth of 7 metres.
It's an SSSI (Site of Special Scientific Interest) that is owned and protected by the National Trust.
Many people visit the Lake District to take the scenic Blea Tarn walk or go wild swimming. But, recently more people are visiting to see the Blea Tarn The Witcher filming location!
Blea Tarn The Witcher filming location
So, The Witcher fans will recognise Blea Tarn from series 2 of the show. This spectacular lake is featured at the very beginning of episode 4 'Redanian Intelligence'.
This is when Ciri is training in Kaer Morhen and Geralt is leading her over the lake to train for The Witcher Trials.
The Trial of the Mountains is where a Wolf Witcher earns their medallion. Or, the Trial of the Forest Eyes is where the Witcher would be blindfolded in Kaer Morhen Valley and rely on senses other than sight.
Ciri can be seen scaling a cliff and then hopping over the stepping stones on the edges of Blea Tarn. Behind her, there is a stunning mirror reflection of the snowy Langdale Pikes in the background.
We see this magnificent location again in episode 7, 'Voleth Meir', where Geralt and Jaskier are walking with Yarpen Zigrin's crew.
The Witcher fans will be happy to know that Blea Tarn is a filming location you can easily visit for yourself in the Lake District.
How to visit Blea Tarn in the Lake District
Blea Tarn is only a 10-minute drive from Little Langdale, a 20-minute drive from the popular town of Ambleside, and a 30-minute drive from Grasmere village.
The road to Blea Tarn from Great Langdale and National Trust Sticklebarn is VERY steep and winding with a narrow road and limited passing places.
For an easier drive, I would suggest heading to Blea Tarn from Little Langdale which is less hazardous.
It is easiest if you have a car to drive there as there is no Blea Tarn bus. The closest stop is Old Dungeon Ghyll Hotel in Great Langdale which is 1.6 miles away (40 minutes walk).
You can take the 516 Stagecoach service from Kendal, Windermere, Ambleside, Skelwith Bridge, or Elterwater. Click here to plan your journey.
Alternatively, you can walk to Blea Tarn from Tibberwaithe or Little Langdale which is a popular route people take from the Cathedral Cave and Slater's Bridge.
Blea Tarn postcode is LA22 9PG. Click here for a Google Pin!
Blea Tarn parking
There is a dedicated National Trust Blea Tarn car park that is right beside the lake. This is quite small with only 16 spaces so try to plan your visit at the right time to guarantee a spot.
It's completely FREE for National Trust Members but Non-members do have to pay for parking.
Blea Tarn parking prices are £5 for 2 hours, £6.50 for 4 hours or you can park for the entire day for £7.50.
If you plan to walk further than the lake, I would make sure you pay for the entire day as the walks to Little Langdale are quite lengthy and not clearly signposted.
Important: Bring cash for the car park and/or your National Trust membership card to scan for your parking ticket!
How long is the Blea Tarn walk?
The Blea Tarn circular is around 2 miles and so it should take you around 1-2 hours to complete this walk.
That being said, you may want to stop for lots of photos as the views are really breathtaking as you're surrounded by mountains!
There are also some side paths that you can take to enjoy views of small streams and the Langdale Pikes. There's also the option to have a picnic or go wild swimming.
The paths around the lake for the Blea Tarn walk are mostly flat and so it's a very easy walk. You can take as little or as long as you like!
Note: Blea Tarn is not a complete lake circular, you have to walk along the roads back to the car park from the fell at the end. But, I would turn back and walk the way you came along the lakeside to return.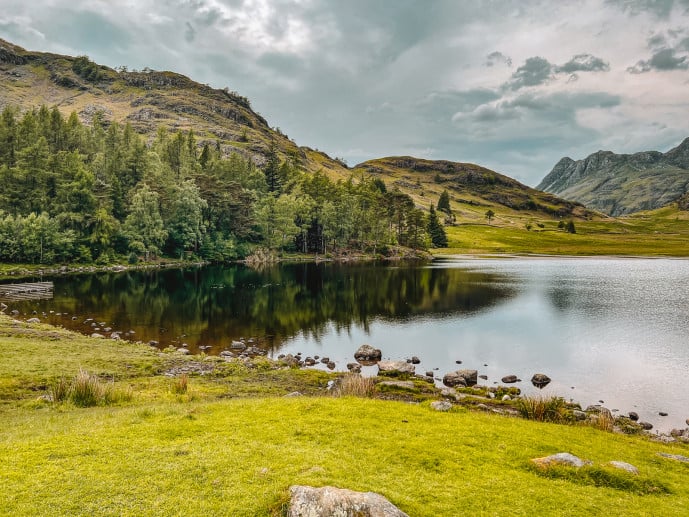 Blea Tarn circular walk directions
Head through the gates from the car park – Once you've parked up, it's a short walk over the road to access Blea Tarn.
Walk past the viewpoint on your right – From the gate, head on the path and you'll find the viewpoint. This is the best view of the Blea Tarn The Witcher filming location!
Enter the next gate and cross the footbridge – you'll head through another gate and along a path to a footbridge to continue the walk.
Turn right into the wooded area – after you head over the footbridge, turn right and you'll head into the woodland. There are benches here to take in the views. Turning left at this bridge will take you to the Little Langdale walking path.
See the views from the fell – after you exit the woods through the gate, you can walk up the hill and take in the amazing views of Great Langdale and the Langdale Pikes.
Head back the way you came – you have the option to walk over the road back to the car park. Or, you can walk back the way you came. Heading back on the Blea Tarn walk by the lake again is safer and more scenic – but it's up to you!
Exploring Blea Tarn The Witcher filming location
All of the Witcher filming locations at Blea Tarn can be found at the very beginning of the path near the car park.
You can head towards the small mound that leads down to the lake to see where Geralt and Ciri hop over the stepping stones for the Witcher Trials training.
At the very beginning of episode 4, 'Redanian Intelligence', Ciri can be seen with that perfect mirror reflection of the snowy mountains!
Getting to the edges of this lake and the rocks here can be quite difficult as it's very boggy with lots of mud and cow poo.
But, if you're really determined, you could definitely give it a go-to pose like Ciri for a photo.
You'll find the scene from episode 7, 'Voleth Meir', on the opposite side of the walking path near the lake at the very beginning of the Blea Tarn walk.
Geralt can be seen riding his horse on this walking path with Jaskier walking beside him. Yarpin is just behind riding with his crew in a horse and cart!
In this episode, the scenes were far greener and look very similar to the photo below.
Blea Tarn swimming
Wild swimming is a really popular thing to do at Blea Tarn. There aren't many places in the Lake District where you can go swimming in nature with such incredible views.
There are plenty of places around the open lake that allow you to walk down to the shallower edges and take a dip.
I saw many people swim nearer the wooded area which I believe is easiest to access as there is a wooden platform.
Blea Tarn is famous for having freezing cold waters due to the elevation so I would visit on a sunny day or come prepared with your wet suit!
Blea Tarn photography
The best time to photograph this incredible tarn would be early morning or at sunset on a clear day.
The famous view of Blea Tarn is that perfect mirror reflection of the Langdale Valley and Pikes in the water. But, this only happens if there is clear visibility and very little wind so that it is perfectly still.
If you wanted that flawless reflection, you may have to have some patience as the elevation here does make the water ripple.
I did manage to capture it pretty well after a little while but it wasn't a 'perfect photo' as it was forecast for heavy rains! But, I'm happy with what I took.
I'd love to come back in the winter when there is snow on the peaks to take some photos just like the scenes from The Witcher in Kaer Morhen Valley!
My top tips for visiting Blea Tarn
Getting here – The roads up to Blea Tarn are very narrow, steep, and winding, especially from the direction of Stickle Ghyll. I would recommend the road from Little Langdale. Make sure to take it slow and make use of the passing places.
Prepare for the weather – The Lake District is like its own micro-climate and the weather can change in an instant. Always come prepared with a raincoat and some good footwear for the Blea Tarn walk.
Cows and sheep – There are cows and sheep around the lake and therefore lots of poop. Parts of the edges of the lake are also boggy.
Crowds – Blea Tarn has a small car park and can get busy. I would recommend early morning or later in the afternoon for a quieter visit. But, know that this is a popular wild camp and party spot in summer!
Picnics – There are some lovely picnic areas at Blea Tarn. It's an incredible spot for some lunch with a view.
Cash – bring some cash for the parking machine. Non-National Trust members pay £5 for 2 hours. It's £7.50 for the day if you wanted to do a longer walk.
Blea Tarn to Little Langdale walk & Cathedral Caves!
After your Blea Tarn walk, there are many beautiful places you can head to in this area of the Lake District.
Little Langdale is a quaint village just a few miles from here, where you can visit the Three Shires Inn.
You can take the Blea Tarn to Little Langdale walk to the Cathedral Cave which is another impressive cavern. It's even bigger than this one and has connecting tunnels.
The walk will also take you by the historic Slater's Bridge. You can then make your way up to Hodge Close Quarry which is a dramatic skull cave and another Witcher filming location!
As these hiking routes aren't clearly signposted, it's best to take an OS map and a compass or download maps.me before you go.
Blea Tarn FAQs
How high is Blea Tarn? Blea Tarn has an elevation of 217 metres or 712 feet.
How deep is Blea Tarn? The Tarn is very big but it's only 7 metres deep. In comparison, Blea Water is the deepest tarn in the Lake District at 61 metres deep!
Can you swim in Blea Tarn? Yes, Blea Tarn wild swimming is really popular! It's quite safe as there are shallow edges. But, as you're so high up, it is really COLD even in summer.
Is Blea Tarn dog friendly? Yes, but you must keep furry family members on a lead as there is wildlife here.
Where to next in the Lake District?
Blea Tarn is only a short drive away from places like Ambleside, a popular town in the Lake District. Here, there are lots of restaurants, museums, and attractions to enjoy.
My favourite building is The Bridge House which is a tiny dwelling over the river and you can even chase waterfalls like Stock Ghyll Force.
Click here to read my guide on the best things to do in Ambleside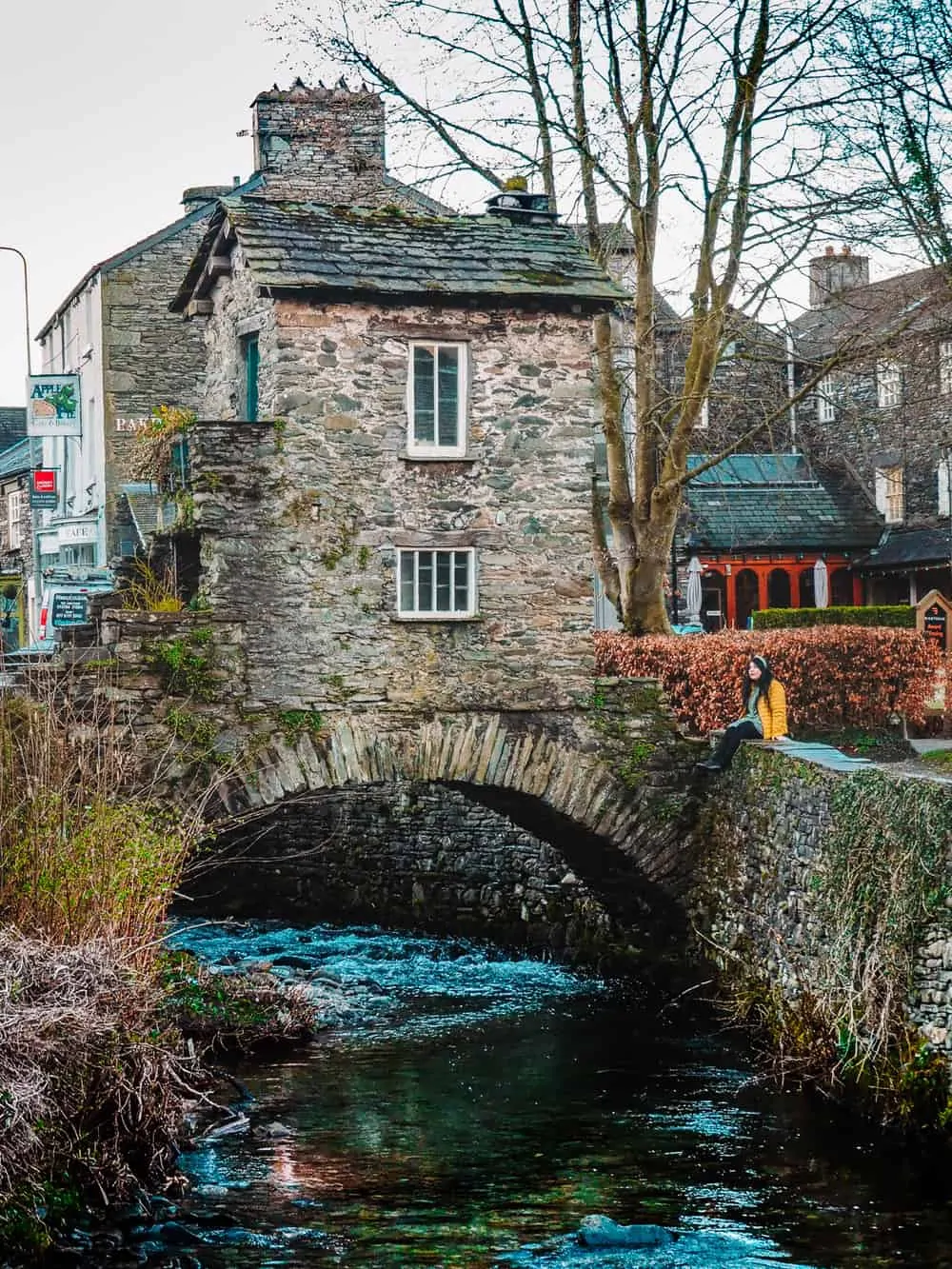 Grasmere is a short drive away from here which is a quaint village that was home to William Wordsworth. You can visit Wordsworth Grasmere to see inside his Dove Cottage.
You can also visit another one of his residences the Allan Bank. Or, wander around to see places like St Olaf's Church. You can't leave without sampling Sarah Nelson's famous Grasmere Gingerbread.
Click here to read my guide on the best things to do in Grasmere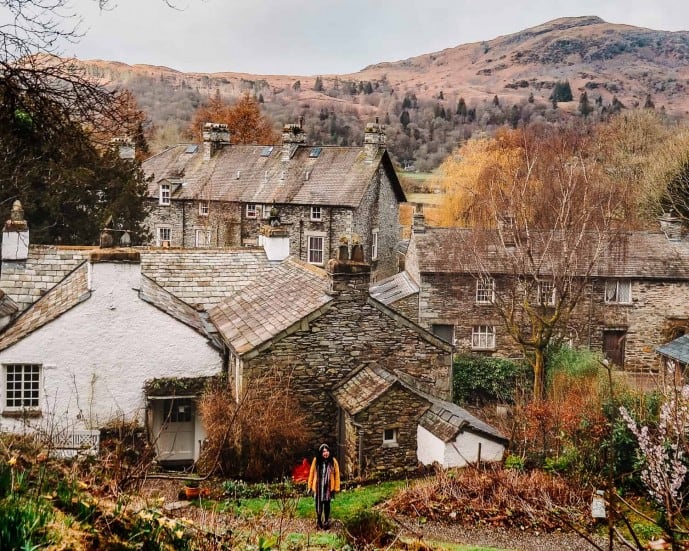 Rydal is also one of my favourite places in the Lake District. You can visit Rydal Mount which is another Wordsworth Property.
A stroll around the grounds of Rydal Hall is always a sanctuary and you can visit the Rydal Grot waterfall. Just a little walk from here will take you to Rydal Cave, another Witcher filming location!
Click here to read my guide of the best things to do in Rydal
You can also head further on to places like Tarn Hows, Hawkshead Village, Hill Top Beatrix Potter Cottage, Wray Castle, and Coniston Water!
Looking for more Witcher filming locations in the Lake District?
After your visit to Blea Tarn, I would recommend either walking or driving over to the dramatic Hodge Close Quarry. A disused green slate mine that has its very own skull cave.
It's known as Britain's scariest cave as the reflection in the lagoon and the cave itself looks like a giant skull!
This is a Witcher filming location that featured as a cave near Kaer Morhen keep where Geralt and Vesemir lay Eskel to rest.
It's another winding road with passing places but there is a dedicated car park.
Click here to read my complete guide for visiting Hodge Close Quarry
Or, why not head over towards Rydal Cave from White Moss car parks? It can be found on a short walk in between Grasmere and Rydal.
This cave is featured in The Witcher when Jaskier takes a bath after escaping jail in 'Voleth Meir'. Geralt and Jaskier discuss Yenefer's plans for Ciri and taking her powers back.
The cave requires you to hop over stepping stones to go inside but if you look back you'll find a giant set of teeth with the reflections in the water!
Click here to read my complete guide of all The Witcher filming locations in The Lake District!
Extra Witcher filming locations in Yorkshire & County Durham
If you're in Yorkshire, you can easily head to another Witcher filming location which is Gordale Scar in the Yorkshire Dales.
This is near the spectacular Malham Cove and the location where Geralt and Ciri fight off the Myriapod. Plumpton Rocks also feature in the Chernobog fight scene.
Fountains Abbey is the location where Yennefer saves Cahir from execution. Also, the Studley Water Gardens is where Fringilla Vigo and Francesca Findabair discuss plans for Cahir.
Finally, in County Durham, you can head over to Low Force Waterfall. This spectacular location is where Yennefer teaches Ciri to use her powers to cross over the river!
Read more of my Lake District guides
A complete Cathedral Cave walking guide
The best things to do in Rydal
How to visit Rydal Hall Waterfall
Places to visit on a Windermere Lake Cruise
A guide for the Windermere Jetty Museum
Best things to do in Ambleside
How to visit Claife Viewing Station
Save this Blea Tarn walk for later!