Love it or hate it, The World's End Edinburgh is an icon on the Royal Mile. Steeped in centuries of history, visited by thousands of people every year, and an enticing watering hole; The World's End has to take a place on your Edinburgh bucket list.
When the Anglo-Scot Battle of Flodden was fought and lost by the Scots, Edinburgh started to fortify its city.
A wall was built to protect the capital and its residents inside. The walled gates were seen as the end of the world as the people of Edinburgh knew it, hence the name.
In Diana Gabaldon's third Outlander novel Voyager, The World's End Pub is mentioned and is where Mr. Willoughby needs rescuing.
You can follow in the footsteps of Claire and Jamie and pay a visit for yourself. Here are 5 reasons to visit the World's End Edinburgh!
Where is The World's End Edinburgh?
The World's End sits on the Royal Mile at the Canongate intersection. For centuries, the whole city of Edinburgh used to be restricted to the stretch of road from Edinburgh Castle to The World's End.
The Canongate used to be a separate burgh from Edinburgh until 1636 and gets its name from the Canons which used to make their way through to the castle.
The World's End sits on the intersection between what used to be Edinburgh and The Canongate. Centuries ago a gate called Netherbrow Port used to stand between them. "Nether" means the furthest and "Port" means gateway.
Did they film in the World's End Edinburgh in Outlander?
No. Well, not the same pub that you can visit today anyway! Of course, on the day that Jamie and Claire reunite on Carfax Close and meet Fergus in Tweeddale Court, Jamie needs to save Mr. Willoughby in The World's End. So, Jamie and Claire both visit the pub to do so.
The World's End Tavern that we see in Outlander series 3 is nothing like the historic pub you can visit today on the Royal Mile!
It was filmed in a studio and a lot bigger. But, the pub has the same name and is well worth a visit.
How to reach The World's End Edinburgh
The easiest way to find The World's End Pub is to head down the Royal Mile from Edinburgh Castle or up the Royal Mile from the Palace of Holyroodhouse.
The World's End can be found close to Canongate on the corner Intersection of The Royal Mile and St Mary's Street.
It's easiest to reach on foot and you can't miss its signature blue paint with World's End paintings and stories outside.
The World's End Edinburgh Opening Times
The World's End is open every day serving drinks and food if you did decide to visit. Here are the opening times for The World's End;
Sunday – Thursday: 11am – 12am
Friday – Saturday: 11am – 1am
The best times to visit for drinks would be in off-peak times, before 6 pm or after 9 pm. See below for advice on table reservations.
5 reasons to visit The World's End Edinburgh
1. The World's End Edinburgh is steeped in history
As a 16th century listed building, it has an incredible story to tell. No, it's not crying out for our impending doom or the apocalypse!
The pub today stands on what used to be known as the 'end of the world' in the burgh.
Why is the World's End called World's End?
Centuries ago, the Battle of Flodden between England and Scotland took place near the village of Etal and was one of the bloodiest battles in British history.
It was a devastating defeat by the British and led to the death of James IV and over 10,000 of his men.
Following this, Edinburgh decided to fortify the city for the protection of its monarchy and residents inside.
The burgh consisted entirely of the Castle and what now is the Royal Mile leading down to Netherbrow Port gate.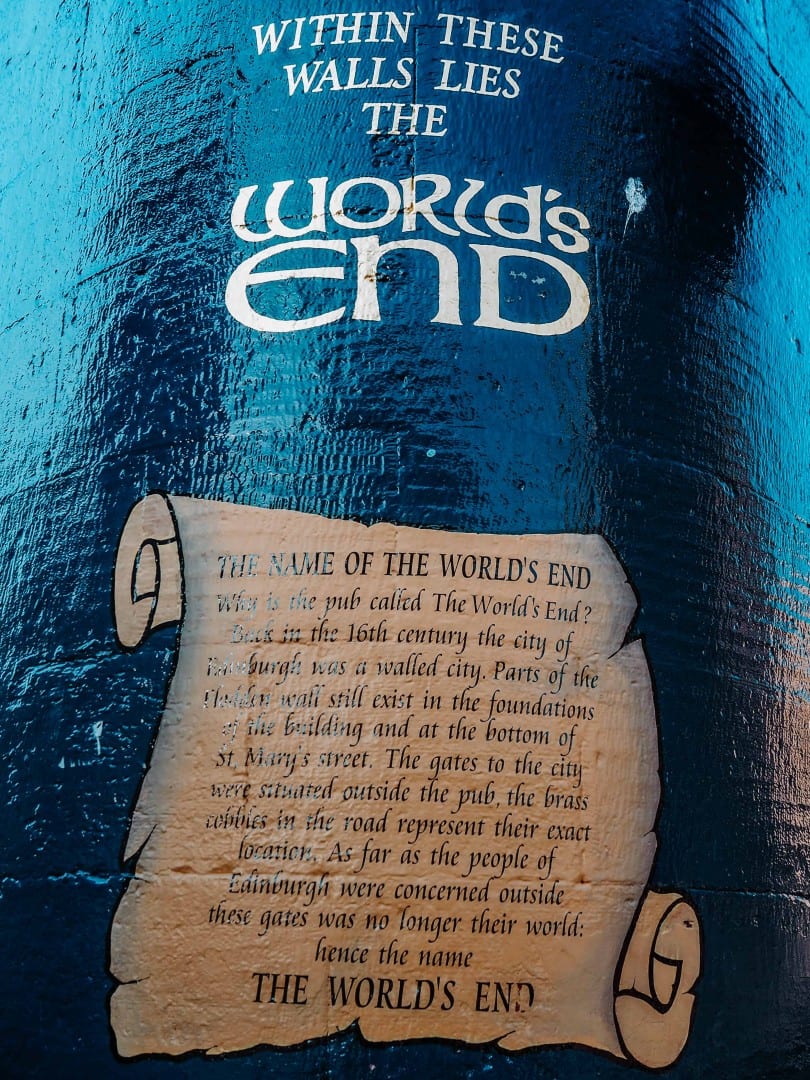 The people of Edinburgh believed that the world outside of this gate was the end of the world as they knew it. In fact, you had to pay to leave the city years ago. Couldn't afford it? You couldn't leave! Hence, where The World's End pub gets its name!
Look out for the brass cobbles that mark where the Netherbrow Port gate stood. It was dismantled in 1764.
The heads of prisoners from Tolbooth Jail were also on display here. So, not only were some too poor to leave, they had to see the heads of traitors too! Grim.
The World's End Murders
More recently, the pub has been caught up in a famous Murder case; The World's End Murders. In 1977, Christine Eadie (17) and Helen Scott (17) were last seen alive leaving The World's End Pub.
The next day, Christine's body was found in Gosford Bay by walkers and Helen's was found six miles away from her in a field. Despite a huge criminal investigation, they could find no suspects in the crime.
Angus Robertson Sinclair was detained 37 years later in 2013 under investigation for the World's End murders. He was convicted and sentenced to two life sentences which meant he would be 106 before he was freed. He died in March 2019.
2. A visit here is like stepping back through time
The World's End Edinburgh is an old-style Scottish pub with a friendly atmosphere and welcoming hospitality. It still has a bar area with stools, draft beer served in tankards, and TV is kept to a minimum so that customers can drink in peace!
If you do decide to go inside The World's End Edinburgh for a drink, make sure you have a look around while you do.
There are all sorts of memorabilia and signs hanging up on the walls from years ago. Including a painting of an unknown murderer from the 1700s. Rumour has it if you move that picture your world will end!
They have lots of locally brewed beers on tap including Innis & Guns, some craft beers, and local favourites too! It's not the cheapest place to drink in the city, but you can't say that you've drunk at the end of the world every day.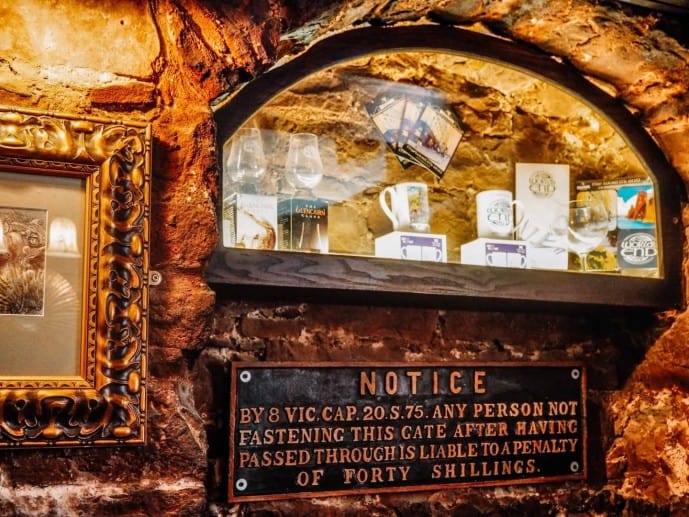 3. You can have a delectable dinner here
]As well as a public house, the World's End Edinburgh is a popular spot for tourists to stop for food. There are eight tables in total and food is only served in the restaurant. No bar eating, I'm afraid.
The World's End serves up traditional Scottish pub food including its famous pies, cod and chips, and traditional favourites.
Pub favourites in the UK are dishes that can be seen on many pub menus including Hunter's Chicken, Steak and Chips etc.
But, they also serve up Burgers, Curries, Lasagne, and Salad. They also often have specials and when I was here and Haggis Neeps and Tatties were on the menu.
For a popular place in the city, it's very reasonably priced to eat, if you can get your hands on a table!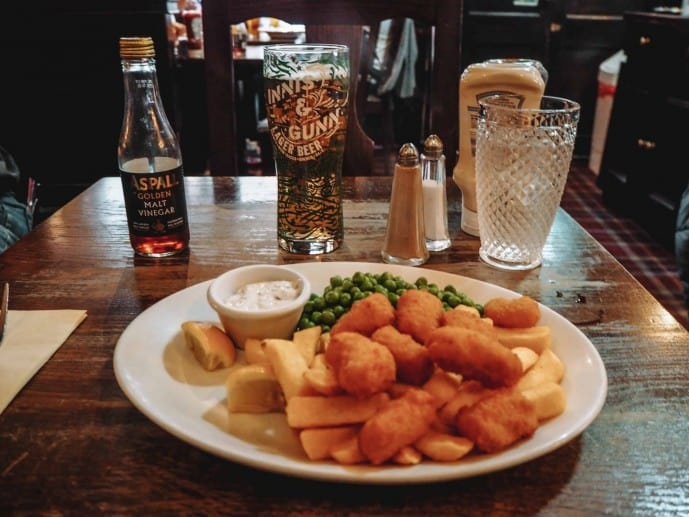 The World's End Edinburgh table reservations
There are NO table reservations at the World's End, there are only eight tables and the kitchen closes around 9 pm. They don't serve food at the bar.
So, if you want food, get there early and be prepared to be put on a waiting list (especially in Summer). If you're not there before 7 pm, it may be a no altogether depending on availability!
I got there around 6.30 pm and waited 45 minutes for a table. But, after 10 years of visiting Edinburgh, I wanted to finally eat at The World's End so was willing to wait!
If you're willing and not too hungry, put your name on the list, order a drink and wait it out.
In August during the Fringe Festival, prepare for it to be unbearable. It often packs out at full capacity each day as there are performance venues nearby. The restaurant area will be quiet but getting a table in here will be as rare as hen's teeth.
4. It featured in the Outlander novel Voyager & TV Series (sort of)
Outlander fans will be happy to know that this is another Outlander location in Edinburgh that they can actually visit.
In the third novel Voyager, when Jamie and Claire are reunited, Claire follows Jamie to The World's End Tavern to save Mr. Willoughby.
In season 3 of Outlander, we see the scene featuring The World's End in 18th century Edinburgh. Mr. Willoughby is in trouble as he owes a debt to a sex worker for licking her elbow. An argument ensues and Jamie pays her a penny for her services.
Unfortunately, that tavern we see in the series was shot in a studio, so you won't be able to visit on your trip. But, The World's End pub on the Royal Mile has the same name and, in my opinion, is much cooler to visit than the one in the series!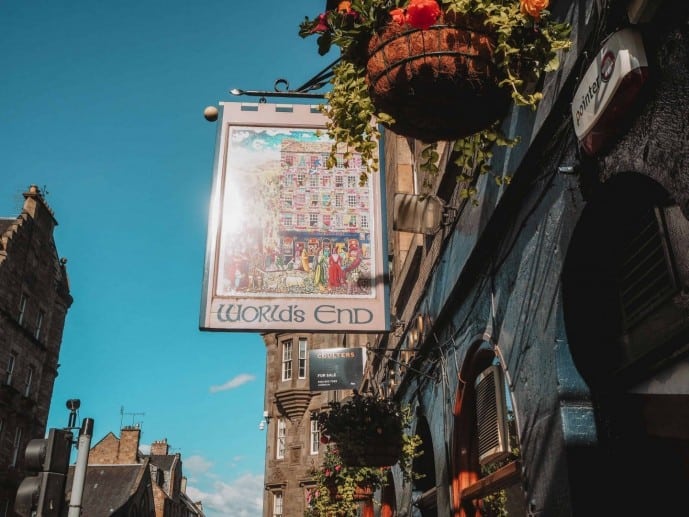 5. It's a bucket-list-worthy location in Edinburgh!
I don't think I've ever visited Edinburgh and not popped into the World's End for a drink. Sure it's touristy, blah, blah, but that doesn't mean it isn't cool. It's famous for a reason and has an amazing backstory about historical Edinburgh to go with it.
You're sitting at what once was the end of the world, with a pint in hand, in one of the most beautiful cities in the universe! Cheers to that!
If you're looking for more bucket-list-worthy items in Edinburgh, be sure to see my ultimate Edinburgh Bucket list here
Looking for more Outlander locations on the Royal Mile?
If you're an Outlander fan, there are plenty of locations to visit around The World's End on the Royal Mile. In fact, I have a whole Outlander walking tour of the Royal Mile Itinerary right here for you.
Next door to World's End is Tweeddale Court and this gorgeous hidden close was transformed into an 18th-century marketplace.
In Outlander, this is where Claire was reunited with Fergus. You can read my Outlander guide to Tweeddale Court here.
Who can forget the iconic scene when Claire enters Carfax Close and see's A Malcolm's print shop?!
Bakehouse Close on the Royal Mile was chosen to feature in this pivotal scene and, although you won't see the sign, you can walk up the stairs and take a photo like Claire.
Click here to read my Outlander guide for Bakehouse Close here!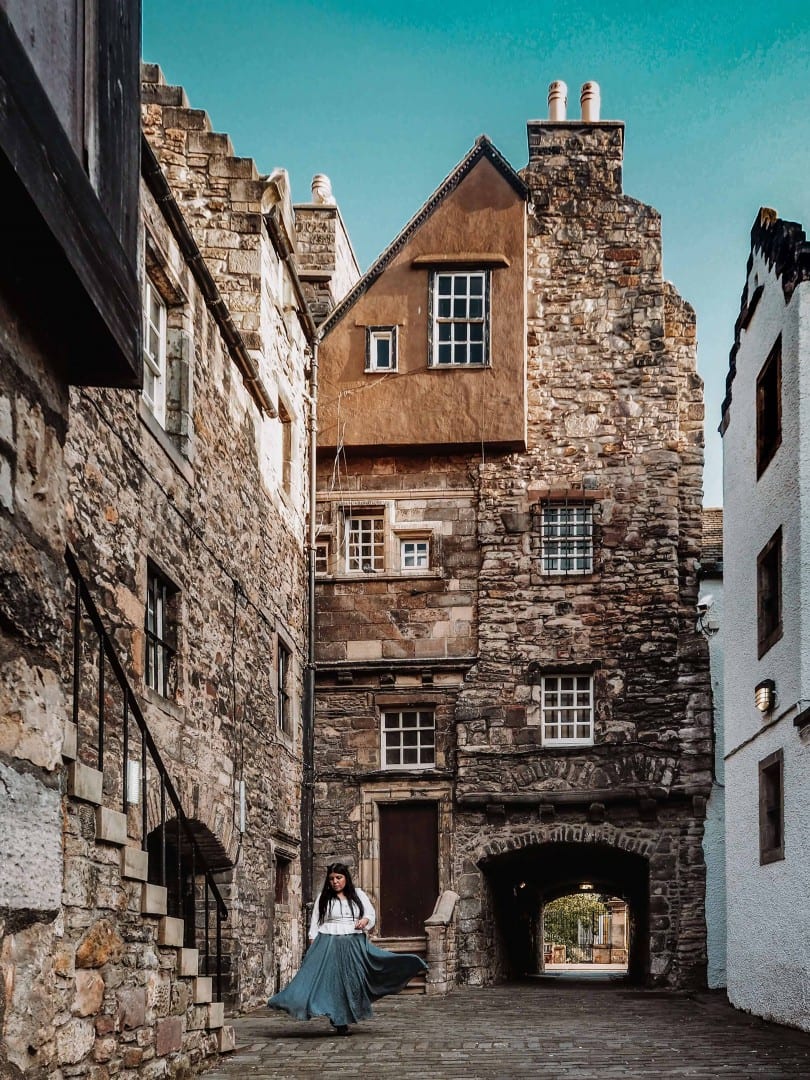 The Colonnades at The Signet Library also featured in Outlander series 3 as the interiors of the Governor's Mansion in Jamaica.
You can book in for the finest afternoon tea in Edinburgh and toast a glass of Ginger ale like the cast did too!
Read my complete review of the Colonnades Afternoon Tea here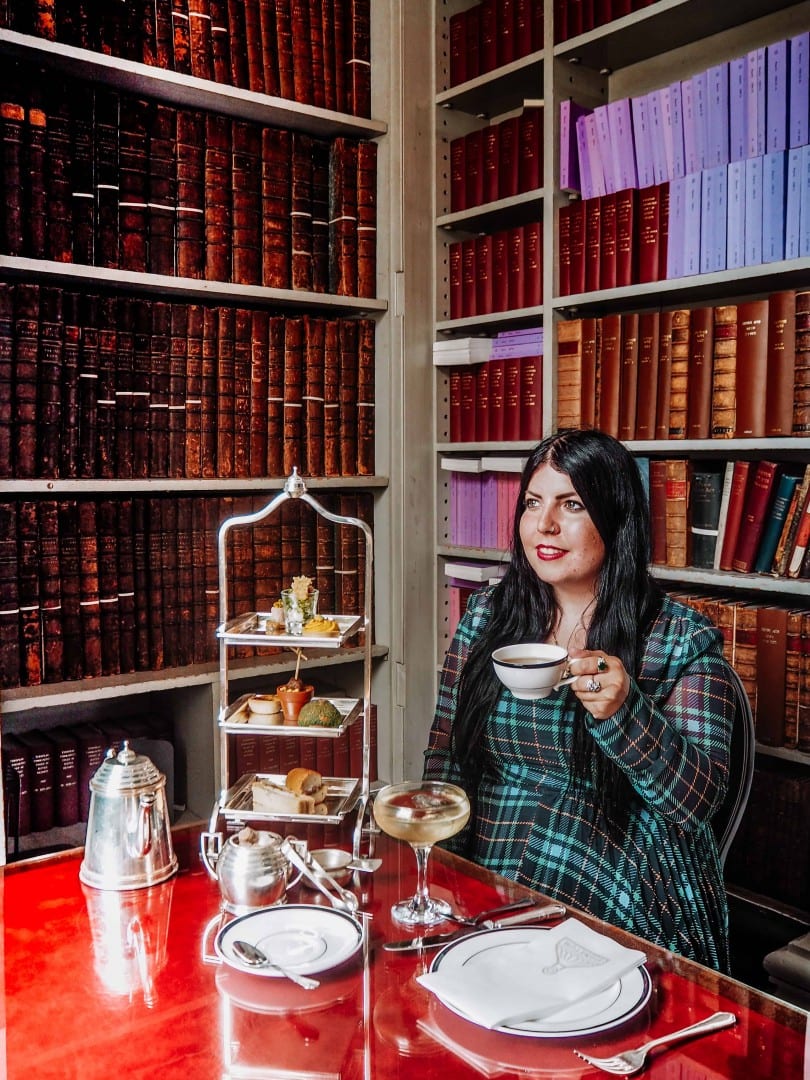 Or, head into Canongate for more novel locations and visit the Tolbooth Jail, Canongate Kirk where Colum meets Jamie and Claire or the Palace of Holyroodhouse where they try to top the Jacobite rebellion.
Read my full Outlander self guided walking tour of the Royal Mile here
Outlander locations in Edinburgh
In and around Edinburgh, there's no end of Outlander locations to visit. In the city, you can visit Summerhall with a lecture room that Claire uses as a Medical intern in Boston.
Craigmillar Castle played Ardsmuir Prison in series 3. Or, head to the nearby village of Roslin and visit the Gunpowder Mills featured in series 1. Glencorse Old Kirk is also where Jamie and Claire tied the knot!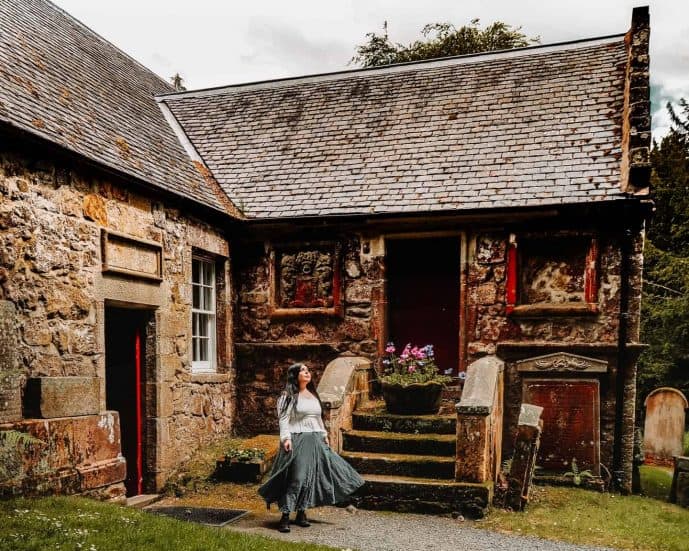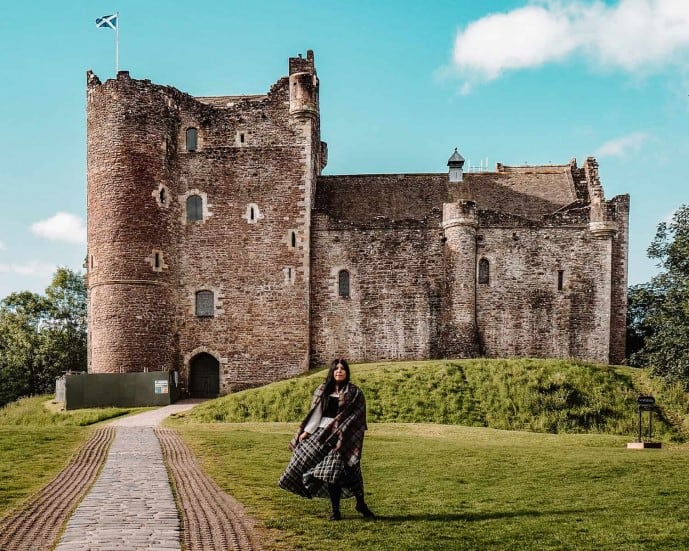 You can visit the seat of the MacKenzie Clan, Castle Leoch by heading to Doune Castle or Deanston Distillery featured as Jared' wine store in La Havre. Nearby, Drummond Castle Gardens featured as the Royal Gardens of Versailles.
Gosford House doubled up as Helwater Estate in series 3 and Preston Mill was the broken Lallybroch Mill in series 1.
You can visit Lallybroch at Midhope Castle, Abercorn Church or Hopetoun House that has over 10 Outlander locations on the premises including the Duke of Sandringham's red drawing-room.
Blackness Castle is also featured as Fort William and Linlithgow as Wentworth Prison. Plus, Bo'ness featured as the 1940's station where Claire and Frank said their goodbyes.
Falkland village featured as the iconic 1945 Inverness from the first episode and Culross played the village of Cranesmuir with its West Kirk as the Black Kirk.
Click here to read my ultimate list of over 90 Outlander Outlander film sites around the world or a little closer to home in the city of Outlander locations in Glasgow here
Read my Edinburgh travel guides
All the Outlander locations in Edinburgh
Harry Potter locations in Edinburgh
How to visit the Harry Potter graveyard
A complete guide for Armchair Books
Why you must visit Dean Village
A complete guide for the Vennel
How to find Bakehouse Close from Outlander
The hidden gem of Whitehorse Close
Signet Library Afternoon Tea review
A complete guide for Circus Lane
The mystery of the Burke and Hare Coffin Dolls
Queen Mary's Bath House in Edinburgh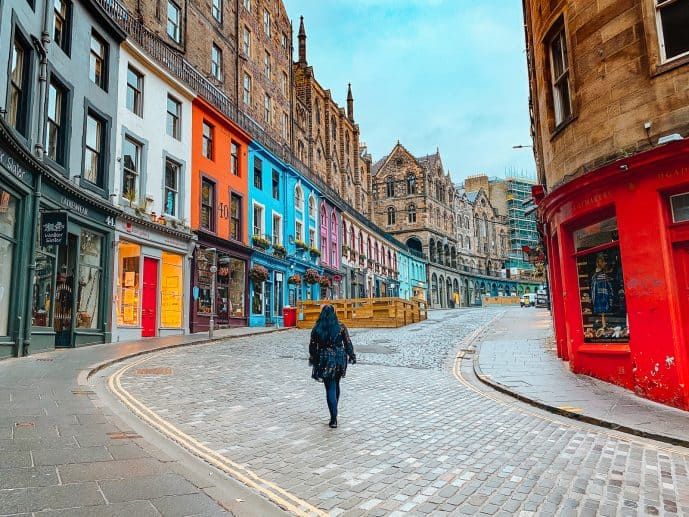 Save this World's End Edinburgh guide for later!