I may be making a strong claim here, but I believe that Thermae Bath Spa is hands down one of the best attractions in the historic city of Bath. I know you may be a tad suspicious but hear me out, this tourist hub really does live up to the hype!
The spa springs are what Bath was founded on, what drew settlers here, what gave the city its name and is a massive part of its heritage.
Spa culture in Bath has been around for thousands of years and is still something that we can enjoy to this very day.
Although we can now swap our togas for bathrobes and 'taking the waters' is a bit different than it used to be in the 18th century!
Bath is only a hop, skip, and a jump away from me in the West Country so I decided to pop over to see what this spa culture was all about. Here's my full Thermae Bath Spa review.
What to expect when visiting Thermae Bath Spa and top tips
Thermae Bath Spa gets extremely busy on weekends, so best to choose a week day for your experience if you want it to be quiet. Also, booking for early morning or the twilight package may ensure its less crowded.
You'll be given a bathrobe, towels, flip flops and smart band for your visit. There are unisex changing rooms and lockers which are activated by your smart band when you arrive. Top tip: leave your towel in the locker for when you leave!
The locker rooms have a hairdryer and costume spinner so you're not carrying around a wet swimsuit in your bag after you leave to explore Bath. Costume rental is available at Thermae Bath Spa at an extra charge.
You can wear the bathrobes and flip flops around the spa. Each room you visit has little storage boxes to keep them in while you're in the pool/rooms. But, don't be surprised if you come back and someone has mistaken your robe for theirs! If this happens ask for a spare. The robes can also get quite soggy especially if it's raining by the outdoor pool.
There are no photos allowed inside the Spa. The photos on my post were arranged as part of my visit before the crowds come inside. A few years ago I once brought a disposable camera inside (not knowing the rules) left it inside my robe and someone took it by mistake! Luckily, it was handed in and the lovely staff at Thermae sent it back to be in the post – oops!
Why you're doing Bath wrong if you don't visit Thermae Bath Spa
1. Spa culture has been in Bath for over 10,000 years!
So say, there has been human activity around the hot springs of the Mendip hills since 8,000 years BC!
But, the first recorded incident in history took place when the city of Bath was founded in 863BC by Prince Bladud who was healed by the waters when he contracted leprosy.
The Romans then came to Britain in AD43 to settle and created Aquae Sulis, a series of bathhouses and hot springs which acted as a sanctuary and place of worship to the goddess Minerva.
Although back then it was twice as big as the Roman Baths we know today. The rumours of the healing waters saw many people travel across Europe to visit Bath.
Fast forward to the 16th and 17th centuries and royalty were visiting Bath to take the waters.
Kings, Queens, and nobility were almost like our modern-day celebrities and this made the people of England want to visit Bath too!
By 1590, Elizabeth I made a Royal Charter that the city of Bath and the 'thermal waters should be accessible to the public in perpetuity.
Related post – why you must visit the Roman Baths at night
The Regency Era and the rise of the Spa Resort
The Regency era, before and around Jane Austen's time, is when the spa resort of Bath was booming!
Dr. William Oliver released a publication about Bath's healing waters and improvements were made around the city.
Richard Beau Nash brought about the Assembly Rooms and the Grand Pump Rooms was built to allow the aristocracy to take the waters.
But, the rise in popularity meant it was overwhelming. It was more than just taking the waters. There would be all sorts of distractions like balls, card games, pleasure gardens, public breakfasts and it was more of a society than to simply heal.
After the First World War, many soldiers were brought to Bath to heal with the waters in the Spa. But by 1978 the baths were closed due to health concerns for the public as the water had not been treated.
Taking the waters today
After the Roman Baths and the Pump Rooms reopened to the public, there was once again a demand for a wellness spa.
After a huge and complicated project, due to it being built on Graded buildings, Thermae Bath Spa opened its doors in 2006. The water today is treated and safe to bathe in bringing a new meaning to 'taking the waters' of Bath once more!
You could say that the tradition of Spa culture in Bath is as old as time itself. So, it would almost be criminal not to try it while you're in the city.
2. The thermal water is pumped from natural springs with over 42 minerals!
Did you know that Bath is the only place in the UK where their Spa water is pumped from natural springs?
Thermae Bath Spa is a truly unique experience as the waters are pumped from the King's Spring, the Hetling Spring, and the Cross Spring.
The water is naturally hot at 45 degrees celsius but then cools down to around 34 Celsius so it's perfect to bathe in!
Amazingly, it also contains 42 minerals including Sulphate, Calcium, Chloride, Sodium, Iron, and Silica – so you're really getting all your nutrients as part of the spa experience.
But don't worry about it being unsafe, the water is filtered and tested weekly to make sure it's clean and safe to bathe in!
3. It has an EPIC rooftop pool with views of the city
This is probably my favourite part of the spa and the main draw!
What could be better than relaxing in a warm pool with some breathtaking views of the city and the Mendip Hills in the distance?!
This is actually where I spent the majority of my time in the spa as I just couldn't get enough.
The best thing to do here is to grab one of their noodles to float with. I always like to touch the bottom of the pool but with the noodle, it was nice to simply float and relax. They also have jets in some areas which makes a sort of jacuzzi.
The great thing about this is even if it's raining, the pool is still open for business. I mean, this is England and we are partial to a lot of rain. So, if it did close in the rain it probably would be closed more than it is open.
I actually think it's better in the rain or when there's a storm. The cold rain mixed with the hot waters makes it super-steamy and creates a great atmosphere. I mean, you're gonna get wet anyway right?!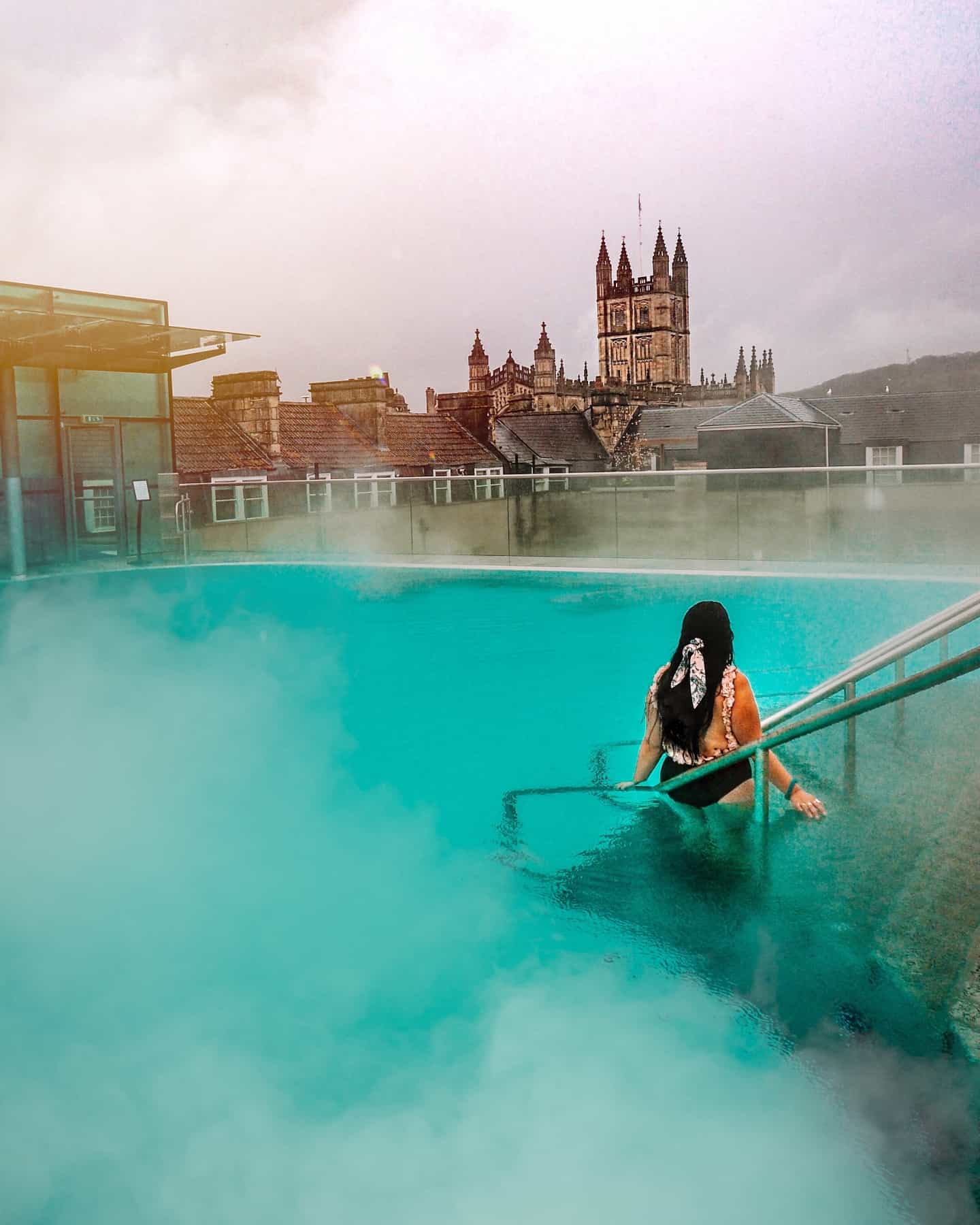 4. You can take a dip in their tropical Minerva Bath
If you're getting tired of being on the roof, then you can head down to their Minerva Bath which is lined with tropical palm trees. This is the largest of the pools and comes with a lazy river and massage jets!
This is still a heated pool but I didn't feel it was as hot as the rooftop pool. In fact, comparing the two I felt chilly in here at first but soon got used to the water.
It was super relaxing as you could just dip and explore. There are no swimming lanes or anything like that, it's more of a pool to bob about. I loved the white columns, lighting, and design here.
5. They have a sauna, steam room and wellness room circuit
If you're getting bored of bobbing about in pools, you can take their sauna, steam room, and wellness circuit.
Each room has been specially designed for wellness including adding essential oils like Mint and Eucalyptus to the steam.
Personally, I like going into these rooms for five minutes or so then I either get too hot or claustrophobic. So, I was pleased to see their space room had been added to the mix.
This room was like a wellness suite to relax after the circuit. It had black tiles and twinkling stars on the rooftop with a TV playing shots of galaxies along with relaxing music. It was such a cool experience and something unique I hadn't ever seen before.
6. It's the perfect rainy day activity
The great thing about Thermae Bath Spa is that no matter the weather, it's still an awesome activity. Sometimes England is well known to have all four seasons in one day!
So, you can relax in the knowledge that this spa will be incredible no matter what the weather gods decide.
If it's sunny, that rooftop pool will be fantastic with the sunshine lighting up the city. If it's raining, you'll get a different experience but still, be warm and cosy in that steamy pool.
I would choose to do this on a rainy day over a sunny one. As, when you're indoors you don't want to think you're missing out on all that sunshine. What could be better than getting some well-deserved me time in the thermal waters when it's pouring?!
7. You can bathe in the Cross Bath – a Grade I listed building!
The Cross Bath is a separately priced activity in Thermae Bath Spa which is just across the road from the main spa. It actually sits on a recognised sacred site.
The Celts used this space to honour their goddess Sul, which gave the Romans the name 'Aquae Sulis'.
It's more of an intimate setting away from the main baths which can sometimes be crowded. The Cross Bath is heated by the Cross Spring and sits at the same temperature as the main spa, around 34 degrees celsius.
This area costs £18 for an hour and a half spa session including a towel, robe, and slippers on Mondays to Fridays. On weekends, it's £20 per person.
You can actually rent this out for exclusive use which would be perfect for a birthday party or hen or stag do!
8. Check into the Gainsborough Bath Spa across the road for an extended spa experience
If you're wanting the full taking the waters experience, why not check yourself into the luxurious Gainsborough Bath Spa?
It's located two minutes away from Thermae Bath Spa and so it's the perfect location to relax over a few days.
Although Thermae Bath Spa gets extremely busy, The Gainsborough Bath Spa has its own private pools and spa village exclusively for hotel residents.
This pool is also heated by the Hetling Spring and so you get the natural thermal waters as well but without the crowds.
They also provide spa treatments and you can take their spa village circuit, which takes you on a journey through steam rooms, saunas, hot and cold baths.
They even have Georgian spicy hot drinking chocolate using a recipe from the 18th century, which was delicious!
You can treat yourself to afternoon tea, a drink from their chic bar, or dine at their award-winning Dan Moon restaurant.
Here, you can try their delectable cuisine a la carte or sample their tasting menu accompanied by a wine flight!
For a full review of my stay, you can read my article on the Gainsborough Hotel here
Where is Bath in the UK and how to reach Thermae Bath Spa?
Bath is located in the South West of England and is the largest city in the county of Somerset.
If you're heading here from London it's easily accessible and is only a two-hour train journey away. I always use National Rail to book my train tickets, so check their website for timetables and prices!
As the train prices in the UK cost a small fortune there are also National Express services which tickets go for as little as £5.
If you're driving, Bath is accessible via the M4 from London. Also, if you're in Bristol, it's only 15 minutes away by car.
Once you reach the city, Thermae Bath Spa is only a 7-minute walk from Bath Spa train station located on the rather aptly named Hot Bath Street in Hetling Pump Room.
If you're looking to park your car there you can park up in the multi-story Southgate car park. This is only 4 minutes walk to the Spa.
Thermae Bath Spa ticket prices and opening hours
There are many different offers available in Thermae Bath Spa which include Spa treatments, afternoon teas, and even a twilight package which includes a meal in their Springs café restaurant. Prices start from £49 per person.
But, if you're just looking to use the facilities you can go for what I went for which was the Thermae Welcome ticket. This includes two hours of access to the rooftop pool, Minerva bath, sauna, and steam rooms, and the wellness suite. This costs £36 on Mondays to Fridays and £40 on weekends.
If you didn't want to leave after two hours you can pay £10 extra for each additional hour. I felt like two hours was more than enough time for me as any longer and I'd be like a prune!
Although you don't have any drinks or meals included with the welcome ticket, you can still purchase products. Don't worry, you don't have to go back to your locker to get your wallet! You can buy them with your waterproof Smartband in the Springs Café and pay for them at the exit.
The Thermae Bath Spa main spa is open from 9 am – 9.30 pm daily (last entry at 7 pm) with some of the pools and wellness suites closing at 9 pm. The Cross Bath is open from 10 am – 8 pm. The shop and café have different opening times.
Don't leave Bath without taking the waters at Thermae Bath Spa!
Bath has had a spa culture for centuries and the tradition of taking the waters is well and truly alive in the city today.
Although most people only try the spa water on their visit to the Roman Baths or the Pump Rooms, Thermae Bath Spa makes it a memorable and relaxing experience you'll never forget.
If you're sticking around in Bath for a few days and you're looking for things to do, why not take a tour of its many heritage spots?
My Jane Austen tour of Bath will take you on a journey through all the regency areas which are where the saying 'taking the waters' originated from during her time!
Don't leave Bath without treating yourself to some wellness at Thermae Bath spa, a time-old tradition that lives on!
Save time and book a tour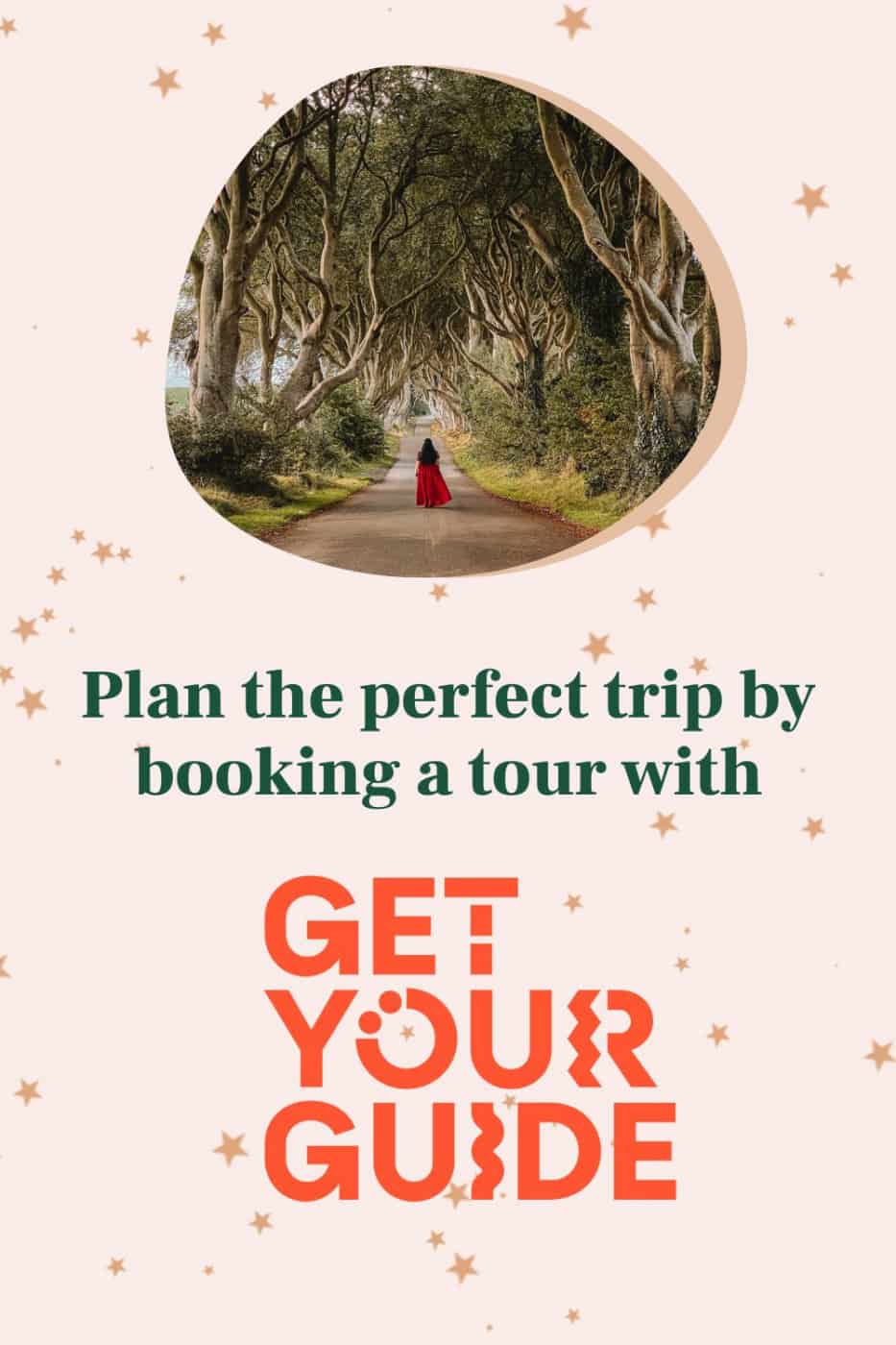 Book tours & tickets for Bath!
Like it? Pin it!
With thanks to Thermae Bath Spa for inviting me. Although I was a guest, all thoughts, pictures, and opinions are my own. Disclaimer: I was allowed to take photos before opening time, usually photos are not allowed inside the spa