The Agatha Christie Greenway House in Devon is what she called "the loveliest place in the world" and I can see why!
Beautiful flowers grow in the landscaped gardens, a great house overlooking the River Dart, and beauty around every corner. You can never be bored in this gorgeous place.
If you're heading to Devon this year to walk in the footsteps of the Queen of Crime, a stop by her summer home is a must.
It's like a temple for crime fiction fans. You can walk around the inspiration for Dead Man's Folly and get an inside look into what Agatha Christie's life was like too!
So, in this complete Greenway House travel guide, I'm going to go through all the amazing things to do at the Agatha Christie Greenway House in Devon.
Heads up: my visit to Greenway House was sponsored by the National Trust on my press trip with Visit South Devon. Although I was a guest all photos and opinions are my own.
Where did Agatha Christie live in Devon?
Although Greenway House is known as the Agatha Christie home, she actually lived in quite a few properties around Devon and Oxfordshire.
Agatha Christie was born in Barton Road in Torquay in 1890. The Christie family lived in Ashfield, a Victorian Mansion in Torbay.
She sold Ashfield in 1938 and unfortunately it was demolished in the 1960s for a new apartment block. You can still visit a blue plaque where the house stood.
She travelled abroad to Iraq and Syria to pursue her passion for archaeology. While here she met Max Mallowan and they married in 1930.
Shortly afterward they bought Winterbrook together in Wallingford, Oxfordshire. It remained as their forever home.
When did Agatha Christie buy Greenway?
In 1938, Agatha saw Greenway House for sale in Country Life Magazine for £6,000 and decided to buy it as her summer home. She had known it since her childhood and she thought it was a steal!
For years, Agatha Christie and her family spent long summers here reading, singing, gardening, and enjoying the views of the River Dart from this Devonshire estate.
The history of Greenway House in Devon
Long before Agatha Christie made Greenway House her own, it had a long history of an important estate in the area.
The Greenway Estate was first mentioned in 1493 as a crossway point from Dittisham to Dart.
Then eventually it was owned by the Gilbert family in 1530 who transformed the land into a medieval Greenway court. They remained on this estate until the 1700s.
The Gilberts then created Compton Castle selling the property to the Roopes. They knocked down the medieval court and built Greenway House. Much of this still exists as the central part of home today.
It was then sold to Edward Elton from Clevedon Bristol in 1791 who added the drawing and dining rooms and landscaped the gardens.
It again was sold to Colonel Edward Carlyon in 1832, but eventually, he moved on when he inherited another estate and leased out the property.
It then went from the tenants including The Harveys who modernised the estate in 1852.
Then it was owned Thomas Bedford Bolitho who added more gardens and when he died he passed on the house to Mary & Charles Williams in 1919.
In 1937, the Williams decided to sell the property and put it on the market for £6,000. From here, Agatha Christie decided to buy it as her summer home!
It was owned and resided in by members of her family until 2000 when it was acquired by the National Trust.
What Agatha Christie novels were inspired by Greenway House?
Agatha Christie used Greenway as inspiration for four of her crime fiction novels;
The ABC Murders – A Poirot novel where he is set upon the trail of a murderer leaving ABC letters and killing victims in alphabetical order.
Five Little Pigs – Another Poirot novel where he must solve a case from sixteen years before. All the events are told from the point of view of five suspects he called 'five little pigs'.
Towards Zero – Follows the story of Superintendent Battle trying to solve the case of the murder of Lady Tressilian and her friend Treves. This is not a Miss Marple novel but later this has been adapted for TV under the Marple series.
Dead Man's Folly – A Poirot novel where he is called to Nasse House (based on Greenway House) for a murder mystery party. But a real murder occurs where Marlene Tucker is murdered in the boathouse. You can visit this very boathouse at Greenway!
What has been filmed at Greenway House?
In 2013, Dead Man's Folly starring David Suchet as Poirot was filmed at Greenway House.
They used Greenway House as Nasse House and the grounds of the house for the fête.
Also, they used the boathouse to portray the murder of Marlene Tucker!
7 things to do at the Agatha Christie Greenway House in Devon
As soon as you arrive the lovely staff welcomes you into their reception area. You'll need to put big bags into their FREE lockers as you make your way around.
Make sure you pick up one of their fab maps with all the things to do while you're here.
It pinpoints all the locations in the gardens too and gives you some brief information about Agatha Christie and the highlights.
1. Visit the Greenway Second Hand Book Shop
In true Christie style, the National Trust has opened up their second-hand book shop on the Greenway estate.
Agatha Christie is one of the best-selling authors of all time and so it makes sense to have a book shop here.
As well as selling her classic novels, they also have some books for all ages in the old stables.
I decided to buy one of the Agatha Christie second-hand hardback novels that they had on sale. They were only £5 and limited in number!
By the time I had returned at the end of the day they had completely sold out. So, get in there quick.
Inside they also have a short video from Agatha Christie's grandson Mathew Prichard who talks about the Greenway home and memories of his grandmother inside.
Don't miss the opportunity to get your photo taken with David Suchet. They have a huge poster for Dead Man's Folly inside too.
2. Explore Greenway House – the loveliest place in the world
I guess the first thing you should do is explore the 'loveliest place in the world' according to Agatha Christie!
The staff will be more than happy to welcome you inside and tell you all about the house. Plus, there are some guidebooks you can take with you to explain some of the extensive collections inside too.
Everything inside Greenway House was brought here by Agatha Christie. She was a huge collector of art and artifacts.
She often travelled abroad with her husband Max Mallowan to Egypt, Syria, and Iraq to perform excavations. So, you will find some amazing and unusual items from all over the world.
According to the house, she would pay way over the value of the item to have it shipped back to her home.
Entrance Hall & The Morning Room
As soon as you walk into Greenway you can get a feel for the sort of house you will be exploring.
It's a historic Georgian entranceway with a flocked wall part with an eclectic mix of the woodwork and worldly artifacts that sit on the side.
Here you can see Taqiyah's or caps from Africa and Egyptian fly whisks. A cupboard from Zanzibar and sitting onto some studio pottery and an interesting pewter skull!
In the morning room, which hasn't changed since the 1790s, you can also see some portraits of Agatha Christie as a child with her doll Rosie on display.
Make sure you check out some of the crockeries and a huge collection of snuff boxes and pocket watches too.
The Drawing Room
The Greenway Drawing Room is a lovely and light airy space with a suite in the middle by the fire.
You can find a piano in the corner that the family used to play and entertain each other and 'do as they liked' with songs and dancing too.
Apparently, the family used to gather around here while Agatha used to read out the latest chapter of her mystery novels.
She also used the desk in here to write chapters of her novels and correspondence.
I loved looking at the old pictures of Agatha and the family and seeing the amazing collection of ornaments here too.
The Kitchens
Traditionally this room was a butler's pantry and cooks kitchen in the Georgian era when it was first built. But, when Agatha used to stay here in the summers, she would prepare meals herself for her guests!
The same cookbooks that she followed recipes from are in this very room. So, you can have a look and try some out at home if you like.
It has a traditional stone floor and range cooker. Also, you can see this huge collection of crockery displayed beautifully along the wall.
The Library
My favourite room in the whole house is this library sitting room! I don't know why.
Maybe it was the huge collection of books on offer to read, the amazing frieze paintings near the ceiling or the carpetbag chairs and suite.
Either way, I could have happily spent a few hours here with a book!
Originally this was the dining room of Greenway house in the 18th century and a mess room during World War II, but in Agatha Christie's time, this was transformed into a library to store books.
Agatha Christie and her family collected over 5,000 books in and around the house!
The paintings you see were painted in 1943 by Lieutenant Marshall Lee. He portrayed the 10th Flotilla's journey from Key West in Florida to Greenway. It includes lots of images of the Infantry arriving at the house.
The Dining Room
Another great room that welcomed us with traditional brass band, swing, and jazz music floating in the air is the dining room.
This was the area where the whole family would dine and gather in celebration. In fact, many of Agatha Christie's landmark birthday celebrations were held in this very room!
She had a huge passion for food and would often serve up only the best dishes with champagne for her guests.
You can also find some great artefacts in here including the cobra doorstop, a lobster ceramic dish, and the amazing double-humped camel pottery that Max Mallowan bought here from China.
The Bedroom
If there was a bedroom I would like for myself, it's this one. Not only was the decor lovely and the room light and airy, but it also provided incredible views over the River Dart and gardens.
All of the furniture in here is from the 1950s aside from the Mother of Pearl chest which she bought from Damascus in 1929. It's stunning and well worth a look.
As well as the bedroom you can have a peek inside the walk-in dressing room, the sitting room, and the Fax room too.
I loved looking into the old bathroom called 'the smallest room' with the old-fashioned loo! It even came equipped with old toilet paper haha.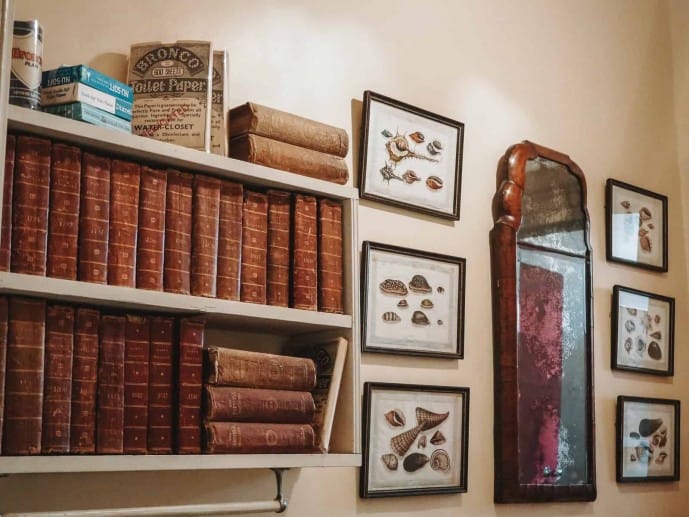 Staircase & Inner hall
The main staircase is also original since the 1790s and is in fabulous condition. Along the stairs, you can find lots of paintings lining the walls and carpets too.
I also found that the Inner Hall is an underrated room in the house. Here you can find some incredible tapestries, ornaments, trinket boxes, and carpets.
There really is something to find of Agatha Christie in every corner of Greenway House. You could spend hours admiring her collections.
3. Take a walk around the amazing manicured Greenway Gardens
After you've explored the house and had your fill. The next thing I would recommend is taking a stroll around the extensive Greenway landscaped gardens.
There is SO much to this area, it could take up a couple of hours. Especially on a sunny day.
You'll find putting greens, a tennis court, victorian greenhouses, hidden pathways, statues, and even some parts of the gardens that Agatha Christie planted herself!
Here are some of the highlights;
The Top Garden
To really get a feel of Greenway House, you should take a walk up to the Top Garden.
Along the way, you'll get to see some incredible views of the house and the views of the River Dart and some artwork like the Mother & Daughter statue too.
As you make your way through to the Top Garden you'll find all sorts of plants.
As I was here in winter, I could instantly smell the wild garlic and there were some early signs of spring with Daffodils too.
Tennis Courts, Greenway Walled Garden & Dahlia Border
There is so much to explore around the house, including the tennis courts and walled gardens. They are pretty much next to each other so you can explore them quite easily.
The walled gardens, although it was winter, were still really worth a look.
Apparently, this was where the family cultivated rare plants to sell. Here you can find a peach house, a vinery, fig-trees, a melon house, Chilean flowers, and all sorts of rare shrubs!
Another place you should make a priority is the Dahlia border which Agatha Christie designed and planted herself. This garden and Dahlia's were also mentioned in her novels.
The Greenway Bird
One of the things I stumbled upon in the gardens was the delightful Greenway Bird Pond. The statue sits on the edge of the pond with huge ferns growing all around it.
There was also some black bamboo and magnolias. With a lovely view of the river too.
I was trying to get to the Kwan Yin pond too but it was closed due to flooding, unfortunately.
4. Visit the Greenway Boat House from Dead Man's Folly!
No visit to the Agatha Christie Greenway House would be complete without a visit to the Greenway Boat House.
This incredible spot on the banks of the River Dart was what inspired Agatha Christie to write 'Dead Mans' Folly' and is the setting where Marlene Tucker is murdered!
It was also featured in 'Five Little Pigs' too. The family used this place to relax, watch the boats sailing by and lookout for some of the local wildlife.
Today, you can visit this spot just like they did. The National Trust has lovingly restored the house with a three-piece suite, a roaring fire, and a terrace where you can look out for wildlife.
I got to see some seals swimming in the distance, lots' of gulls and birds and some hill voles too that the staff feed! It's a really magical part of the house and there will be some swing music playing to bob along too.
5. Take in the views from the Battery with it's own canons
Another one of my favourite spots was a visit to the battery. This amazing viewpoint was originally built in the 18th century around the grounds of the house and has its very own canons that were set up during the Napoleonic wars!
Agatha Christie and Max Mallowan would sit here and watch the boats sail by with their family. She used this very spot as a murder scene in 'Five Little Pigs' too!
It really is one of the most peaceful areas of the house. So, I would schedule some time here on a sunny day to grab a bench and relax.
6. Have a cream tea in the Greenway House tea rooms
After all that exploring, sleuthing, and walking, you'll probably be in need of a pick me up!
I loved the Greenway House tea rooms. They had a lovely selection of hot and cold drinks, homemade cakes, and sandwiches to buy. Plus, some hot meals too like soup and jacket potatoes.
They had options for outdoor seating but as it was a wash-out when we arrived we sat indoors by the radiator.
They had a beautiful duck egg blue room all decorated with vintage-style posters of Greenway House, The Boathouse, and Dartmouth.
They also do a cream tea here too so if you wanted something more traditional you can have a cream tea with scones and lashings of cream and jam!
7. Buy some incredible Agatha Christie inspired souvenirs in the gift shop
I am not ashamed to admit that I am Agatha Christie obsessed! So I was all for the fact they had a gift shop with lots of themed souvenirs.
You could purchase some of Agatha Christie's books that were inspired by Greenway including Dead Man's Folly. Don't forget to get your book stamped by the staff at the National Trust.
You can also buy vintage posters of Greenway, bookmarks, mugs, locally made foodie snacks, and lots more.
I have to admit, I did go a little OTT here. But, as it was my first time at Greenway and it all goes towards a good cause. I thought, why not?!
How to get to Greenway House in Devon
Greenway House is actually tucked away in the Devonshire countryside near the village of Galmpton alongside the River Dart.
So, it can be a little bit tricky navigating your way over here, especially as parking spots are limited and you'll need to reserve them (more below).
Thankfully, it is a really popular spot here in Devon so there are many options to travel to Greenway House.
The best places to travel from are the main towns Dartmouth, Paignton, and Brixham.
Greenway Halt – Steam Train to Greenway
Did you know you can travel over to Greenway House in traditional style like Agatha Christie via steam train?
From May – October the Dartmouth Steam Railway and River Boat Company run tours on their vintage trains to Greenway Halt station. You can board the steam trains at either Paignton or Kingswear in Dartmouth.
Unfortunately, you cannot book tickets online but you are able to call the desk or book on the day.
From Greenway Halt, it's a 30-minute walk over to Greenway House. But, there are some shuttle buses available.
Greenway Ferry
While the Greenway Train only runs in peak season, the Greenway ferry service to Greenway House and Dittisham run all year.
It's a great way to arrive at Greenway and you'll also get to see the boathouse from the water!
The ferries run on the hour and pull up at Greenway Quay. There is a steep walk up to the house and gardens. But, the National Trust does run a shuttle buggy service too.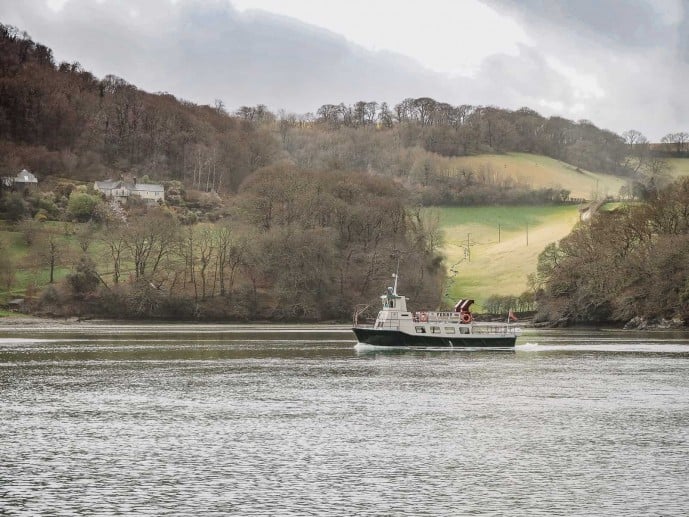 Walk to Greenway House
There are many public walking trails like the Dart Valley trail that take you right past Greenway for a much-needed break.
This 6-mile walk takes you from Kingswear to Greenway. Also, you can include Greenway as part of the John Musgrave Heritage Trail from Brixham to Greenway Quay.
Drive to Greenway
Greenway is accessible by car, but you will need to book parking spaces in advance!
It's easily accessible and 2 miles away from the small village of Galmpton in Torbay.
Greenway is also located around 6 miles from Dartmouth, 4 miles from Brixham, and 4.5 miles from Paignton.
You'll be navigating on quite thin single-track roads with two-way traffic! So, be careful as you go on the sharp blind bends.
Greenway House Parking
You must reserve a parking space in advance and priority is given to those in need of easy accessibility. It's a charge of £3 for non-trust members.
There is no option of parking on the laneways or the roads leading into the estate.
Parking spaces are easy to book via their website and you can let them know if wheelchair access is required.
From the Greenway car park, you can get a buggy to the house, or walk via the flat road.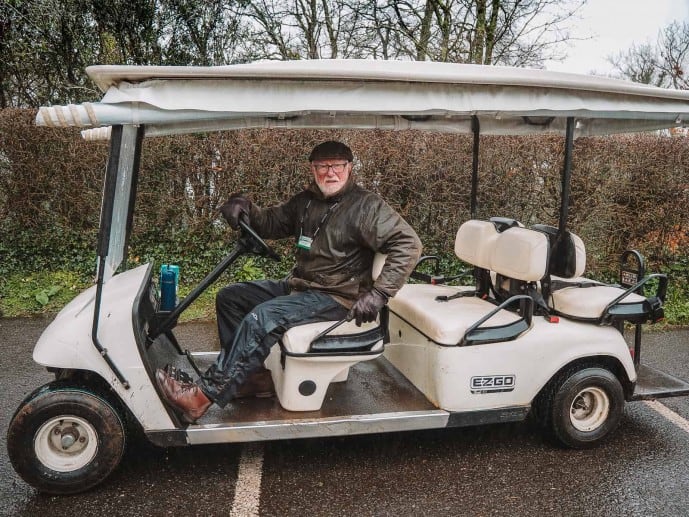 Accessibility at Greenway
As my mum has a bad leg and can't walk far without a walking stick, we were initially concerned about walking over to Greenway from the public transport options and Car Park.
But, the National Trust is always passionate about making attractions accessible for all.
From the Car Park, they have an electric buggy that can take you to the house.
Or, from the Greenway Halt station, there are shuttle buses that can take you over to the entrance of the house. As otherwise, it's a 20-minute walk.
If you are taking a wheelchair, or have specific accessibility requirements, I would personally ask at the team at Greenway House first before arriving.
Greenway House Ticket Prices
Ticket prices for Greenway House are £12.80 as a standard ticket and £14.30 with gift aid.
Children's tickets are £6.40 standard and £7.15 with Gift Aid. There are family and group tickets available which you can take a look at here.
National Trust members can enter Greenway house and gardens for FREE.
Greenway House opening times
Greenway House is open every day of the week from 10.30 am – 5 pm. I would definitely make sure you leave plenty of time to explore Greenway House & the gardens.
I would personally recommend at least 3-4 hours to make the most of it as you will probably have to walk to get there too!
Can you stay at Greenway House?
YES, you can stay at three properties on the estate. The Greenway Apartment inside the Greenway House, The South Lodge on the estate and The Lodge.
All are owned and managed by the National Trust.
Greenway Apartment
The apartment comes with 4 bedrooms and as part of your stay, you are free to roam the Greenway House and grounds too.
It fits 8 guests and you must book a minimum of 3 days in order to stay. The price is just over £1000. But for Christie fans it's priceless. Click here for more details.
The Lodge & South Lodge at Greenway
There are actually two lodges that are located on the Greenway estate to book as a holiday home.
The Lodge fits 2 and is right on the entrance to the estate from Galmpton road. It has a minimum stay of 2 nights. Click here for more.
The South Lodge is near the top gardens of the estate. It's a beautiful modern finish inside with views of the River Dart.
It fits 6 people and has a minimum stay of 2 nights. Click here for more.
Where to stay near Greenway House – Bayard's Cove Inn
If you're looking for somewhere to stay away from the estate with slightly more infrastructure, then I would recommend the amazing coastal town of Dartmouth which is nearby.
Sitting opposite Kingswear, you can get the car ferry over to this amazing and historic harbourside area.
One of the highlights is a visit to the Grade II listed Bayard's, Cove Fort. This was built in the Tudor style in the 16th century and an original stopping point of the Mayflower before it sailed off to the New World.
Nearby is an amazing 14th-century property, Bayard's Cove Inn. Which still has its original Tudor woodwork, trellis windows, and exposed beams.
It only has 7 boutique cosy rooms which makes it lovely and quiet. Their award-winning restaurant below has an incredible atmosphere. On their tasty menu is locally sourced food including the catch of the day.
My Mum and I absolutely loved our stay here and the friendly staff and service really could not be beaten.
Click here to read my complete Bayard's Cove Inn review and how to book!
More Agatha Christie things to do near Greenway House in Devon
The Queen of Crime was born in Devon, so you can't go far without finding a town or village without an Agatha Christie reference. But, if you are heading on a pilgrimage of sorts, here are some of the places I would recommend.
From taking a traditional high tea, visiting some of her favourite beach spots, or checking out some of the murder spots featured in her novels.
There is so much to do for Agatha Christie fans.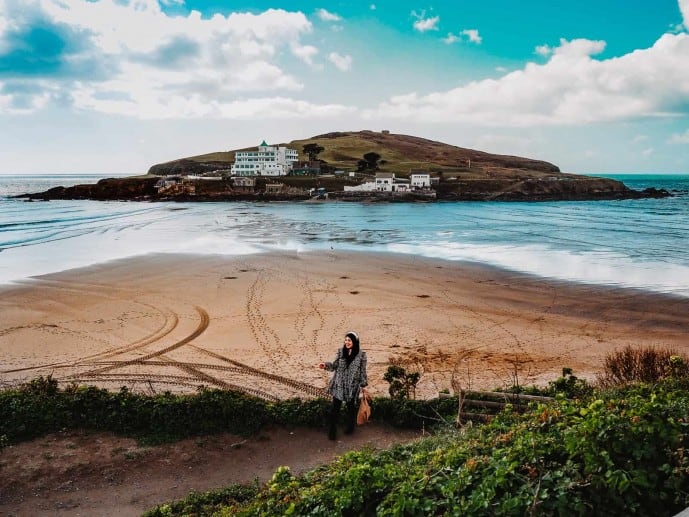 Explore Torquay with the Agatha Christie's Mystery Mile
To celebrate the fact that Agatha Christie was born in Torquay the town unveiled an Agatha Christie Mystery Mile dedicated to her.
It's an awesome way to explore the highlights of Torquay, a Victorian seaside town with its iconic palm tree.
Start off at either the Grand Hotel or Imperial Hotel and tick off some of the iconic places related to Agatha Christie on the way.
You can visit Princess Pier and gardens, The Pavilion, an Agatha Christie bust, and Torre Abbey!
Click here for my complete Agatha Christie mystery mile travel guide
Torre Abbey Potent Plants Garden
Torre Abbey is famous in these parts as being a historic home since 1196! It was originally home to the Premonstratensian order, or "White Canons".
Then it was home to the Cary Family and even housed over 300 Spanish prisoners of war from the Armada in their barn.
Agatha Christie fans will love visiting the Torre Abbey gardens with their 'Potent Plants' section. It's full of poisonous flowers, trees, and shrubs.
The garden is dedicated to her due to her extensive knowledge of poisons and they even have a little mystery to solve too.
Click here for more visitor information on Torre Abbey!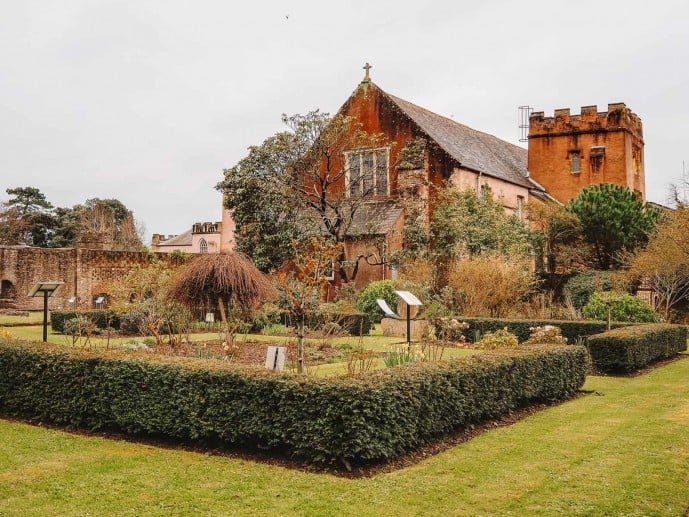 Visit Kents Cavern – Prehistoric Caves
Did you know that Kents Cavern inspired Agatha Christie to write 'The Man in the Brown Suit'?! In her book, she refers to the archaeology inside and it's called Hampsly Cavern.
A visit here is well worth your time while in Torquay. These 2 million-year-old caves were formed around the Ice Age!
They have found evidence of pre-historic humans with bone fragments dated over 44,000 years ago. Making it Britain's oldest home.
There is also evidence that woolly mammoths, saber-tooth tigers, and cave bears lived here too.
You can only visit the caves on a guided tour. Click here for more details on how to book.
Explore Cockington Village
If you drive just half a mile away from the bustling seaside town of Torquay, you can enter the countryside and be transported back in time.
Cockington Village is a little hidden gem in Devon that has buildings mentioned in the Domesday books of 1086!
It's a quaint world of thatched cottages, gorgeous tea gardens, and old Lutyen style houses.
Don't forget to stop by Cockington Court to explore the old manor house. Agatha Christie was friends with the Mallock family who used to own the estate.
As a child, she would join them here to take part in their amateur dramatics!
As well as the house, they have arts and crafts studios and an old parish church too.
Click here to read my complete Cockington Village travel guide with more things to do!
Pay a visit to Burgh Island
One of the highlights of my tour to Devon was a visit to Burgh Island and the hotel there!
Agatha Christie used this as her home away from home and would hide away in their beach hut.
She wrote two novels inspired by Burgh Island; 'And Then There Were None' and 'Evil Under the Sun'. Plus, they filmed two Marple's and a Poirot on the island too!
You can visit this tidal island completely free and have a walk to explore. Or, you can treat yourself to an afternoon tea in the Burgh Island hotel!
It is open to non-residents and it's something you will never forget.
Click here for my complete Burgh Island Hotel Afternoon Tea review!
Read more of my Devon travel guides
The House That Moved in Exeter
Harry Potter locations in Exeter
Is this Exeter's Diagon Alley?
Walking down the Narrowest Street in Britain!
How to visit Wistman's Wood on Dartmoor
How to visit Lydford Gorge & White Lady Waterfall in Dartmoor
How to visit Brentor Church in Dartmoor
Woolacombe Bay Holiday Parks Review
Magical Valley of the Rocks Devon guide
Like it? Pin it!