Looking for things to do in Amritsar that aren't just the Golden Temple? I've got some wicked suggestions for you.
Turbans in all colours of the rainbow line the streets in the holy city of Amritsar, home of the internationally renowned Golden Temple.
Known locally as Sri Harimandir Sahib, this place is the holiest Gurudwara (temple) of Sikh religious worship. This is because it holds the Adi Granth, the holy scriptures of the Sikh faith inside.
People fly from all over the world just to get a glimpse and walk inside this glittering temple which sees over 100,000 visitors every day. When I finally got to visit this year, I could see why. It was absolutely stunning.
Aside from this glorious feast for the eyes, there are plenty more things to keep you occupied while you visit this incredible yet spiritual city.
Here are the top things to do in Amritsar, I've listed them out so you can tick them off as you go!
9 Amazing things to do in Amritsar
1. Stroll around and listen to the peaceful melodies of the Golden Temple
The Golden Temple is one of the most famous Sikh temples in the world and some say you haven't visited India if you haven't set foot here.
Now, that's a bold statement but I would say that they're not wrong. Although it was built in 1577, it is still drop-dead gorgeous today.
I visited the Gurudwara Bangla Sahib in Delhi but it was a drop in the ocean compared to the 750 kilos of pure gold shining back at me!
As I strolled around the (admittedly boiling) marble floors, I almost felt like I was in a trance as I listened to the holy scriptures.
At all times of day, there are people performing music and singing live in the temple. It truly sends a sort of contentment through your whole body.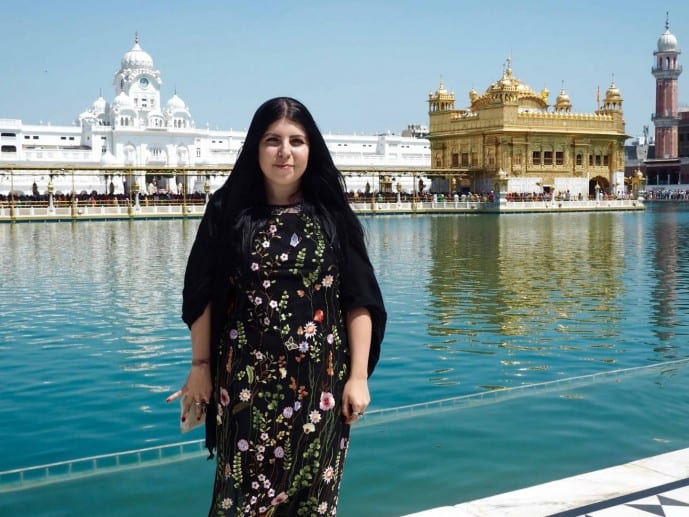 Now, as I said before, 100,000 people walk through this temple every single day.
So expect big crowds but its surprisingly not as overwhelming as you think. You can sit and relax, watch and feed the fishes and watch the pilgrims bathing in the holy waters there.
Top tip: DO NOT swim or put your feet in the water if you're a woman and/or not on a pilgrimage. There will be people manning it anyway and will tell you off if you step over the mark.
I have to admit, I didn't end up going inside the temple itself to see the holy book.
The queue was far too long and it would have taken at least a few hours to get inside.
As soon as I got in the queue, people were pushing my back and I was in a sandwich of bodies. It was also April and the temperatures were just too hot to be stood in that stuffy crowd!
I would recommend getting there super early to get inside if you don't want to queue for days.
But, for me, it was beautiful to stroll around the temple grounds and take it all in. The architecture here is truly something to behold. So, take your time and immerse yourself in the Golden Temple.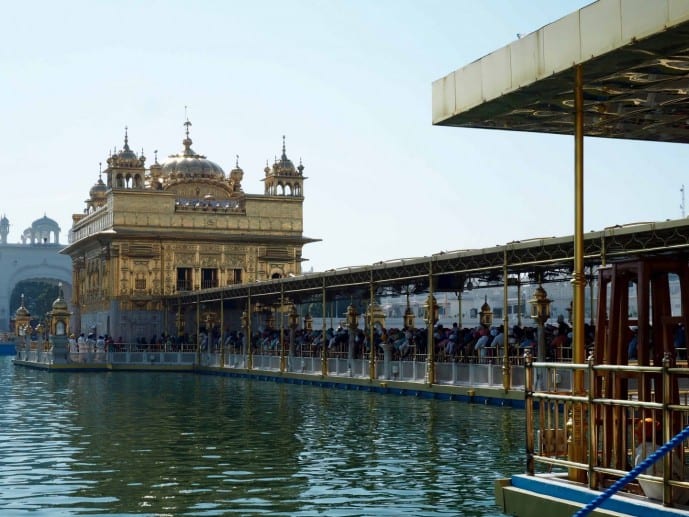 My top tips for the Golden Temple
As one of Amritsar's and even Punjab's most popular tourist sites, it's good to note a few travel tips before you visit;
Always cover your head (men & women) when entering the temple. If you don't have a scarf the temple will provide you with ones for free. If you don't fancy wearing those, you can buy them outside the temple for around 10 rupees.
There will be shoe counters to deposit your shoes, when you drop them off you will receive a token. Don't lose this!
The temple floor gets extremely hot in the direct sunlight. The temple usually put mats down and wet them, stick to walking on those. Be careful of the marble floor as they usually wash it which makes it really slippy.
There are so many crowds that come here each day so be prepared for long lines! The temple itself on a weekend could take anything up to 3 hours to get inside.
Although this is a pilgrimage site, I was told to watch out for pickpockets as there are so many people.
Ladies as this is a temple of worship always remember to dress conservatively. Shorts, revealing dresses and uncovered heads will not be allowed inside!
2. Sample the free food in the massive kitchens
When you look at Tripadvisor for the number one restaurant in Amritsar, it won't be any restaurant, it's THE popular kitchen in the Golden Temple itself.
The kitchens are run by volunteers and you should see the speed in which they cut the vegetables and make the chapati's and wash the dishes, it's incredible to watch.
The food is not served at any particular time of day, it's continuous throughout the day until the night. I would highly recommend trying it and sitting with everyone who's visiting.
Did you know? This kitchen makes enough food to feed 100,000 people per day and it's absolutely free!
3. Go shopping in the main market square
Around the temples, there are some fantastic markets to sink your teeth into if you're the shopping type.
Beyond the typical 'Golden Temple' souvenirs there are some really pretty Punjabi scarfs and pashmina's and textiles in all different beautiful patterns.
For me, I did actually buy a little tacky golden temple magnet to mark the occasion. One day, I want a fridge full of magnets representing all the places I've been. So, this had to be one!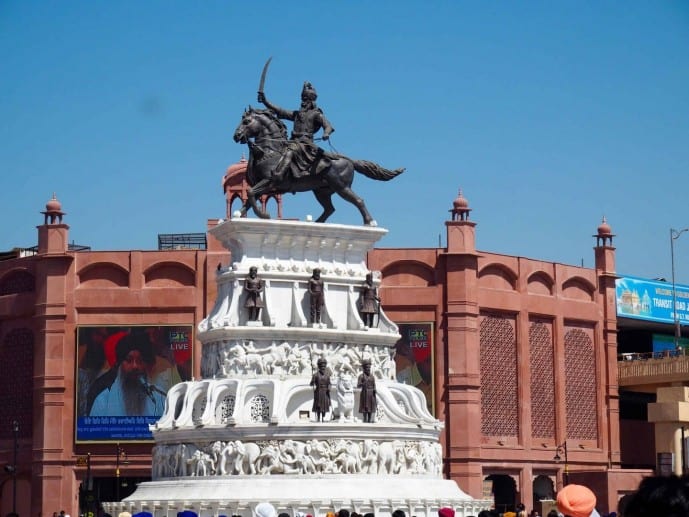 4. Marvel at the the Sikh Guardians
Wow, these guys definitely were not to be messed with and I saw so many in and around the temple and outside the grounds of Amritsar. They are put here as guards of the temple and the Sikh faith.
Their turbans which are worn to represent their devout faith and bravery ranged in all different sizes and holy colours and they carry the most intimidating spears.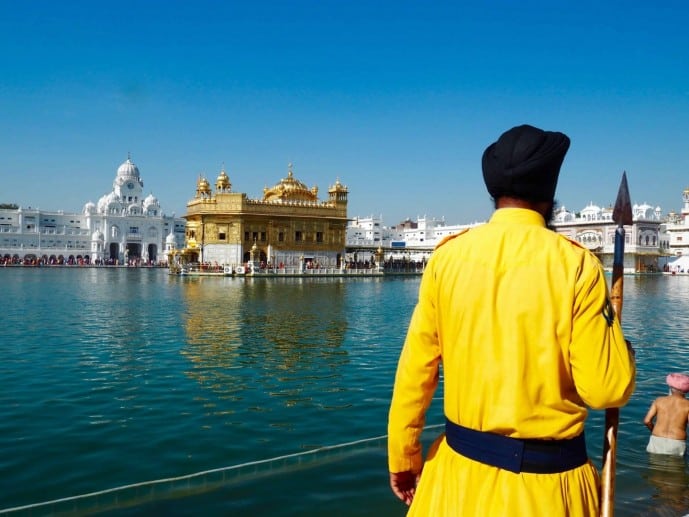 Sikh's are seen as a minority group in India.
Mainly because they don't have a caste system as opposed to the Hindu faith.
There has been a long and sensitive history surrounding Amritsar including the Operation Blue Star of the 1980s where members of the Indian Army attacked their own people.
So, it's not surprising that there are so many at hand should another attack arise.
5. Go to watch the closing of the flag ceremony at the Wagah Border near Pakistan
This was an incredible spectacle that I would advise all tourists heading to Amritsar to watch. It's on the border of Pakistan which is around 40 kilometres away from Amritsar.
Essentially, it's a lowering of the flag ceremony where the army on both sides of the border meet in the middle and perform to the crowds. The army members will be spinning, kicking, and marching to the applause.
Click here to read my guide on the Wagah Border all about what to expect
You will have to set off early (around 3 pm) to make sure you get through the queues and get a seat.
They start shutting the gate when it gets too full. I would highly recommend a taxi as a rickshaw could take far too long. Unfortunately a fellow traveller I met paid for a tuk-tuk only to not make it.
There are thousands of people who come to watch this ceremony each day.
Supposedly, there is a foreigner entrance to avoid the crowds but I didn't find it. Meaning, I had a nice human massage on my way in. Luckily, I managed to find the foreigner's sitting area to enjoy a great view of the show.
It's good to note that India and Pakistan have not always been friendly neighbours to each other and so if there is a conflict going on, don't head here.
The government will advise sending out warnings and tour booking offices and hotels will all be able to tell you if something is going on. Better yet, don't go to Amritsar at all when fighting is going on!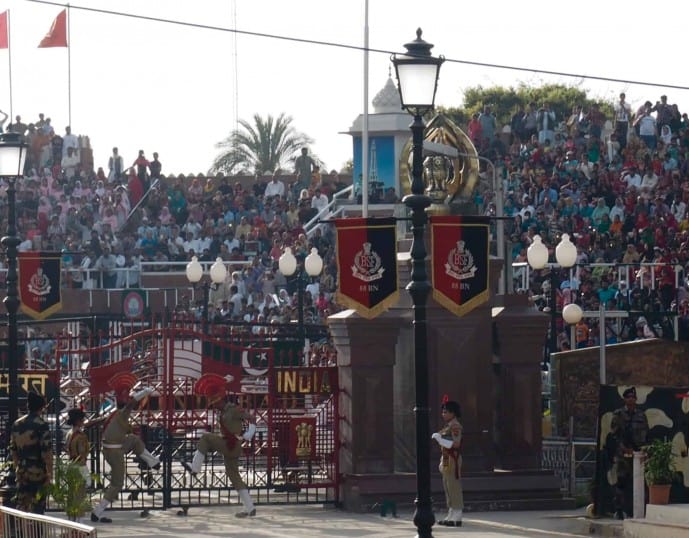 6. Experience the Golden Temple at night
Once you've come back from the Wagah Border ceremony, I would highly recommend heading into the golden temple at night.
I would even go as far as to say that the temple looks better in the nighttime due to it twinkling against the night sky and onto the holy waters.
Although it is busier, it's cooler at this time so it's more tolerable with the heat!
The Golden Temple itself shines like a star and it will take your breath away.
7. Visit Sadda Pind
As I was here for 48 hours and had covered most of what Amritsar had to offer, I was on the hunt for something else to keep me occupied before my flight back to Delhi.
So, I was recommended to go to Sadda Pind, a cultural village just outside of Amritsar (8 km from Golden Temple).
Now, I'd say if you didn't have time, skip it.
It's pretty tacky, but it actually had a really yummy buffet lunch. It's included in your ticket so you may as well take part. But, it did take me around 60 minutes to get a seat inside due to it overflowing with tourists.
It's essentially a living museum in the style of a traditional Punjabi village.
So, you'll learn about Punjabi culture, find houses with model families inside, how to cook traditional dishes, traditional music, farming culture, and all that stuff.
My favourite part was getting to dress up in a traditional Punjabi dress and getting my photos taken. There was also free popcorn.
The price of entry was only 650 rupees including lunch!
8. Sample the famous Punjabi food in one of the many Dhaba's
Now if you would like to sample food away from the free kitchens of the Golden Temple I would highly recommend one of the many Dhaba's in Amritsar.
Punjabi Dhaba's (restaurants) are popular all over India due to its food being so tasty.
I was recommended to try Brother's Dhaba which was nearby the Golden Temple. The food was cheap, the service was fast and it was amazingly tasty! I ordered saag aloo (potato spinach) with a Roti. Carbs for days.
Most of the restaurants around Amritsar's Golden Temple, including the McDonald's there, is strictly vegetarian.
9. Explore the historic spiritual city of Amritsar
Aside from all the tourist sites, it's actually quite rewarding to just explore the city.
The area around the temple is well kept, clean, and car-free so you won't be overwhelmed by the city traffic and busy streets just outside.
You can see all sorts of statues and historical architecture which really brings to life the colourful and complicated history of Amritsar.
You can actually do a hop on hop off tour if you felt like you wanted to explore everything around Amritsar as well.
But, I had run out of time by then and I don't think there's a wealth of sites to see. A whole day package is 1,449 rupees (£16) including lunch and dinner.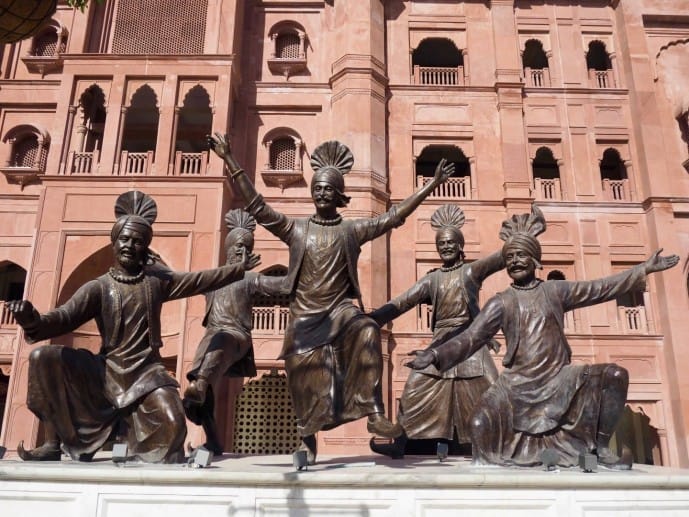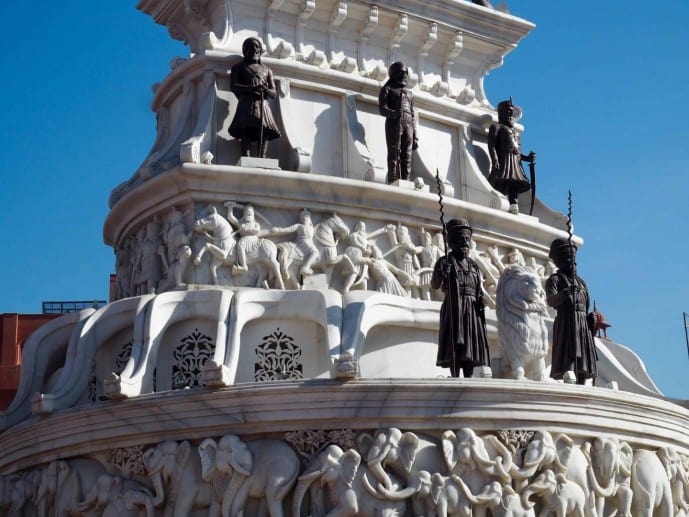 Getting to Amritsar
If you're flying domestically, I flew into Amritsar directly from Delhi which was a smooth 1-hour flight.
Many airlines provide competitive prices. I went with Air India as they had a convenient time but Jet Airways is another provider I would highly recommend.
If you're flying internationally, there are many direct flights that go from the UK including London Heathrow and Birmingham, which has a massive Sikh community.
If you're travelling overland then Amritsar is really easy to reach from Mcleodganj (Dharamashala) and tours run daily, just visit one of the tour offices in town and enquire about prices.
Where to stay in Amritsar
There are plenty of places to stay in Amritsar with it being a popular pilgrimage site.
My personal recommendation would be the Ramada Amritsar (5*) which is the closest luxury hotel in proximity to the Golden temple.
You can even stay inside the Golden Temple for free in their Sarai accomodation which is open to tourists only. But I would say you wouldn't have much chance of sleeping considering people will be in and out of this temple at all times of the night.
The first major prayer time starts around 4 am. For more information on this see here. I would highly recommend enquiring and booking in advance if this is your plan.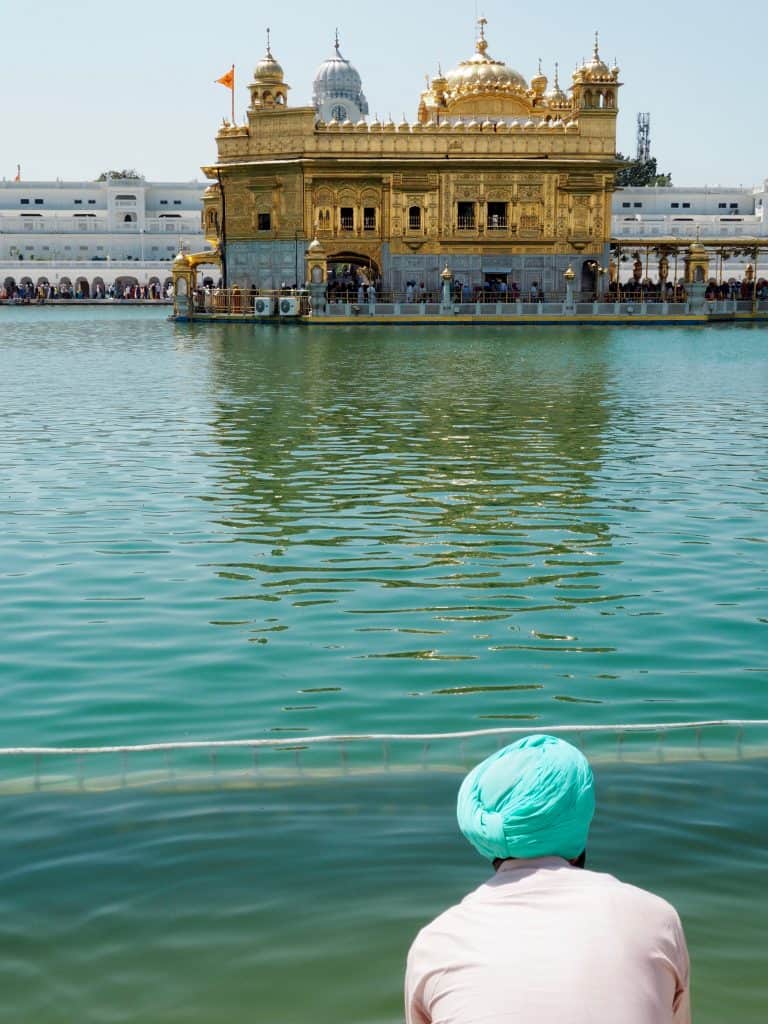 Read more of my India articles
The ultimate Rajasthan itinerary
A first timers guide to Jaipur
My complete guide for Rishikesh
Save these things to do in Amritsar for later!