One of the best day trips from Cardiff is a visit to Castell Coch which lies above the village of Tongwynlais.
It's known as the 'Fairytale Castle of Wales' and, although it has a history of over 900 years, the castle we see today is a 19th-century Gothic revival folly.
Also known as the "Red Castle", it was built by John Crichton-Stuart, 3rd Marquess of Bute. Supposedly, he built this as his summer home where he could profess his feelings for his wife Gwendolen Fitzalan-Howard.
As such, you'll find lots of symbolisms and cryptic messages spoken through flowers, fables, and Greek and Roman mythology – the whole castle is essentially a giant love letter!
Merlin fans will also love to know that this was a filming location that featured in 'The Changeling' episode with Princess Elena.
There are many castles in Wales but none quite like this one. It's straight out of the pages of a storybook. Here are the best things to do in Castell Coch, a fairytale castle!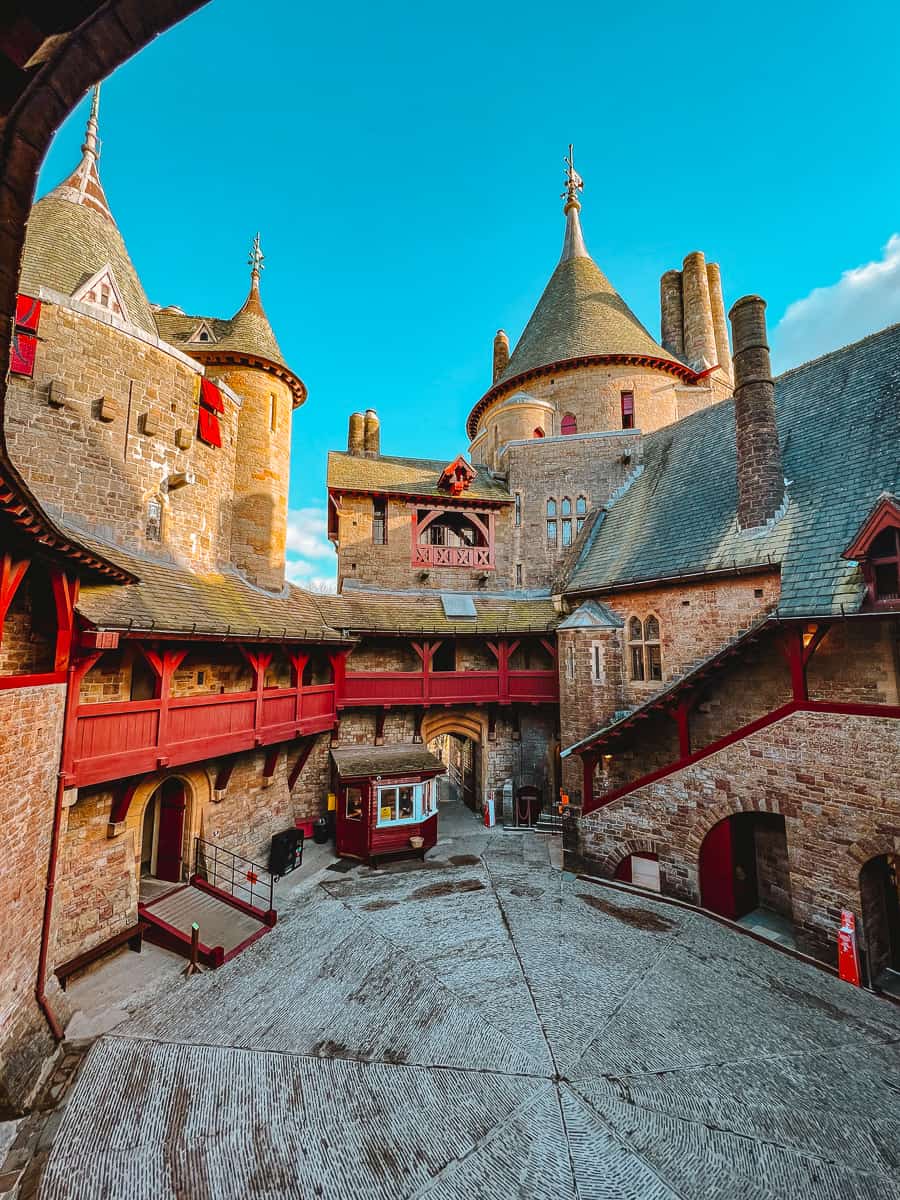 Castell Coch history
There has been a castle on the site of Castell Coch since the Norman times to protect the growing town of Cardiff before it became a city in 1081!
It was then rebuilt in the 13th-century by Gilbert de Clare, who seized this land around Caerphilly from native Welsh rulers. But, after his death, the site was abandoned and left to ruin.
By the 18th-century, the Bute family acquired the lands and ruin with it. This meant that John Crichton-Stuart, the 3rd Marquess of Bute, inherited the land and castle as a child in 1848.
When Bute finally came of age, he was one of the wealthiest men in Britain. Once he married Gwendolen Fitzalan-Howard, he owned numerous estates in South Wales.
He later asked his chief architect to carry out an investigation of the castle ruins to see what could be done with the property.
William Burges, an architect with an interest in medieval architecture, reported back that he could either conserve the ruins or rebuild them into a summer home.
Bute then commissioned Burges to rebuild Castell Coch in a Gothic Revival style in 1868. It would be a commission of a lifetime!
Burges had a fanciful and elaborate vision of a medieval fairytale castle but with some contemporary Gothic additions. It had two big conical towers, a gatehouse, and a banqueting hall but also central heating and some Victorian comforts.
Once Burges died suddenly in 1881, the project and property seemed to be abandoned by Bute. Aside from being repurposed as an army barracks in World War I the property saw little action.
It was eventually owned and protected by Cadw and we can now visit it as a tourist attraction. It's been featured in numerous TV productions and has regularly been voted by the public as their favourite building in all of Wales!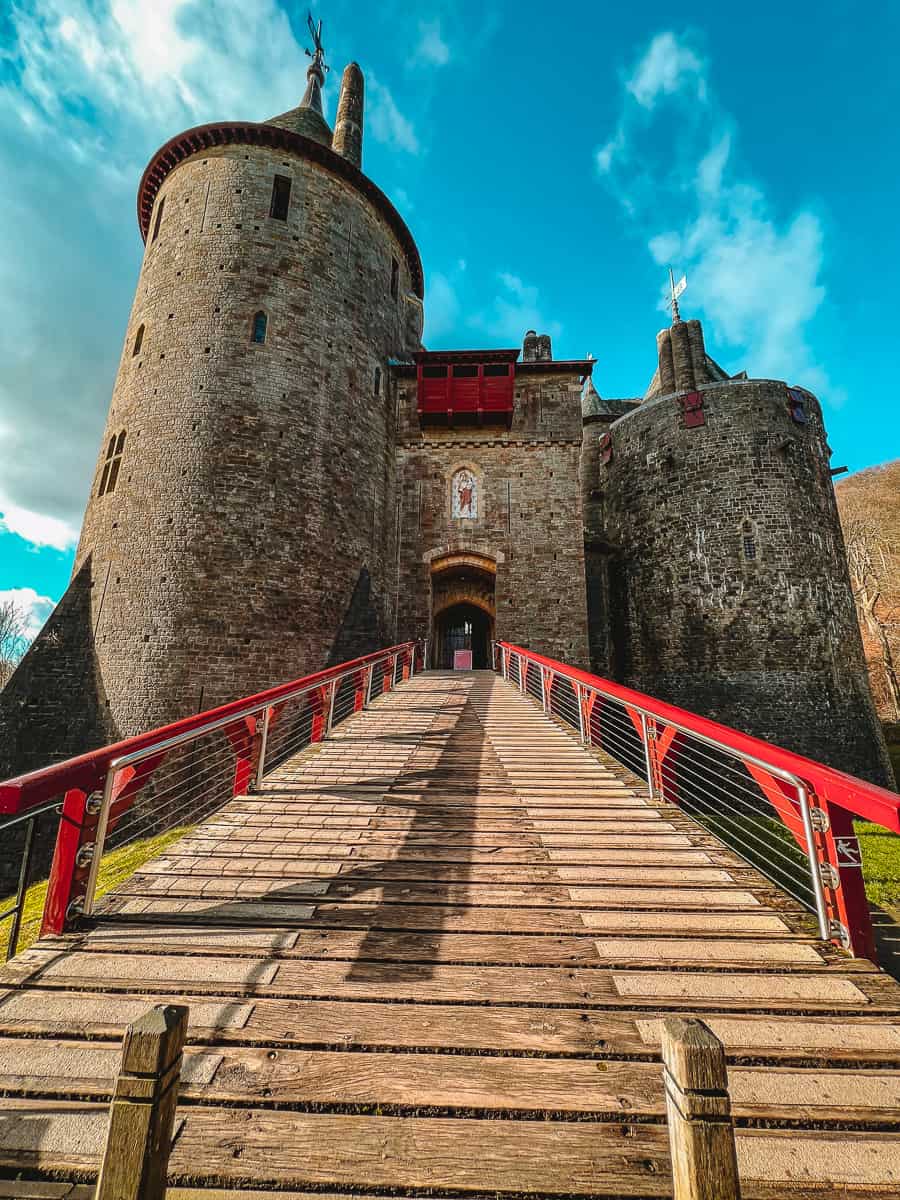 Things to do at Castell Coch
So, what can you do at Castell Coch while you're here? Well, there is plenty to do on a day trip from Cardiff!
You can explore the castle, yes, but there are also things to find in the village of Tongwynlais and the magical Fforest Fawr surrounding it.
Here are all the magical things to do in Castell Coch on a day trip!
As soon as you arrive at Castell Coch, you'll see the huge gleaming towers that stand high over a drawbridge that allows you to cross the threshold and into the fairytale castle.
You can then wander up the spiralling staircases and explore each of the lavish staterooms to see what it would have been like when the Marquess and Marchioness Bute would stay here in the summer.
It will feel like a labyrinth of stairs, exhibition rooms, kitchens, and towers but make sure you don't leave until you see the most important rooms;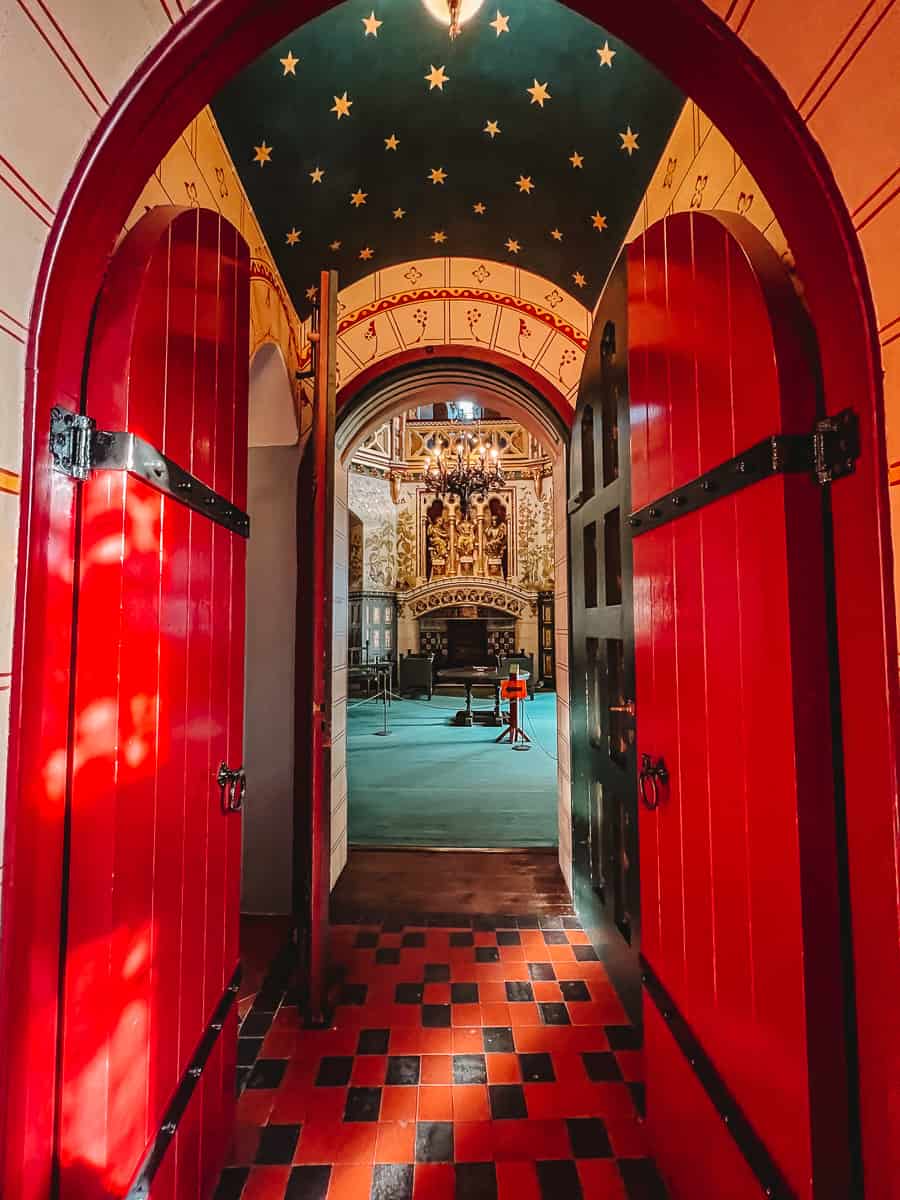 Lady Bute's Bedroom
The most ornate room in the entire castle has to be Lady Bute's bedroom. A large domed room with an elaborate coffered ceiling.
It's decorated like a boudoir in a Moorish style, similar to the Arab Room at Cardiff Castle, and takes up the entire upper floor of a castle tower!
A hidden symbol to find in this room is a carving of Psyche holding the Bute coat of arms that is placed above the fireplace.
In mythology, Psyche is the Greek goddess of the soul. The love story of Eros (Cupid) and Psyche is one of the most famous that is about defying obstacles in love.
You'll also find lots of cryptic and evocative love messages through paintings of pomegranates, grapevines on the ceiling, and birds in their nests.
Pomegranates are known as the passion fruit or the fruit of love. Its thought the first pomegranate was planted by Aphrodite and pomegranate seeds were featured in the love story of Hades and Persephone. The 'forbidden fruit' is also a symbol of sensuality.
If you look closer you may spot some cheeky monkeys running around too! Lord Bute famously described these as inappropriately "lascivious".
Lord Bute's Bedroom
In contrast, Lord Bute's bedroom is a lot different from his wife's room. In fact, compared to the rest of the rooms in this castle, it's quite spartan!
Where Lady Bute's room is a huge circular and sumptuous boudoir, Lord Bute's is a lot smaller, angular, and practical.
It's still painted lavishly but there are far fewer details and symbols in this room and it is simply furnished with a bed, desk, washbasin, and furnace.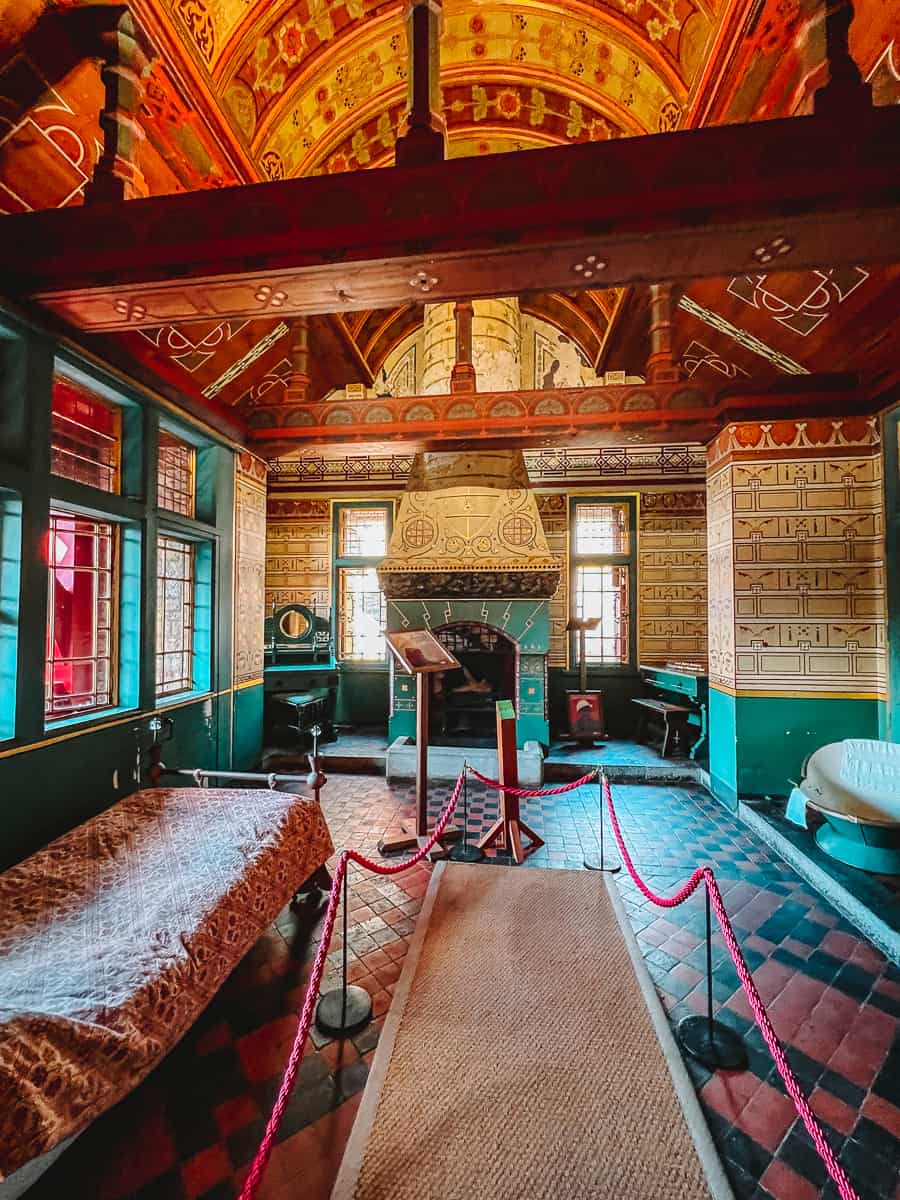 The Gothic Banquet Hall
In true Burges style, you'll find a medieval banquet hall in this fairytale castle but with a Gothic revival twist.
This room is inspired by the life and martyrdom of St Lucius. You'll find a mural of him that was created by Horatio Lonsdale.
Again, there are many intricate details in this room including a French-inspired tapered chimney from the 15th-century and lions' heads carved on the arms of the chairs.
If you peer out of the windows, you'll find amazing views of the forest beyond and you can see towards Cardiff!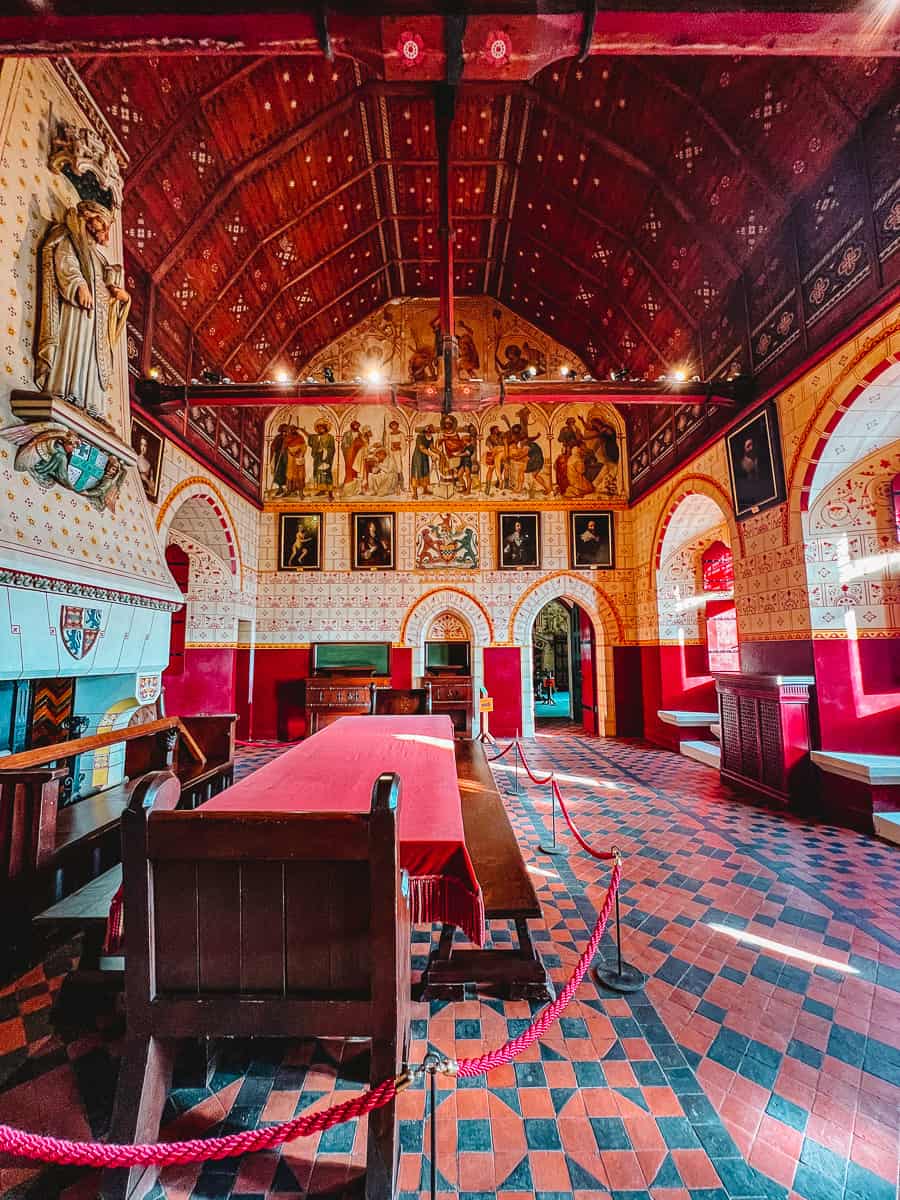 2. Fall in love with Castell Coch's drawing room
My favourite room in the entire castle has to be the octagonal drawing room just beyond the Banquet Hall.
As soon as you walk through the ruby-red double doors and under an archway of stars, you'll gasp as you take in the most beautiful domed ceiling you'll ever see!
It's a sumptuous parlour filled with stars, portraits, symbols, and tales from Aesop's Fables. There are 58 coloured panels that have beautiful hand-painted drawings of animals, birds, and flowers.
Just above the fireplace, you'll find the Fates or the Moirai; the Goddess sisters of Clotho (Spinner), Lachesis (Allotter), and Atropos (Inflexible). In mythology, they are meant to measure the thread of life and destiny.
I was captivated by everything in this parlour and I could have spent hours taking in the lavish details and finding all the hidden messages here. I found out later you can actually get married in this room!
3. Chase Castell Coch filming locations!
Did you know that Castell Coch has been featured in many TV productions over the years? Of course, I'm team Merlin and I've been wanting to visit this castle ever since I saw it in the show.
Castell Coch is featured in Merlin series 3, episode 6 'The Changeling' where Arthur is expected to enter an arranged marriage with Princess Elena.
The exterior of Castell Coch is featured as Elena's home as she is about to enter the carriage to meet Arthur!
Click here to see scenes of Princess Elena in The Changeling!
Related post – How to Visit Camelot Castle from Merlin!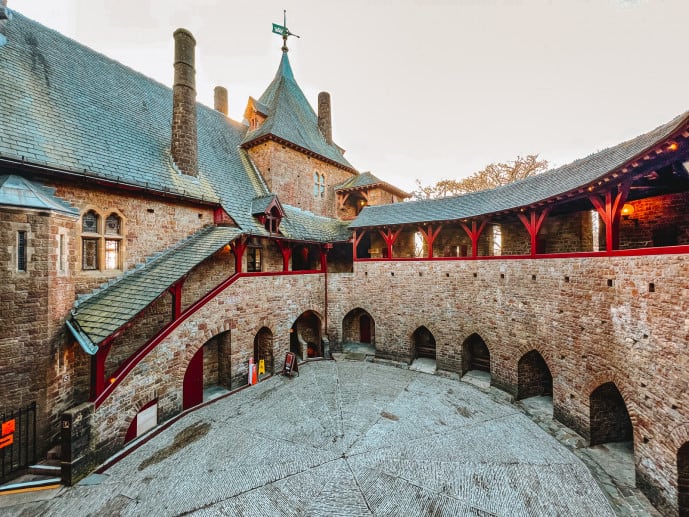 What has been filmed at Castell Coch?
Castell Coch really does look straight out of a storybook and so it's little wonder why TV production companies love to use this location in their period pieces.
It featured in the Scarlett Pimpernell (1982) and Gawain and the Green Knight (1973) but you may recognise Castell Coch more recently in the following shows;
The Spanish Princess (2021)
4. Head out on a Castell Coch walk
After you've explored the castle, it's really easy to get lost in the magical Fforest Fawr that lies just above it. As you ascend up the steep hill, you can find numerous walking trails to spend an afternoon.
This area used to be industrial with many mines operating here to extract the Iron ore deposits found below ground. So, you'll find lots of heritage trails to step back in time.
Here is a list of Castell Coch walks you can find here:
Sir Henry's Trail
Fforest Fawr Sculpture Discovery Trail
Fforest Fawr Circular
Burges' Way
Three Bears Cave Walk
Taff Trail (part of a much larger 55-mile trail)
All of them are fairly easy, it just depends on how long you'd like to walk while you're here. Click here for a map of all the walking routes in Fforest Fawr.
5. Take the Fforest Fawr sculpture trail
If you're a Merlin fan or if you have brought little ones with you, I would highly recommend that you take the Fforest Fawr Sculpture Discovery Trail.
It's an easy flat walk through the forest where you can search for all sorts of fairytale creatures, wizards, and even dragons!
It's recently been renovated as many of the older statues were beyond repair. They have now been lovingly restored or replaced with brand new sculptures.
It takes around an hour and you can join this up with a visit to Three Bears Cave.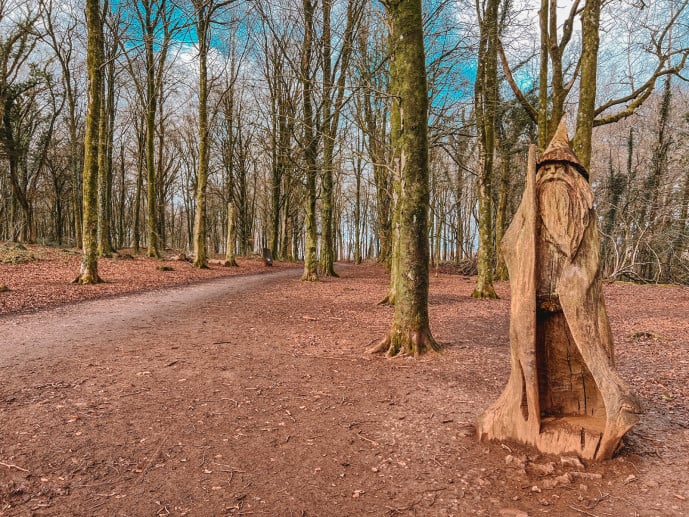 6. Find Three Bears Cave
If you were looking for Merlin filming locations, then I would recommend heading to see Three Bears Caves while you're here in Fforest Fawr.
They are quite easy to find from Castell Coch once you're in the forest. Simply follow the Fforest Fawr Sculpture Trail until you see the Wizard statue.
Then, take a right and head up the beaten road track until you see a wooden statue of a bear holding its cub!
Nearby you'll see a huge green metal fence and through here is Three Bears Cave! These caves are featured in series 2 of Merlin in the 'Lancelot and Guinevere' episode where Merlin and Arthur discuss the Wilddeoren.
It's also featured in many other TV productions like Doctor Who, Torchwood, Sherlock, and Da Vinci's Demons!
Click here to read my complete guide on how to visit Three Bears Cave!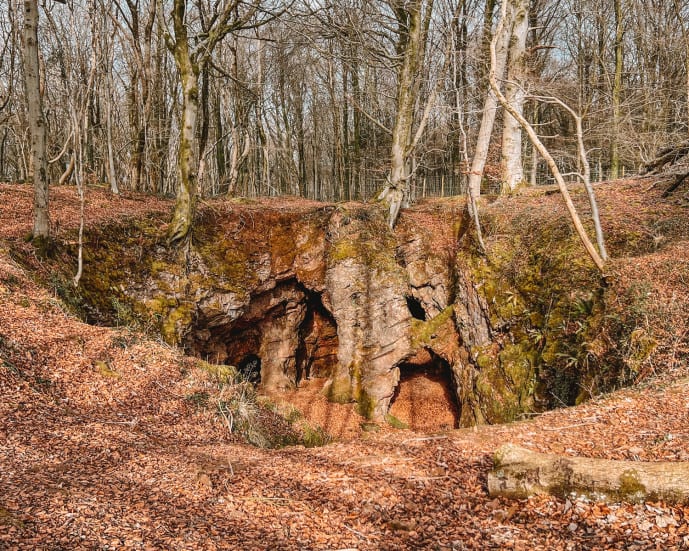 How to visit Castell Coch
If you wanted to visit the fairytale castle of Wales, you'll need to navigate over to the village of Tongwynlais near Cardiff.
It's really easy to visit from the capital as it's only a 20-minute drive from the city. It's also located just off the M4 motorway.
Follow signs for Castell Coch and then drive up the extremely steep castle hill to the very top. You'll find a car park at the end.
If you didn't have a car, I would recommend catching the bus to Tongwynlais then walking to the castle from there.
The 132 service from Cardiff railway station takes you to the village in 45 minutes. You'll alight at Bute Street and then it's a 15-minute walk to the castle up the very steep hill!
Castell Coch postcode is CF15 7LL. Click here for a Google Pin.
Castell Coch parking
There is a large car park that's located at the top of Castle Hill as you arrive at Castell Coch. This is completely free.
After your visit, you're more than welcome to stay here and explore the area. There are numerous Castell Coch walks that take you inside Fforest Fawr.
You will have to walk a little bit uphill from the car park in order to visit the castle. Accessibility parking is available nearer the top of the hill.
Castell Coch opening times & prices
Castell Coch is owned by Cadw so it's a tourist attraction that is open throughout the year apart from the Christmas holidays and New Year.
The castle is typically open in winter from 10 am to 4 pm. In summer, it's open from 9.30 am – 6 pm.
It's good to note that they also close completely for an hour at lunchtime. So, you'll need to make sure you avoid visiting at this time!
In my typical unorganised fashion, I arrived just as they closed so I had a wander around while I waited.
Castell Coch ticket prices change seasonally. It will be cheaper to visit in winter than in the summer.
Click here to check the latest opening times and ticket prices!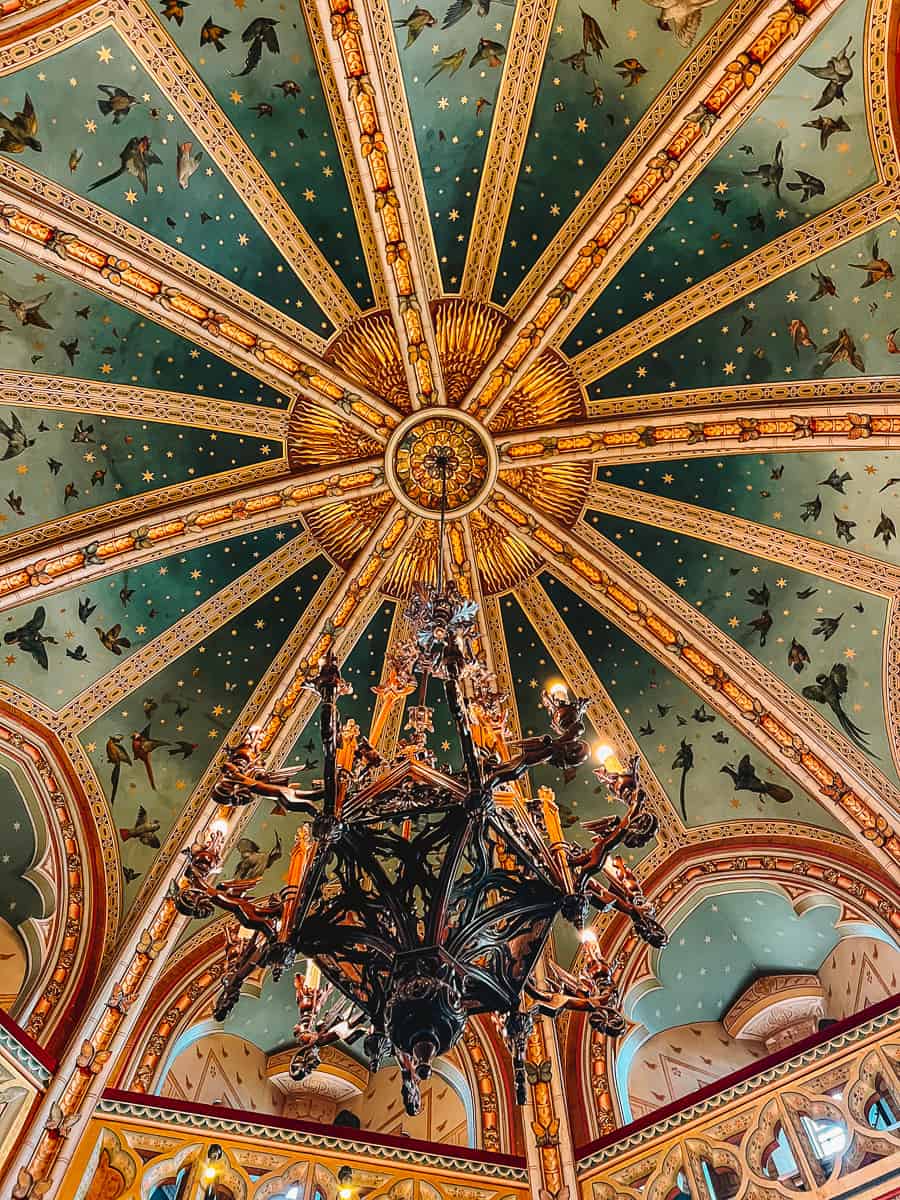 Things to do near Castell Coch
If you were looking for things to do near Castell Coch, you'll be spoiled for choice! There are plenty of things to do in the wider Cardiff area.
If you love history then I would recommend you visit Caerphilly Castle next which is just a ten-minute drive away from there!
It's Wale's largest castle surrounded by a huge moat and you can explore the ramparts, see the toppling tower and Great Hall – there's even a Dragon's Lair! Did you know it's also a Spanish Princess and Merlin filming location?
If you wanted to explore the South Wales coastline, I would recommend driving down to the Vale of Glamorgan. You can visit Dunraven Bay that featured in Merlin and Doctor Who!
You could also visit Barry Island, or 'Barrybados', the home of Gavin and Stacey, and stroll along the Victorian Pier of Penarth.
Of course, who could forget the vibrant capital city of Cardiff!? You can get lost in their castle, also built by Bute, or go shopping in the numerous arcades.
My personal favourite area of the city is Cardiff Bay where you can stroll along the water, eat in the many restaurants and see the Senedd Welsh parliament building!
Read more of my South Wales travel guides!
The best bookshops in Hay-on-Wye
Why you must visit Llanthony Priory
The most crooked church in Britain
A complete guide for Barafundle Bay Beach
How to visit Dobby's Grave at Freshwater West
A complete guide for the Green Bridge of Wales
How to visit the Blue Lagoon in Wales
The best things to do in Monmouth
The Monnow Bridge & gate guide
Save these things to do at Castell Coch for later!