Golden Lane Prague, or Zlatá Ulička, is a 16th-century alley that looks like something from a fairytale.
It's a cobbled lane tucked away in Prague Castle and is filled with colourful houses, shops, and museums.
Often referred to as the Street of Alchemists, this is where soldiers and goldsmiths used to live. As well as many famous Prague residents like Franz Kafka.
You can visit as part of a Prague Castle ticket and there is so much to discover inside.
Here are all the things to do in Golden Lane Prague, a magical hidden street in Prague Castle!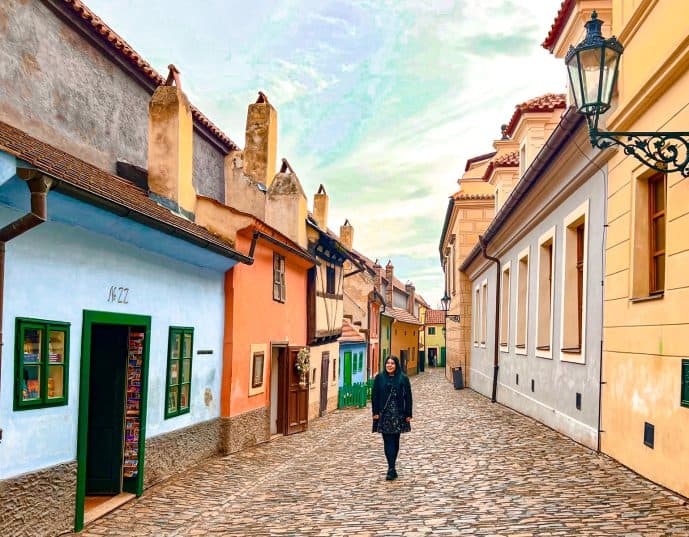 Why is it called Golden Lane Prague?
This colourful cobbled lane looks like it's been plucked from the pages of a fairytale today. But, it didn't always look like this.
This street was originally built in the 16th century after the northern wall of the castle was finished during the reign of Rudolf II.
The northern bailey was an important part of the fortress as it used to house the King's official guards and his goldsmiths.
That's why the street was originally called Goldsmith's Lane and then later Golden Lane.
As the goldsmiths worked in secret, there were many myths and legends surrounding them.
In fact, many people believed that they were alchemists attempting to turn basic metals into gold.
The Street of Alchemists
This lane is also known as the 'Street of Alchemists' as many people believed that the king didn't hire goldsmiths to work here but a secret order of sorcerers and astrologers.
It is well known that Emperor Rudolf II was a forward-thinking monarch for his time.
He often had eccentric and somewhat controversial artists in his court and was interested in experimental sciences that covered alchemy, astrology, and magic.
As well as alchemy, there is a legend that King Rudolf II asked his magicians to work on an elixir of youth, similar to the Philosopher's Stone in Harry Potter!
There is no evidence of this happening in Golden Lane but their laboratories were definitely real and could be found in the medieval Mihulka Powder Tower.
You can visit the Museum of Alchemists and Magicians of Old Prague to find out more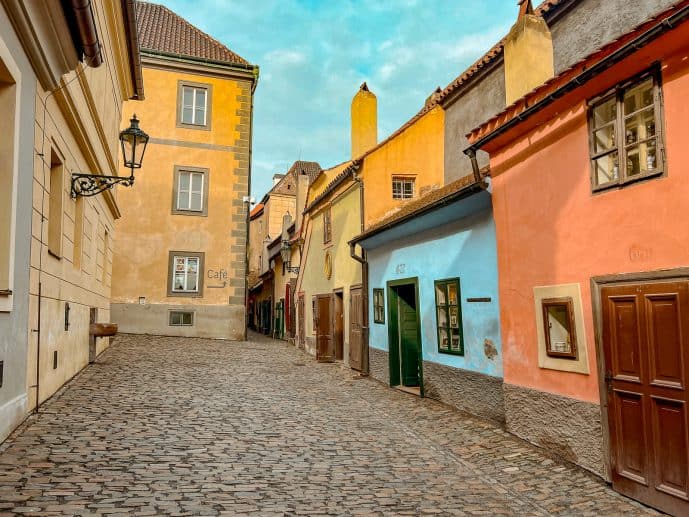 Later history of Pragues' Golden Lane
Royal Guards and goldsmiths were stationed in Golden Alley for years until the House of Habsburg left during the 18th century for Vienna.
The alley was then abandoned and started to become a residential street for the poorest residents of Prague who needed a place to live.
In the 19th century, the houses on one side of the street were demolished due to them falling into decay.
By the 20th century, many famous artists and figures lived in this street including Franz Kafka from 1916 – 1917. So, it started to gain popularity.
After World War II, the street became part of Prague Castle once again. The houses got a lick of colourful paint and many of these residences became exhibition rooms and shops.
Today, this lane looks like it has been trapped in time and is a popular tourist attraction.
Where is Golden Alley in Prague?
Golden Lane is hidden away on the northern side of Prague Castle and is a little bit of a walk away from the main entrance in Hradčany Square.
The entrance is near to Café Galerie and opposite the Toy Museum in Prague.
From the main square and entrance to St Vitus Cathedral, you'll need to walk by St George's Basilica and then turn left on Zlatá ulička u Daliborky opposite the Rosenberg Palace.
Prague Castle is very well sign-posted and so you shouldn't have any issues locating it.
The address for Golden Lane is Hradčany, 119 00 Prague 1, Czechia. Click here for a Google Pin!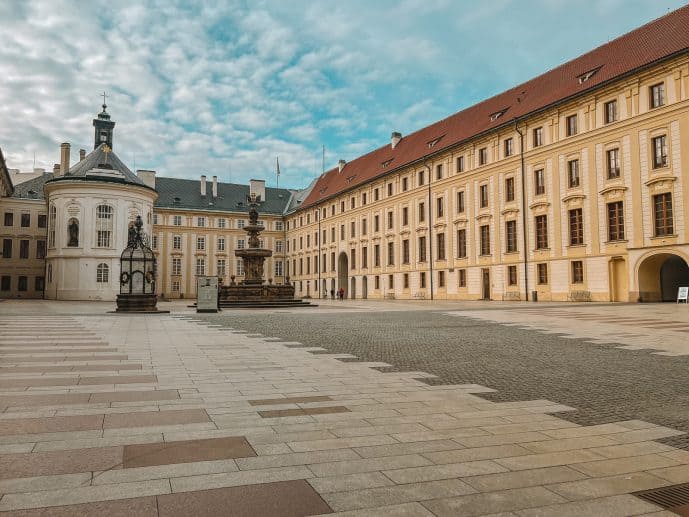 How to visit Golden Lane Prague
Although you can see most of the Prague Castle complex for free, you do need to buy a ticket for the historic buildings including Prague's Golden Lane in order to visit.
Unfortunately, you can't buy tickets for Golden Lane on its own. You can only visit as part of a Prague Castle ticket.
A basic ticket will gain you access to the Old Historic Palace, Golden Lane, St Vitus Cathedral, and St George's Basilica.
There is no ticket desk outside the lane itself. You will need to visit the information centre opposite St Vitus Cathedral to buy tickets.
You can't buy official tickets online so you will need to queue up in person on the day. The basic circuit will cost 250 CZK or roughly £9 / $11. There is the option to purchase an audio guide at a fee.
Many tour companies like Get Your Guide offer Skip the Line Prague Castle tickets. This does come at a premium but you can reserve a slot in advance instead of waiting in a long queue!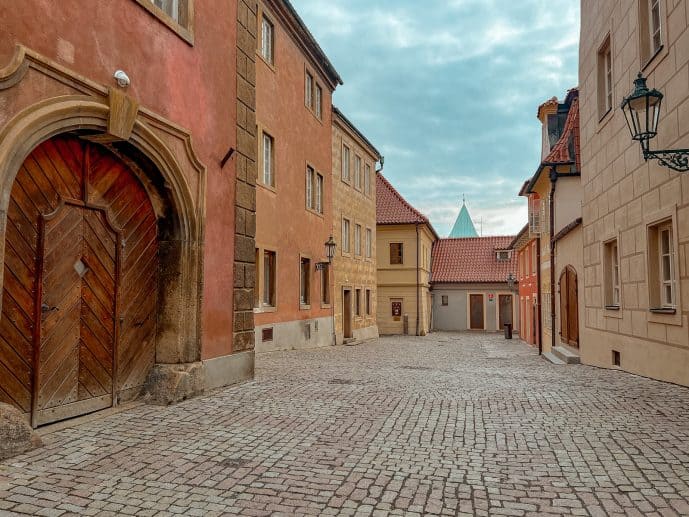 Things to do in Golden Lane Prague
So, once you have your castle ticket, you can head over to the Golden Alley on the north side.
You'll need to show your ticket at the entrance to the security guards. Then, you can start exploring the prettiest street in the entire city that looks like a step back in time.
There is so much to see here that is included in your entry fee so leave plenty of time to look around.
Here are all the things to do in Golden Lane Prague!
1. Admire the colourful fairytale houses
As soon as you enter the Golden Alley you will feel like you have stepped back in time.
With a cobbled floor and a rainbow row of higgledy-piggledy houses. It will feel like walking through the pages of a storybook.
Although it looks like a movie set, the houses are very much real and you can snoop around almost every single one.
There are even museums on the top where the defence fortifications used to be. All are included in your ticket.
It makes a great photo opportunity but I would recommend heading here early to avoid the mass crowds.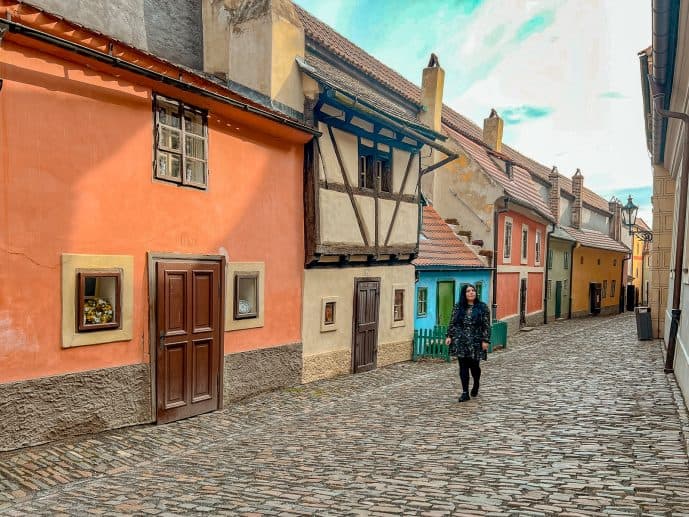 2. Visit Franz Kafka's House on Golden Lane
You really can't escape references to Kafka in Prague, a German-speaking Bohemian novelist who wrote famous works like The Trial, The Castle, and Metamorphosis.
He is one of Golden Lane's most famous residents and he lived and worked in number 22.
Although he only rented this tiny house for one year from 1916 – 1917, it is believed he sought inspiration from this quaint street for his writing and illustrations.
Today, it's home to Vitalis Bookshop. They sell lots of Franz Kafka's works, postcards, and souvenirs.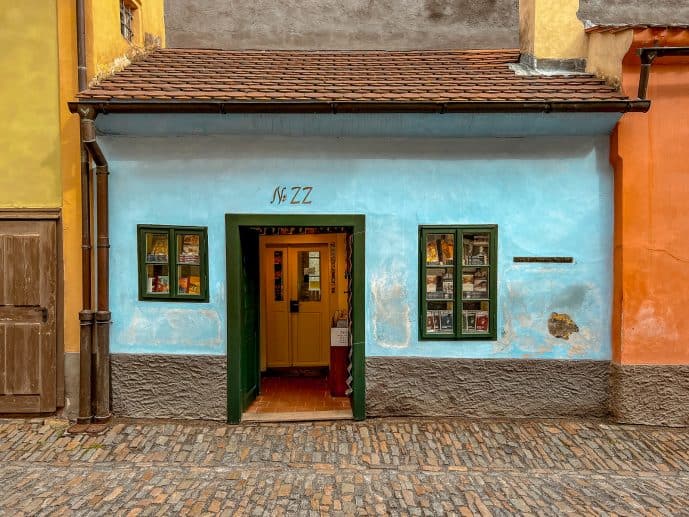 3. Walk down the Defence Corridor
One of my favourite parts of visiting Golden Lane Prague was the Defence Corridor.
You can find it by heading upstairs through one of the buildings. It's easy to locate as a knight will be pointing the way.
In the 16th century, the King's Royal Guard was stationed on these fortification walls to defend Prague Castle.
Today, you'll find rows upon rows of suits of armour, chainmail, weapons, and shields whilst listening to medieval music to set the scene.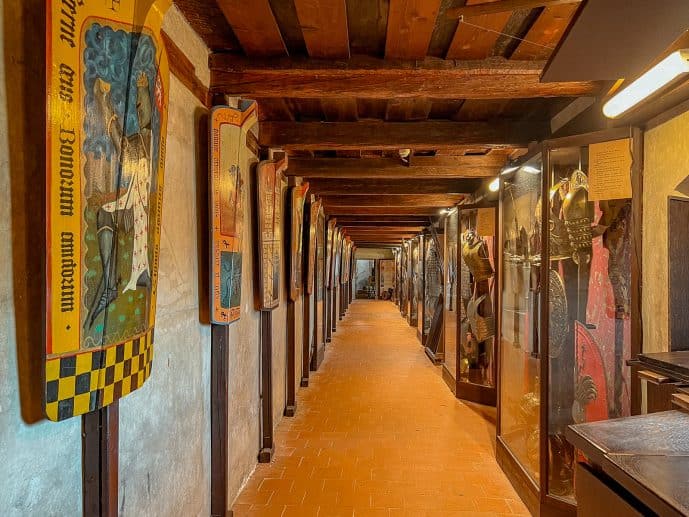 None of the suits of armour were the same. In fact, you'll find armour plates in all sorts of quirky and creative designs.
There was one with a gold crown on the helmet and even one shaped like an eagle with wings and talons.
There is a small shop selling some medieval souvenirs and you can then head on up to the White Tower.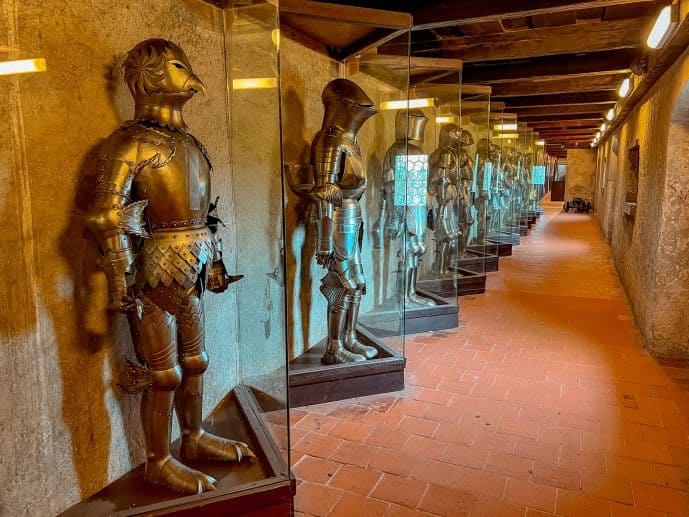 4. White Tower & torture chamber
At the end of the Defence Corridor, you can find a room filled with torture equipment that was used on criminals.
There was an iron chair, manacles, shame masks, nail pullers, and lots of other gruesome devices.
Make sure to head up the White Tower which was an artillery tower during the reign of Rudolf II.
It became a dungeon and there were some famous prisoners held there like the English alchemist Edward Kelley.
He was arrested and imprisoned here for stealing from the King's coffers. Today, there are even more weapons and armour to see inside.
5. Learn about Golden Lane's famous residents
Many of the fairytale houses on Golden Alley have been turned into museums so you can see what living here was like over the centuries.
Each home has its own story to tell and you can find the home of a seamstress, herbal doctor, and writer.
You'll see a laboratory for the goldsmiths and there is an example of a home for the Red Musket guards who lived here in the 16th century.
In number 14, you can see the dwelling of the famous fortune teller 'Madame de Thebes'.
She was famous for her predictions during World War II. Tragically it also meant her death as she predicted the downfall of Hitler.
All of these exhibits have information boards to provide more detail. But, fair warning, you will be looking at the rooms through glass windows.
5. Shop for Czech souvenirs
As well as museums, many of the houses on Golden Lane have been turned into shops, galleries and studios.
They sell a range of traditional Czech souvenirs which make great gifts to take home.
There is the Fairy Tale Toy Shop selling handcrafted toys, games, and dolls. Kolos Alchemist boutique has a range of beautiful items like jewellery and luxury figurines.
The tiny blue house at number 19 is part of the Ogel Havel Foundation. Their gallery has items made by adults and children with disabilities. All proceeds go towards their wonderful charity.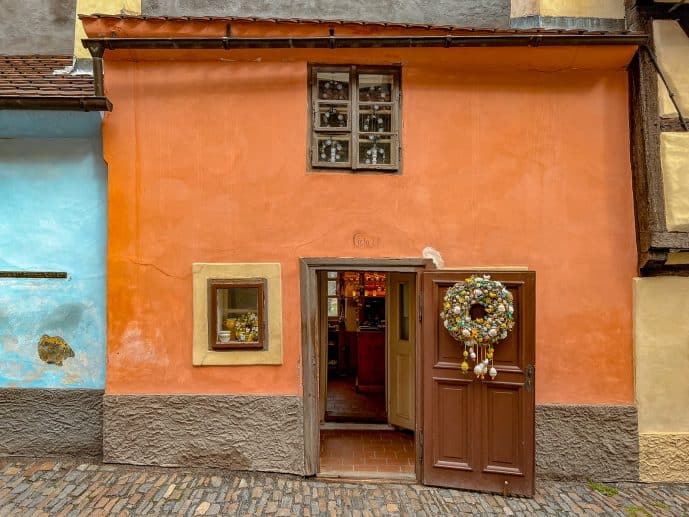 7. Learn about film historian Josef Kazda
At the end of the street, you will find Josef Kazda's House at number 12.
He was a film historian who is famous for safeguarding thousands of reels of Czech movies that were going to be destroyed by the Nazis during WWII.
He is now a hero of Czech culture and his house has largely been preserved. You can see piles of film reels on the staircases.
They have a small cinema set up where you can sit and watch some of the footage that he saved.
8. Daliborka Tower & Dungeon
If you walk down the steps next to Josef Kazda's residence, you'll eventually come to an open area that overlooks the city.
This is home to the Daliborka Tower which is a medieval round tower that dates back to 1496. It used to be a prison and torture chamber and comes with its own myths and legends.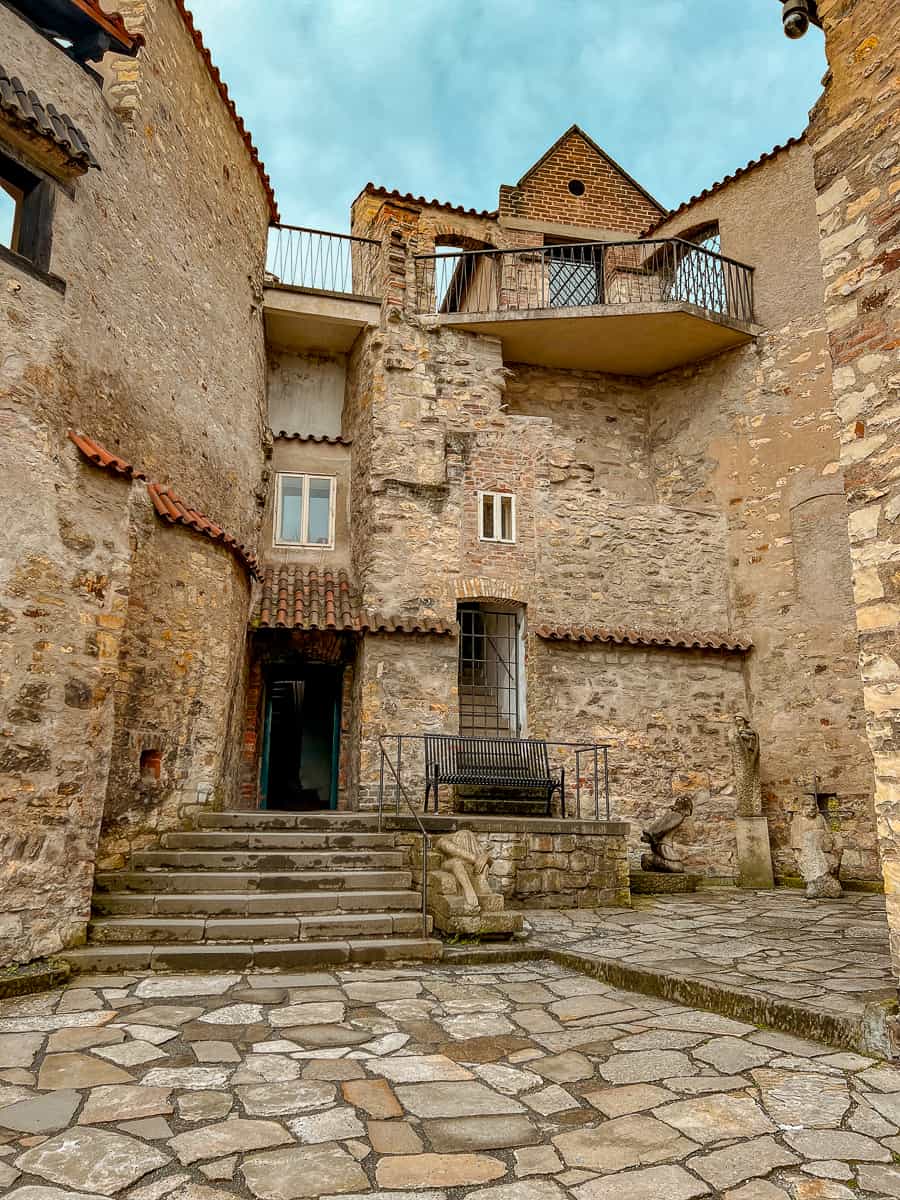 The first prisoner here was Knight Dalibor of Kozojedy and the tower is named after him.
He was arrested for simply housing some rebels on his estate during the Rising of Serfs. He was held here in the tower and tortured. They later beheaded him in the courtyard outside of the tower.
Legend says that he learned to play violin whilst incarcerated here. His haunting melodies could be heard around Prague and many people felt sorry for him gifting him food and drink.
The music could be heard around the castle after his death reminding people that his end was unjust. His tragic tale is famous and was used in the opera Dalibor by Bedřich Smetana.
The tower remained a prison until 1781. If you committed a petty crime you'd be kept in the upper parts of the tower.
The worst criminals were kept in the basement of the dungeon which was also home to a torture chamber.
Look out for an Iron Maiden, a gibbet, a stretching rack, and many other tools that were used to force confessions out of Prague's most wanted.
9. See spectacular views over Prague & Vltava River
After you've exited Dalibor Tower, there is a balcony area that overlooks the city of Prague and the Vltava River.
It provides an amazing photo opportunity and you can see many iconic buildings in the City of a Thousand Spires.
There are a few benches dotted around where you can take a break and enjoy the vista.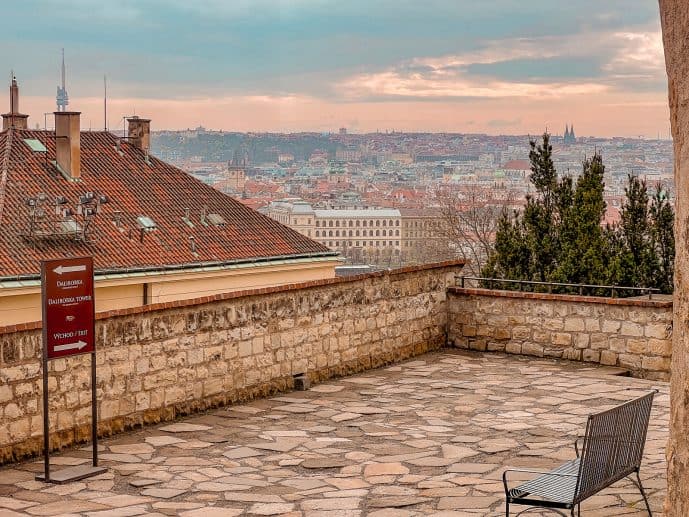 10. Have a coffee in Cafe U Včelaře
Lastly, you must have a hot drink or some lunch in Golden Lane's Café U Včelaře which is near the entrance.
This cosy eatery serves up some great coffee and you can sit at the window that overlooks the colourful houses.
The service was great and it was so nice to get a pick-me-up with an enchanting backdrop!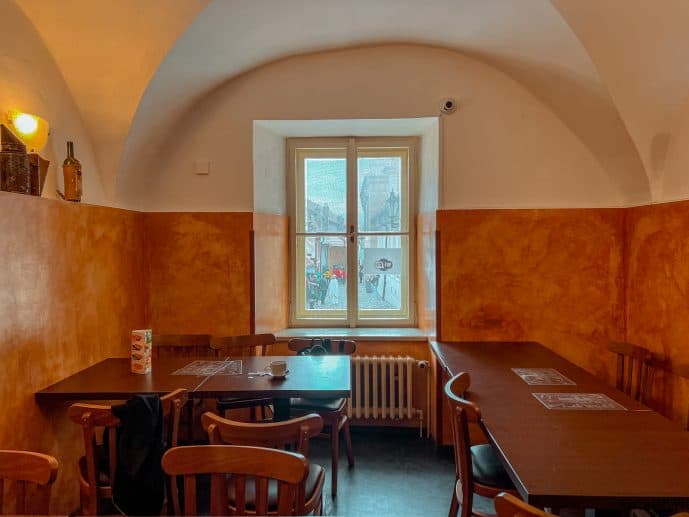 Is Golden Lane in Prague free?
Yes and no. If you want to visit Golden Lane during opening hours you do have to pay to visit and the alley is included in a standard Prague Castle ticket.
Your ticket gains you access to the street with all the historic houses, museums, shops, and café.
However, if you were just interested in seeing the street, you can visit after closing time for free. None of the houses or museums will be open at that time though.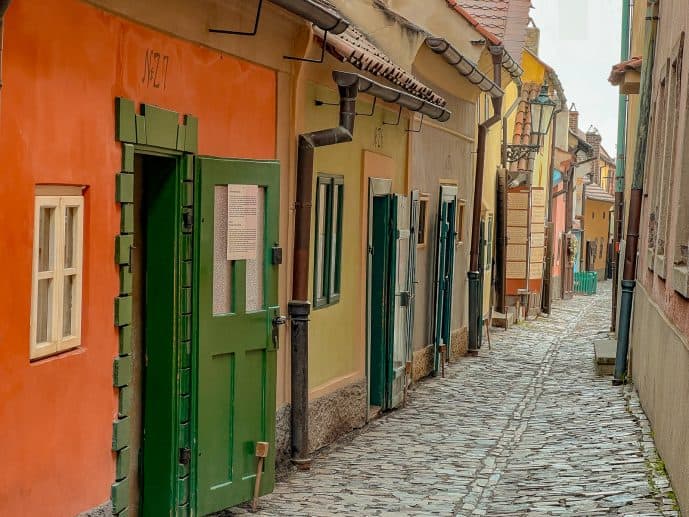 Prague's Golden Lane opening times
Prague's Golden Alley is open at the same time as the majority of Prague Castle's attractions.
The historical buildings in the complex open from 9 am and close around 4 / 5 pm daily. You need a ticket to explore Golden Lane during these hours.
I would actually head to this lane first if you're visiting for opening time as you can avoid the majority of crowds this way for photos. It does get packed throughout the day.
Visiting this lane first thing will also mean your visit is more peaceful. You can enjoy the museums without the mass crowds and tour groups as they are tiny buildings.
You can explore most of Prague Castle's grounds for free and it makes a great budget activity in the city. The complex is normally open from 6 am to 10 pm at night.
Golden Lane stays open after museum closing time and you don't need a ticket after hours.
My top tips for visiting
Get here early – If you wanted to see the exhibits without too many crowds, I would visit Golden Lane Prague for opening times as part of your Prague Castle visit.
Leave at least an hour – there is SO much to see in Prague's Golden Lane. So, I would leave at least 1-2 hours to explore.
Wear sensible shoes – the cobbles around Golden Lane are part of the charm of this fairytale street but they are so uneven and awful to walk on. Wear comfy shoes!
Is Prague's Golden Lane worth visiting?
Yes, I would definitely recommend visiting Golden Alley whilst you're in Prague.
For a tiny street, there is a surprising number of things to do there as well as history and legends to uncover.
You could spend hours exploring these colourful houses, shopping for souvenirs or enjoying a coffee in the restaurant.
Plus, it's included in your Prague Castle ticket which is one of the top attractions to visit in the City of a Thousands Spires.
The entire place is so charming and it felt utterly magical. Don't skip it on a trip to Prague.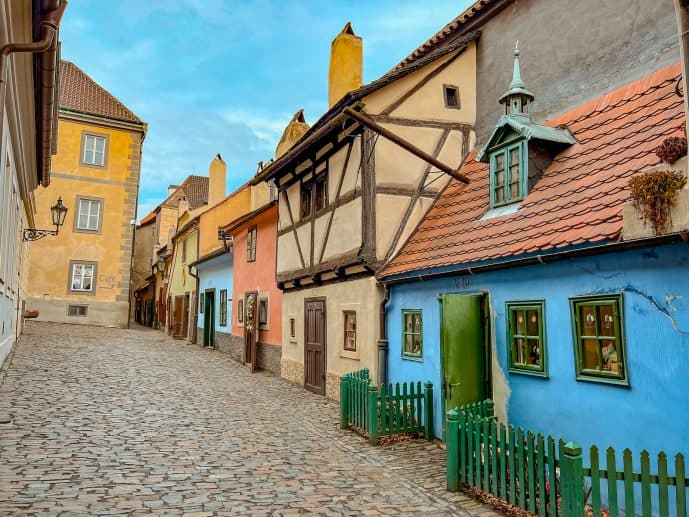 Explore more of Prague Castle
Prague Castle is one of the largest ancient castle complexes in the entire world.
Your ticket gains you access to many historic museums after you've left the Street of Alchemists.
As one of the most popular attractions in the city, you can expect this area to be crowded and filled with tour groups.
You may have to queue to enter some of the buildings but it's worth it. Here is what you can expect to explore;
Old Royal Palace
Visit the seat of Bohemian royalty that dates all the way back to the 9th century.
Although mostly empty today, you can explore the staterooms of this Romanesque palace.
Highlights include the Vladislav Hall, Theresian Wing, and All Saint's Church.
St. George's Basilica
Prague Castle's 'second church' was founded by Prince Vratislav I in 910 AD. It then became a temple for Benedictine nuns.
There's lots to see inside including the chapel for St. Ludmila and the Baroque chapel dedicated to St. John Nepomuk.
St Vitus Cathedral
The largest and most important temple in Prague has a history since the 10th century. Coronations of famous Czech Kings and Queens took place here.
It's a huge building with vaulted ceilings, an abundance of stained glass windows, and the St. Wenceslas Chapel.
Golden Lane Prague FAQs
Can you walk around Prague Castle for free? Yes, it may surprise you to learn you can walk around the grounds of Prague Castle for free. You can even enter a small section of the cathedral without paying. But, the historic buildings require a ticket.
Who lived in Golden Lane Prague? Goldsmiths, soldiers, and many famous people including Franz Kafka.
Did Kafka live in Golden Lane? Yes, he lived at number 22 for one year from 1916 – 1917. You can visit today and it's now a bookshop.
Read more of my Czechia guides
Prague Astronomical Clock guide
How to visit the magical Klementinum Library
A complete guide to the John Lennon Wall
Visit the mysterious Dripstone Wall Prague
Visit the Infinite Tower of Books in Prague
How to visit the magical Strahov Library
Magical Cloak Bridge in Česky Krumlov
Discover the bone church of Kutna Hora
Save things to do in Golden Lane Prague for later!