Looking for things to do in Agra on a Friday? You've come to the right place!
If you happen to rock up to Agra on a Friday, you may be shocked or surprised to know that the Taj Mahal complex is closed.
Even the seventh wonder of the world needs a break! Of course, I'm just kidding. It's actually closed for the locals to perform Namaz (Islamic prayer) due to the two mosques inside.
Agra is definitely an 'in-and-out' in one day kind of city (a polite way of saying it's awful) and so this can be a little bit of a setback if you're on a strict itinerary.
But, don't despair, there is still plenty to keep you occupied and some attractions include an up-close view of the majestic Taj.
It's actually nicer in some ways to see it this way as the main complex is always hot, crowded and a bit of a cattle market!
So, to get going, here's what you can get up to in Agra on a Friday.
Here are 8 incredible things to do in Agra on a Friday
1. Take a boat ride on the Yamuna river
The closest you can get to the Taj Mahal in Agra on a Friday is a boat ride on the Yamuna river.
Now, this isn't an official tourist attraction by any means. It's essentially a shanty boat that is parked at the edge of the river bank!
If you turn right from the East Gate, head all the way down to the river and the temple there. Two guys run a little side business here which I think the local police turn their heads and allow.
They will charge a small fortune for a 20-minute ride on the river.
This is around 400-500 rupees depending on your negotiating skills (lol). But, it is totally worth it for the gorgeous panoramic views you will get.
If you've ever seen 'An Idiot Abroad' with Karl Pilkington on Sky, you'll recognise this as the hilarious boat ride that he took at sunset.
Although he was slightly overdramatic about the whole thing, he's not wrong!
It is a bit of a balancing act to get on the rowboat. If you want to swap places with the driver, you have to swap quite quickly as otherwise the boat will turn and you could fall in the river (can you imagine?!).
If you're a photographer sort of person, the light falls perfectly on the Taj in the morning time around 8-10 am.
Also, if you go on a clear day you can see a perfect mirror reflection of the complex in the water.
It's also a spectacular scene at sunset, but the sun is facing the camera and so the Taj can appear dark.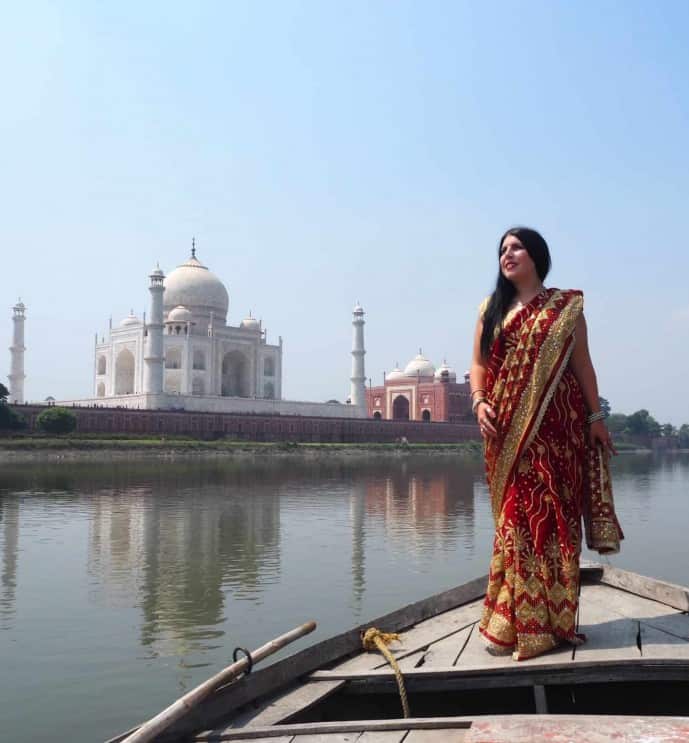 2. Eat at the Good Vibes Café
The newest café in town has taken the backpacker district by storm and in only 6 months has climbed to the top of the Tripadvisor boards for the best restaurant in Agra!
Having been there 3 times on my visit, I can definitely attest to the fact you get the best vibes here.
The owner genuinely cares about you having a good meal and having an awesome time.
You can pick the music, play board games, have a chat, and relax in the bamboo chairs.
The menu is cheap and it serves up a delicious range of traditional Indian meals and some western options too.
When we first ate here, we were given extra food for free and free chai – you can't get better service than that!
3. Explore the Agra Fort
You've probably seen many forts on your adventures through Rajasthan but the UNESCO Red Fort in Agra has a little special touch as it has a serene view of, Taj Mahal, from afar.
It's definitely worth a look and it has amazing 360 views of the city and beyond.
Most of the forts don't have anything, particularly grandeur in them anymore, but the Mughal architecture is outstanding.
It does get mighty hot here, so make sure that you bring lots of water to stay hydrated.
There will be many guides who are happy to show you around for a small fee but I wouldn't say that it's necessary.
I personally felt a little rushed and we almost missed out on the view of the Taj from the fort as our guide wanted to get the next tour in as soon as possible!
Always make sure you have an approved guide, they should have an identification card and should have no troubles presenting it to you, in fact, they love to show it off!
If they get shirty – they're not an approved guide and politely move on. It's definitely open on a Friday!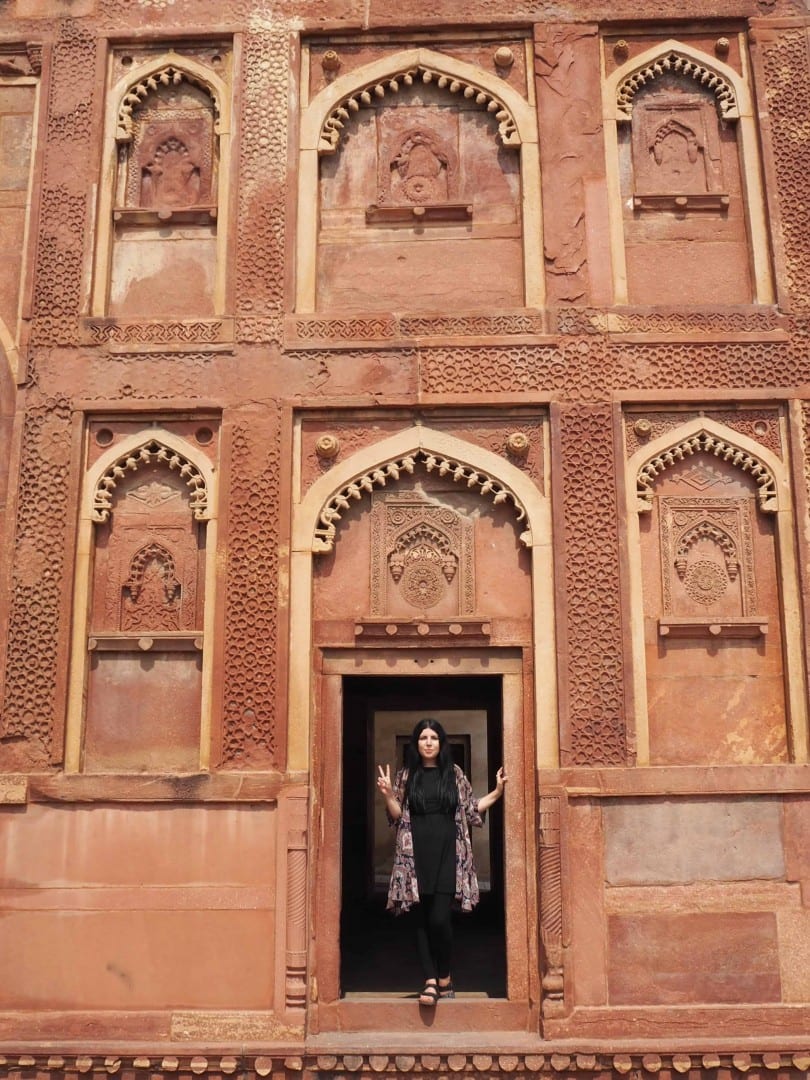 4. See the Baby Taj Mahal
Although not as impressive as the mighty Taj, the baby Taj Mahal is a close second and good alternative.
Locally known as the I'timad-ud-Daulah (no wonder it has a nickname for us foreign folk), it has been said that this was a 'first draft' of the Taj Mahal.
Boasting that perfect symmetry in the architecture, it is a tomb of Mizra Ghiyas Beg.
Mumtaz Mahal (the reason why the Taj was built) was her granddaughter.
Read more – The most Instagrammable places in Delhi!
5. Head to the Metabh Bagh for sunset
The most romantic view of the Taj Mahal comes from the moonlight gardens or Metabh Bagh.
Although you'll be joined with coach loads of tourists (or maybe not if it's a Friday), it provides an excellent view of the Taj from across the river.
The gardens have groves of trees laced with Frangipani and Bougainvilleas which provide the perfect bohemian vibe.
Add the stunning backdrop of the wonder of the world and you feel like you're walking in a dream. The best time to visit here is at sunset and after the sun goes down, the dusk creates an intense shade of pink.
Pro tip: wait until everyone has completely left for the coach rides home and get some pictures of it all to yourself.
The security guard will be whistling you out but he won't mind you stopping for a photo or two.
Click here to read my complete guide for the Metabh Bagh!
How to reach Metabh Bagh in Agra
Getting here can be quite a mission to negotiate with Auto-Rickshaw drivers as it is on the Westside meaning that it's around 15 kilometres away from the main city.
Be careful of the hawkers who try to guide you into the entrance at the side, make sure you head to the Archaeological Survey of India ticket gate.
6. Dine at Peshawri
Located in the 5-star ITC Mughal hotel, Peshawri comes with a hefty price tag but it is so worth it for a tasty traditional Indian dinner.
The decor is to die for and the ambiance is wonderful inside which takes the heat off a hot, busy day in Agra.
Everything is served in an Indian Tali style, there isn't any cutlery unless you make a special request ;)!
The meat options here will cost you a small fortune but the vegetarian dishes are still just as tasty and a bit cheaper if you're conscious of your wallet!
For a taste of their Peshawri menu and to make reservations, see here.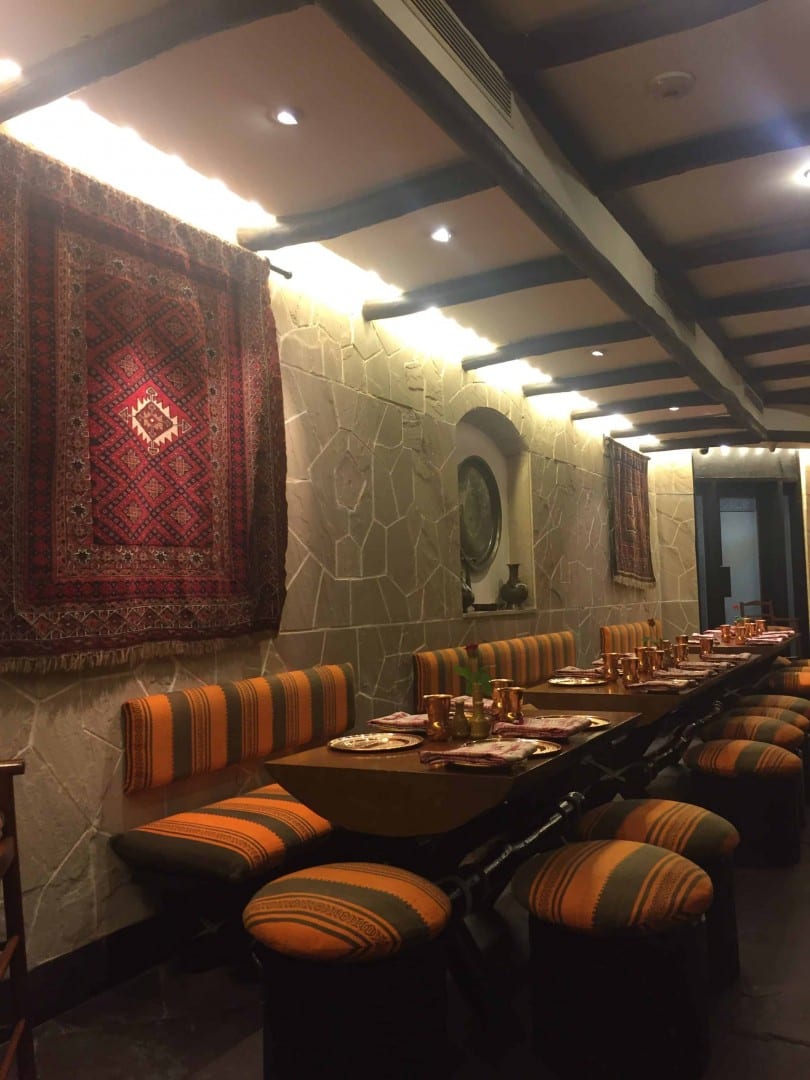 7. Check out the luxury of Oberoi Amarvilas
You simply cannot visit Agra and not check out the legendary Oberoi Amarvilas.
A popular choice for celebrities and money bags, this hotel not only is the definition of luxury but has an incredible view of the Taj Mahal from your private terrace!
Not being able to afford a room here just yet (sniff) I always pop in for a nightcap drink just to poke my nose in.
I even sat at their pool once, which resulted in a rather awkward conversation about what my room number was, oops!
A girls gotta try right? All jokes aside, it is perfectly fine to enter the hotel for dinner, shopping, or a visit to the bar.
The staff is wonderful and the gardens with the Taj peaking its head over the top are divine.
Want to stay? For available dates and rates at the Oberoi Amarvillas see here.
8. Go shopping
At the Taj Mahal, you'll see a lot of girls wearing traditional Indian sari's to make their visit all the more special. I say, go big or go home!
To prepare you for your visit to the Taj the next day, why not go sari shopping?
There is a ton of tourist shops that can have a sari prepared for you within a couple of hours.
Now you're probably thinking; why a tourist shop? I want a traditional sari!
Well, traditionally they're around 6 metres long and they half that for tourists. Any longer and Westerners will be tripping over all day.
You will also need to sew your own blouse and I'm sure there isn't a sewing machine in your suitcase!
How to buy a sari
Of course, you will need to make sure you're savvy and everything is up for negotiation.
Never take a price at face value and if there is anything you don't like anything about it be it the colour, material, or pattern – make sure you say.
Some will even throw in a little freebie of a matching colour Bindi which will look super cute.
Sari's usually come in two parts, a blouse (which is stitched to your size) and a long piece of traditional material.
The blouse goes on first, then you tie, pleat fold, and pin the sari to your blouse.
If you're unsure how to tie a sari, you can look up Youtube videos or ask any lady in your hotel to help you – they are the experts after all!
Looking for more things to do in Agra?
Then, all that's left, is an exciting sleep to see the incredible Taj Mahal the next day.
The best time to visit is at sunrise around 6 am.
That way, you can beat the heat and the crowds and move on to your next destination.
If you want some more information and tips you can read 'The Do's and Don'ts of visiting Taj Mahal'.
Read more of my India articles
The ultimate Rajasthan itinerary
A first timers guide to Jaipur
My complete guide for Rishikesh
Save these things to do in Agra for later!