Alstonefield is one of the prettiest villages in the Peak District and a quiet retreat into an area of the countryside known as the White Peak!
Although there aren't a wealth of attractions here, the charm of this peaceful hamlet will rub off on you being surrounded by the rolling hills of both the Dove and Manifold Valleys.
The handful of stone cottages and ancient buildings surround a small village green and you'll find this is a great place to venture out on one of the many hikes found in this area.
Here are the best things to do in Alstonefield Village in the Peak District!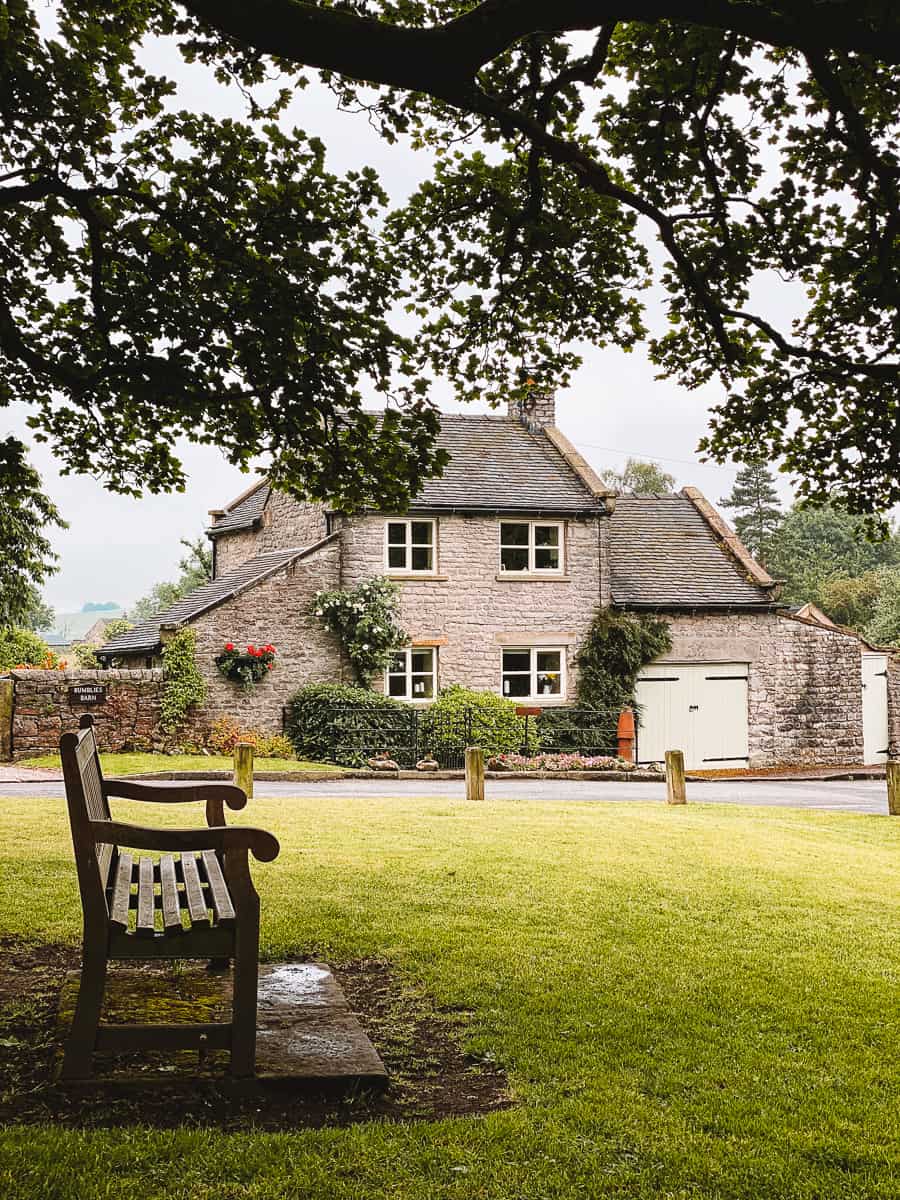 Alstonefield history
The tiny village of Alstonefield was built upon an ancient site and the name derives from the Saxon phrase 'Aelfstan's open land'.
You can find the remains of many Saxon settlements around Manifold Valley and the old farmsteads that used to grow crops.
If you take time to visit St Peter's Church in the village, you can find the fragmented remains of an old Saxon Cross from 900AD.
It was named in the Domesday books of 1086 and the land was gifted by William the Conquerer to Hugh d'Avranches.
Later, the Combermere Abbey was founded here in 1130 after the de Malbancs owned the land. In 1308, Alstonefield was granted a charter for a regular market.
From the 16th-century, Alstonefield was a centre for packhorse trade due to all the mills and mines found in this area. But, once the Duke of Devonshire had enough funds to build Buxton Crescent, the trade moved there.
Today, Alstonefield is an idyllic residential village in the countryside and sees many visitors due to the walking routes found in this area known as the White Peak.
Best things to do in Alstonefield village
1. Stroll around the village green
Most of this tiny village is situated around a village green that is in the heart. From here, you can take a stroll to explore the handful of adorable cottages found here.
It's a very small area but is a peaceful place to explore and you can see some amazing views of the Dove and Manifold rivers as you're so high up.
If you keep your eyes peeled as you look around, you'll find the remains of the old post office, The Old School Garden, Weslevan Chapel, and The Rectory.
Just behind the old Rectory, you'll find an ancient tithe barn and an Elizabethan Manor home dating back to 1587.
2. Visit St Peter's Church
One of the best things to do in Alstonefield is to visit the historic St Peter's Church tucked away at the far end of the village.
It's an Anglican Parish Church and the oldest parts date back to the 12th-century but it has had many renovations over the centuries. The last major renovation was in 1870.
Many believe that there was an older Saxon place of worship on this site before the Christian church was founded.
It's well worth popping your head inside to have a look and the church welcomes visitors. Donations are always appreciated.
Beyond visiting the inside of the church, tourists usually visit to pay respects to a particularly old headstone in the church graveyard outside.
3. See the oldest gravestone in England!
Did you know that Alstonefield possibly has one of the oldest grave headstones in England in its churchyard?
Ann Green died on the 11th of April 1518 and it is thought that her headstone is one of the oldest surviving headstones in the country!
It's easy to spot when you visit St Peter's Churchyard in Alstonefield as it's the only grave in the whole yard with a triangular picket fence to protect it.
It's hard to make out the carving on the round flat gravestone but you can just about see that it reads 'April 1518'. Recently, the village held a festival to mark the 500th anniversary of her passing.
4. Have tea at the Alstonefield Village Café
If you were looking for a place to grab a spot of tea or some lunch, then I would highly recommend the Alstonefield Village Café.
Located inside the community centre it's a friendly, family-owned business that runs their café for visitors. Inside, you'll find a tasty menu of sandwiches and light bites as well as homemade cakes, coffees, and teas.
It's really cosy inside, with soft music playing and you can see some photos of the village through the ages on the walls!
I absolutely loved my visit and it made the perfect pick me up after my hike to Thor's Cave that morning! I had one of their huge cheesy toasties and a Bakewell slice and it was absolutely delicious.
Click here to see their Facebook Page for the village café opening times!
5. Hope House Costume Museum and Restoration Workshop
Alstonefield is also home to the Hope House Costume Museum that is owned by Notty Hornblower.
Notty began collecting historic costumes in her thirties and has now amassed a huge inventory which she keeps on display.
She runs a small museum of displays as well as fashion shows, historic costume restoration workshops, and events throughout the year.
Her latest exhibit is a Jane Austen display where you can see some of your favourite characters come to life through her models, tableaus, and costumes!
Visiting is by appointment only, see here for more details!
6. Have lunch or dinner at the George Inn (bookings required)
Alstonefield's pub is the quaint George Inn that sits at the heart of the village by the village green.
It's a popular pub with hikers throughout the year as it provides a perfect rest stop in the White Peak estate.
You can't stop by for a quick pint anymore. The closest pubs for a quick drink would be in the Manifold Inn or the Watts Russell Arms in Hopedale a few miles away.
But, you can stop by here for a meal in their restaurant that's recognized by Michelin. They have both indoor and outdoor seating!
Important: you do need to pre-book a table, you can't just show up and it's not the cheapest dining experience.
Click here to book a table or see their food menu
7. Take a walk along The Rakes
If you really wanted to take in some of the views of Alstonefield, the best way is to hike along a ridgeway area known as The Rakes.
The name comes from an old lead mine that was found around here and stretches from the Manifold and Dove Valley.
There are plenty of walks that you can take in this area to see sites like Hopedale, Steep Low, and Peaseland Rocks.
8. Take a hike down to Milldale Village
Just a mile from Alstonefield is the quaint hamlet of Milldale that gets its name from the disused corn mill that could be found here centuries ago.
Only a handful of cottages can be found here, perched beside the River Dove and it's an idyllic place to take a stroll.
One of the most famous houses is Duck Cottage that is a photographer's favourite. It gets its name from the resident ducks that roam free on the water. You'll see 'watch out for ducks' signs everywhere!
There are no pubs in the village but you can grab a drink or some snacks from Polly's Cottage Takeaway.
If you wanted to explore more of Dove Valley, simply cross over the Viators Bridge and take the well-marked trail towards Dovedale.
Click here to read my complete travel guide for Milldale village!
9. Explore the White Peak Estate of Dovedale and Ilam Park
Just a few miles from Alstonefield is the spectacular Dovedale Valley with the popular Dovedale Stepping Stones and Ilam Park.
Its part of the National Trust owned White Peak estate and has some of the prettiest scenery in all of the Peak District.
You can start off at either Dovedale, Milldale, or Ilam to explore the area. Or, you can travel around by car to see it all as well.
I would personally recommend getting to Dovedale Stepping Stones earlier rather than later as it's incredibly busy all year.
You may have to queue but it's well worth the wait to hop over the River Dove and the scenery is so dramatic, you'd be forgiven for thinking you were in Middle Earth.
Click here to read my complete travel guide for the Dovedale Stepping Stones!
10. Climb up to Thor's Cave
One of my favourite walks in the Peak District was one that takes you through Manifold Valley and up to Thor's Cave!
It's a natural cavern that has a history spanning back to prehistoric times. Studies suggest that giant bears used to live here as well as prehistoric humans.
Although many believe it is named after the Norse God of Thunder, the moniker most likely comes from the Celtic word 'Tor' meaning hill or peak.
You'll walk up many steep steps to get to the top but exploring the cave and taking in the magnificent views from her are well worth the effort.
Click here for my complete walking guide for Thor's Cave here
How to visit Alstonefield Village in the Peak District
Alstonefield village is a small settlement that lies on the border of Staffordshire and Derbyshire in the Peak District National Park. It lies in an area called the White Peak Estate.
It's just a few miles from Buxton, Leak, Dovedale, and Ashbourne in the rolling hills of the countryside above the Dove and Manifold rivers.
The easiest way to visit Alstonefield would be to drive as it's in a remote location and regular public transport is limited in this area.
Click here to see a public transport map for the Peak District
Alstonefield Parking
Alstonefield village is a tiny place but there is some visitor parking found outside the Alstonefield community centre that you can use.
This is free but you pay by donation and the proceeds go towards the community and the café. Just pop your money in the donation box.
It's a quiet village so I've always found there are lots of spaces here when you arrive. It's a great place to park to take one of the many walks found in this area!
Read more of my Peak District guides
How to Visit Mr. Darcy's Pemberley aka Chatsworth House
An easy Solomon's Temple walk in Buxton
How to find and cross Dovedale Stepping Stones
Why you need to visit Peakshole Water in Castleton
How to find Robin Hood's Cave in Stanage Edge
How to visit Little John's Grave in Hathersage
Visiting Malfoy Manor in real life!
Why you must visit Monsal Head Viewpoint
Longnor Pride and Prejudice Location
An easy way to find & visit Thor's Cave
Top things to do in Ashford in the Water
Chee Dale Stepping Stones walk
Why you must visit Scrivener's Books in Buxton
Things to do in Eyam Plague Village
How to visit Ramshaw Rocks from Pride and Prejudice
Save these things to do in Alstonefield for later!