Ambleside in the Lake District is a bustling town that's thriving with tourists but hasn't lost any of its idyllic charms.
I have to admit that at first, I wasn't a fan of Ambleside. But, eventually, this charming town grew on me after visiting some of its top attractions.
Although it is a tiny place, there are so many amazing things to do in Ambleside that will not only intrigue you but also take your breath away.
Plus, it has a unique history to uncover boasting many famous residents over time. Traditional stone houses stacked on the riverside of Stock Beck, historic homes, and hidden waterfalls await you.
So, here's a complete list of all the things to do in Ambleside in the Lake District, rain or shine!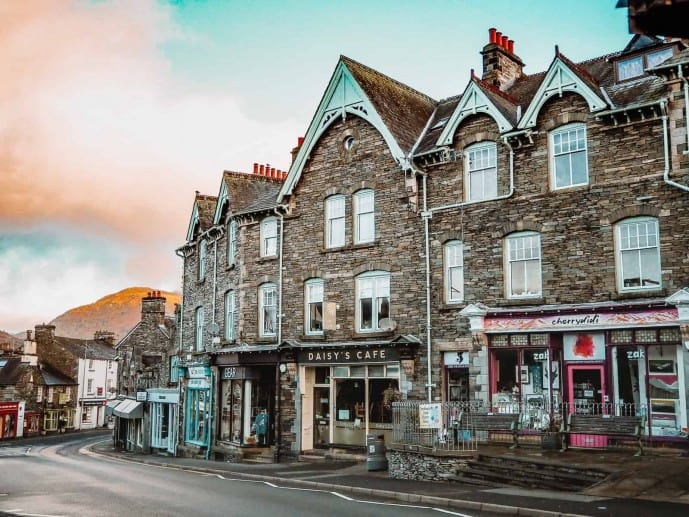 Ambleside History
Ambleside has a vast history that spans back to ancient times, but the first evidence of recorded history comes from the Roman era.
A fort was built by the Romans near Borrans Park called Galava and is held over 500 soldiers. It was built to defend the lower fells of the Lake District from Pict and Scot invasions.
Later, Ambleside became a trade hub for local wool in the middle ages and in the 17th century, the town was given the charter to hold a market.
Wealthy families in the area, like the Braithwaite family, owned the majority of the land around this time.
The majority of the town, however, was developed and came to popularity just before and through the Victorian Era.
A number of famous figures lived here and left their legacy like William Wordsworth who had an office on Church Street. He was a Distributor of Stamps for Westmorland.
Harriet Martineau, a Victorian superstar, moved into "The Knoll" cottage and wrote a guidebook about the town.
Hardwicke Rawnsley, a founding member of the National Trust, art critic John Ruskin and story writer Beatrix Potter also had connections to the town.
Charles Dickens made a visit but wasn't so impressed by the excessive drinking by the local residents.
The list is endless! You can find out more about the town and uncover more stories of Ambleside in the Armitt Library.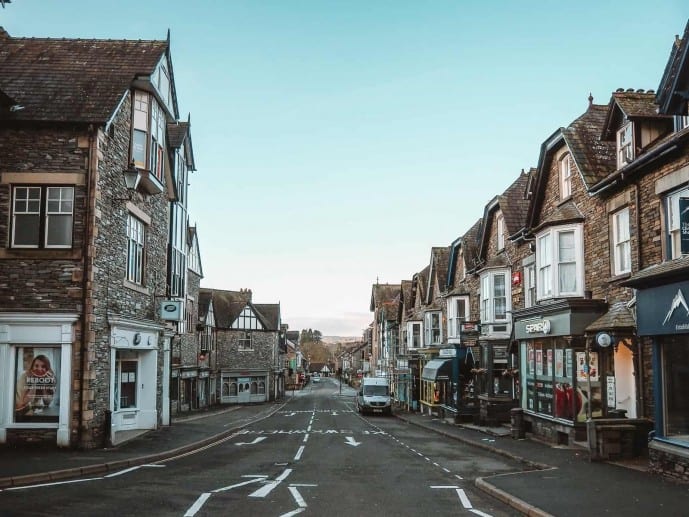 The best things to do in Ambleside
1. Visit the Bridge House
The Bridge House from the 17th century that was originally built to avoid Land Tax is now a famous icon of the Lake District.
Not only that, but it also holds the title of one of the most photographed buildings in the National Park!
This quirky residence has played many roles over time including chair makers, basket weavers, tea room, and even housed a family of 8!
Now, it's a property that is owned by the National Trust and is open throughout the summer months for visitors FREE of charge.
There isn't a lot to do in the house as it's so tiny, but you can talk to the staff and find out what life was like living in a small house like this!
If it's a sunny day, there is also a small garden to relax in by the Stock Beck River.
If you would like to know more about the Bridge House Ambleside, see here
2. Take a ferry ride from Ambleside Waterhead Pier
Ambleside is just a ten-minute walk away from the Ambleside Waterhead Pier that sits on Lake Windermere.
This pier is your gateway to access the lake and you can take a relaxing boat ride over to Bowness-on-Windermere and even stops like the Windermere Jetty Museum, Brockhole and Wray Castle too.
Windermere Lake Cruises have lots of ticket options on offer that will suit all budgets but the best and most economic option is a 'freedom of the lake ticket'.
This pass allows you to take unlimited rides on any of their cruise routes for either 24 or 48 hours. So, you can take in all the sights along Englands longest natural water lake.
I loved having my pass and managed to cover some good ground in just one day. I stopped off at nearly every stop.
Read more – all the places to visit on a Windemere Cruise!
3. Visit the Stagshaw Garden
On the way to Waterhead pier, you can stop off at the beautifully preserved Stagshaw Garden that is owned by the National Trust.
This gorgeous woodland with a beautiful collection of rhododendrons and camellias was created by Cubby Acland in 1957. Acland was a former National Trust land agent.
There are over 300 shrubs, and a number of unusual trees and plants to enjoy here whilst overlooking Lake Windermere.
It's a quiet place with 8 acres to explore and you can escape the crowds and relax a while.
Click here to find out more information on how to visit the Stagshaw Garden
By Humphrey Bolton, CC BY-SA 2.0, Link
4. Find the hidden gem of Stock Ghyll Force
A hidden gem that not many people know about in Ambleside is the dramatic Stock Ghyll Waterfall.
Originally, this opened up as a Victorian attraction where members of society would visit for a penny – which was a lot back then! There was a swimming area, tea rooms, pony rides and observation platforms.
Today, it's a forgotten jewel that's waiting to be discovered just ten minutes walk away from the town in Stock Ghyll woods.
The views of the waterfalls were breathtaking and the best thing is that it requires minimal effort! I found this walk extremely easy and you could complete it in 30 minutes or less.
Stock Ghyll Force is a 70-foot cascade that falls through an emerald gorge in the woods. So, remember to bring your camera as it's a photo opportunity not to be missed.
Read more – My complete hiking guide for Stock Ghyll Force!
5. Uncover history at the Armitt Library & Museum Centre
The Armitt Library was founded by Maria Louisa Armitt in 1909 who lived in Rydal village nearby.
She originally set up the library on the back of the Ambleside Book Society, of which William Wordsworth was a subscriber.
The library was set up by her to not only be able to celebrate the intellectual activity of Ambleside but enable ideals to be shared.
In 1911, Maria Louisa died. By this time she had a few collections in the library already. But, upon her death, contributions flooded in including editions donated by Beatrix Potter.
It officially opened to the public in 1912 and Hardwicke Rawnsley wrote a memorial poem in celebration;
"As in some inland solitude a shell, Still gently whispers of its home, the deep, So from the world of being beyond all sleep, Where those two happy sister spirits dwell…"
The independent library is now a museum that has over 11,000 books and a gallery around the social and natural history of Ambleside and the Lake District.
Many of the collections were contributions and recognitions of famous artists and literary figures that had an impact here.
You can find exhibits on Beatrix Potter, John Ruskin, William Wordsworth to name a few with many others.
Click here to find more information on visiting the Armitt Library
6. Pop in for a coffee on Stock Beck riverside
Ambleside is built on the picturesque Stock Beck that snakes through the village. Despite the town being rural, it actually was a big player in the industrial side of the Lake District.
There used to be a series of mills that were built here and the flow of Stock Beck used to power them. This included fulling mills for wool.
Eventually, the mills were no longer needed due to the decline in trade and so the buildings were re-purposed as hotels, art galleries and even tea rooms.
Today, you can find plenty of cosy cafés and restaurants in Old Ambleside to pop into and have a cup of coffee by the river.
Popular choices are The Rattle Ghyll and The Apple Pie Café that are right by the Beck.
7. Visit the Ambleside Roman Fort: Galava
Ambleside's history can be traced all the way back to the Roman era where they built a stronghold fort.
It was built in 79 AD as part of a series of structures to protect trade in the area and stop invasions from Pictish and Scottish armies.
It is estimated that over 500 soldiers were stationed here at Galava and were charged to protect the roads heading towards Ambleside and Brougham to Ravenglass.
The fort was excavated by R.G. Collingwood between 1914 and 1920 and the artefacts from this are placed at Kendal museum. But, the fort ruins are open to the public.
Today, it's a ruin that's managed by both the National Trust and English Heritage and is completely free to visit.
The ruin is mainly a flat outline of where the fort used to stand with some stonework and rooms have been marked out. You can find the fort near Lake Windermere in Borrans Field.
8. Discover St Mary's Church
If there is one building you can guarantee to see all over Ambleside, it's the spire coming from St Mary's Church.
It was designed by Sir George Gilbert Scott in a gothic style in 1854 and is made of local blue stone with a sandstone spire on top!
As well as the interesting architecture, the church has also has some amazing features inside.
Look out for the colourful stained glass windows and the choir stalls that have been carved from the figures of 14 northern saints.
There is also a small chapel dedicated to William Wordsworth and some artwork with scenes from the Rushbearing Festival.
Years ago church floors were covered in rushes and didn't have the luxury of stone flagged floors.
So, each year, residents would bring fresh rushes to the church floors to keep them fresh.
Despite the church having a stone floor now, the church still celebrates this tradition each year in July.
9. Explore Wray Castle
A few miles away from Ambleside is the amazing folly mansion of Wray Castle.
Although the castle is in the name, it's not a 'real' castle but a pretty impressive mansion home.
It was commissioned by Dr James Dawson in 1840 who was a retired surgeon from Liverpool.
He built the property after his wife inherited a small fortune from her families Gin Distillery business. But, when the property was finished, she didn't want to live there!
After his death in 1875, Wray Castle was inherited by Edward Preston Rawnsley, cousin to Hardwicke Rawnsley who was vicar of Wray Church.
Beatrix Potter also stayed here on her first visit to the Lake District in 1888. Little did she know then she would buy so much land around the area and donate it to the Trust on her passing.
William Wordsworth did not hold back on properties he didn't like but he actually loved Wray Castle saying it complemented the landscape.
Today, Wray Castle is own and managed by the National Trust and is open to visitors both inside the house and around the grounds that have spectacular views of Windermere.
Click here for more information on Wray Castle!
10. Have lunch or dinner at The Ambleside Inn
A new popular restaurant and bar that has opened up in the area is The Ambleside Inn.
As well as being a cosy hotel that you can check into for the night, they also have a tasty menu of offerings.
Cumbria is famous for its cuisine like Sticky Toffee Pudding, Tattie Pot Pie and Cumberland Sausages. So, it would be a shame not to sample some while you're here.
I had a lovely dinner inside The Ambleside Inn and was excited to try their starter of half a jacket with avocado and baked halloumi.
The Cumbrian dishes are really popular and I was a little disappointed to see the Tattie Pie had sold out! But, I loved their juicy grilled steak with onion rings and twice-cooked chips instead.
It was really delicious, wholesome food and I certainly didn't leave hungry. You can wash down your dinner with a locally brewed pint of ale from the bar.
Click here to see their full menu
11. Visit Rydal Mount – Home to William Wordsworth
William Wordsworth was born in the Lake District in Cockermouth.
Although he studied at Cambridge he fell in love with the area later in his life and took up many residences there.
He first moved to Dove Cottage in Grasmere with his sister Dorothy as his secretary.
Then, when he married Mary Hutchinson, they moved over to Allan Bank with their three children. After a brief stop at the Old Rectory in Grasmere, Wordsworth and his family then moved to Rydal Mount in 1813.
He lived here until his death in 1850. It was when he was living here that he produced some of his best work and poems.
Today, the house is still owned and managed by members of Wordsworth's family and they have opened up the house and gardens to the public.
It's been beautifully preserved since the time that Wordsworth lived in it and the gardens he designed have been kept 'wild' as was his taste.
If you have the time, it's well worth exploring Rydal Village afterwards.
In this small hamlet, you can visit Rydal Hall with the picturesque Rydal waterfall on the grounds.
Also, you can visit the Rydal St Mary's Church where he was a Church Warden. Or, visit Dora's Field that Wordsworth designed in memory of his daughter Dora Wordsworth.
Read more – the best things to do in Rydal!
12. Take a walk around Rydal Water
William Wordsworth also loved exploring Rydal Water and it's easily one of the prettiest places in the Lake District. He used to picnic here often and it acted as inspiration for many of his poems.
His friend Thomas de Quincy loved Rydal Water so much he purchased 'The Nab' right on the waterside that you'll pass on the A591.
The Rydal Water circular, or the "Wordsworth Walk", is really popular with visitors for many reasons. It's easy and mostly flat, scenic and you get to take in a lot of the sites of the area too.
It will take you around two hours to do the whole thing. The best way is to start is in White Moss by White moss waterfall, you carry on around Rydal Village.
Head to the Badger Bar, cross over to Rydal Water, head through to Rydal Cave and then back to White Moss.
13. Visit Rydal Cave and Loughrigg Terrace
Another hidden gem near Rydal in Ambleside, is the mysterious and spectacular Rydal Caves.
Although it would be lovely to say these were pre-historic caves, they are in fact man-made and were part of the Loughrigg Quarry in the 19th century that traded slate.
From the White Moss and Rydal Water Car Park this walk is really easy and it should take you no longer than 20 minutes or so to reach it.
The cave itself has a body of water, so you'll need to hop over the stone steps to go inside. Look out for the cavefish like minnows and goldfish!
After Rydal Cave, you can carry on along Loughrigg Terrace to head up to Loughrigg Fell, a fabulous viewpoint. Although it's not a great height, the views are breathtaking.
Read my complete hiking guide for Rydal Cave here
14. Walk to the High Sweden Bridge
The High Sweden Bridge circular walk is something I was dying to do but didn't have enough time on my visit.
It's a scenic walk in the countryside that will take you on a path surrounded by panoramic views and to the graded bridge at the end.
The High Sweden Bridge was originally a packhorse bridge dating back to the 1700s and it was built to cross Scandale Beck. From Ambleside take Rydal Road and turn left when you see the Rydal Farm on your right.
Walk onto Peppermint Coppice and head onto the Scandale Beck path towards the High Sweden Bridge. Then you can head back to same way back to Ambleside.
15. Go shopping at Market Place
Ambleside has long been associated with market trade through time and this really is no different today.
Although people no longer gather around the Market Cross, there are plenty of modern shops here selling a variety of souvenirs, clothes, art and jewellery.
If you were needing some activewear for the area you can check out Adventure Peaks, the Climbers Shop or Mountain Footwear.
For unique Lakeland souvenirs, you can pop into Hayes Garden Centre, Detail Retail or the Old Courthouse Gallery!
16. Take a walk in Skelghyll Woods to the Champion Tree & Jenkin's Crag
A beautiful place that will give you access to many enchanting walks in Ambleside is the ancient Skelghyll wood that covers 95 acres.
These woods contain some of the oldest and tallest trees in Cumbria and England including a champion tree.
Plus, you can find breathtaking viewpoints like Jenkin's Crag that look out across Windermere.
It all started in the Victorian era by plant hunters around 1860. They were passionate about sourcing unusual and rare plant species around the world.
They brought them back to Britain and planted over 150 conifer trees at Skelghyll. So, Skelghyll Wood is almost like a Victorian arboretum!
Many of these walks can be accessed nearby the Stagshaw Garden and routes and trees are clearly marked out and labelled by the National Trust.
17. Visit Skelwith Force
If you were on a mission to chase waterfalls while you're in the Lake District, another accessible falls is Skelwith Force.
Although it is only 16 feet, it is small but mighty and very scenic.
It's around an 8-minute drive to access from Ambleside. From the car park, you can reach it in minutes and it's quite lovely.
Unlike Stock Ghyll Force, you can actually get up close to it!
Skelwith Force is the meeting of two rivers the River Brathay and Langdale Beck.
From here, you can access many countryside walks like the one from Skelwith to Elter Water under the gorgeous views of the Langdale Pikes!
Where to stay in Ambleside
A hotel that is right in the centre of Ambleside is The Ambleside Inn.
Although it's a relatively new property in the area (it used to be The Queen's), it's located in a gorgeous 18th-century building!
There are 30 newly refurbished rooms to book for your stay and there's a cosy restaurant and bar on-site too. So, you don't have to go far for food or for a nightcap either.
I have stayed at three Inn Collection Group properties now and always love their clean and spacious rooms, friendly service and amazing food.
The decor always incorporates the local area and you're guaranteed to wake up to a delicious breakfast with continental and Full English Breakfast options!
Click here to read my full review and how to book your stay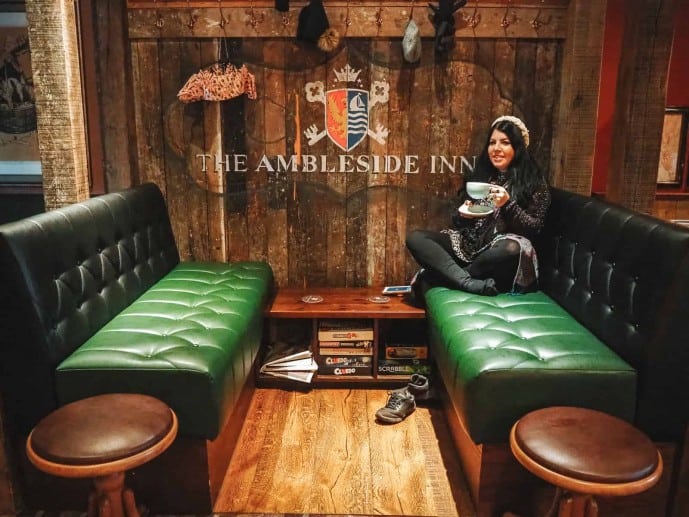 Places to explore after Ambleside
Grasmere
William Wordsworth famously called this area "the loveliest spot that man hath ever found".
It's a quintessential English village with ancient cottages, historic homes, cobbled streets, church towers, rolling hills with sheep grazing.
It's like something from a postcard.
You can follow in Wordsworth's footsteps in two of his former properties that he lived in, both Dove Cottage and the Allan Allan Bank.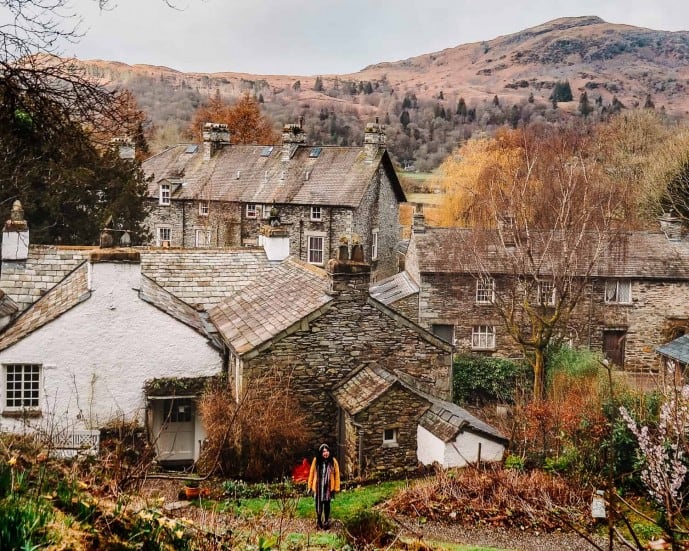 Visit St Oswald's church to see his final resting place and take a stroll around the Wordsworth Memorial Gardens. You can pop into shops, stop for coffee, or just enjoy exploring this stunning area.
No visit to the Lake District is complete without a stop to the world-famous Grasmere Gingerbread shop that has been making gingerbread since 1854!
Click here to read my full list of places to visit in Grasmere
Bowness-on-Windermere
Bowness is by far one of the busiest towns in the Lake District. Which, depending on your preference, can be a good or a bad thing!
You'll find this town bustling all year with hundreds of tourists flocking for boat rides and walks around the lakeside.
As well as numerous cafés, restaurants and high street stores, there are some attractions that may interest you as well.
You can take a stroll around Bowness Bay to see the ships anchored in the marina or visit the World of Beatrix Potter.
Why not take a Windermere Lake Cruise? See my full guide here!
This delightful attraction allows you to walk through Beatrix Potters stories through their interactive exhibits and you can meet her loveable characters on the way.
The Windermere Jetty Museum is also worth a visit if you wanted to learn about the history of Lake Windermere.
Their historic boat collection has pieces from the 18th centre until today!
Where is Ambleside in the Lake District and how to travel there
Ambleside sits in the heart of the Lake District National Park and lies just a few miles away from Bowness-on-Windermere;
By Car: From the M6, head out onto the A590 towards Windermere. Switch to the A591 road to Windermere. Once you're in Bowness-on-Windermere, follow the signs on the A591 towards Ambleside. LA22 9AY is a postcode for your SatNav.
By Train: Unfortunately, there is no train station in Ambleside – you can blame Wordsworth for that! But, once you alight at Windermere station you can take an interchange bus service 599 towards Grasmere and stop at Ambleside.
On your Windermere Cruise: Windermere Lake Cruises run trips on the water daily and have regular services on their red route from Bowness to Ambleside Waterhead. Alight at Waterhead pier then walk 10 minutes into Ambleside Town. Click here for more details.
By Bus: Stagecoach runs an excellent and regular service 599 towards Grasmere from Bowness. Or, you can catch the 555 from Keswick to Ambleside too. See here for more details and route options.
Read more of my Lake District guides
A complete Cathedral Cave walking guide
Places to visit on a Windermere Lake Cruise
A complete guide for the Blea Tarn walk
How to visit Hodge Close Quarry
All The Witcher filming locations in the Lake District
How to visit Claife Viewing Station
Save these things to do in Ambleside for later!