Aswan was, without a doubt, my favourite city in Egypt. The temperature may have gotten hotter down near Nubia, but I was loving every second of this oasis by the river Nile.
Aswan is a must-visit for any traveller who ventures here and there are plenty of epic things to do in Aswan that are actually cool.
Luxor was known as Thebes in ancient Egypt and acted as the capital of the New Kingdom. Aswan, or Swenett, used to be the southern frontier of Pharaonic Egypt by the border of Sudan, then known as Medjay.
Aswan's quarries were also used to produce many of the ancient statues and temples we can see here today, including Philae in Aswan and the obelisks in Luxor's temples.
Modern Aswan is also a thriving city due to the Sudanese trade and famous due to the controversial construction of the Aswan High Dam. This played an important part in stopping the annual Nile floods which would cause destruction in the city.
Then, add into the mix the fact you can take a visit down to Abu Simbel from Aswan and it's the perfect place to base yourself for a few days of sightseeing. History, culture, shopping – what more could you want?!
These are the top things to do in Aswan!
Things you need to prepare before you visit Egypt
Don't forget travel insurance! It's really easy to get sick here. I always choose World Nomad's as my insurance provider as their policies cover a lot of things, including camel rides, which are perfect for Egypt.
Egypt uses the Egyptian pound which you'll see in 'LE' (for the old currency Lira) or EGP (Egyptian Pounds). This really confused me as a Brit as we use pounds too and everything sounded so expensive. But don't worry, at the time of visiting 1 British pound = 22 Egyptian pounds.
Egypt is a predominantly Islamic country and it's important to dress respectfully and understand the local culture.
The climate is also hot, sandy and open in the desert so you need to pack light breathable clothing that covers you up.
If you need outfit inspirations, check out my Ultimate Women's Packing List for Egypt.
The top things to do in Aswan that you must not miss!
1. Take a boat to the romantic Philae Temple
Out of everything I saw in the city of Aswan, Philae temple really intrigued and won me over!
I mean, what could be better than a mysterious ancient temple on an island that you can only access by boat?! It felt like a real adventure and also quenched my thirst for ancient Egyptian history.
In the Pharaonic era, which is when a lot of the temples in Luxor were built, it used to be a southern border force against Sudan, which was then known as Medjay.
In the Greco-Roman era, which is when the most famous Cleopatra VII was around and Alexander the Great, the temple was built on Philae Island in honour of the Goddess Isis and Hathor. This is why it has the nickname the Temple of Love.
This temple was the last one built and used for the ancient Egyptian religion and you can see the last ever hieroglyphics carved here too!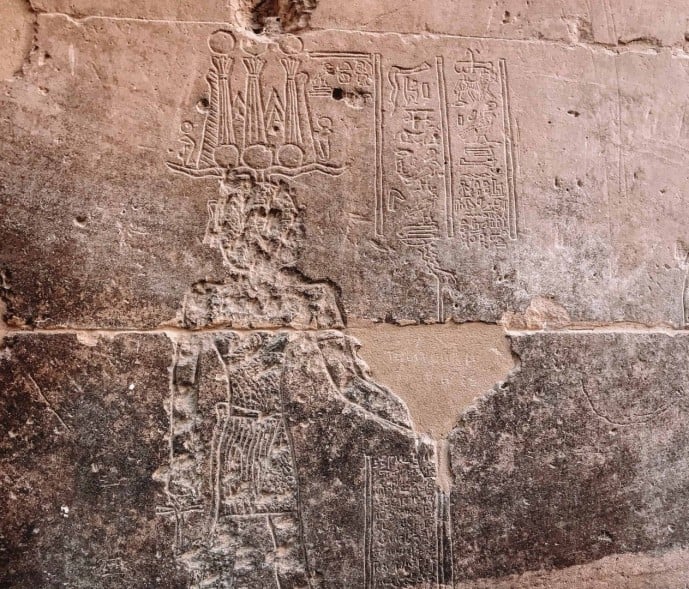 Although in ancient times the island used to be placed in the First Cataract of the Nile, since the High Dam has been put in place it's now called the Aswan Low Dam reservoir.
You will need to catch a boat over to Philae temple from the ferry dock which is included in your temple ticket price of £150EGP. Tips are expected for the driver, however.
Photography is free and I would recommend getting there early to beat the crowds. The temple is open from 6 am – 5 pm and I'd say the earlier you can get here the better before the tour groups.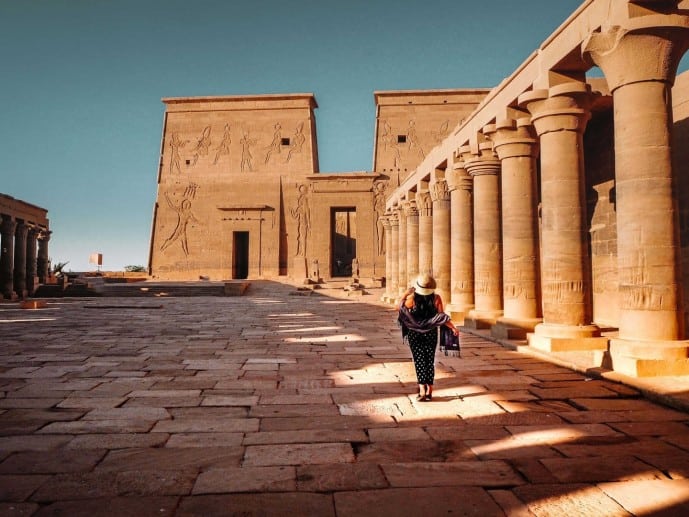 2. Watch the Light and Sound Show at Philae Temple
If you're looking for something to do in the evening, then you can actually visit the Philae temple at night for the sound and light show!
I didn't get to do this as I was boarding my Nile cruise, but it must be fantastic to see it all lit up.
Imagine getting the boat over in the dark?! Must be incredible.
As with all sound and light shows in Egypt, there are usually two performances in one night. One in English and another in a different language which changes daily. Headsets are provided if you need a translation. These also need a minimum amount of people to turn up to take place.
You can book tickets, check show timings and language days here.
3. Learn about the Aswan High Dam
Every year in Aswan, the city would experience destruction with annual Nile floods.
The Flooding of the Nile used to happen each year starting on August 15th for two weeks in its natural cycle.
Although this used to play an important role in ancient Egypt of providing water to the crops and community, at the turn of the 20th century it would destroy homes, take lives and preserved temples with it.
The British, when in control of Egypt, started efforts to retain the flooding with the Aswan Low Dam which was completed in 1902. It was the largest dam in the world in its time and nothing like this had ever been attempted before.
A few decades later, studies suggested that this dam had quite a few flaws. The Nile was overflowing and there were growing concerns for Philae temple.
So, they decided to heighten the Low Dam and with it bring electricity to the city. An important landmark in Nubia.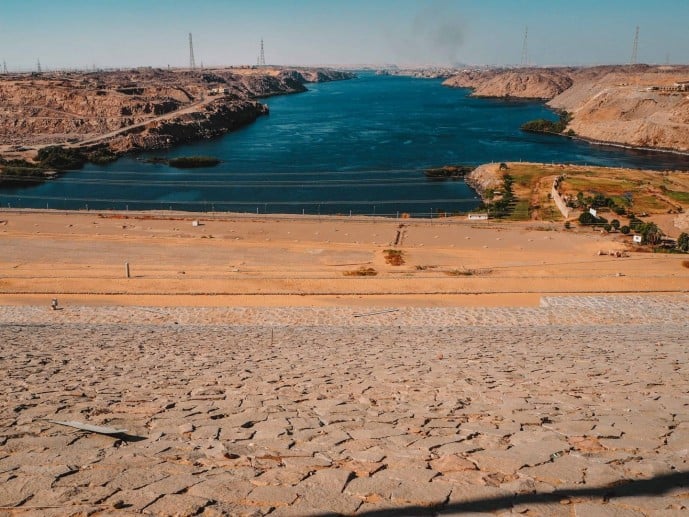 Negative effects of the Aswan High Dam
Fast forward to 1960 and again, the Low Dam proved it could not contain the floods. Thus, began construction of the Aswan High Dam.
A great achievement for the city was to be able to power homes for over 20 years and stop the flooding. But, there were also unforeseen negative side effects;
The cost of the High Dam was approximately $1 billion! Which saw Egypt borrow money from many countries/sponsors
It saw nearly 90,000 Nubian people evicted and moved 40 kilometres away from their homes.
There were massive agricultural set backs with the Nile Delta, erosion of farmland and the quality of its fertility.
Did you also know that since this was put in place, there are no crocodiles in the Nile? The construction of the High Dam almost eliminated their existence and ecosystem in Egypt.
Throughout all the Pros and Cons and controversies, it's still a big landmark in Egyptian history.
Today, many tourists flock to see it. You can visit anytime between 9 am – 5 pm.
4. Visit the ancient Elephantine Island
Elephantine is a small island opposite Aswan City over the Nile. Elephantine is the Greek name for Abu in ancient Egyptian. It played a major role in the ivory trade.
Here you can see a large temple dedicated to Khnum the Ram god. There are also various shrines and rock tombs belonging to the Nobles of this city.
Today, it's the site of two Nubian villages Siou and Koti. Tourists can visit the island to visit ancient sites and to stay and visit the Mövenpick which is the only resort on the island.
Women are recommended to wear conservative clothes while sightseeing on the island. In the resort, it's not necessary.
5. Take a felucca boat ride on the Nile
A bucket list-worthy item in itself, taking a felucca boat ride on the Nile just has to be done. There's nothing better than floating down the river at sunset with the warm breeze in your hair.
A felucca, unlike the engine boats, is traditionally wooden and completely manoeuvred by hand. This usually means there are two guys helping to man the boat and let it take sail.
They're super fun but not if you need to get anywhere in a hurry! No breeze = No sailing. So, I'd prefer just to get one for some scenic views as opposed to a means of getting around.
You can negotiate for a private ride with the captain directly at the various ports and docks. Or, organise a group ride for a cheaper price through your hotel/agency. But, it isn't expensive to rent one privately. I paid £300EGP (£13GBP) for an hour's ride by myself!
6. Snoop on Agatha Christie's suite at the Old Cataract Hotel
When I knew I was going to visit Aswan, there was only one hotel I knew I wanted to stay in. The Old Cataract hotel. It's an iconic resort on the Nile and perfect for history lovers!
As I mentioned before, Agatha Christie checked in here for a year in 1937 to write her famous novel Death on the Nile.
Her original desk and wicker chair where she used to contemplate chapters of her book are in the lobby. The hotel also offers a free walking tour each day which allows you to snoop on her suite!
This isn't a cheap place to stay at £8000GBP a night! So, it is very well that mere mortals of the public can go in and take a look for free if you're a resident of the hotel and it's empty of guests!
It was a beautiful room with stunningly sumptuous interiors and the most incredible view of the Nile and Elephantine island opposite. Don't miss out!
I've written a whole guide about my visit and more Agatha Christie secrets with the Old Cataract here.
7. Enjoy dinner at the classic 1902 restaurant
If you're not a resident of the Old Cataract Hotel, then a dinner at the famous 1902 restaurant may take your fancy.
It was opened and inaugurated by Winston Churchill back in the day and today, it's probably one of the most beautiful restaurants I've ever eaten in.
As you walk in the huge Moorish archways will catch your attention along with the beautiful chandeliers and star lanterns that hang from the ceiling.
The sound of the live pianist fills the air and you will be wined and dined in style.
It has romantic lighting inside so you will be given a quintessentially French cuisine menu with a reading light.
Once you've chosen your dishes, the chefs will be cooking food at your table! I felt so Bougie but it was worth splurging on. Don't miss out.
Booking is recommended and it's a strict formal dress code. Men will need to wear suit jackets.
For information on how to make a reservation for 1902, see here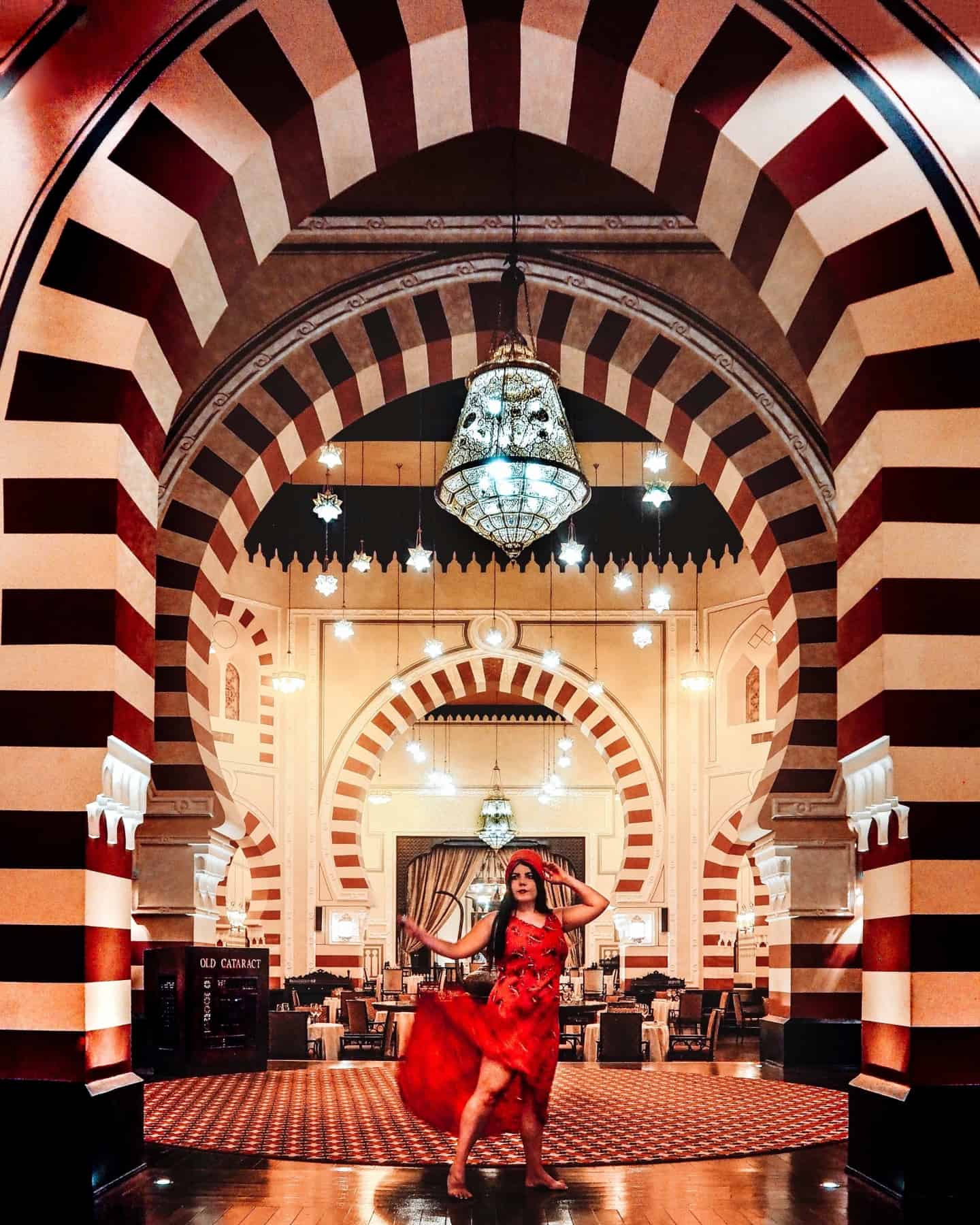 8. Visit the Unfinished Obelisk
In Ancient Egypt, Aswan's quarries were where many of the structures in the temples we can see today were made.
These quarries were also used long after the Ancient Egyptians were no longer a civilisation.
They were famously run by the ancient Greeks in the Greco-Roman era and are still used to this very day.
The Unfinished Obelisk is over 3,500 years old and an important historical site as it allowed us to study how the ancient Egyptians were able to make these huge structures. By hand and way before any sort of industrial machines.
The ancient Egyptians would carve the huge shape out of the bedrock and pound it with stone balls to smooth out the obelisk. Then they would place wood in between the gaps using water to free it out from the ground.
The wet wood would expand allowing them to lift it. But, in the case of the Unfinished Obelisk, there was a crack in the rock, making it unusable. So, it was abandoned.
It was ordered to be created by Queen Hatshepsut and, if it was successful, would have been monstrous at 1/3 larger than any obelisk made before at 137 feet. It would have also weighed 1200 tonnes.
9. Dine in Aswan's highest building
Mövenpick's Panorama Bar and Restaurant boasts 360-degree views of the Nile and is the highest restaurant in Aswan!
The view is breathtaking, especially at night when you can see all the twinkling lights of the city and on the Nile.
It's not the cheapest place to eat for dinner, but they also do a High Tea up here if that's more your thing.
I ate an exquisite lamb dish with a Mojito, as I fancied a cocktail. The waiter was so determined I had a red wine to pair it with, I got a complimentary sample! I'm so not cut out for the foodie life haha.
I also got a lovely cookbook from the head waiter as a gift that contained all sorts of Mövenpick Chocolate infused recipes.
Don't miss out on dinner at the Mövenpick, click here to make a reservation. You will need to get the free boat over to Elephantine Island to get here, so if you're not a guest booking is recommended.
10. Take a day trip to Abu Simbel temples
Out of all the temples I saw in Egypt, this really took my breath away and became my number one favourite temple complex!
The Abu Simbel temples were built to celebrate Ramses II. The Great Temple of Ramses II was built to remember his victory in the battle of Kadesh.
The smaller temple was built in honour of his wife Nefertari and Hathor. These statues are a marvel and took over twenty years to build, as they were carved into the Nubian cliffs.
The thing that's even more amazing is that the majority of both of these temples still remain intact. The colossi facade at the Great temple is over 90feet high and the statues are over 65 feet.
To get here is a four-hour road trip from Aswan. I've put together a whole blog post about the best ways to get to Abu Simbel from Aswan here. This includes some bonus tips about seeing it without the crowds!
11. Go shopping for gold
Aswan is the most popular place to buy 18-carat gold due to its purity and quantity of it. Gold is sold across many places in Egypt and compared to the West, the prices are a steal!
A common jewellery item are the personalised gold cartouche with your name added in hieroglyphics. They're really beautiful keepsakes but watch out for scams!
Here are some top tips for buying gold in Egypt;
Go to a warehouse or government approved retailer, not the market
Always check the 18 carat gold price per gram for that day (it's around 550 EGP/$30USD per gram)
Make sure you see the piece being weighed in front of you
Convert the US Dollar conversion rate yourself to double check
I actually got scammed here by New Scarab Jewellery. So, to avoid it happening to anyone else I've written a whole post to avoid gold scams in Egypt here.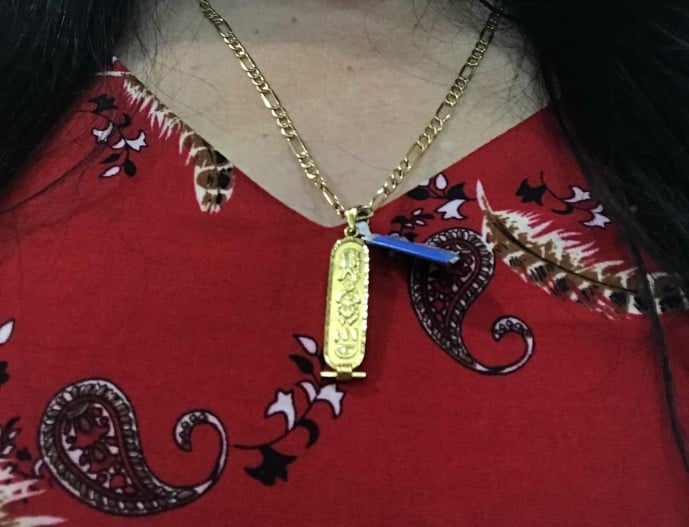 12. Get a custom made perfume
Aswan is also known as a popular location for making essential oils like Mint and Eucalyptus. Also, they provide ingredients for popular perfumes like Chanel, Hugo Boss and Christian Dior.
Basically, you can buy the same product here without the hundred dollar price tag or the fancy bottle! They just call them different names like 'Queen Cleopatra' and 'Tutankhamun'.
I went to the Tuthmoses perfume palace where we got the opportunity to smell different essential oils and perfumes. We were then each given a complimentary massage; ladies in one room, men in the other! There's no obligation to buy with the tour.
You can buy these perfumes and oils in different quantities and sets and they will be delivered to your accommodation later that evening. You won't get them for this price in the West! I just wish I had more room in my case to buy.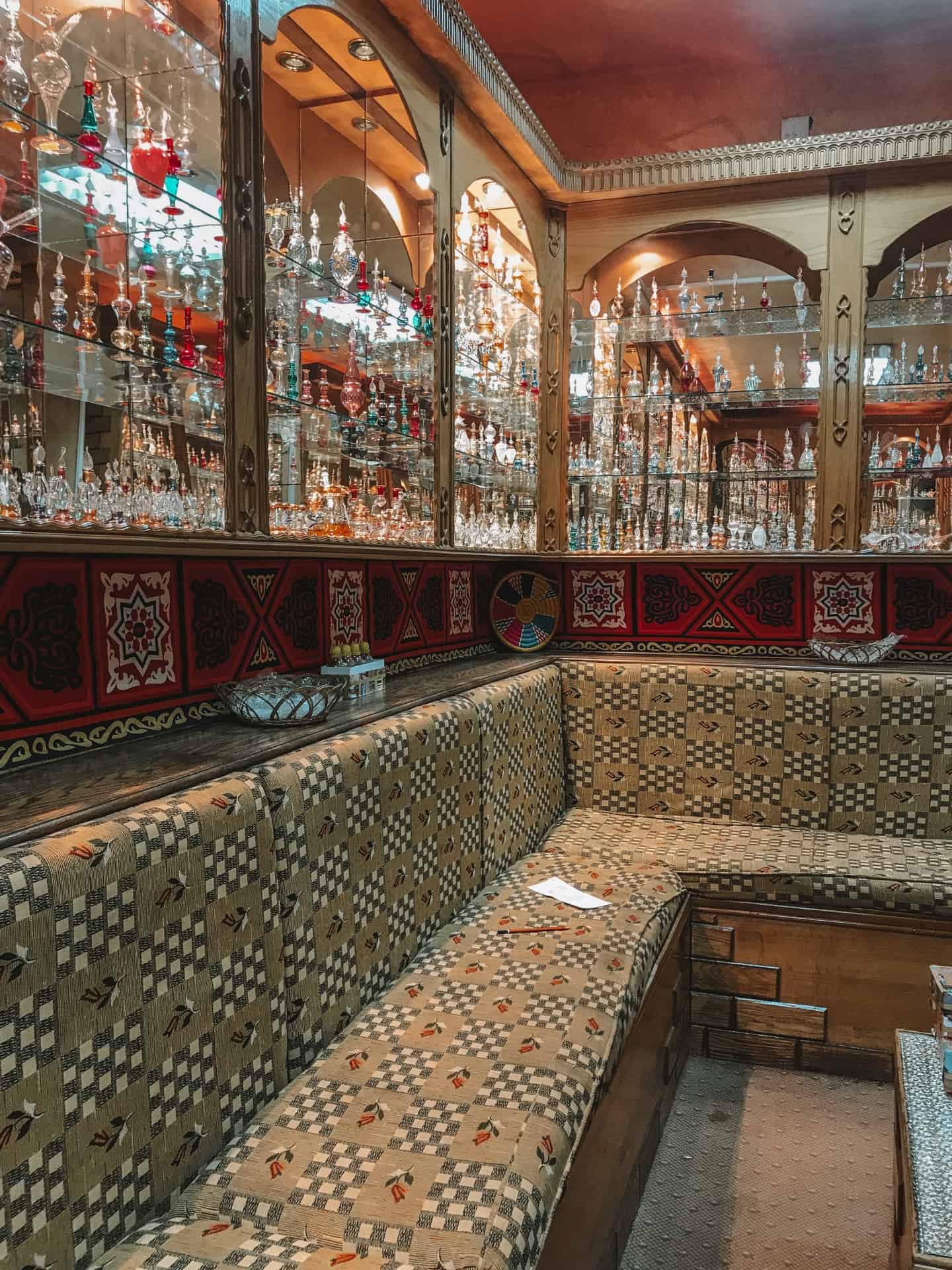 13. Visit the Nubian villages
This is a popular tourist attraction nowadays to get a slice of the Nubian life and to take pictures with their colourful houses in the villages.
I personally didn't go on this tour as I was stuck for time and pretty ill while I was in Aswan. But most of all, I couldn't be sure that this tour really gave back to the Nubian people and I was a little morally torn.
Of course, it would look great on my Instagram feed but what am I learning and would I be helping anyone by visiting? It's always important to be conscious when we travel and so here are some tips for going on a Nubian village tour;
If you're on a group tour, aways ask whether any of the money you pay to go will be given straight to the villagers and their community.
Be respectful of the place and ask before you take pictures of people or sit on their houses
You will most likely be asked to tip them which is only fair, dig deep
This may/may not be a place you would like to visit due to the handling of crocodiles and crocodile products made here. You'll see a lot of wall hangings.
Remember to dress conservatively, especially women
14. Learn about Nubian history in the museum
If you were interested in learning about the Nubian people beyond their colourful houses, it may be better to get an insight into their long history of civilisations at the Nubian Museum.
Built in 1997, it has three floors of antiquities since the Pharaonic era and takes you on a journey to this complex and unique part of the world.
Through the displays and tableaus, you can really get a feel for a community that has been torn between two borders for centuries. There is also a lot of wild plants, gardens and lakes in this area to enjoy.
How to reach Aswan in Egypt
Most tourists head to Aswan after they've had enough of the manic capital of Cairo and the Pyramids in Giza.
Or, once they've explored Luxor, the epicentre of ancient Egyptian tourism, which is four hours north of here. There are plenty of ways to travel around Egypt for all budgets;
How to reach Aswan by Plane
There are plenty of daily flights from Cairo and Luxor to Aswan Daraw airport. Egyptair is by far the largest fleet with connections through Egypt and the Middle East.
They also have a generous luggage allowance of 23kg so plenty more room for shopping! Internal flights are convenient and don't necessarily break the bank. I always use Skyscanner to get the best deals.
How to reach Aswan by Train
Train travel between Cairo and Aswan is around 10-14 hours on an overnight luxury tourist train. I've heard it's anything but luxury but it's cheap and saves spending a night on accommodation.
You can check the Egyptian Railway website for details but if you don't have any luck always see the Man in Seat 61 for details, the guru of train travel.
How to reach Aswan by Bus
Bus travel is the cheapest way to travel and you can get an overnight service from Cairo to Luxor for around £200EGP. From there, it's a short train ride to Aswan.
GoBus is a company I highly recommend and they have an app to download on your phone and book travel on the go! Some services even have leather reclining seats, touch screen TV and meals.
Travel to Aswan on a Nile Cruise
If you're heading on a Nile Cruise from Luxor, you'll probably end your trip in Aswan.
Beyond the sites that the tour groups organise, there are plenty more things to see!
I would highly recommend spending a day or two in Aswan after your cruise is finished. Or, if you're starting your tour here, the fun has only just begun!
Click here to read my review of my MS Mayfair Nile Cruise!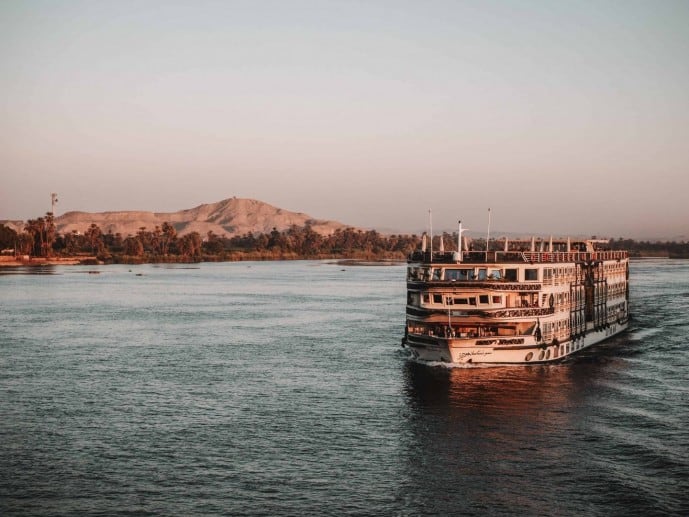 How to get around Aswan
See Aswan by Taxi
Some of the sites in Aswan are quite far away from each other and there is no Uber in Aswan yet so you'll need to haggle and arrange a private car.
For example, the Aswan High Dam is 20 kilometres from the main city. So, I would recommend hiring a car through your hotel or on the street to take you around the main sites.
If you're heading to Abu Simbel, this is also the option I would recommend over a tour bus. But, that's just my preference.
Take a boat to the Aswan sites
Some of Aswan's attractions like Elephantine Island, the Nubian Villages, the Mövenpick and Philae temple all require a boat to see them.
Most hotels on the Nile have their own dock where you can negotiate with the boat drivers for a ride. Always haggle and agree on a price before you get on.
Felucca boat rides are great if you have lot's of time, as they require wind to sail fast, these are completely manoeuvred by hand.
The engine boats are a more convenient option for site hopping as they go a lot faster! When I was in Luxor, I hired a boat but we didn't move due to lack of breeze lol.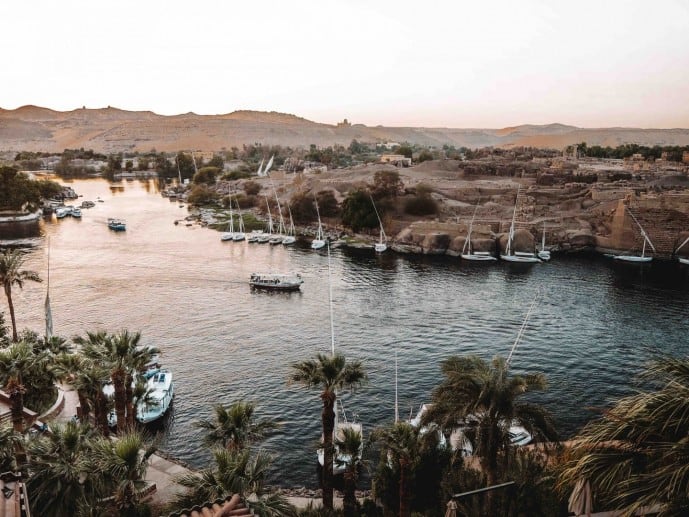 Where to stay in Aswan
The Sofitel Legend Old Cataract Hotel
My personal favourite pick that made its way up the list to my favourite hotel in Egypt and in fact, EVER.
It was built in 1899 during the golden age of Egyptology and has had many famous people walk through its doors including Winston Churchill.
For dates and rates available at the Old Cataract see here
Today the Old Cataract has a Sofitel Legend status and is a 5* luxury resort. You can book in a Nile or garden facing room and its wall to wall grandeur. The hotel still has lots of old charm mixed in with the new fresh interiors.
Agatha Christie checked into the Old Cataract hotel in 1937 for a year to write her famous novel Death on the Nile. I wrote a full article about all the things you can get up to in this hotel, including snooping on Agatha Christie's suite and her original writing desk.
You can read all the secrets to Agatha Christie's muse here
The Mövenpick Resort Aswan
The Mövenpick is another, more affordable, 5* resort in Aswan and the only luxury hotel on Elephantine Island! You need to get a boat over from the docks to reach here, which makes it an all the more exciting welcome.
There is an old and a new wing of this hotel. Some rooms have a Nile view, some a partial view and some not at all. The rooms were boutique and very comfortable.
I even had two balconies and it was a cracking view of the Nile for a morning coffee when I woke up!
There is a pool, a huge complimentary breakfast buffet and you can dine in Aswan's highest restaurant for dinner.
For dates and rates available at the Movenpick see here
Your Nile Cruise: all aboard the M.S. Mayfair
Some tours include accommodation aboard a cruise ship for your tour of Aswan so there is no need to book in a hotel.
These ships aren't kidding when it comes to amenities! It's literally like walking into a resort, you can hardly tell you're on a ship sometimes.
As I had read a fair few negative reviews about some cruises due to hidden charges and food poisoning, I decided to go for the M.S. Mayfair in conjunction with Memphis Tours.
What this means is, as I booked my cruise with a tour company, all my attractions tickets, transport and a guide were included in the price.
For dates and rates available of the MS Mayfair Nile Cruise see here
Many Nile cruise providers don't include sightseeing charges or transport to get to them, so always double-check what's included before you book. You could end up paying hundreds of dollars more.
These also only run on certain days from Luxor/Aswan, usually a Monday or Friday. So it's a good idea to book in your cruise first and work your flights and travel plans around that.
The M.S. Mayfair was a dream come true, by all accounts, a spectacular 5* hotel on the Nile.
I would wake up to Nile views in the morning from my bed with coffee, I had a bathtub (!), I would sunbathe and relax in the hot tub on the roof overlooking the temples, watch entertainment with cocktails in the evenings and help myself to a scrumptious freshly prepared buffet every day (no sickness, yay!).
I wrote a full review of my experience on board the MS Mayfair which you can read here
Don't miss a visit to Aswan in Egypt
Aswan was such a dream to visit, it actually became my favourite city in Egypt and I only wish I had spent more time there!
There is plenty more to do than what I have mentioned here, so make sure you book in enough time to wander around.
If you're heading elsewhere in Egypt after your visit, I have some articles you may love;
The ultimate 3-day itinerary for Luxor if you're travelling independently
The best tombs to visit in Valley of the Kings for photos & things they don't tell you
21 survival tips for visiting the Pyramids of Giza in Egypt
9 of the absolute best places you cannot miss in Cairo
Read more of my Egypt articles
My perfect 2 week Egypt Itinerary
The perfect Egypt packing list
The most Instagrammable places in Egypt
My guide to the Valley of the Kings
The ultimate 4-day Nile Cruise
Top places to visit in Luxor at night
The perfect guide for Abu Simbel
Why you NEED to visit Alexandria
Top tips for riding a hot air balloon in Luxor
Save these things to do in Aswan for later!