If you're looking for a quaint, picturesque village to visit in the Cotswolds, then Bibury is it! A series of two gorgeous hamlets that are split by the River Coln.
On one side of the stream, you have Bibury and on the other side, you have Arlington, Rack Isle and Awkward Hill!
William Morris once said that Bibury was 'surely, the most beautiful village in England' and I can't say I disagree with him. It's like walking through an old oil painting hanging in a gallery.
From the honey stone cottages of Arlington Row, scenic strolls along the Coln, some quintessential country pubs and cosy tea rooms; there are plenty of things to do in Bibury that make it worth visiting.
You couldn't get more quintessentially Cotswolds if you tried.
Here is a complete Bibury travel guide with what to do, where to eat and stay!
A brief history of Bibury
Bibury has a huge history dating back to the Iron Age with the nearby Rawbarrow Camp looking down over the village. There is evidence of the Romans settling here too with the discovery of the Bibury Roman Villa.
In the Anglo-Saxon age the land was owned by Earl Leppa and St Mary's Church was built in the 8th century. It was then rebuilt again in the 11th century.
In the Domesday Books, a survey carried out under William the Conqueror in 1086, it was logged as 'Becheberie'. The land was noted as owned by St Mary's Priory in Worcester.
It then switched hands to the Abbey of Osney near Oxford in the 12th century.
In the 1380s, a gorgeous set of cottages were built in Arlington hamlet known today as Arlington Row. When they were first built they were used as a monastic wool storehouse.
Then, they were converted into weavers cottages in the 17th century. The workers here would supply cloth to the nearby Arlington Mill for degreasing and they would be hung out to dry on the Rack Isle!
It was noticed as a tourist attraction around the Victorian era when the likes of William Morris raved about its timeless beauty.
Ever since it has seen endless flows of visitors every year.
Interesting Bibury facts
Bibury & Arlington have featured in the Hollywood movies of Stardust and Bridget Jones' Diary
An American Businessman named Henry Ford wanted to buy the whole of Arlington Row. His vision was to dismantle it, transport it and rebuild it on his estate in Michigan.
The Japanese Emperor Hirohito visited the village in 1921 and ever since it's been seen as a spiritual place for the Japanese. It brings in lots of tourism.
Arlington Row features in British passports but the row of houses inside are shown as blue!
Bibury used to be home of the Bibury Races. It is thought that Charles II visited the Jacobean Bibury Court on his visit. Today, there are duck races on the Coln!
Bibury is haunted and home to many ghosts! There is a grey lady who haunts the Rack Isle and Catherine Wheel pub, pasty faces have been seen from the windows in Arlington Mill and even a ghostly cat in one of the pubs.
Why visit Bibury in the Cotswolds today?
Bibury, pronounced "bye-buh-ree", has everything you could want in a traditional English village and it's like stepping back in time to a bygone era.
With a history dating back to the Iron Age, it has oodles of heritage that is largely untouched and you can still experience today.
This picture-perfect area is as pretty as a postcard and it's an idyllic place to spend an afternoon.
Whether you relax and paddle in the river, spot wildlife in the Wildfowl Reserve, have a lazy pint in the pubs or marvel at the splendid architecture.
As well as the village being ridiculously attractive, you're right in the heart of the Cotswolds Area of Outstanding Natural Beauty (AONB). This is your gateway to many wonderful walks in the rolling hills of the countryside!
Whatever your interests, Bibury will certainly have something for you. Here's what to see in Bibury.
Quaint things to do in Bibury Village
1. Cross a footbridge over the River Coln
Although Bibury is the name that stands for the whole area today, it may surprise you to know that the settlement is actually a set of two villages.
The hamlets of Bibury and Arlington are split by the River Coln or "The Coln".
It's a tributary of the Thames and it snakes through the hamlet making it effortlessly picturesque. A stroll along this river is a must when in Bibury and you can admire the quaint cottages and Arlington Row from afar.
You'll always find children walking along the walls or families sitting here by the river enjoying lunch or a drink. Maybe, a duck or two as well.
If you have a look in the crystal clear river, you'll find trout swimming along through the river weeds.
There are a series of 3-foot bridges that allow you to cross over the Coln from Bibury to Arlington.
The new wooden foot bridge, the arched bridge by the Swan Hotel and the old graded Row Bridge by Arlington Row.
The old Row Bridge is by far the most scenic and has some fantastic photo opportunities with it being near the old weaver's cottages!
2. Take a stroll down Arlington Row
The main driver of tourism in Bibury by far is the gorgeous honey-coloured cottages of Arlington Row. This iconic address has been known as the most photographed street in all of England!
Originally built as a wool storehouse in 1380 and then weavers cottages in the 17th century, this area is now Grade I listed and part of an architectural conservation area.
In 1929, the Royal Arts Society protected the area and then in 1975, the National Trust renovated it further.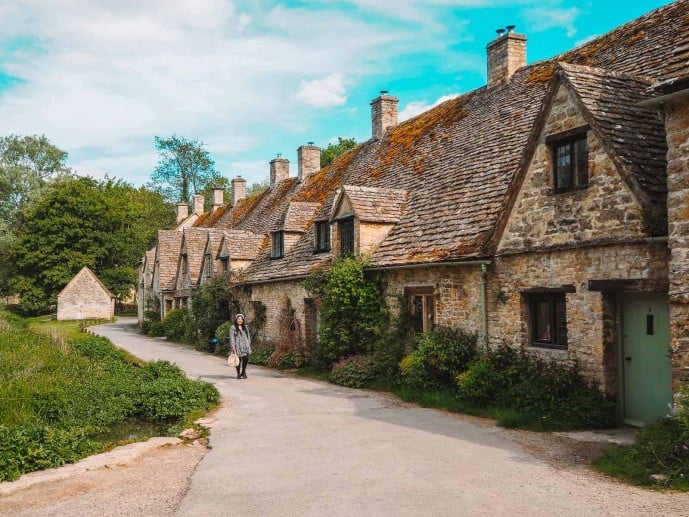 Nowadays, it's home to a handful of trust tenants. However, there is one cottage at number 9 that has been left available so you can call it home for the night!
Here, you can shut the door on snap-happy tourists and enjoy this retreat in absolute privacy. Click here to enquire.
Simply walking down this row is one of the best things to do in Bibury. It is like being in a postcard. You'll fall in love with the quirky the honey comb architecture, the slate rooftops, eau-de-nil doorways and gables. It's one of the best things to do in Bibury.
But, I will warn you now, this place is constantly packed and sees hundreds of visitors in tour groups each day. So, if you wanted empty photos, come early in the morning.
Click here to read my essential guide for visiting with some more photography tips
3. Explore the Rack Isle
Just beyond the weaver's cottages, you'll find 'The Rack Isle' which is an island now owned by the National Trust. You may notice a crooked wooden fence that runs alongside the pathway.
This used to be the drying rack for the woollen cloth produced by the weavers. They used to send their wares over to the Arlington Mill for degreasing and then hang them out to dry here.
Today, it's a gorgeous shaded stroll next to the wetlands and you'll see the backdrop of the cottages and Bibury village.
Make sure you keep an eye out here for passing dragonflies and even cows that have been known to graze here seasonally since the Victorian era.
4.
Spot wildlife in the National Trust Wildfowl Reserve

The Rack Isle has been owned by the National Trust since 1956 and has been officially classified as a Wildfowl Reserve.

The wetlands are an important home for many plants, fish and animals that roam here and live in harmony.

A rare sight in the UK nowadays is water voles and luckily, Rack Isle have a few that call this place home.

You'll also spot Kingfishers, grass snakes, butterflies and a lot more if you keep your eyes peeled.

The wildflowers are also a lovely sight in spring and summer with Yellow Flag Iris and Pink Ragged Robin as a highlight.

The Belted Galloway Cows, that I call 'Oreo Cows', help them grow and visit in late summer. It's one of the best things to do in Bibury.
5. Admire Arlington Mill
Arlington Mill has been here ever since the Domesday Books and has a long and important history to Bibury.
Firstly it was used as a corn mill, then it played an important role in the wool trade by degreasing the cloth produced at the weavers cottages.
In later years, it ceased being a working mill and became a popular museum which housed a large collection of period clothing. It also had a cosy tea shop for visitors up until fairly recently.
Nowadays, it's a private residence that has been completely transformed into a Holiday Home that you can rent for yourself.
Although members of the public cannot go inside, it's a great stop for photos. But, be warned, there have been ghosts spotted hereabouts!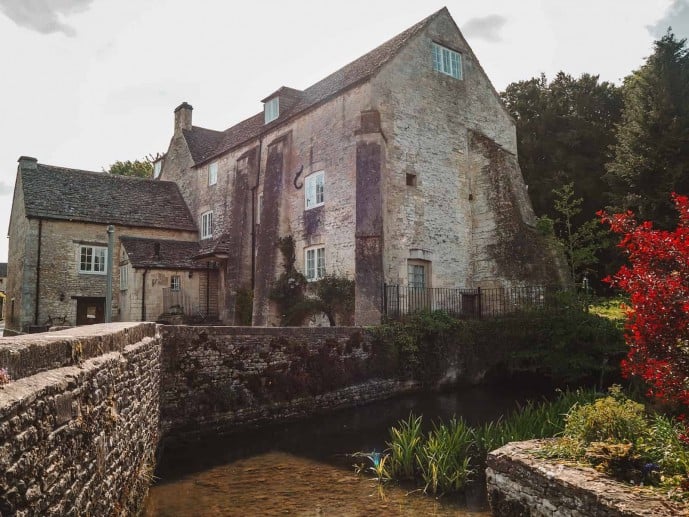 6.
Catch a fish dinner at historic Bibury Trout Farm

Bibury Trout Farm is one of England's oldest working trout farms in the country and was originally founded in 1902.

The founder was the naturalist Arthur Severn who had a vision to stock the local streams with the native Brown Trout in Coln Valley.

It's now 15 acres of beautiful farmland and springs which has a trout hatchery onsite. It produces over 6 million trout ova every year.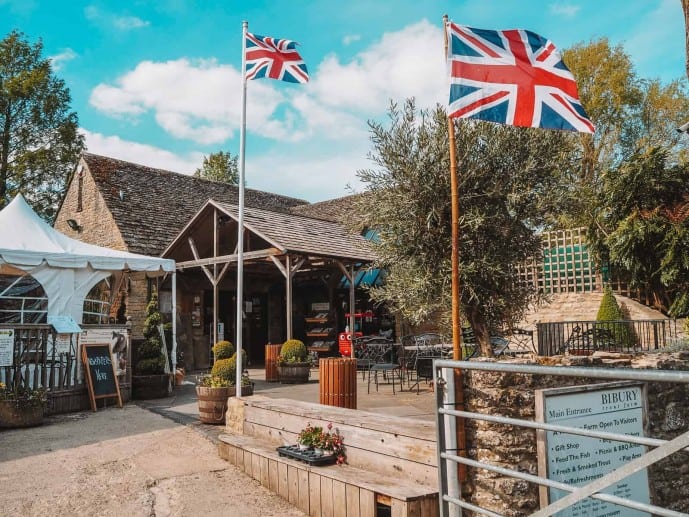 This is one of the top things to do in Bibury and there is something for all ages. You can wander around and spot the Brown and Rainbow trout who live here.
There is also a trout feed to witness if you fancied it – sometimes they will leap out of the water. Or, try the famous Fish BBQ, where you can catch your own trout and have it cooked for dinner.
The Trout Farm gift shop is also a popular stop and they sell a delightful range of Cotswolds souvenirs. Plus, a range of essential groceries in their farm shop.
Click here for more information and opening times
7.
Dine at The Swan Hotel

If you're looking for where to eat in Bibury, then you should check out The Swan Hotel that sits prettily on the River Coln.

The Swan was originally a coaching inn built in the 17th century as a stop for weary travellers. It had its own stables and a busy taproom onsite.

Today, it's a popular spot for locals and visitors in the village that has a popular brasserie and bar!

You can take a cosy seat by the fire in winter or enjoy an al fresco drink, lunch or dinner in their garden terrace.

If you were tempted to stay the night in Bibury, it has 22 boutique rooms for rent and some have a prime view of the trout farm and Arlington Row! Click here to book your stay.
8.
Browse the Village Post Office & Shop

An unassuming building on 'The Street' over the Coln, is the Old Bibury Post Office that was built in the late 18th century.

Now, it's a grade II listed building. It still acts as a working post office so you can send a postcard stamped from the most beautiful village in England!

As well as sending letters, it has an enchanting gift shop that sells all sorts of Cotswolds souvenirs to take home with you.

There is also a coffee house with some takeaway food items should you fancy a quick snack while you're here.
9. Take a quintessential afternoon tea
Every guide book, reference and even this very blog post references William Morris' famous quote about Bibury being the most beautiful village in England.
So, it does seem rather appropriate that there is a William Morris Tea Room that is perched just opposite the iconic Arlington Row.
This Victorian, Alice in Wonderland style Tea Room will transport you back to his time. With English bone crockery, loose leaf teas and specially prepared scones and homemade cakes.
As well as sweet treats, there is also a selection of sandwiches, soups and light lunches as well.
You really cannot leave England without experiencing a quintessential afternoon tea and where better than Bibury?!
The tearooms are set inside the delightful grade II listed, 17th-century cottage which is now a B&B that you can stay in.
10. Visit the Anglo-Saxon Church of St Mary
The church that the village of Bibury is gathered around is a little further on from the main hub of the village. But, it is definitely worth visiting if you have the time. If anything, the distance will help you escape some of the crowds!
The Church of St Mary dates all the way back to the 8th century and subsequently this Anglo-Saxon structure was built in the 11th century.
It was originally owned by the Abbey of Osney up until Henry VIII's dissolution of the monasteries in 1539.
It's now a Grade I listed building and a delight to visit inside and out. You can still find a Saxon stone slab that's been incorporated into the North Wall. Plus, the original North Doorway is still intact dating back to 1189.
Inside, you'll find a 13th-century nave and font plus some amazing stained glass windows.
Did you know? Some of the glass installed by Karl Parsons in 1927 was used on a 1992 Christmas stamp in the UK? Well, you do now!
11. Have dinner at the Catherine Wheel Pub
Another fantastic pub that you can visit is the Catherine Wheel that is located a little further up from Arlington Mill. You'll most likely pass it on the road down to the village.
Originally, this was a 15th century building that had its own stable courtyard and orchard. By the 19th century, a blacksmith called William Taylor and his family worked here. They had a business of shoeing horses and making cart wheels.
By 1856, the Catherine Wheel pub was opened up to the public by J.Hathaway, who was a barrel maker and beer retailer. It became an instant success with visitors who enjoyed the cosy, original stone features and the roaring log fires that kept the place warm.
Eventually, it was sold on to the Nailsworth Brewery Company in 1899. Now, a century later, the new owners have made it a popular restaurant and pub in the village.
They have a seasonal menu that aims to use as much organic produce as possible, sourced from the local area and farms. You can try some famous Bibury trout or traditional pub favourites.
12. Discover Roman history
It is recorded that in the nineteenth century, George Witts accidentally discovered the Bibury Roman villa near the mill beside the River Coln.
In 1880, there were many items recovered including Roman pottery, coins and even some ancient paving slabs that had been found.
Aside from that, not much else is known about it. But, it does give a great insight into the fact that there were Romans camped out here many years ago.
The Bibury Roman Villa is enclosed on private farmland. But, if you were interested to learn more about the Romans in the Cotswolds then you should visit the Chedworth Roman Villa nearby.
Owned by the National Trust, these ruined remains of an ancient household are enclosed inside a gorgeous valley. It was discovered in the Victorian age and has since been preserved for the public to enjoy.
The exhibition provides a unique insight into the Roman era and they have a modern conservation centre where you can see progress with recent excavations! Click here for more details of ticket prices and opening times.
13. Admire the magnificent Bibury Court
The largest building in Bibury is the Jacobean mansion of Bibury Court that was built in the late 16th century. Before that, it was the site of a Benedictine monastery.
In 1633 Sir Thomas Sackville, who was the illegitimate son of the first Earl of Dorset, made further renovations to the country home. It remained in the Sackville family for generations.
It is said that King Charles II made a visit here when he attended the Bibury Races. Years ago, this was a big event that happened around Boxing Day! Charles Dickens even based his famous novel 'Bleak House' on an unfortunate court case involving this home.
The Cresswells inherited the property from the Sackvilles in the female line and had to sell out to the Lord Sherbourne due to a dispute in the will.
It then fell into disrepair and was refurbished by the Clarke family in the 1920s. Once Lady Clarke passed away in 1968, it was sold and turned into a hotel.
Today, the property is Grade I listed but is once again abandoned due to the hotel business being in decline. However, there are plans for a renaissance So, let's see what the future holds.
Until then, you can admire it from the countryside walks like the Bibury Circular (see below). It has an ancient Millhouse and Dovecote on the 100-acre estate.
14. Go on the many Bibury walks
Bibury is the gateway to the Coln Valley and the Cotswolds, which is an Area of Outstanding Natural Beauty. So, you can enjoy a wealth of pretty walks that will take you across the scenic rolling hills of the countryside.
The most popular is the Bibury to The Coln St Aldwyn walk or the Bibury Circular which will take you around the most popular sites in Bibury and beyond.
This 5-mile loop connects the two villages and will take you around 3 hours. A walk is one of the best things to do in Bibury.
Where is Bibury in the Cotswolds?
Bibury sits in the heart of the Cotswolds in Gloucestershire, England. It's just a few miles out to Cirencester and Oxford and easily accessible from London for a day trip.
How to get to Bibury
As Bibury is situated in a remote area of the Cotswolds, it is easiest if you arrive here by car.
You can easily access the village from the M4 and M5 motorways and along country roads. Or, you can easily head in from the nearby Oxford and Cirencester.
Bibury Parking – There is plenty of free visitor parking beside the River Coln on "The Street" as you drive into the village. Also, opposite the nearby Bibury Trout Farm.
Trains – The nearest train station to Bibury is Kemble. This is around 14 miles from Bibury, from here you can get a bus or taxi.
Bibury from London – Bibury is situated around a two hour drive out of London. You can take the M5 motorway towards Gloucester, alight at Cirencester and then make your way to Bibury. Alternatively you can get a National Express coach to Cirencester from London then a bus to Bibury from there.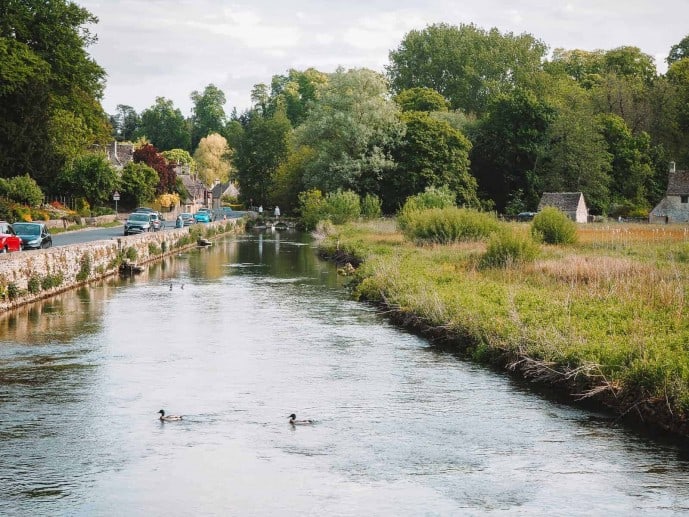 Take a tour of the Cotswolds
If you're on holiday, it may be easier to do a day trip of the Cotswolds from London or Bath. This way you can tick off a variety of places saving both money and time.
Places near Bibury to visit
If you're planning a Cotswolds road trip or day out, there is plenty of places to visit near Bibury to carry on your adventures.
You can visit the oh-so busy Bourton-on-the-Water sitting on the River Windrush. Here you have another beautiful village, with a vintage motor museum, tea rooms, mazes and more.
Or, if you wanted to take it down a notch on crowds, visit Lower Slaughter or Upper Slaughter nearby. They sound horrific, but don't worry, they are SO pretty and see far less crowds!
Stow-on-the-Wold is also down the road which has the magical St Edward's Church. It's yew tree door apparently inspired J. R. R. Tolkien for Middle Earth in Lord of the Rings!
If you wanted to feel like royalty for the day, stop by the majestic Blenheim Palace which is the birthplace of Winston Churchill. You can visit the Harry Potter Tree there. Or, visit the famous Westonbirt Arboretum – home to 2500 different species of trees.
Further afield, you can fall in love with the magnificent village of Castle Combe or pop along Burford which is a gorgeous gateway. Lacock is also an incredible place which featured in Harry Potter!
Read more of my Cotswolds travel guides
The best places to visit in Tetbury and the Chipping Steps
The top things to do in Painswick and the legend of its famous Yew Trees
Why you must visit Minster Lovell Hall Ruins
How to visit the Cotswolds Confetti Fields
How to visit Cotswolds Lavender Fields and top things to do in Snowshill
Did this pub inspire the Prancing Pony in Lord of the Rings?
The best things to do in Corsham
A complete visitor guide for Broadway Tower
Visit The Cotswold's very own Rollright stone circle
Harry Potter locations in Gloucester
The Most Instagrammable places in Gloucester
What to do at Gloucester Docks
Save these things to do in Bibury for later!