I've always felt a special connection with Boscastle in Cornwall.
I've visited for years, ever since I was a child, and can still remember buying a china doll in a box at the Pixie House and how I felt exploring their mystical Witchcraft museum.
Running along the harbour, traipsing along the cliff tops, scuffed knees, seeing the Devil's Bellows crash upon the shore, an ice cream dripping down my hand!
All these things come rushing back when I return to this special place.
There are so many things to do in Boscastle that make this incredible historic harbour and inlet worth visiting.
Not only is it one of the most picturesque parts of the North Cornish coast, but it also has a fascinating history to uncover, friendly locals, to meet, shops, cafés, and some magic too!
You really can't miss this paradise off of your list of places to visit in Cornwall. Here's a complete travel guide with all the very best things to do in Boscastle!
The History of Boscastle
Boscastle has a huge history with important chapters dating back to the medieval era.
Although most of the village and land around the harbour today is protected by the National Trust, the settlement is from the 1100s!
Since then, it was a motte and bailey, a historic fishing harbour, home to the Boscastle witches, Thomas Hardy, and then suffered the tragic flash flood in 2004.
A lot of Boscastle's colourful past has shaped this wonderful coastal village into the tourist hot spot it is today!
The medieval Botreaux Castle & Boscastle Harbour
The name Boscastle comes from Botreaux Castle (pronounced But'ry) which was a 12th-century motte and bailey owned by the notable de Botreaux family.
Unfortunately, any trace of this castle vanished a long time ago but you can still see the remains of the historic Elizabethan harbour.
Sir Richard Grenville built this in 1584 and was a famous heroic captain of the 'Revenge'.
He fought off many soldiers during the Spanish Armada and was cousins with the famous navigator Sir Walter Raleigh who sailed to the New World.
This harbour, as well as being a prosperous fishing port, has also been a hive for smugglers and wreckers over the years. The Black Pit along the cliffs was a popular wrecking spot.
Boscastle is now part of the Smuggler's Way walking trail that runs from Boscastle to Looe that aims to combine all the places associated with Smugglers in Cornwall.
The Witches of Boscastle
From Pixies, faeries, giants, and Merlin in the Arthurian tales. Cornwall has long had an association with legends, myths, and magic.
Part of the reason why Cecil Williamson set up his amazing Museum of Witchcraft and Magic here was due to the fact that Boscastle had a history of witches or cunning folk.
The witches of Boscastle were in the business of 'selling the wind' to sailors on the harbour.
They would capture the wind in three knots of rope and sailors would buy them in order for the wind to capture their sails. The weather charm was untied and then the wind would blow the sailors on their way.
You can learn more about the history of witchcraft in Boscastle and the UK in the unique witchcraft museum here.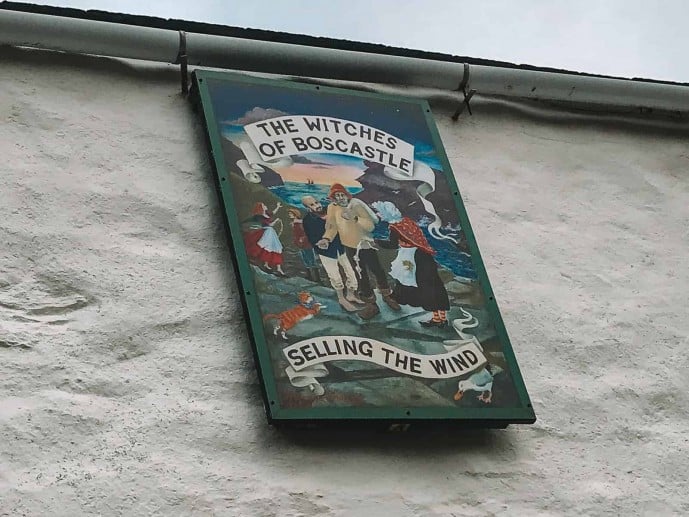 Thomas Hardy
Another reason why tourists flock to this magical place is to follow in the footsteps of Thomas Hardy. A famous English novelist and poet.
Before he became known as a writer, he was an apprentice architect and was working on restoring St Juliot's Church. This is where he met Emma Gifford in 1870 who was living nearby at the Rectory.
The two met on several occasions and explored Cornwall together, they eventually married in London in 1874.
Hardy used several locations in Boscastle and St Juliot's as the setting for one of his popular novels 'A Pair of Blue Eyes' where Emma was the heroine.
You can still visit the parish of St Juliot's church today and see the memorial Hardy left for her after her death.
Or, avid fans can stay in the Old Rectory St Juliot's where Emma Gifford used to live. It's now a cosy B&B.
The Boscastle Flood
Although Boscastle's rugged cliffs that jut out into the Atlantic Ocean and the harbour often protect this village from sea storms.
Tragically, in 2004, heavy rains in Boscastle caused a flash flood. It's thought that over 1.5 billion litres of water flowed through the tiny village in just six hours.
Thankfully, nobody died but many of the historic buildings in the area were completely destroyed, homes were ruined, tourists were stuck and even cars at the top of the village were floating downstream. It was relentless.
During this time, the biggest airlift mission took place to save residents and tourists since World War II.
This isn't to put you off visiting at all! Since the flood, the town has put in many safety measures against flooding!
Boscastle is a thriving tourist destination today and, if anything, tourism has increased in the area since it happened to support.
But, a lot of the destruction the flood caused on the landscape is still felt by many today. So, you may see signs about it dotted about and water level markings on some of the buildings.
The best things to do in Boscastle
You can always find a good reason to visit Boscastle.
With its rugged cliffs overlooking the Atlantic Ocean, wild landscape to explore, ancient woodland valleys, and the many tourist attractions that draw thousands here each year!
There really is something for every type of traveller to enjoy. Here are the very best things to do in Boscastle.
1. Explore the mystical Museum of Witchcraft and Magic
The Museum of Witchcraft and Magic has been located in Boscastle for the last 60 years. It was founded by Cecil Williamson who was a screenwriter and neopagan warlock.
As a child, he was introduced to Witchcraft when a lady in Bovey was being beaten for being a witch in 1916.
He intervened and save her and they became friends. Later, he learned to weave spells at boarding school to protect him from bullies and became familiar with the art of divination.
His passion for the occult led him to become the head of the Witchcraft Research Centre for the MI6 during World War II.
Eventually, he founded the Museum of Witchcraft on the Isle of Man which he eventually sold to Gerald Gardner, the founder of Wicca.
He tried to set up his Witchcraft exhibition in Stratford-upon-Avon and Windsor but he was shunned out of the town.
So, he eventually set up his museum in the friendly town of Boscastle with a long history of cunning folk and magic in 1960!
The museum which aims to shed a light and educate on the history of witchcraft and the occult is still one of the most popular places to visit in the county.
It has over 3,000 exhibits and 7,000 books about witchcraft and magic- one of the biggest collections in the world!
Thousands of wayfarers, witches, wizards, neopagans, and those with a curiosity in the occult visit each year.
It's a fascinating exhibit and one you really cannot miss when you're in Boscastle.
Click here to learn even more about how to visit this mystical museum
2. Stroll along the River Valency to Boscastle Harbour
The Witchcraft Museum is perched alongside the beautiful River Valency, which feeds into the Atlantic Ocean at the shore. This stream snakes through the inlet and cliffs.
You can follow this river from the village and walk along the gorge towards the Elizabethan harbour front.
These two stone harbour walls protect the natural cliffs and the mouth of the Valency Valley.
In the 19th century, before the railways hit Cornwall in 1893, Boscastle was a commercialised port.
A bustling area of trade that brought in goods on vessels from South Wales and Bristol.
Due to the dangerous entrance to the cove, there were 'hobblers' who were hired to guide the boat into port.
Although the harbour is no longer a busy trade hub, it is still used by fishermen and pleasure cruisers. So, when you walk around you will still ships and fishing nets anchored here. It's extremely pretty!
If you were eager to explore the ocean from here, there are plenty of boat trips that you can take in the summer season where you can see seals.
It's well worth walking up the cliff tops to see the fantastic views of the ocean or access the South West Coast Path walks.
3. Hear the Devil's beneath Penally Point
Did you know that Boscastle has its very own blow-hole?!
It's often been nicknamed the Devil's Bellows because when it's most active it can be heard making loud noises like thumping, snorting, and spitting!
The Devil's Bellows is located underneath Penally Point so the best view is from the cliff viewpoints opposite the harbour.
If you wanted to see it in action and hear the noises then you should visit the blowhole around 2 hours before or after low tide!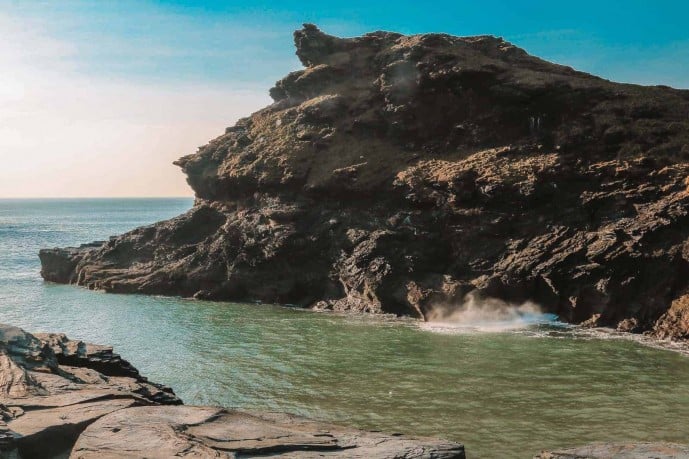 4. Hike up to the Coastwatch House at Willapark
A popular walk around the coastal area of Boscastle is to Willapark where the Coastguard House now stands.
Although Willapark Lookout is now used by volunteer coastguards, this building actually has quite a controversial past!
It was built in the early 1800s for Thomas Rickard Avery as his summer home.
Avery was a wealthy squire and local businessman to the outside world. But, he was also well known to locals for his involvement in the smuggling trade.
As a notorious wrecker, he would entice ships onto a rocky gorge known as the 'Black Pit'.
Apparently, this tower was used to smuggle the illegal contraband for trade and was the location of many rowdy parties with alcohol, gambling, and ladies of the night!
Nowadays, it's a peaceful area and the position of the house on the coast provides breathtaking views of the coastline.
5. Pop inside the Pixie House – Harbour Light Tea Garden
Cornwall has long had legends about Cornish Pixies, Piskies, or Piksies. A legendary tribe of the faery race that are cheerful, mischievous, play pranks, heal, and can even bring you luck!
You can learn more about them in the Witchcraft Museum as part of the local folklore.
The Pixie House in Boscastle was a quirky farmhouse with a crooked roof that had stood on the riverside of the village for 300 years.
Its unusual roof and shape made it one of the most photographed houses in Cornwall and even featured on postcards!
I remember going to this amazing shop as a child with the wishing well outside and all sorts of pixie gifts, perfumes, dolls, and toys to buy.
Unfortunately, the Pixie house was badly damaged during the Boscastle Floods but it was rebuilt two years later on the same spot.
It's now been converted into the Harbour Light Tea Garden which is open during the summer season. Here you can treat yourself to a traditional Cornish cream tea, or coffee!
6. Purchase some handmade Boscastle Pottery
Boscastle Pottery (also known as Camelot Pottery) is a local business established in 1967 but has roots dating back to 1634!
They specialise in "Mocha Ware" where they use mocha tea to run through a wet slip which creates a fern pattern.
Inside their shop, they have a massive array of unique handmade gifts to purchase and take home. From houseware, goblets, lamps, and small pieces too.
A small warning though – It's extremely popular here in Cornwall and you'll find that people return two or three times to buy more!
7. Have a cream tea inside the Cobwebb Inn
Another amazing place to eat in Boscastle is the cosy Cobwebb Inn that sits in the village. Don't worry, despite its unusual name, there are no cobwebs to be seen here!
This pub actually has a massive history dating back 350 years. It has been a shipping warehouse, a corn mill, a grain store, and a bottling plant over time.
It finally became a pub in 1947 and got its name from the state they found it in!
Thankfully today, the pub has a lovely cosy atmosphere inside and they are open for lunch, dinner, or a Cornish cream tea if you fancy it. Click here for a menu.
8. Browse the many independent Boscastle shops
Boscastle is full of amazing boutiques, shops, and art galleries selling a number of handmade gifts and quirky souvenirs to take home.
I'm obsessed with gemstones and crystals and Uncle Paul's Emporium or Boscastle Rocks has a huge treasure trove of them!
There are countless precious stones and rocks to purchase that you can display at home or use for a number of things.
On that subject, Things is a great shop that sits by the River Valency selling all sorts of silver jewellery and pewter gifts.
The Otherworld is an old crooked cottage that is now a New Age Shop selling an amazing range of witchcraft and magical artifacts.
The National Trust Gift Shop in Boscastle is also very popular and has a delightful range of souvenirs from local artisans that help towards the protection of the village!
Valency Valley is an ancient woodland behind Boscastle which was a popular walk with Thomas Hardy and his wife Emma.
Legends say that a Welsh princess named Madryn settled by a spring in Valency Valley. She was the daughter of King Mortimer of the Blessed Gwent and she became a healer.
In recorded history, there was a Holy Well and a small monastery set up by the site for healing in her honour in 500AD.
Although very little of that original chapel remains, what we see there today is a restored version of the church built in 1150 by the Botreaux family.
It has been restored twice since, once in 1507 and then again when the roof caved in the 19th century.
You can visit the Minster Church today and it is nicely tucked away in the Valency Valley woods. The walk from Boscastle to Minster Church will take you around 30 minutes.
Inside the church, there is a Norman Font, some medieval bench ends, carvings, and a far few memorials.
On the outside of the church is a curious carving of a pair of scissors but no one has been able to determine what it means! The grounds have also been declared a Site of Special Scientific Interest.
Pay respects at the gravestone of Joan Wyette
Joan Wytte was a local lady who was born in 1775, her nicknames were the "Fighting Fairy Woman" or the "Wytte (White) Witch".
Due to a tooth abscess that was causing her pain, she would often lose her temper and people believed she was possessed by the devil. Eventually, she was incarcerated for public brawling in Bodmin Jail!
The conditions were so bad she died of bronchial pneumonia at 38 years old.
Her bones were then kept for playing pranks by locals and finally, she was unceremoniously put on display at the Museum of Witchcraft and Magic.
But, on her arrival, she caused a lot of spooky happenings.
A witch was invited to investigate and advised them that Joan wanted a proper burial. So, her remains were finally laid to rest in a wooded area near the Minster with a respectful ceremony.
Her tombstone reads "Joan Wytte. Born 1775. Died 1813 in Bodmin Jail. Buried 1998. No longer abused".
You can visit her tombstone nearby the Minster gates. Joan's Garden outside of the Witchcraft Museum has been named as a memorial to her.
10. Follow in the footsteps of Thomas Hardy at St Juliot's
Thomas Hardy fans will love exploring the area around Boscastle where he worked as a practicing apprentice and had many adventures with his beau Emma.
The St Julitta church at the parish of St Juliot's was where he met her while she was living in the Rectory nearby. Inside you can see the memorial that Hardy made for her on her death.
As well as the Hardy connection, this church dates all the way back to the Domesday Books in 1086, so it has lots of history to uncover!
The walk will take you around 30 minutes from the Boscastle harbour or a few minutes drive up the coast towards Bude.
Fans of Hardy will also be interested in checking into the Old Rectory where Emma used to live. It's now a guesthouse!
11. Check out the Rocky Valley Labyrinth carvings
Cecil Williamson decided to build the Witchcraft museum in Boscastle because of the friendly locals and the fact that the Rocky Valley Labyrinth carvings were nearby.
He felt that this was proof of the legends of ancient magic-making that took place in the area.
There is much dispute over the origins of the stone carvings. Some say these date back to the Bronze Age and some say these were made by Celtic tribes.
The labyrinth symbol that is carved on the rocks here has often been associated with fertility or life and is used in pagan rituals.
Many neo-pagans visit this site from all over the world! You can find the carvings behind a derelict mill on the east banks of the river Trevillett.
12. Discover the magical waterfall at St Nectan's Glen
Two miles from Boscastle is the magical St Nectan's Glen which is inside the Trethevy woodlands of Tintagel.
An Area of Outstanding Natural Beauty. There are many legends surrounding the glen including ghosts, spooky happenings, and the legend of King Arthur!
If you follow the pathway into the woods you can visit a magical series of waterfalls and a small hermitage in the gorge.
Although this was largely Christianised years ago, this was also an ancient pagan site. The name St Nectan is a Christianised form of the Cornish name for the water god Nechtan.
Either way, it has long been thought of as a holy place with many crystals, inscriptions, prayers, and devotions that have been made and lie on the rocks.
Click here for more information on visiting the Glen!
13.
Walk from Boscastle to Tintagel along the South West Coastal Path

Many people say that the best part of Boscastle is leaving it along the many beautiful coastal walks in the area!

The South West Coast Path is a huge 630 mile National Trail and one of the most beautiful in the world. It starts at Minehead, loops around Devon, Cornwall, and finishes at Dorset.

Of course, you'd need months to complete the whole thing but you can experience a small slice on the trail from Boscastle to Tintagel.

The distance on the roads is 3 miles but you won't see much scenery that way! So, many people take the coastal route which is around 5 miles.

The average time is around 3 hours one way, but you can get a bus back if you didn't want to do a loop!

Along the walk, you'll see lots of inlets, coastal views, rocks shaped like an elephant, and a chance to spot some wildlife.

Tintagel is also a reward in itself at the end that has an ancient castle with a connection to the legendary King Arthur! Click here for more information.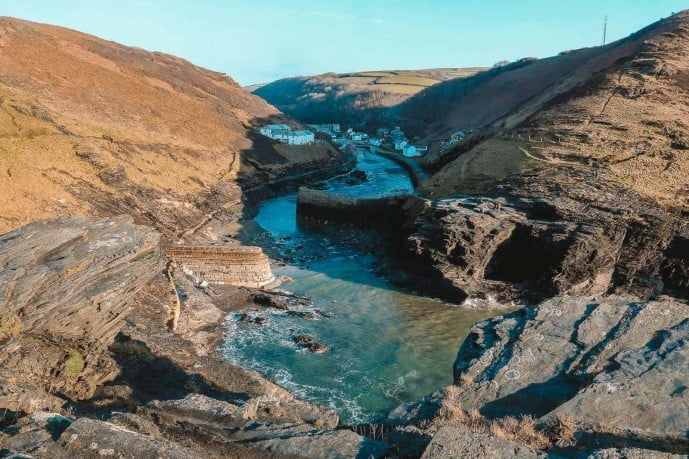 14. Find King Arthur at Tintagel Castle
Tintagel Castle is easily one of the most famous historic sites in all of Britain due to its links with the Arthurian tales!
According to legends, this was the place where King Arthur was conceived by King Uther Pendragon and the Lady Igraine.
Merlin the Wizard was entirely responsible as he charmed Uther to look like Lady Igraine's husband!
There has been no evidence to prove or disprove the fact that this was King Arthur's castle and there have been excavations that place a Celtic King at the settlement.
Whether you believe the legends or not the ruined castle on top of Tintagel Island is well worth visiting. The views from the top are spectacular.
Most of the fortification was destroyed years ago but English Heritage has done a great job in recreating what the castle and grounds would have looked like in medieval times!
You can also get a picture with King Arthur as there is a statue of him on the headland.
Recently, they have revealed a brand new footbridge that is going to connect the two sides of Tintagel Castle for the first time in 500 years. As a long-term Arthurian legend fan, I am dying to visit!
Click here to read my top tips for visiting King Arthur's Castle!
15. Discover the secrets inside Merlin's Cave
Remember when I said that Merlin was responsible for King Arthur being born?
Well, Merlin felt bad because of this, so he wanted to tutor the boy to become a good man and the next king of England. So, he would visit Arthur in Tintagel Castle for his lessons.
Merlin didn't live in the castle but instead resided in the cave beneath on Tintagel Island.
This cave was made famous when Alfred, Lord Tennyson wrote of it in his 'Idyll's of Kings'.
But, in his version, he said that Merlin found Arthur wash up into the cave as a baby. Merlin then saves him, lifting him above his head and bringing him up to the castle.
A visit to Merlin's Cave is one of Cornwall's best-kept secrets!
At low tide, a small beach and tunnel are revealed under the sea at Tintagel and you can climb down and walk through it.
Make sure to check out the 'Sleeping Merlin' face carved into the rocks. Apparently, this is Merlin waiting for King Arthur's return!
Click here for my complete guide for Merlin's Cave!
16. Visit Tintagel Old Post Office
Although most of Tintagel is largely over commercialised with endless gift shops, cafés, restaurants, and pubs. There are still some quaint places to check out while you're here.
The Tintagel Post Office is a unique museum which is a medieval property that has been here for over 600 years.
In 1380 it started off as a farmhouse, over time it has been renovated but it has always remained a residence.
In the 19th century, it acted as a post office for the town. It's now a museum owned by the National Trust with 5 rooms to explore. Click here for more details.
Boscastle Visitor Centre
If you wanted to find out more information on the area or need some directions, it's well worth checking out the Boscastle Visitor Centre. It's located inside the old Smithy.
There is a shop, an information desk and also a café that is open year-round.
Plus if you were curious to know more about the floods, they have lots of information boards and a DVD which shows you some of the devastations the village faced during that time.
How do I get to Boscastle in Cornwall?
Boscastle is a harbour village that is just a few miles away from Tintagel and Bude on the west coast of North Cornwall.
It's easiest if you have a car to drive the journey but I will warn you now that the tiny lanes to get here take some navigating!
Boscastle Parking: There is a large visitor car park at Tintagel outside of the visitor centre that is clearly marked as you drive in.
Bus to Boscastle: If you were keen to arrive by public transport, bus number 95 will arrive here from Tintagel and it will take you around 15 minutes.
Where to stay in Boscastle
The Wellington Hotel – A 4-star hotel which used to be a 16th-century coaching in. It lies in the centre of the village overlooking Boscastle Harbour. Past guests have included Thomas Hardy and members of the Royal family! Click here for rates.
Fernleigh Cottage – You can hire this cosy home on the coast for a few days. Although it's been renovated all the quirky features remain. Click here for rates.
The Riverside – set inside a 16th century building, this an award-winning Bed & Breakfast sits alongside the River Valency. It's the perfect retreat in the valley.
YHA Boscastle – If you are backpacking the old stables have been converted into a great travellers hub with a friendly vibe. Dorm rates are available.
Looking for beaches and places to visit near Boscastle?
Boscastle is on the coast, but there isn't a typical sandy beach here. So, you'll have to go hunting for hidden coves or find a place nearby with a shoreline!
Bude is a great award-winning seaside resort town that is famous for its colourful beach huts. It has a popular sandy beach and you'll see lots of surfers here catching waves. There is so much to do here with shops, restaurants, and scenery!
Trebarwith Strand nearby Tintagel is a gorgeous section of the Cornish Coast and has a beach you can access when it is revealed at low tide. There is a small café here that you can relax in.
A little further south along the coast you'll discover Port Isaac. It's often called one of the prettiest villages in Cornwall and attracts many tourists each year with its quaint harbour.
If you were looking to head inland then Bodmin Moor is a truly underrated beauty spot to visit. It has ancient standing stones, countryside walks, waterfalls, woodlands, and smuggler's hideouts like the Jamaica Inn!
Here are some of my related articles on Cornwall:
Amazing things to do at Sennen, Land's End!
The legend & history of the Hurlers Stone Circles
A fairytale visit to Golitha Falls
I stayed over at the haunted smuggler's inn!
Read more of my Cornwall guides
St Aubyn Estates Cottages review
How to visit Tregothnan Estate in Cornwall
Things to do in Mousehole Cornwall
How to visit St Michael's Mount in Cornwall
Things to do in Charlestown Cornwall
How to visit the Lost Gardens of Heligan
A complete guide to Porthgwarra Cove
Why you must visit Minack Theatre
Secrets of the Admiral Benbow Inn
Where is Driftmark filmed in House of the Dragon
How to visit Holywell Bay from House of the Dragon
Magical things to do in Kynance Cove
Save these things to do in Boscastle for later!